Cinnamon Swirl Bread is a homemade sweet yeast risen bread recipe that looks elegant and tastes delicious and no bread machine necessary!
If you enjoyed my recipes for Iced Banana Bread, Gooey Monkey Bread or Apple Fritter Bread you should try out this fancy, elegant dessert bread that is perfect for holidays, birthdays or any special occasion.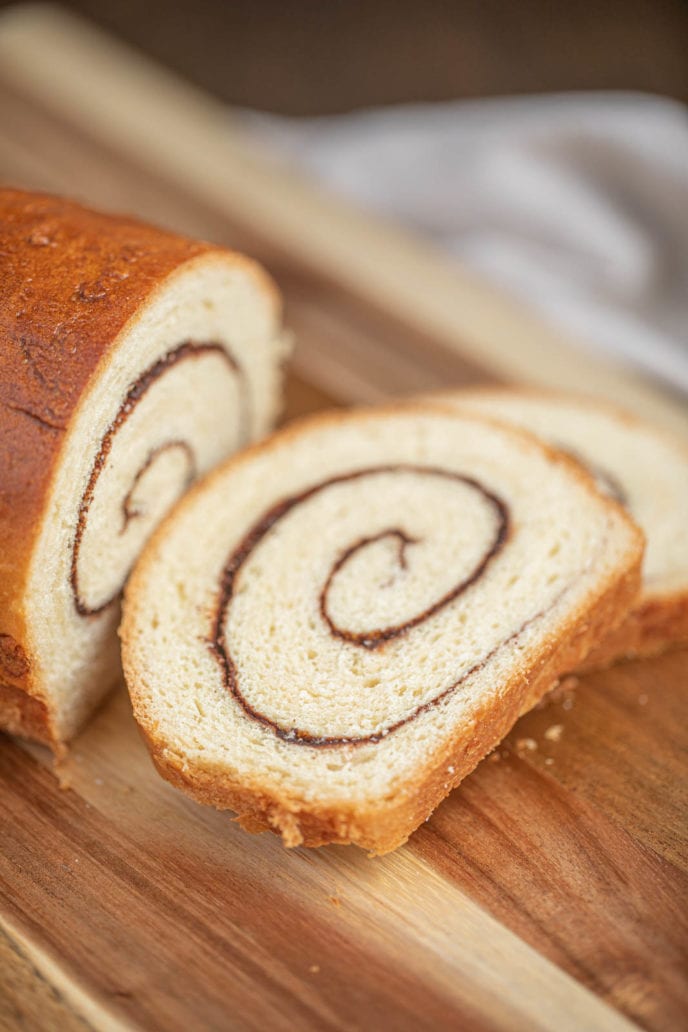 CINNAMON SWIRL BREAD
Homemade cinnamon swirl bread is a delicious treat that you can whip up when you're trying to impress some important guests (or you're just feeling super fancy.) Homemade bread is delicious but this recipe does have a longer cook time because the instant yeast does need to rise so don't wait until the last minute to start the cinnamon bread recipe.
Plus you can use this recipe to make some delicious French Toast or Easy French Toast Bake. Brunch will never be more delicious!
HOW TO MAKE CINNAMON SWIRL BREAD
Grease a loaf pan.
In a small saucepan, mix the butter and milk and gently heat until warm.  Allow to cool, then gently stir in yeast and set aside.
Mix the flour and salt together in a bowl and set aside.
Combine the sugar and eggs in a stand mixer with the paddle attachment.  Once well mixed, add in the yeast mixture and stir it all together. Gradually beat in the flour mixture on medium speed.
Change out the paddle attachment for a dough hook and knead the dough on medium speed.
Warm up a glass mixing bowl and then coat it with a drizzle of canola oil.
Toss the dough in the mixing bowl so that it's coated and then cover it in plastic wrap. Set it in a warm place and let the dough rise around 2 hours.
Once it's completely risen, take the dough out of the bowl and roll it out into an 18 to 24 inch rectangle and trim the edges to make them neat.
Mix the sugar and ground cinnamon together and sprinkle it over the dough.
Starting at the side opposite you, roll the dough tightly.
Set the rolled bread dough into your greased, floured pan seam side down.
Cover the pan with plastic wrap and let it rise for another 2 hours.
Preheat the oven while the bread dough is rising.
At the 2 hour mark, mix together the egg and milk to make an egg wash.
Brush the wash over the top of the swirl bread and put it in the oven to bake.
After the outside turns golden brown, take it out and let it completely cool on a wire rack before eating it.
Notes for the Perfect Cinnamon Swirl Bread:
Dust the greased surface with flour until it's coated but doesn't have extra powder hanging out in the bottom. You probably want to use an 18 or 24 inch loaf pan for this recipe.
Make sure to not allow the milk and butter mixture to boil. Once it's warm to the touch but not burning you, let it cool before adding the instant yeast, stir gently and let it sit at room temperature.
Make sure that the milk mixture is not over room temperature when you add the instant yeast or it will die.
You can use all-purpose flour or bread flour.
Make sure that the cinnamon/sugar mixture is evenly spread and you don't get too many clumps (the last thing you want to do is bite into a lump of ground cinnamon.)
If your dough is way too sticky and keeps coming apart, add some flour and keep kneading.
Make sure that your rectangle isn't wider than your loaf pan or you are in for some disappointment. Spread melted butter onto the dough.
Once you roll the dough, when you reach the end, pinch the seam flat to keep it from unrolling and undoing all your hard work.

ORIGINS
Although it made for a good story, the rumor that the American author Henry David Thoreau invented cinnamon swirl bread is not true.
Most likely, cinnamon swirl bread started off as a variation of either Stollen, a traditional Christmas cinnamon raisin bread eaten in Germany, or Kulich, a Russian Easter bread with an iced top and colorful sprinkles.
HOW LONG IS IT GOOD?
Serve: you can leave your cinnamon bread out at room temperature for 1 to 2 days before it gets too stale.
Store: your leftovers will be good in the fridge for about 10 days so feel free to serve it up for a nice, post-holiday brunch once the dust dies down.
Freeze: you can keep cinnamon swirl bread frozen for up to 2 months.


Ingredients
1

cup

whole milk

6

Tablespoons

unsalted butter

2-1/2

teaspoons

Active Dry Yeast

2

large eggs

1/3

cup

sugar

3-1/2

cups

flour

1

teaspoon

salt

1/3

cup

sugar

2

Tablespoons

cinnamon

2

Tablespoons

unsalted butter

melted
For greasing:
2

tablespoons

unsalted butter

softened
Egg wash:
1

large egg

2

tablespoons

whole milk
Instructions
Melt butter with milk. Heat until very warm, but don't boil. Allow to cool until still warm to the touch, but not hot. Sprinkle yeast over the top, stir gently, and allow to sit for

10 minutes.

In the bowl of an electric mixer, mix sugar and eggs with the paddle attachment until combined. Pour in milk/butter/yeast mixture and stir to combine. Add half the flour and beat on medium speed until combined. Add the other half and beat until combined.

Switch to the dough hook attachment and beat/knead dough on medium speed for

ten minutes

. If dough is overly sticky, add ¼ cup flour and beat again for

5 minutes.

Heat a metal or glass mixing bowl so it's warm. Drizzle in a little canola oil, then toss the dough in the oil to coat. Cover bowl in plastic wrap and set it in a warm, hospitable place for at least

2 hours

.

Turn dough out onto the work surface. Roll into a 18 x 9 inch rectangle. Smear with 2 tablespoons melted butter.

Mix sugar and cinnamon together, then sprinkle evenly over the butter- smeared dough.

Starting at the far end, roll dough toward you, keeping it tight and contained and pinch the seam to seal.

Smear a 9x5 loaf pan with softened butter. Place dough, seam down, in the pan. Cover with plastic wrap and allow to rise for

2 hours

.

Preheat oven to 350 degrees.

Mix egg with milk, and brush over the top.

Bake for

40 minutes

on a middle/lower rack in the oven. Remove from the pan and allow bread to cool.
Nutrition
Calories:
220
kcal
|
Carbohydrates:
26
g
|
Protein:
4
g
|
Fat:
11
g
|
Saturated Fat:
7
g
|
Cholesterol:
68
mg
|
Sodium:
222
mg
|
Potassium:
77
mg
|
Fiber:
1
g
|
Sugar:
12
g
|
Vitamin A:
384
IU
|
Calcium:
49
mg
|
Iron:
1
mg