Zucchini Bread is rich and moist with notes of cinnamon and vanilla that your whole family will love and will make use of all your end of summer zucchini!
Blueberry Lemon Bread, Banana Nut Bread and Banana Bread are just a couple of the rich, delicious cake/bread hybrids that I've made, but zucchini bread is on its own level. And kick it up even more with my Chocolate Zucchini Bread!
The cook time is short, and the prep time is even shorter so you can make this recipe whenever you feel like it.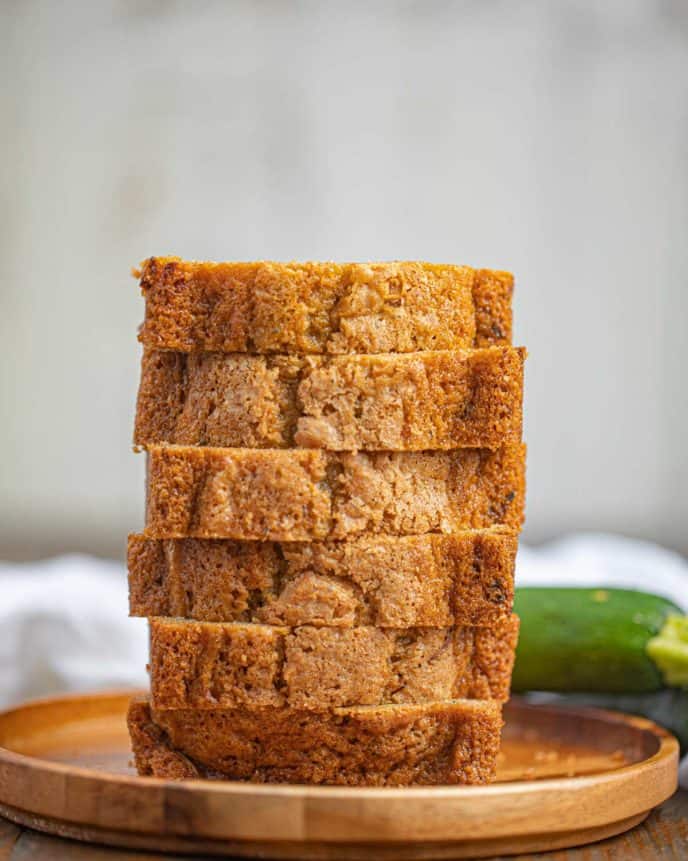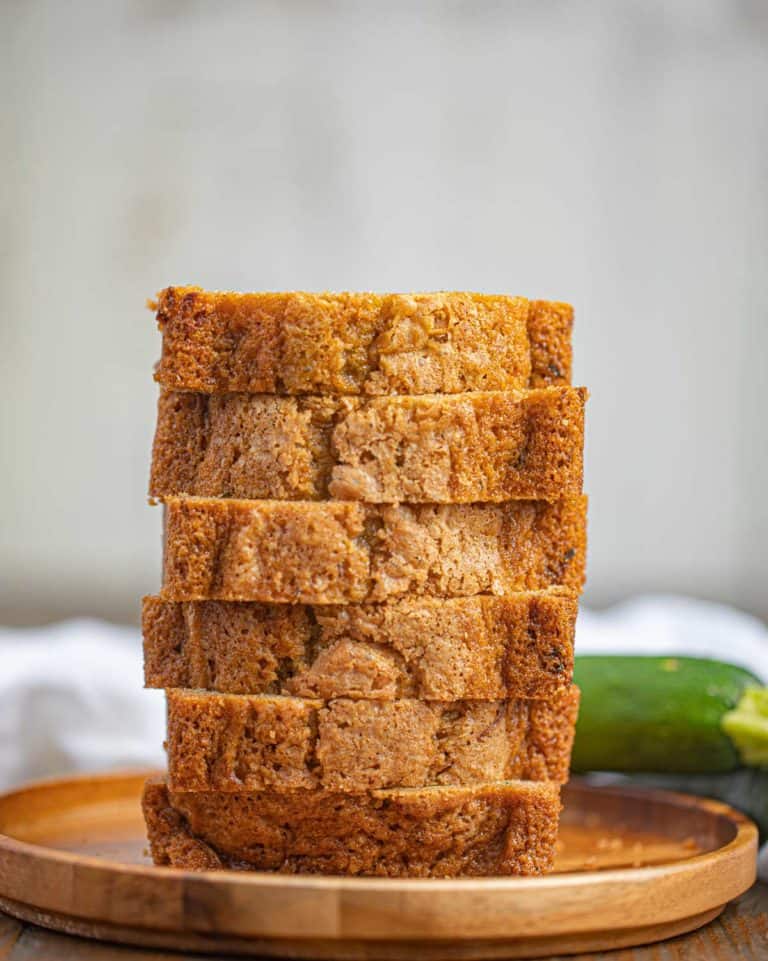 ZUCCHINI BREAD
Zucchini bread has been an American favorite for decades, and my recipe is a super easy one to follow, especially if this is your first time trying it out. This classic zucchini bread is an awesome snack and is perfect for potlucks and bake sales.
Zucchini bread is perfect for the end of summer vegetable crop and the less popular cousin of the super popular Easy Banana Bread. But take note, zucchini is super heatlhy, has even more potassium than bananas and your kids will NOT taste the zucchini.
Kids Love Zucchini Bread
Sometimes I call this "monster bread" because we tell the kids the green shreds are pieces of monster food so if they want to grow into strong monsters they need to eat their monster bread.
Works. Every. Time.
Plus if you're reading this in the future make a note: April 25th is National  Zucchini Bread Day and I bet you will win brownie (zucchini? 😉 ) points if you bring a loaf for everyone to share.
HOW DO I MAKE ZUCCHINI BREAD?
Preheat the oven and grease loaf pan.
Dust with all purpose flour so that it is completely coated but don't have a lot of excess falling off.
Shred the zucchini with a box grater until it is very fine.
Beat together both eggs in a large bowl, then add in your zucchini.
Mix in the oil and sugar.
Combine the dry ingredients in a second bowl, and then gradually stir them into the egg mixture.
Bake for 45-50 minutes or until the cake springs back when touched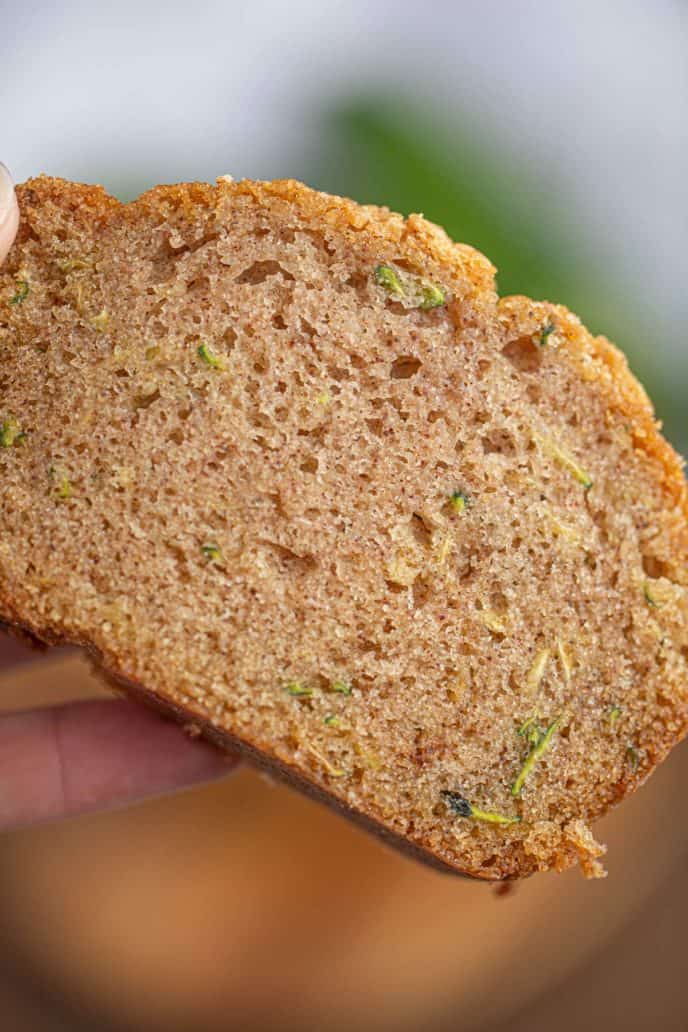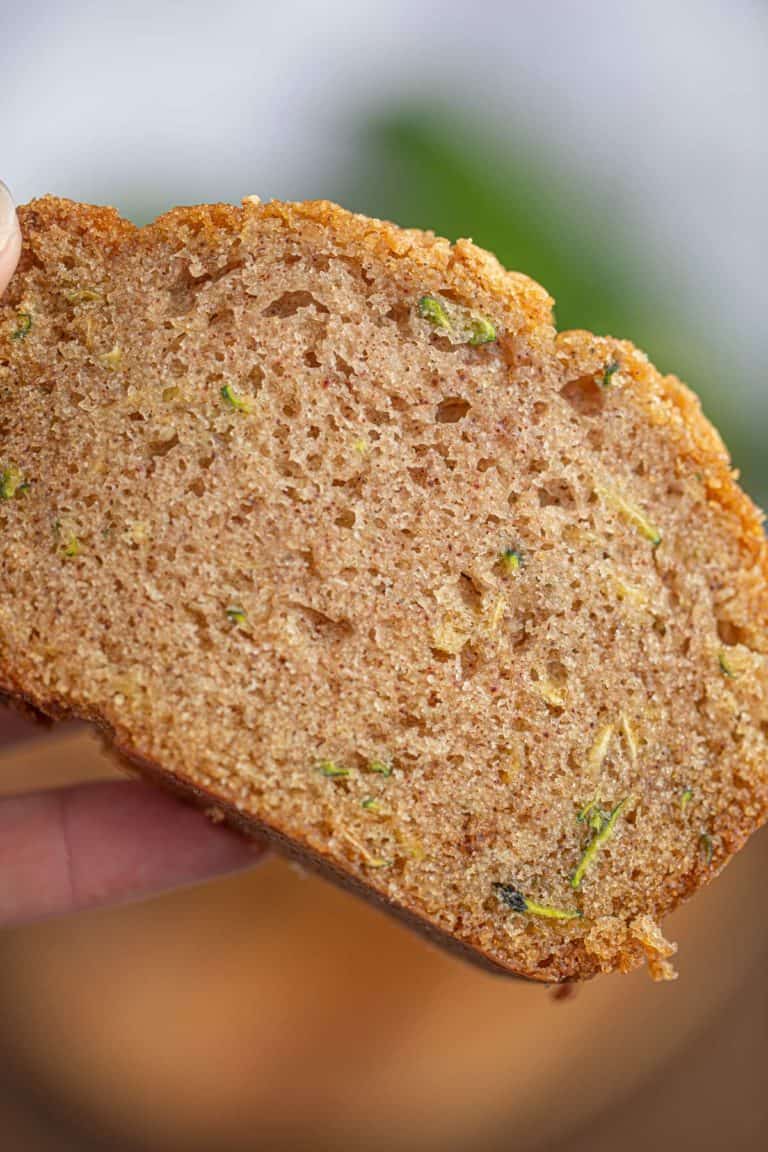 Create a free account to Save Recipes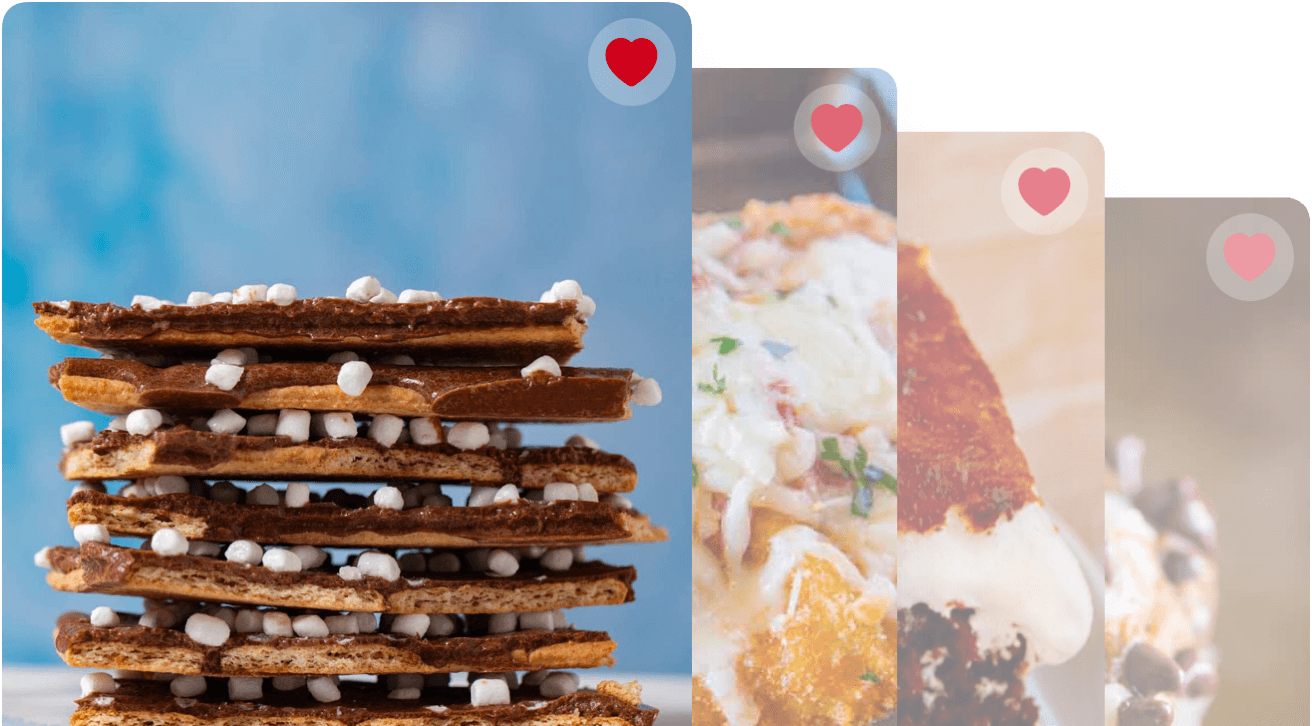 MORE FUN IDEAS
Next time, you can try zucchini muffins for a party treat. All you do differently is divide the batter into a muffin pan. Everyone gets their own mini loaf! Bake muffins for 18-20 minutes
Croutons: if you left your bread out uncovered and it's gone stale, chop it into tiny squares and bake them for a few minutes. Once they're done, you can add them to a salad to give it an unusual, delicious kick.
Chocolate Chips: We love semi-sweet chocolate chips or even white chocolate chips with dried cranberries.
Nuts: Add chopped pecans or chopped walnuts to the mix.
SERVE WITH
Breakfast Casserole: this casserole is rich and filling, and it goes great with a slice of classic zucchini bread.
Sheet Pan Pancakes: If you want to surprise your significant other for Mother or Father's Day, bring them this recipe in bed.
Biscuits and Gravy: go big or go home with flavor. Biscuits and gravy are a classic American breakfast food, so rounding it out with zucchini bread just feels right. The bad news is that you'll probably get hungry again in a week or two.
Want to dazzle your friends with Zucchini Trivia while enjoying this bread?
"Zucchini" is the plural of "zucchina." So, for example you will need to cut up a zucchina and add it to a pile of zucchini to make bread. Warning: using the word "zucchina" in everyday conversation may loose you some friends.
You can fry up zucchini flowers, and they are actually a delicacy. All you have to do is make a simple batter from flour, baking powder, salt, eggs, milk, and olive oil and dip as many cleaned gourd flowers into it as you'd like. Then, you heat oil in a skillet on the stove top and pan fry the flowers until they are crisp and golden brown, then serve them up with salt and pepper. They taste a lot like lettuce with light, floral tones, and are delicious.
The world record for the heaviest zucchini goes to one particular English vegetable that weighed in at 65 lbs. It was grown by Bernard Lavery from Devon, UK, in 1990.
Zucchini have more potassium than bananas do, but they are a lot less portable (it is harder to grab a zucchini for breakfast as you're running out the door to work.)
Every year, Obetz, Ohio throws a 3 day long zucchini festival. There's a parade, recipes are exchanged and, if you compete, there is a chance you could be crowned the Zucchini Queen. That's an honor that nothing else could ever top.
HOW LONG IS ZUCCHINI BREAD GOOD?
Serve: if you keep it in an airtight container, zucchini bread is good for about 3 days at room temperature, although it may start to get stale.
Store: your leftovers will last a bit longer in the fridge. If you wrap the loaf up in plastic wrap, it will stay good for about 1 week.
Freeze: you can freeze leftover zucchini bread for about 2 to 3 months. In order to enjoy it while it's still moist, I would recommend thawing it and eating it before you hit the 3 month mark.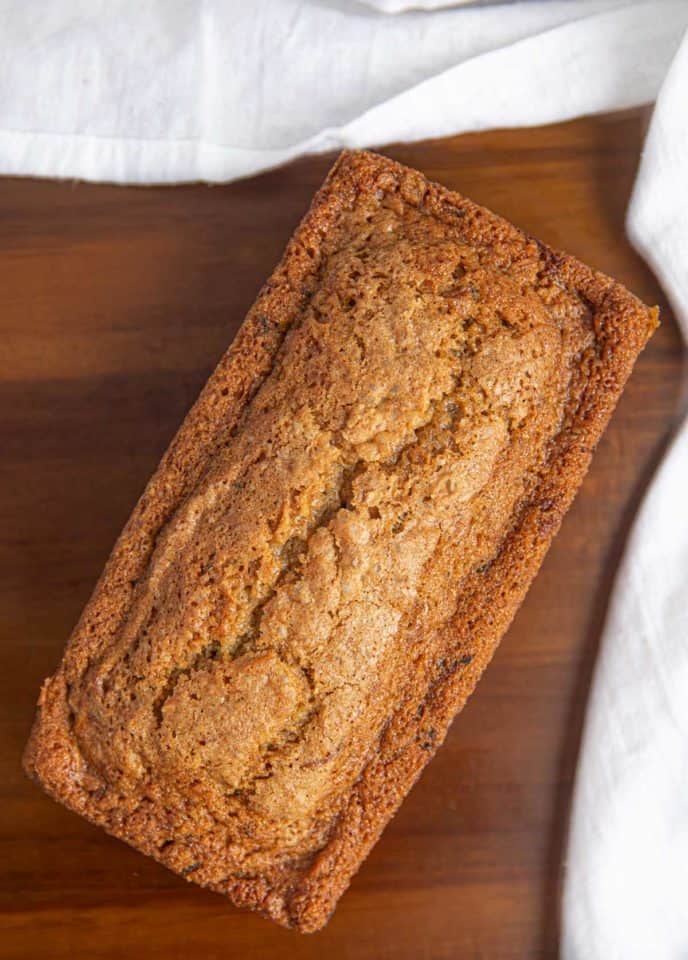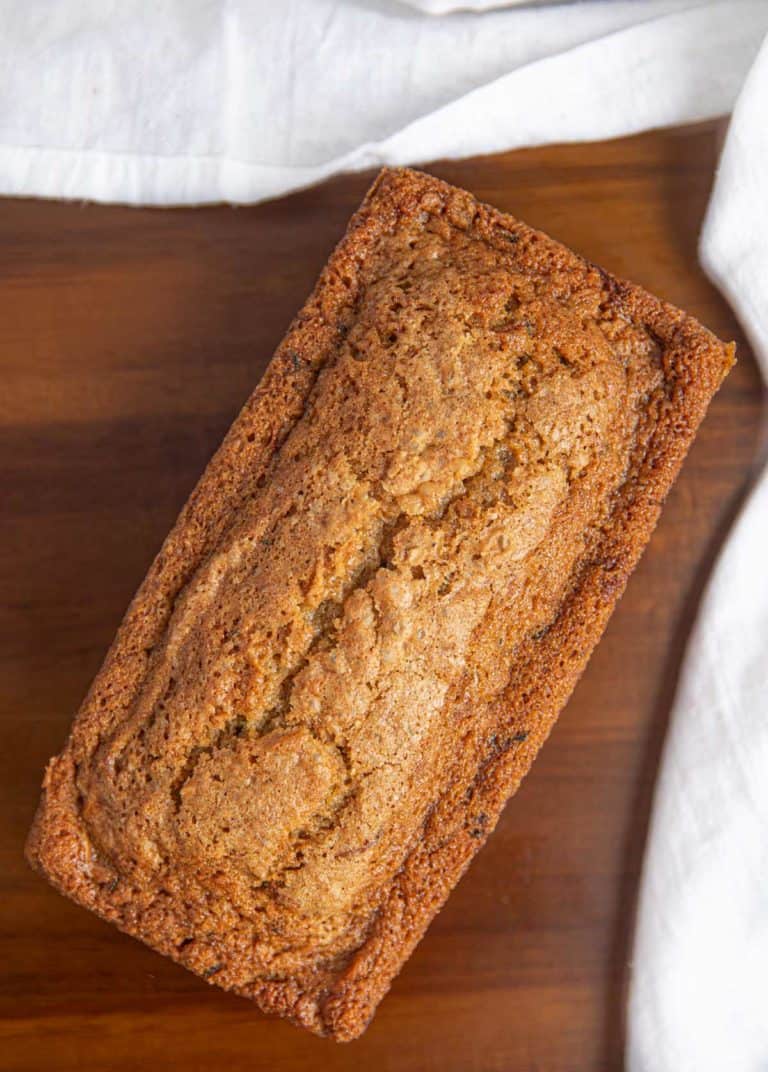 Ingredients
1 1/2

cups

flour

1/2

teaspoon

salt

1/2

teaspoon

baking soda

1/2

teaspoon

baking powder

1

teaspoon

ground cinnamon

2

large

eggs

1/2

cup

vegetable oil

1

cup

sugar

2

teaspoons

vanilla extract

1 1/2

cups

grated zucchini
Instructions
Preheat oven to 325 degrees and spray the 9x5 loaf pan with baking spray or butter and flour it well.

Sift flour, salt, baking soda, baking powder and cinnamon together.

Whisk together the eggs, oil, vanilla and sugar, then add in the dry ingredients.

Add in the zucchini and mix well.

Bake for

45-50 minutes

, until it springs back when touched then let cool for 15 minutes before removing from loaf pan.
Nutrition
Calories:
324
kcal
|
Carbohydrates:
43
g
|
Protein:
4
g
|
Fat:
15
g
|
Saturated Fat:
12
g
|
Cholesterol:
53
mg
|
Sodium:
235
mg
|
Potassium:
70
mg
|
Fiber:
1
g
|
Sugar:
25
g
|
Vitamin A:
75
IU
|
Calcium:
25
mg
|
Iron:
1.3
mg