Slow Cooker Chicken Breasts with Gravy is the ultimate comfort food. Easy crockpot recipe for tender chicken and savory gravy.
Hearty, comfort food like Slow Cooker Creamy Lemon Chicken and Smothered Pork Chops are the kind of Dinner Recipes that never go out of style. This southern classic is sure to warm your belly and heart.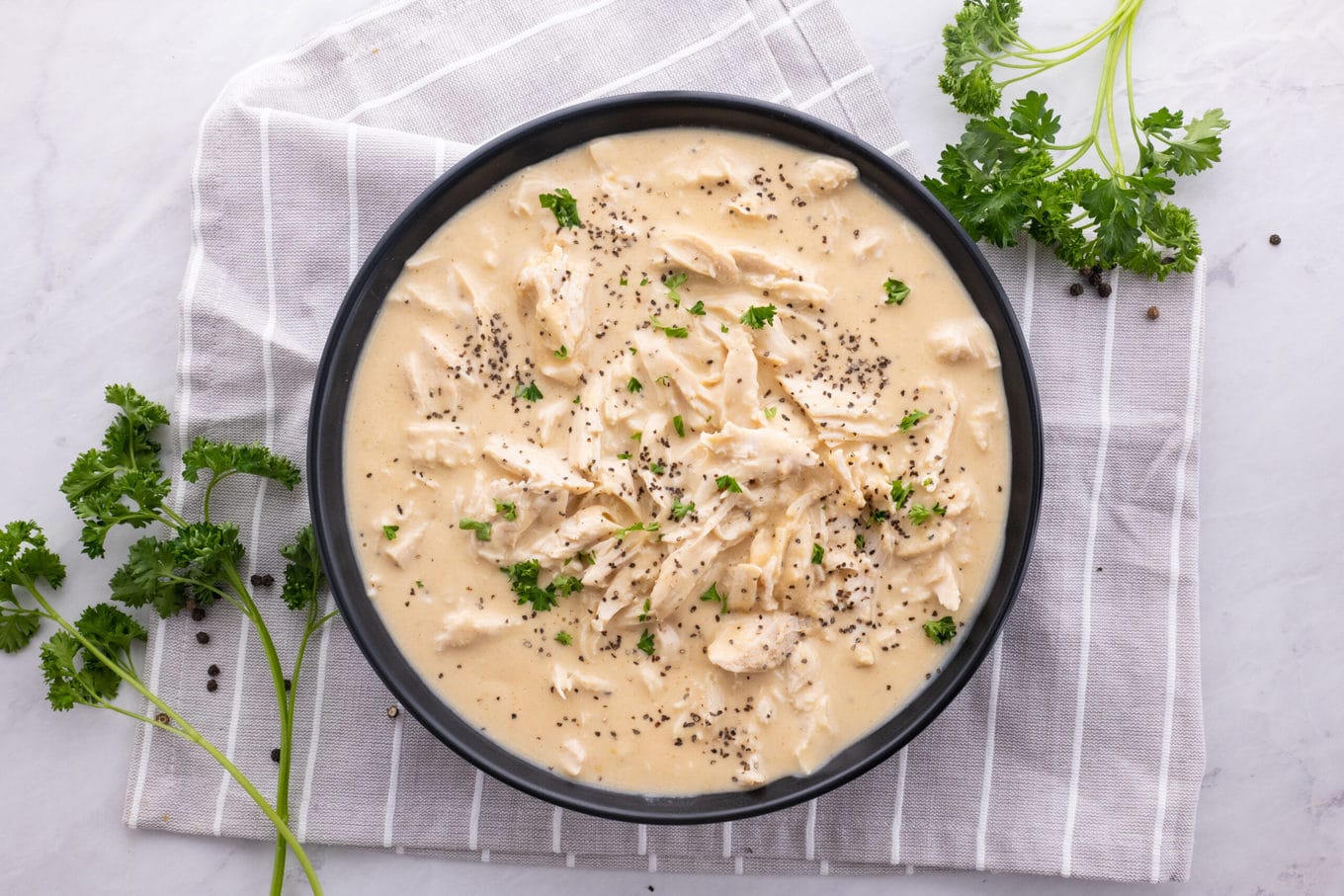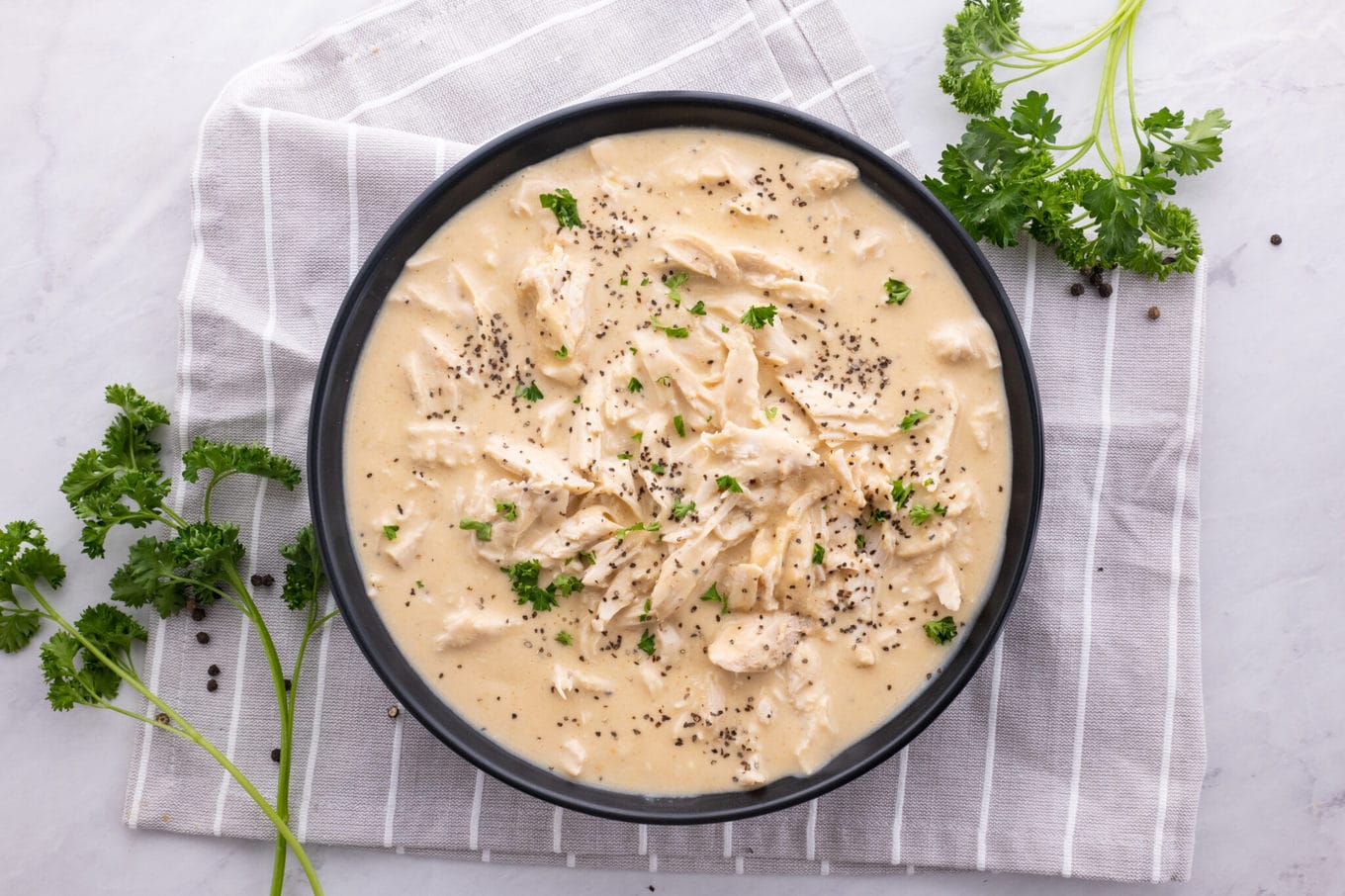 There are many slow cooker recipes to choose from, but this easy Slow Cooker Chicken and Gravy meal is sure to be one of your new go-to recipes that your whole family will love! Fork tender chicken and thick flavorful gravy served with mashed potatoes is the ultimate comfort food. It's a holiday dinner that you can make easily all year round.
Everyone loves how this yummy recipe comes together in just minutes. The cooking time is long and slow and results in a delicious meal. Throw everything into the slow cooker first thing in the morning and the only thing you'll have to worry about are sides.
For sides, serve an easy veggie like Green Beans. Spoon your chicken and gravy over Mashed Potatoes, White Rice or even a thick piece of Texas Toast. A batch of fresh French Rolls would taste delicious (and soak up any extra gravy).
The nice thing about saucy recipes like this Slow Cooker Chicken and Gravy is that you can use your boneless skinless breasts and expect tender chicken every time. The creamy soup keeps your meat from drying out and makes it easy to shred.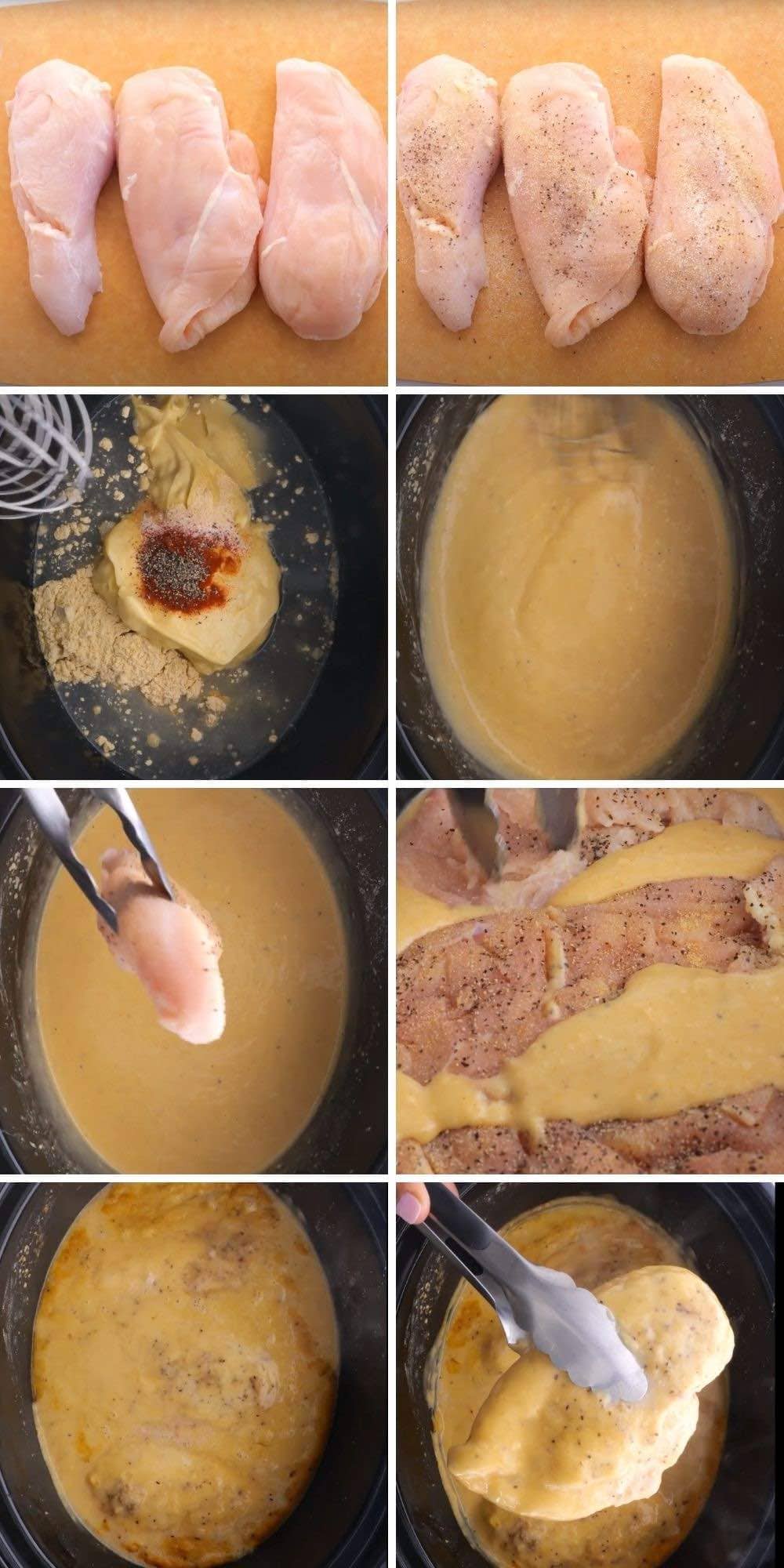 How to Make Slow Cooker Chicken and Gravy
The process for making this is so easy and is completed in only three steps! Simply prepare the simple ingredients and put them into the pot for the perfect slow cooker meal. Check it out!
Step One: Mix the gravy ingredients. Just a few ingredients, mixing them ahead in a bowl or in the insert is just a few seconds of effort.
Step Two: Add chicken in whole. This will keep as much moisture as you can given the meat is so low in fat. Cutting in into chunks ahead of time will make the end result drier.
Step Three: Shred minimally. When shredding or cutting you don't have to shred the chicken too small or it'll be like a filling versus a meal.
More Easy Slow Cooker Recipes
Can I use bone-in chicken?
Yes! If you've been a longtime reader, or are have seen some of our other Slow Cooker Chicken Recipes, you know we usually don't suggest putting boneless, skinless chicken breasts into a crockpot. Many previous posts have cautioned to stick to bone-in chicken thighs. But for this recipe, you can easily use either. Just remember to take the bones out before serving. 
Can I make my own Condensed Cream of Chicken Soup? 
Absolutely. We highly recommend it too! To eliminate the processed canned soup, you can use a Homemade Condensed Cream of Chicken Soup recipe instead. You can easily make chicken gravy mix from scratch with the quick recipe down below.
How can I make my gravy even thicker?
Depending on various reasons, the final product might not have as much of a gravy consistency as you might like. Not to worry! This can easily be remedied by simply adding a flour or cornstarch slurry. Add a tablespoon of cornstarch to a cup of cold water and whisk it until it has thickened. Once this is done, then you can mix it into the gravy base and give it a good stir to blend it in. Take the chicken out first to make it easier to stir. Also, thicken it at the end of cooking to make sure it doesn't burn on the bottom of the crockpot. 
I don't have a slow cooker. Can I use my Dutch oven? 
Yes! You can make this on the stove top easily by assembling according to the instructions. Bring it to a quick boil and immediately drop the stove temperature. Let it simmer on Medium for about at least an hour, maybe tow depending on your stove. Depending on the strength of your stove, you might need to let it simmer on Low for about two hours so it doesn't burn. Either way, give it a quick stir several times throughout the cooking to ensure it doesn't burn on the bottom of the Dutch oven. Make sure the chicken is cooked thoroughly with an internal temperature of 165 degrees F. 
Can I use frozen chicken for this recipe?
Yes, you can, but it's better to used thawed chicken because the frozen chicken will release water as it thaws in the pot which will dilute the gravy. If you do this, cook uncovered on high after shredding to thicken it back up.
What can I substitute for sour cream? 
You can easily switch it out for equal parts heavy cream, Greek yogurt, or ¼ cup cream cheese. If you accidentally forget to add it to the meal, it will still taste amazing! 
What should I use if I don't have Condensed Cream of Chicken soup?
You can substitute with condensed cream of mushroom for an amazing meal! Regular cream of chicken soups are good too. Add a cornstarch slurry if you'd like to thicken it even more. You can also make your own Homemade Condensed Cream of Chicken Soup.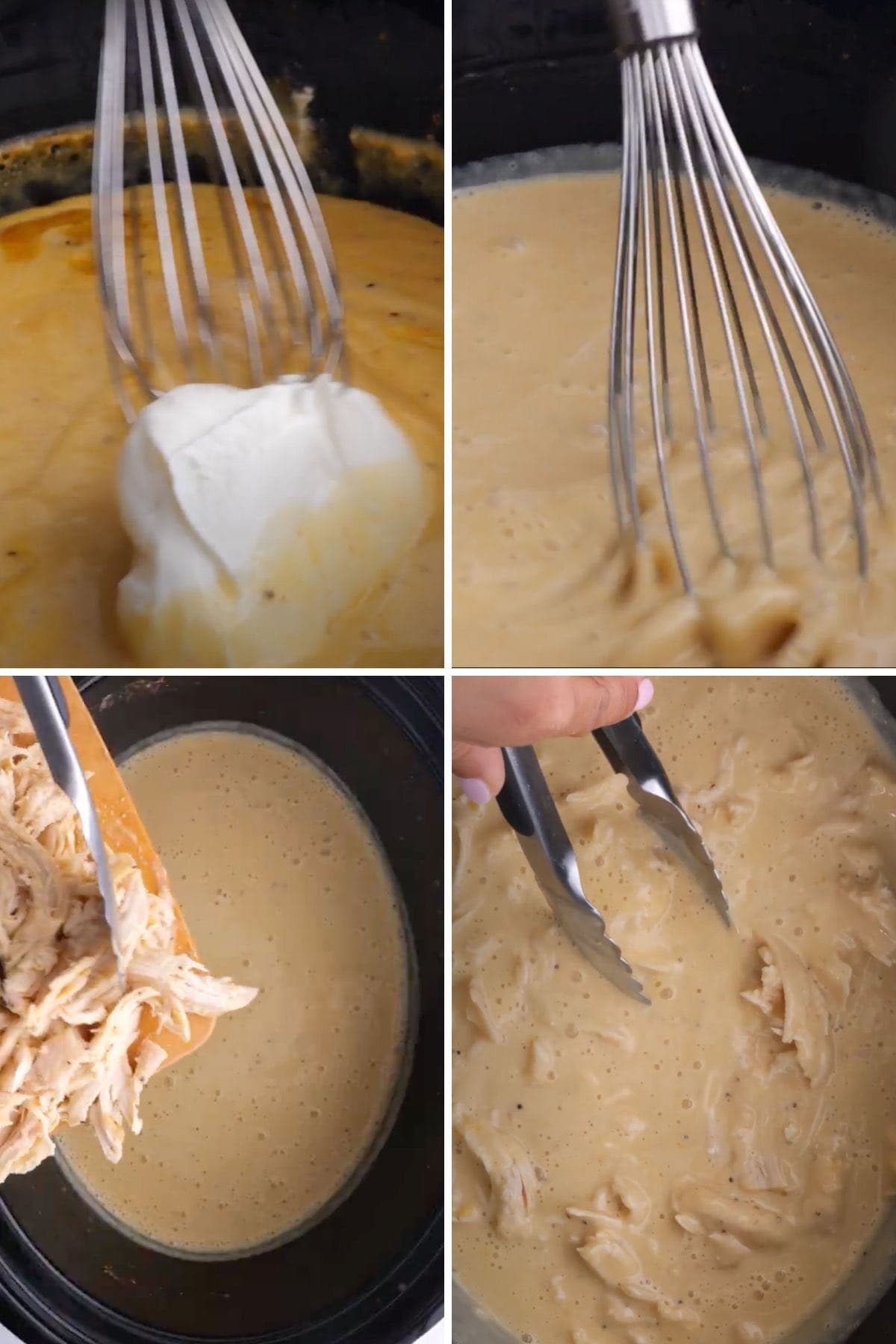 Create a free account to

Save Recipes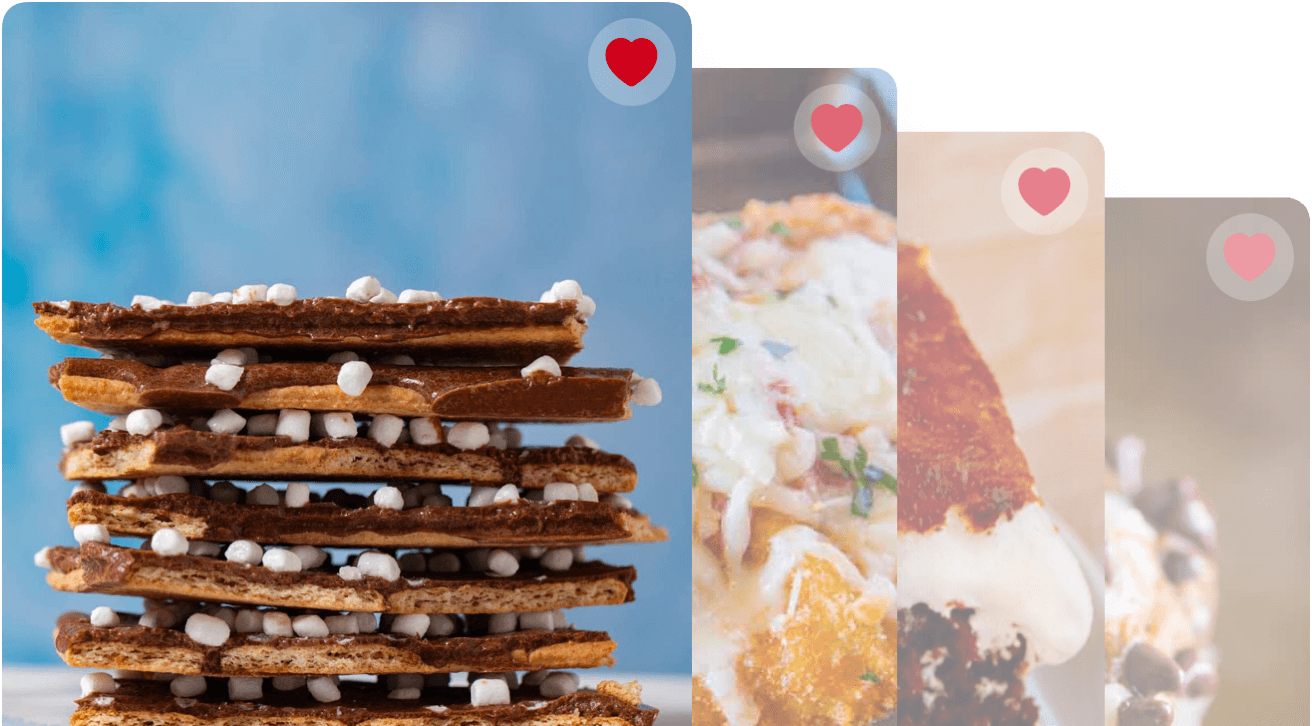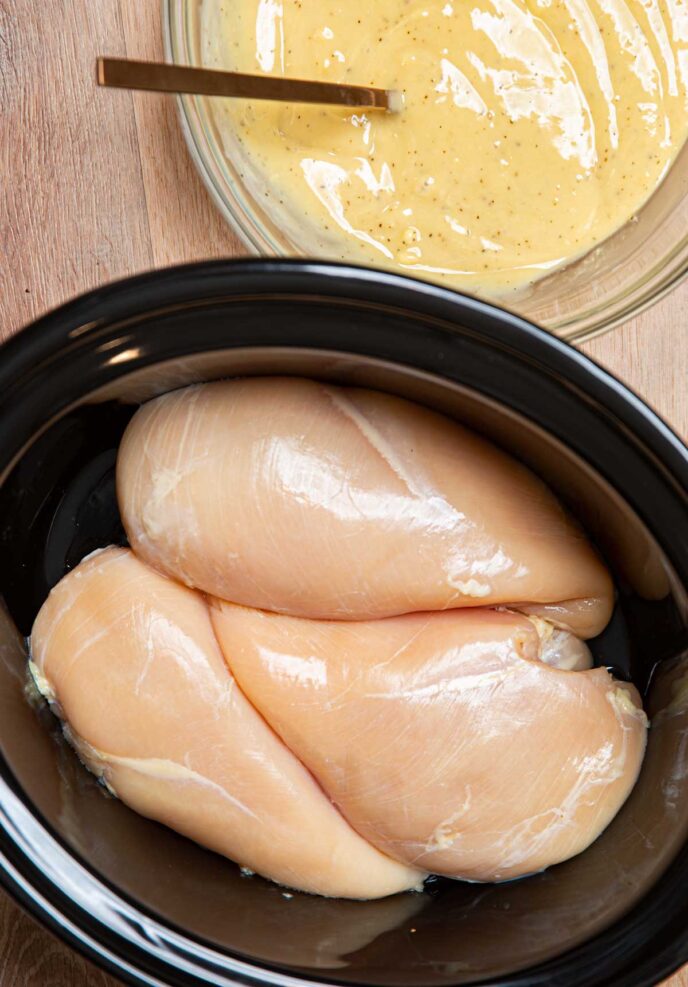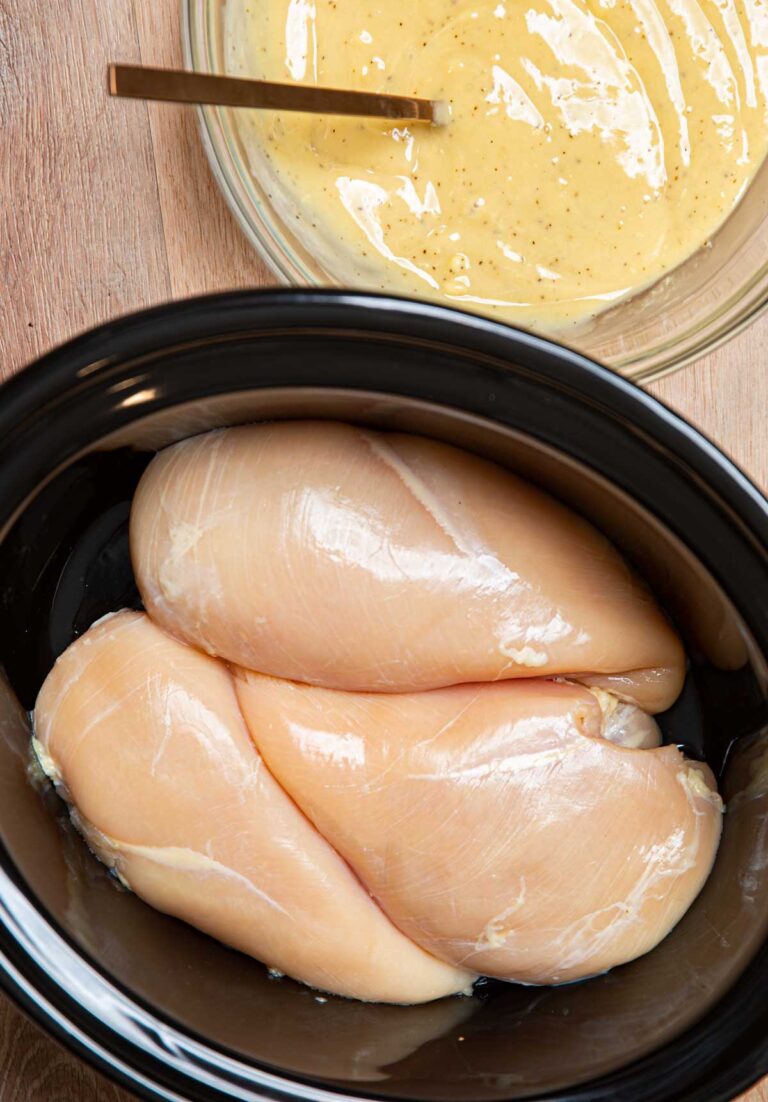 Key Ingredients in Slow Cooker Chicken and Gravy
This is an amazing budget-friendly recipe because all the ingredients can easily be found at your local grocery store, if you don't already have them in your pantry. Check it out!
Chicken: The boneless, skinless chicken breasts make this super easy to just serve. If you've got chicken broth, feel free to use that instead of water too! 
Gravy Mixture: We are using a cream of chicken soup along with extra packets of gravy mix to really get a nice gravy. 
Sour Cream: This adds a delectable creaminess to the gravy that is mouthwateringly delicious. 
Variations on Slow Cooker Chicken and Gravy
Meat: This simple dinner is great for whatever boneless, skinless meat you have on hand. You can easily substitute pork chops, turkey breasts, or chicken thighs for the chicken breasts.
Mushroom: Cream of Mushroom Soup is a tasty substitute for the chicken soup. For more of that earthy flavor, add diced brown mushrooms during the last 2 hours of cooking.
Broth: Give your gravy more chicken flavor and use chicken broth instead of water. You can also use beef broth to make more of a brown gravy.
Veggies: The last hour of cooking, stir in your favorite frozen veggies like peas and carrots to make this dish heartier and well rounded.
Gravy Mix: Instead of chicken gravy packets, use 4 tablespoons of the Chicken Gravy Mix below to make it completely homemade.
Noodles: Instead of serving over rice, you can make this a super hardy meal by adding boiled egg noodles to the gravy at the end after it has completed cooking.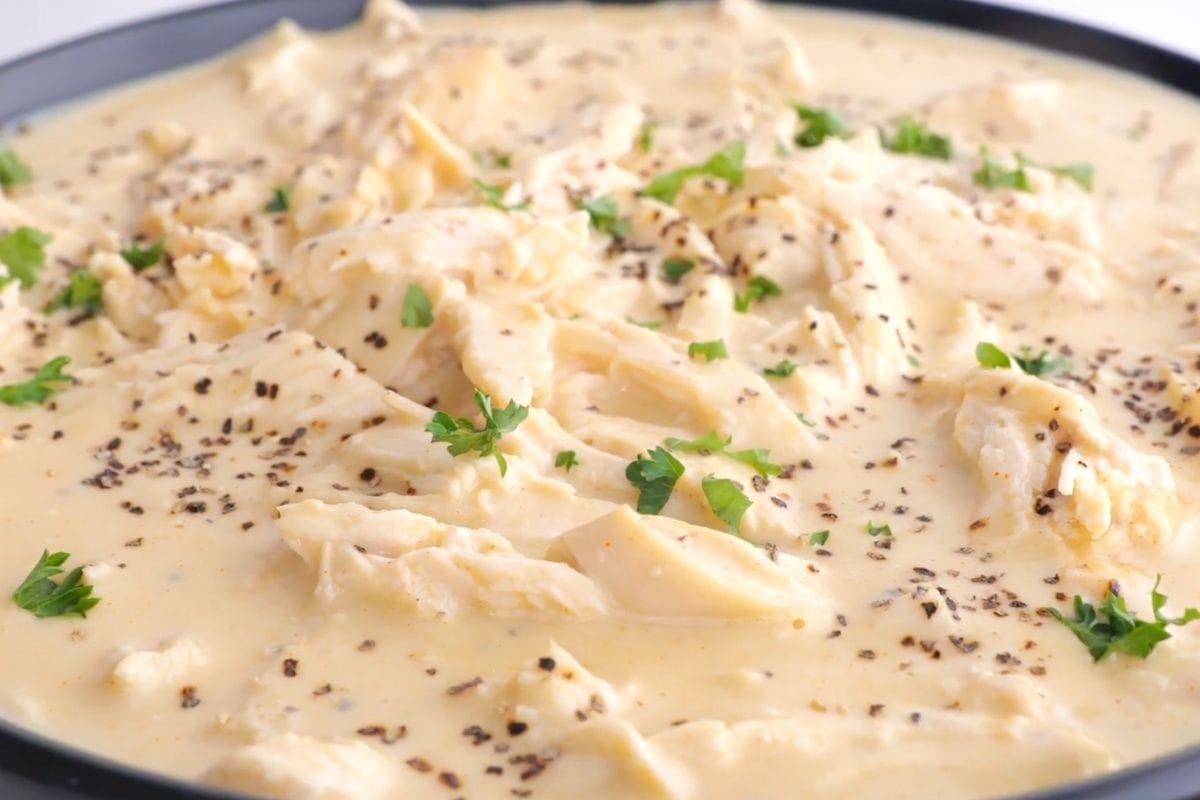 Homemade Chicken Gravy Mix
Use 4 tablespoons of homemade gravy mix in the recipe. Usually a packet of dry mix is 2 tablespoons. 
3 tablespoons chicken bouillon granules
¾ cup plus 1 tablespoon flour
½ teaspoon pepper
1 ½ teaspoons poultry seasoning
Blend bouillon and seasonings in a food processor until fine. Sift into flour until well combined. Store in an airtight container in a cool dry place for up to 6 months.
Instant Pot Slow Cooker Chicken and Gravy
This is a great way to get a quick and easy dinner. To avoid getting an Instant Pot error and burning the meal, add the condensed cream of chicken soup after it has cooked completely, just before serving. Feel free to add a cornstarch slurry if you'd like the gravy to be a little thicker.
Place chicken and water into Instant Pot.
Cover with gravy mix and seasonings. Do not stir. 
Cover and set valve on sealing. Set for 15 minutes on manual high pressure.
Let pressure release naturally for 5-10 minutes, then turn valve to venting. 
At the end, add the condensed cream chicken soup and stir well to incorporate and thicken.
You may need to add a cornstarch slurry to thicken gravy since Instant Pots tend to release more liquid.
More Yummy Chicken Recipes
How to Store Slow Cooker Chicken and Gravy
Serve: This will stay good in the slow cooker on warm for up 4 hours. If at room temperature, store after no more than 2 hours.
Store: Transfer Chicken and Gravy to an airtight container and store for up to 4 days in the fridge.
Freeze: Freeze this dish for up to 3 months. Cool completely and seal tightly. Allow to thaw in the refrigerator overnight before reheating.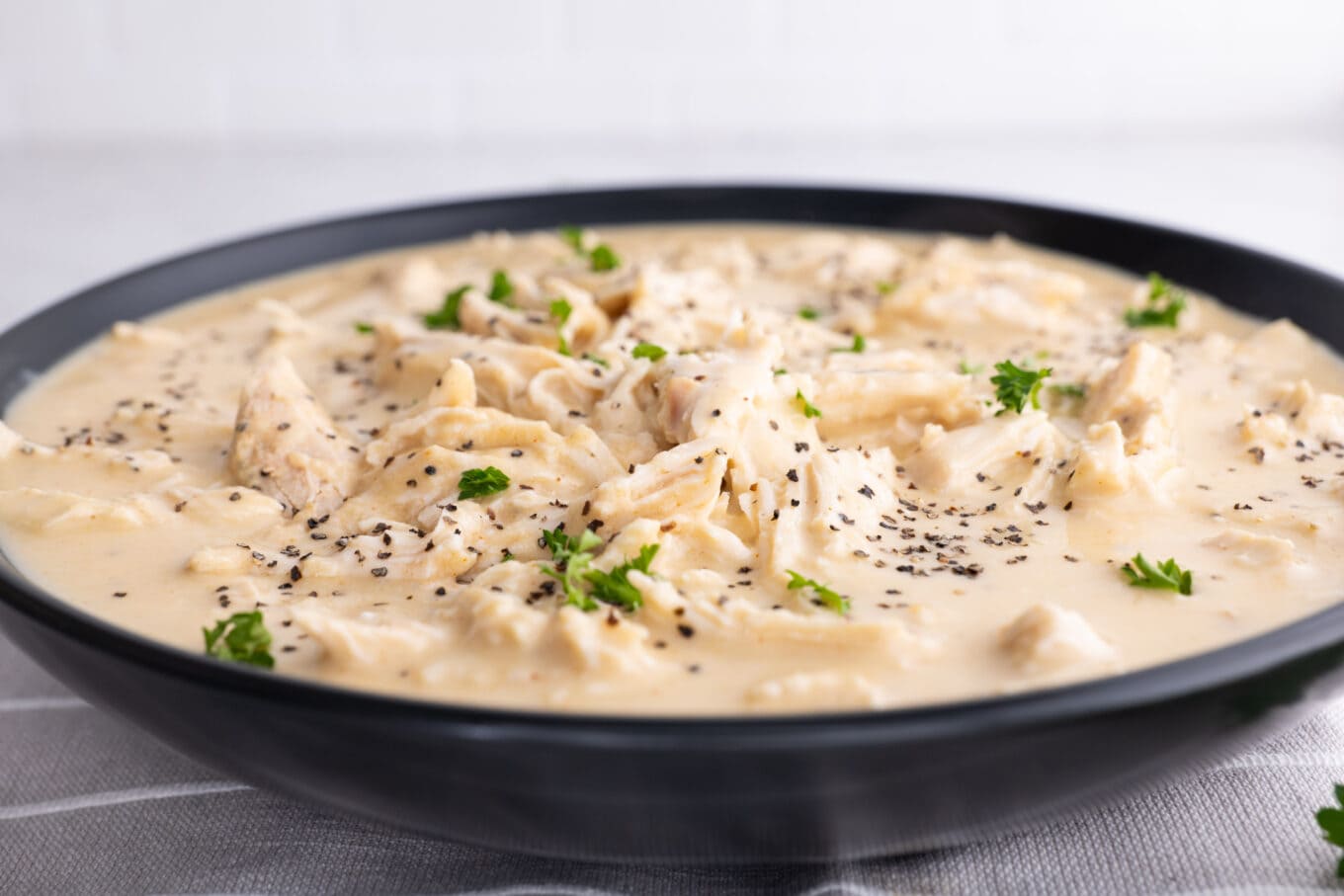 Ingredients
1 1/2

cups

water

2

packets

chicken gravy mix

1 1/4

cup

Condensed Cream of Chicken Soup

(don't dilute before measuring)

1

teaspoon

garlic powder

1/2

teaspoon

kosher salt

1/2

teaspoon

paprika

1/4

teaspoon

coarse ground black pepper

3

whole

chicken breasts

, boneless, skinless (about a pound)

1/2

cup

sour cream
Instructions
Season chicken breasts with garlic powder, black pepper and salt.

In slow cooker, whisk together the water, gravy packets, condensed chicken soup, garlic powder, salt, paprika and pepper until smooth

Add the chicken breasts to the slow cooker and flip on both sides to coat well.

Cover and cook on low for

4-5 hours

.

When done, carefully remove chicken, shred or cut as desired.

Whisk the sour cream into the slow cooker until smooth and serve over chicken.
Nutrition
Calories:
205
kcal
|
Carbohydrates:
5
g
|
Protein:
21
g
|
Fat:
11
g
|
Saturated Fat:
4
g
|
Cholesterol:
75
mg
|
Sodium:
572
mg
|
Potassium:
399
mg
|
Sugar:
1
g
|
Vitamin A:
285
IU
|
Vitamin C:
1
mg
|
Calcium:
41
mg
|
Iron:
1
mg
Photos used in a previous version of this post.