Super Crispy Chicken Tenders
This post may contain affiliate links. Read my disclosure policy here.
Super Crispy Chicken Tenders made with a buttermilk marinade that makes them really tender and the crispiest crust with KFC flavored spices.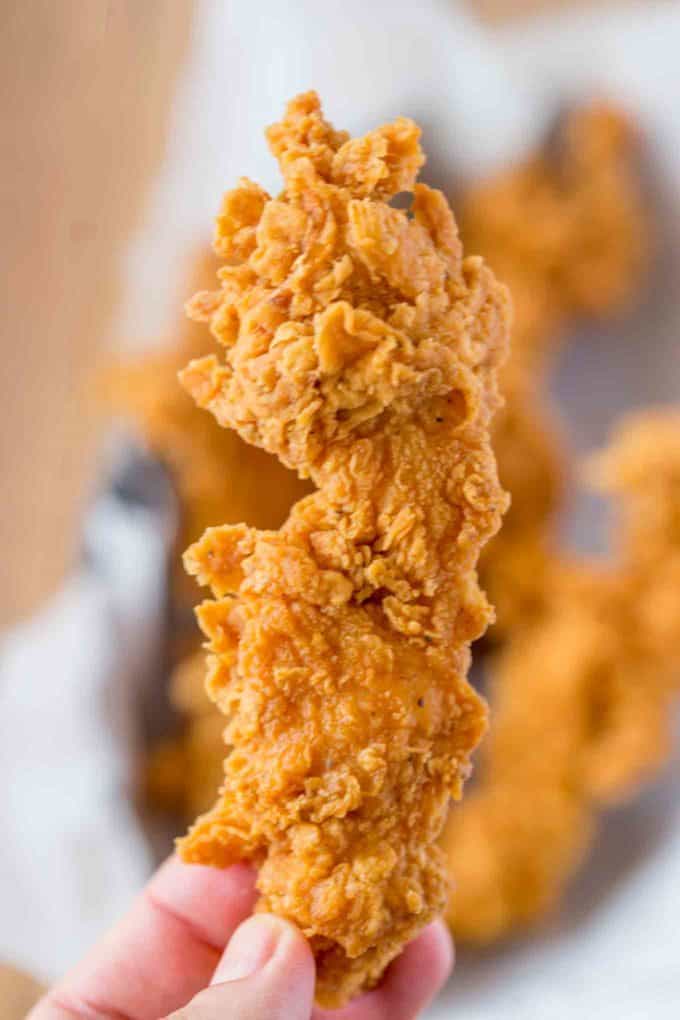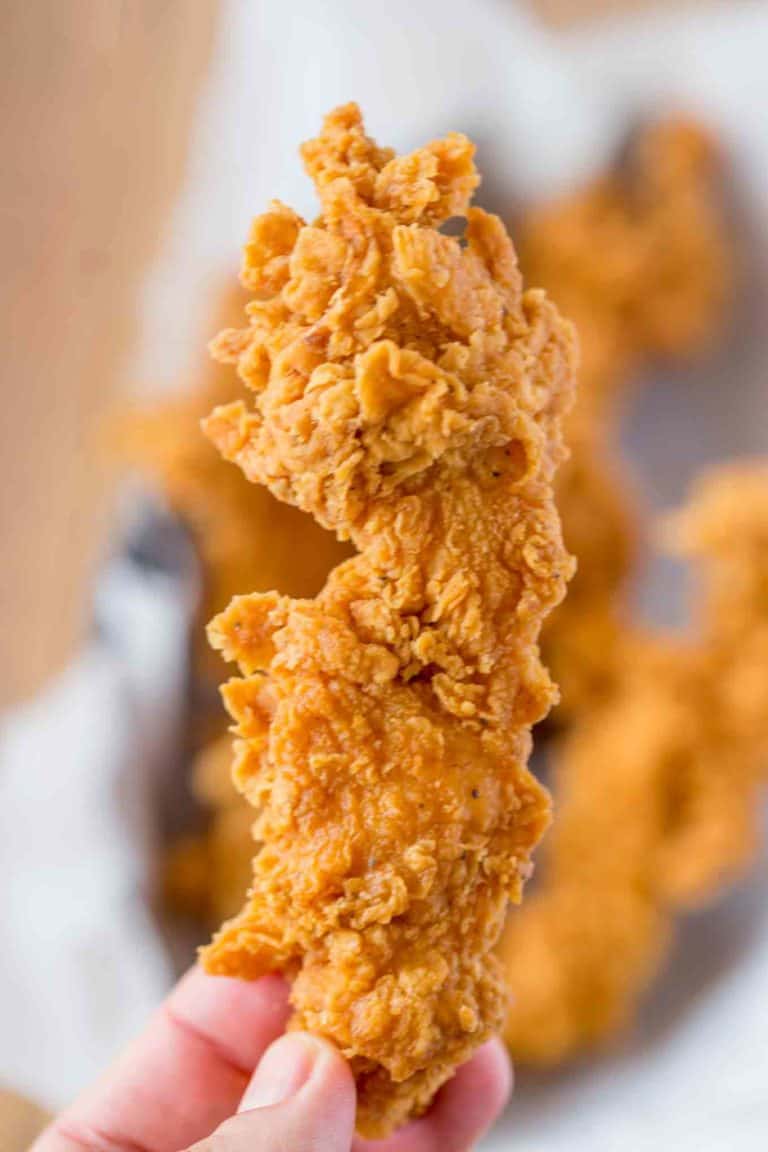 Super Crispy Chicken Tenders soaked in buttermilk and fried crisp are super flavorful, moist and extra crispy on the outside. Plus with spices like the kinds you'd get at KFC these tenders are perfect for replacing fast food cravings and even game day parties.
Once fried you can keep them crisp in a low oven at 250 degrees while you finish frying them or keep them warm until your even starts.
With the big game coming up we are looking for fun finger foods and chicken tenders are the perfect finger food.
Why marinate in buttermilk?
The buttermilk acts as a tenderizer which makes the chicken moister. Even just a half an hour soak will help with flavor and it also acts as a binding agent for the first coat of seasoned flour.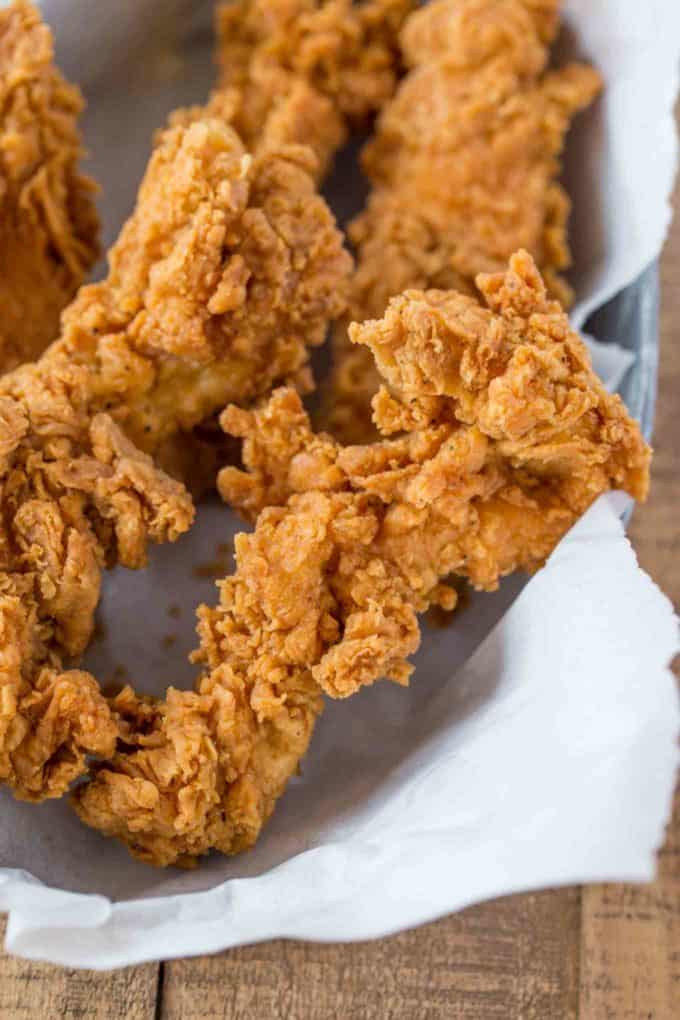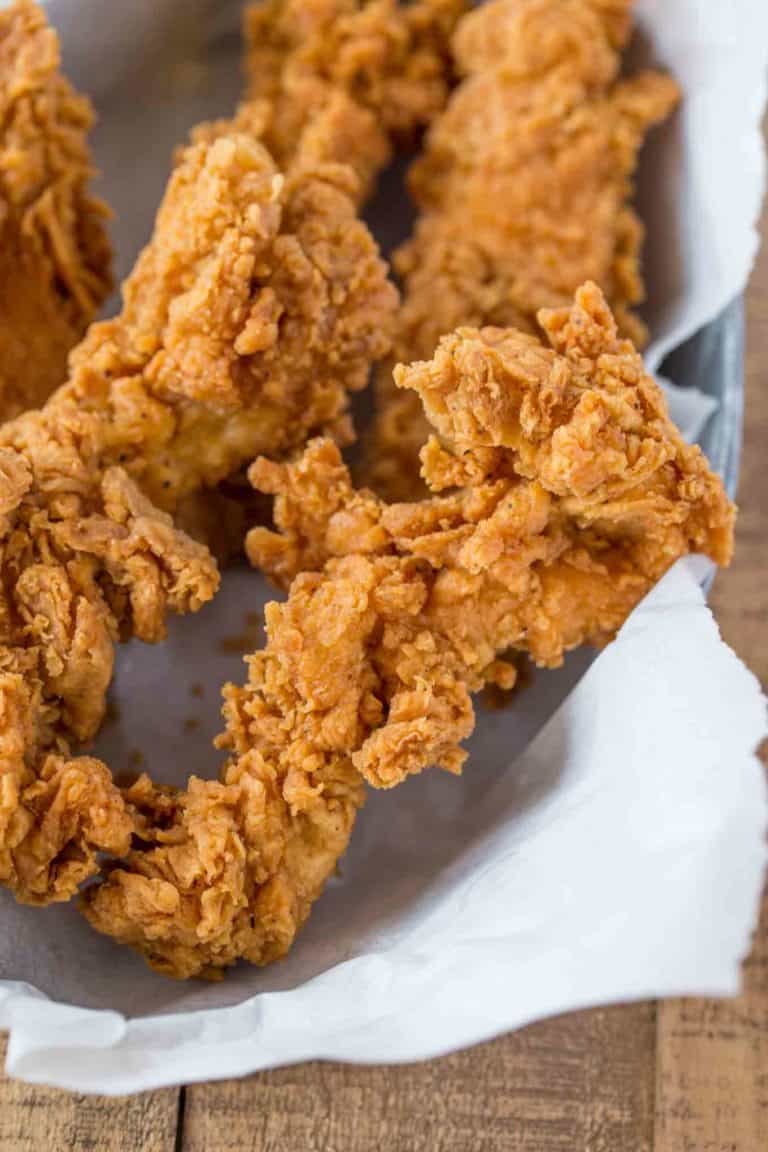 How to make baked chicken tenders? (Healthy Chicken Tenders)
After the buttermilk marinade add the spices to breadcrumbs instead of flour. Dredge the chicken from the buttermilk into the breadcrumbs then add to a baking sheet. Bake at 400 degrees for 20-25 minutes.
MY OTHER RECIPES
Looking for some more fun fried chicken and sides?
Tools Used In This Recipe:
Deep Fryer: Easy for keeping temperature on point and kind of fun to use!
Accent Seasoning: The x factor in the original KFC copycat recipe (this is MSG, so use at your discretion).
Pigtail Flipper: I LOVE this tool for frying. I am able to drop and pick up pieces without removing any breading at all thanks to this awesome tool.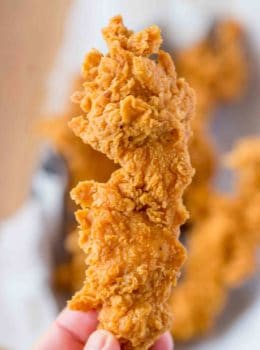 Super Crispy Chicken Tenders
Super Crispy Chicken Tenders made with a buttermilk marinade that makes them really tender and the crispiest crust with KFC flavored spices.
Ingredients:
4 chicken breasts, boneless skinless
1 cup buttermilk
1 teaspoon hot sauce
2 large eggs, beaten
2 cups flour
2 1/2 teaspoons salt
3/4 teaspoon pepper
1/8 teaspoon paprika
1/8 teaspoon garlic powder
1/8 teaspoon baking powder
canola oil for frying
Directions:
Cut the chicken breasts into four tenders each and soak them in a bowl with the buttermilk and hot sauce for 30 minutes.
Add the eggs to one bowl and the flour and spices to a second bowl.
Dip each piece of chicken from the buttermilk bowl to the flour mixture.
Dip it into the eggs then back into the flour mixture.
Shake excess flour gently off and put the chicken onto a baking sheet.
Repeat with all the pieces.
Heat the oil (three inches deep) in a dutch oven on medium high heat to 350 degrees.
Fry the chicken in small batches for 5-7 minutes or until golden brown.
All images and text ©
Made this recipe?
Show me what you made on Instagram or Facebook and tag me at @DinnerthenDessert or hashtag it at #dinnerthendessert.
Dinner, then Dessert, Inc. owns the copyright on all images and text and does not allow for its original recipes and pictures to be reproduced anywhere other than at this site unless authorization is given. If you enjoyed the recipe and would like to publish it on your own site, please re-write it in your own words, and link back to my site and recipe page. Read my disclosure and copyright policy. This post may contain affiliate links.