Chicken Nuggets are a classic kid favorite meal you can EASILY make at home with just a few ingredients in under 30 minutes baked or fried!
Serve your delicious, fresh Chicken Nuggets with some Crispy Sweet Potato Fries, Shoestring French Fries, or Beer Battered Onion Rings.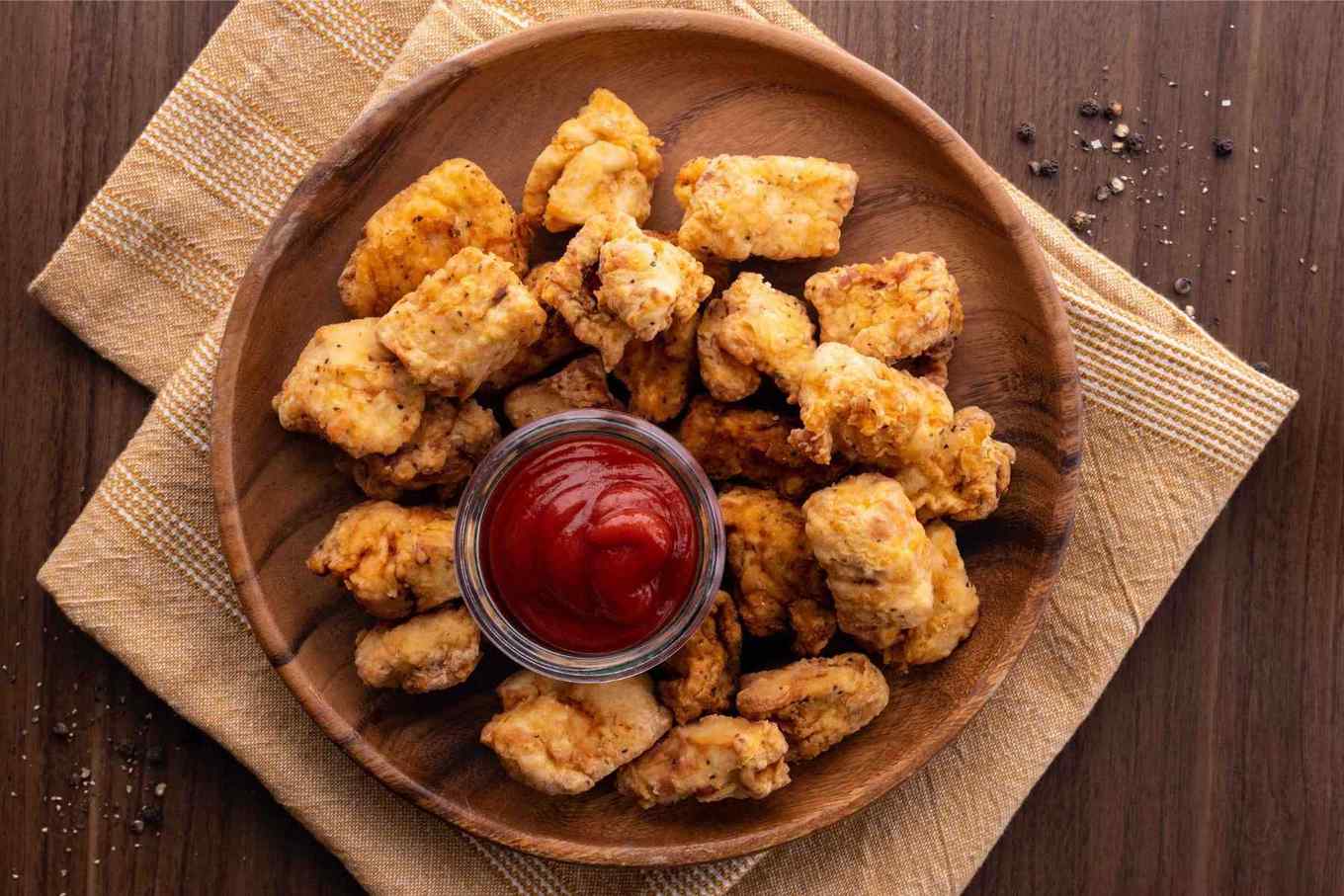 Chicken Nuggets are a favorite American snack, and they are surprisingly easy to make. In fact, they may end up being one of your new favorite Dinner Recipes. Homemade Chicken Nuggets are much easier to make than you think and are better for you than your traditional fast food. All you have to do to cook them up is assemble the ingredients, dredge your skinless chicken breasts, and cook them up in a skillet.
The nice thing about making homemade Chicken Nuggets instead of getting some from your favorite fast food chain is that you can control what goes into them, so they are extremely customizable depending on what you're in the mood for. You can also make them even more kid friendly for the pickier members of your family.
As far as chicken recipes go, this one is extremely simple to make. While you assemble the ingredients, you can experiment with a few extra spices, but keep in mind that a little goes a long way. Once you've cooked up the Chicken Nuggets and let them cool, serve them up with your favorite honey mustard dipping sauce and enjoy.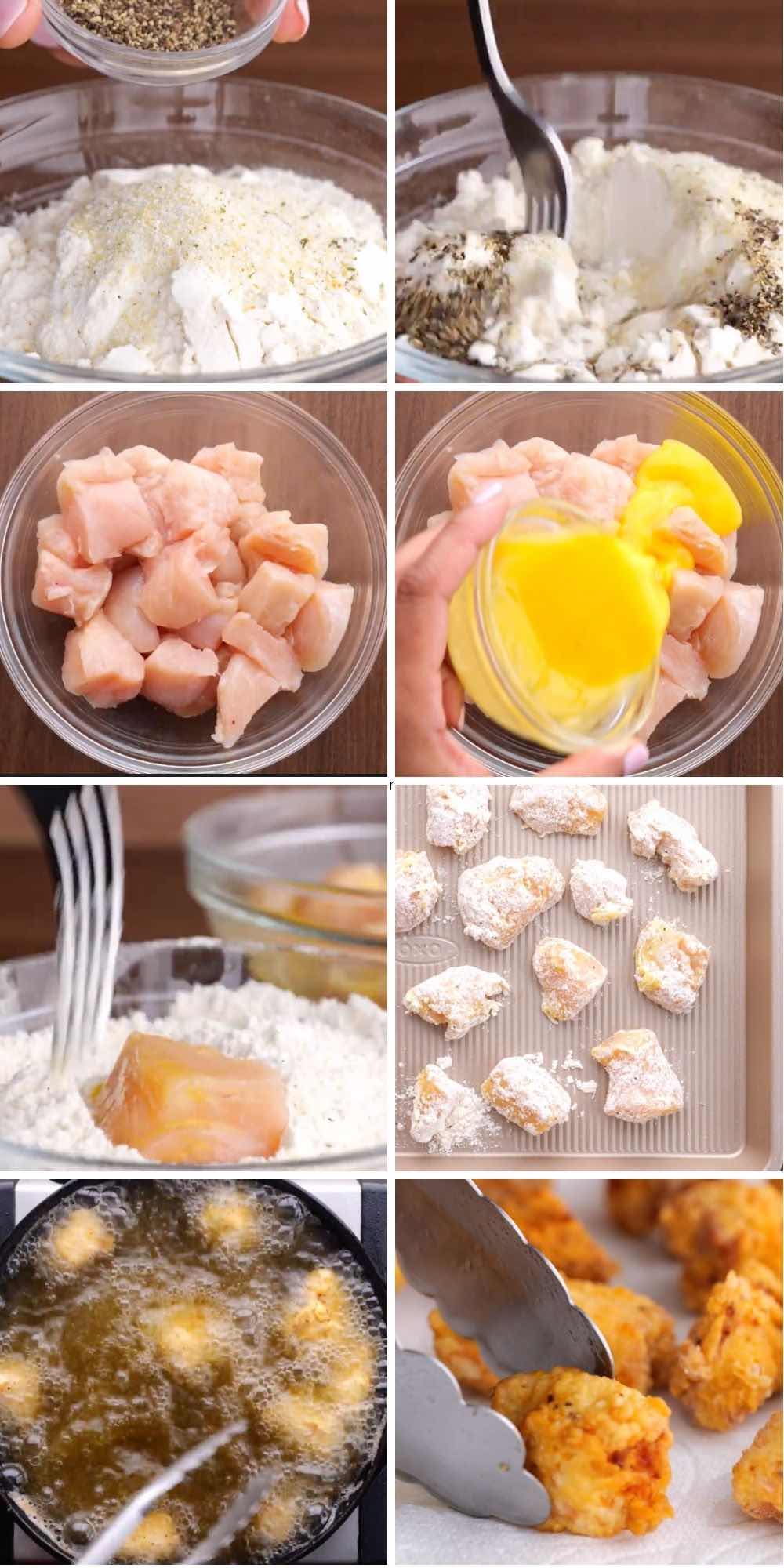 To keep these nuggets crispy until you serve them, let the Chicken Nuggets sit on top of a metal cooling rack placed over a layer of paper towels on a plate to let some of the oil drain.
If you enjoyed these Chicken Nuggets and want some more delicious dinners to make, next time try Super Crispy Chicken Tenders, Oven Fried Chicken, and Super Crispy Fried Chicken. Our most popular fried chicken recipes, though, are of the copycat variety! Your family will love KFC Fried Chicken, Chick-Fil-A Nuggets, and Pioneer Fried Chicken (if you're a kid from LA you know what this is!)
How to Make Chicken Nuggets
Heat 1 inch oil to 350 degrees F (175 degrees C) in a large skillet or saucepan.
Stir together the flour, garlic salt, and pepper in a bowl.
Dip the chicken pieces individually into the beaten eggs.
Press into the flour mixture to coat; shake off the excess flour.
Place the coated chicken pieces onto a plate until all the chicken has been coated.
Cook the chicken in batches in the hot oil until golden brown and no longer pink in the center.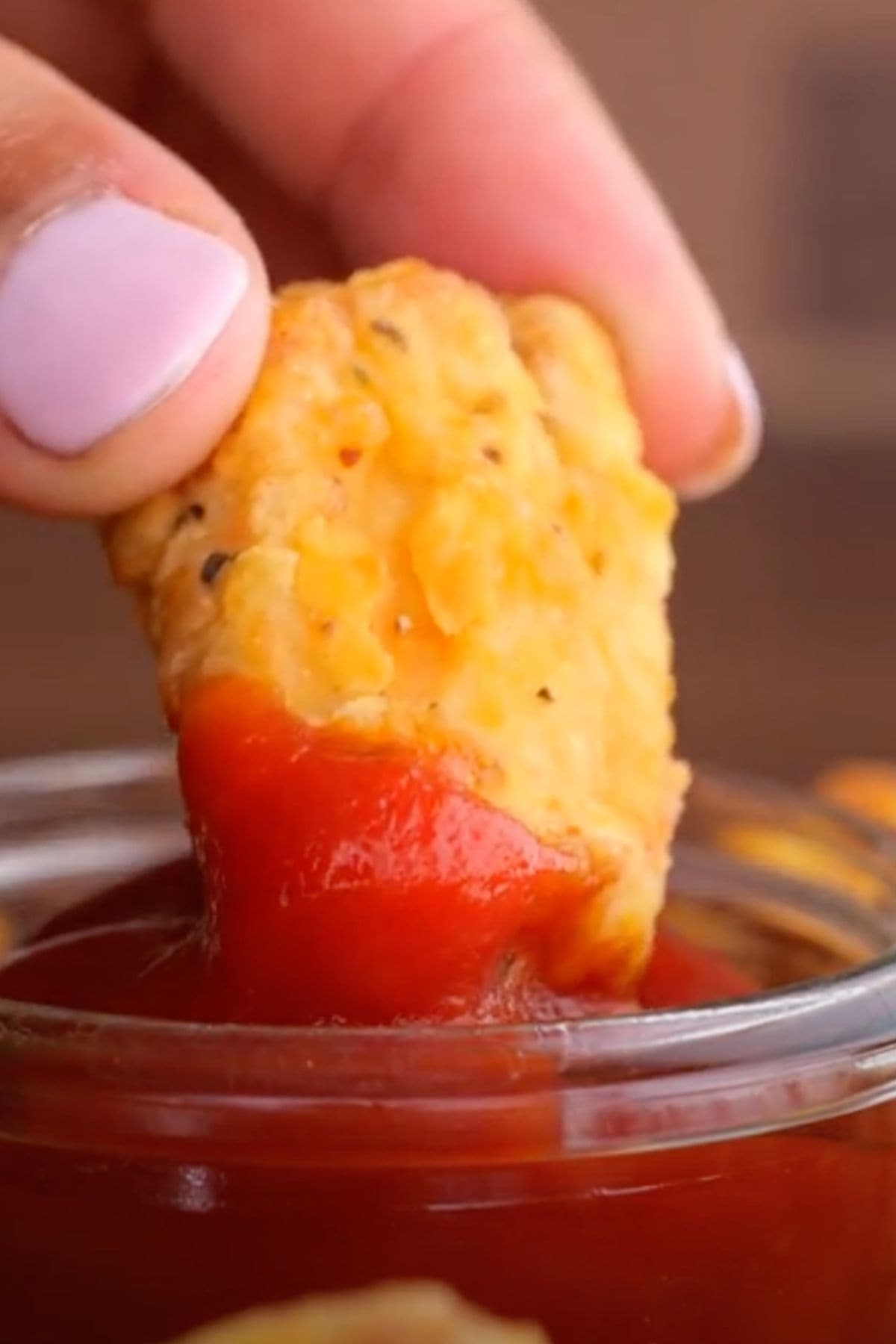 Create a free account to Save Recipes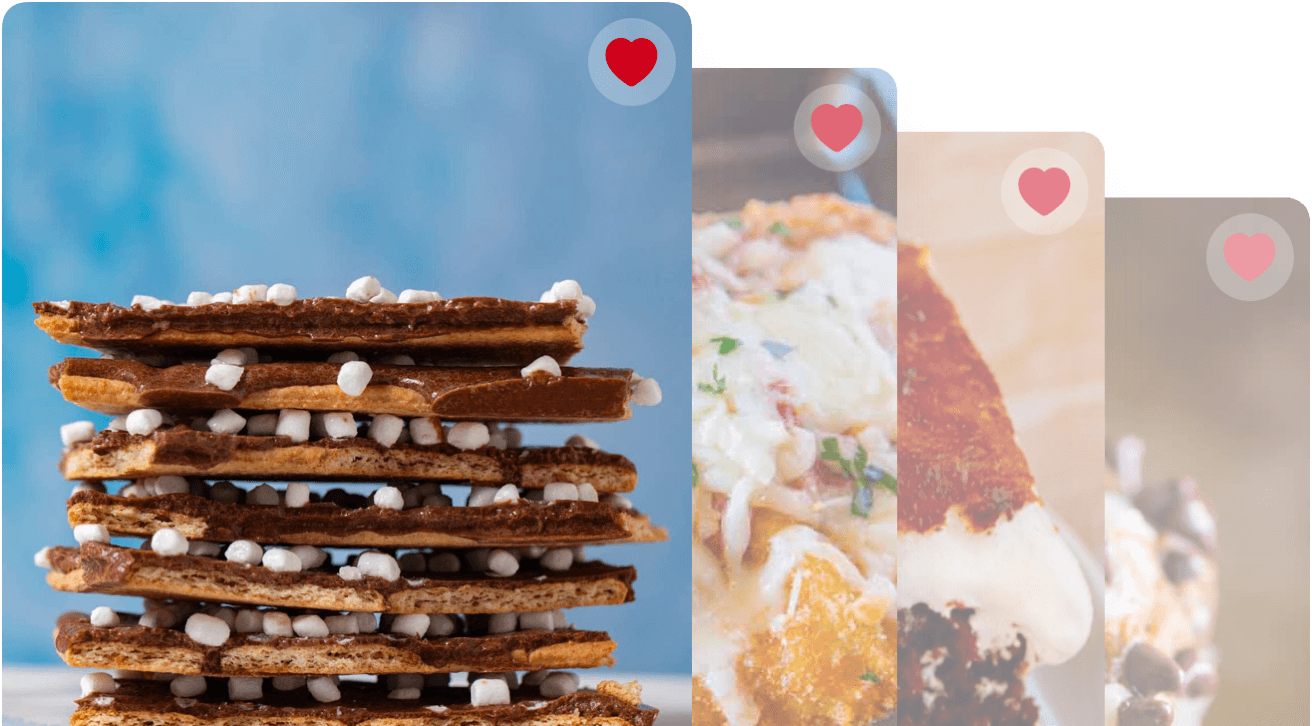 Frequently Asked Questions
Can I add cheese to homemade Chicken Nuggets?
Try dusting the top of your Chicken Nuggets with a handful of parmesan cheese. The cheese will crisp up when cooked, giving the nuggets an extra layer of delicious, crunchy flavor.
Can I use homemade Chicken Nuggets to make boneless wings?
Absolutely! Get saucy with your Chicken Nuggets and toss them in a bit of BBQ or Buffalo Sauce for some easy Boneless Wings.
How do I make Baked Chicken Nuggets?
Follow the steps until you get to the coated chicken pieces.
Spray them with vegetable oil and place them on a baking sheet.
Bake at 400 degrees for 18-20 minutes, spraying with vegetable oil spray one more time in the middle of the cooking time.
When is chicken safe to eat?
Chicken is safe to eat when the inside temperature reaches 165 degrees F (73.8 degrees C), according to the USDA's Official Website.
How to Store Chicken Nuggets
Serve: Don't leave your Chicken Nuggets out at room temperature for longer than about 2 hours. If you accidentally left the Chicken Nuggets out last night, don't risk eating them.
Store: Make sure you wrap any leftover Chicken Nuggets you have in plastic wrap or put them in a sealable, airtight container. They'll last in the fridge for about 3 days before you need to toss them and make more.
Freeze: To freeze your Chicken Nuggets, put them in an airtight container or bag. If you want to make sure that they don't freeze together, you can layer them with parchment paper or wax paper. They will last up to 2 months in the freezer. Always make sure you allow them to cool to room temperature before you store them to save yourself from getting sick later.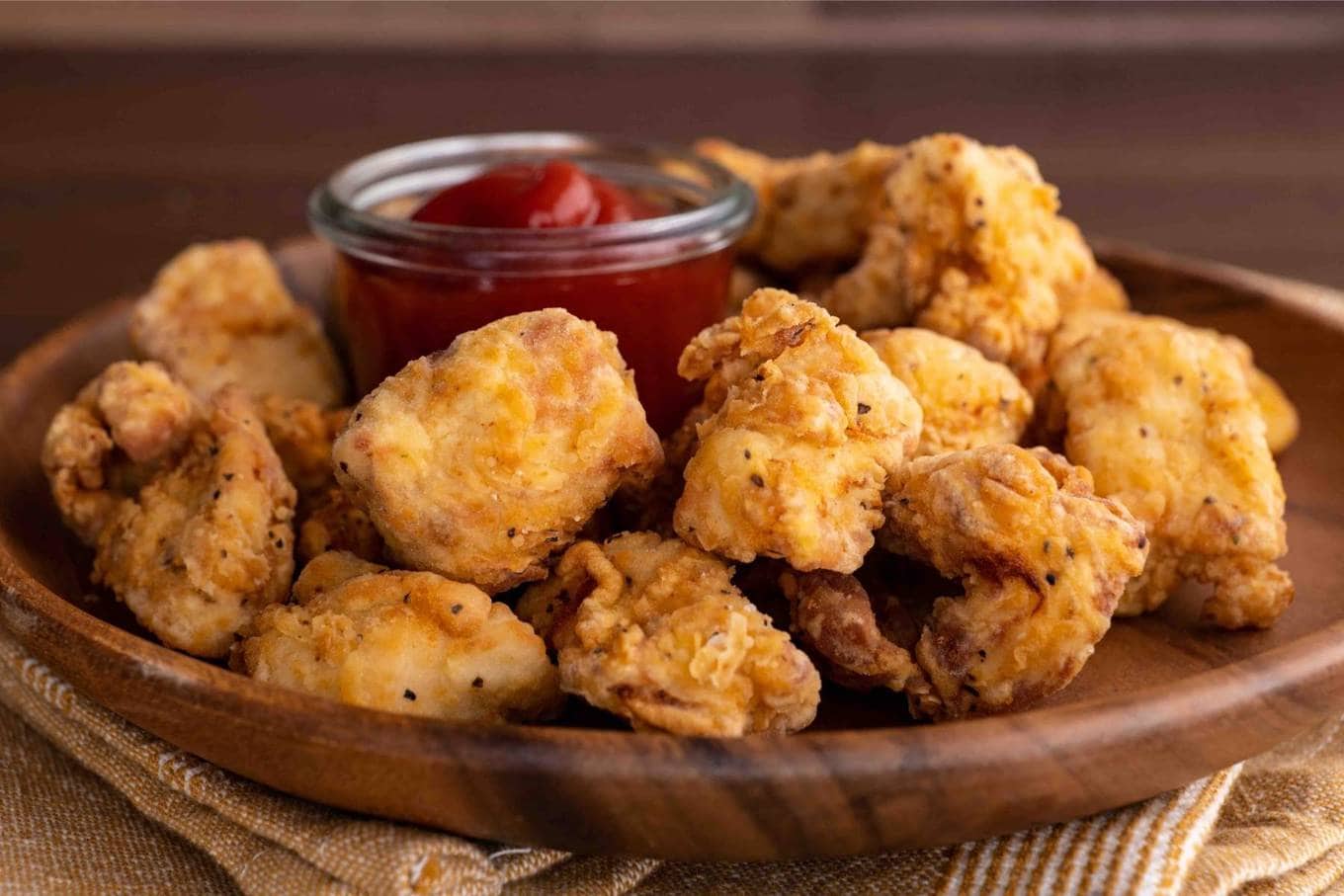 Ingredients
1

cup

flour

1

tablespoon

garlic salt

1

teaspoon

coarse ground black pepper

1

large

egg

, beaten

2

chicken breasts

, (boneless skinless) cut into small chunks

vegetable oil

, for frying
Instructions
Whisk flour, garlic salt, and pepper in a medium bowl.

Add the chicken to a bowl along with the egg and coat well.

Remove each piece of chicken and coat with the flour mixture then place chicken on a baking sheet until all the pieces are coated.

Let chicken sit for 5 minutes while you heat up your oil (this helps coating stick better).

Heat 2 inches of oil to 350 degrees in a large dutch oven.

Cook the chicken in small batches (do not crowd the pot) for

3-4 minutes

until the chicken is cooked to 165 degrees and golden brown and crispy.
Nutrition
Calories:
264
kcal
|
Carbohydrates:
24
g
|
Protein:
29
g
|
Fat:
5
g
|
Saturated Fat:
1
g
|
Cholesterol:
125
mg
|
Sodium:
1896
mg
|
Potassium:
471
mg
|
Fiber:
1
g
|
Sugar:
1
g
|
Vitamin A:
110
IU
|
Vitamin C:
1
mg
|
Calcium:
18
mg
|
Iron:
2
mg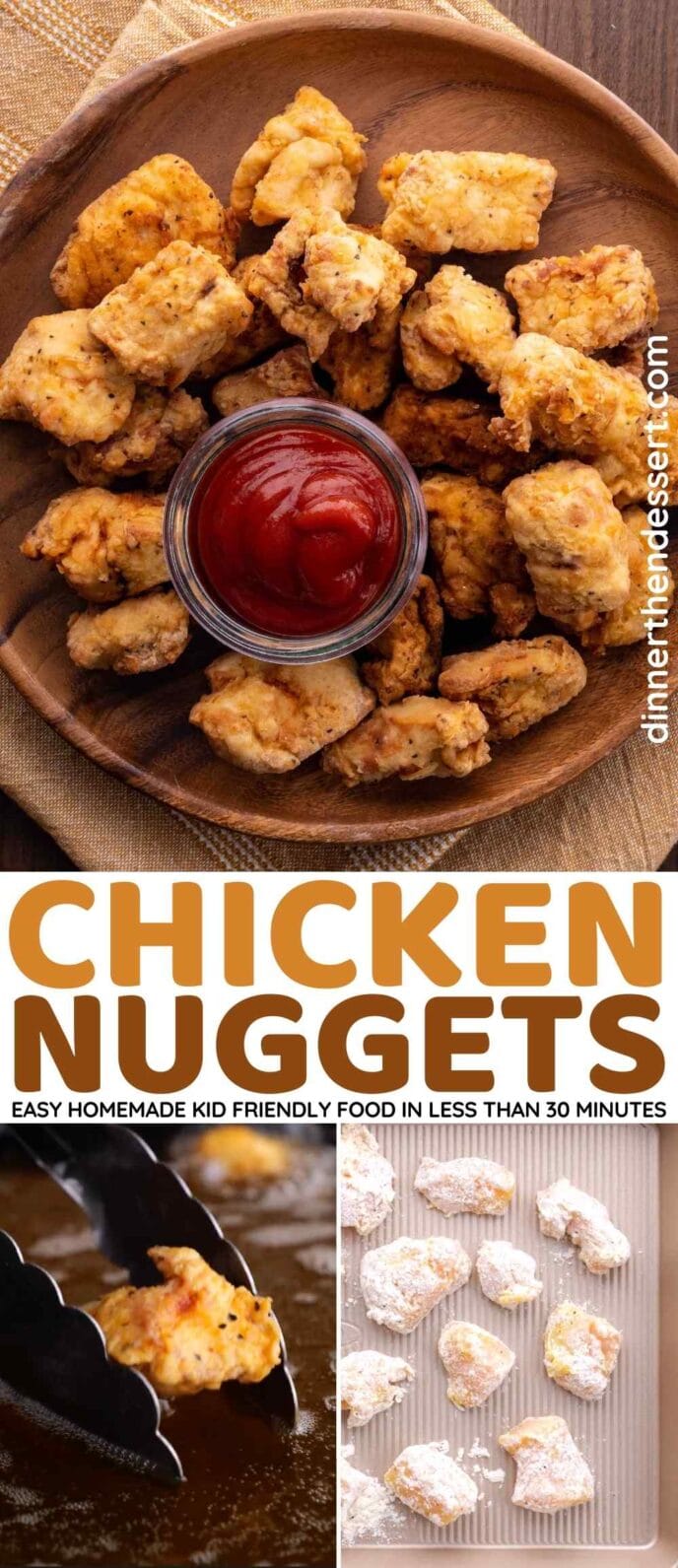 Photos used in a previous version of this post.