Crispy Breaded Chicken is an easy, flavorful weeknight dinner of juicy pan-fried chicken cutlets with crisp breadcrumbs ready in 30 minutes!
Easy, crispy chicken is the perfect weeknight Dinner Recipe you can make any time you want something fast, simple, and absolutely delicious! If you love this recipe, you'll also like Crispy Butter Chicken and Baked Sour Cream Chicken recipes.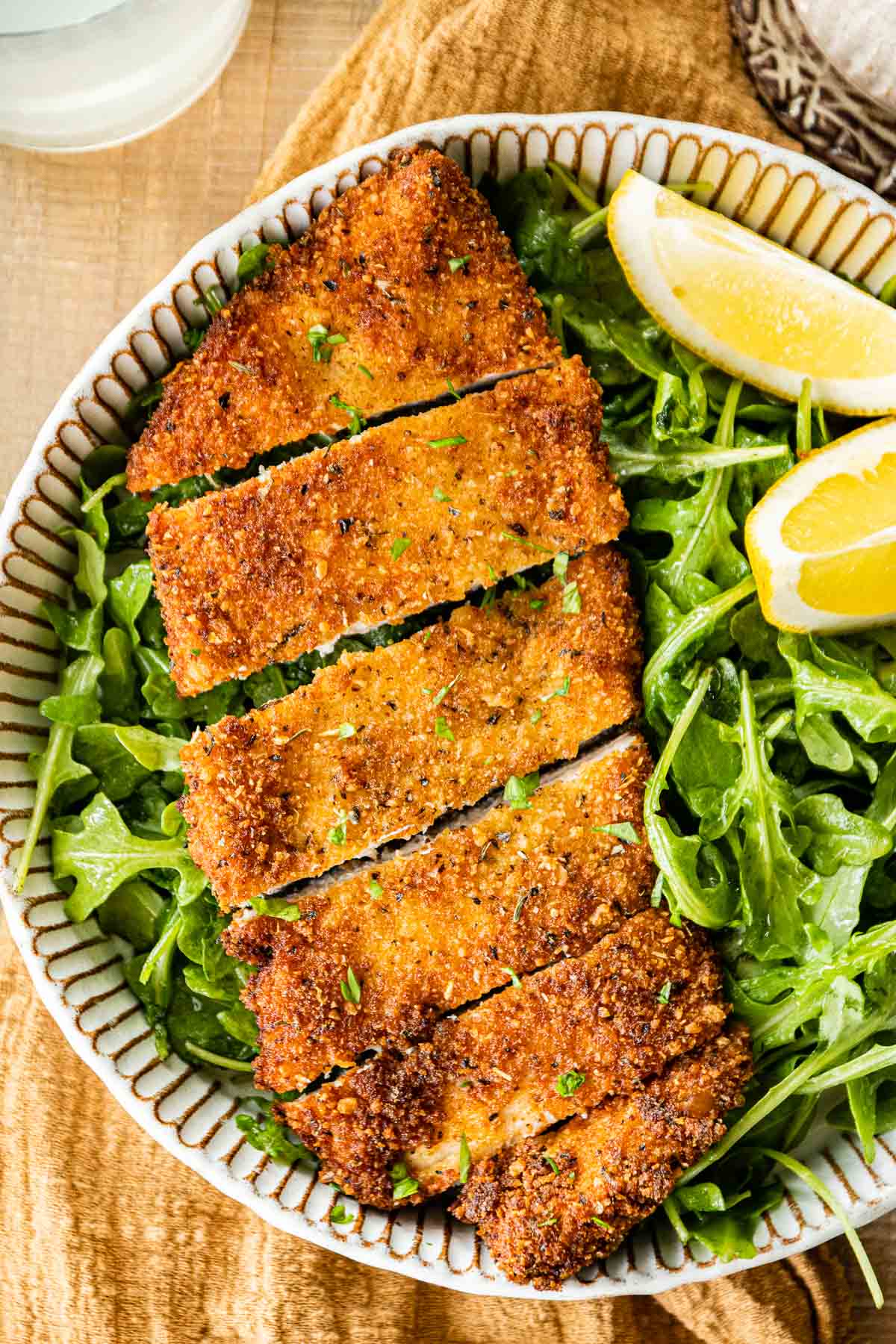 Crispy fried chicken is a classic Southern dish that never gets old. This delicious recipe makes it so easy to prepare yourself! All you need to do is whisk together some bread crumbs with oregano and basil. The simple breading makes the perfect chicken coating that fries into a crispy golden crust. You'll end up with juicy chicken breasts on the inside and a crunchy coating on the outside.
With just a handful of ingredients and a short frying time, you'll have amazing crumbed chicken that the whole family is sure to love! It's crisp and juicy, but not too greasy, and wonderfully flavorful. It's a versatile main dish that goes with just about any side, or can easily be used as a filling or topping.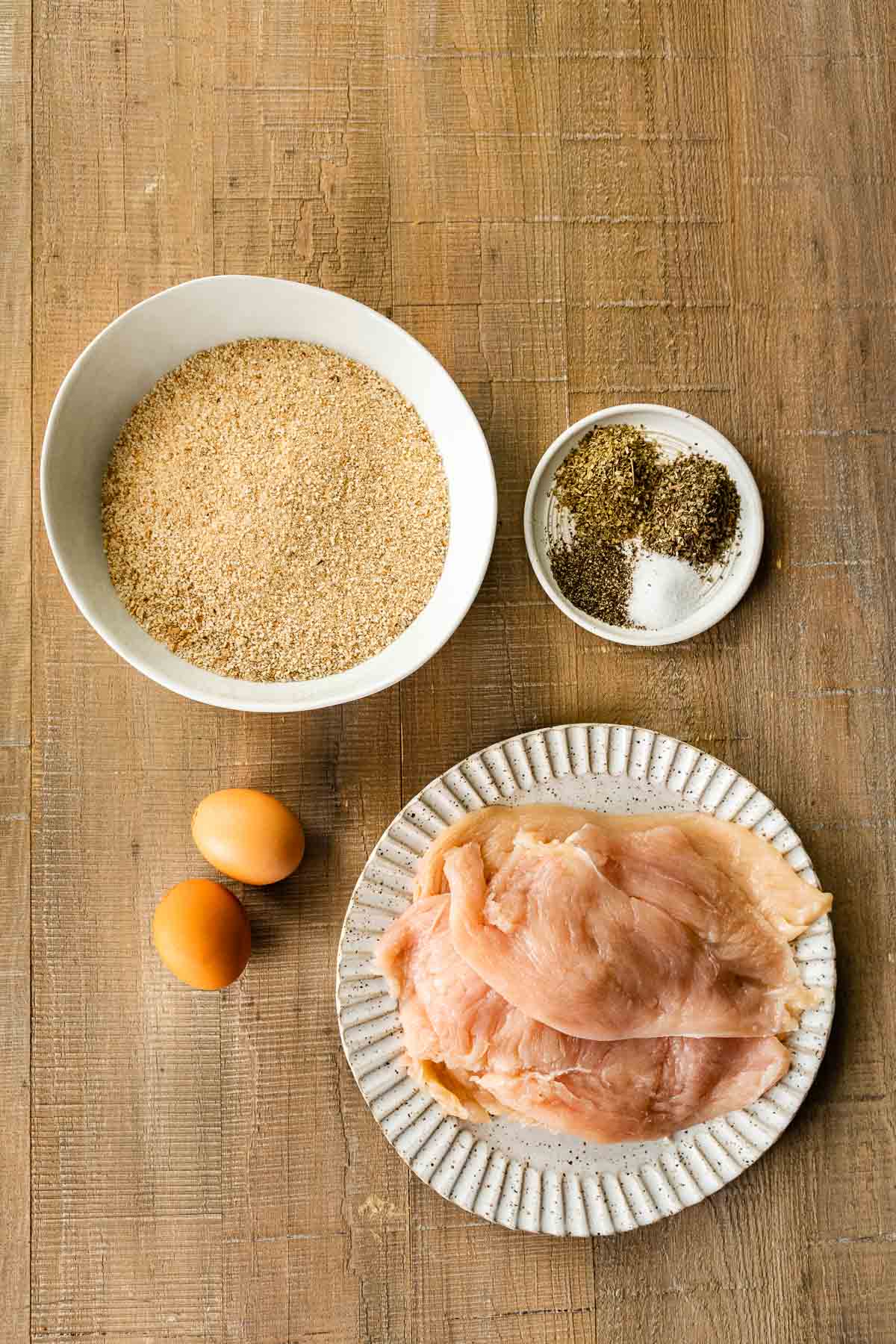 Serve this crusted chicken as a main dish on its own with some delicious side dish ideas we have below. Put it between hamburger buns with honey mustard or other favorite fillings to make the ultimate chicken sandwich. Lighten it up by slicing and throwing on a fresh garden salad for lunches.
For some delicious side dishes for this fried chicken, serve with easy, classics like Mashed Potatoes or Mac and Cheese. Don't forget the veggies kids love like Sauteed Green Beans, and Roasted Broccoli. Those are just some ideas to get you started but any of your favorite Southern comfort Side Dishes would go great with this fried chicken recipe!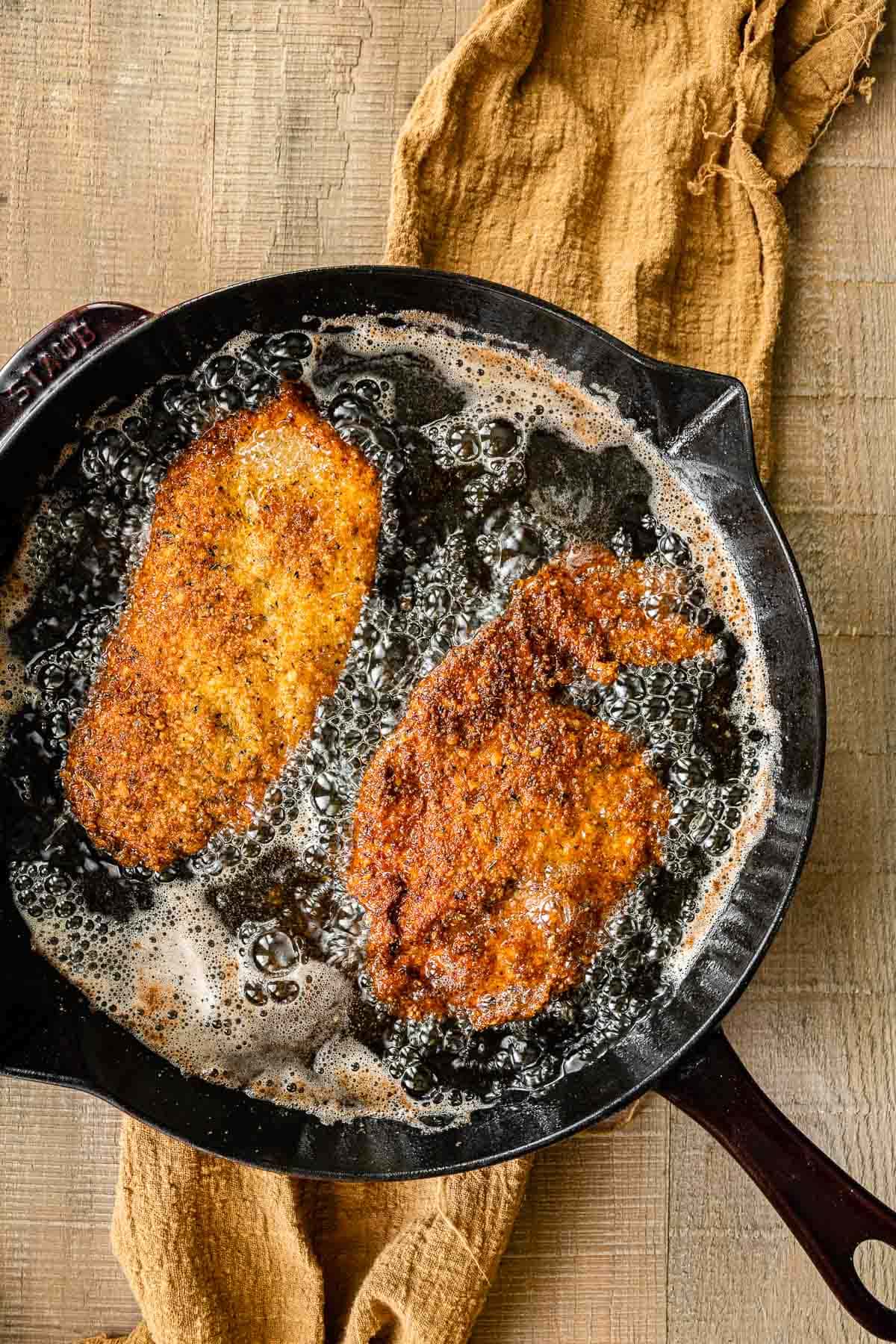 More Chicken Recipes
Cooking Tips
Prep chicken: If the meat is frozen, put the boneless, skinless chicken breasts in the fridge to thaw out ahead of time. Once the chicken breast halves are defrosted, use a kitchen mallet to flatten each piece of chicken so it's about 1 inch in thickness all the way around. Season the chicken breast fillets with salt and pepper.
Coating: Add the eggs to a medium bowl, and whisk them together. Mix the breading, oregano, and basil in another bowl. Dip the meat into the egg mixture, then into the panko bowl to coat with bread crumbs. Press the breading into the chicken pieces, and then transfer to tray to rest for 10 minutes so the coating can set.
Oil: Heat the oil in a large pot or heavy skillet on the stove top. You want to have about 2 inches of oil on the bottom.
Cook time: Once the oil is heated add the chicken to the skillet. Cook for about 6-8 minutes on each side until the outside of the chicken is golden brown and crisp. Use an internal read thermometer to check if the chicken has reached 165 degrees to make sure that you don't serve under cooked chicken. Transfer the Crispy Breaded Chicken to a cooling rack to rest for 5 minutes before serving.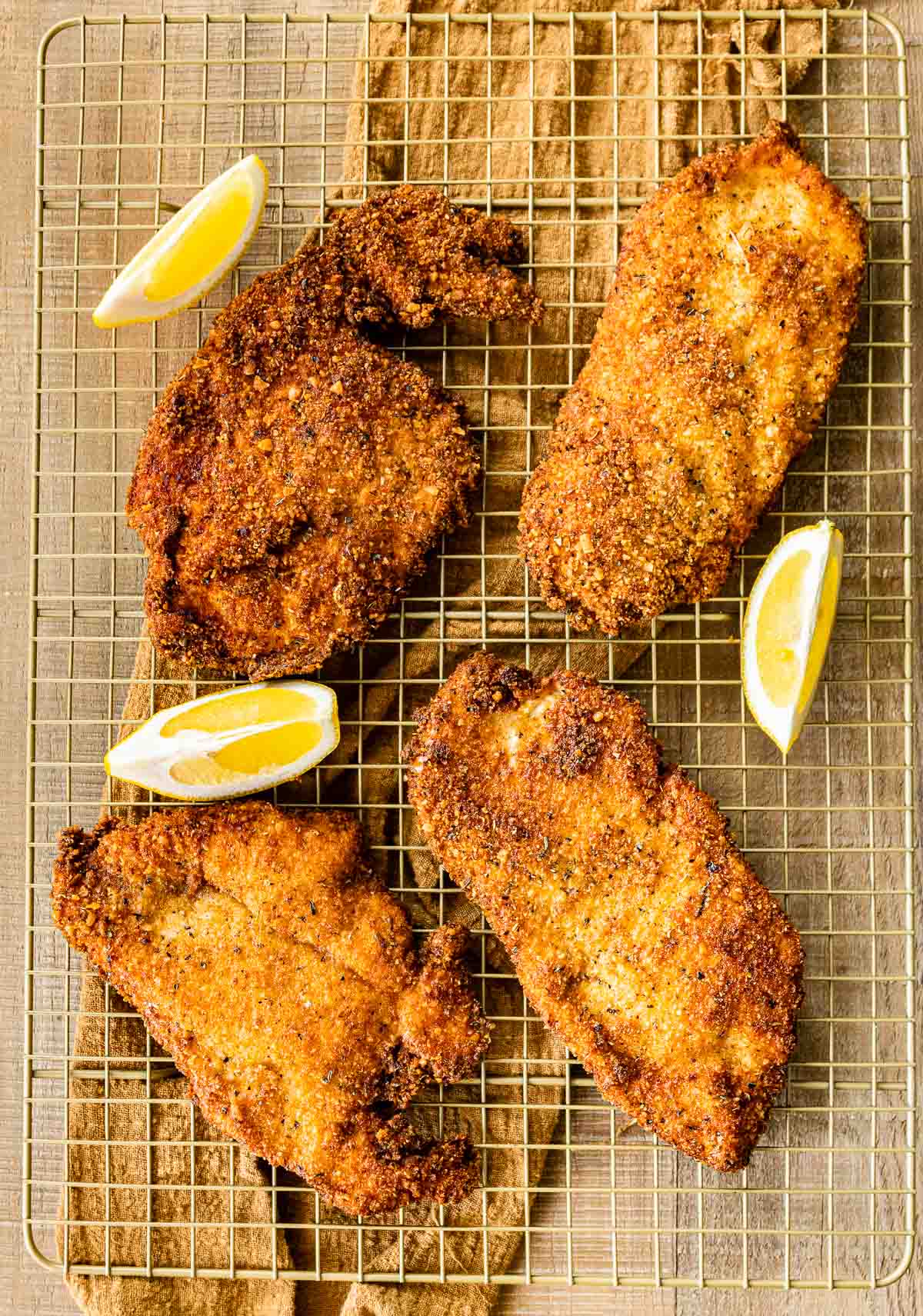 Create a free account to

Save Recipes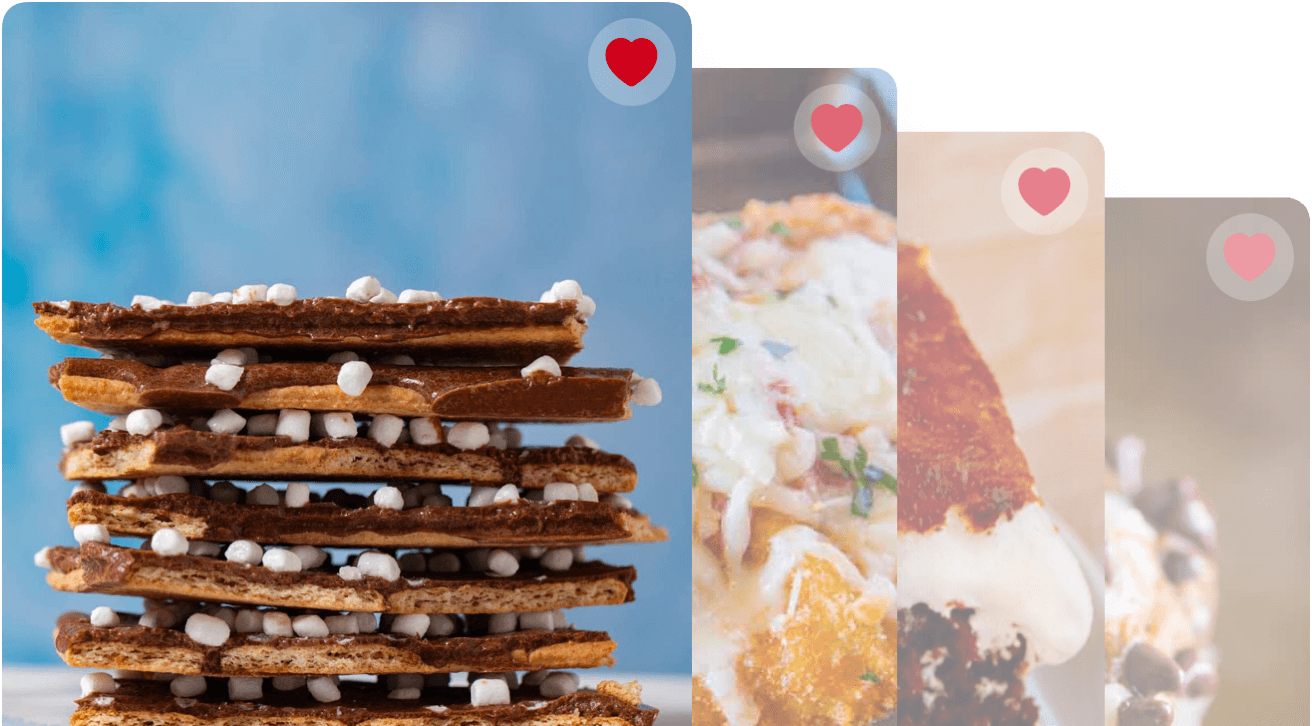 Variations
Crispy Baked Parmesan Chicken: For crispy chicken with fresh Parmesan cheese flavor, mix shredded cheese into the breading mixture. Coat the chicken with the breadcrumb mixture and fry as usual.
Lemon Chicken: To make some refreshing lemon chicken, add fresh lemon juice and lemon zest to the recipe. Simply marinate the chicken in a bowl with 2-3 tablespoons fresh lemon juice and enough water to coat the meat overnight. When you add the coating, the chicken will be infused with fresh lemon flavor. Add lemon zest to the bread crumb coating if desired and serve with a slice of lemon for garnish.
Breading Options: Try other types of crumbs in the crumb mixture. Instead of standard panko bread crumbs, the chicken would taste great with corn flake crumbs, pretzel crumbs, or chopped pecans.
Crispy Chicken Tenders: To make this recipe into amazing finger food, you can use the panko mixture on chicken strips instead of whole chicken breasts. Cook on the stovetop and enjoy pan-fried crispy chicken tenders.
Seasonings: You can add different herbs and spices to the crispy coating. For spicy chicken, add red pepper flakes or cayenne pepper. Try dried parsley, garlic powder, onion powder, paprika, or rosemary. Mix the seasonings with the panko breadcrumbs so the spice coats the chicken.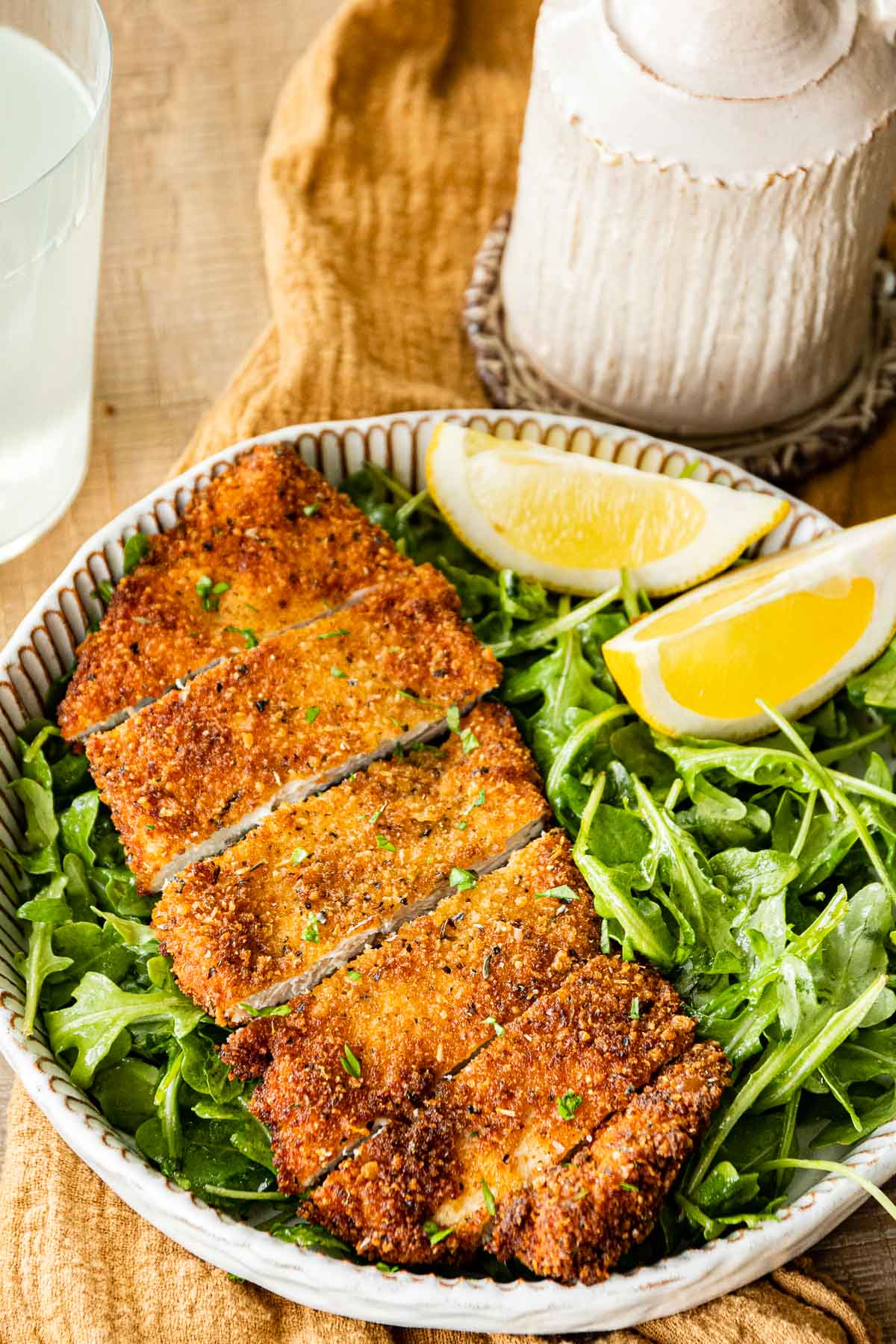 Delicious and Easy Dinner Sides
How to Store
Serve: Don't leave cooked chicken recipe at room temperature for more than 2 hours. Rest on a wire rack before serving so the breading stays crispy.
Store: If you have leftovers, let the chicken cool down, then transfer it to an airtight container to store in the fridge for 3-4 days. Line the bottom of the container with paper towels to soak up any moisture.
Freeze: Once cooled, seal in a freezer safe container and freeze Crispy Breaded Chicken for up to 3 months. Let it thaw in the fridge before reheating in the oven.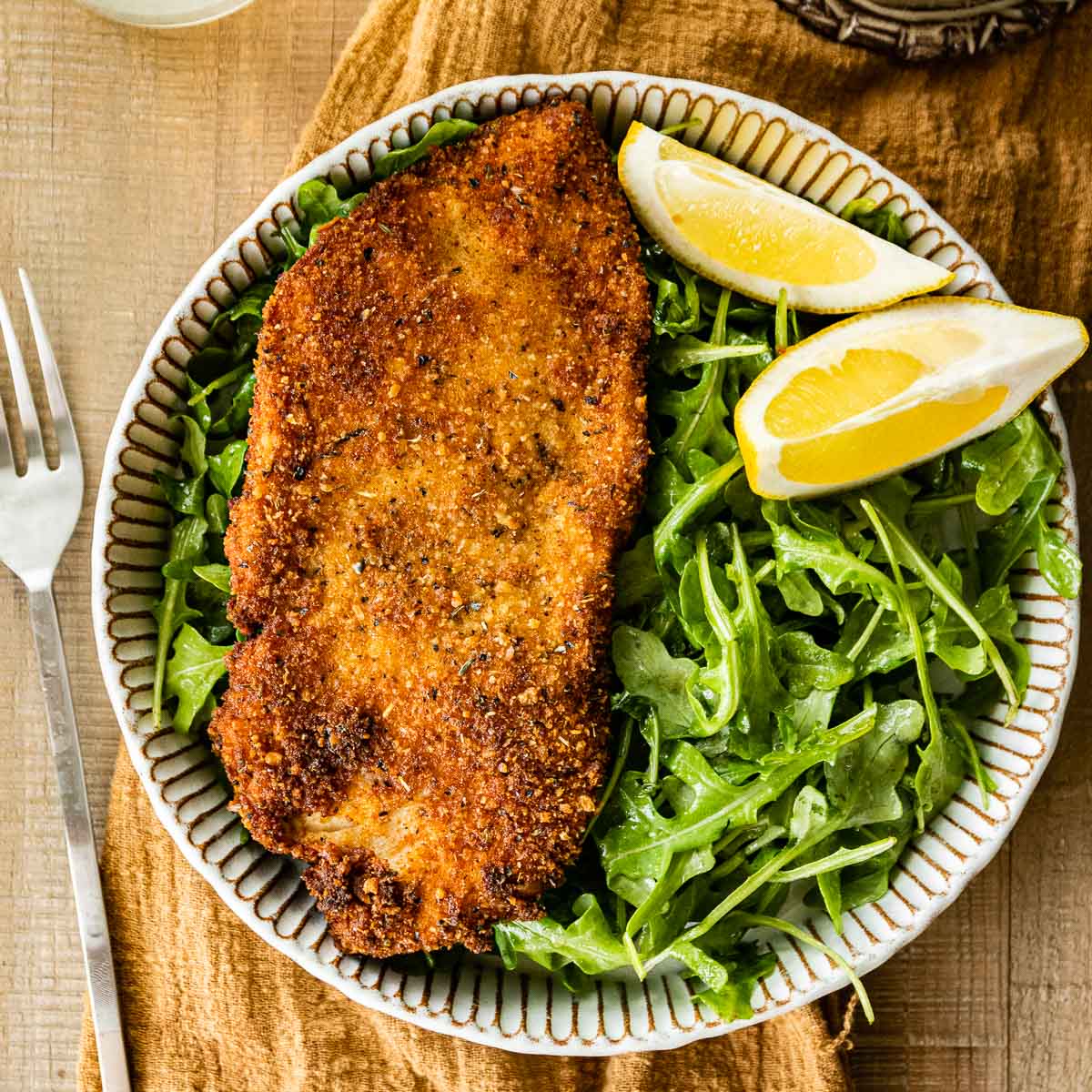 Ingredients
4

chicken breast halves

, boneless and skinless

1

teaspoon

kosher salt

1/2

teaspoon

coarse ground black pepper

2

large

eggs

2

cups

dry bread crumbs

1

teaspoon

dried basil leaves

, optional

1

teaspoon

dried oregano

, optional

vegetable oil

, for frying
Instructions
Using a kitchen mallet, flatten the chicken breasts to even thickness.

Season chicken with salt and black pepper.

Add eggs to a bowl and whisk until well beaten.

Add breadcrumbs to a second bowl with basil and oregano (if using).

Dip the seasoned chicken into the eggs then into the breadcrumbs.

Press breadcrumbs into chicken gently.

Carefully add to a baking sheet and let rest for

10 minutes

.

Heat oil in a large pot on medium-high heat (use 2 inches of oil).

Add chicken to the pan (do not crowd, this is better to do in batches).

Cook for

6-8 minutes

on each side until cooked through to 165 degrees.

Let rest for

5 minutes

on the cooling rack before serving.
Nutrition
Calories:
380
kcal
|
Carbohydrates:
40
g
|
Protein:
34
g
|
Fat:
8
g
|
Saturated Fat:
2
g
|
Trans Fat:
1
g
|
Cholesterol:
165
mg
|
Sodium:
1144
mg
|
Potassium:
575
mg
|
Fiber:
3
g
|
Sugar:
3
g
|
Vitamin A:
181
IU
|
Vitamin C:
1
mg
|
Calcium:
134
mg
|
Iron:
4
mg