Crispy butter chicken is an easy oven baked fried chicken with just a few ingredients in 30 minutes that your kids will LOVE!
There's more than one way to fry a chicken. I've done Crispy Fried Chicken, Pioneer Take-Out Fried Chicken and Oven Fried Chicken, and crispy butter chicken is next in line.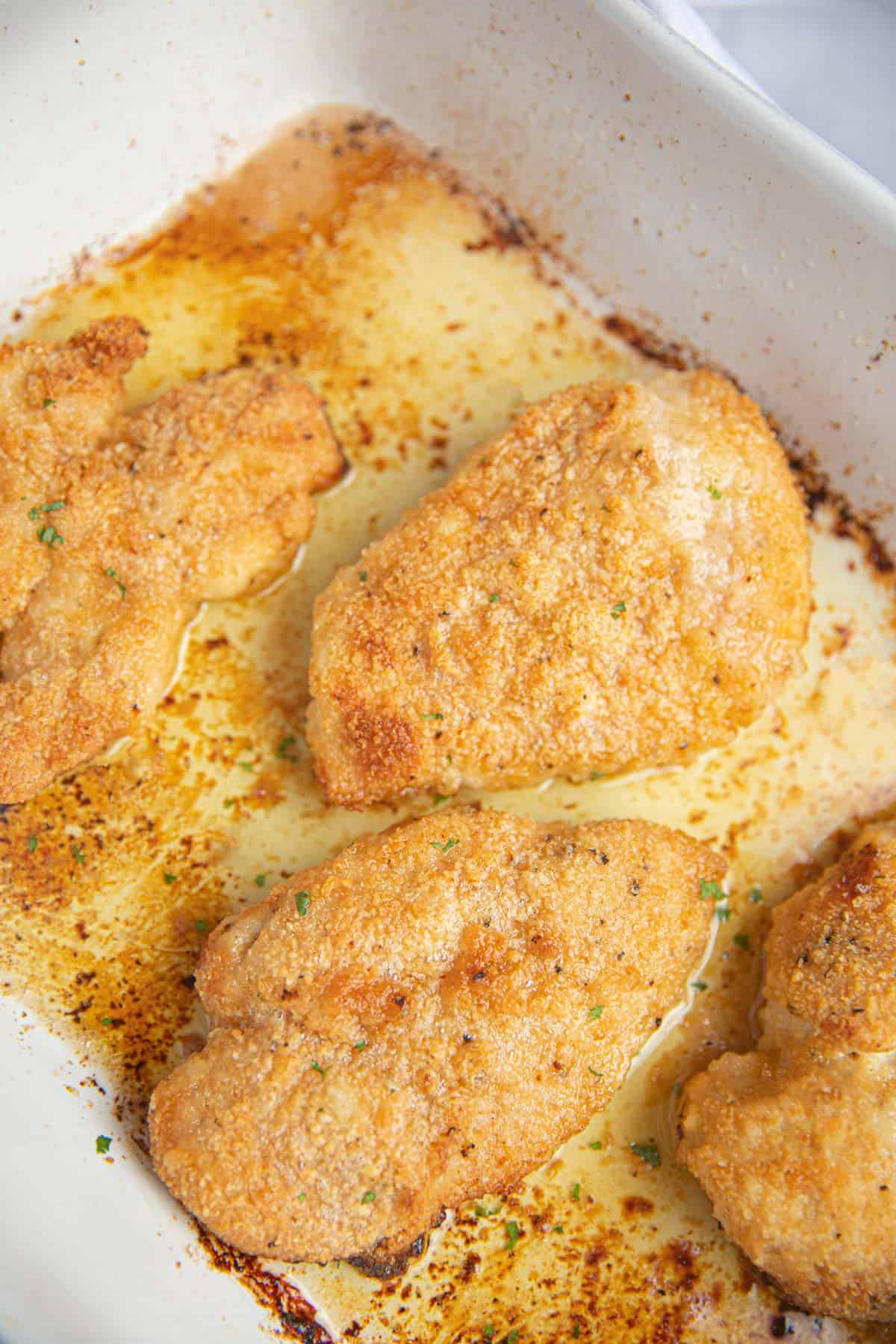 CRISPY BUTTER CHICKEN
This is an easy recipe to make on weeknights or when you don't want to spend a lot of time cooking. Crunchy, crispy and with a rich taste you'd swear comes from a fancy restaurant, butter chicken is sure to be one of your new favorite recipes.
The thing I love about this recipe is the quick and easy dinner it makes. We keep the cracker crumbs ready ahead of time. If you want to crush a box of Ritz crackers ahead of time and keep them in your pantry, this recipe will take you less time to prepare than it takes for your oven to heat up!
I also use 6 ounce chicken breasts for this recipe, so if your chicken is much larger you may need to increase your cooking time. Some grocery stores sell chicken breasts that can weigh over 10 ounces each, so just be aware that you need to cook to doneness versus only following the time listed.
HOW TO MAKE CRISPY BUTTER CHICKEN
Start by preheating the oven.
Whisk your eggs in a shallow bowl and put your cracker crumbs into a separate bowl.
Dry the chicken with a paper towel and then dip it into the eggs.
Once covered, dredge the chicken in the breadcrumb mixture until it is thoroughly covered.
Put the chicken in a baking dish in a single layer.
Cut pieces of butter and put them in the pan around the chicken.
Put the whole thing in the oven and let it cook until it's golden brown.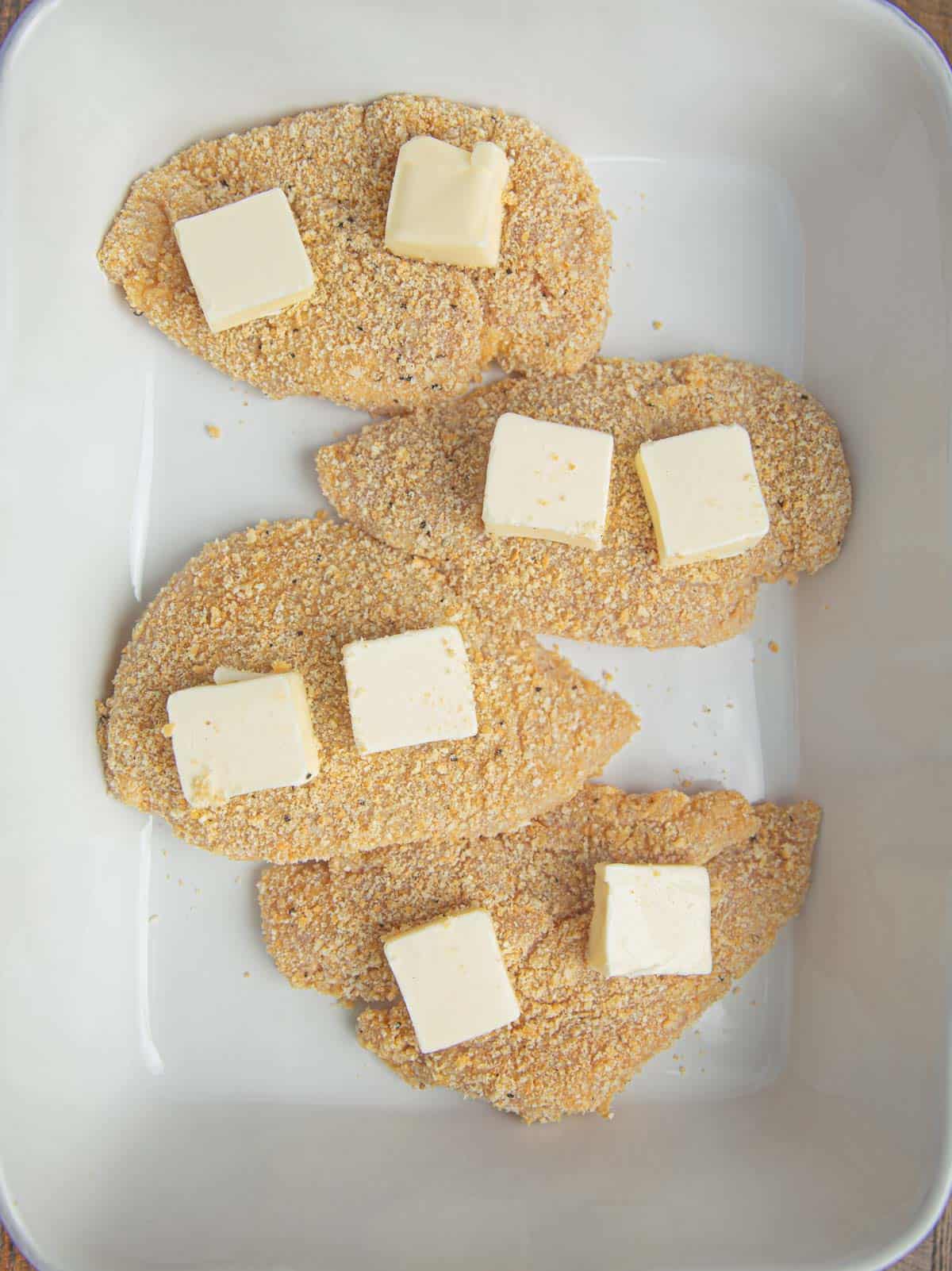 Create a free account to

Save Recipes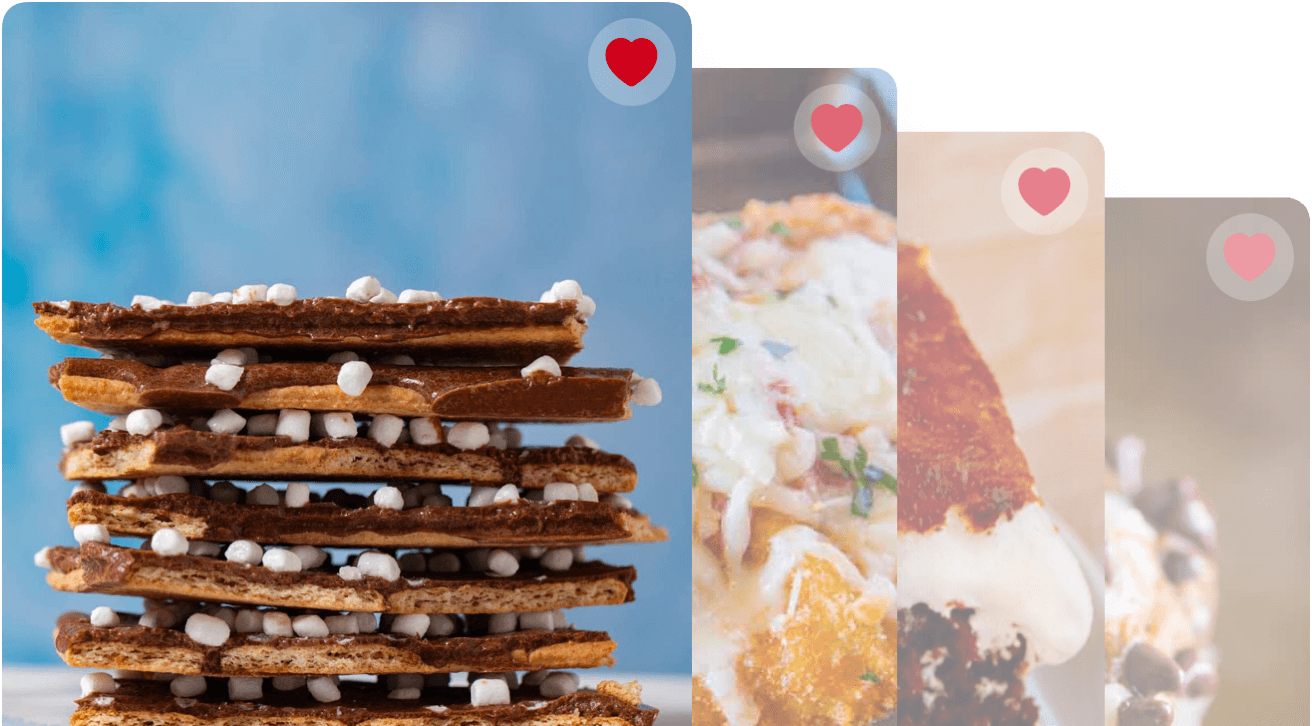 FLAVOR VARIATIONS
Seasoning: if you want a specific flavor, you can add Cajun or Italian seasoning into the breadcrumb mixture to infuse it with a different splash of flavor.
Garlic butter: melt pieces of butter in the microwave and mix in a healthy portion of garlic powder. You can either freeze it into a solid for the next time you make crispy chicken or pour the melted butter onto the chicken before you bake it.
Cheese: mix parmesan in the breadcrumbs to give the chicken a richer, cheesy flavor. Keep in mind that the cheese can make the chicken fuse to the glass baking pan, so you will want to grease it first with cooking spray or olive oil.
What to serve with Crispy Butter Chicken:
FRIED CHICKEN TRIVIA
July 6th is National Fried Chicken Day in the United States. Celebrate appropriately by making this recipe!
Shockingly, fried chicken didn't come from Kentucky (and the first KFC was actually in Salt Lake City, Utah.) The first version of fried chicken was called chicken fritters, and comes from Europe (specifically Scotland) during the Middle Ages.
It takes a special kind of chicken. No, really, you can't just pick up any old chicken and deep fry it (please don't do that anyway.) Chickens suitable for frying are called "broilers," and are the majority of chickens you find at your grocery store.
Chicken Cooking Safety
According to the USDA's official site, chicken is considered cooked through when the internal temperature reaches 165 degrees F (73.8 degrees C).
Don't serve undercooked chicken or it may be a while before your dinner guests call you back.
HOW LONG IS CRISPY BUTTER CHICKEN GOOD?
Serve: don't leave cooked chicken out for longer than 2 hours at room temperature. If you left the leftovers out last night, I'm sorry but it's time to say goodbye.
Store: this chicken recipe is good in the fridge for about 3 days before it goes bad.
Freeze: cooked chicken can stay frozen in an airtight container for about 4 months.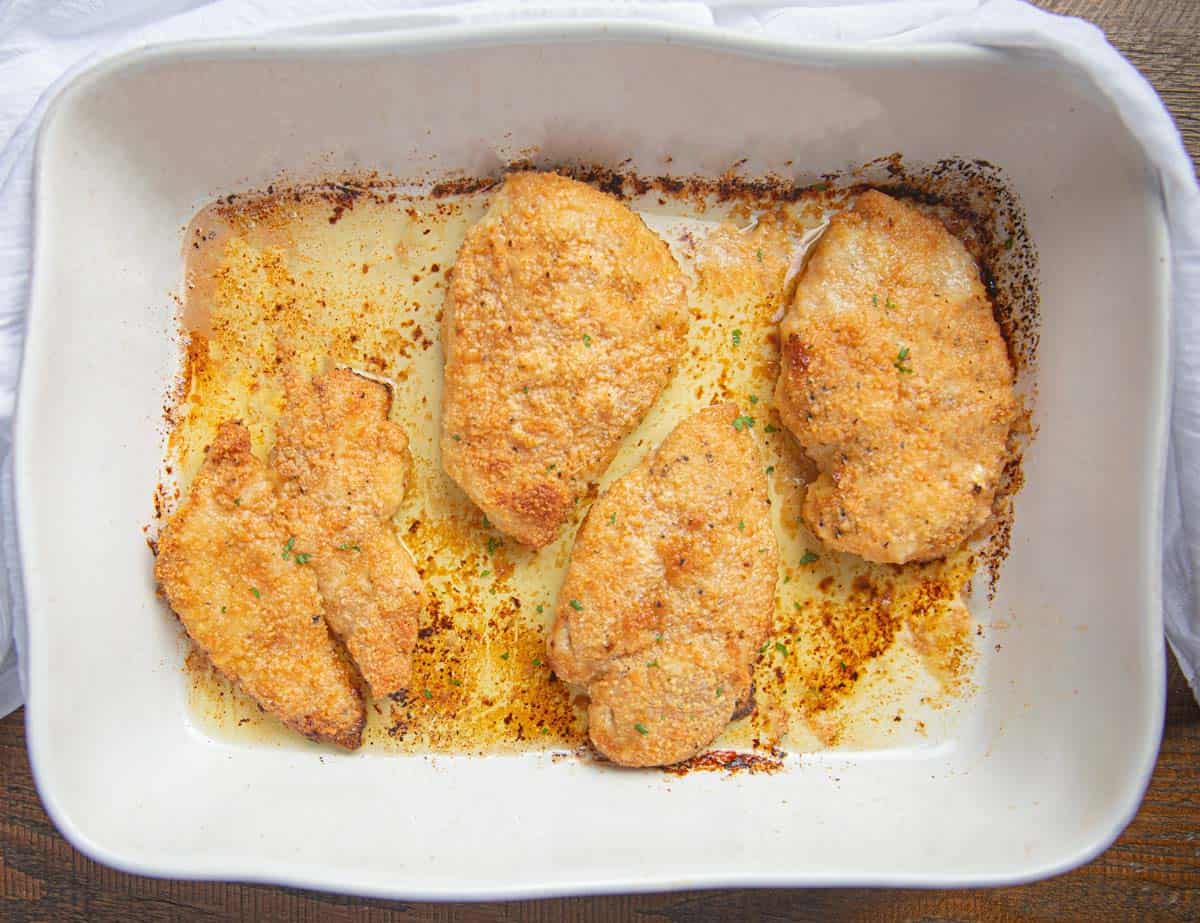 Ingredients
2

large

eggs

beaten

1

cup

Ritz cracker crumbs

1/2

teaspoon

garlic salt

1/4

teaspoon

black pepper

4

chicken breasts

, boneless skinless (6 ounces each)

1/2

cup

butter

, cut into pieces
Instructions
Preheat oven to 375 degrees.

Place eggs and cracker crumbs in two separate shallow bowls.

Mix cracker crumbs with garlic salt and pepper.

Dip chicken in the eggs, then dredge in the crumb mixture to coat.

Arrange coated chicken in a 9x13 inch baking dish.

Place pieces of butter on top of the chicken.

Bake in the preheated oven for

30-35 minutes

or until golden brown.
Nutrition
Calories:
576
kcal
|
Carbohydrates:
10
g
|
Protein:
53
g
|
Fat:
35
g
|
Saturated Fat:
18
g
|
Cholesterol:
311
mg
|
Sodium:
928
mg
|
Potassium:
893
mg
|
Fiber:
1
g
|
Sugar:
1
g
|
Vitamin A:
930
IU
|
Vitamin C:
2.7
mg
|
Calcium:
57
mg
|
Iron:
2
mg