Baked Breaded Chicken is perfectly seasoned with a basil, oregano, and panko breadcrumb coating that's just as crispy as fried chicken. Ready in 40 minutes!
If you love Fried Chicken, but don't want to deal with cooking chicken in oil, then this is the Dinner Recipe for you. It turns out just as delicious and crispy, but the juicy chicken breasts are baked in the oven instead!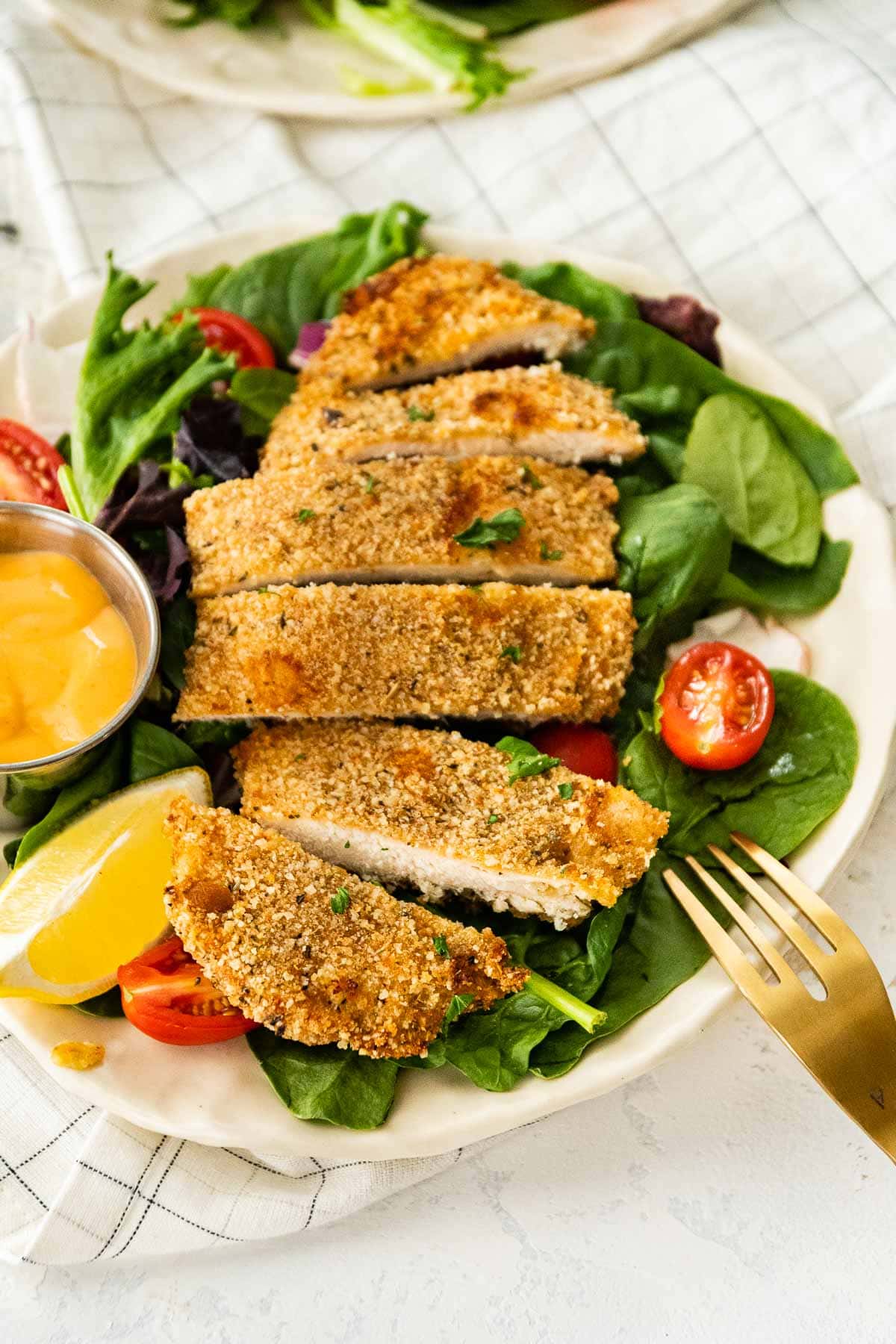 This crispy chicken recipe has quickly become an all-time family favorite weeknight meal! Everybody loves it because the juicy chicken is packed with flavor and finished off with a perfect coating of crispy breading. I love these Oven-Baked Breaded Chicken Breast Fillets because they're so easy to make, and baked in the oven in 30 minutes.
They're perfect for nights when you don't have time for anything too fussy. The breaded chicken cutlets are prepared in a matter of minutes with super simple ingredients. Then you just pop them in the oven. When they're done, they're just as crispy as fried chicken, but without all the work!
This is an excellent meal to serve long with your favorite side dishes like Roasted Green Beans, Garlic Mashed Potatoes, or Macaroni Salad. Be sure to put out your favorite dipping sauces like BBQ, Ranch, and Honey Mustard Sauce to go with the chicken.
You can also use leftover crispy chicken filets to make an easy chicken sandwich for lunch. Or, slice the meat up and enjoy them in a salad or chicken fajitas.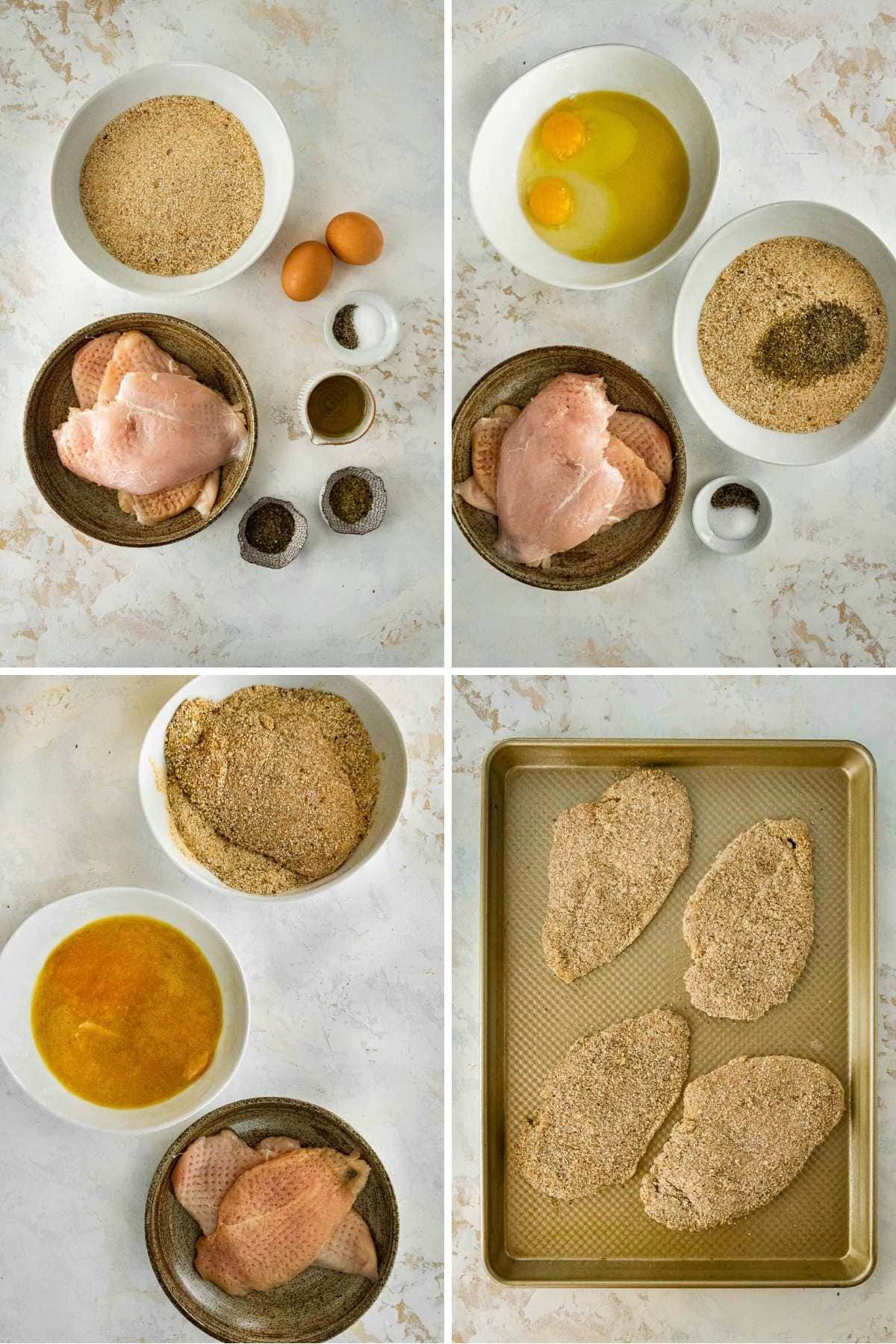 How to Make Baked Breaded Chicken
Prep time: Preheat the oven and prep a 9×13 inch baking dish with nonstick oil spray. Then use a chicken mallet to flatten the boneless skinless chicken breasts so that they're an even thickness
Coating: Season the chicken breast halves with salt and ground pepper. Then add olive oil and eggs to a bowl and whisk them together. Add the breadcrumbs, basil, and oregano to a shallow dish, and whisk the breadcrumb mixture together. Dip the chicken in the egg mixture, and then the breadcrumb mixture. Press gently on each piece of chicken to stick the coating ingredients to the outside.
Bake: Place the pieces of chicken on the prepared baking sheet. For an extra crispy outer coating, spray the pieces with a coating of vegetable oil. Then bake for 30-35 minutes until the chicken is cooked through. To test if they're done use an internal read thermometer. If they've reached 165 degrees then they're ready to eat.
More Chicken Recipes
Frequently Asked Questions
What if my crust is not sticking to the chicken?
If you find that the breadcrumbs are sliding off of the chicken breasts, try dipping the chicken first in flour, then tapping off the excess, before dipping into the egg mixture and breadcrumbs. You can also try baking the chicken on a wire rack coated with cooking spray placed on a baking dish. This way the surface of the chicken does not have a chance to stick to the pan.
Do I need to marinate Baked Breaded Chicken?
There is no need to marinate the chicken before breading and baking it. The marinade would prevent the breading from sticking to the chicken as well. The bread will lock in moisture and add a flavorful crunchy texture.
How do I know when Baked Breaded Chicken is done?
The best way to know when chicken is ready is to use a meat thermometer. Measure the temperature in the thickest part of the chicken, and make sure it reaches 165 degrees. If you do not have a meat thermometer, cut into a piece of chicken and make sure it is white throughout and the juices run clear.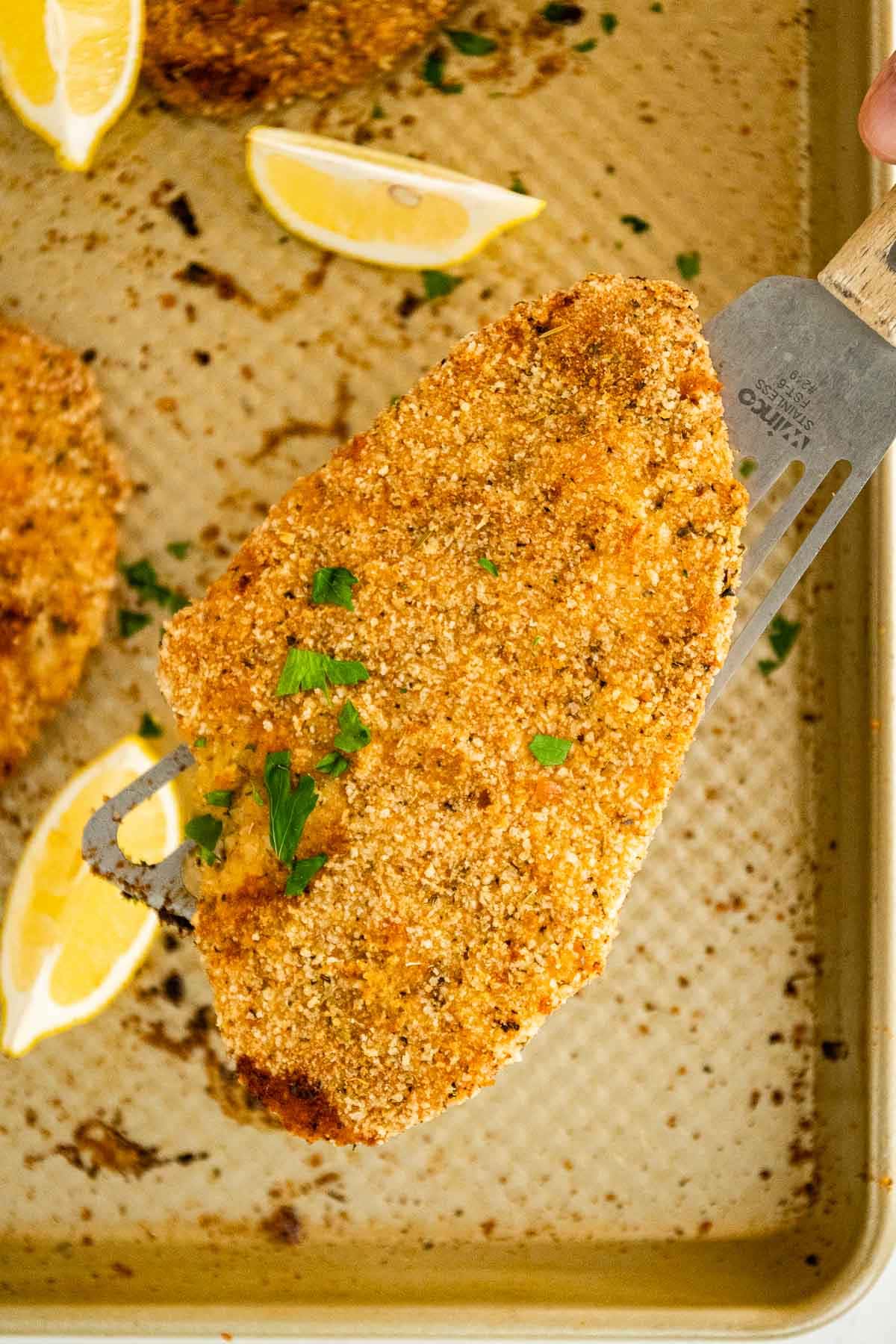 Create a free account to Save Recipes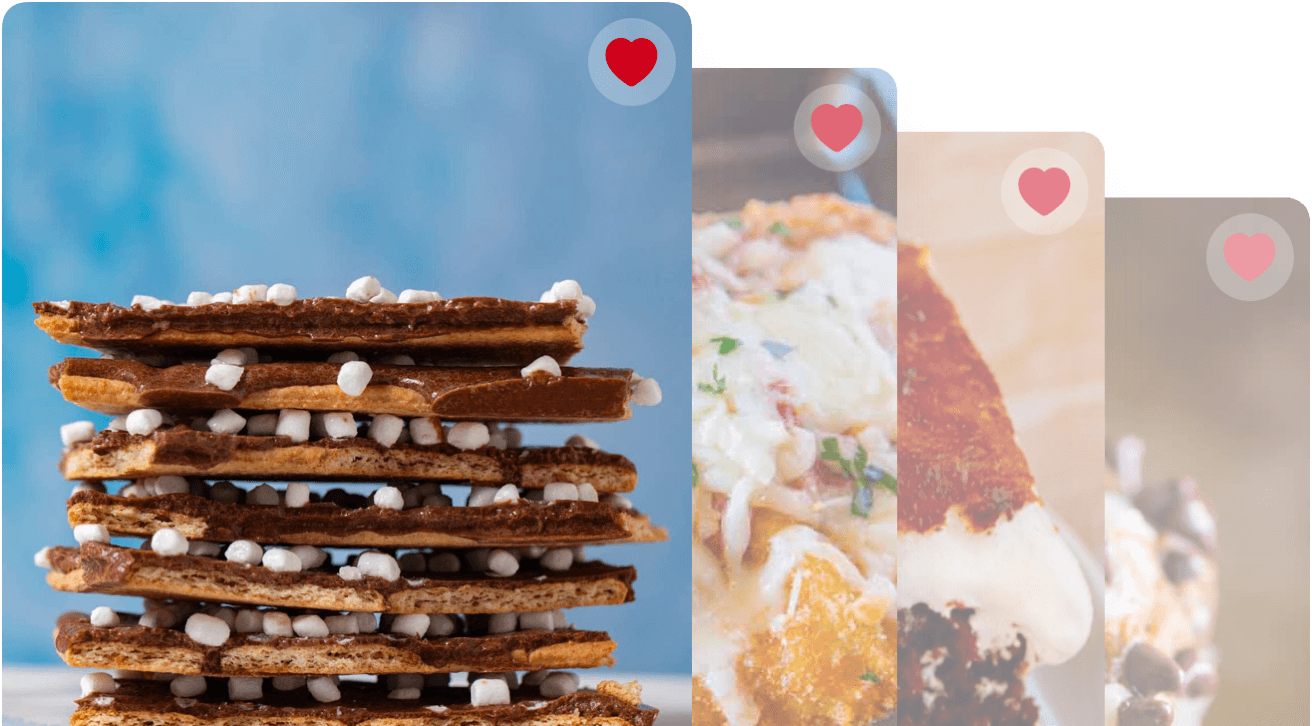 Key Ingredients in Baked Breaded Chicken
Chicken Breasts: Use good quality boneless, skinless chicken breasts. Before baking, use a meat mallet to flatten each breast so it is the same thickness. This will help the chicken to cook at the same rate and stay nice and tender.
Breadcrumbs: It is easy to find plain or seasoned breadcrumbs in the grocery store. If you are in a pinch, toast 2-3 slices of bread and crush them in a food processor or blender.
Seasonings: Dried basil and oregano are a delicious option that lend a classic Italian flavor to the Baked Breaded Chicken. Use any combination of your favorite dried herbs and spices in the breadcrumb mixture.
Air Fryer Baked Breaded Chicken
Preheat your air fryer to 390 degrees.
Flatten the chicken breasts with a kitchen mallet and season with salt and black pepper.
Add olive oil and eggs to a bowl and whisk until well combined.
Add breadcrumbs to a second bowl with basil and oregano (if using).
Dip the seasoned chicken into the eggs then into the breadcrumbs, pressing breadcrumbs into chicken gently.
Place chicken breasts in air fryer basket or tray. If needed, cook 2 breasts at a time to avoid over crowding.
Cook for 10-12 minutes, flipping halfway through, until internal temperature reaches 165 degrees.
Variations on Baked Breaded Chicken
Seasonings: You can add different spices and herbs to the bread crumb mixture to give some different flavors to the blend of ingredients. Try mixing classic chicken spices like garlic powder, onion powder, paprika, fresh parsley, or thyme. For spicy chicken use red pepper flakes or cayenne pepper. Or, to give the chicken Italian flavor, try an Italian spice blend.
Garlic chicken: If you love garlic chicken, you can incorporate the flavor into this Crispy Chicken recipe. Mix 8 minced garlic cloves with the bread crumb mixture. You can use more or fewer cloves of garlic depending on how strong you want the taste to be.
Crumbs: You can use different kinds of crunchy ingredients for the outer coating instead of breadcrumbs or panko. Try a pretzel, pecan, or cornflake crumb mixture.
Crispy baked parmesan chicken: To add some savory cheese to the recipe, simply mix fresh parmesan cheese with the breadcrumbs. Then coat the chicken in the parmesan mixture and bake.
Chicken tenders: You can make this recipe into kid-friendly finger food by using chicken tenders instead of chicken breasts. Coat the chicken in the breadcrumb coating as usual and then pop them in the oven to finish the oven-baked chicken tenders.
Gluten Free Breaded Chicken Breasts: To make this recipe friendly for a gluten sensitive diet, swap out the breadcrumbs for a gluten free variety. You can also make breadcrumbs from a gluten free bread or crushed gluten free crackers.
Low Carb Breaded Chicken Breasts: For keto friendly Breaded Chicken Breasts, skip the breadcrumbs altogether. Replace them with a mixture of 1 ½ cups almond flour and ½ cup grated Parmesan cheese.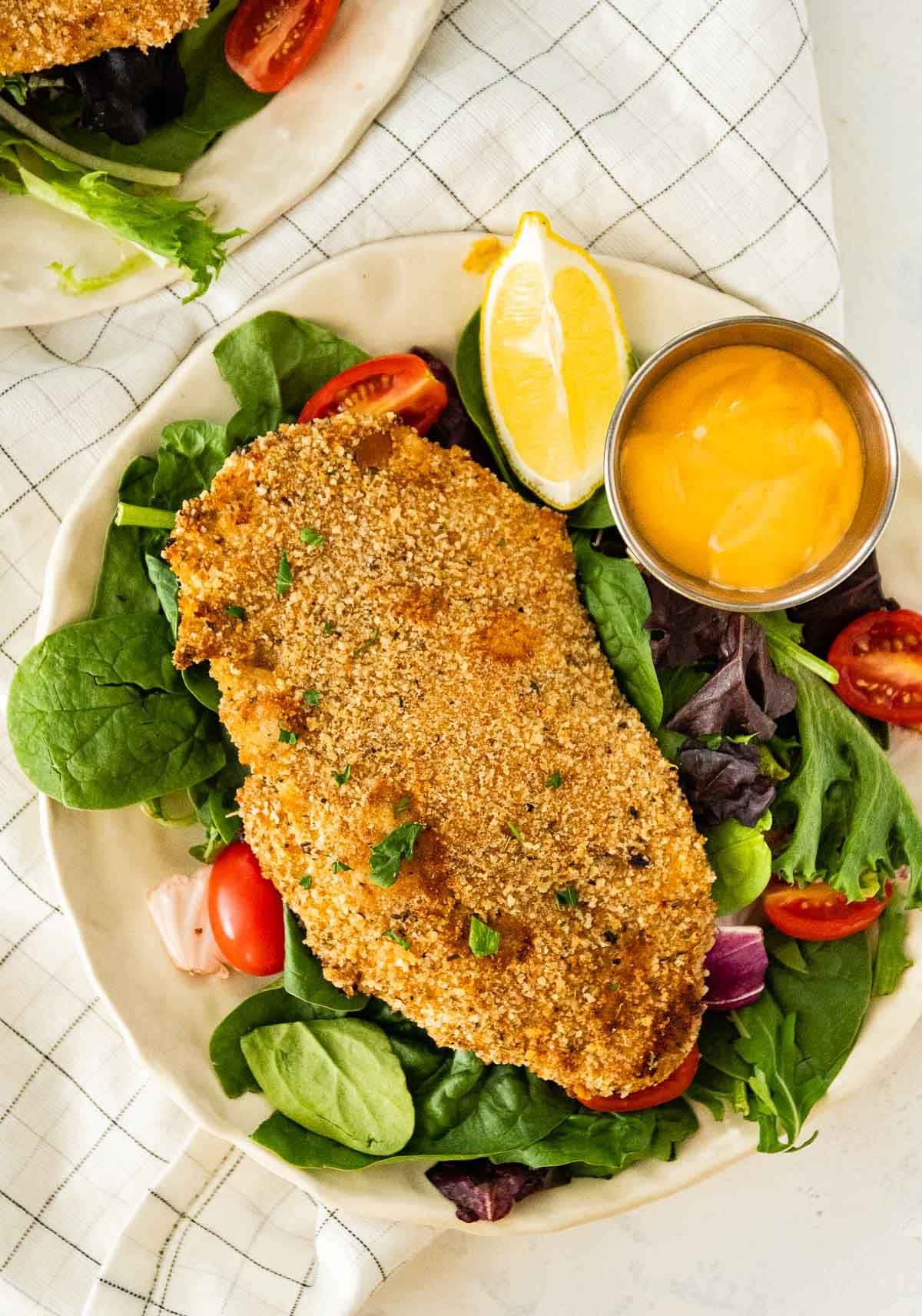 Perfect Sides for Crispy Chicken
Ideas for Serving Baked Breaded Chicken
Buffalo Chicken Sandwich: Replace the herbs in the breading mixture with garlic powder and ground cayenne to taste. After cooking, dip each crispy chicken breast into Buffalo Wing Sauce and serve topped with coleslaw on a brioche bun.
Chicken Parmigiana Sandwich: In the last 10 minutes of cooking, spoon a few tablespoons of marinara sauce onto each piece of chicken and top with sliced or shredded mozzarella cheese. Place each chicken breast onto a crusty hoagie roll and sprinkle with Parmesan cheese for serving.
Chicken Tacos: Slice the breaded chicken breasts and load them into soft corn or flour tortillas with shredded lettuce, chopped tomatoes, and grated cheese. 
Chicken Katsu Rice Bowl: Use panko breadcrumbs and omit the dried herbs. Serve the crispy baked chicken breast on a bowl of rice with veggies and a savory sauce like curry sauce or Japanese BBQ sauce.
How to Store Baked Breaded Chicken
Serve: After baking, don't leave the chicken at room temperature for more than 2 hours.
Store: To keep the leftovers, transfer the Bread Crumb Chicken to an airtight container, and put it in the fridge. The chicken will stay good for 3-4 days.
Freeze: You could also freeze the chicken for up to 3 months. Put the chicken in the fridge for the thaw time and then reheat them in the oven.


Ingredients
4

chicken breast halves

, boneless, skinless

1

teaspoon

kosher salt

1/2

teaspoon

ground black pepper

2

tablespoons

olive oil

2

large

eggs

2

cups

dry bread crumbs

1

teaspoon

dried basil leaves

, optional

1

teaspoon

dried oregano

, optional
Instructions
Preheat oven to 350 degrees and spray a baking sheet with vegetable oil spray.

Using a kitchen mallet, flatten the chicken breasts to even thickness.

Season chicken with salt and black pepper.

Add olive oil and eggs to a bowl and whisk until well combined.

Add breadcrumbs to a second bowl with basil and oregano (if using).

Dip the seasoned chicken into the eggs then into the breadcrumbs.

Press breadcrumbs into chicken gently.

Carefully add to baking sheet.

Spray with additional vegetable oil, if desired.

Bake for

30-35 minutes

until cooked through to 165 degrees.
Nutrition
Calories:
442
kcal
|
Carbohydrates:
40
g
|
Protein:
34
g
|
Fat:
15
g
|
Saturated Fat:
3
g
|
Polyunsaturated Fat:
3
g
|
Monounsaturated Fat:
7
g
|
Trans Fat:
1
g
|
Cholesterol:
165
mg
|
Sodium:
1144
mg
|
Potassium:
575
mg
|
Fiber:
3
g
|
Sugar:
3
g
|
Vitamin A:
181
IU
|
Vitamin C:
1
mg
|
Calcium:
134
mg
|
Iron:
4
mg