Bone-In, Oven Baked, Split Chicken Breasts are an easy weeknight meal with crispy skin, or perfect for any recipe calling for cooked chicken!
You can make Baked Chicken Thighs, Oven Baked and Rice Casserole or crispy Oven Baked Split Chicken Breasts with the bone in for a delicious, juicy dinner that the whole family will enjoy, and you won't have to bribe your kids to eat. It's really easy to prepare, only takes about 35 minutes to cook, and keeps well for lunch tomorrow.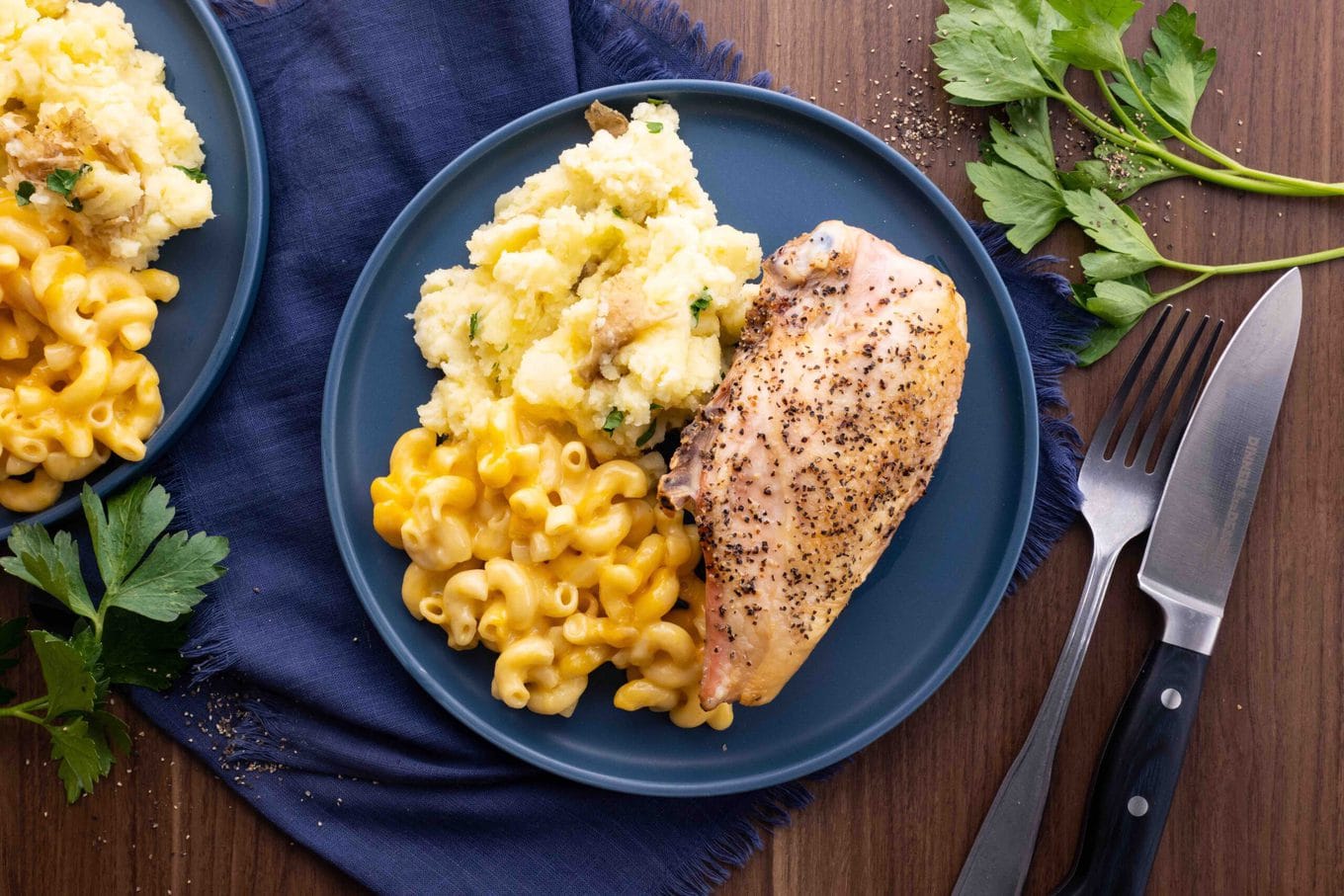 Oven Baked Chicken is one of those back pocket recipes you should keep bookmarked for all the recipes that have ever called for cooked chicken. It's simple, delicious and makes a great built in sauce that you can make into a quick gravy (melt 2 tablespoons butter and whisk in 2 tablespoons flour then add in the chicken cooking liquid and whisk well until you have a creamy gravy).
Even better, serve that chicken and gravy over delicious Homemade Biscuits or with Homemade Dinner Rolls.
This chicken recipe is really easy to prepare, all you have to do is preheat the oven and rub split chicken breasts with kosher salt, pepper, and vegetable oil, put the chicken pieces skin side up on a baking sheet and let them bake.
The cooking time is extremely reasonable for a roasted chicken breast recipe, and they come out a delicious golden brown and crispy. Don't worry about the oven drying out the split breasts either, they end up being extremely juicy and full of flavor.
It's the perfect recipe for making a Classic Chicken Salad or Chicken Casserole too!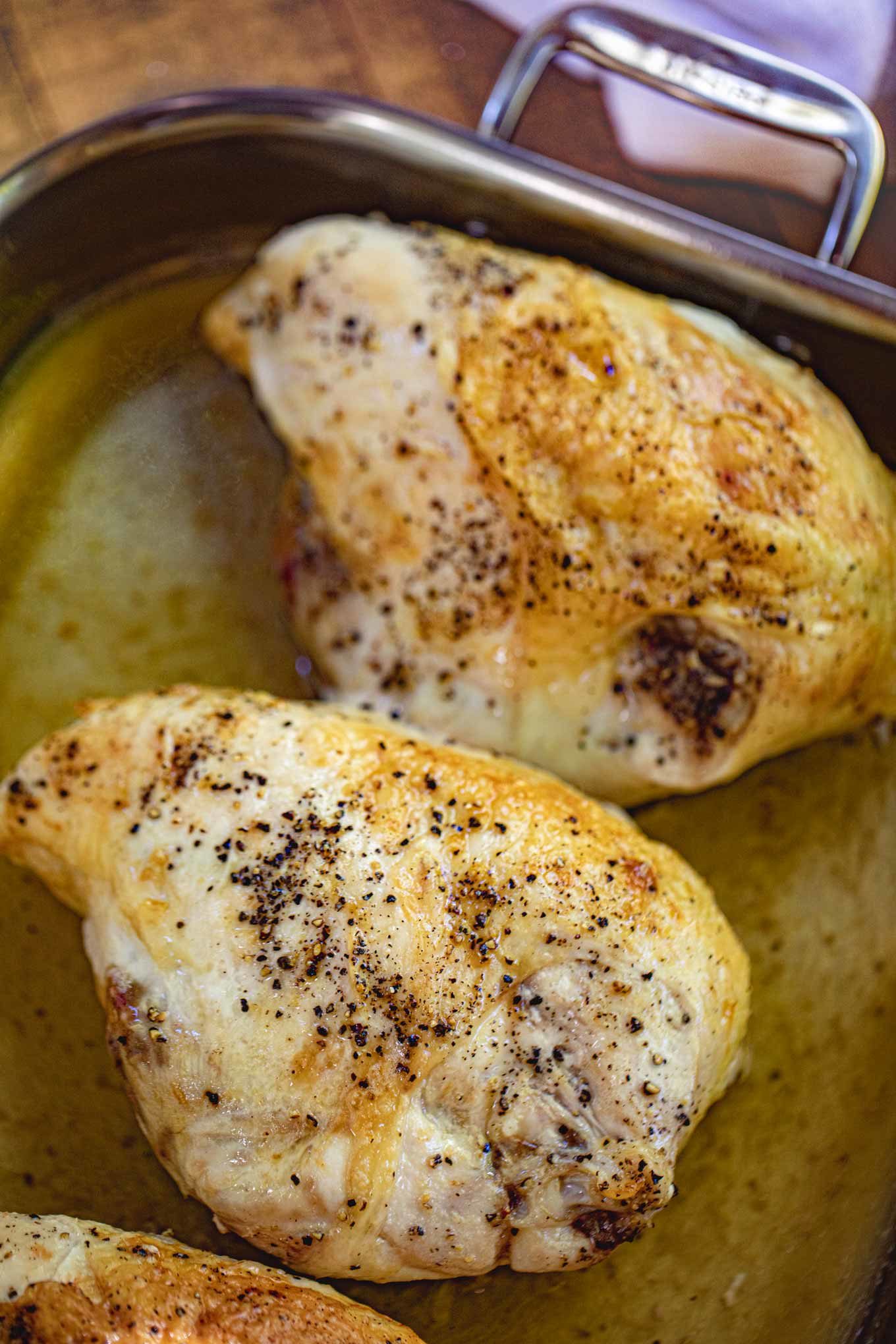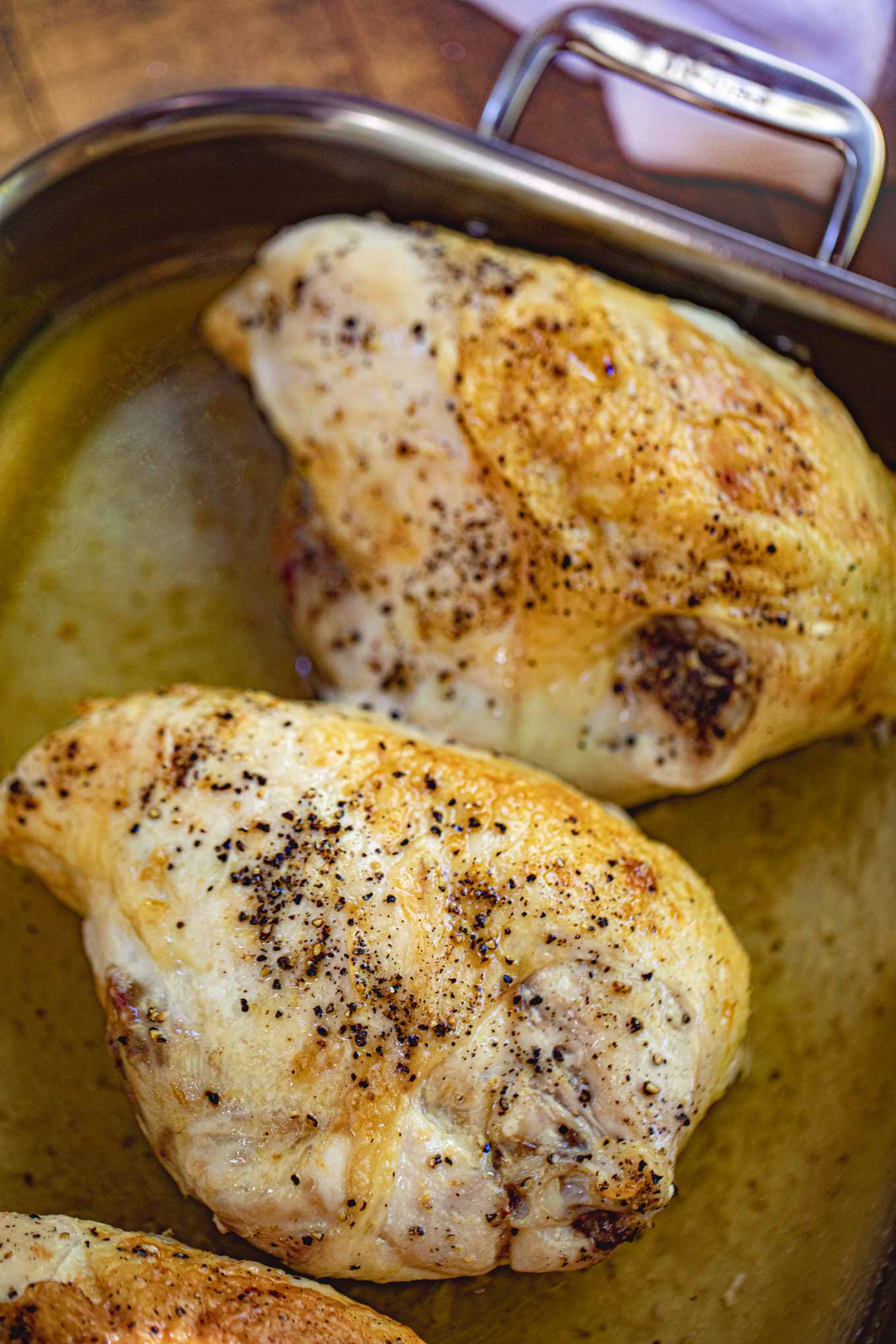 How to Make Oven Baked Split Chicken Breasts
Preheat oven to 375 degrees F (190.5 degrees C.)
Season chicken with salt, pepper and vegetable oil and place in baking pan.
Cook chicken for 30-35 minutes until the internal temperature of the chicken reaches 165 degrees F (73.8 degrees C).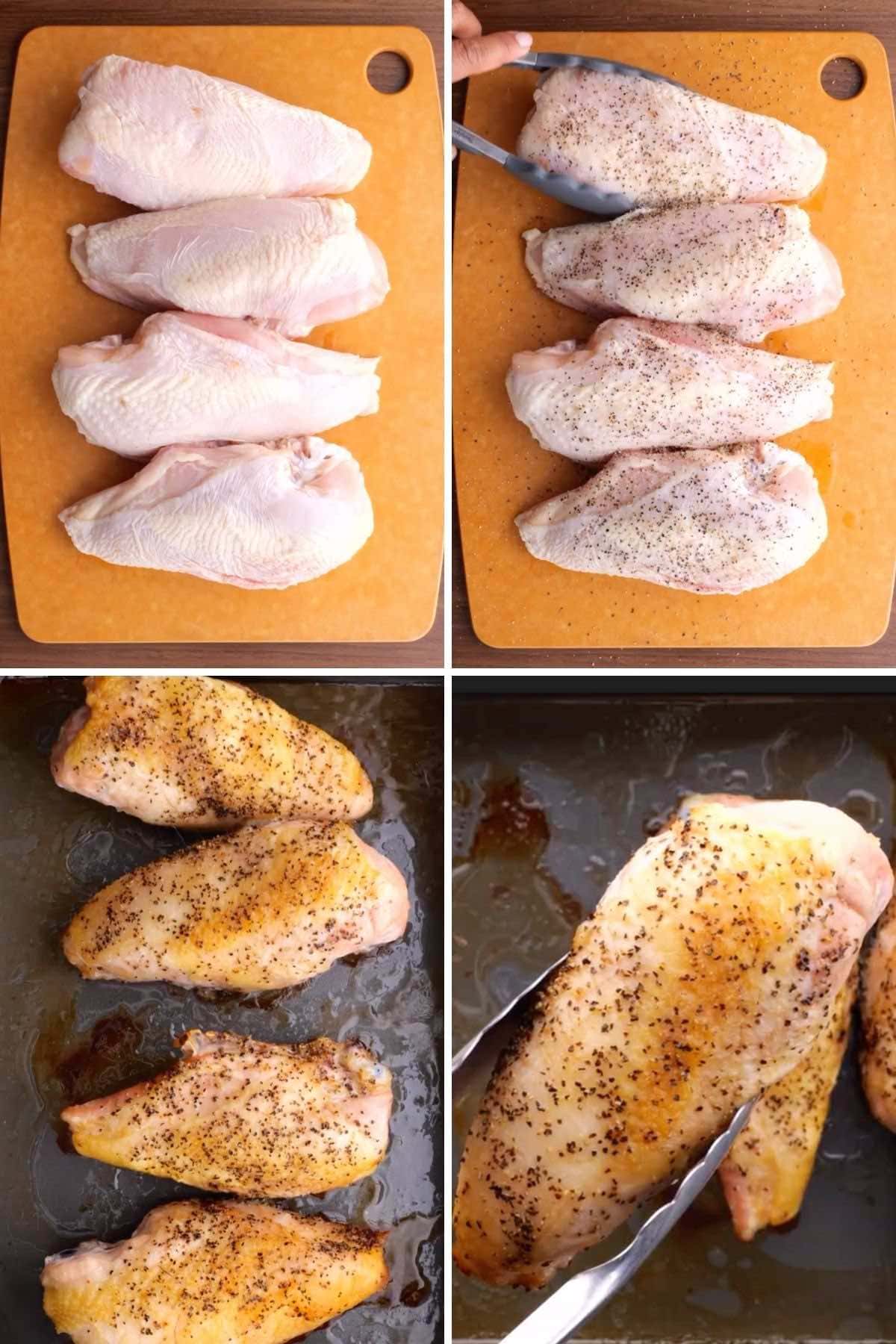 Frequently Asked Questions
What spices and seasonings can I used on Oven Baked Chicken Breasts?
Try adding even more flavor to your chicken by adding a dash of paprika or garlic powder to it before you put it in the oven. You can even add a drizzle of lemon juice on top to give it a little extra zing. The lemon juice will make the chicken even more juicy and crisp.
What can I do with leftover bone-in chicken breasts?
Oven Baked Chicken Breasts are perfect for a ton of other recipes, which will save you time later in the week. Tear the chicken into bite sized pieces and served them in sandwiches, in chicken salad, or make them into a soup.
What kinds of sauces would taste great with Oven Baked Split Chicken Breasts?
This chicken recipe is the perfect base to try out with different flavored sauces. Try the BBQ sauce from these Slow Cooker Barbecue Ribs, the Honey Mustard Sauce from Honey Mustard BBQ Chicken, or our delicious Buffalo Sauce, just to name a few.
When are Oven Baked Split Chicken Breasts safe to eat?
Just like other chicken recipes, you should always make sure to check the internal temperature of your meal before you serve it up just to be sure it has cooked through all the way. The best way to do this is to insert a probe thermometer into the thickest part of each chicken breast to get an accurate reading.
The USDA states on their website that the temperature should be 165 degrees F (73.8 degrees C) or higher. Also when cooking chicken you should always thoroughly disinfect your workspace when you're done to avoid getting sick. The extra clean up time is worth it to not get Salmonella.

Create a free account to Save Recipes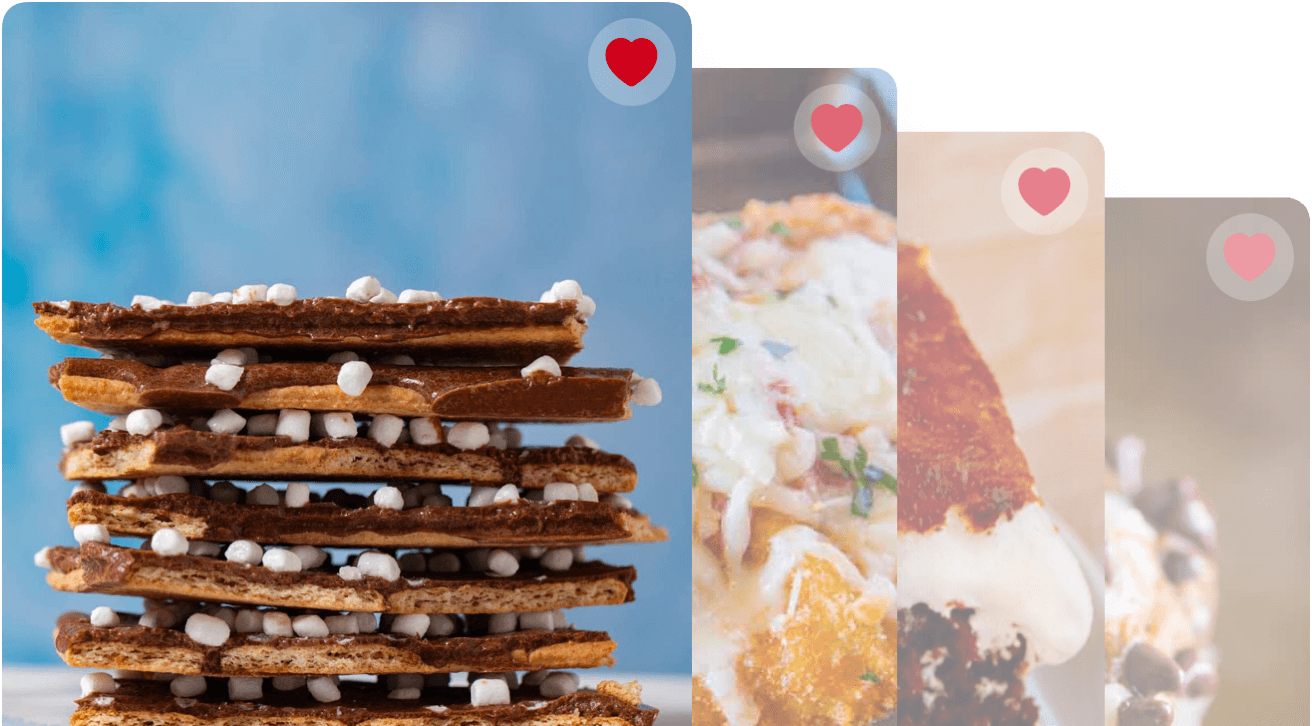 Bone In vs. Boneless Chicken Breasts
Why choose one over the other? That really depends on what the overall texture you're going for. Boneless chicken gets more tender and is easier to eat, since you don't have to pick through the bones to get to the good stuff. Skin-on bone-in chicken is delicious because of how flavorful and crispy the skin gets. That crispness doesn't make the insides dry, it actually helps keep the meat juicy and moist.
You also have the added benefit of the flavor the bone provides as the chicken roasts. There is a lot of flavor in bones (this comes from bone marrow) and as the chicken bakes the marrow comes out of the bones and into the chicken.
What to Serve with Oven Baked Split Chicken Breasts
You'll love to serve this with any of our favorite Side Dishes including Baked Mac and Cheese, Creamed Spinach or Corn Casserole.
How to Store Oven Baked Split Chicken Breasts
Serve: Never leave cooked chicken out at room temperature for longer than about 2 hours or it can make you very sick. Make sure to always allow the meat to cool to room temperature before you refrigerate it, or it can still grow bacteria and make you ill.
Store: To properly refrigerate your baked chicken, put it in something that can be completely sealed, like plastic wrap or tupperware. When completely sealed, Baked Split Chicken Breasts will be good for up to 3 days before they go bad.
Freeze: Frozen cooked chicken is good for up to 6 months, as long as it doesn't thaw out or it isn't just sitting bare on the shelf. Make sure you seal it up good, or you'll regret it when you try to thaw it and it's completely freezer burned.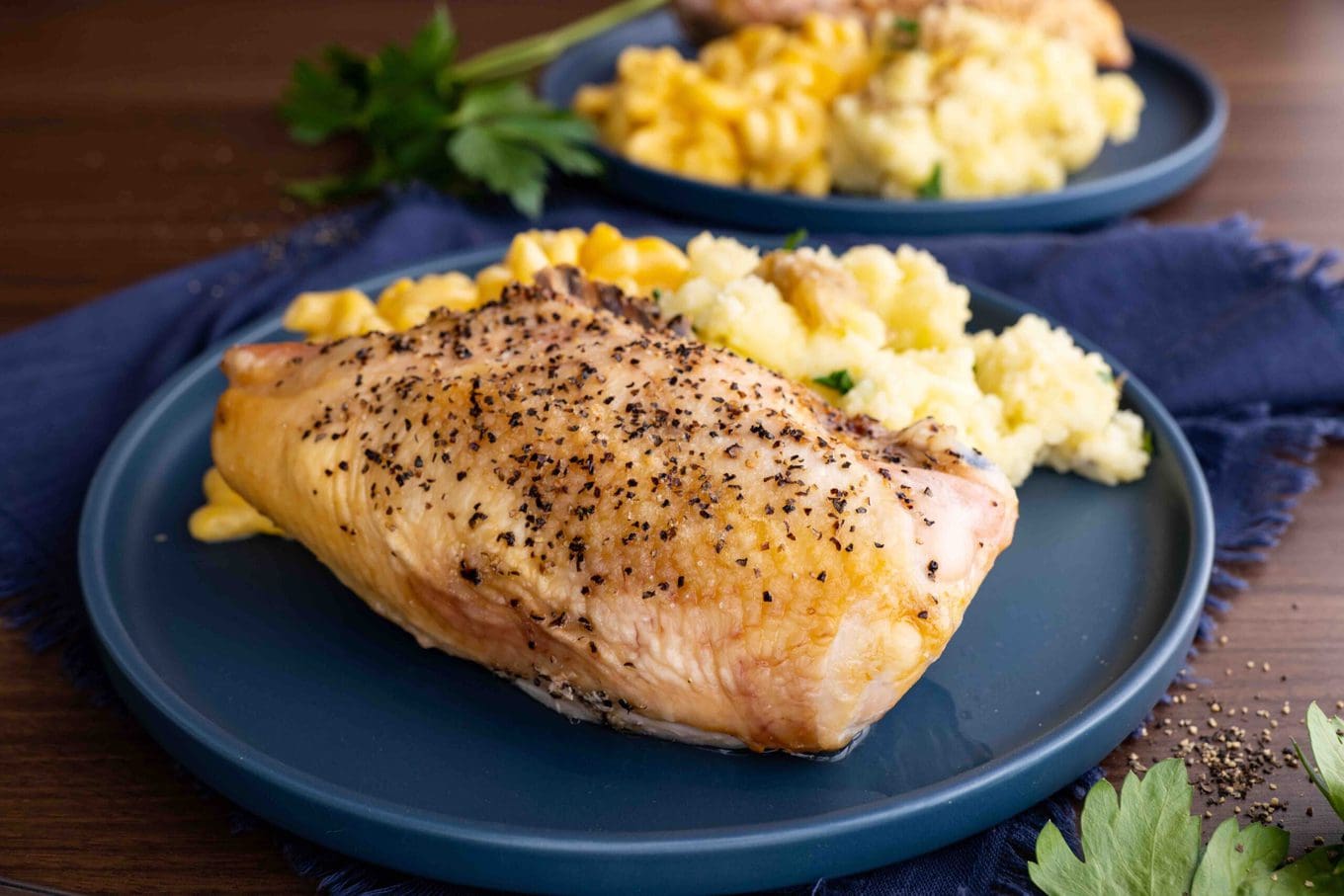 Ingredients
4

chicken breasts

, bone-in and skin on

1/2

teaspoon

kosher salt

1/4

teaspoon

coarse ground black pepper

1

teaspoon

vegetable oil
Instructions
Preheat oven to 375 degrees.

Season chicken with salt, pepper and vegetable oil and place in baking pan.

Cook chicken for

30-35 minutes

until the internal temperature of the chicken reaches 165 degrees.
Nutrition
Calories:
267
kcal
|
Carbohydrates:
1
g
|
Protein:
48
g
|
Fat:
7
g
|
Saturated Fat:
2
g
|
Cholesterol:
145
mg
|
Sodium:
553
mg
|
Potassium:
836
mg
|
Vitamin A:
68
IU
|
Vitamin C:
3
mg
|
Calcium:
11
mg
|
Iron:
1
mg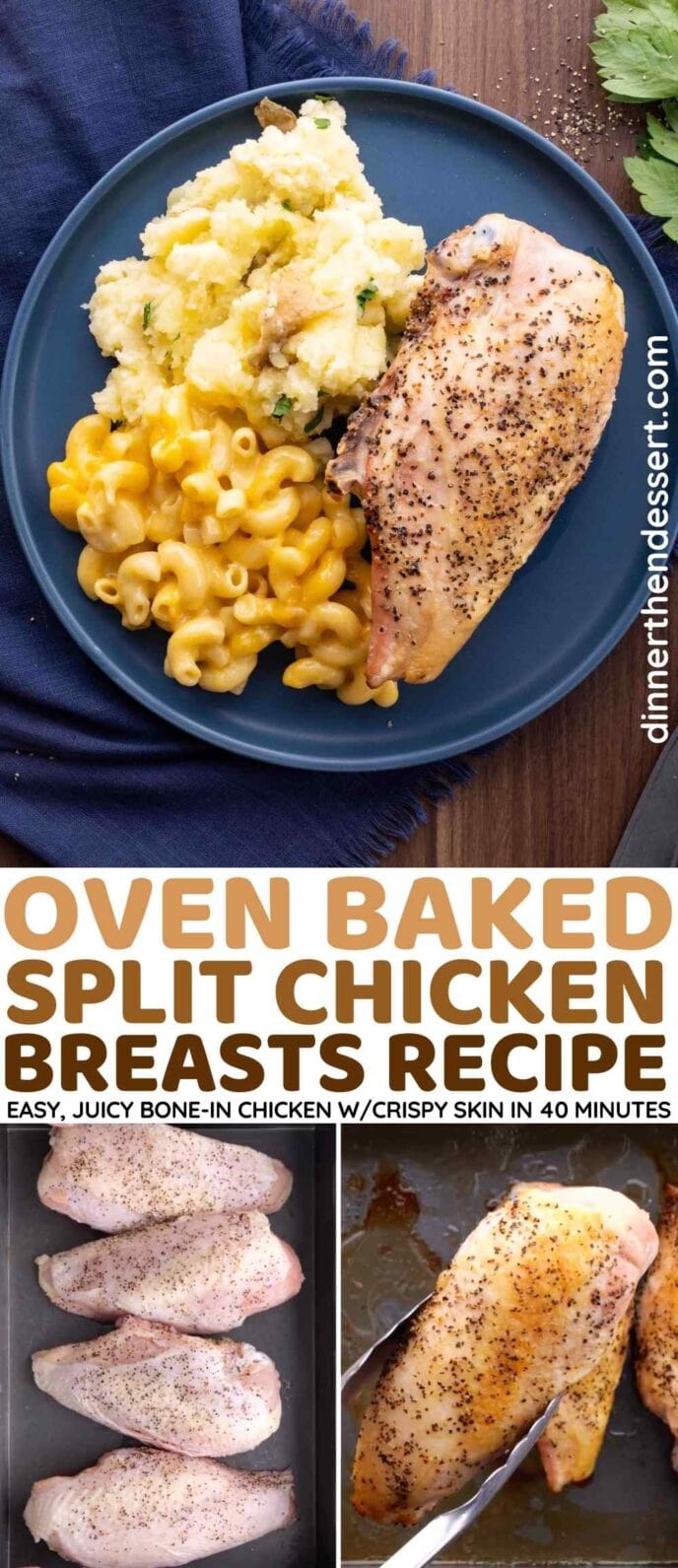 Photos used in a previous version of this post.