jump to recipe
Easy Corn Casserole (Just 5 Ingredients!)
This post may contain affiliate links. Read my disclosure policy here.
Easy Corn Casserole made in one bowl with just five ingredients including sour cream, corn and corn muffin mix, this is the easiest holiday side dish ever!
We're also fans of the alternate version of this dish, Corn Pudding, which is more corn, less cornbread consistency but equally delicious too!
 Corn Casserole
Corn Casserole is a holiday staple in our house, not just for Christmas and Thanksgiving, but also for Easter. Yes, I just said Easter, this is how far ahead I plan on the blog to give you guys all the delicious recipes in time for the holidays!
Corn Casserole is one of those old school one bowl recipes that Jiffy Corn Mix brilliantly came up with to make use of their corn muffin mix. It's a mix of corn, creamy pudding and cornbread all in one. There's a slight tang to it from the sour cream, but no other flavors like cheese or spices.
Easy Easter Dinner:
The only thing not on the blog (that we make for Easter Dinner) yet is the easy dinner rolls and bacon green bean bundles we make to round out the big family meal.
This recipe also calls for Jiffy Corn Muffin Mix and creamed corn, two ingredients which are also recipes I make at home. For the sake of this recipe I will leave them as is, but I've listed below the mini recipes for those ingredients for you in case you'd like to make the corn casserole with whole ingredients instead of pre-made products.
MY OTHER RECIPES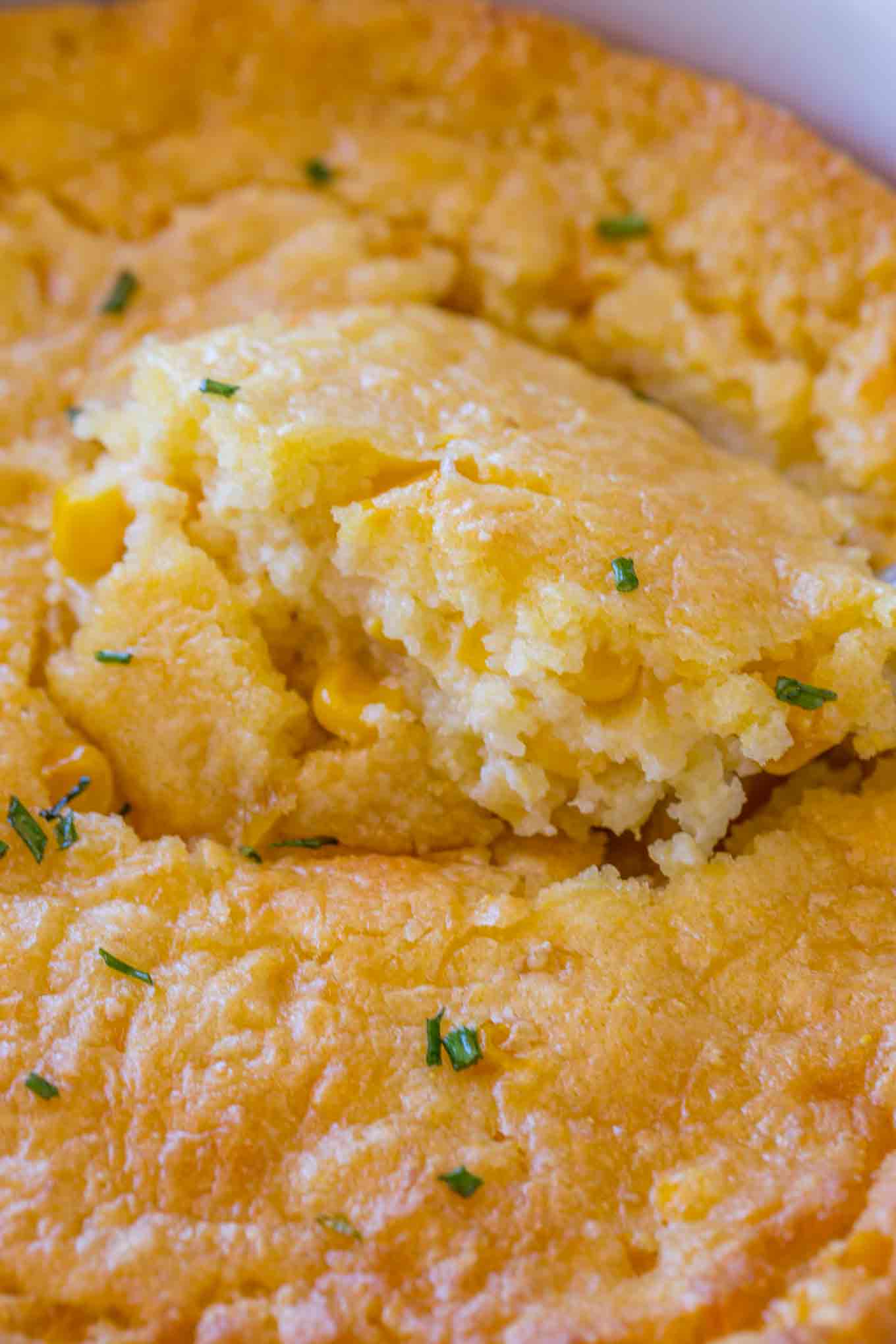 Jiffy Corn Muffin Mix Recipe:
Whisk together all  the ingredients well in a bowl.
2?3 cup all-purpose flour
1?2 cup yellow cornmeal
1?3 cup granulated sugar
2 tablespoons vegetable oil
1 tablespoon baking powder
1?2 teaspoon salt
Canned Cream Corn Recipe:
2 cups corn
2 tablespoons water
Add 1 cup of corn and 2 tablespoons of water to a food processor and puree well.
Remove to a bowl.
Add another 1 cup of corn to the food processor and pulse ten times.
Mix all the corn together.
I first blogged about this recipe on my friend Alyssa's site, The Recipe Critic.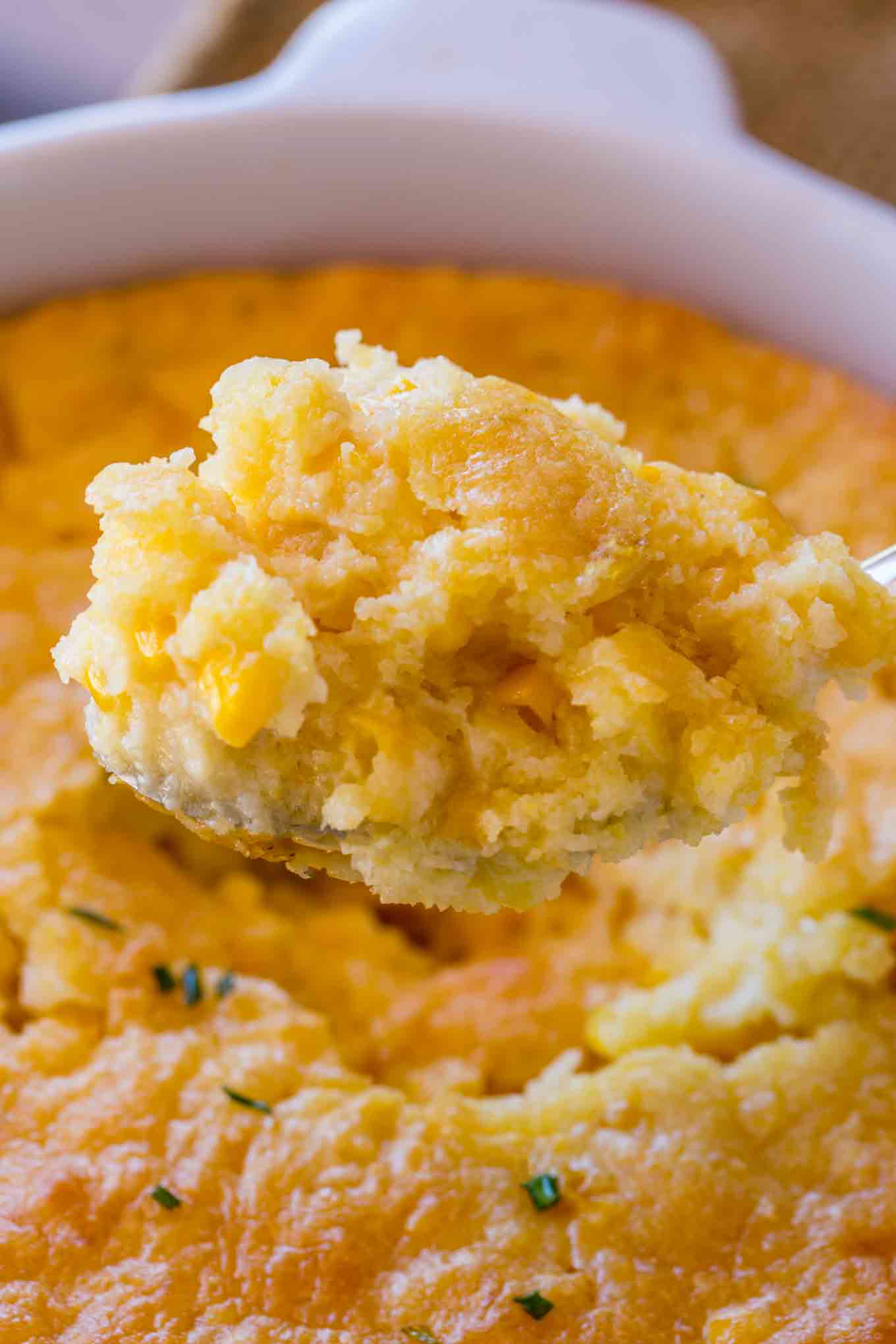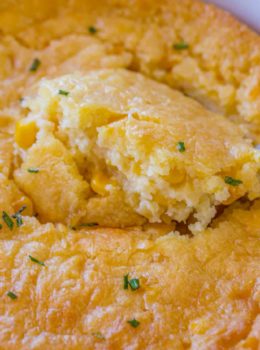 Easy Corn Casserole Recipe
Easy Corn Casserole made in one bowl with just five ingredients including sour cream, corn and corn muffin mix, this is the easiest holiday side dish ever!
Ingredients:
8 ounce box Jiffy Corn Muffin mix
15 ounce whole kernel corn, drained
15 ounce creamed corn, not drained
1 cup sour cream
½ cup melted butter
Directions:
Preheat the oven to 350 degrees.
Butter or spray an 8×8 inch baking pan.
Add all the ingredients into a mixing bowl and whisk until well combined.
Add to the baking pan and bake for 45-55 minutes.
The top should be puffy and slightly browned.
All images and text ©
Made this recipe?
Show me what you made on Instagram or Facebook and tag me at @DinnerthenDessert or hashtag it at #dinnerthendessert.
Dinner, then Dessert, Inc. owns the copyright on all images and text and does not allow for its original recipes and pictures to be reproduced anywhere other than at this site unless authorization is given. If you enjoyed the recipe and would like to publish it on your own site, please re-write it in your own words, and link back to my site and recipe page. Read my disclosure and copyright policy. This post may contain affiliate links.