Green Bean Bundles are an elegant side dish for an Easter dinner party. Fresh green beans wrapped in a slice of bacon, baked crispy, with a buttery sauce.
Swap Green Bean Casserole as your Thanksgiving side this year for these lighter, yummy Green Bean Bundles. Check out all the different Side Dish Recipes perfect for any holiday meal.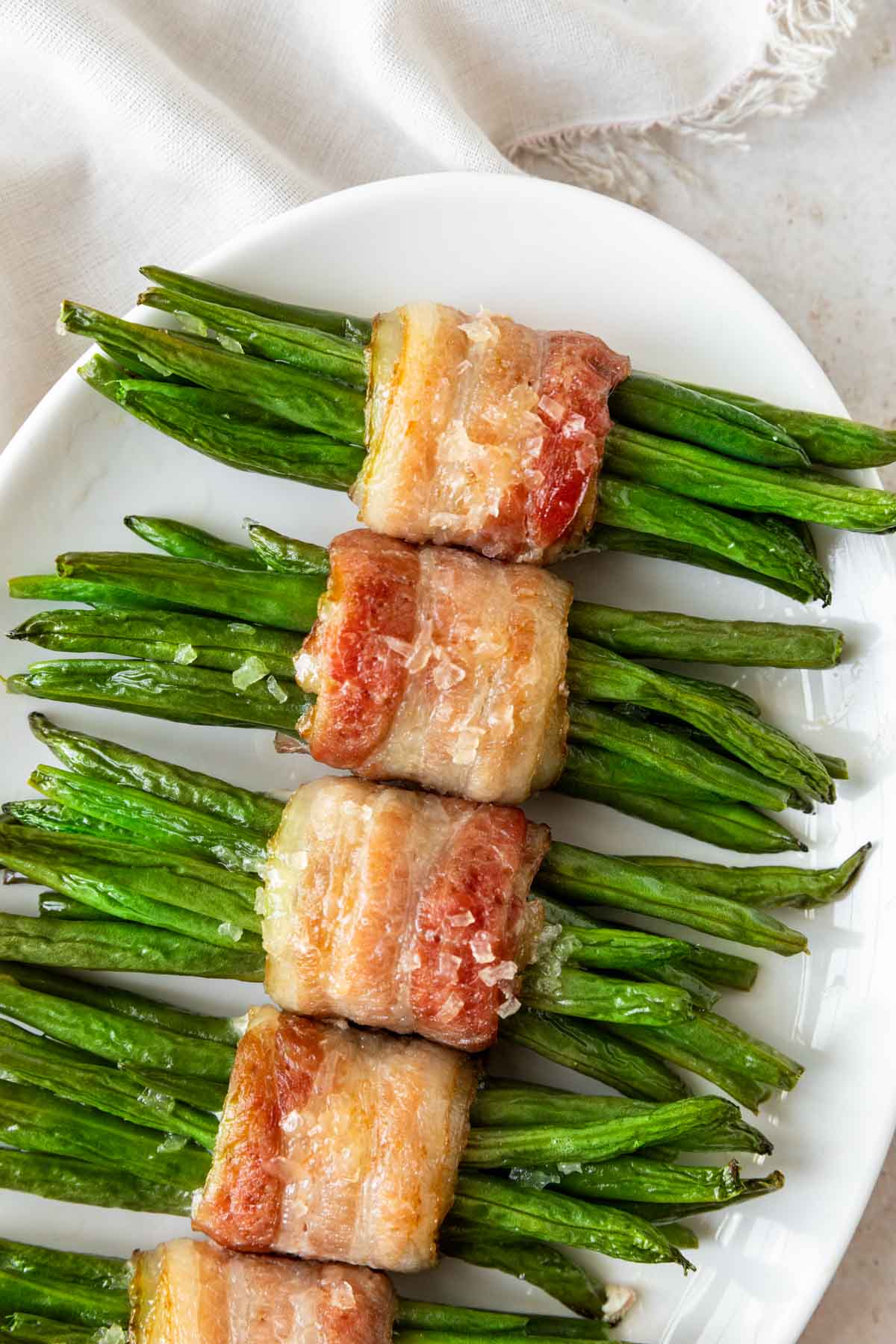 Fresh green beans are a versatile veggie that taste just as yummy in a creamy casserole as they do if you blanch them for a salad. One of the best ways to make green beans is to wrap them in bacon and roast them until they are crispy.
These Bacon Wrapped Green Bean Bundles are a delicious and elegant side dish. They work well for any holiday meal but are easy enough for a weeknight dinner. You can get fresh green beans all year round so instead of green bean casserole, try these Green Bean Bundles for your next Easter brunch, Thanksgiving side, or Christmas dinner.
You may have had bacon wrapped asparagus for a dinner party appetizer before, but these Green Bean Bundles are so much better! They are way more affordable, since asparagus only goes on sale maybe once a year. Plus this easy recipe is made in minutes and ready in less than half an hour – all around a winning recipe!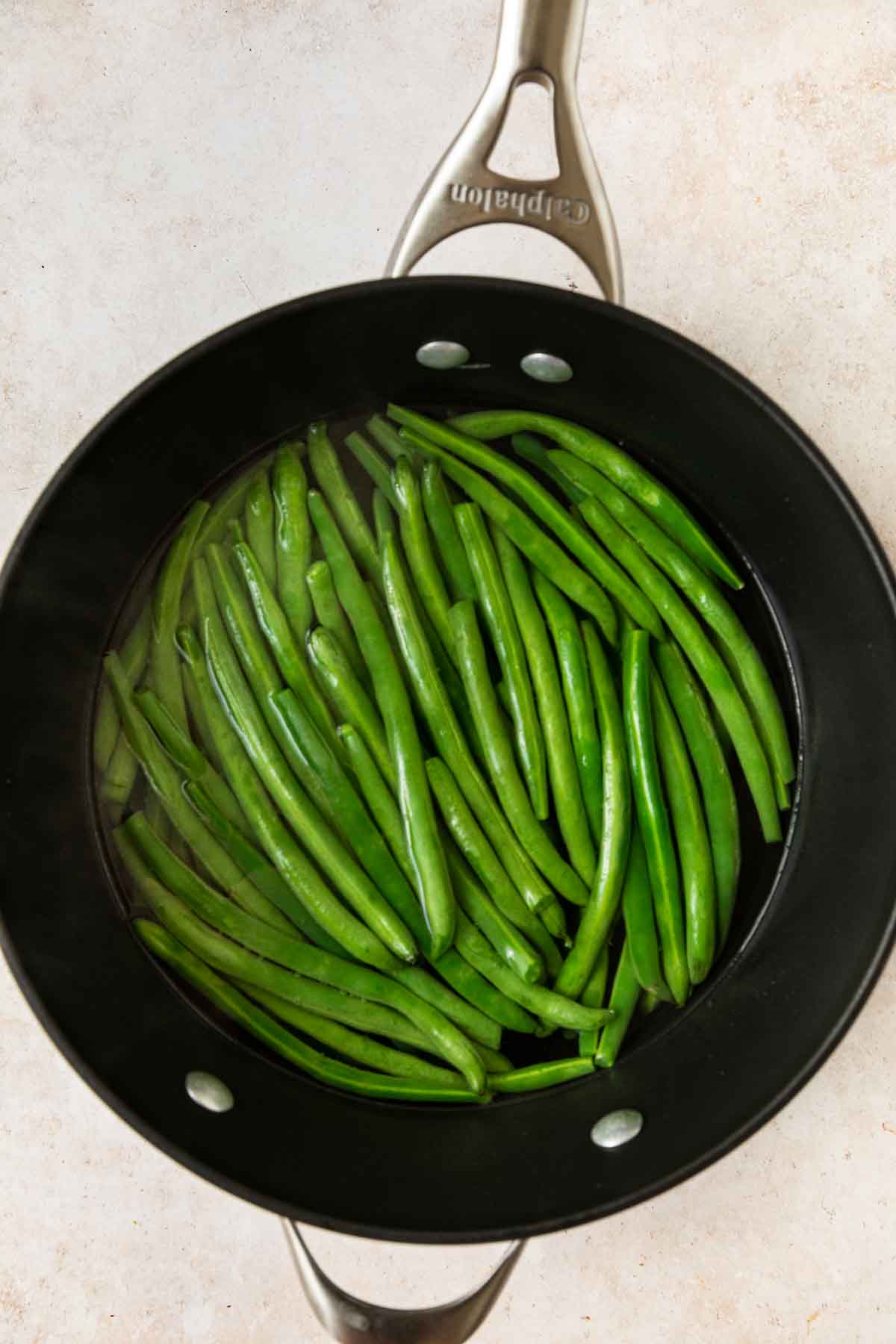 For Green Bean Bundles, you want to use fresh green beans and the best ones are the thin, small green beans. If you can find them, try Haricot Vert which is fancy for French green beans. These thin green beans are bright green and will be tender yet crisp after you blanch and roast them.
These Green Bean Bundles are served with a creamy, buttery sauce that goes so well with the crispy bacon and fresh green beans. They are also just as yummy without a sauce. You can cut the bacon and the green beans in half to make a fancy, easy appetizer.
Green Bean Bundles make a great side dish for any holiday meal. This simple holiday side dish goes with all your favorites like a Christmas dinner Baked Ham, Roast Leg of Lamb at Easter, or Thanksgiving Roast Turkey. Impress your coworkers and make these easy Green Bean Bundles for your next potluck.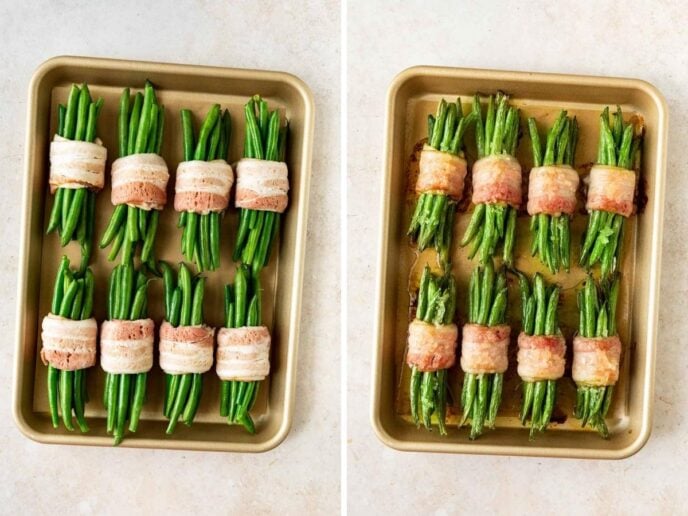 How to Make Green Bean Bundles
Preheat oven to 400 degrees and line a baking sheet with parchment.
Blanch the green beans in boiling water for 3-5 minutes until tender and crisp.
Wrap about 10 beans in each slice of partially cooked bacon and secure with a toothpick. Bake for 10-15 minutes.
To make the butter sauce, sauté finely chopped onion in butter. Add vinegar, sugar, and salt.
Arrange Green Bean Bundles on a serving plate and pour sauce over. Serve immediately.
Holiday Main Dish Recipes
Frequently Asked Questions
Can Green Bean Bundles be made vegetarian?
Yes! If you would prefer to leave out the bacon, there are many other ways to bundle the blanched green beans together. The long green parts of scallions work well as a tie for your bundles. Trim off the whites of the green onions and add to the blanching water in the last minute to make them pliable enough for tying. You can also use twist strips of puff pastry around the bundles  and bake them for a beautiful presentation. Or for a rustic look, try using simple kitchen twine.
What kind of bacon should I use for Green Bean Bundles?
You can use regular pork bacon, or any flavor you'd like such as applewood smoked bacon. Avoid very thick cuts of bacon so that they are easier to wrap. If you prefer turkey bacon or a different variety, you may want to use toothpicks to secure the slices in place because they will not get quite as crispy.
How do I serve Green Bean Bundles?
Green Bean Bundles make a wonderful vegetable side dish for family style holiday meals. They can also be served as appetizers, if you make the bundles with fewer green beans and cut each piece of bacon in half lengthwise. Serve them with different dipping sauces including the butter sauce in this recipe, or you can serve them with Dill Sauce, Ranch Dressing, or Bernaise Sauce.
How to Blanch Fresh Green Beans
Bring a large pot of water to a boil on the stove top. Prepare a large bowl of ice water and set near stove top.
Add a pinch of baking soda to the boiling water. This trick will keep your green beans bright green, instead of the duller color you usually get boiling beans or from a can.
Place fresh green beans into the boiling water and boil for 3-5 minutes, until bright green and tender crisp.
Immediately remove green beans with a kitchen skimmer or slotted spoon and submerge in the bowl of ice water.
Allow to cool and then pat green beans dry with a paper towel.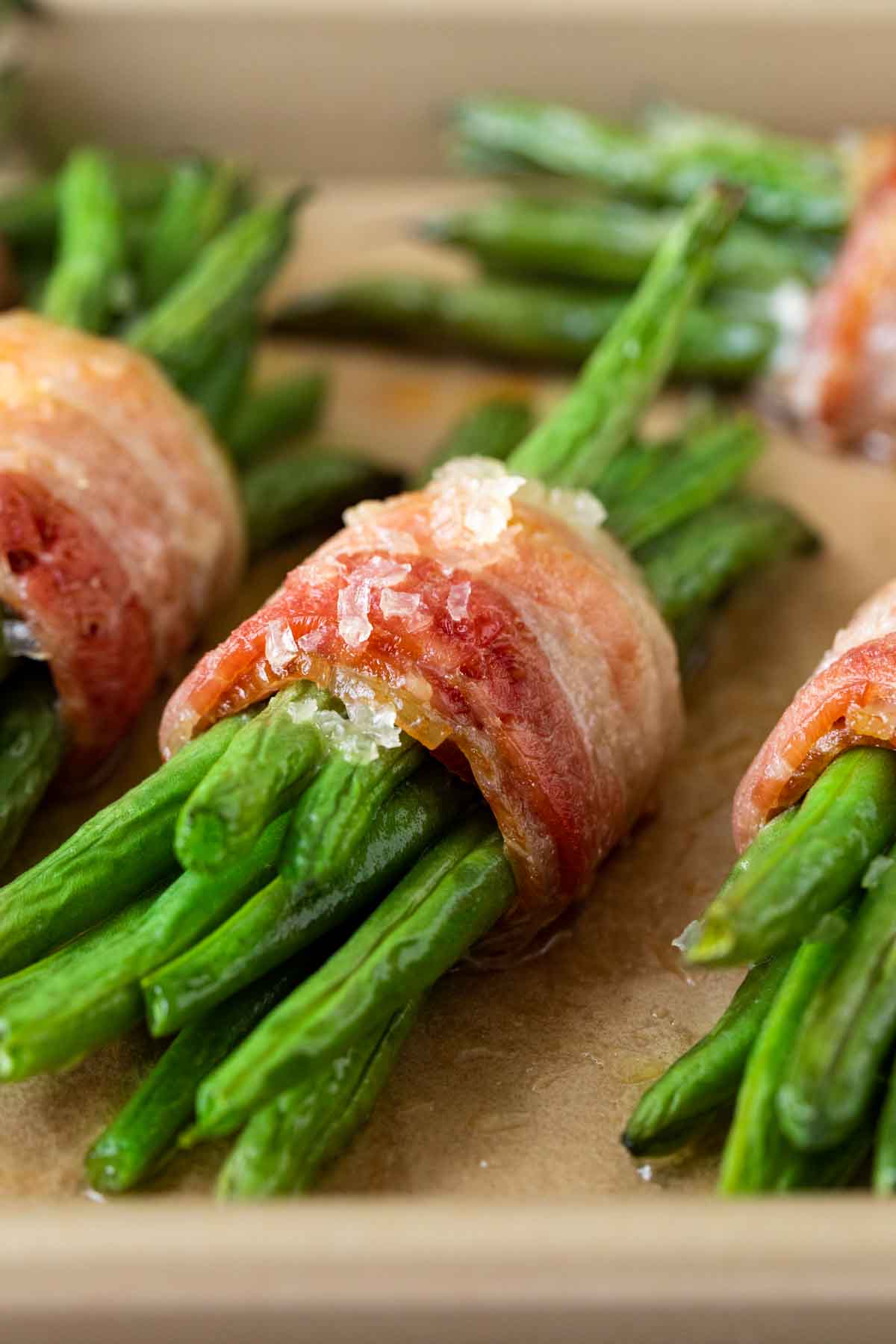 Key Ingredients in Green Bean Bundles
Green Beans: Look for fresh green beans that are bright and stiff, and that will snap if you bend them. They should have a firm skin, without any dark spots or shriveling. If you can find them, hericot vert work wonderfully for this recipe. They are a type of French green beans that tend to be longer, thinner and more tender than traditional green beans.
Bacon: Use any basic variety of bacon that you prefer. The key is to partially cook the bacon in a pan until much of the fat has rendered out, but they are still pliable. This will keep the green beans from becoming too greasy during cooking, or from over cooking while the bacon cooks. The result is tender, crisp green beans wrapped in crispy, perfectly cooked bacon.
Butter Sauce: We know from traditional green bean casseroles that onions taste great on green beans. The sautéed onions cooked in melted butter with a splash of vinegar, sugar, and salt to round out the flavors makes a delicious and sophisticated topping to these Green Bean Bundles.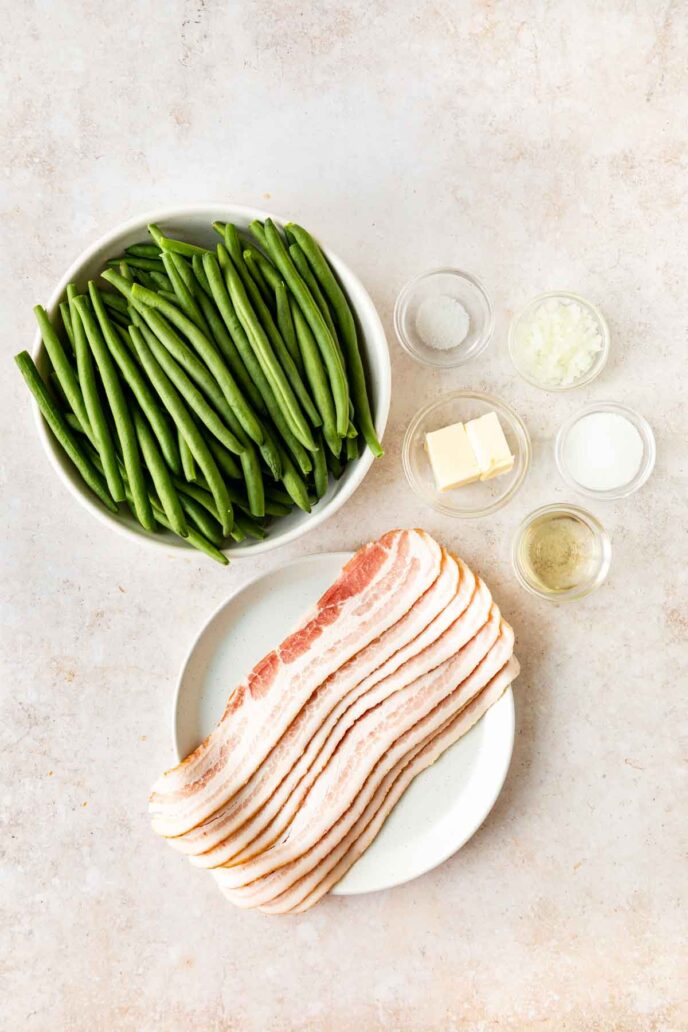 Can Green Bean Bundles be Made Ahead?
Make Green Bean Bundles ahead of time so your appetizer or side dish is ready for your dinner party long before the guests arrive. Simply prepare the recipe as usual and instead of baking, just wrap the baking sheet with plastic wrap and refrigerate up to 1 day. Prepare the sauce ahead of time too and reheat on the stove top right before serving.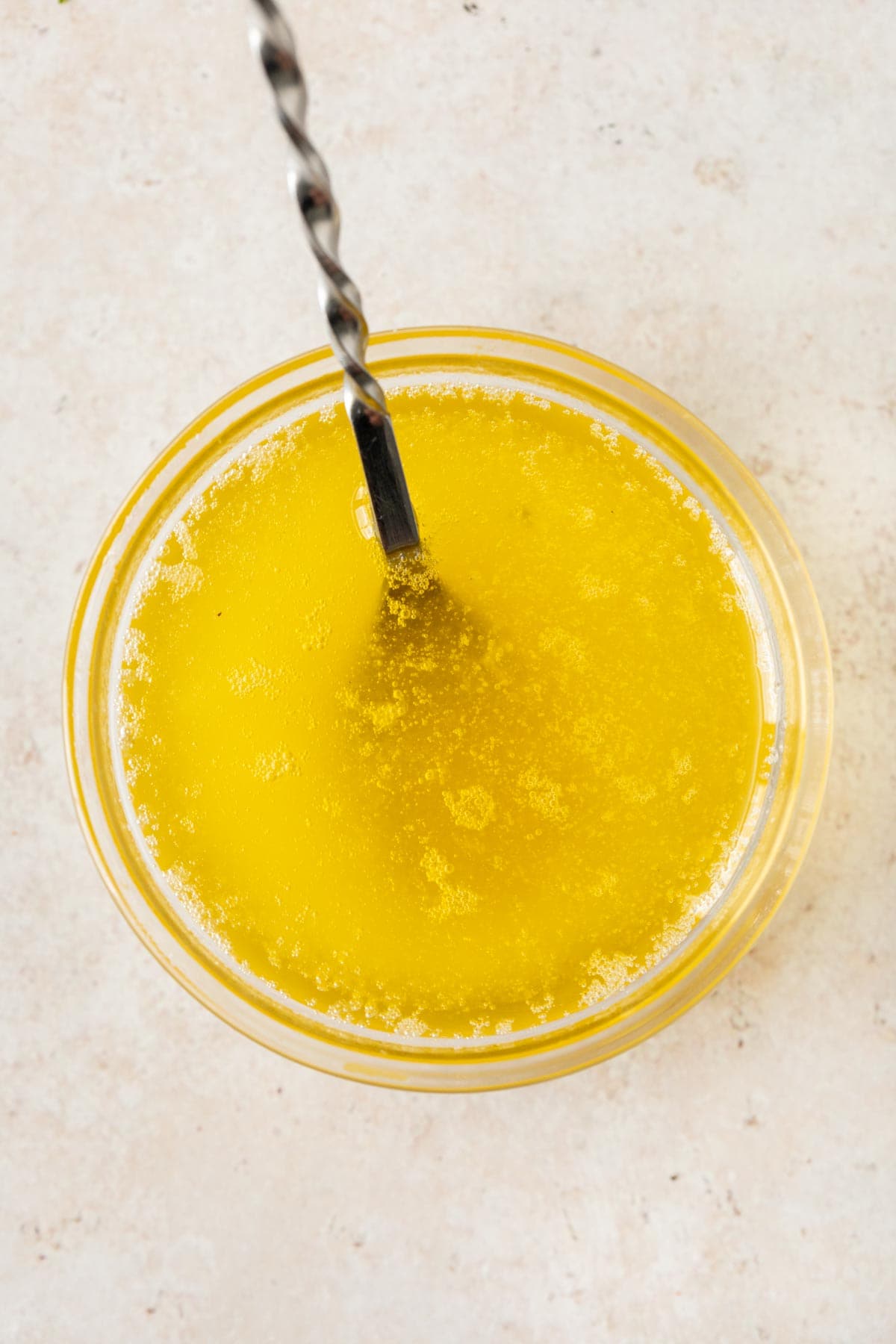 Create a free account to Save Recipes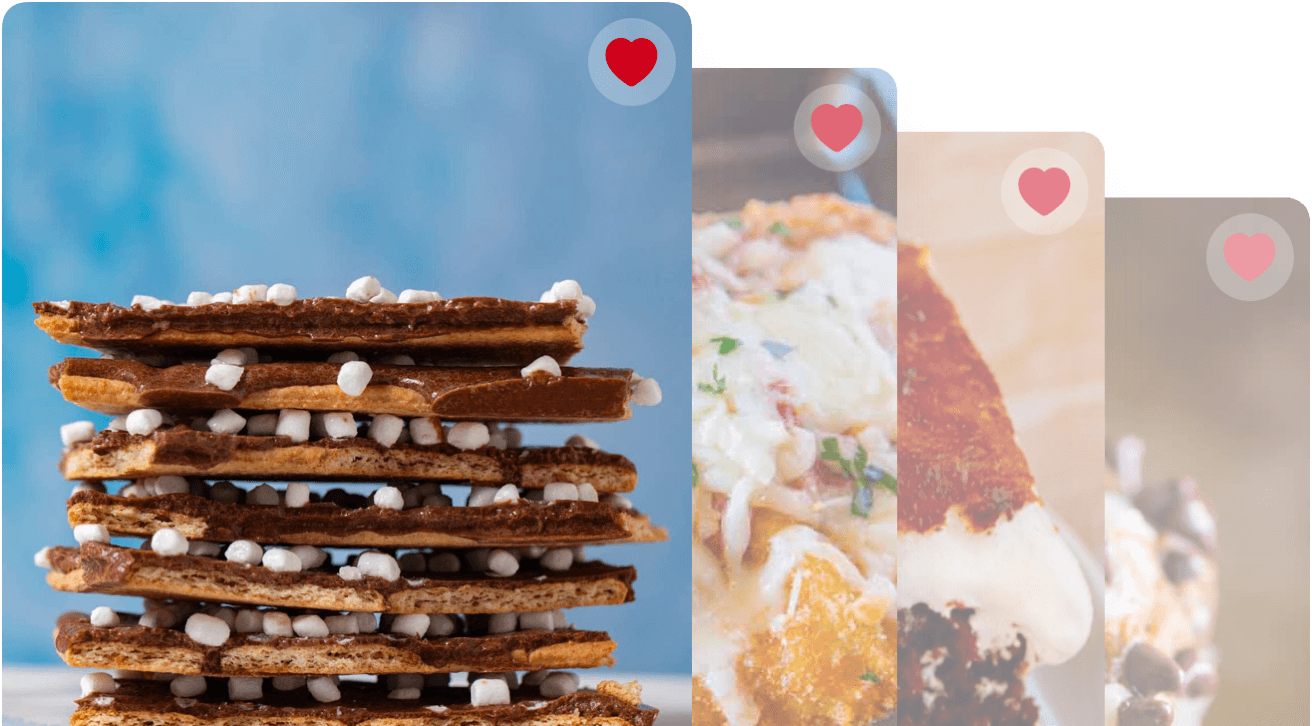 Variations on Green Bean Bundles
Veggies: Fresh green beans aren't the only veggies to use in this recipe. Try asparagus or thinly cut carrots and parsnips instead. You can also add in strips of red bell pepper long with the green beans for a festive holiday side.
Sauce: Use brown sugar and apple cider vinegar with a pinch of nutmeg to make this a more seasonal side dish for holiday meals.
Brown Sugar: Bacon and brown sugar are a naturally delicious pair. Sprinkle brown sugar over bacon wrapped green bean bundles before baking.
Spices: Toss the green beans in a bit of olive oil and seasonings like garlic powder, garlic salt, Italian herbs, fresh ground black pepper, or Cajun seasonings for more flavor.
Glaze: If you don't want to make the buttery sauce with this recipe, try brushing the Green Bean Bundles with Worcestershire sauce or soy sauce for a delicious glaze.
Prosciutto: Instead of bacon, wrap the green beans in a few layers of prosciutto to avoid the pre-cooking step. Keep an eye on them when they are in the oven so the prosciutto does not get too crispy.
Puff Pastry: Wrap green beans in strips of puff pastry instead of bacon and brush with egg wash before baking. Sprinkle crumbled cooked bacon overtop to keep the smokey salty flavors of bacon in the dish.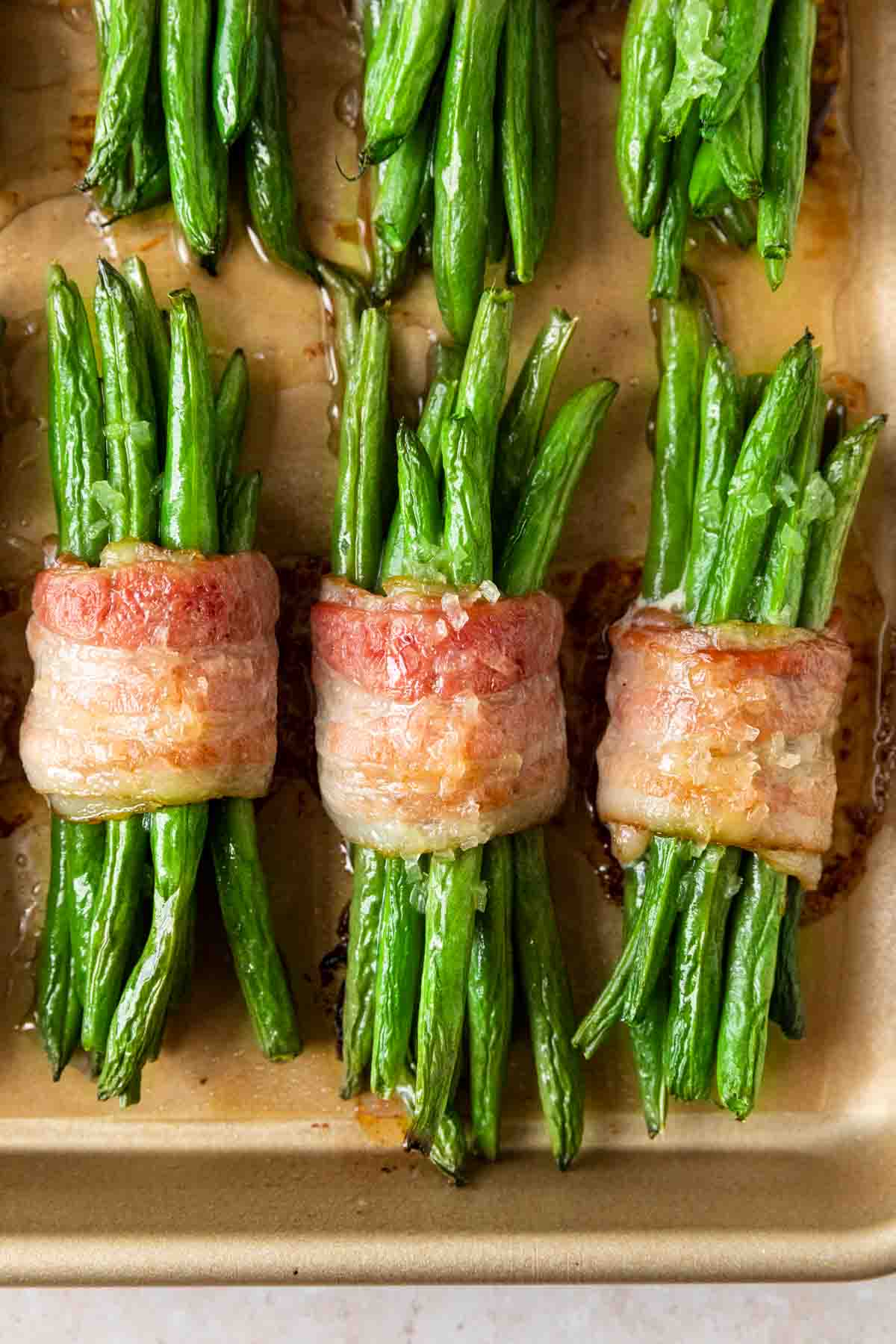 More Delicious Holiday Side Dishes
How to Store Green Bean Bundles
Serve: Green Bean Bundles can be at room temperature for up 2 hours before you need to store them.
Store:These green beans can be kept in an airtight container in the refrigerator for up to 5 days. Reheat in the oven to crisp the bacon back up.
Freeze: Store your Green Bean Bundles in a sealed container in the freezer for up 3 months. To reheat, thaw overnight in the fridge and heat the oven.


Ingredients
1

pound

fresh green beans

, trimmed

8

bacon strips

, partially cooked

1

tablespoon

finely chopped onion

3

tablespoons

butter

1

tablespoon

white wine vinegar

1

tablespoon

sugar

1/4

teaspoon

salt
Instructions
Preheat the oven to 400 degrees. Line a baking sheet with aluminum foil.

Blanch the green beans until tender crisp.

Wrap about 10 beans in each slice of bacon; secure with a toothpick.

Place each green bean bundle on prepared baking sheet. Bake for

10-15 minutes

, or until bacon is crispy.

Meanwhile in a skillet, saute onion in butter until tender.

Add vinegar, sugar and salt; heat through.

Remove green bean bundles to a serving bowl or platter and pour sauce over. Serve immediately.
Nutrition
Calories:
205
kcal
|
Carbohydrates:
8
g
|
Protein:
5
g
|
Fat:
17
g
|
Saturated Fat:
8
g
|
Cholesterol:
34
mg
|
Sodium:
346
mg
|
Potassium:
218
mg
|
Fiber:
2
g
|
Sugar:
5
g
|
Vitamin A:
707
IU
|
Vitamin C:
9
mg
|
Calcium:
30
mg
|
Iron:
1
mg