Perfect Prime Rib made with a garlic, thyme and rosemary crust is gorgeously browned on the outside and a perfect medium on the inside. Topped off with a gremolata it is the perfect show-stopping holiday/event meal!
Looking for a Christmas Recipe that will wow you? This prime rib is a take on our Classic Prime Rib recipe with a beautiful, festive, fresh gremolata on top.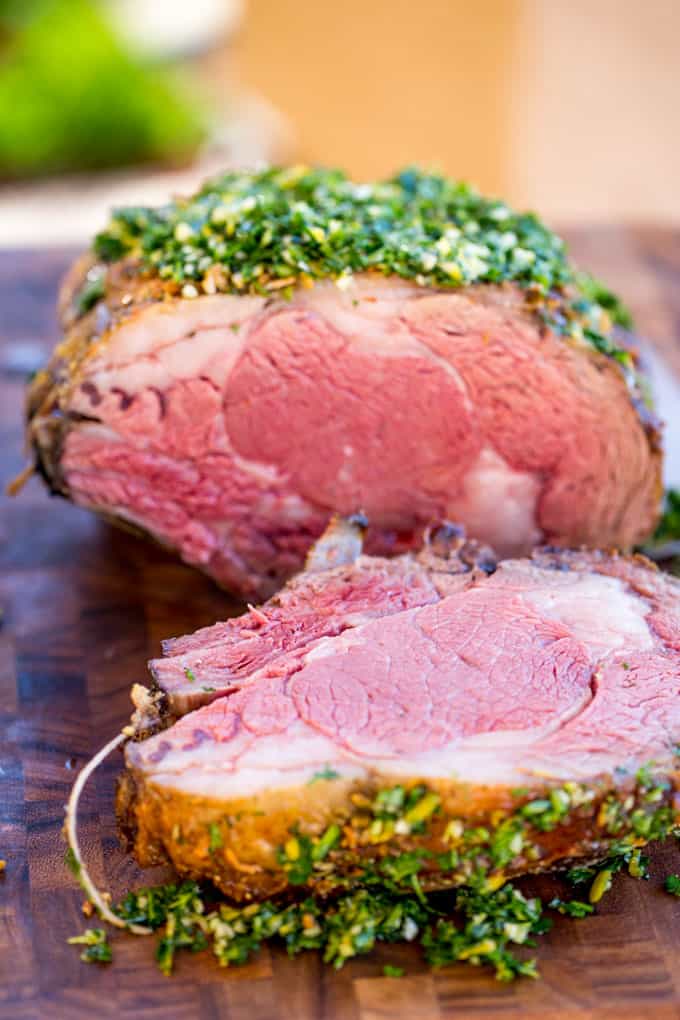 GARLIC PRIME RIB WITH GREMOLATA
Despite how difficult you may imagine it to be, making Prime Rib is actually easy! Most home cooks are nervous about the risk of cooking it incorrectly since it tends to be a very pricey piece of meat.
The truth is, this Prime Rib is actually one of the easiest holiday meals you'll make. It really just consists of a lot of resting time and a couple of easy herb mixtures. The initial prime rib seasoning on the meat is full of garlic, thyme and rosemary which all stand up well to the long cooking time in the oven.
Here's how the Perfect Garlic Prime Rib will look right out of the oven:
COOKING TEMPERATURES FOR PRIME RIB
To know when your meat has reached the desired level of doneness you like, use a meat thermometer to measure the correct internal temperature.
Medium-Rare: (Mostly pink with red center) 135 Degrees F
Medium: (Pink throughout) 140 Degrees F.
Medium-Well: (Mostly brown with pink center) 145 Degrees F.
Prime Rib Add-Ons:
STEP-BY-STEP BEEF AU JUS
Liquid from roasting pan
1 tablespoon Worcestershire sauce
1 cup red wine
2 cups beef broth
Place your roasting pan over stovetop burners on medium low.
Whisk in the Worcestershire sauce and red wine.
Scrape up brown bits from the bottom of pan with a silicone whisk or wooden spoon.
Reduce slightly for 5-7 minutes then whisk in the beef broth.
Bring to a simmer and reduce slightly for 5-7 minutes.
MORE BEEF SERVING SAUCES:
Gremolata – Beautiful for Holiday Meals
The gremolata that goes on top after it comes out of the oven is the perfect bright flavors you'll love to stand up to and complement the flavor of the prime rib perfectly without needing any heavy sauces. Full of garlic, lemon zest, parsley and olive oil it is a bold bright flavor.
What goes into a gremolata?
½ cup fresh parsley, minced
5 cloves garlic, minced
1 tablespoon lemon zest, grated
You can add additional ingredients as you'd like them. To the original recipe I sometimes add a bit of salt, 1 teaspoon of olive oil and ¼ teaspoon of crushed red pepper flakes depending on the audience.
The benefit of this gremolata is that it is beautiful, the pop of color really stands out, it adds a ton of fresh flavor and it's inexpensive to make since you've already invested in your rib roast.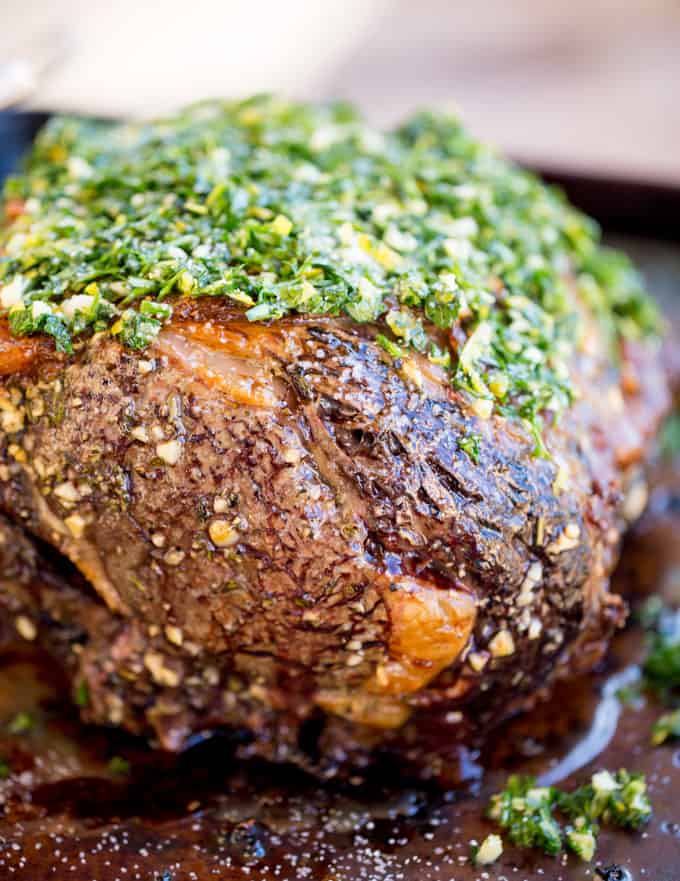 Create a free account to Save Recipes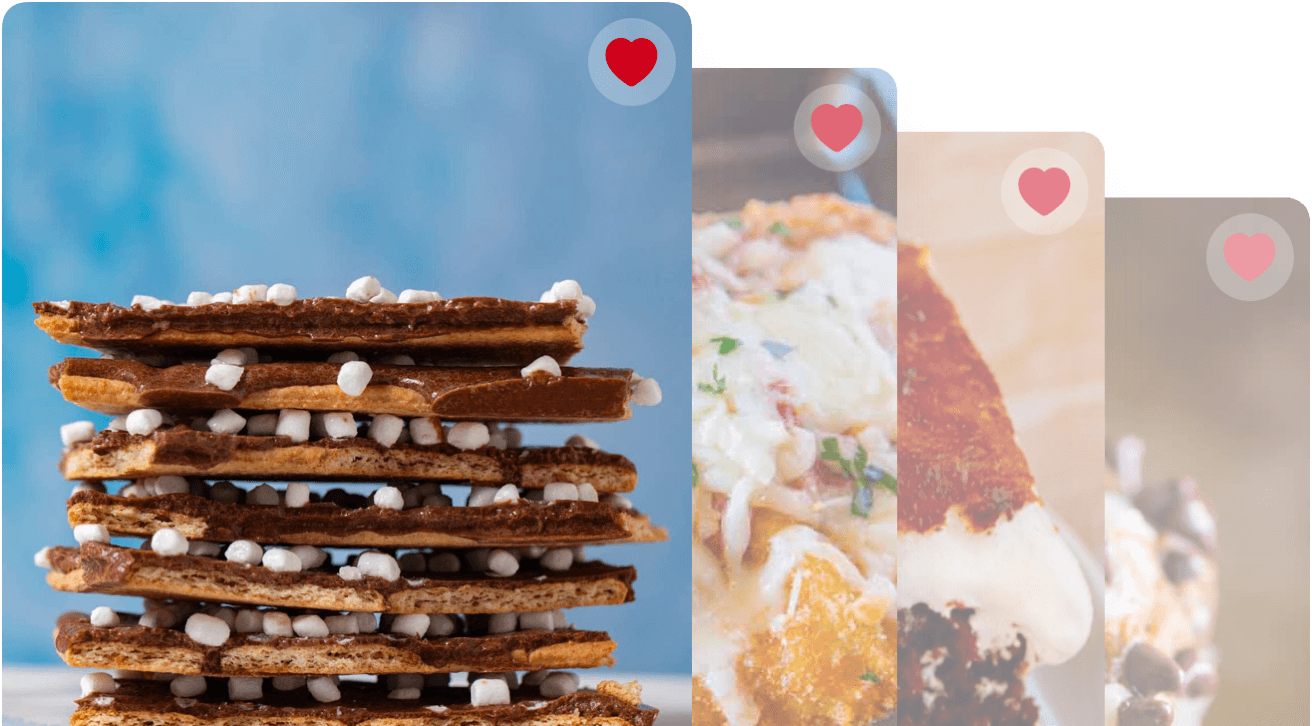 HOW TO SERVE LEFTOVERS
French Dips: Use your leftovers to make French Dip sandwiches. Slice prime rib thinly and warm a skillet. Place in a hoagie roll. Make them even more delicious by topping with caramelizing onions. Dip in leftover Au Jus.
Salad: For a steakhouse style salad, top butter lettuce with leftover strips of your meat and add gorgonzola, diced red onions, and blue cheese dressing.
With Eggs: Serve with eggs cooked to your liking and a side of crispy Hash Browns.
Brunch: You can swap in the prime rib for Breakfast Casserole for an elevated Christmas morning brunch.
Soup: Make leftover Pot Roast Soup with will simmer on low heat until the roast is fall apart tender.
MORE HOLIDAY BEEF MAIN DISHES:
What kind of meat for Prime Rib?
When you ask your butcher/the meat department of your favorite store to prepare your prime rib roast there are just a couple of things you'll want to note:
This one may seem like it goes without saying, but you want it to be bone in.
Ask for it to be trussed with a string, this helps keep the shape perfectly uniform while cooking.
Let him/her know you want the largest deckle possible. This means you want that meat cap that wraps around the eye of the roast and looks like a little "c" over the center of it to be as big as possible. That deckle is the most flavorful and tender piece of meat in the whole cow.
If you're asked how many "bones" you want this 7 lb. roast I had was a 3 bone roast, it is just their way of gauging size. You aren't going to serve this as one person = one bone (That would be Flinstone's level eating) so don't worry if 3 sounds like it is a small amount, 3 bones is quite a large roast.
So just to recap: "Hey butcher, I am having an awesome party! I'm making the Perfect Prime Rib and needed a 7 lb. roast, bone in and trussed. Please make sure it has the largest meat cap/deckle possible, we all love that part of the steak." In the words of Gus Portokalos, and there you go!
How to Store:
Serve: You can keep the meat at room temperature for up to 2 hours.
Store: Store leftovers in a refrigerator for up to three days in a sealed airtight container.
Freeze: Allow to cool completely and freeze in air-tight container for up to 3 months.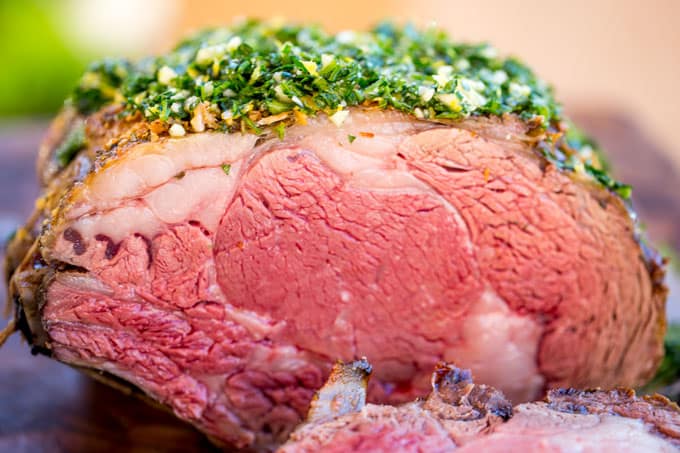 Tools Used in the Making of this Perfect Garlic Prime Rib:
Roaster with Rack: A perfect sized roasting pan with rack for your prime rib to sit on.
Oven Ready Meat Thermometer: This is a perfect tool to keep in your kitchen for large roasts and it isn't expensive. I've had mine for years.


Ingredients
Prime Rib:
3

tablespoons

garlic

minced

4

leaves

sprigs thyme

torn from stem

2

leaves

sprigs rosemary

torn from stem and minced

2

tablespoons

canola oil

1

tablespoon

kosher salt

1

teaspoon

black pepper

7

pound

Boneless Prime Rib Roast
Citrus Gremolata
1/2

cup

fresh parsley

, minced

5

cloves

garlic

, minced

1

tablespoon

lemon zest

, grated
Instructions
Add the garlic, thyme, rosemary, canola oil, kosher salt, and black pepper to a small bowl and mix.

Rub all over the prime rib and let rest for an hour (to let meat come to room temperature).

Heat the oven to 450 degrees.

Place the prime rib, fat cap side up in a roasting pan.

Place your meat thermometer into the side of the roast not touching the bones and as far in as you can place it.

Cook for

20 minutes

at 450 degrees before lowering temperature to 325 degrees.

Cook an additional

90 minutes

to 2 hours depending on the size of your roast and your meat thermometer (you're looking for a temperature between 125-130 degrees).

To cook my almost exactly 7 pound prime rib, I had it in the oven for 1 hour and 40 minutes and let it rest for

20 minutes

.

Serve topped with a gremolata.
Citrus Gremolata
Mix the parsley, garlic and lemon zest in a small bowl and set aside until rib roast is ready to be served.
Nutrition
Calories:
1221
kcal
|
Carbohydrates:
1
g
|
Protein:
54
g
|
Fat:
109
g
|
Saturated Fat:
44
g
|
Cholesterol:
240
mg
|
Sodium:
1049
mg
|
Potassium:
889
mg
|
Fiber:
1
g
|
Sugar:
1
g
|
Vitamin A:
30
IU
|
Vitamin C:
1.9
mg
|
Calcium:
41
mg
|
Iron:
5.9
mg