Bernaise Sauce is the ultimate creamy sauce with a little bit of spice made in one pan. It's perfect to pour over steak and make it even more delicious.
Making your own homemade sauce can really take your dinner to the next level. Try serving Bernaise Sauce over classic Dinner Recipes like Perfect, Easy Ribeye Steak.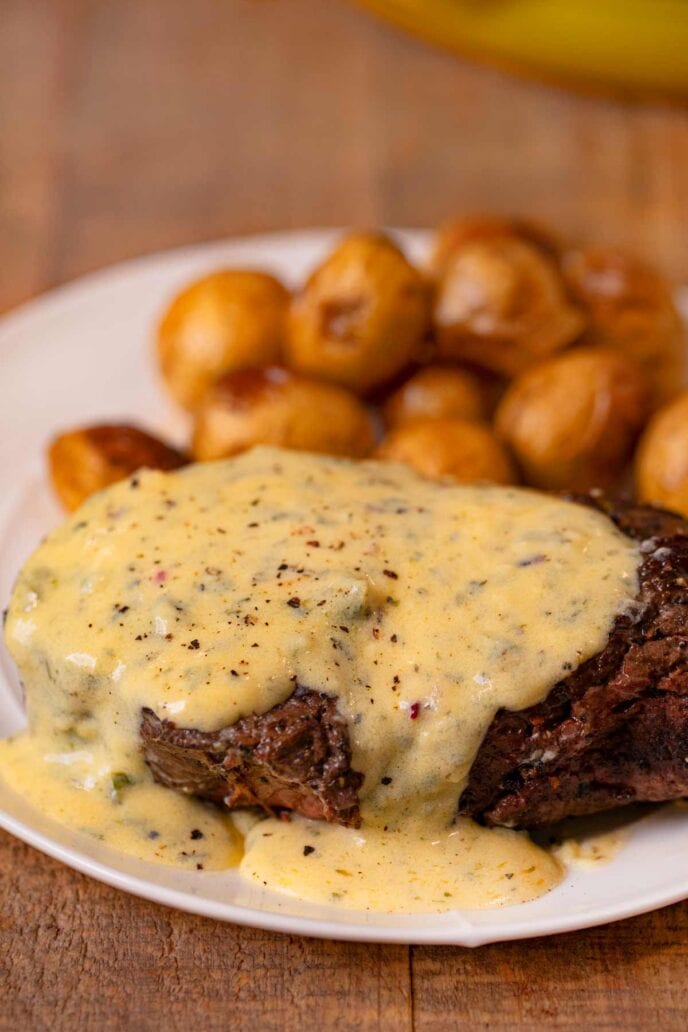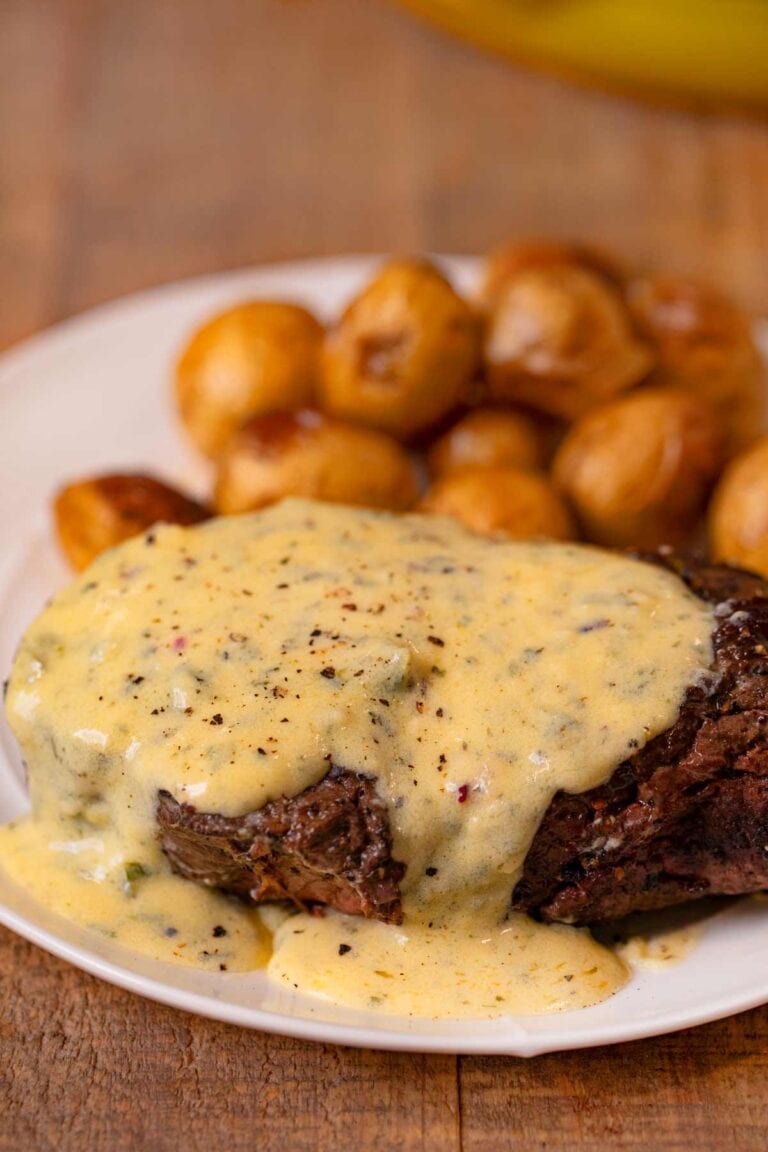 BERNAISE SAUCE
Bernaise is a classic sauce that originates in France. Its base ingredients are clarified butter, emulsified egg yolks, white wine vinegar, and herbs. Its served warm and is thick, rich, and creamy. It's similar to hollandaise sauce, but the flavor makes it quite unique. One of the key ingredients that sets this sauce apart is the tarragon. The sauce only uses a little bit of this herb, but its distinct flavor adds with a slight licorice undertone.
While its fancy name may make the recipe sound difficult, it's actually quite easy. Making the Bernaise Sauce is a simple matter of combining the ingredients in a saucepan. The real key is whisking the ingredients while they cook so it all combines, but the whole recipe only takes about 5 minutes.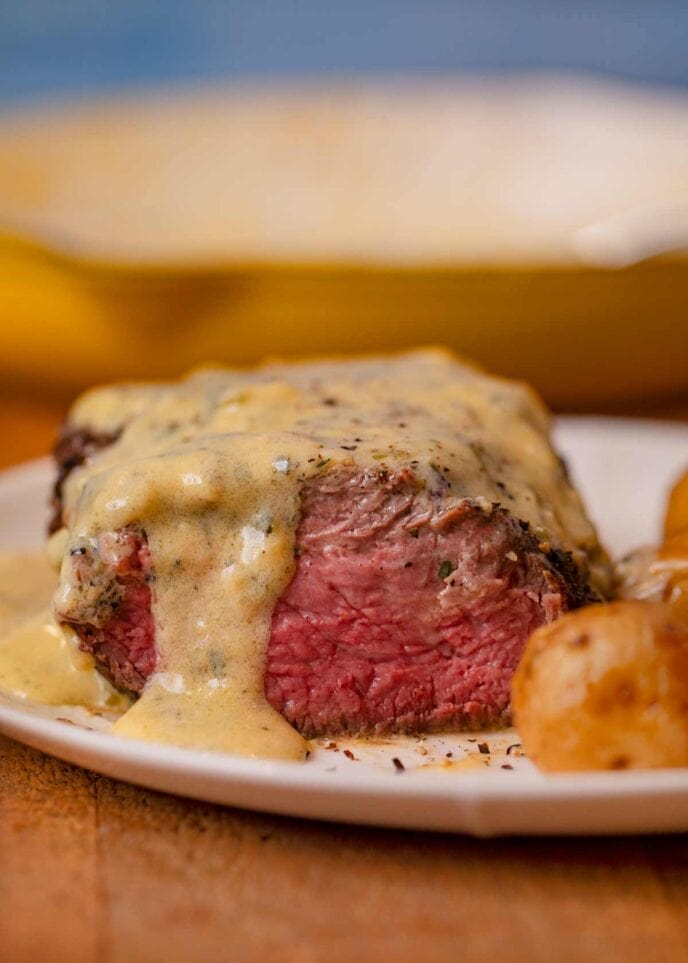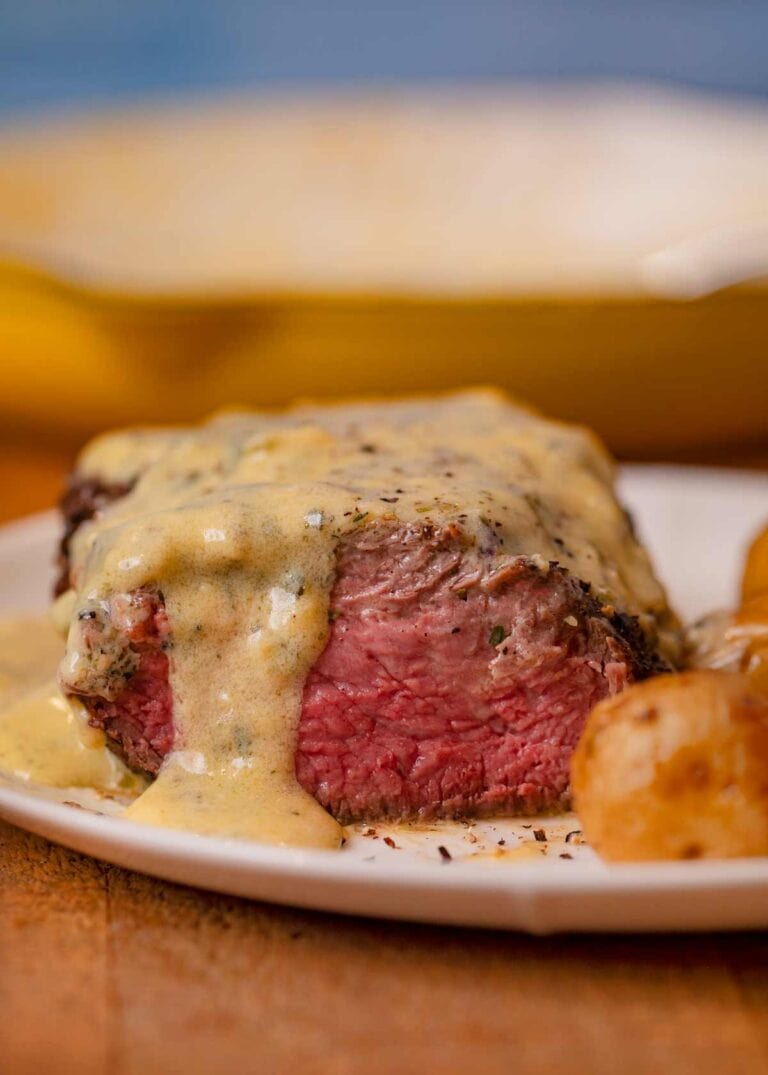 WHAT TO SERVE BERNAISE SAUCE WITH
Of course, the traditional way to serve Bernaise Sauce is over a thick, juicy steak. Try prepping your steak in an easy Steak Marinade then serve this delicious sauce over the top for an extra flavorful dish. You can also prepare a delicious Filet Mignon and make it even richer with this over the top. Whatever steak dish you serve it with, Bernaise Sauce is sure to be a success, but there are other dishes besides steak that taste great with this sauce.
Try pouring Bernaise Sauce over your favorite egg dishes. You could even use the rich sauce in an Eggs Benedict in place of hollandaise sauce.
A third option is spreading it on a toasted roll or piece of bread as some extra moisture and flavor in a sandwich. It would taste great in a Grilled Cheese or French Dip Sandwich.
MORE SAUCE RECIPES
HOW TO MAKE BERNAISE SAUCE
Add butter, eggs, heavy cream, onion, white wine vinegar, lemon juice, tarragon, salt, black pepper, and cayenne pepper to a saucepan and put it over medium heat.
Whisk the ingredients together until the butter is melted and they're all combined.
You want to keep whisking the sauce continuously so that the eggs don't start to cook. It should take 2-3 minutes for the sauce to thicken.
Serve over steak while still warm.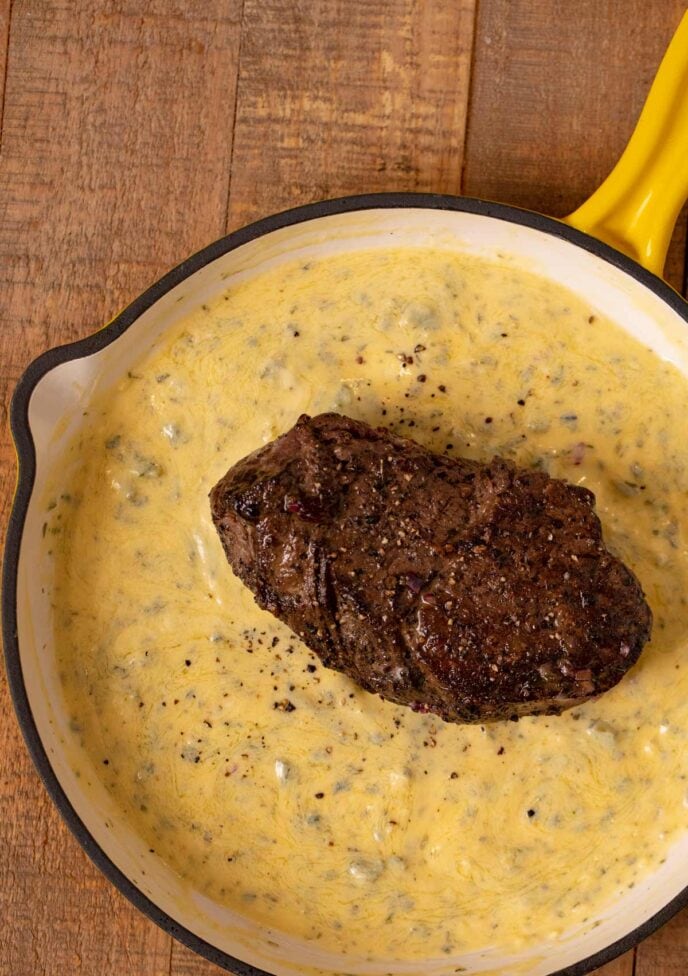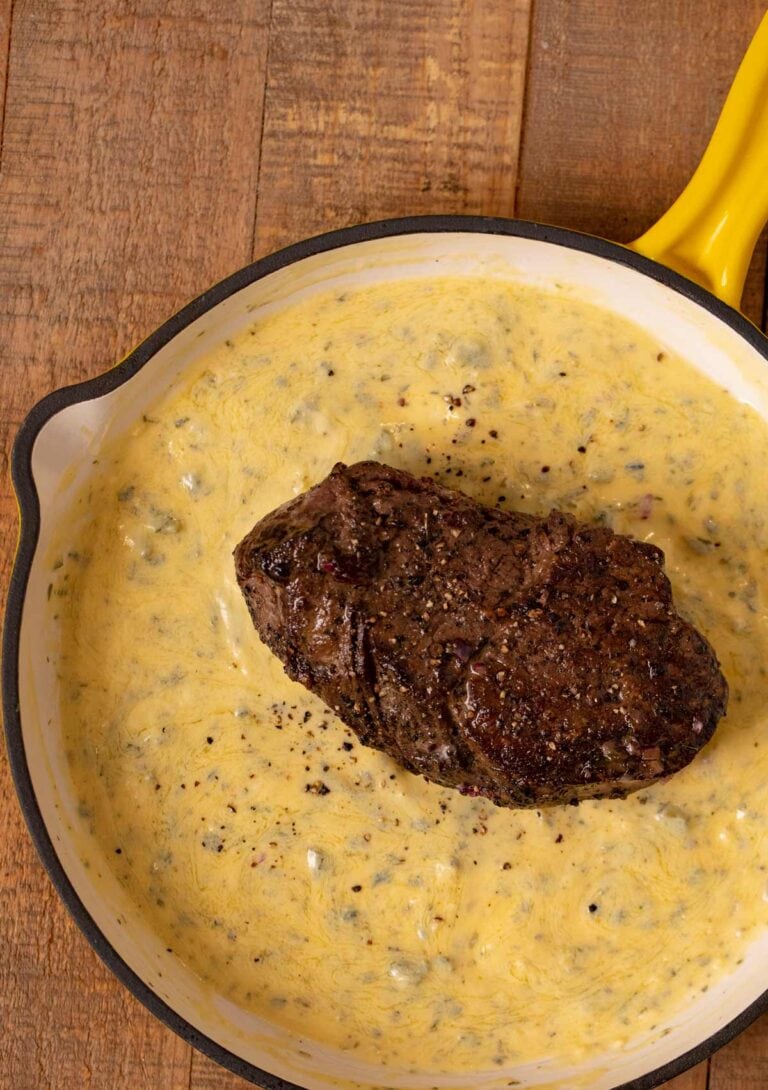 Create a free account to

Save Recipes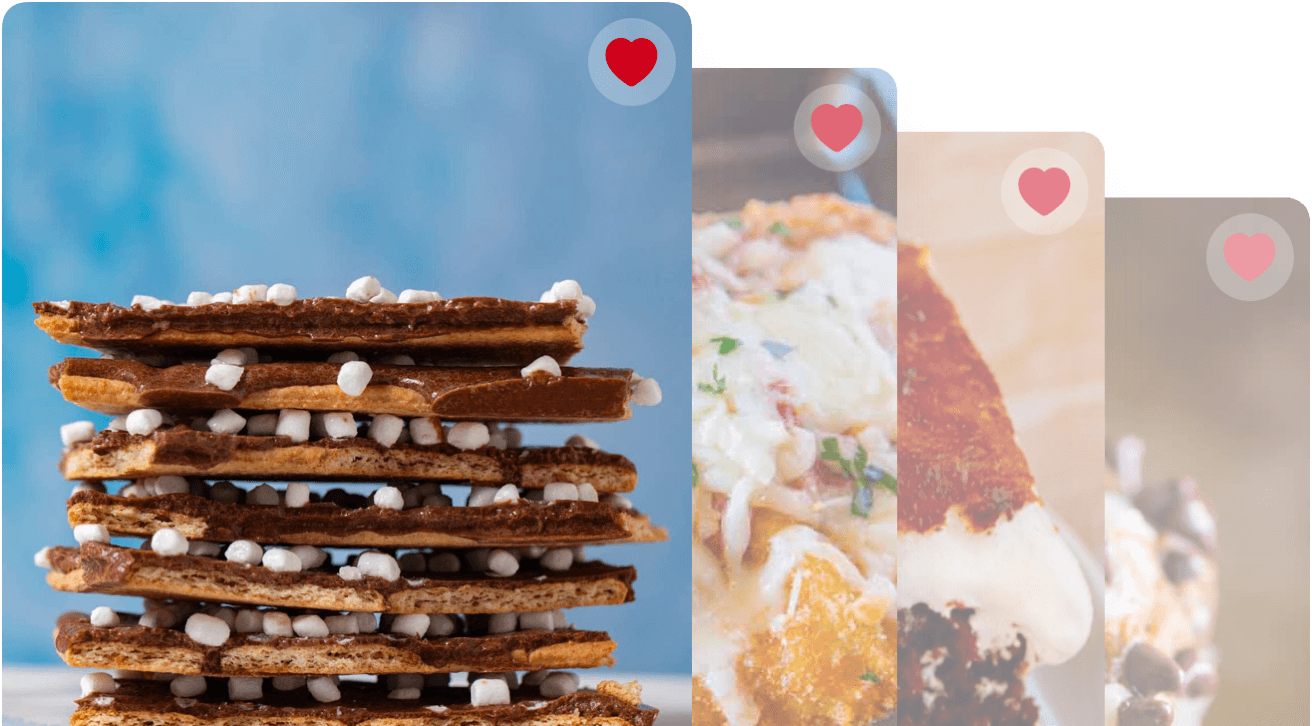 VARIATIONS BERNAISE SAUCE
Seasoning: You can easily change up the flavor in your sauce by adding different herbs and seasonings. Try mixing in some chives, dill, cilantro, thyme, or oregano. Some other options are cumin, ginger, paprika, or garlic.
Extra spice: To add a little more heat to your sauce try some spicy ingredients like red chili pepper seasoning or even mixing in some sriracha.
Dairy-free: To make Bernaise Sauce with dairy-free ingredients you'll have to make exchanges for the butter and the heavy cream. You can easily find a vegan substitute for butter at most grocery stores. To replace the heavy cream you can mix together the 2 tablespoons soy milk with 1 tablespoon of olive oil. It will mimic the same thickness and texture as heavy cream.
Vinegar: If you don't have white wine vinegar try replacing it with rice wine, red wine, or sherry vinegar.
MORE RECIPES TO SERVE BERNAISE SAUCE WITH
HOW TO STORE BERNAISE SAUCE
Serve: Don't leave your steak sauce at room temperature for longer than 2 hours.
Store: You can keep Bernaise Sauce in an airtight container in the fridge. It will stay good for up to 3 days. After that, you should just make a new batch.
Freeze: This homemade sauce actually freezes well. You can put it in an airtight container and freeze it for up to 3 months. Let it thaw in the fridge and then reheat it on the stovetop before serving.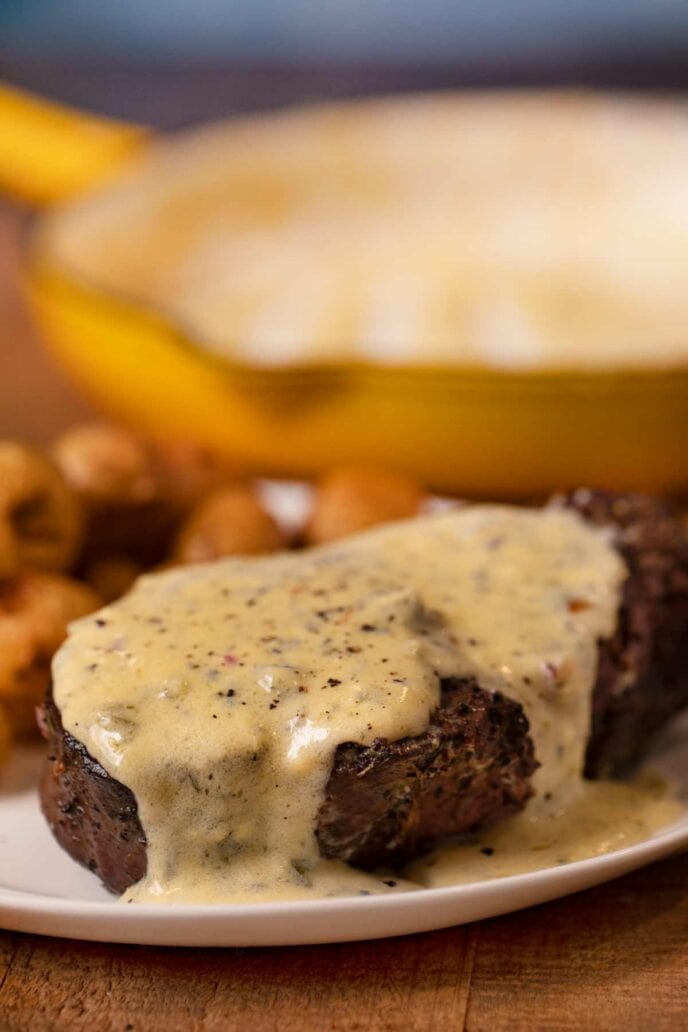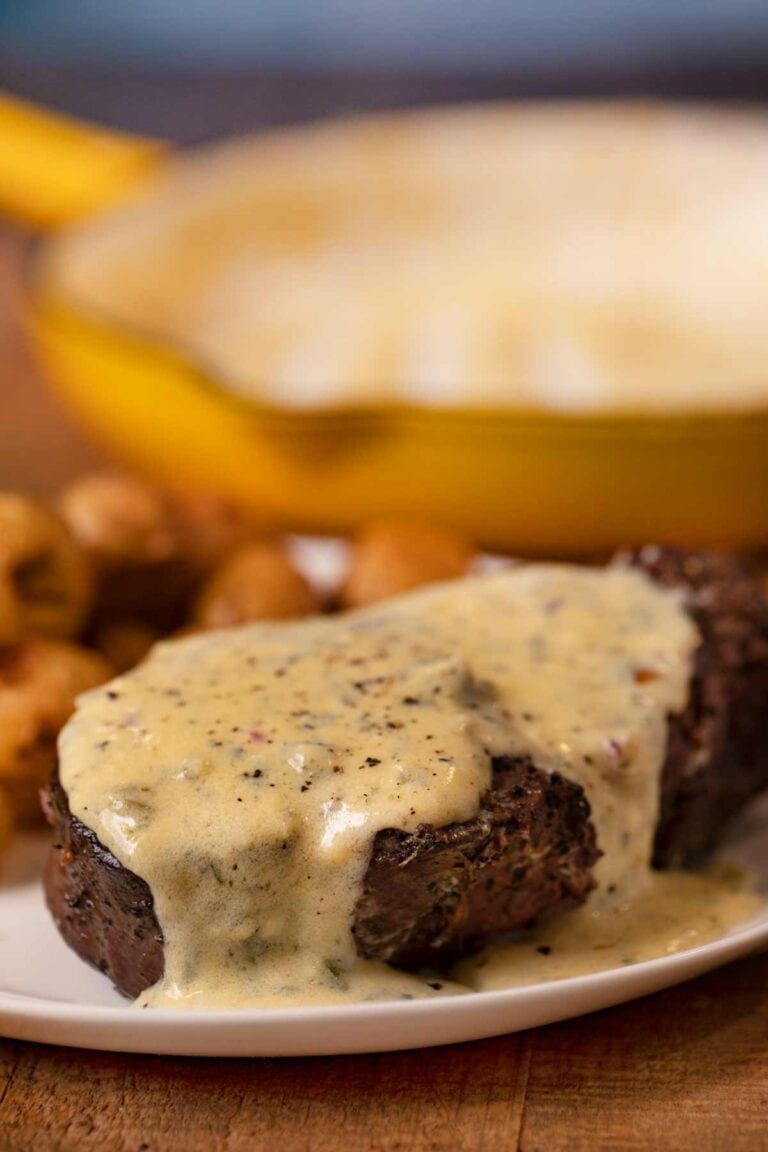 Ingredients
4

tablespoons

unsalted butter

2

large

egg yolks

3

tablespoons

heavy cream

2

tablespoons

onion

, minced

2

teaspoons

white wine vinegar

2

teaspoons

lemon juice

2

teaspoons

tarragon

, chopped (or 1 teaspoon dried)

1/2

teaspoon

kosher salt

1

pinch

coarse ground black pepper

1

pinch

cayenne pepper
Instructions
To a saucepan on medium heat add the butter, eggs, heavy cream, onion, vinegar, lemon juice, tarragon, salt, black pepper, and cayenne pepper and whisk until melted and combined.

Keep whisking as it is melting to avoid the eggs cooking.

Whisk, as it cooks for

2-3 minutes

until thickened.

Serve immediately over rested steaks.
Nutrition
Calories:
86
kcal
|
Carbohydrates:
1
g
|
Protein:
1
g
|
Fat:
9
g
|
Saturated Fat:
5
g
|
Cholesterol:
69
mg
|
Sodium:
151
mg
|
Potassium:
20
mg
|
Fiber:
1
g
|
Sugar:
1
g
|
Vitamin A:
340
IU
|
Vitamin C:
1
mg
|
Calcium:
17
mg
|
Iron:
1
mg