Filet Mignon with Red Wine Reduction is a tender, mouthwatering recipe that's cooked in the oven in under 10 minutes and perfect for any special occasion.
If you've tried our recipe for Filet Mignon, then you know how easily this Beef Recipe comes together. This steak just takes a little extra time to prepare the red wine sauce, but other than that it's just as simple.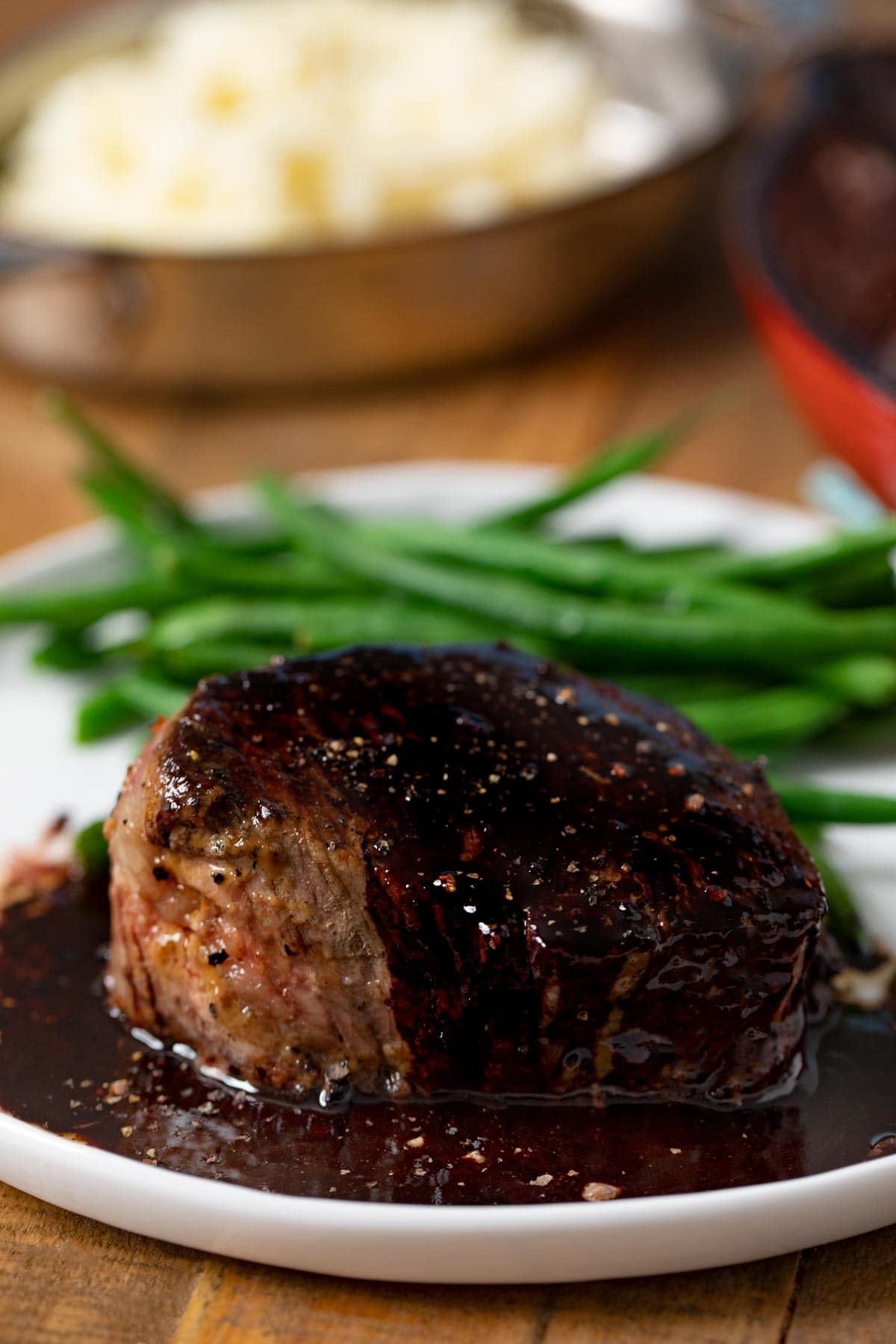 FILET MIGNON WITH RED WINE REDUCTION
This Filet Mignon recipe makes flavorful, melt-in-your-mouth meat that is sure to be a new favorite and go-to for dinner parties, holidays, and other occasions. The red wine sauce adds some sweetness and acidity to the dish that makes it even more irresistible.
Filet Mignon is a classic French dish that uses a thick cut piece of meat from the bottom of the tenderloin. This cut of beef is especially tender, and buttery so it turns out juicy and flavorful every time without a lot of effort on your part.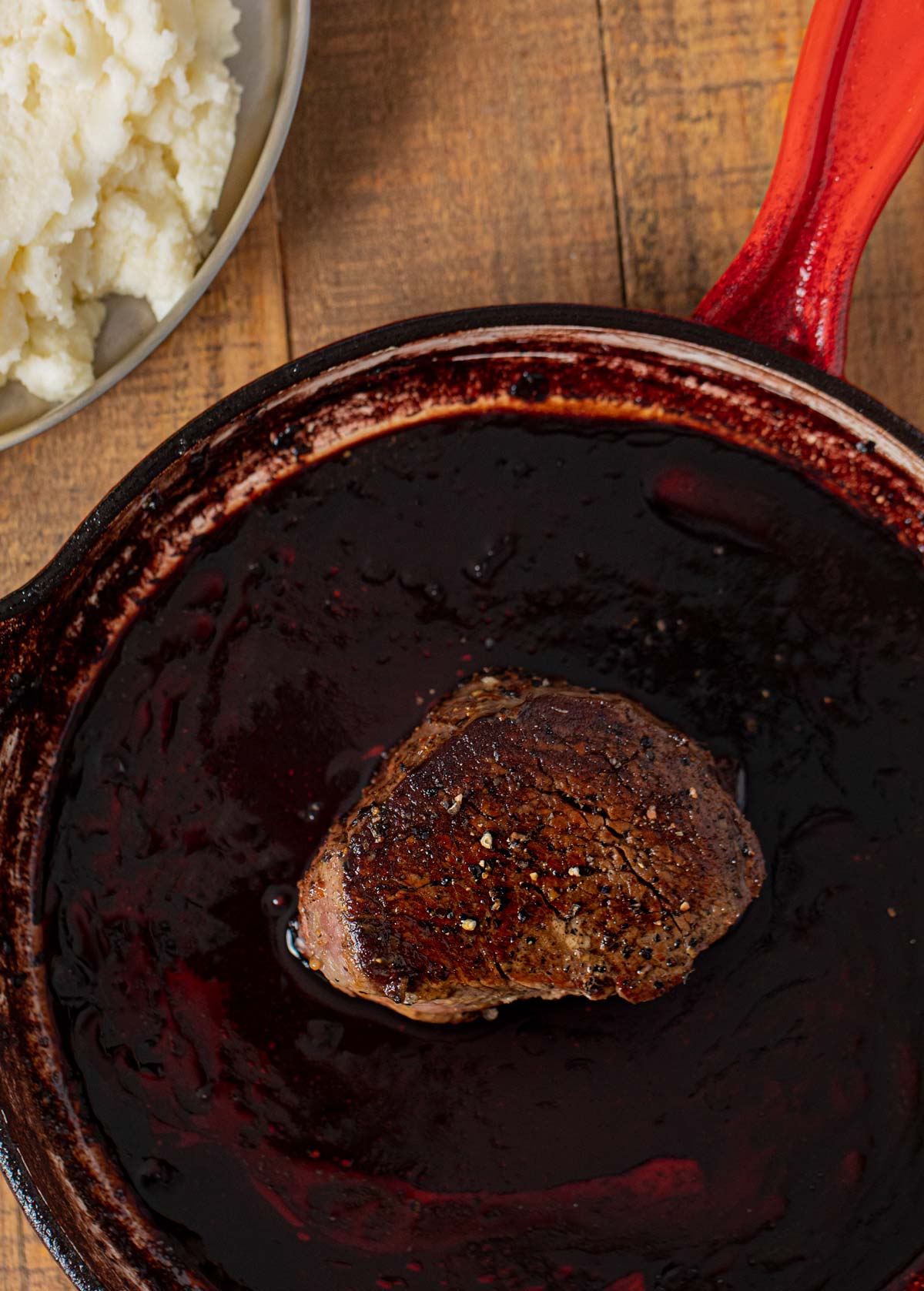 Although Filet Mignon is a dish often found in high-end restaurants and steakhouses it's surprisingly easy to make at home. Just sear the meat, then all you have to do is pop the filets in the oven for a few minutes. If you like this Filet Mignon recipe be sure to try other variations like Blue Cheese Crusted Filet Mignon next.
WHAT KIND OF WINE TO USE
When it comes to making the red wine sauce, there's no need to rush out and buy the most expensive bottle of wine. Most dry red wines will do nicely. A cabernet or merlot are especially good options.
MORE STEAK RECIPES
HOW TO MAKE FILET MIGNON WITH RED WINE REDUCTION
Prep: Since you'll finish the recipe by putting the tenderloins in the oven for a few minutes start by preheating it to 450 degrees F.
Red wine sauce: Cook 2 tablespoons of butter, onion, and garlic over medium heat in a large skillet for 5-6 minutes. Stir occasionally so it gets cooked evenly. You'll know it's done when the onions are translucent. Add the salt, oregano, pepper, and tomato paste to the pan and whisk the ingredients together. Cook the mixture for another 30 seconds. Pour in the beef broth and wine, and bring it all to a boil. Once it's started to boil, reduce the heat to medium-low and let the sauce simmer for 20 minutes. This should reduce the liquid by about half. Turn off the heat and use a fine-mesh strainer to strain the onions and other bigger pieces out of the sauce so all that remains is the liquid and the flavor. Strain the sauce into another clean pan. Whisk in another 2 tablespoons of butter. Once it's smooth cover and keep the sauce warm over low heat. If you keep the heat too high it will reduce the sauce too much.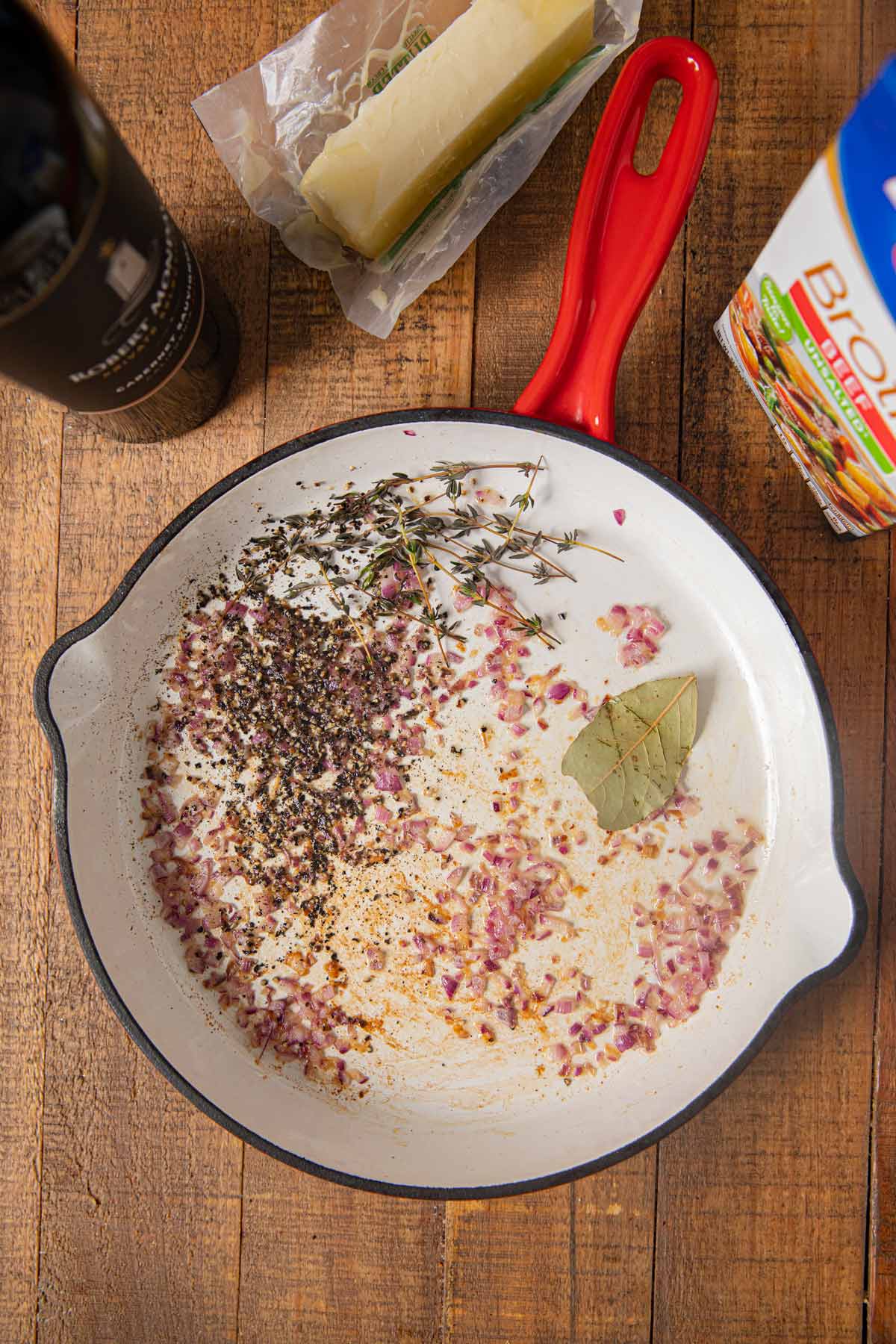 Steaks: Add 2 tablespoons of butter to a clean skillet and put it over high heat. The pan should be just bigger than each steak. Season the tenderloins with salt and pepper, then add them to the pan. Sear the steaks on each side until browned. It should only take about 3 minutes. Put the steaks in an oven-safe pan and put them in the preheated oven. Cook the steaks for 4 minutes for rare or 5-6 minutes for medium or more doneness. According to the FDA steak has to reach an internal temperature of 145 degrees F before it's safe to eat. You can use a meat thermometer to check.
Serve: Let the beef sit for 10 minutes with tin foil over it before serving. After the 10 minutes, put the filets on plates and serve with the red wine sauce.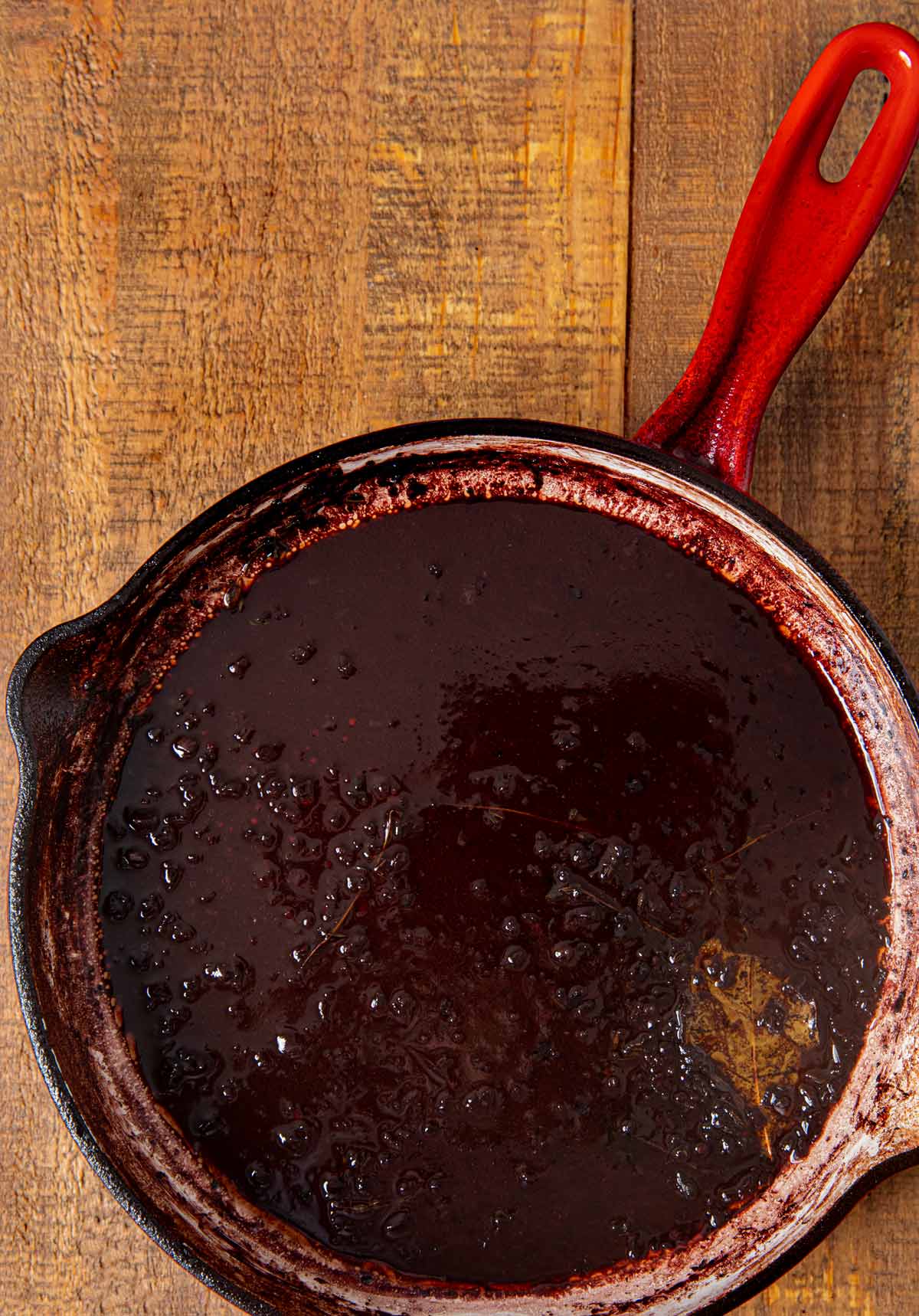 Create a free account to

Save Recipes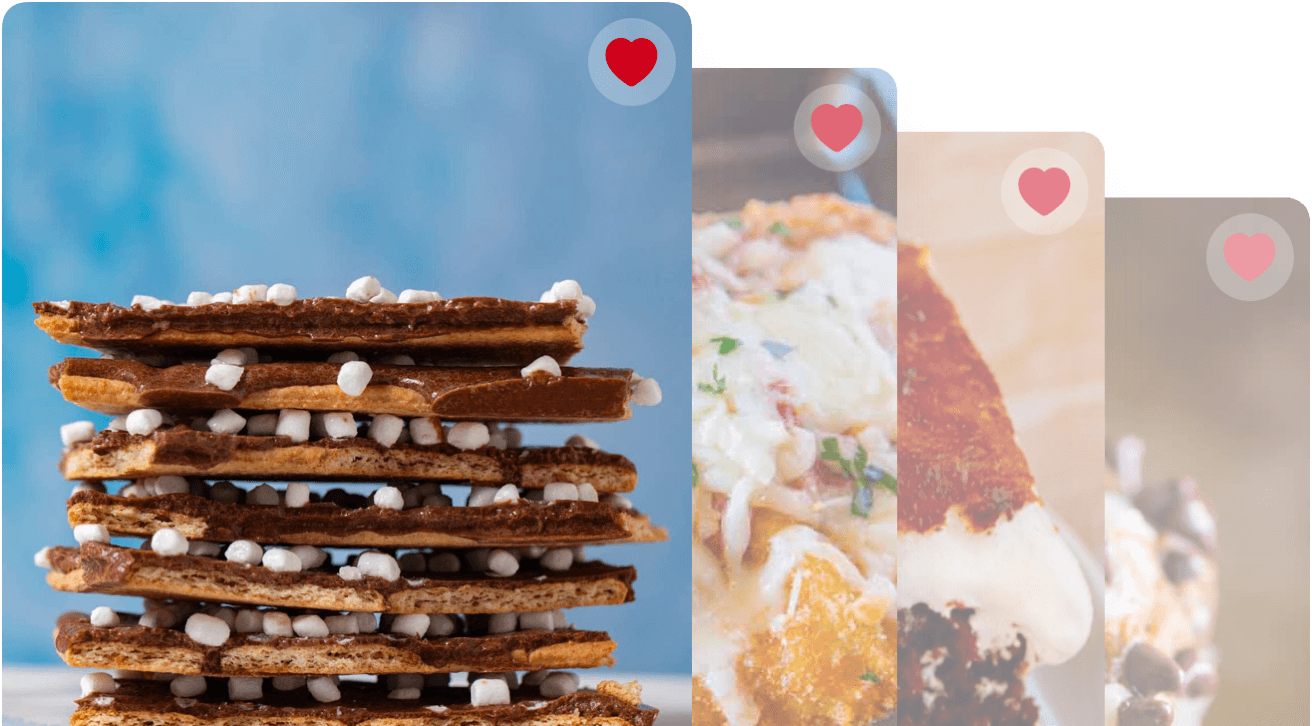 VARIATIONS ON FILET MIGNON WITH RED WINE REDUCTION
Mushroom sauce: To make a creamy wine and mushroom sauce add in ½ cup of heavy whipping cream and 16 ounces of baby bella mushrooms to the wine reduction. Cut the mushrooms thickly and add them to the pan along with the onions and garlic. Pour the cream in with the broth and wine.
Wine replacements: If you don't want to cook with wine or just don't have any on hand there are plenty of replacements you can use in the sauce. You can either just use extra beef broth or use red wine vinegar, balsamic vinegar, or red grape juice to replace it.
Add-ins: There are lots of different seasonings and add-ins you can try to experiment with the flavors of your filet. Try adding peppercorn, shallots, fresh thyme, or a sprig of rosemary to the dish.
Bacon-wrapped: To add a crispy, salty outer layer to your tenderloin wrap each filet in bacon before cooking. If you make Bacon-Wrapped Filet Mignon, you may want to serve the red wine sauce on the side so you can dip the steak in rather than the sauce just sliding off the bacon when you pour it over.
WHAT TO SERVE WITH FILET MIGNON WITH RED WINE REDUCTION
HOW TO STORE FILET MIGNON RED WINE REDUCTION
Serve: Don't leave the filets at room temperature for more than 2 hours.
Store: Once the beef tenderloins, have cooled you can store them tightly wrapped or in an airtight container in the fridge for 3-4 days. Store the sauce separately, and it will keep well for 3-4 days too.
Freeze: You can also freeze Filet Mignon for up to 3 months. Keep the sauce in a separate container, and let them both thaw in the fridge before reheating them.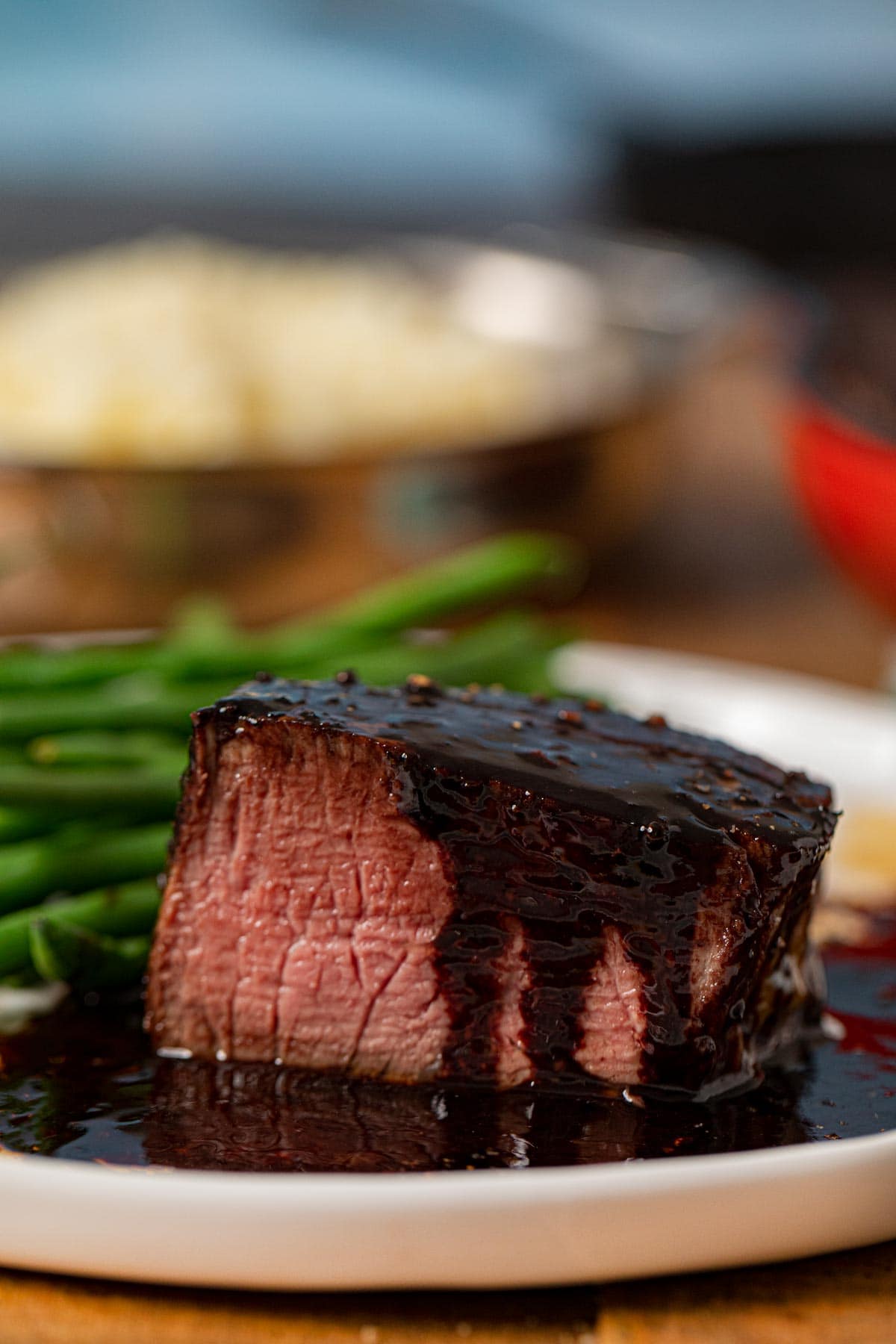 Ingredients
Red Wine Sauce:
4

tablespoons

butter

, divided

1/2

yellow onion

, diced

1

garlic clove

, minced

1/2

teaspoon

kosher salt

1/2

teaspoon

dried oregano

1/4

teaspoon

coarse ground black pepper

2

tablespoons

tomato paste

1

cup

dry red wine

1/2

cup

beef broth
Filet Mignon:
2

tablespoons

unsalted butter

4

beef tenderloin

, filet mignon steaks, (~8 ounces each)

1

teaspoon

Kosher salt

1/2

teaspoon

coarse ground black pepper
Instructions
Preheat oven to 450 degrees.

In a large skillet add 2 tablespoons unsalted butter, onion, and garlic on medium heat.

Cook for

5-6 minutes

, stirring occasionally, until translucent.

Whisk in salt, oregano, black pepper, and tomato paste and cook for

30 seconds

.

Add in wine and beef broth and bring to a boil then reduce heat to medium-low and simmer for

20 minutes

until the sauce is reduced by half.

Turn off heat, strain the sauce to a fine-mesh strainer and add it back to a clean saucepan.

Add in remaining 2 tablespoons butter and whisk until smooth (cover to keep warm, but do not cook on high heat or sauce will over-reduce).

Add remaining 2 tablespoons unsalted butter to a now cleaned skillet (just bigger than your steaks) on high heat.

Season steaks all over with salt and pepper.

Sear the steaks on each side for

3 minutes

until browned.

Place in the oven for

4 minutes

(for rare, 5-6 for medium or more for well done).

Let rest for

10 minutes

, covered with a sheet of foil, before serving with red wine sauce.
Nutrition
Calories:
276
kcal
|
Carbohydrates:
3
g
|
Protein:
26
g
|
Fat:
15
g
|
Saturated Fat:
8
g
|
Cholesterol:
95
mg
|
Sodium:
636
mg
|
Potassium:
459
mg
|
Fiber:
1
g
|
Sugar:
1
g
|
Vitamin A:
323
IU
|
Vitamin C:
2
mg
|
Calcium:
32
mg
|
Iron:
2
mg