Filet Mignon is a melt in your mouth cut of beef seasoned with just a little bit of salt and black pepper! It's quickly seared, then baked in the oven.
Filet Mignon is such a classic Beef Recipe that's tender, flavorful, and delicious. Enjoy this and other steak recipes like Perfect, Easy Ribeye Steak, or Steak Diane.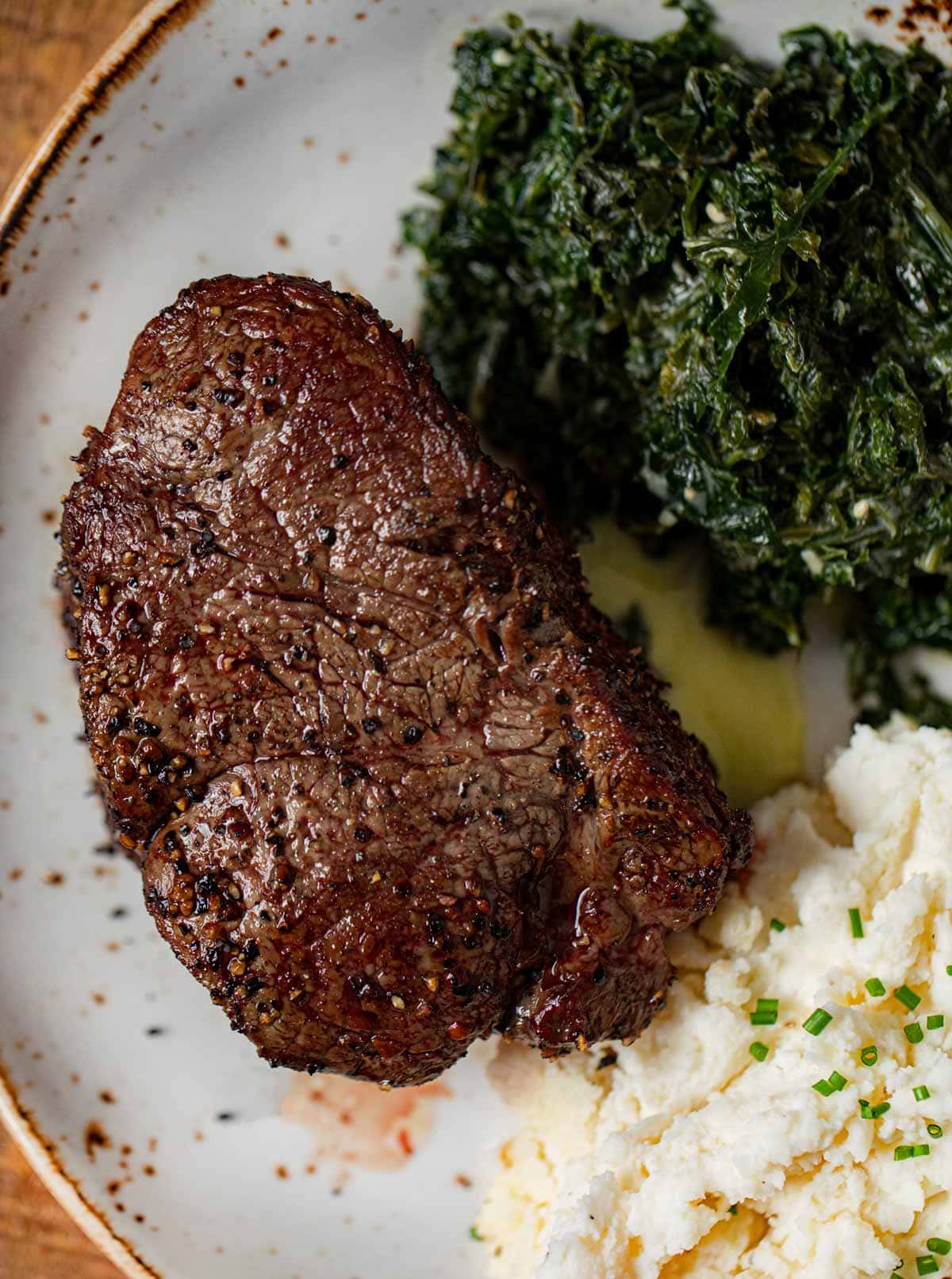 FILET MIGNON
Filet Mignon Steak is a classic recipe made from a delicious tenderloin. It's often seen on menus in French restaurants and seen as a somewhat elegant dish. However, this Filet Mignon recipe is surprisingly easy to make. The only ingredients you need are the steak filets, some butter, and salt and pepper to season the meat.
The steak tenderloin is so naturally tender and tasty, you really don't need any more complicated ingredients to make a wonderful dinner. This simple Filet Mignon recipe is delicious enough to serve for the holidays, but simple enough you don't have to wait to enjoy it until then. All you have to do is prep the filet in a cast-iron skillet, then once it's browned you pop it in the oven and cook to the steak to the doneness you prefer.
If you're serving it for a dinner party or holiday add delicious sides to the spread like Crusty French Bread Rolls, Sauteed Mushrooms, and Mashed Potatoes.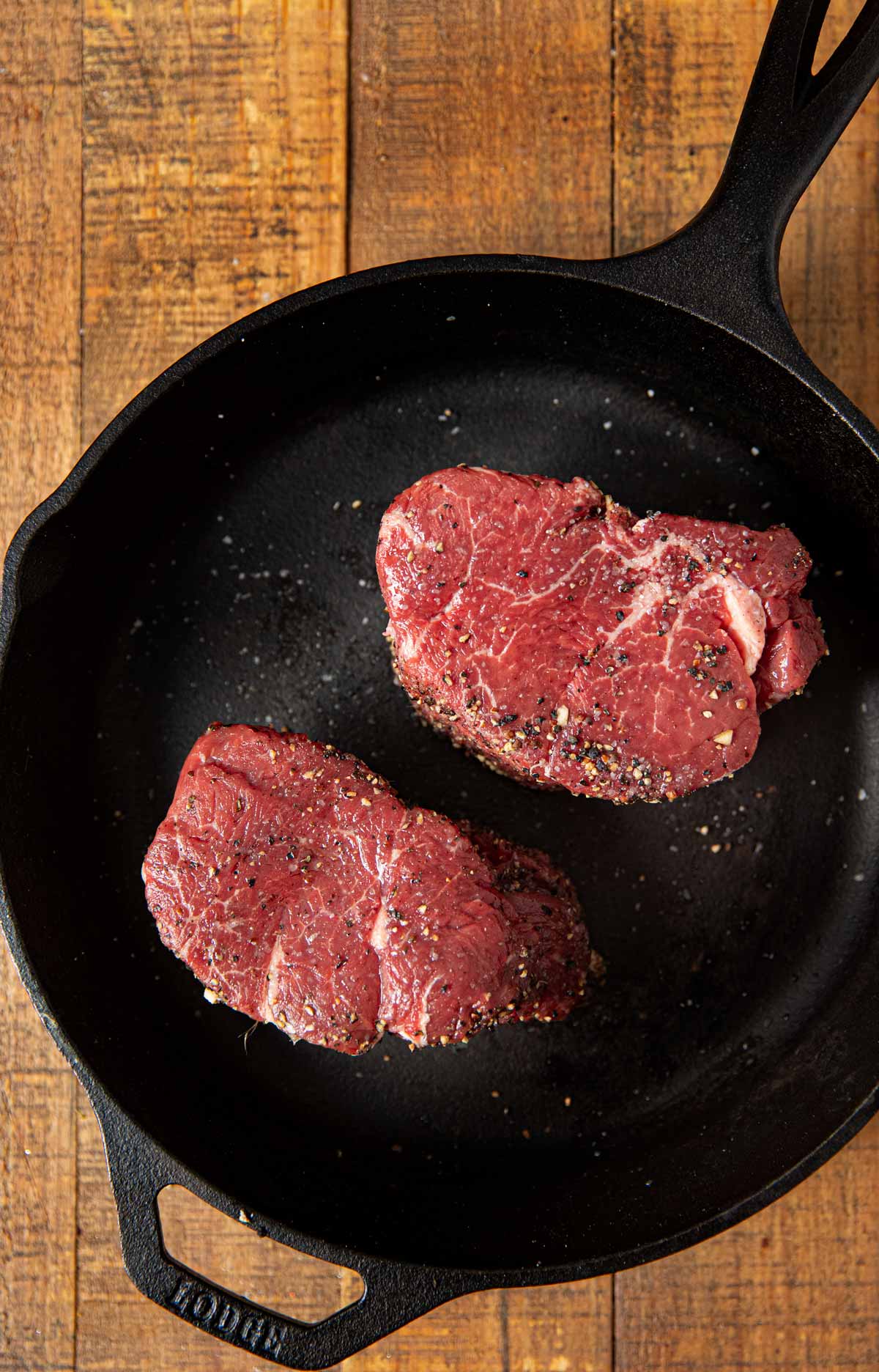 WHAT IS FILET MIGNON?
Filet Mignon is a cut of steak that comes from the bottom of beef tenderloin. It's buttery, delicate, and thick-cut. In fact, the filet is named for how tender it is. The French translation of Filet Mignon means "tender filet."
MORE MAIN DISH BEEF RECIPES
TIPS FOR MAKING EASY FILET MIGNON
Prep: Start by preheating your oven to 450 degrees, and add butter to a skillet over high heat. Use a skillet that's just a little bit bigger than each piece of steak.
Sear: Season each piece of steak with salt and pepper. Pan-sear each steak filet one at a time for about 3 minutes on both sides.
Oven: From the pan put the filets on a baking sheet with non-stick spray, and pop them in the preheated oven.
Doneness: For rare or medium-rare meat cook the filets for 4 minutes. For medium to medium-well done steak cook the steak for 5 minutes. Cook them for about 6 minutes for a well-done steak.
Check: After cooking Filet Mignon, you can ensure it's done using an instant-read meat thermometer. According to the USDA's website beef is done when it reaches 145 degrees internal temperature.
Serve: Once you've taken the steak recipe from the oven, take the beef tenderloin from the pan and put them on their plates. Cover the cooked steaks with tin foil and let sit for 10 minutes before serving the recipe.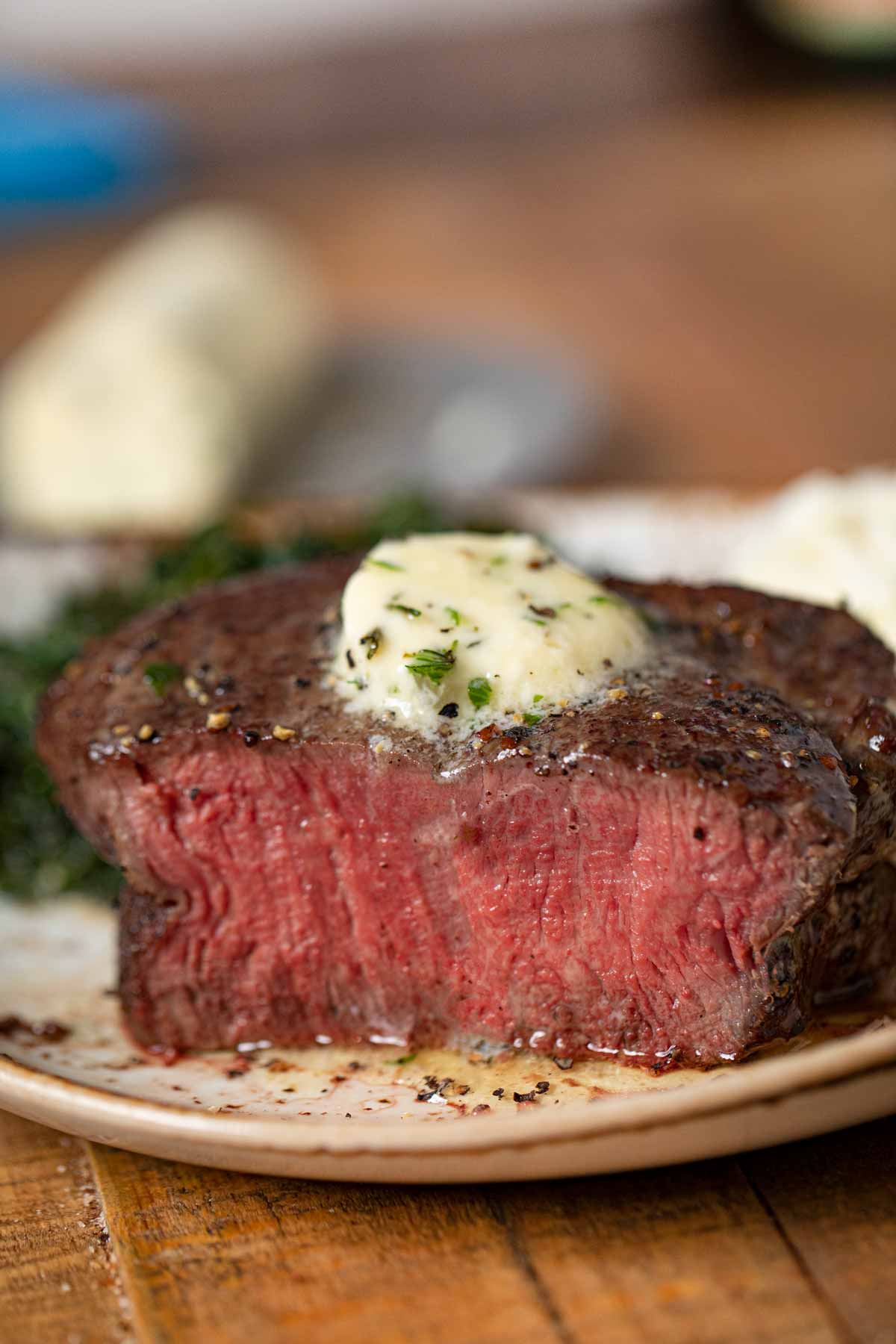 Create a free account to

Save Recipes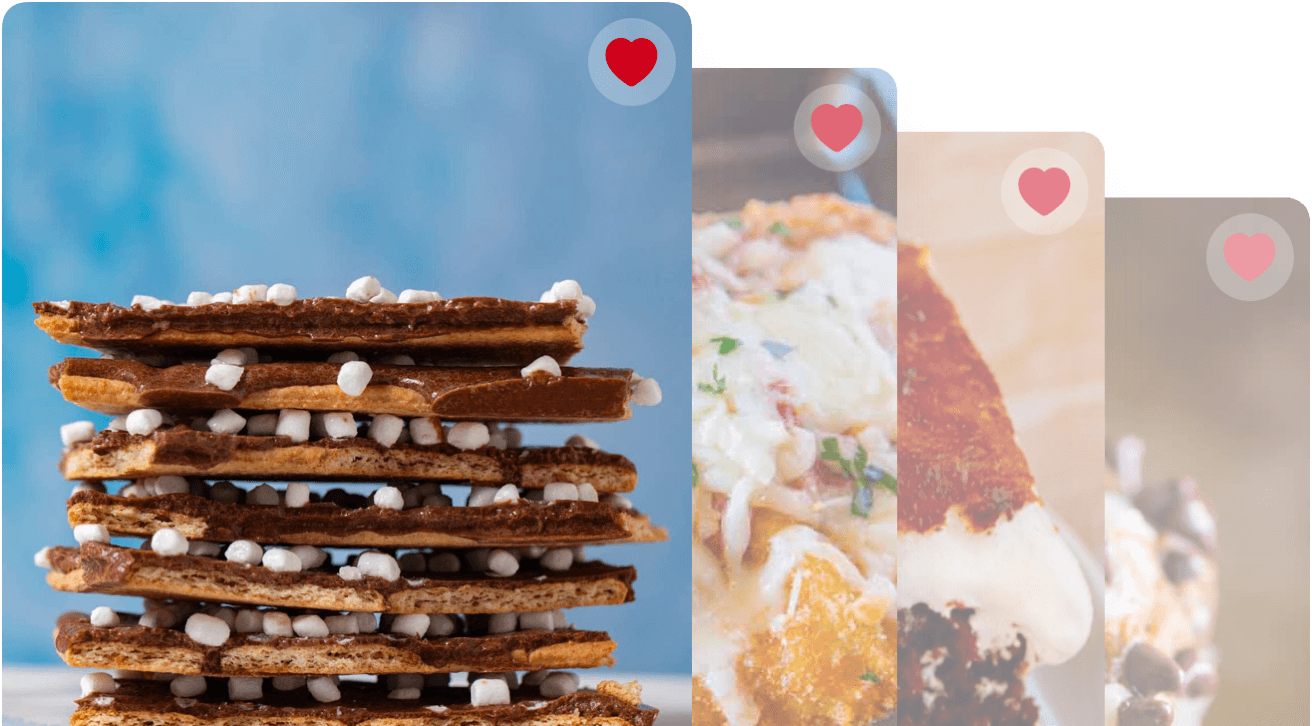 VARIATIONS ON FILET MIGNON
Seasonings: There are so many different, delicious seasonings you can add to your mignon recipe for some extra flavor. Try adding a dry rub using minced garlic, fresh basil, fresh thyme, and fresh rosemary.
Bacon-Wrapped: For even more crispy, salty flavor try wrapping bacon around the tenderloin.
Marinade: To make your beef extra tender you can soak it in a marinade overnight. A great option for your marinade is combining ½ cup extra virgin olive oil, ¼ cup balsamic vinegar, ¼ cup dry red wine, 1 tablespoon mustard, 2 cloves minced garlic, 1 tablespoon fresh rosemary, ¼ teaspoon pepper, and ¼ teaspoon salt.
Garlic Herb Butter: You can easily whip together some herb butter to serve with your filet. Try making garlic herb butter with ½ cup butter, 6 cloves minced garlic, ¼ cup of mixed herbs chives, basil, parsley, and rosemary.
WHAT TO SERVE WITH FILET MIGNON
HOW TO STORE FILET MIGNON
Serve: Once you've cooked Filet Mignon, you can leave it at room temperature for about 2 hours.
Store: Let the steak cool to room temperature then put it in a ziplock bag or other airtight container to store in the fridge. The tenderloin steak will keep well for up 3-4 days.
Freeze: You can also freeze the steak for 2-3 months. To reheat let the Filet Mignon thaw out in the fridge, then reheat them on a skillet.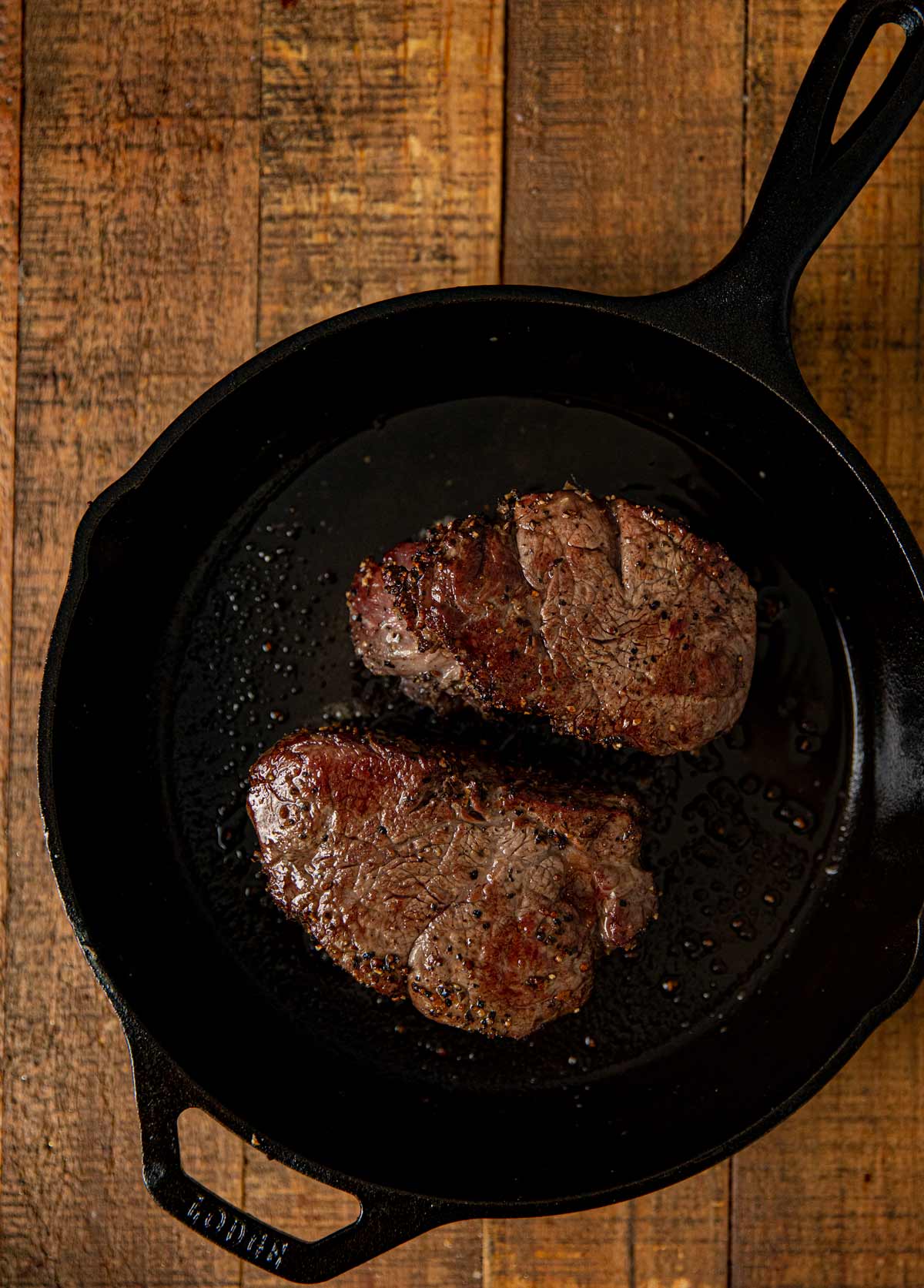 Ingredients
2

tablespoons

unsalted butter

2

beef tenderloin

, filet mignon steaks, (~8 ounces each)

2

teaspoons

Kosher salt

1/2

teaspoon

coarse ground black pepper
Instructions
Preheat oven to 450 degrees.

Add butter to a small cast-iron skillet (just bigger than your steaks) on high heat.

Season steaks all over with salt and pepper

Sear the steaks on each side for

3 minutes

until browned, then place in the oven for

4 minutes

(for rare, 5-6 for medium or more for well done).

Remove from the oven and remove steaks from the pan to a plate you cover with foil to let steaks rest for

10 minutes

.
Nutrition
Calories:
218
kcal
|
Carbohydrates:
1
g
|
Protein:
25
g
|
Fat:
12
g
|
Saturated Fat:
6
g
|
Cholesterol:
87
mg
|
Sodium:
1226
mg
|
Potassium:
400
mg
|
Fiber:
1
g
|
Sugar:
1
g
|
Vitamin A:
175
IU
|
Calcium:
25
mg
|
Iron:
2
mg