Steakhouse Pot Roast with Blue Cheese Gravy is an 1-pot budget meal of meltingly tender chuck roast and Yukon potatoes – tastes like a fine dining dinner!
Classic Pot Roast gets a five-star upgrade in this delicious new Pot Roast Recipe. Treat your family to a fancy Main Course that won't break the bank!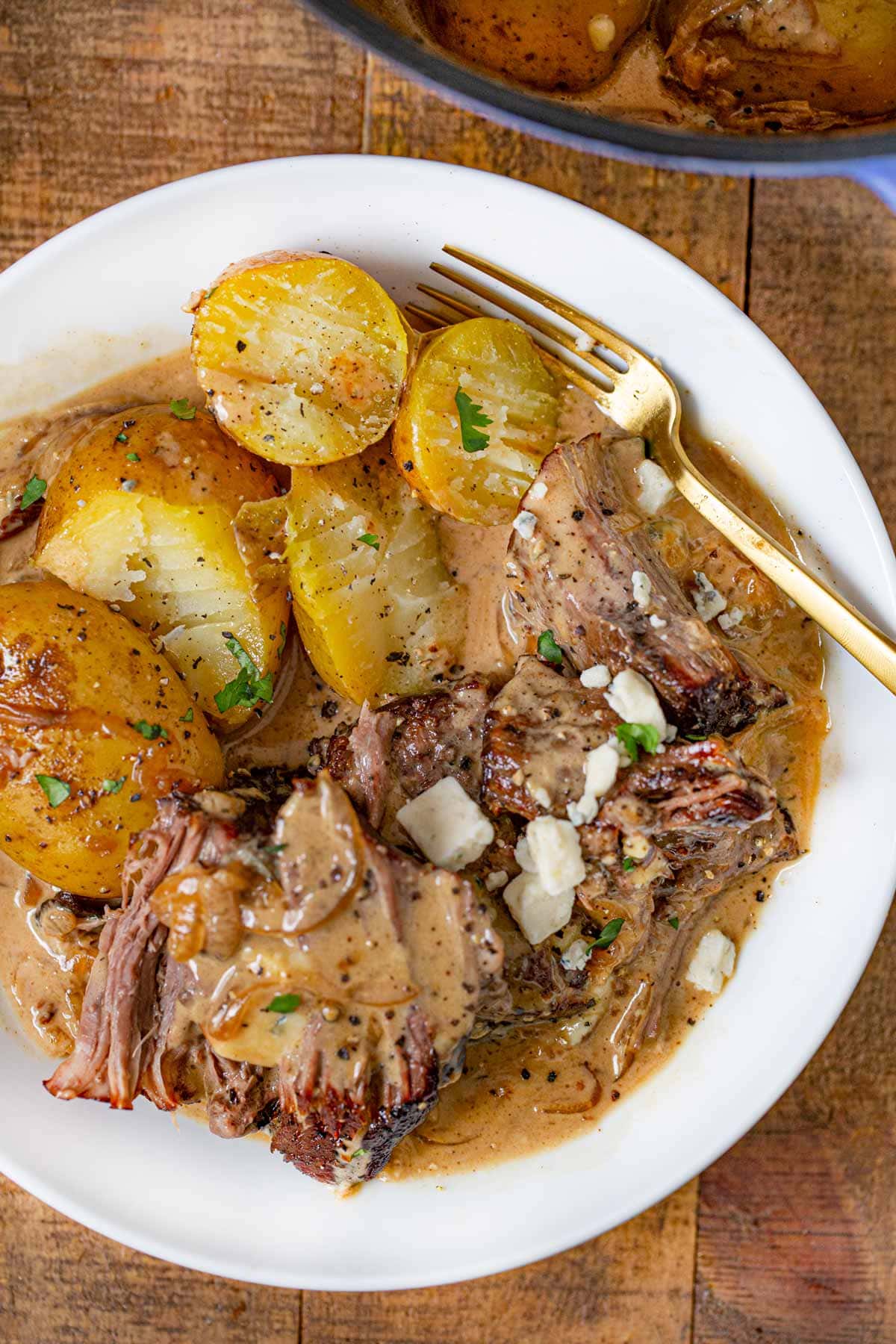 STEAKHOUSE POT ROAST WITH BLUE CHEESE GRAVY
With this tender chuck roast smothered in rich, blue cheese gravy, there's no need to head to an expensive steakhouse to get a restaurant quality dinner of steak and potatoes. One of the most popular steakhouse meals is a beautiful, tender steak with a blue cheese cream sauce. Served with a baked potato on the side you can easily spend a small fortune.
Steakhouse Flavors
This Steakhouse Pot Roast brings all the Ruth's Chris-Mortons-Peter Luger flavors home with a simple chuck roast braised in onions, beef broth, and Worcestershire sauce.
The beef is seared well before braising in the oven with baby Yukon potatoes which are melt-in-your-mouth soft and fluffy with a natural buttery flavor. Since they're left whole the baby potatoes actually have the texture of a baked potato even though it bakes in the pot with the roast. When split open they're steamy and fluffy.
The Blue Cheese gravy is the best part! This gravy is made using the braising liquid plus heavy cream and blue cheese. It doesn't need flour or cornstarch, just one minute of whisking and cooking, you'll have a beautiful thick sauce.
To serve you'll gently shred the beef then top with the blue cheese gravy, a few blue cheese crumbles and a couple of baby Yukon potatoes. Make this paired with our Morton's Creamed Spinach recipe for the ultimate dinner.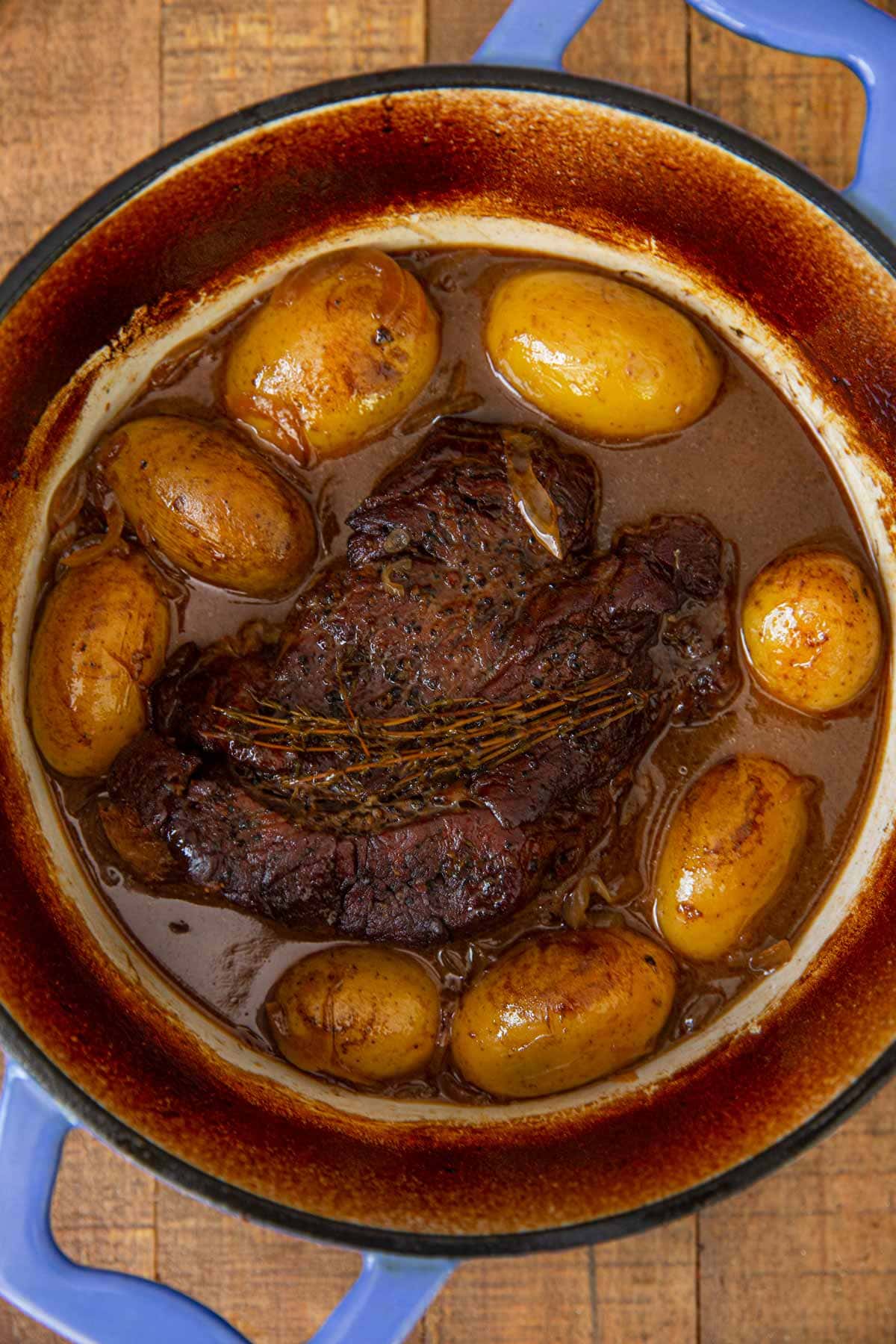 Make Steakhouse Pot Roast Ahead
Steakhouse Pot Roast is a great make ahead freezer meal but you want to freeze it before making the blue cheese gravy for best results. Dairy sauces separate when frozen so they are best made the day you serve them.
To make Steakhouse Pot Roast ahead, prepare following the recipe card until the gravy step. Cool roast completely with pan liquids and freeze in a sealed container. Freeze for up to 3 months, but the best quality is 1 month.
To serve, thaw overnight and reheat on the stove top in a large pot. Once meat and potatoes are hot, remove them. Prepare the blue cheese gravy with the pan liquids following the recipe instructions.
EASY SIDE DISH RECIPES
This easy dinner is started on the stove top and finished in the oven for a hands off meal you don't have to worry about stirring. If you want to make Steakhouse Pot Roast on the stove top, place it on the back burner so it's away from the edge since it will be cooking for a few hours. Stir every 20 minutes or so, and add more beef broth if the liquid gets too low.
Steakhouse Pot Roast is a one pan meal that is delicious served with steakhouse sides like Sautéed Green Beans and Dinner Rolls. You could also your Steakhouse Pot Roast with Sautéed Mushrooms, just like you would a New York steak! Save the extra gravy to top Mashed Potatoes for a tasty, easy next day dinner side.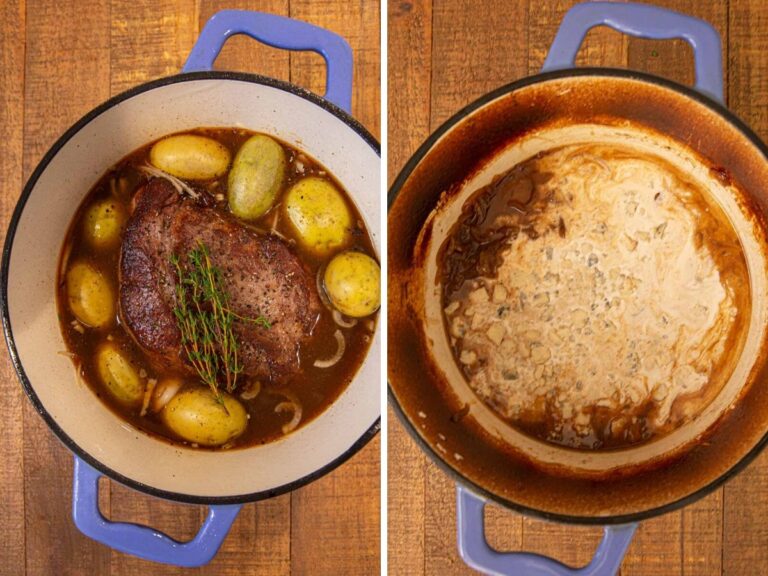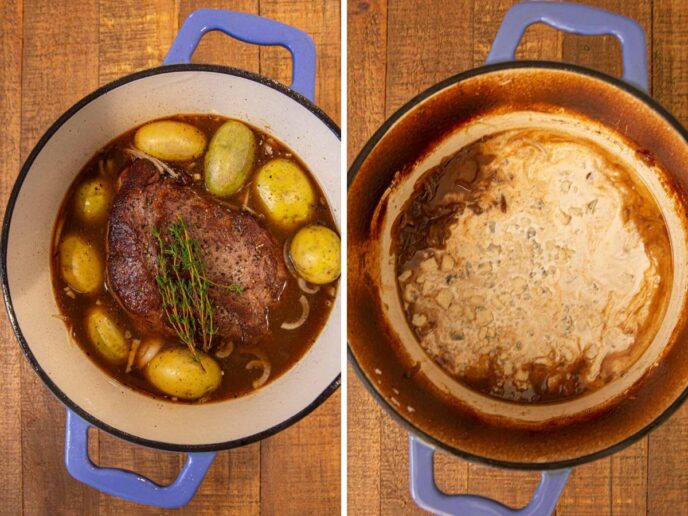 VARIATIONS ON STEAKHOUSE POT ROAST
Meat: Use other cuts of beef in this pot roast like beef shoulder, top round, or rump roast. Try the blue cheese gravy with Prime Rib for a fancy holiday dinner! Use the liquid from your roasting instead of the beef broth and add the Worcestershire sauce, and thyme at the end in a saucepan. Once hot, add heavy cream and blue cheese as usual.
Potatoes: You can use any potatoes in this recipe instead of Yukon gold like red potatoes, russet potatoes, or sweet potatoes. If the potatoes have thicker skin (like russet potatoes or sweet potatoes), peel and chop into large chunks.
Veggies: Make this a heartier one-pot meal with steakhouse veggies like broccoli, cauliflower, green beans, or carrots added in. Add fresh or frozen veggies in the last 30 minutes of cooking.
Seasonings: Refrigerate your chuck roast up to 8 hours in Steak Marinade for a more intense steak flavoring! You can also rub the roast in seasonings like garlic salt, rosemary, or white pepper before browning.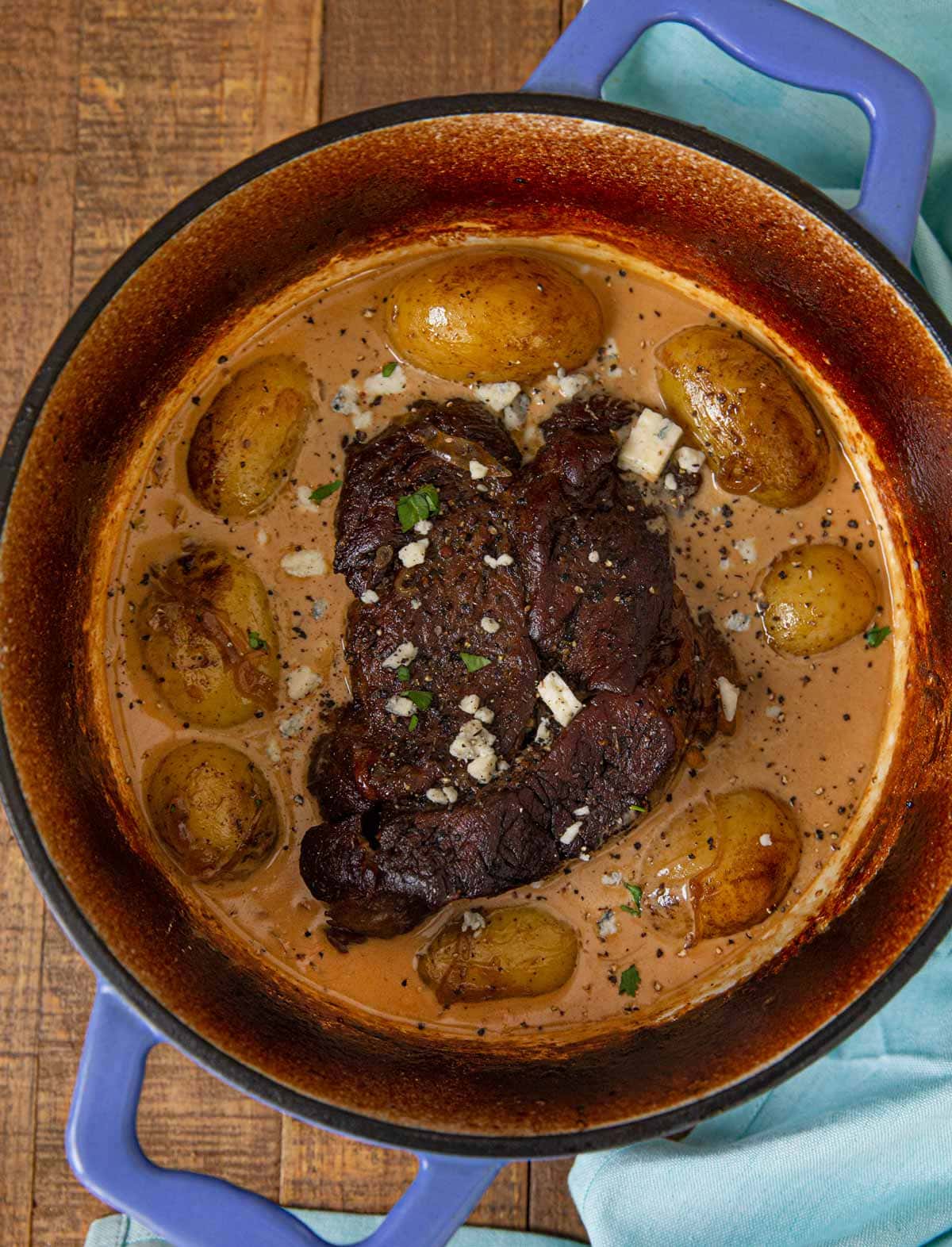 Slow Cooker Steakhouse Pot Roast
In a large skillet over medium heat, brown seasoned chuck roast in oil, about 3-4 minutes on each side.
Place beef, potatoes, and onions in crockpot.
In the warm skillet (so you get beef renderings) whisk broth, Worcestershire sauce, and thyme. Pour sauce into slow cooker.
Cover and cook on low for 7-8 hours, or high for 3-4 hours, until beef is tender.
Remove beef and potatoes. Remove thyme and discard.
Turn slow cooker to high heat, stir in heavy cream and 1/3 cup blue cheese crumbles, then allow to cook for 6-8 minutes, or until thickened.
Return beef and potatoes to slow cooker and break meat into large chunks.
Serve topped with gravy and blue cheese crumbles.
Instant Pot Steakhouse Pot Roast
Season the chuck roast. Set Instant Pot to Sauté Function and add vegetable oil.
Once oil is shimmering hot, brown meat on both sides for 3-4 minutes. Set aside.
Deglaze pot with 1 cup beef broth, then whisk in remaining broth, Worcestershire sauce, and thyme.
Turn Instant Pot to warm and add the roast back to the pot along with potatoes and onions.
Secure lid and turn pressure valve to sealing.
Cook on Manual High Pressure 45 minutes, release pressure naturally 10 minutes, then quick release.
Remove meat, potatoes, and thyme. Discard thyme. Turn Instant Pot to Soup Function.
Whisk in heavy cream and 1/3 cup blue cheese crumbles to sauce in Instant Pot, cooking for 6-8 minutes or until thick.
Return beef to the pot and break into chunks.
Serve pot roast over potatoes with gravy and blue cheese crumbles.
MORE POT ROAST RECIPES:
HOW TO STORE STEAKHOUSE POT ROAST
Serve: Steakhouse Pot Roast can be at room temperature for up to 2 hours and can be kept warm in a slow cooker for up to 4 hours.
Store: Cool Steakhouse Pot Roast to room temperature before storing in an airtight container and refrigerate up to 3 days.
Freeze: Place cooled Steakhouse Pot Roast in a sealed container and freeze for up to 3 months. For best results, freeze before making the blue cheese gravy, as dairy will separate during freezing.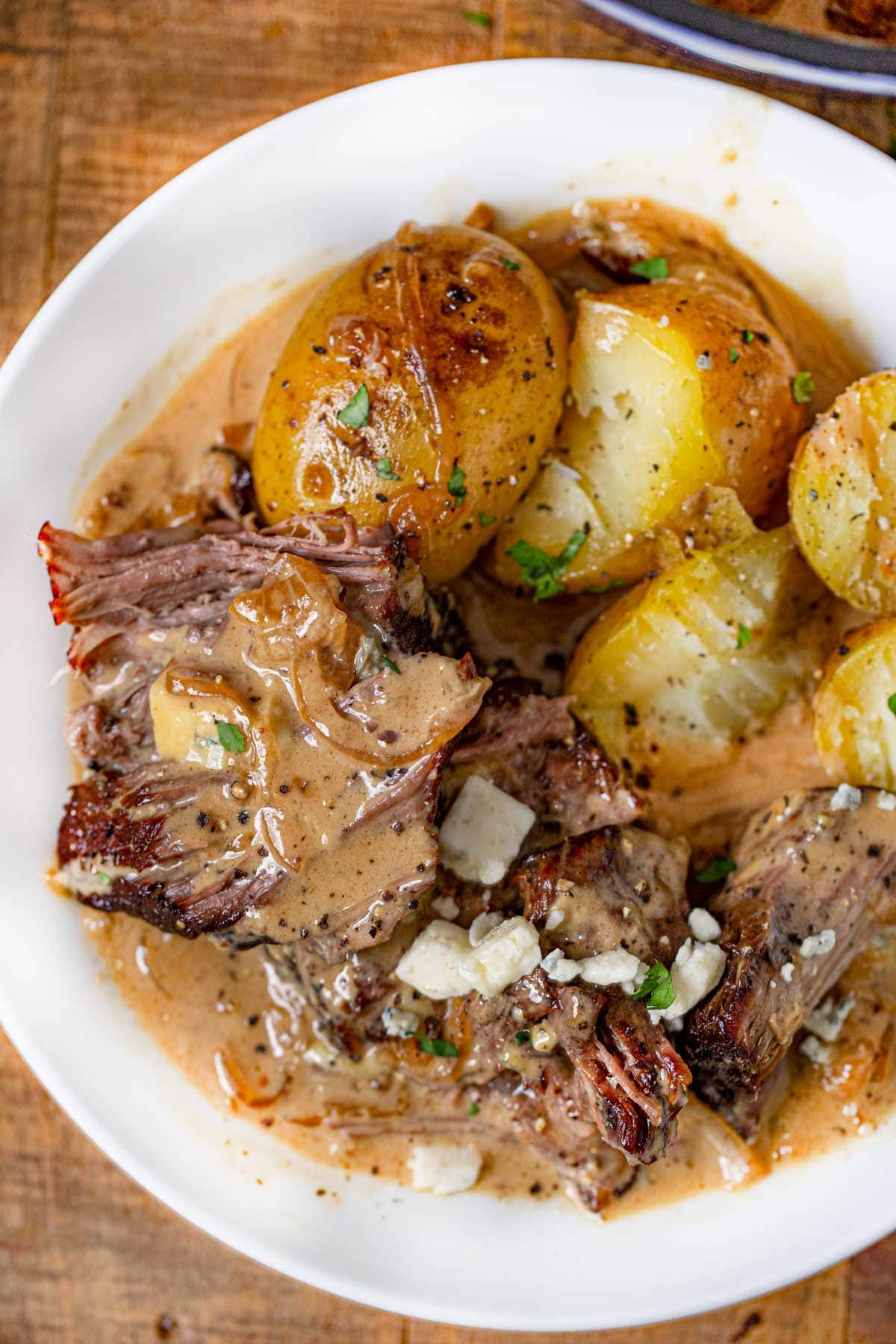 Recipe
Save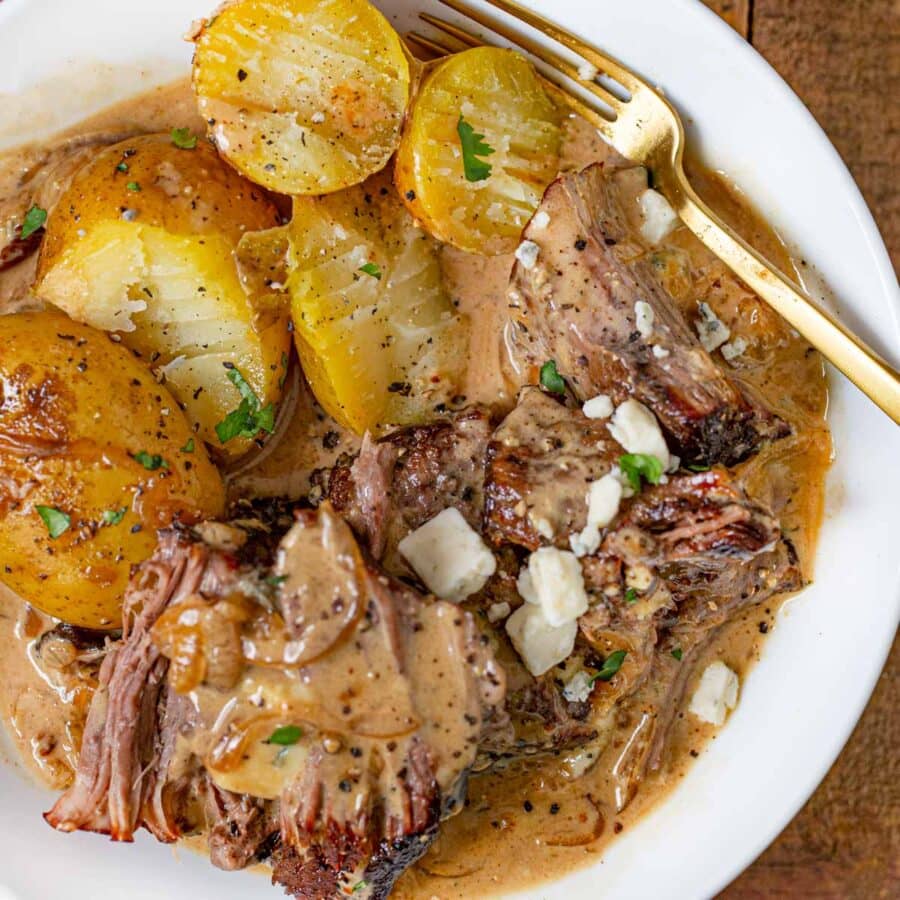 Steakhouse Pot Roast With Blue Cheese Gravy
Yield:

8

servings

Prep Time:

15

minutes

Cook Time:

3

hours

45

minutes

Total Time:

4

hours

Course: Dinner
Cuisine: American
Author: Sabrina Snyder
Steakhouse Pot Roast with Blue Cheese Gravy is an easy one pot budget friendly meal of chuck roast and potatoes that tastes like a fine dining steak dinner.
Ingredients
3-4

pound

chuck roast

2

tablespoons

vegetable oil

1

teaspoon

kosher salt

1/2

teaspoon

coarse ground black pepper

1

yellow onion

, halved and thinly sliced

8

small Yukon gold potatoes

2

cups

beef broth

1

tablespoon

Worcestershire sauce

6

sprigs

fresh thyme

1/2

cup

blue cheese

, crumbled

1/2

cup

heavy cream
Instructions
Note: click on times in the instructions to start a kitchen timer while cooking.
Preheat your oven to 325 degrees.

Season the chuck roast with the Kosher salt, pepper and thyme.

Add the vegetable oil to a pan and heat. When it ripples and is hot add in the roast and brown, deeply, for 4-5 minutes on each side.

Add onions and potatoes around the roast.

Mix together the beef broth, Worcestershire sauce, and thyme and add to the pot.

Cook, covered, for 3 - 3 1/2 hours.

Remove from the oven and remove thyme sprigs.

Remove the potatoes and pot roast gently.

Add in the heavy cream and 1/3 cup of the blue cheese crumbles.

Set on stovetop on medium-high heat and whisk together, cooking for 6-8 minutes until it thickens.

Add the beef back into the pot, break apart into large chunks.

Serve in a bowl with potatoes broken in half covered in blue cheese gravy and sprinkle on remaining blue cheese.
Nutrition Information
Yield: 8 servings, Amount per serving: 561 calories, Calories: 561g, Carbohydrates: 32g, Protein: 39g, Fat: 31g, Saturated Fat: 17g, Cholesterol: 144mg, Sodium: 807mg, Potassium: 1387mg, Fiber: 4g, Sugar: 2g, Vitamin A: 341g, Vitamin C: 36g, Calcium: 116g, Iron: 5g
All images and text © for Dinner, then Dessert.
Keyword:
Steakhouse Pot Roast With Blue Cheese Gravy
Save