Perfectly Easy Eggs Benedict made with a foolproof vinegar free poaching method with luxurious hollandaise sauce and ham steaks on an English muffin.
We are heading into the holidays and family are about to start descending into our homes. Along with this recipe we also love serving up French Toast, Easy Cinnamon Rolls (in 1 Hour!) and Easy French Toast Bake.
Eggs Benedict Recipe
Don't be intimidated by Eggs Benedict. We're not swirling water in a pan with white vinegar to poach these eggs, we're using an absolutely simple and easy way to poach eggs with just a pan of water. We're also not using a double boiler to make the hollandaise, we're using a blender!
People who I've cooked dinners for used to often ask me "How do you make hollandaise sauce with Eggs Benedict?" It seems like a totally out of reach dish because of the hollandaise and the egg poaching. That doesn't have to be the case. An easy foolproof poaching method and hollandaise made completely in a blender and poached eggs made in a pot of simmering water that all you have to do is turn off!
We're making luxurious creamy hollandaise in the blender (and I promise it is EASY). The hardest thing to remember about this hollandaise sauce is if you aren't serving it right away you need to place saran wrap directly onto the bowl of hollandaise to prevent a dried layer or skin from forming on top of the hollandaise sauce.
Let's talk about the ham for a second.
Classic eggs benedict recipes are made using Canadian bacon rounds (which by the way fit perfectly on top of English muffins). You can absolutely use Canadian bacon in this recipe but give the thick-cut ham steaks a chance! They really up the game of this recipe and take it from a normal experience to something awesome.
Especially if you brown that ham steak in a pat of butter, I promise you'll crave ham steak with more breakfasts in the future!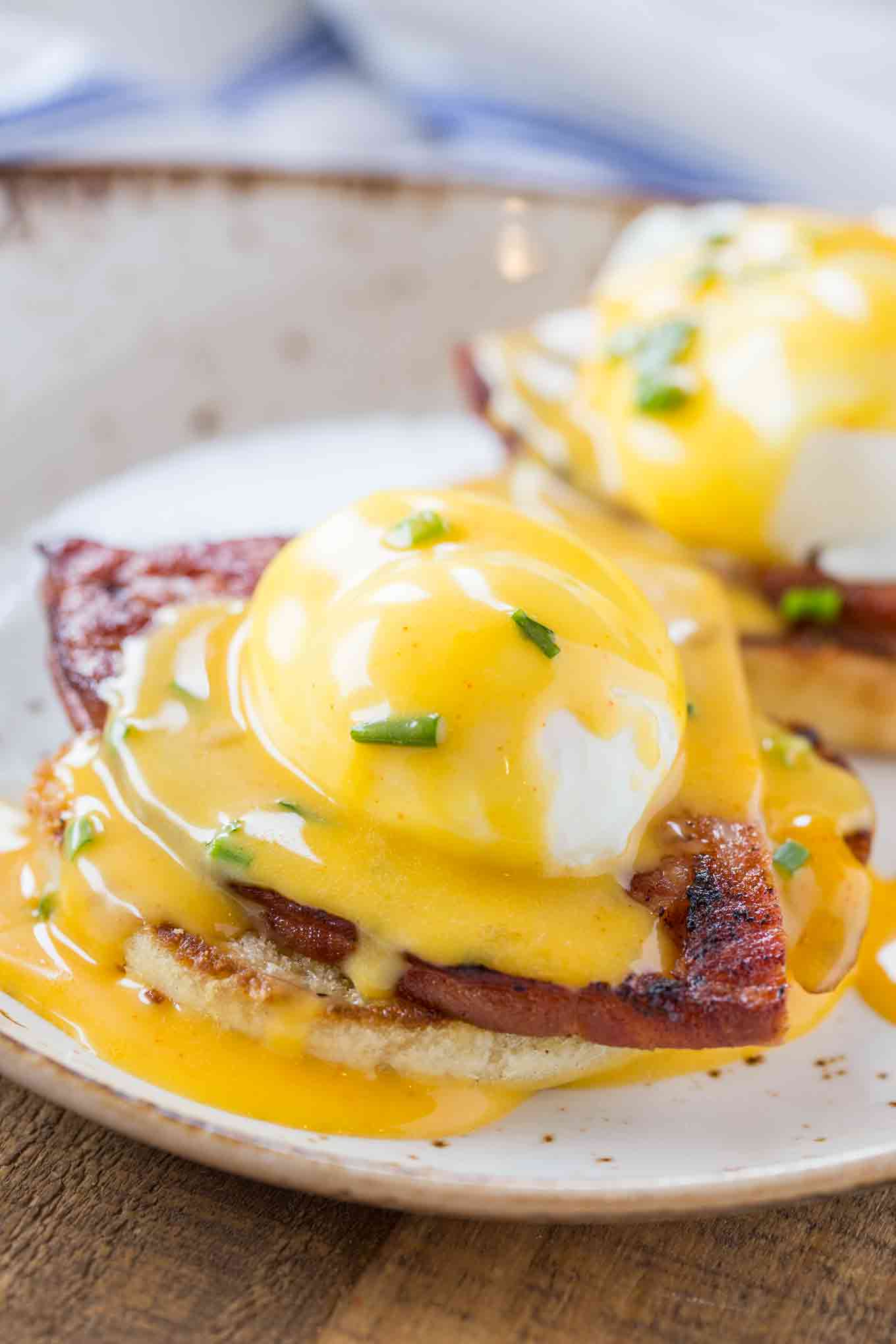 Also, this isn't typical but you can also use bacon instead of ham. There's no brunch police out there preserving the authenticity of your eggs benedict!
Speaking of authenticity the origins of Eggs Benedict go back to New York City in the Waldorf Hotel. Legend is that a guest asked for an toast topped with bacon, poached eggs and a "hooker" of hollandaise sauce. The chef loved the dish but changed it for his menu by altering the toast and the bacon. (see this dish is made for bacon!)
Eggs Benedict Variations:
Blanchard: Topped with béchamel sauce instead.
Classic: Hollandaise, Canadian Bacon (or ham), poached egg and english muffin.
Chesapeake:  Maryland crab cake made with blue crab instead of ham.
Florentine: Made with cooked spinach instead of ham/Canadian bacon.
Irish: Made with corned beef instead of ham.
Mornay: Topped with mornay sauce instead.
Steak: Uses steak instead of ham. Also sometimes uses béarnaise sauce instead.
Salmon: (Also knowns as Eggs Royale) uses salmon or smoked salmon in place of ham.
Southern: Made with pulled pork instead of ham and topped with a bbq sauce hybrid hollandaise.


Create a free account to

Save Recipes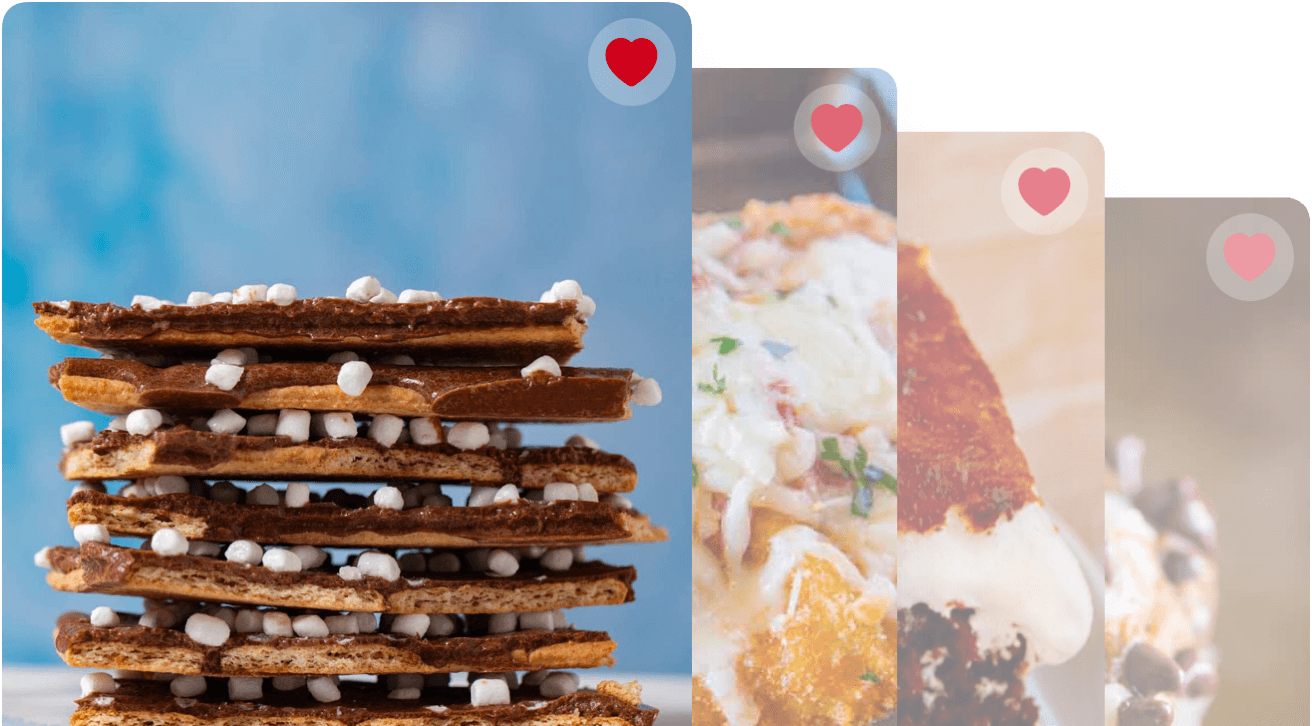 How do I make hollandaise sauce?
Making hollandaise sauce is as easy as adding water and egg yolks to a blender while slowly adding in melted butter. Once an emulsion is formed and the mixture is creamy you can add in the seasonings like lemon juice, cayenne, salt and pepper. The butter adds a beautiful creamy texture and the cayenne just adds depth of flavor rather than any sort of spice.
What's the difference between Eggs Benedict and Eggs Florentine?
Eggs Benedict is made with ham, egg, English muffin and hollandaise sauce while Eggs Florentine substitutes the ham for cooked spinach.
How to make Eggs Benedict for a crowd:
The hollandaise is easy enough in any quantity that will fit in a blender. When it comes to poaching the eggs I recommend using multiple pans that are simmering before even starting the sauce or toasting the muffins. Then when it is time to poach the eggs you can do 8 each in large skillets and just simply turn them off, turn on a 2 minute timer and remove them quickly with a slotted spoon.
This will be your favorite breakfast. Well unless you're all about bacon in which case a pile of bacon will always win.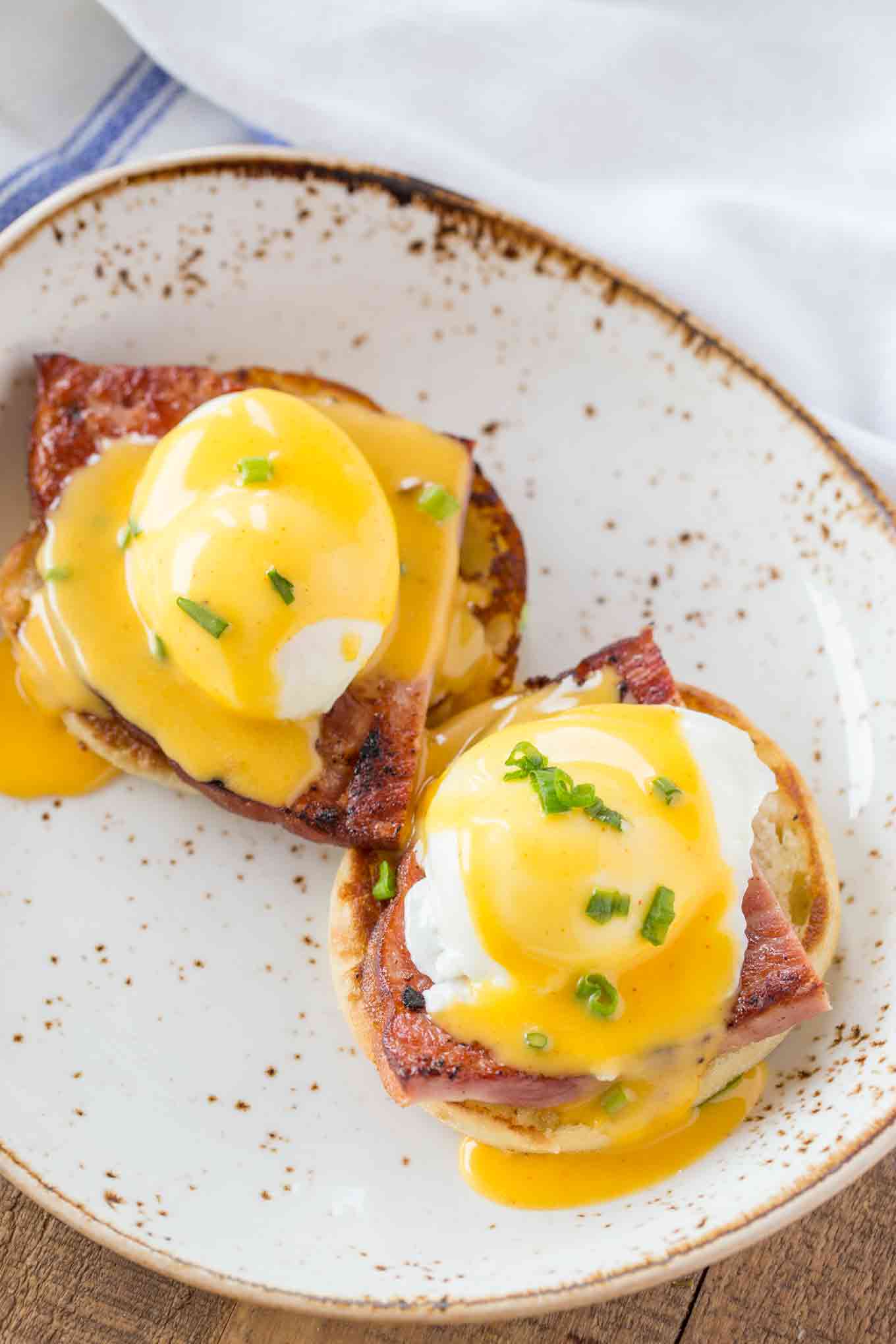 Ingredients
Hollandaise Sauce
12

tablespoons

unsalted butter

3

large egg yolks

2

tablespoons

water

2

teaspoons

fresh lemon juice

1

pinch

cayenne pepper

1/4

teaspoon

kosher salt

1/8

teaspoon

coarse ground black
Poached Eggs
1

teaspoon

kosher salt

8

large eggs
To Finish
4

English muffins

sliced in half and toasted

2

tablespoons

butter

2

ham steaks

quartered

chives

chopped for garnish
Instructions
Hollandaise Sauce:
Melt butter in saucepan over medium heat until it begins to foam then turn off the heat.

In a blender add the egg yolks and water and while its mixing slowly pour the butter into the blender pour shoot until fully creamy and combined before adding in the lemon juice, cayenne pepper, salt and pepper.
Poached Eggs:
Add water to a pot (about egg height) along with salt and bring to a simmer on medium heat (you don't want the water boiling, it won't cook the eggs gently enough).

Crack the eggs into a bowl or one at a time into small bowl and add them to the water gently one at a time before turning off the heat and adding the lid to the pan for

2 minutes

before removing with a slotted spoon for a perfect poached egg.
To Finish:
While the English muffins are toasting sear the ham steaks in a skillet with the butter until browned (about

2 minutes

).

Layer with English Muffin, ham steak, egg, hollandaise and chopped chives for serving.
Nutrition
Calories:
749
kcal
|
Carbohydrates:
26
g
|
Protein:
37
g
|
Fat:
53
g
|
Saturated Fat:
29
g
|
Cholesterol:
483
mg
|
Sodium:
2605
mg
|
Potassium:
573
mg
|
Fiber:
1
g
|
Vitamin A:
1700
IU
|
Vitamin C:
36.5
mg
|
Calcium:
94
mg
|
Iron:
3.2
mg