Cornbread Casserole is the ultimate comfort food! Buttery casserole made with Jiffy cornbread mix, two kinds of corn, butter, egg and spices.
Cornbread Dressing and Ultimate Cornbread are some of the best traditional Side Dishes for Thanksgiving Dinner. This moist, creamy version of a classic holiday side is easy enough to make all year long whenever you want a quick and delicious side.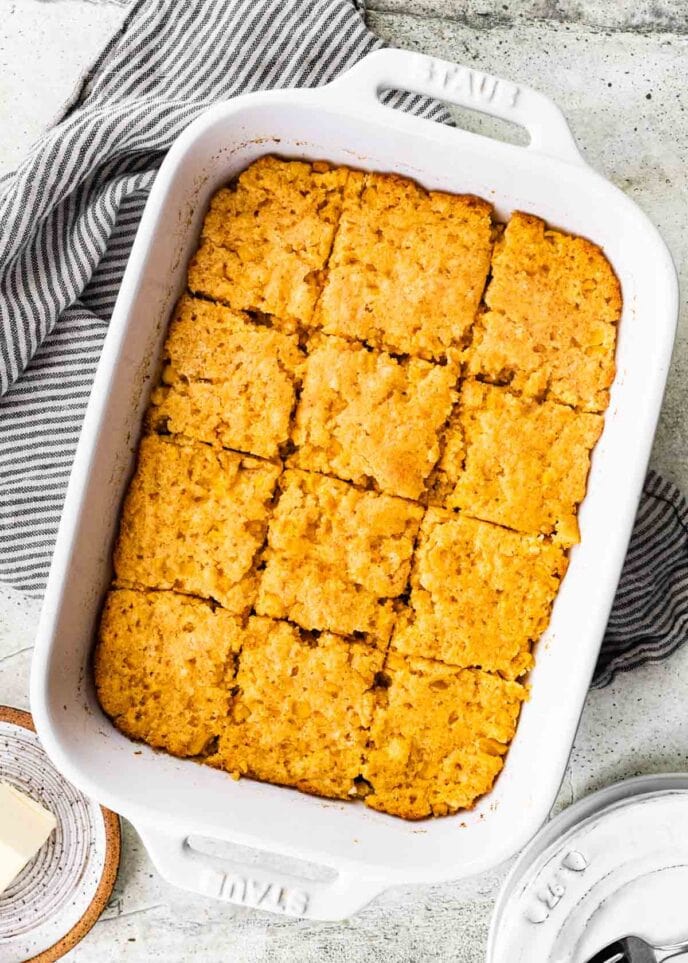 This tasty side dish is about to be your new favorite way to make cornbread ever. It's creamy, tender and oh so flavorful! Plus it's super easy to make for busy weeknights. All you need is a box of Jiffy Mix, an egg, butter, pantry spices, and a couple cans of corn. You don't even need a mixer, just a whisk and large bowl.
Cornbread Casserole is a surefire recipe to get moist, thick cornbread that is never dry and crumbly. It has both canned corn kernels and cream-style corn, so it's packed full of corn flavor. The batter is ready for the oven in just a few minutes and goes with all your favorite warm stews and chili recipes. I love to throw it in the oven when I get home from picking up the kids to serve with Slow Cooker Beef Chili that's been cooking all day.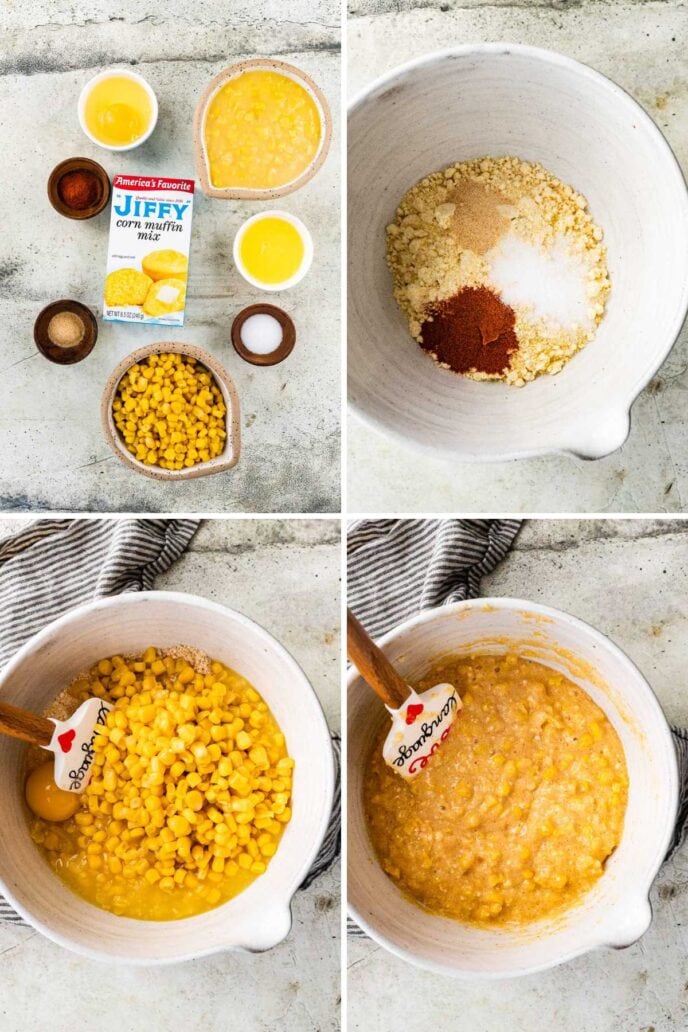 This Cornbread Casserole is a perfect crowd-pleasing holiday side dish that can be made the night before. You may want to double the batch if you are making it for the holidays or potlucks because this delicious dish is going to gobbled up fast!
What is a Cornbread Casserole?
Cornbread Casserole is an old-fashioned recipe that combines two classic side dishes, tender cornbread and creamy casseroles. It's an easy dish with Southern roots and gained popularity in the 1960s when grocery stores printed recipes of it being made with Jiffy Corn Muffin mix. There have been many variations over the decades, but this classic Cornbread Casserole recipe is hard to beat.
What is the difference between Cornbread Casserole and Corn Pudding?
Both Cornbread Casserole and Corn Pudding start with the same ingredients of boxed cornbread mix and 2 types of canned corn. The liquid ingredients are where they differ and it affects how they turn out after they are baked.
Corn pudding recipes, also known as Corn Casserole, are made with sour cream and lots of butter so it is creamier and thicker than cornbread. It is similar to a spoonbread and meant to be eaten with a fork or spoon. 
Our Cornbread Casserole recipe uses eggs and just enough butter to give it a buttery taste. It holds its shape and is firmer, like traditional Cornbread squares, but still creamy and moist.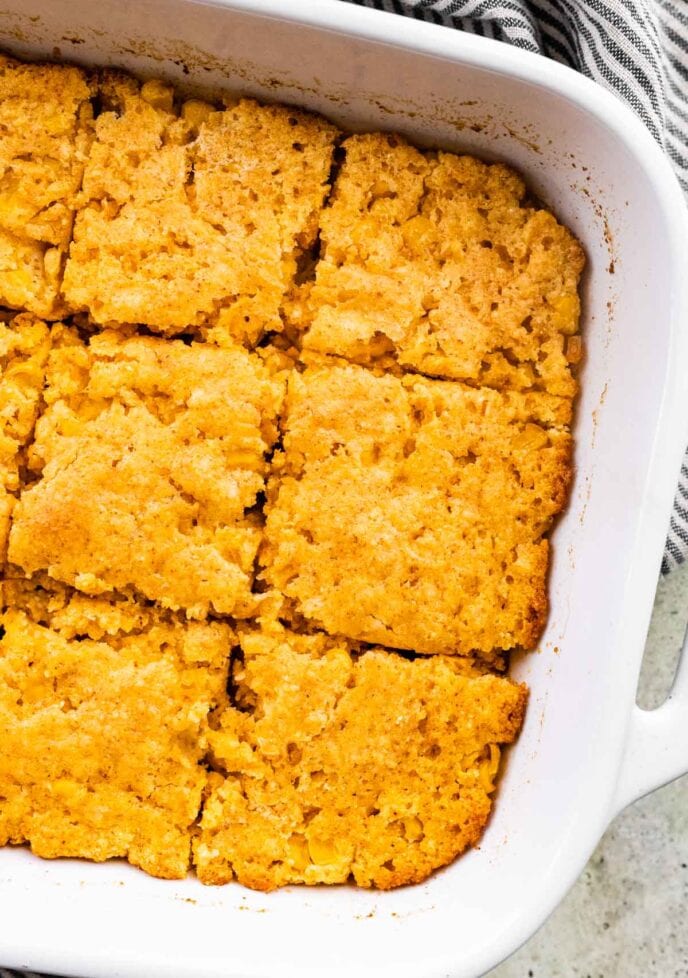 How to Make Cornbread Casserole
Prep: Preheat the oven and grease your baking dish with butter (not the butter for the recipe).
Batter: Whisk the corn muffin mix and seasonings in a large bowl. Stir in both kinds of corn, egg, and butter until completely combined.
Bake: Pour the cornbread batter into the greased pan and bake until puffy and golden brown.
Chili Recipes to Serve with Cornbread

FAQs for Cornbread Casserole
What is the difference between cornbread with creamed corn and regular corn?
Most cornbread recipes use regular whole corn kernels for texture but don't add the cream-style corn because it adds a lot of moisture. Cornbread Casserole has a mixture of both types of canned corn so you get the creaminess with bits of flavorful sweet corn in every bite.
What can I substitute for creamed corn in Cornbread Casserole?
Canned cream corn doesn't actually have cream in so it's easy to substitute with regular corn. To swap it, divide 1 cup of corn and pulse ½ cup of corn with 1 tablespoon water until smooth. Then add the remaining corn and pulse 10 times to mix it in. For an ultra rich Cornbread Casserole, use homemade Cream Corn.
Is Cornbread Casserole gluten-free or sugar-free? 
Even though we don't add flour and sugar to this recipe, Cornbread Casserole is NOT gluten free and sugar free. Jiffy Mix has both sugar and flour, so you'll need to use a different boxed mix that meets those needs or make your own. You'll find a quick Jiffy Mix substitute recipe in this post.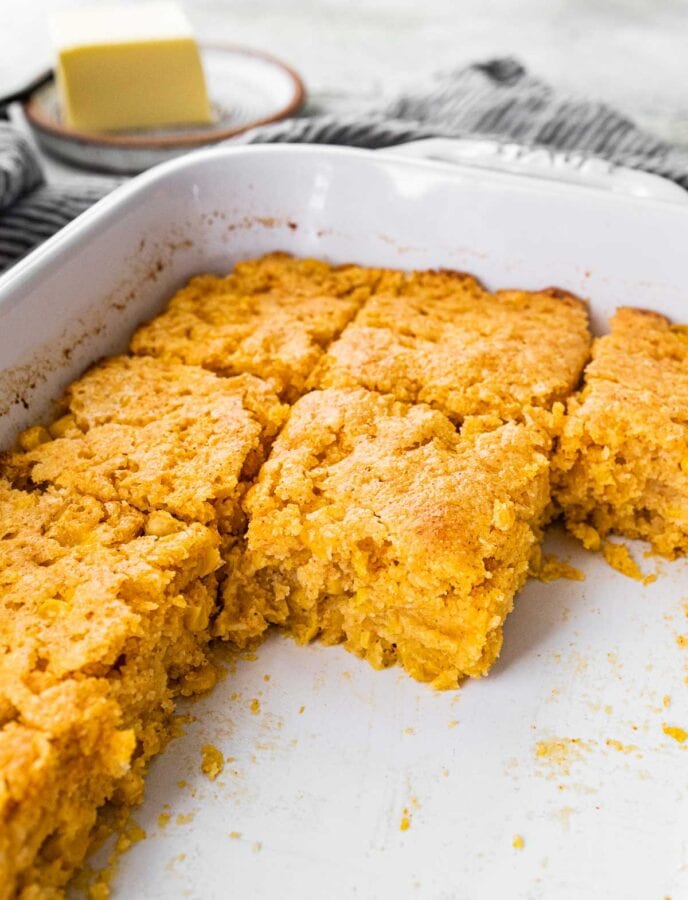 Create a free account to

Save Recipes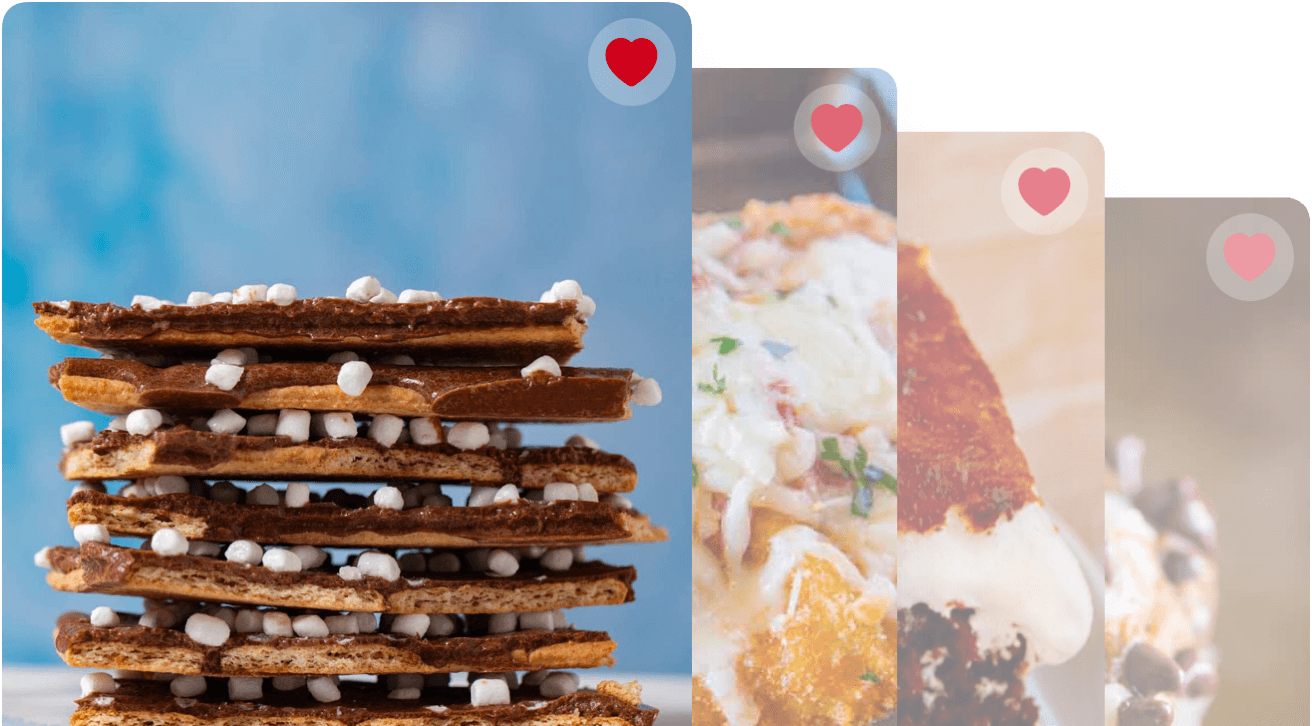 Key Ingredients
Jiffy Mix: This recipe was originally made with Jiffy Cornbread Muffin mix and people love the signature flavor. You can use another cornbread mix if you want, or you can make your own with our recipe in this post.
Cream Corn: Canned cream-style corn adds extra moisture and creaminess to the cornbread batter. It also adds a natural sweetness to the dish.
Whole Corn: Whole sweet corn kernels add bits of chewy texture to the cornbread and give it bursts of sweet flavor.
Egg: Using egg is essential in this dish because the egg binds everything together. The egg makes the bread creamy and fluffy, instead of crumbly. Use room temperature eggs for the best texture.
Butter: You only need a little bit of butter to give this casserole a rich, moist, and buttery flavor. Even for buttery Cornbread Casserole, you can brush melted butter on top after it's done baking.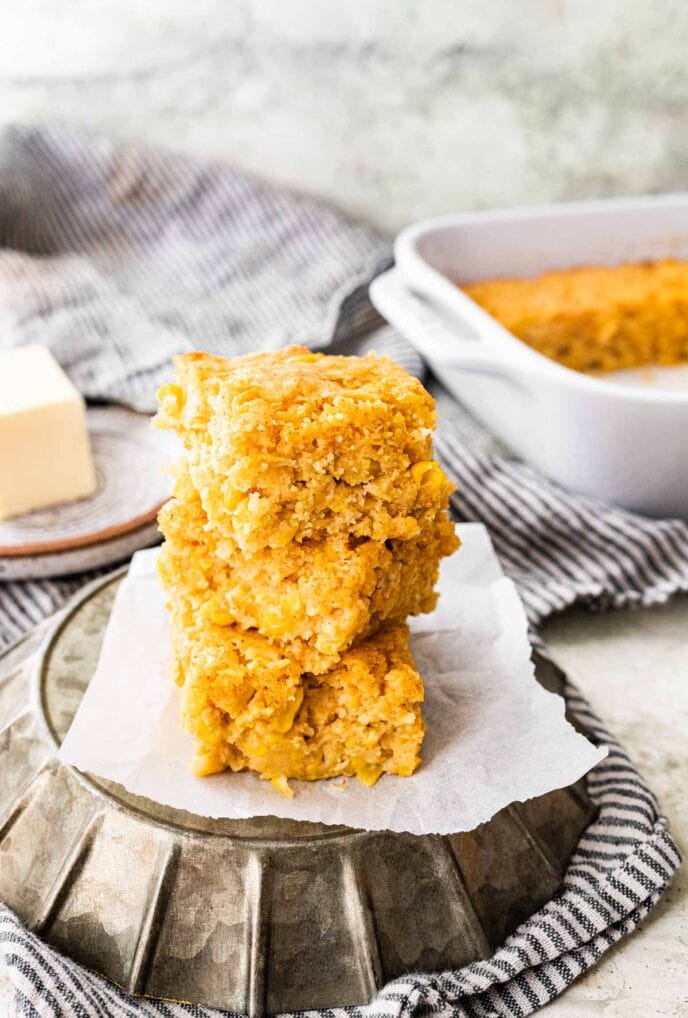 Can Cornbread Casserole be made ahead?
Cornbread Casserole is a great dish to make ahead of time to lighten the load for holiday cooking or just make weeknight dinner easier. Prepare the batter as usual and pour into your greased pan. Cover the pan with plastic wrap and keep refrigerated for up to 2 days. Remove the plastic and bake like normal.
Variations
Sloppy Joe: Cornbread Casserole makes a great topper for your favorite Sloppy Joe recipe. Add the cooked meat mixture to the bottom of a 9×13-inch baking dish then spoon the batter over top. Bake until the top is golden brown and a toothpick comes out clean, about 30-40 minutes.
Mexican: Make a Mexican Cornbread Casserole by adding diced jalapeños or green chilis and Mexican cheese blend. Swap the paprika for chili powder or Taco Seasoning.
Meat: You can add some cooked ground sausage, crumbled bacon, or diced Ham to the cornbread batter to make this casserole meaty and give it some flavorful protein.
Sour Cream: Add a ½ cup sour cream to make this extra creamy and soft, like a corn casserole recipe. You can also serve this casserole with a dollop of sour cream.
Mix-Ins: Mix in about ½ cup total ingredients like shredded cheddar cheese, chives, cilantro, diced bell peppers, canned green chiles, or bacon bits.

Homemade Jiffy Mix
The following ingredients will yield the same amount of cornbread mix as 1 box of Jiffy Mix. Combine all the ingredients with 2 tablespoons of vegetable oil, then prepare Cornbread Casserole as usual. You can leave out the sugar or replace it with a sugar substitute.
2/3 cup all-purpose flour, or gluten-free flour
½ cup yellow cornmeal, medium or fine grind
⅓ cup granulated sugar
1 tablespoon baking powder
½ teaspoon salt
Slow Cooker Cornbread Casserole
If you want to make this Cornbread Casserole in a slow cooker, you'll need two boxes of cornbread mix, an extra egg (2 eggs total), and a ½ cup milk. Grease the crockpot very well with butter and line the bottom with parchment paper. Mix all the ingredients together in a large bowl and pour into the slow cooker. Cover and cook on high for 2 ½ to 3 ½ hours, until a toothpick comes out clean with moist crumbs.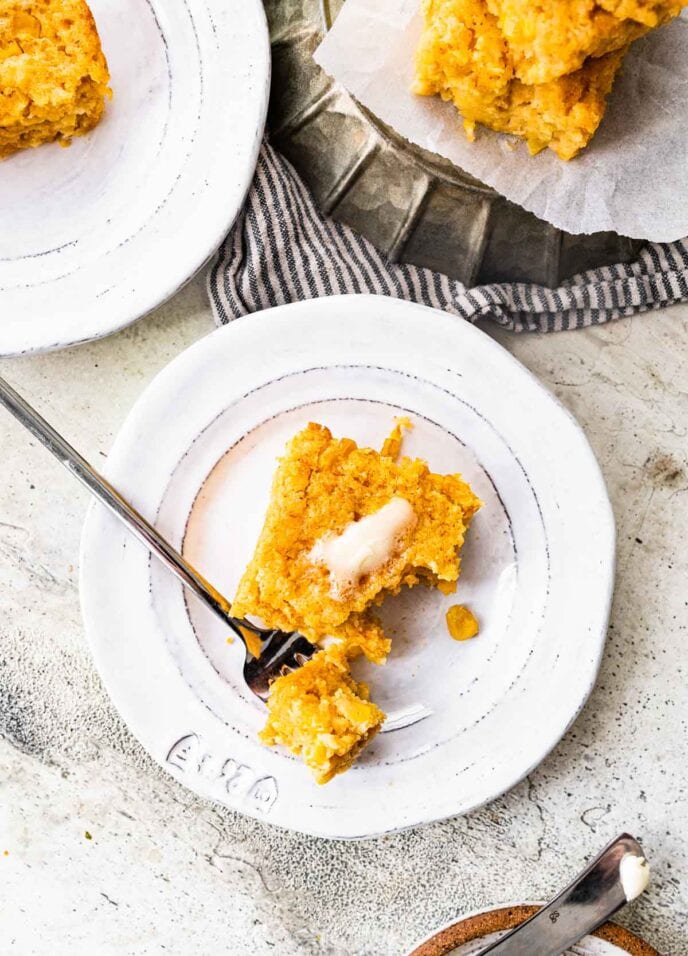 How to Store
Serve: Cornbread Casserole is best hot from the oven but it can also be enjoyed cold too. Keep it at room temperature for up to 2 hours.
Store: Wrap the pan tightly with plastic wrap or store in an airtight container. It will stay good in the refrigerator for up to a week. 
Freeze: Either wrap individual leftovers in plastic wrap and store in a plastic bag, or transfer to a freezer safe container. Cornbread Casserole can be frozen for up to 6 months. Thaw it overnight and reheat in the oven until hot.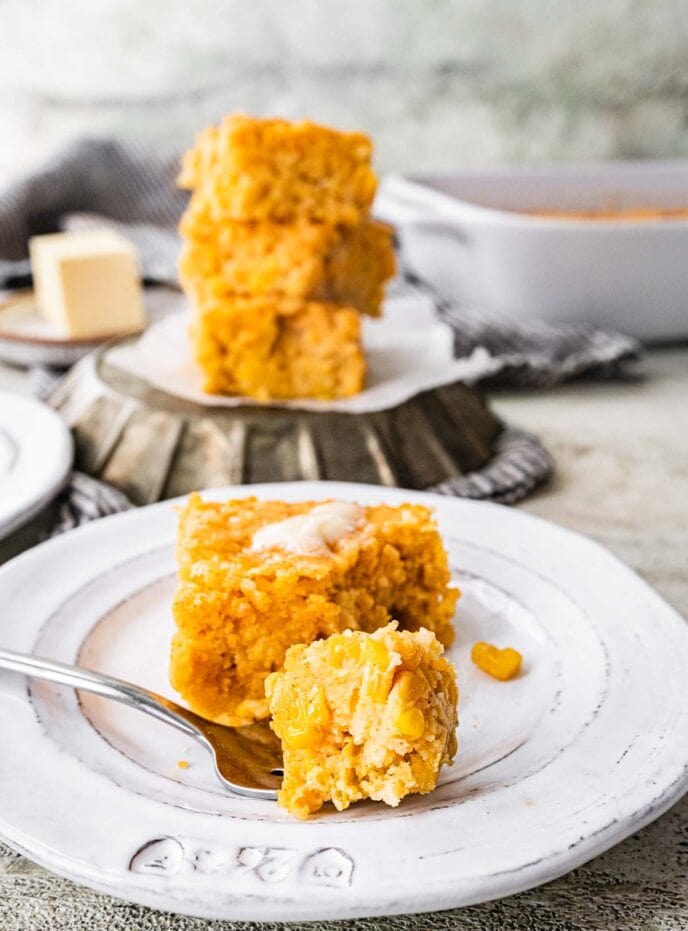 Ingredients
8

ounces

Jiffy Corn Muffin mix

1/2

teaspoon

garlic powder

1/2

teaspoon

paprika

1/2

teaspoon

kosher salt

15

ounces

canned whole kernel corn

, drained

15

ounces

canned creamed corn

, not drained

1

large

egg

2

tablespoons

butter

, melted
Instructions
Preheat the oven to 375 degrees.

Grease an 8×10 inch baking pan with melted butter.

To a large mixing bowl add the muffin mix, garlic powder, paprika, and salt.

Add in whole corn, cream style corn, egg, and melted butter.

Whisk well until completely blended.

Add to the baking pan and bake for

35-40 minutes

.

The top should be puffy and slightly browned.
Nutrition
Calories:
308
kcal
|
Carbohydrates:
49
g
|
Protein:
7
g
|
Fat:
11
g
|
Saturated Fat:
4
g
|
Polyunsaturated Fat:
2
g
|
Monounsaturated Fat:
4
g
|
Trans Fat:
0.2
g
|
Cholesterol:
42
mg
|
Sodium:
845
mg
|
Potassium:
239
mg
|
Fiber:
3
g
|
Sugar:
10
g
|
Vitamin A:
340
IU
|
Vitamin C:
4
mg
|
Calcium:
32
mg
|
Iron:
2
mg