Southern Cornbread Dressing is a classic Thanksgiving dinner side dish. Easy stuffing recipe with homemade cornbread, onion, celery, and poultry seasoning.
You just can't beat a Classic Thanksgiving Dinner (and Dessert) complete with traditional Sides like Mashed Potatoes and Stuffing and of course, a perfectly Roasted Turkey.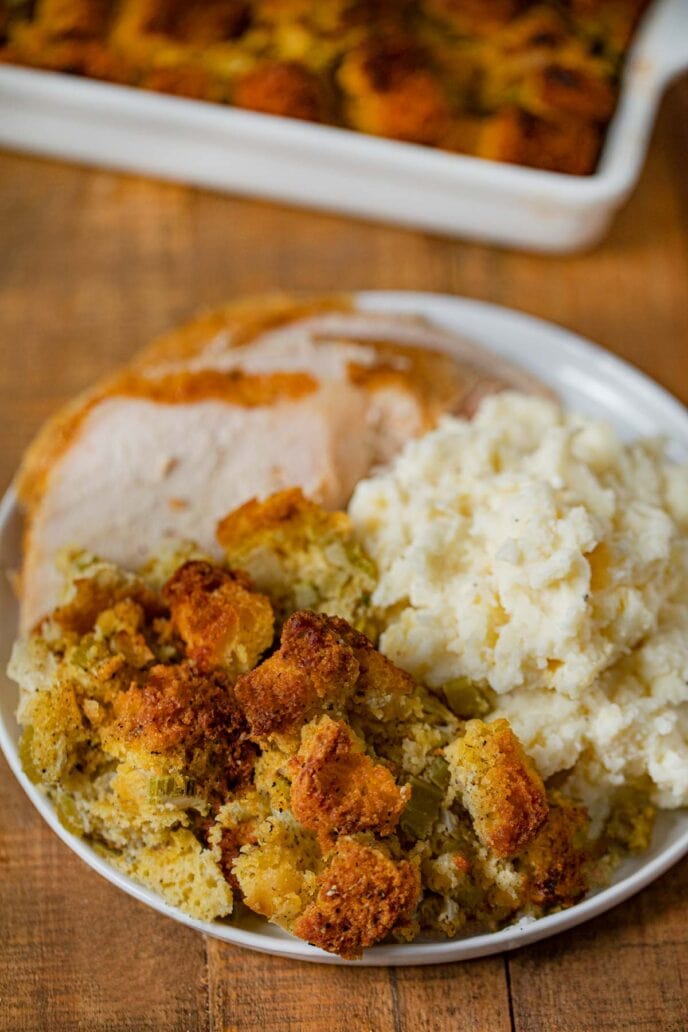 CORNBREAD DRESSING
Savory Southern Cornbread Dressing is full of herby, chicken flavor that just melts in your mouth. It's the perfect Thanksgiving Dinner side dish and ready in just an hour. You can prep your stuffing the night before and then bake it while your turkey rests and is carved, so everything is ready to serve hot and fresh together. It's such an easy recipe, you can make it anytime you are craving holiday comfort food!
This delicious stuffing recipe is made with easy homemade Southern cornbread that you can make-ahead a few days in advance. If this is your first time making Southern-style Cornbread, you may be surprised that it is not a sweet cornbread. It also has a tougher crumb that won't get mushy when baked in the savory chicken broth and egg mixture.
You can use boxed cornbread stuffing mix (the pre-cooked bread pieces) if you don't have time to make homemade cornbread. If you want to use a cornbread mixture, get the whole cornmeal type and not the cake-like mixes for muffins or sweet cornbread. In other words, don't use Jiffy or Martha White Cornbread for this dressing, it will be too crumbly and your stuffing will be soupy.
Our Southern Cornbread Dressing is rich and buttery, made with milk and eggs along with the chicken broth. This simple step-by-step dressing recipe is one that will replace the store-bought stove top stuffing mix for good! You can make it ahead of time in parts so the morning of your holiday party you just have to assemble and bake.
This Cornbread Dressing recipe is baked like a casserole but you can make it a one-pan dish by cooking in an extra large skillet. Simply sauté veggies in a large cast iron skillet, toss with dressing like usual, and pour everything back into the skillet. Bake uncovered in the skillet, checking after about 35 minutes, until golden brown and cooked through.
THANKSGIVING MAIN DISH RECIPES
Make-Ahead Tips for Cornbread Dressing
Prepare the Cornbread Recipe and chop into bite sized pieces. Freeze for up to 6 months, or refrigerate up to 1 week, in a heavy plastic storage bag.
Whisk the wet ingredients together and refrigerate up to 3 days. You can freeze the broth with poultry seasonings up to 2 months. Don't freeze broth mixture with eggs and milk, add those the day you cook the Cornbread Dressing.
Thaw cornbread pieces and broth mixture overnight in the refrigerator and then bring to room temperature the day you want to bake.
If cornbread is soft and damp after thawing, place in oven on low heat (200-225 degrees) for 10 minutes to dry it out.
You can make ahead Cornbread Dressing before baking and store assembled in the refrigerator up to 2 days. The longer it sits in the broth mixture, the creamier your dressing will be.
Freeze cooked Cornbread Dressing for up to 3 months. Thaw overnight in the refrigerator and bring to room temperature for 30 minutes before reheating in the oven.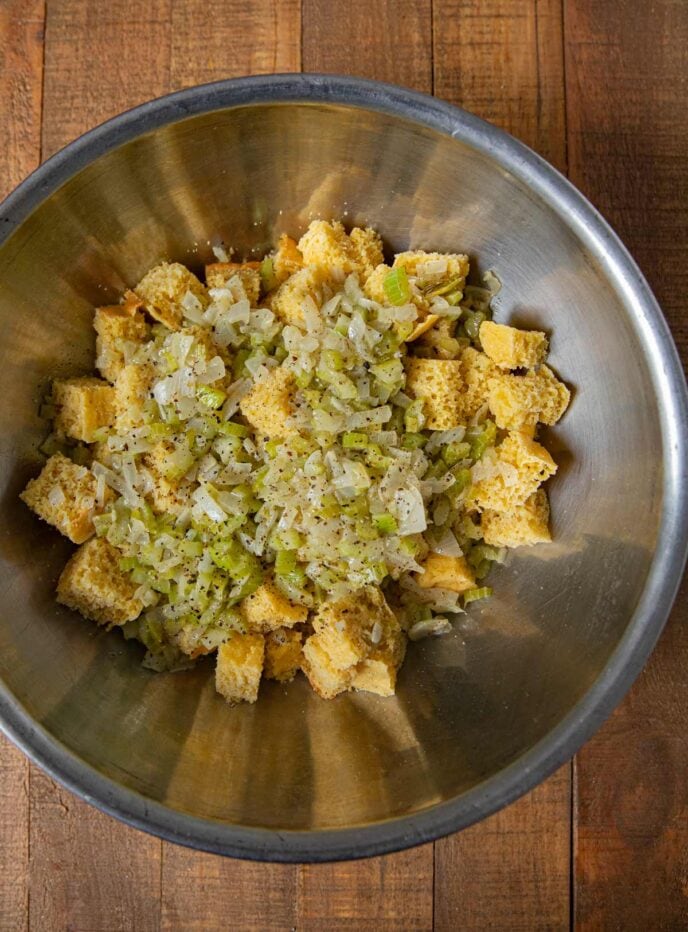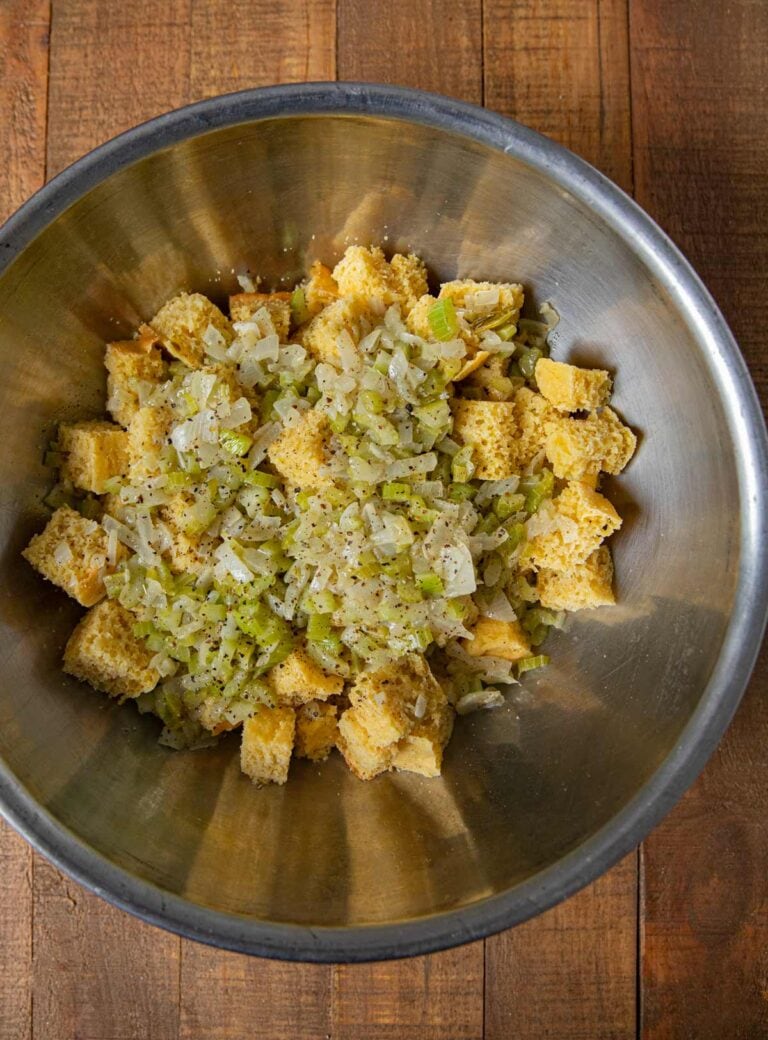 Create a free account to

Save Recipes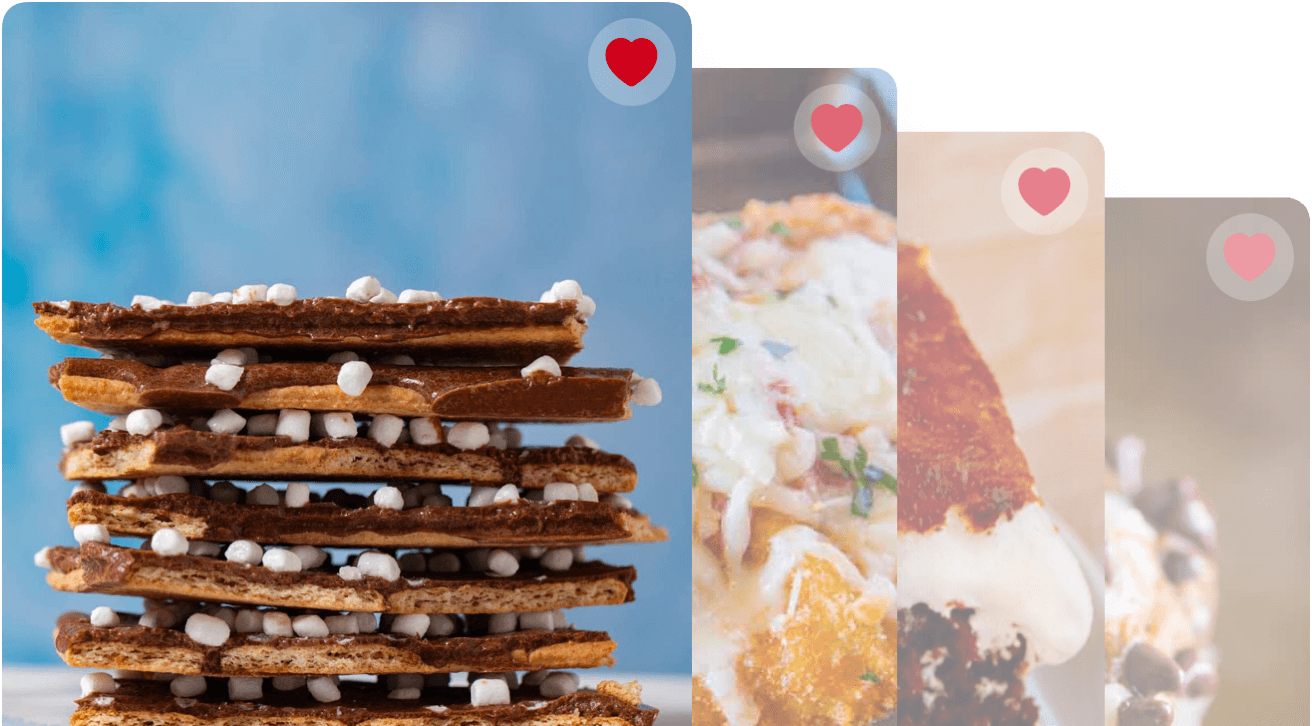 VARIATIONS ON CORNBREAD DRESSING
Sausage: Sausage is delicious in Cornbread Stuffing! Brown ground sausage and drain the grease before folding into your stuffing mixture and baking.
Seasonings: Use any poultry seasonings you like such as marjoram, rosemary, or oregano. Try this easy Rotisserie Chicken Seasoning and serve your stuffing with a Roast Chicken.
Creamy: For an ultra rich and creamy Cornbread Stuffing, add a can of Cream of Chicken Soup to your dressing before baking. You could also swap out the milk with buttermilk or add ½ cup unsalted melted butter.
Slow Cooker Cornbread Dressing
No need to sauté the veggies, just dump everything except the butter in the crockpot and give it a stir. Dot the top of your dressing mixture with the butter (cut into small pieces), and cover with the lid. Cook on high for 2 hours or on low for 4 hours, until dressing is tender and cooked through.
MORE CLASSIC THANKSGIVING SIDE DISH RECIPES
HOW TO STORE CORNBREAD DRESSING
Serve: Cornbread Dressing can be at room temperature for up to 2 hours before it needs to be stored. Cool completely before freezing or refrigerating Cornbread Dressing.
Store: Place cooled Cornbread Dressing into an airtight container, or cover baking dish tightly with plastic wrap. Refrigerate dressing for up to 4 days and reheat in the oven, adding a little broth if dried out.
Freeze: Once cooled, wrap baking dish tightly with plastic wrap and then aluminum foil for a tight seal. Freeze Cornbread Dressing for up to 3 months and thaw overnight in the fridge before reheating.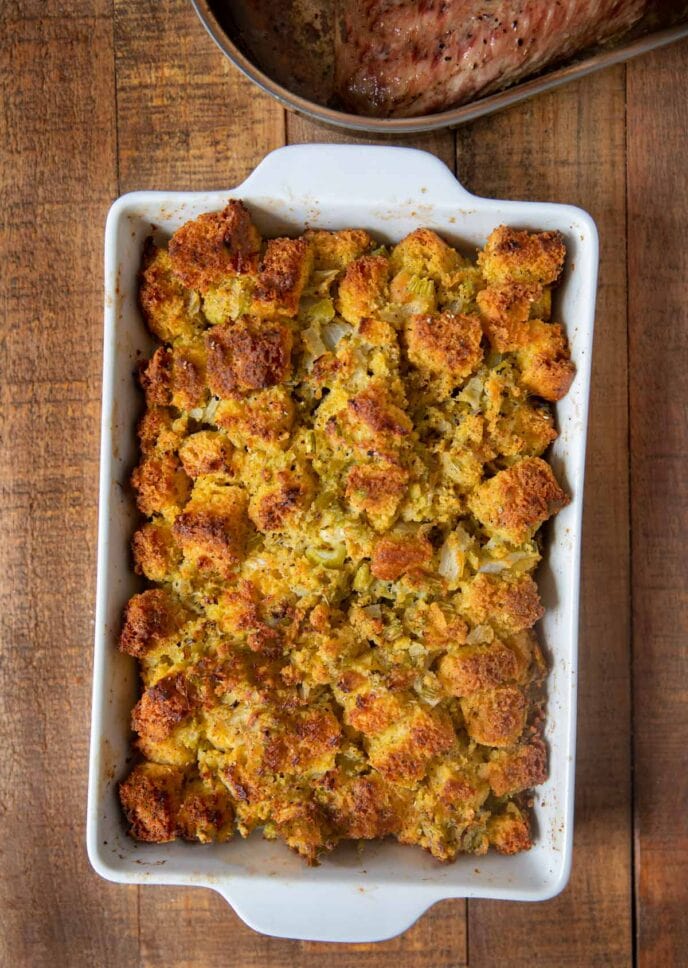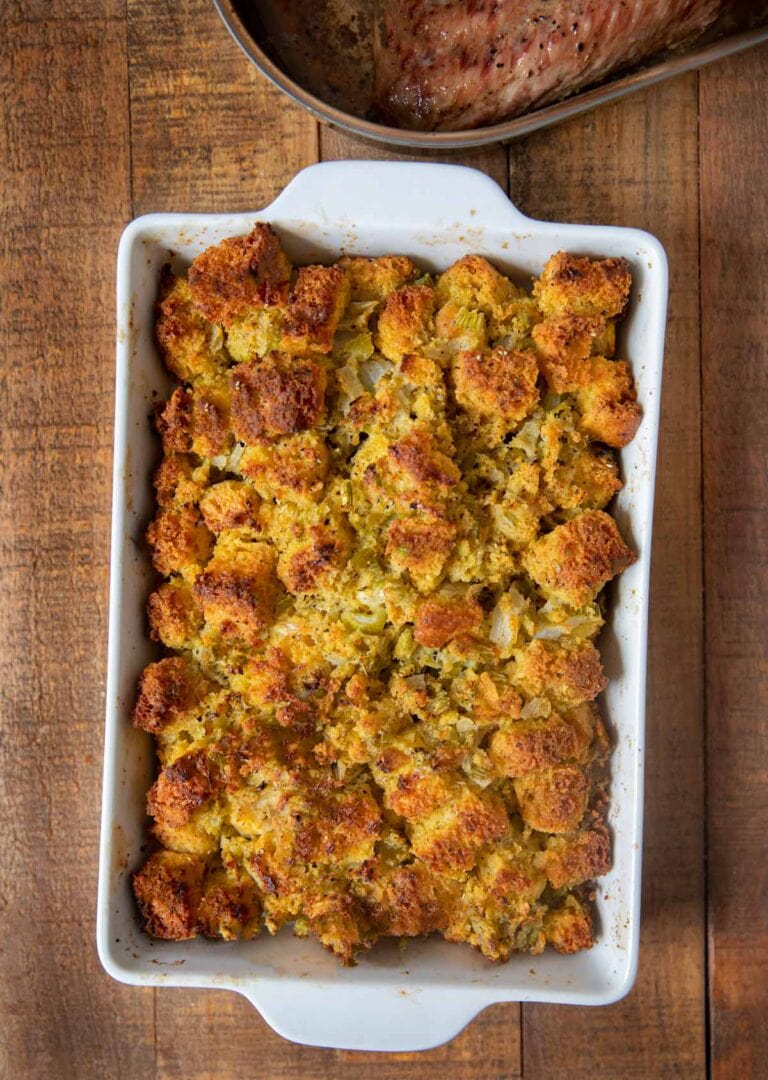 Ingredients
2

tablespoons

butter

, plus more for baking dish

1

yellow onion

, finely chopped

3

stalks

celery

, finely chopped

1

cup

chicken broth

1/4

cup

whole milk

2

teaspoons

rubbed sage

1

teaspoon

dried thyme

1

teaspoon

kosher salt

1/2

teaspoon

coarse ground black pepper

2

large eggs

6

cups

cornbread

, recipe, cut into 1-inch cubes
Instructions
Preheat oven to 350 degrees. Grease a 13x9 baking dish with butter.

Melt 2 tablespoons butter in a large pan on medium heat.

Add celery and onions and stir, cooking until translucent, about

6-8 minutes

.

In a large bowl whisk together chicken broth, milk, sage, thyme, salt, pepper and eggs.

Add in the cornbread cubes and vegetables and toss gently until well coated.

Pour into baking dish and bake for

40-45 minutes

, until golden brown.
Nutrition
Calories:
513
kcal
|
Carbohydrates:
79
g
|
Protein:
11
g
|
Fat:
17
g
|
Saturated Fat:
7
g
|
Cholesterol:
120
mg
|
Sodium:
1214
mg
|
Potassium:
275
mg
|
Fiber:
4
g
|
Sugar:
24
g
|
Vitamin A:
417
IU
|
Vitamin C:
3
mg
|
Calcium:
213
mg
|
Iron:
3
mg