The best Texas Brisket Chili recipe without beans! Hearty Texas-style chili with tender beef brisket, layers of flavor and plenty of heat!
If you've tried a recipe for Texas Chili already, you'll love this version that replaces the ground beef with tender brisket. It's perfect for a weeknight Dinner Recipe or to make for your next chili cook-off.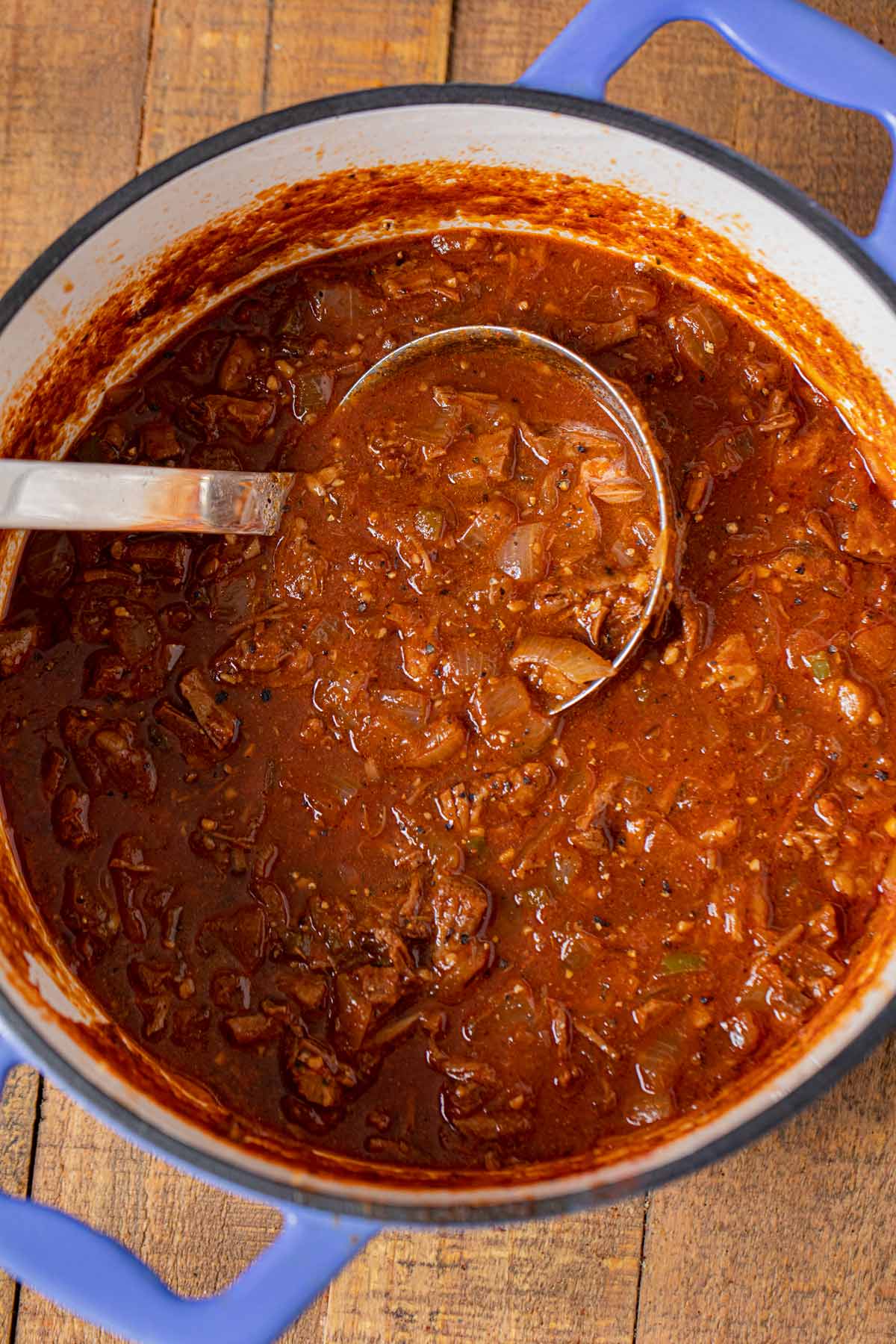 This Tex-Mex chili recipe is perfect to make the next time you have leftover Slow Cooker Beef Brisket. Although having leftovers for weeknight meals is super convenient, it can get boring eating the same meal twice in a week. Repurposing the brisket into an entirely new chili dish is the perfect way to take advantage of your remaining brisket and still have an entirely new dinner.
Texas Brisket Chili is a thick, rich chili that's just as filling with no beans, and perfectly flavored with paprika, cumin, onion, and jalapeno. This hearty dish is especially great to serve up on colder nights. It's warm, filling, and full of comforting flavors. Top it with some shredded cheese and serve it with big pieces of Cornbread for the ultimate winter meal.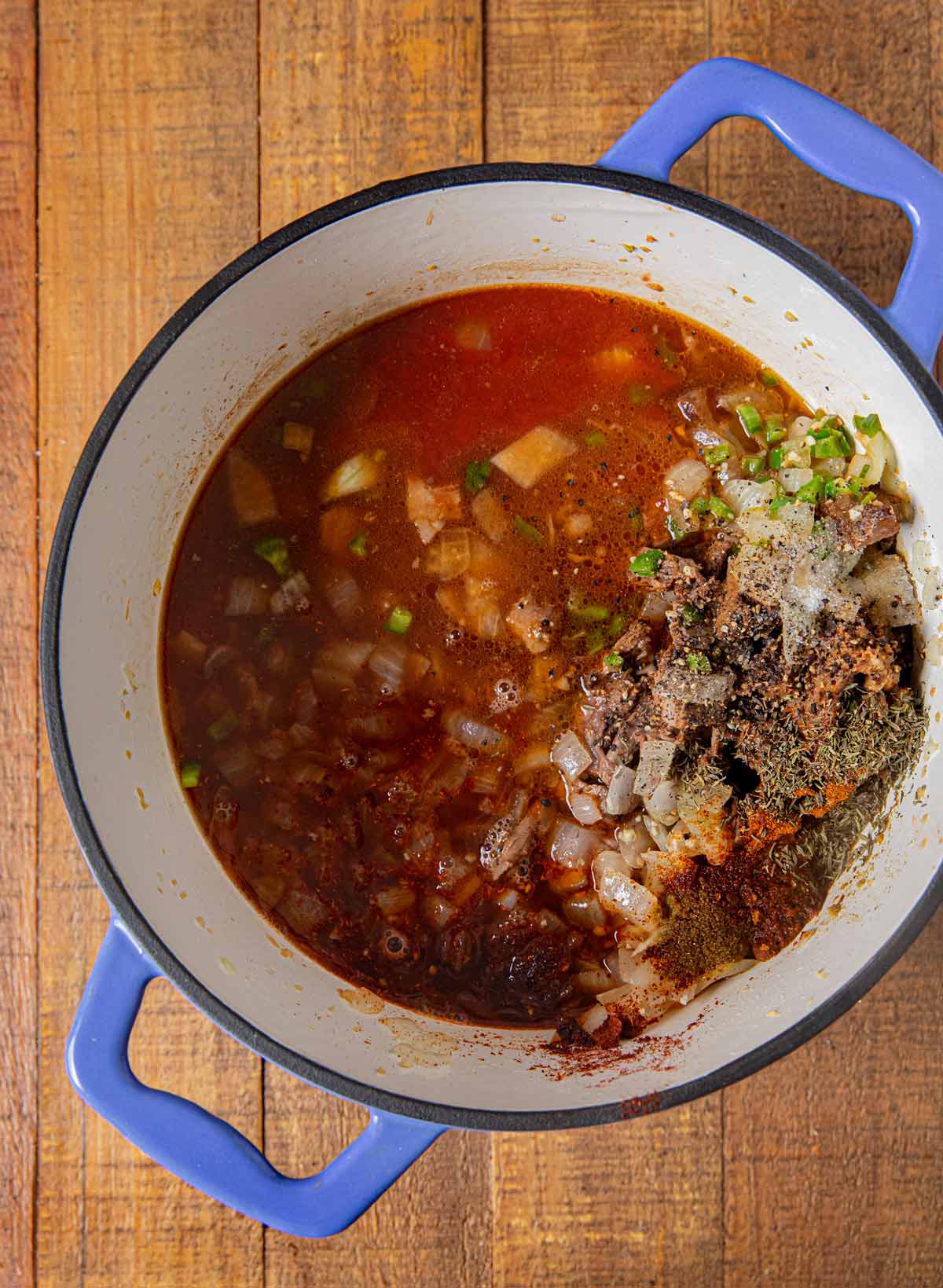 This delicious chili, sometimes known as Cowboy Chili, is an authentic southern dish. There is however some disagreement on what actually makes chili a Texas Chili. Most everyone can agree that Texas Brisket Chili doesn't have beans. Instead of beans, all of its flavors come from the chili, spices, and meat surrounding it.
Texas Brisket Chili also doesn't have any tomato sauce in it. Some people insist it shouldn't have any tomatoes in it whatsoever. There are crushed tomatoes in this chili recipe, but if you'd prefer to leave them out you're more than welcome to. Though every cook has a slightly different way to make Texas Chili, pretty much everyone can agree it's one of the most flavorful chili dishes you can make!
What is the difference between Texas Chili and other Chili recipes?
Texas Chili, also known as Texas-style chili or chili con carne, differs from Classic Chili recipes in a few distinct ways. It does not include beans, just beef as a nod to Texas ranching culture. Texas Chili incorporates a blend of chili peppers, toasted and ground into a paste or powder, giving it a deep and complex taste. It is known for its robust and spicy nature, achieved through the use of hot chili peppers and spices like cumin and cayenne. It's traditionally cooked slowly, allowing flavors to develop and meat to become tender.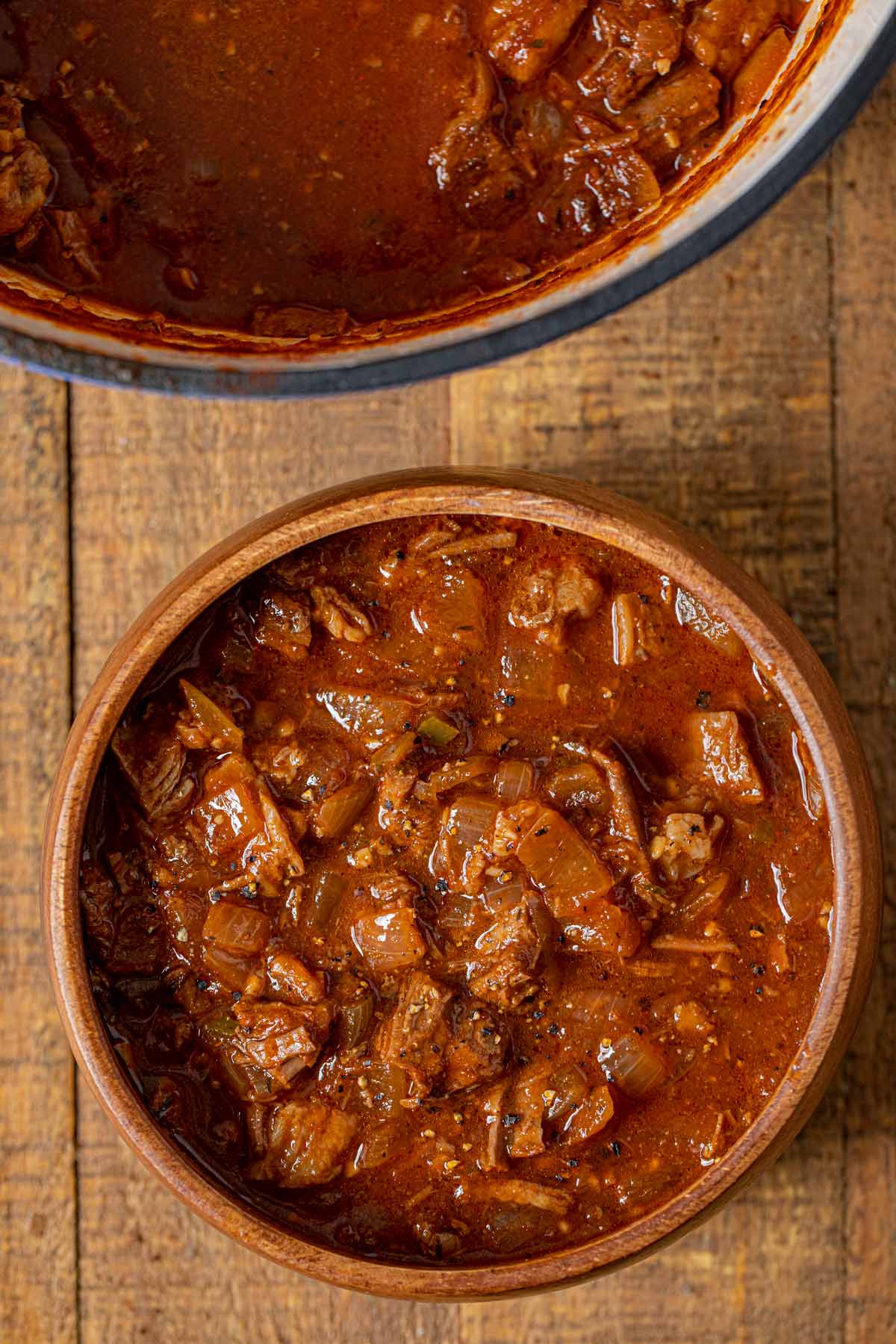 How to Make Texas Brisket Chili
Base: Heat the oil in a stock pot or dutch oven over high heat. Once the oil is hot, add the onions and jalapenos and cook until onions are soft and translucent.
Combine: Stir the garlic, chili powder, cumin, salt, and black pepper and let cook until fragrant, about 30 seconds. Add the tomatoes with juice, beef broth, and beef brisket pieces and stir well to combine.
Cook: Bring the pot of chili to a boil. Reduce to medium heat and simmer for 2 hours, stirring occasionally. Serve bowls of chili with toppings like cheddar cheese, green onions, and sour cream.
FAQs for Texas Brisket Chili
How do you thicken chili?
One way is to simmer the pot of chili uncovered, allowing the liquid to evaporate and naturally thicken. Another option is to add a thickening agent such as cornstarch or a corn masa slurry, which is a mixture of corn masa flour and water, stirring it into the chili and simmering for a few more minutes until desired thickness.
Why don't Texans put beans in chili?
The absence of beans in traditional Texas chili can be attributed to historical and cultural factors. Texans adhere to the belief that true chili should focus on the flavors and textures of meat and spices without the addition of beans. This preference aligns with the state's ranching heritage and the emphasis on showcasing the quality and taste of beef in their chili recipes.
What makes Texas brisket different?
Texas brisket is known for its unique cooking method and distinct flavor. It is traditionally slow-smoked over hardwood for hours, allowing the fat to render and infuse the meat with a smoky flavor. The result is tender, melt-in-your-mouth beef with a signature crust known as the "bark," making Texas brisket a prized delicacy among barbecue enthusiasts.

Create a free account to

Save Recipes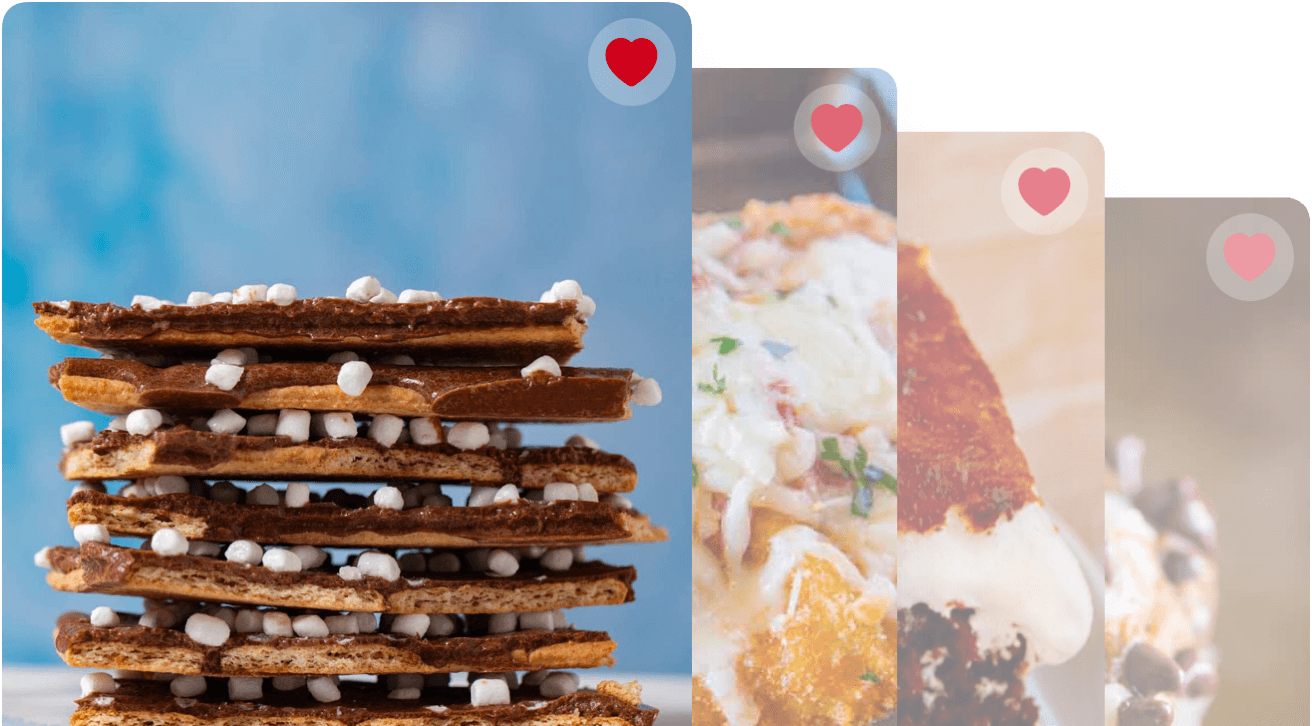 Key Ingredients
Spice Blend: This flavorful blend consists of chili powder, paprika, cumin, kosher salt, and coarse ground black pepper. The combination of these spices adds heat, smokiness, earthiness, and a well-balanced savory taste to the chili.
Vegetable oil: Used for sauteing the onions, jalapeno, and garlic, the vegetable oil helps distribute heat evenly and adds a little fatty moisture to the chili.
Aromatics: Diced yellow onions provide a sweet and savory flavor profile, while fresh garlic cloves add a pungent aromatic flavor.
Jalapeno: Minced jalapeno peppers bring a spicy kick to the chili, infusing it with heat. You can adjust the heat level with more or less peppers. Also, the seeds have the bulk of the heat.
Crushed Tomatoes: These crushed tomatoes provide a tangy, robust base for the chili. You want to add the tomatoes with juice so the broth isn't too thick.
Beef Broth: The beef broth brings out the beefy flavor of the meat for a richer depth of flavor. You want to use a good quality beef stock, like a beef stock concentrate, for maximum flavor.
Beef Brisket: The star ingredient of this recipe, the beef brisket, is first cooked and then chopped before being added to the chili. Known for its tenderness and robust flavor, brisket makes this excellent bean-less chili hearty and filling. Slow cooking the brisket allows it to become fork-tender and allows the flavors to meld together, resulting in a deliciously flavorful chili.
Can Texas Brisket Chili be made ahead of time?
Yes, you can make Brisket Chili ahead of time! When you cool down and rewarm chili, it actually gets even more flavorful and richer. Cool the pot of chili down completely then cover with the lid and refrigerate 1-2 days. Reheat over medium-high heat, stirring occasionally and serve as usual. The beef brisket also needs to be made ahead of time, so plan a day or two in advance of when you want to serve your chili.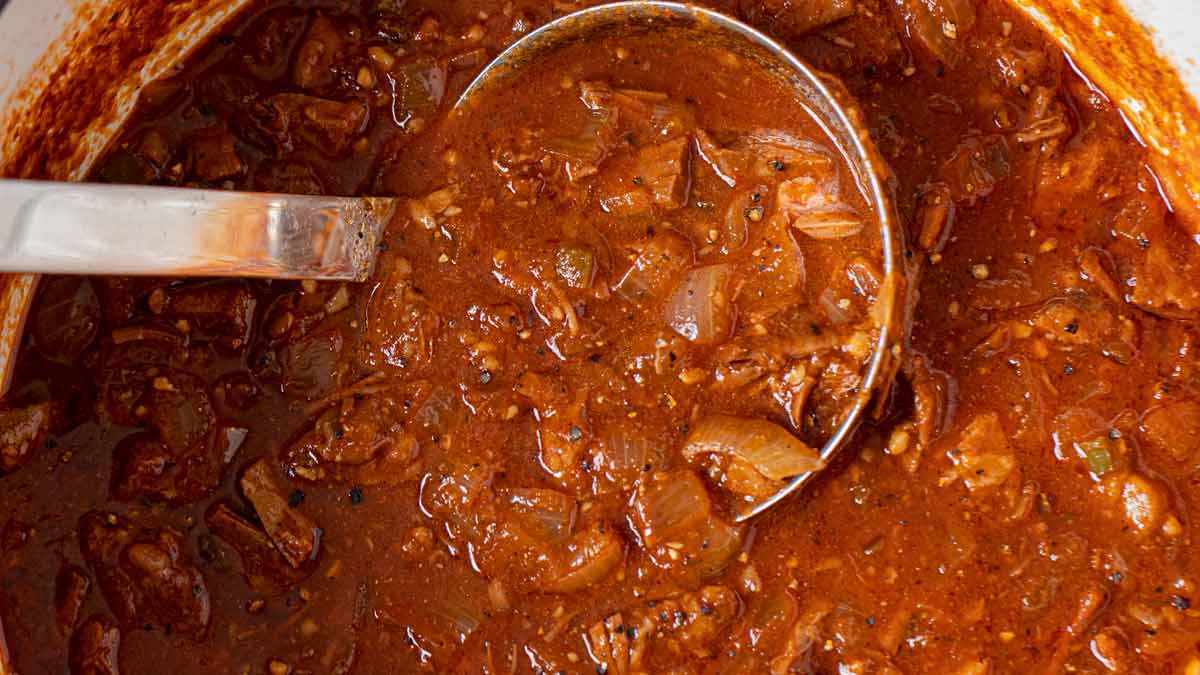 Variations
Meat: You can use essentially any kind of cooked brisket you have for Brisket Chili. Try using smoked brisket, slow-cooked brisket, or oven cooked brisket. You can also make Texas Chili with pork shoulder or ground beef.
Peppers: Give your Texas Chili seasoning some pep with spicy chile peppers. Guajillo, ancho chile, chipotle chiles or fire-roasted peppers would all make great additions to this chili recipe. For a mild chili, use green chiles like Anaheim peppers or hatch green chiles.
More add-ins: Some other add-ins to try in your chili are chipotle peppers in adobo sauce, bell pepper, red pepper flakes, oregano, fire-roasted tomatoes, or a little brown sugar. You can also serve it with classic chili toppings like corn chips, cheese, and sour cream.
Chocolate: You can give this delicious chili a mole flavor by adding some chocolate chips and hotter chilis like dehydrated guajillo chile peppers and ancho chile peppers. You want to rehydrate the chile peppers in additional beef broth then drain chiles and blend them with the chocolate chips. Add the chocolate chili paste with the other Texas chili seasoning.
Instant Pot Texas Brisket Chili
Start by setting your Instant Pot to Saute mode. Add in oil to the base.
Put the onions and jalapenos in the pot and cook until fragrant and translucent.
Add the garlic, paprika, chili powder, cumin, salt, pepper, crushed tomatoes, beef broth, and the cooked brisket.
Stir all the ingredients together.
Seal the lid and pressure cook on Manual High Pressure for 50 minutes. (Do not use the Chili setting)
Allow the pressure to release naturally for 10 minutes then manually release it.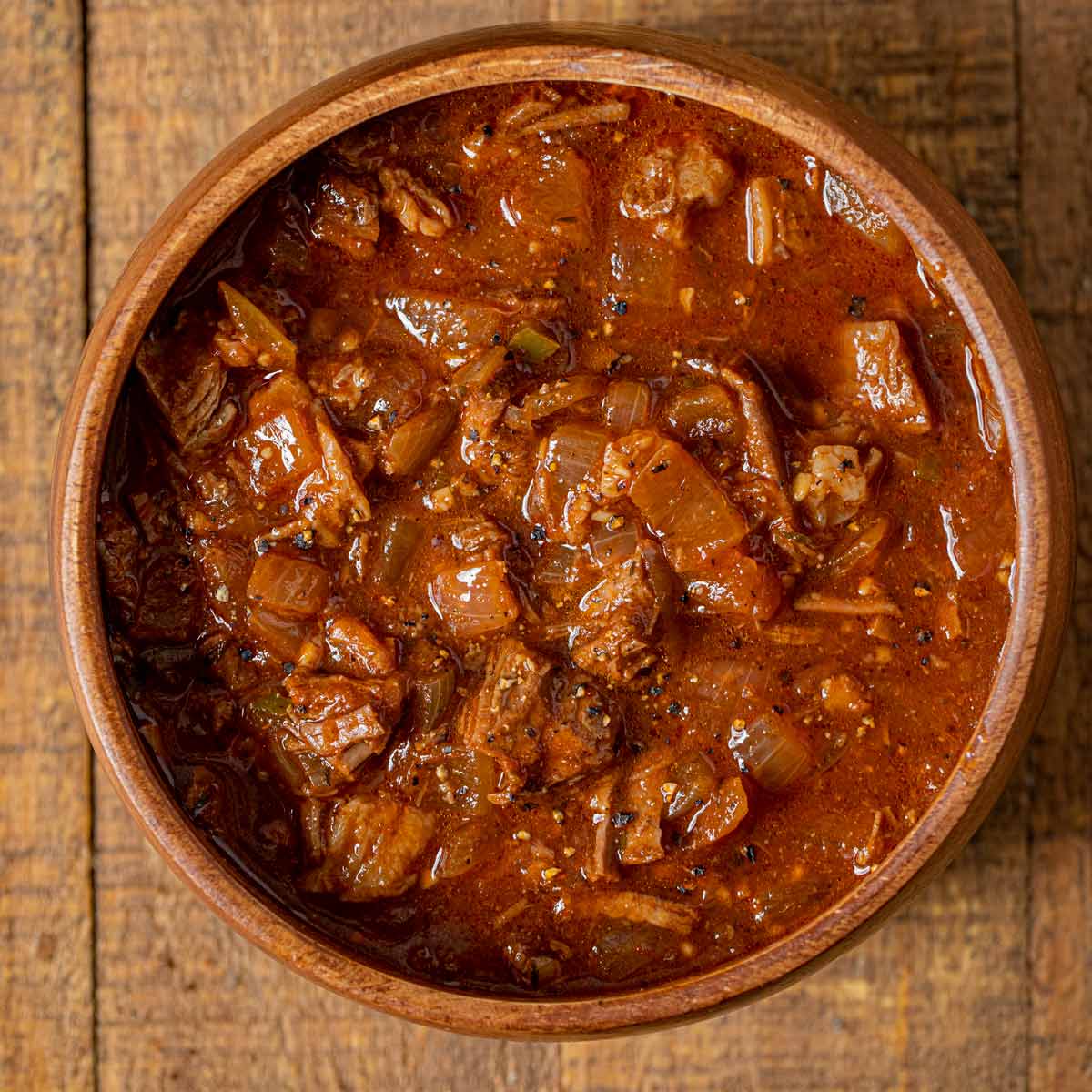 More Delicious Beef Chili Recipes
How to Store
Serve: Don't leave Texas Chili at room temperature for more than 2 hours.
Store: Let the chili cool down before you store it in a sealable bag or another airtight container. You can keep chili in the fridge for up to 3 days before it goes bad.
Freeze: Keep Texas Chili in the freezer for up to 4 months. When you want to reheat the chili let it first defrost in the fridge overnight. Once it's thawed you can reheat all of it on the stovetop in a large pot or dutch oven, or you could reheat a serving in the microwave.


Ingredients
2

tablespoons

vegetable oil

1

yellow onion

, diced

1

jalapeno

, minced

3

cloves

garlic

, minced

1/4

cup

chili powder

2

tablespoons

paprika

1

tablespoon

cumin

2

teaspoons

Kosher salt

1/

teaspoon

coarse ground black pepper

28

ounces

crushed tomatoes

4

cups

beef broth

3

pounds

beef brisket

, cooked and chopped
Instructions
Add oil to a large pot or dutch oven on high heat.

Add onions and jalapeno and cook for

4-5 minutes

, until translucent.

Add in garlic, chili powder, paprika, cumin, salt, pepper, crushed tomatoes, beef broth, and cooked brisket and stir well.

Bring to a boil, then reduce heat to medium and simmer for

2 hours

, stirring occasionally.
Nutrition
Calories:
370
kcal
|
Carbohydrates:
14
g
|
Protein:
40
g
|
Fat:
18
g
|
Saturated Fat:
8
g
|
Cholesterol:
105
mg
|
Sodium:
1418
mg
|
Potassium:
1139
mg
|
Fiber:
5
g
|
Sugar:
6
g
|
Vitamin A:
3296
IU
|
Vitamin C:
13
mg
|
Calcium:
90
mg
|
Iron:
7
mg