Spicy Mexican Cornbread is fluffy, buttery, and full of flavorful ingredients like cream-style corn, green chilis, cheese, and cayenne.
This Spicy Mexican Cornbread recipe has an extra kick to it and is just as wonderful a Side Dish as Traditional Cornbread. Perfect to serve with Classic Beef Chili or Easy Beef Taco Chili.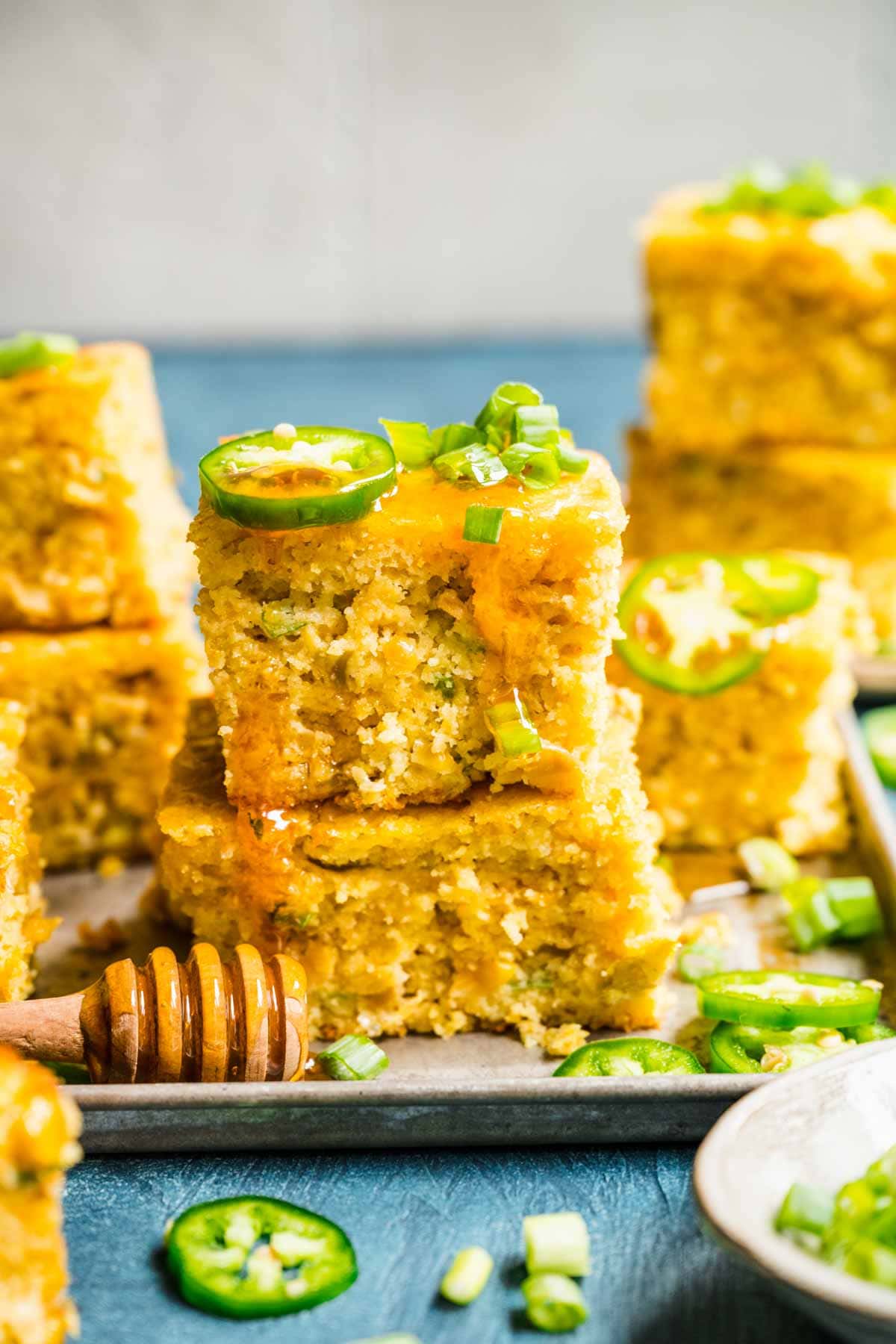 This Spicy Mexican Cornbread recipe is an excellent Autumn side dish. You can serve it with any number of Soup and Chili Recipes. Cornbread is great to dip into chili and let it soak up the flavorful sauce. This recipe is packed with even more flavor due to the spicy chilis and cayenne pepper throughout.
It's an easy Mexican take on classic cornbread that's impossible to get enough of. Your whole family is sure to love the slightly spicy taste and tender breading of this Mexican Cornbread Recipe. There's also shredded cheddar cheese and cream-style corn throughout making for a Cheesy Mexican Cornbread that's melty and stringy as you pull it apart.
This Mexican Style Cornbread is also wonderfully easy to make. The prep time is only 10 minutes and even with the baking, the total time for the Easy Mexican Cornbread is 45 minutes. It's simple to make and store, and unbelievably tasty. Spicy Mexican Cornbread is sure to become a new favorite dish in your household.
More Cornbread Recipes
Key Ingredients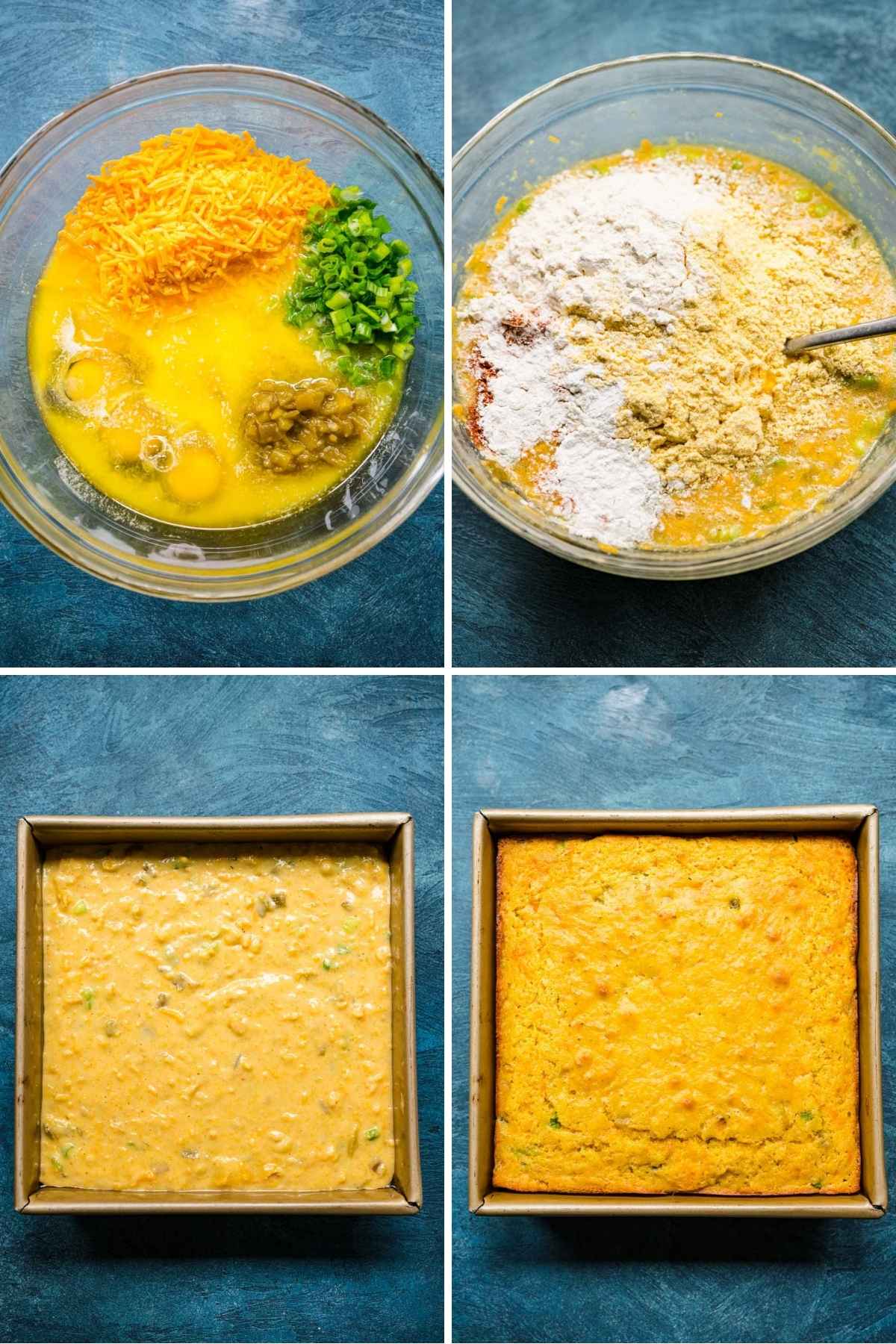 How to Make Spicy Mexican Cornbread
Prep: Start by preheating your oven to 350 degrees. Then use nonstick cooking spray on an 8×8 inch baking pan to make sure the cornbread doesn't stick to the pan.
Batter: In a large bowl whisk together melted butter, sugar, eggs, creamed corn, chopped green chili peppers, green onions, and shredded

cheddar

cheese. Continue mixing the wet ingredients until the ingredients are well combined. Sift in the flour, cornmeal, baking powder, salt, and cayenne pepper. Mix until just combined, but do not overmix.
Bake: Pour the cornbread batter into the prepared baking pan or cast-iron skillet. Bake for 35-40 minutes. Once the timer goes off, put a toothpick in the center of the Mexican Cornbread and check to see if it comes out clean. When it comes out without any batter on it, you can take the bread from the oven and serve it.
Key Ingredients
Canned Cream-Style Corn: You'll see cream-style corn in the canned food aisle of your grocery store. Any brand will do, but choose one that you enjoy eating. It will provide some creaminess and the chunks of corn bring texture and a nice corn flavor essential for delicious Cornbread.
Canned Chopped Green Chilis: Grab the green chilis in the canned food aisle while you're there getting your cream-style corn. These canned green chilis have a mild, spicy, and delicious flavor. You can buy them already diced, which will save you the time chopping them in the kitchen. Be sure to drain them before you mix them into your dough. You don't want the extra liquid making everything too watery.
Sliced Green Onions: Slice your green onions when ready to make Spicy Mexican Cornbread for a fresh, mild spice throughout. The green color will pop, showing everyone that you've got wonderful flavor in each bite of the Cornbread.
Cayenne Pepper: Another element to bring some spice to this Cornbread, cayenne pepper will add a unique punch that's pretty different from the spice of the chilis and green onions.
Cheddar Cheese: Cheese goes so well with sweet, fluffy cornbread. Cheddar cheese, especially goes well with the Spicy Mexican Cornbread to bring that creamy, slightly sharp, cheesy flavor to balance out the spices. For more ideas about cheese variations, keep reading below in the post.
Yellow Cornmeal: Cornmeal will give you that sweet, comforting flavor of corn throughout your Cornbread, and of course it serves as the base of your Cornbread.
Baking Powder: In order for your Cornbread to rise, and have a pleasant, fluffy texture, you'll add some baking powder along with the other dry ingredients.
Sugar and Salt: Corn is naturally a bit sweet, so adding some sugar to your Cornbread will ensure that sweet flavor runs throughout your bread. Then, adding the salt will balance out the sweetness, and spiciness of Spicy Mexican Cornbread. It will also enhance the flavor of the Cheddar Cheese.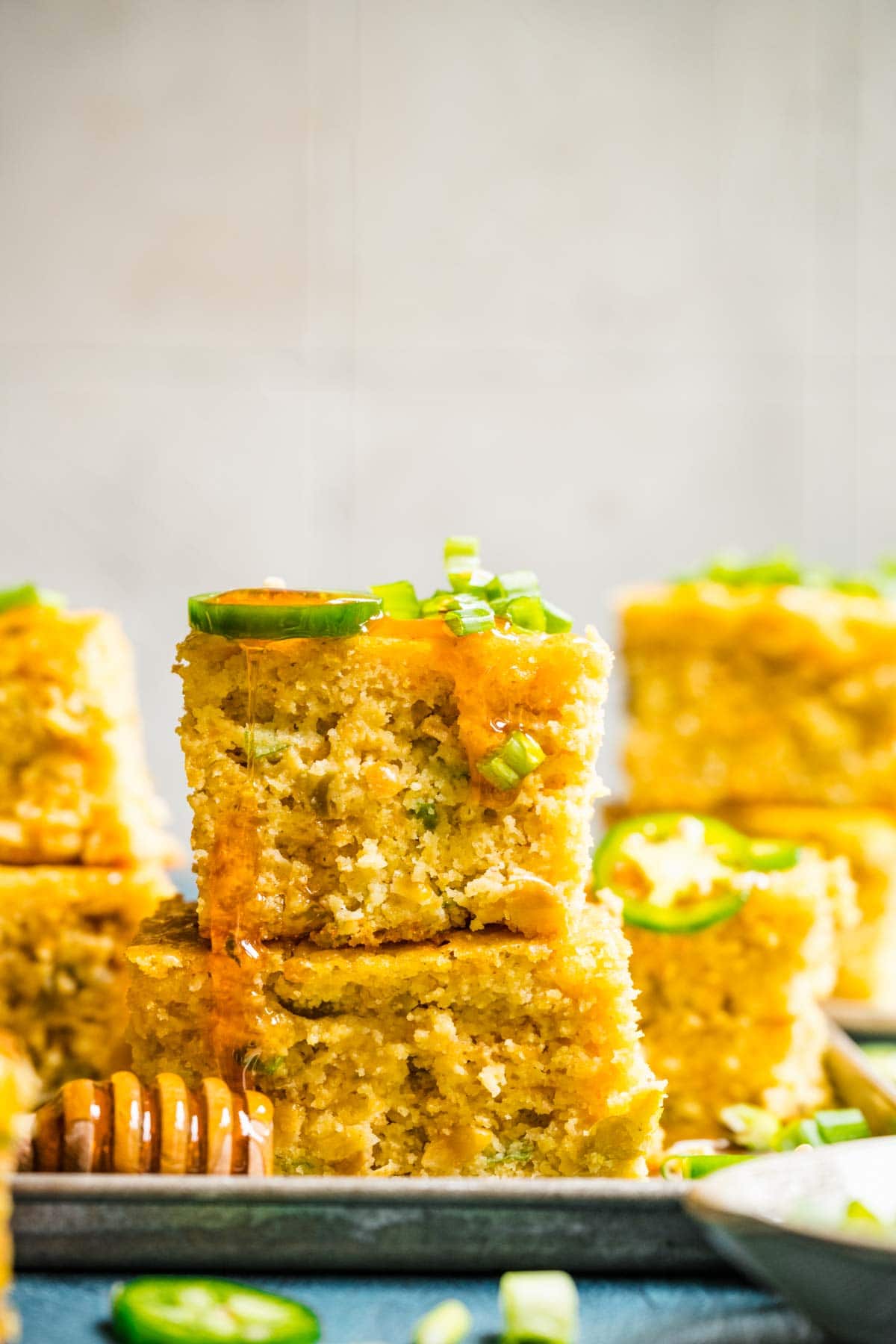 Create a free account to Save Recipes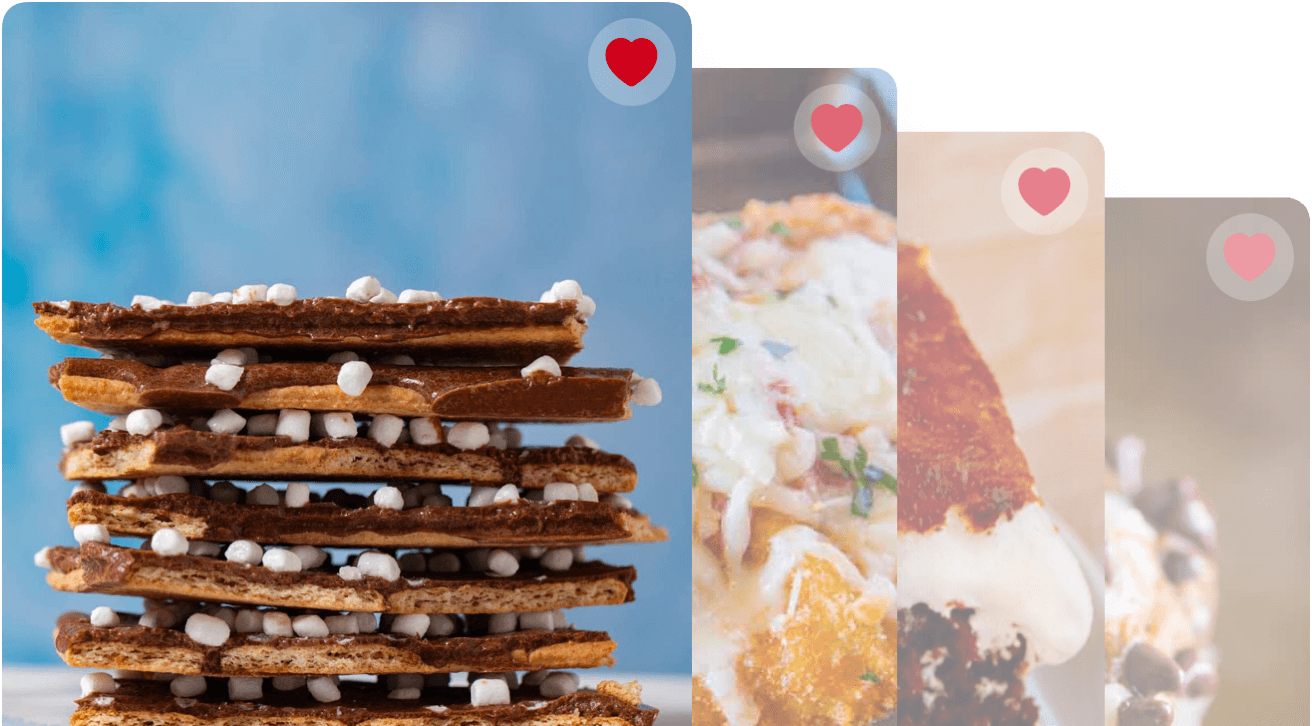 Frequently Asked Questions
Should the cream-style corn be drained before adding into the Cornbread?
Go ahead and pour the whole can of cream-style corn into this Spicy Mexican Cornbread recipe. Do not drain any of the liquid out. You want all of that creamy goodness to add moisture to your batter.
What is the difference between yellow cornmeal and white cornmeal?
Obviously the most noticeable difference between white and yellow cornmeal is the color. They are each made from either white corn, or yellow corn. Yellow cornmeal gives your Cornbread that classic yellow color so it's a great choice in this recipe. As for the taste, yellow cornmeal contains beta carotene which can bring a slightly richer flavor.
What can I add into Mexican Cornbread?
Try mixing in different ingredients to add some alternative flavors to the recipe. Green onions, bell peppers, cilantro, cloves, cumin, garlic powder, or other seasonings could make great additions to Mexican Cornbread. For more ideas check out the recipe variations in this post.
Variations on Spicy Mexican Cornbread
Spices: There are other spicy ingredients you can use in your Cornbread recipe instead of green chilis and cayenne pepper. Try mixing in chopped jalapeno, paprika, or even a dash of Sriracha sauce.
Cheese: Instead of cheddar you can try mixing in other kinds of cheese. Pepper Jack Cheese, Gouda, Swiss, or Monterey Jack will all work great.
Sugar Substitutes: Instead of granulated sugar, you can try using honey, brown sugar, or maple syrup in this recipe.
Gluten Free: You can also make your corn bread with different kinds of flour. Use wheat flour for some extra nutrients or almond flour for a gluten-free recipe.
Meat Additions: Brown some ground beef or sausage in a skillet and mix it into the recipe for more filling corn bread and ground beef recipe.
Recipes to Serve with Cornbread
How to Store Spicy Mexican Cornbread
Serve: To make sure the cornbread stays moist and soft, don't leave it at room temperature for more than a few hours or it will start to go stale. To keep it fresh at room temperature put the cornbread in an airtight container, and it will last for 1-2 days.
Store: Once the recipe is cooled to room temperature you can put it in an airtight container to store in the fridge for up to a week.
Freeze: To freeze the Mexican Cornbread wrap it tightly in plastic wrap or aluminum foil. It will keep well for 2-3 months.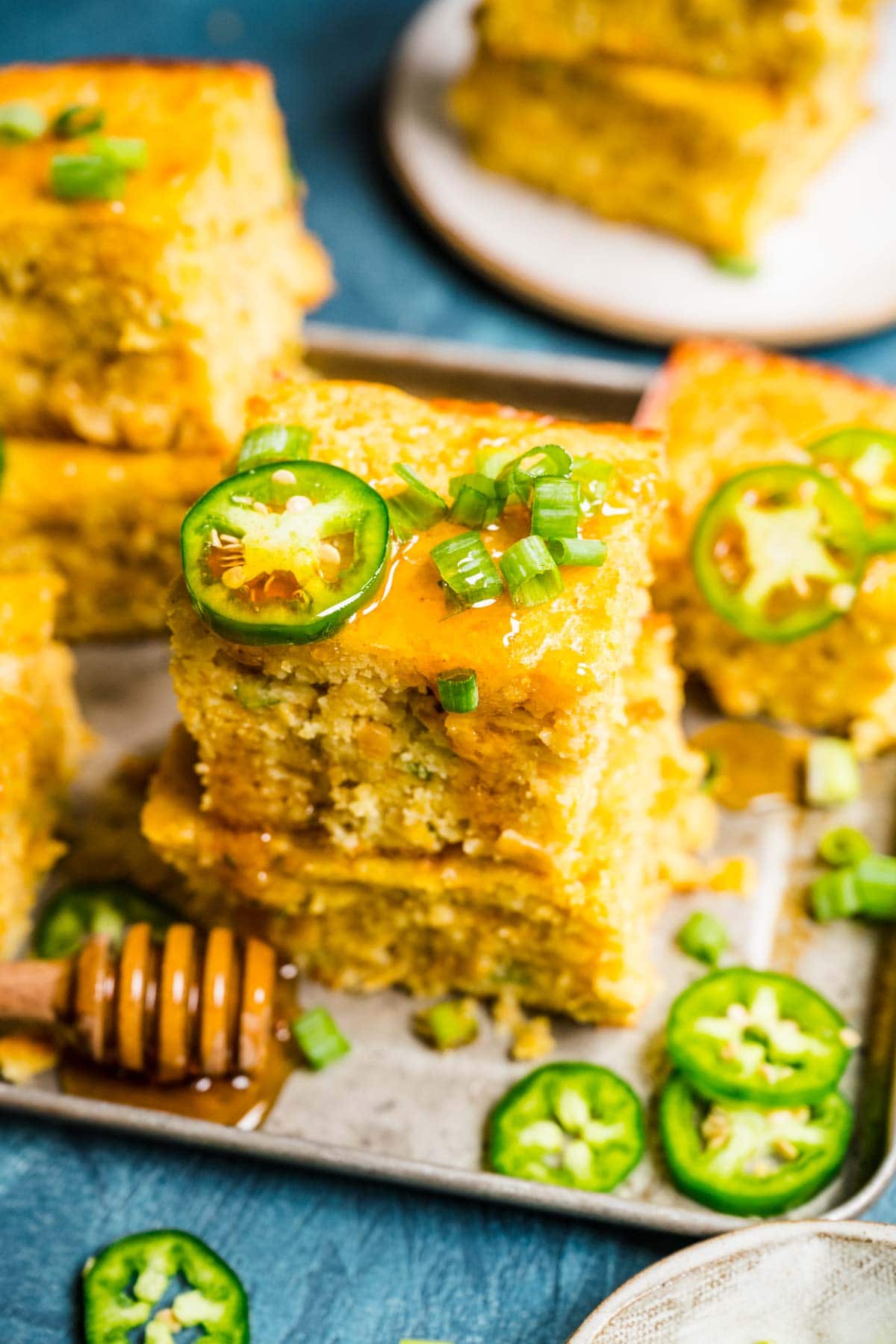 Ingredients
1/2

cup

unsalted butter

, melted

1/2

cup

sugar

4

large eggs

15

ounces

canned cream-style corn

4

ounces

canned chopped green chili peppers

, drained

1/4

cup

green onions

, sliced

1

cup

cheddar cheese

, shredded

1

cup

flour

1

cup

yellow cornmeal

4

teaspoons

baking powder

1/4

teaspoon

salt

1/4

teaspoon

cayenne pepper
Instructions
Preheat oven to 350 degrees and spray an 8×8 inch baking pan with baking spray.

Whisk together butter, sugar, eggs, creamed corn, chopped green chili peppers, green onions, and cheddar cheese until well combined.

Add in the flour, cornmeal, baking powder, salt, and cayenne and whisk until just combined.

Pour into baking pan and bake for

35-40 minutes

or until a toothpick comes out clean.
Nutrition
Calories:
275
kcal
|
Carbohydrates:
33
g
|
Protein:
7
g
|
Fat:
13
g
|
Saturated Fat:
7
g
|
Polyunsaturated Fat:
1
g
|
Monounsaturated Fat:
4
g
|
Trans Fat:
0.3
g
|
Cholesterol:
84
mg
|
Sodium:
367
mg
|
Potassium:
138
mg
|
Fiber:
2
g
|
Sugar:
10
g
|
Vitamin A:
474
IU
|
Vitamin C:
2
mg
|
Calcium:
161
mg
|
Iron:
1
mg