Honey Cornbread is a quick, simple recipe for homemade cornbread from scratch made with sweet honey and cream. Tender, rich, sweet cornbread!
If you've ever added delicious honey butter to classic Cornbread you already know how tasty that buttery sweetness can be. This quick Bread recipe adds real honey straight into the batter for the best sticky, sweet homemade cornbread recipe your whole family will love.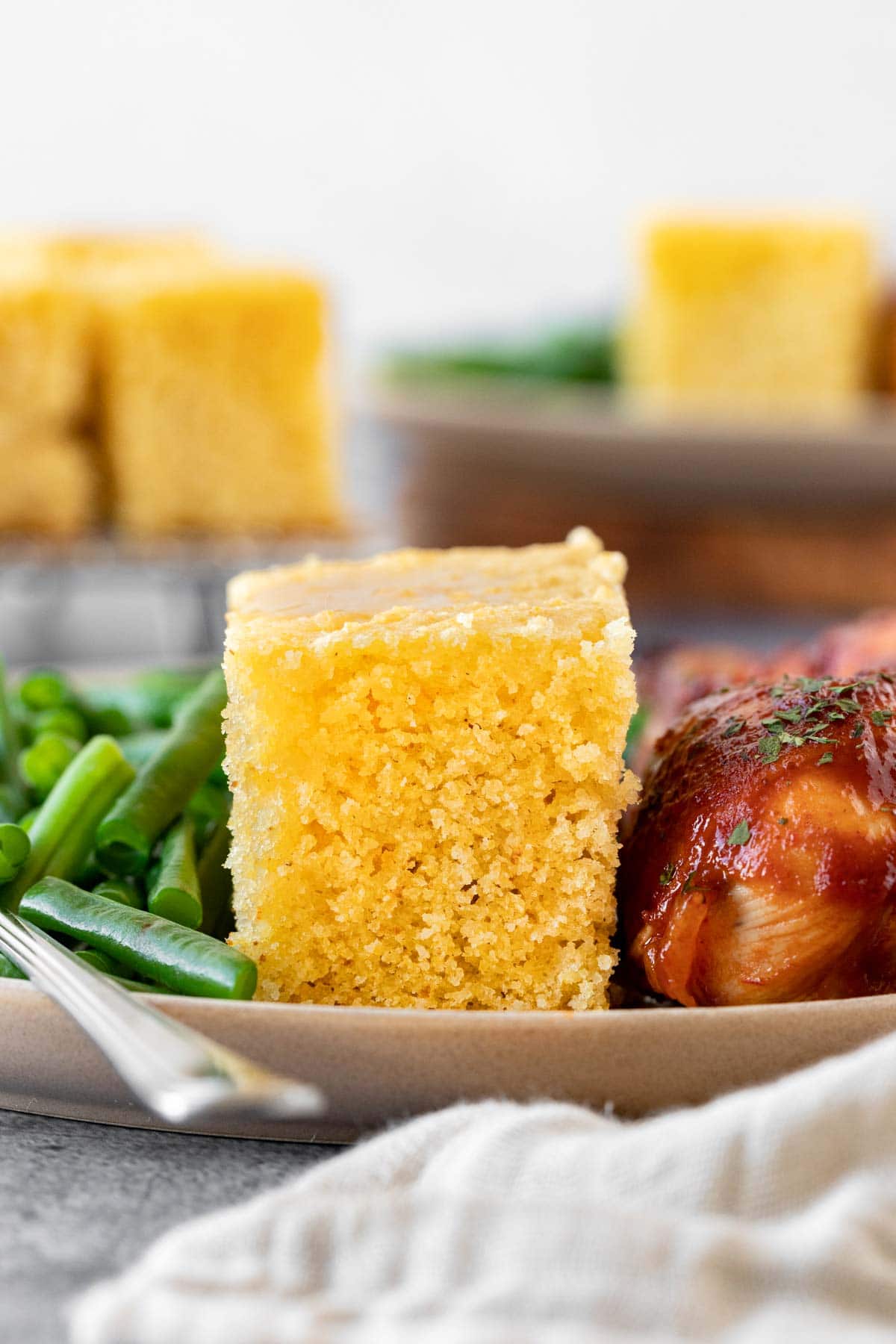 Cornbread is the ultimate pairing for a traditional chili dinner. The sweetness in Honey Cornbread makes it the perfect complement to Beef Chili, Beef and Beer Chili, or even White Chicken Chili. The added sugar from the honey and granulated sugar make a nice contrast to the rich, savory spices. It's especially great if you make your chili on the spicy side. When you start to feel the heat just take a bite of Honey Cornbread for a creamy, sweet relief.
Honey Cornbread isn't just for chili though, it can pair with pretty much any comforting weeknight meal. The tender, soft sweet cornbread with crispy edges goes just as good with saucy sweet dishes like Pulled Chicken and rich and cheesy casseroles as it does with spicy, warm chili recipes. You can even enjoy it by itself for breakfast. Just pop a slice or two in a hot skillet with melted butter for pan-fried cornbread bread with extra crisp edges and a sweet buttery center that just melts in your mouth!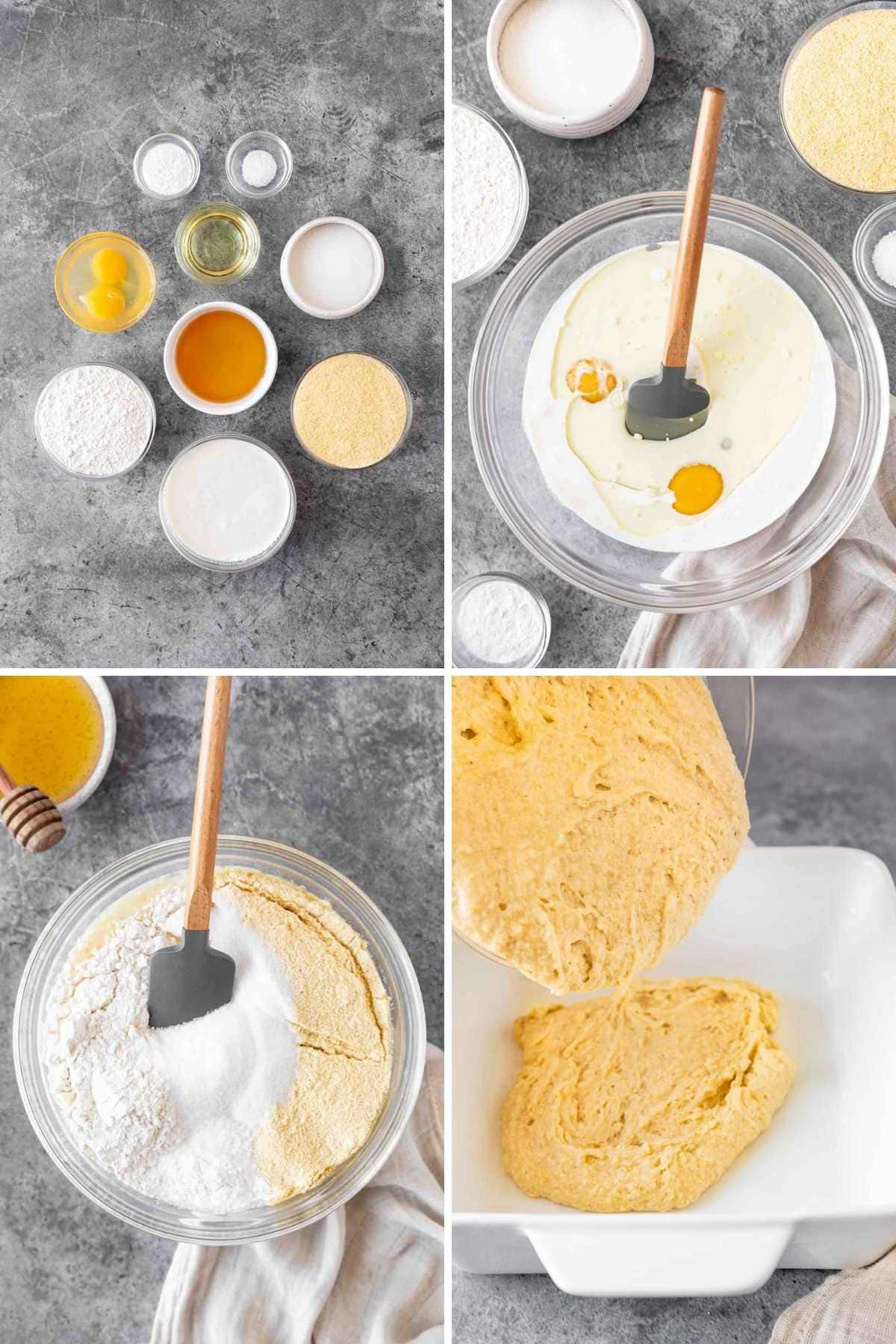 What is the difference between Southern and Sweet Cornbread?
Southern cornbread is savory cornbread and much less sweet, made with coarser cornmeal and often served as a side dish. Sweet cornbread, on the other hand, is softer, moister, and sweeter due to the addition of sugar or honey. It is enjoyed as a standalone treat or with soups and stews.
How to Make Honey Cornbread
Prep: Start by preheating your oven to 400 degrees and spraying your baking dish with nonstick spray. It's important to remember this step or the cornbread will cook and stick to the bottom of the pan and get stuck.
Batter: Whisk together the heavy cream, vegetable oil honey, and eggs in a large bowl. Keep whipping the wet ingredients together until they're smooth. Sift in the flour, cornmeal, sugar, baking soda, and salt. When you mix in the dry ingredients, don't overmix. Only stir until just combined.
Bake: Pour the Honey Cornbread batter into your prepared baking dish. Cook for 25 to 30 minutes. Check the top of the cornbread as it's cooking and check to see if it's done when it starts to become slightly golden brown. Put a toothpick in the center of the cornbread to check if it's done. If the toothpick comes out clean, take the cornbread out of the oven and let it sit for 10 minutes to cool. After 10 minutes, cut the cornbread into squares and serve.
The Best Ever Chili Recipes
FAQs for Honey Cornbread
Is cornbread a cake or bread?
Cornbread is generally considered a quick bread rather than a cake. It is made primarily from cornmeal instead of flour, and is typically savory rather than sweet. However, types of sweeter cornbread exist, like this Sweet Honey Cornbread, with a cake-like texture, blurring the line between bread and cake. 
What is the secret to moist cornbread?
The secret to moist cornbread lies in the balance of moisture-adding ingredients and not over-mixing them with the dry ingredients. Ingredients like heavy cream, oil, eggs and honey in the recipe help to lock in the moisture. Just barely combining them traps air that steams as the bread bakes which causes your bread to be moist throughout.

Create a free account to

Save Recipes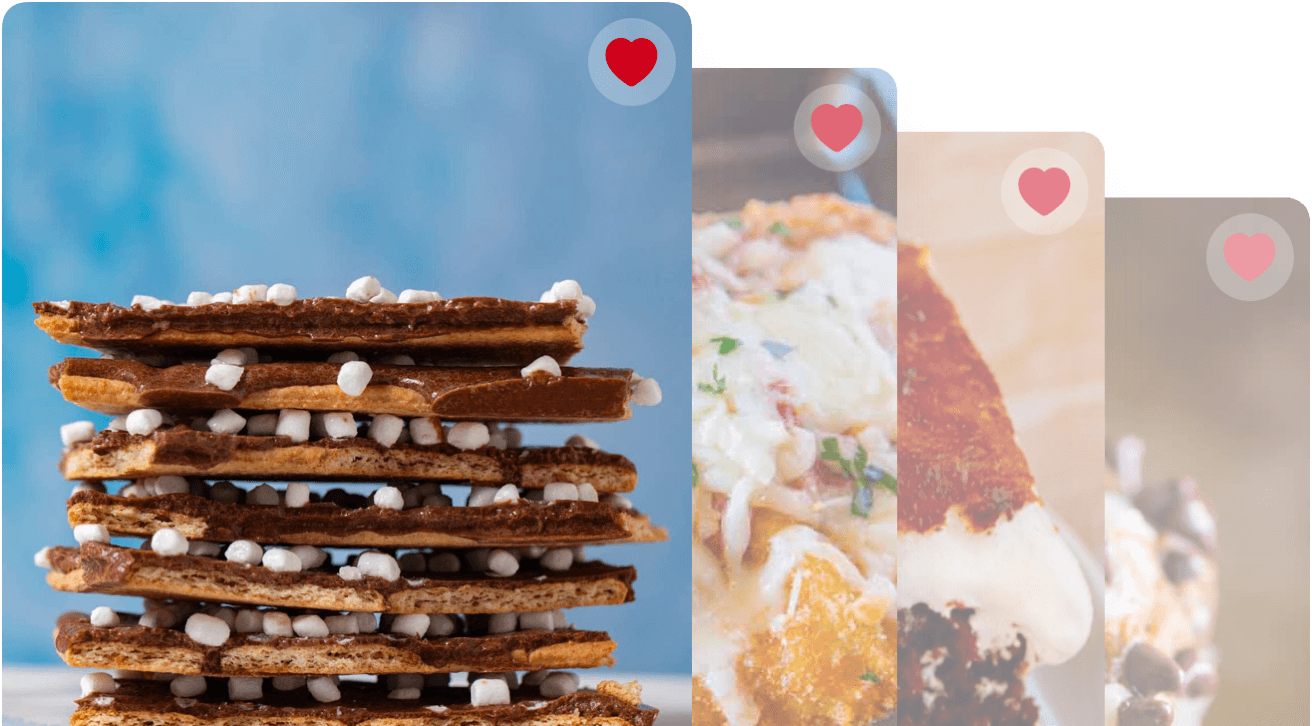 Key Ingredients
Cornmeal: Yellow cornmeal is the main ingredient in cornbread and gives it its distinct corn flavor and slightly gritty texture. It adds a pleasant crunch and contributes to the overall taste and appearance of the bread.
Honey: Normally cornbread is served with honey on top but this delicious Honey Cornbread has all that amazing flavor baked into it! Honey has a deeper sweetness that is also slightly floral and earthy so it pairs beautifully with both sweet and savory dishes.
Heavy Cream: Using heavy cream instead of milk adds a rich, creamy flavor that makes this sweet delicious cornbread simply melt in your mouth. For a similar richness with some tangy notes, use buttermilk instead of heavy cream.
Oil: Using oil will make your cornbread lighter and more tender than using butter, and it keeps your cornbread moist for longer. However, if you prefer that buttery taste, you can do a 1:1 swap using melted butter in place of the oil.
Flour: Cornmeal is a coarser grain that doesn't have any gluten so adding some flour makes the bread lighter and fluffier, with a softer crumb.
Sugar: Sugar adds a little extra sweetness without weighing the batter down too much. It compliments the honey flavor and it also helps form the caramelized, crispy edges.
Baking Powder: A good amount of baking powder is needed to balance out all the heavy moisture adding ingredients and the thick honey so it's not super dense.
Can Honey Cornbread be made ahead of time?
Yes, Honey Cornbread can be made ahead of time. You can bake the cornbread according to the recipe instructions, let it cool completely, and then store it in an airtight container or wrap it tightly in plastic wrap. It can be kept at room temperature for a day or two, or refrigerated for longer storage. When ready to serve, reheat it in the oven covered with foil, or slice up pieces and fry them in a hot cast iron skillet with butter!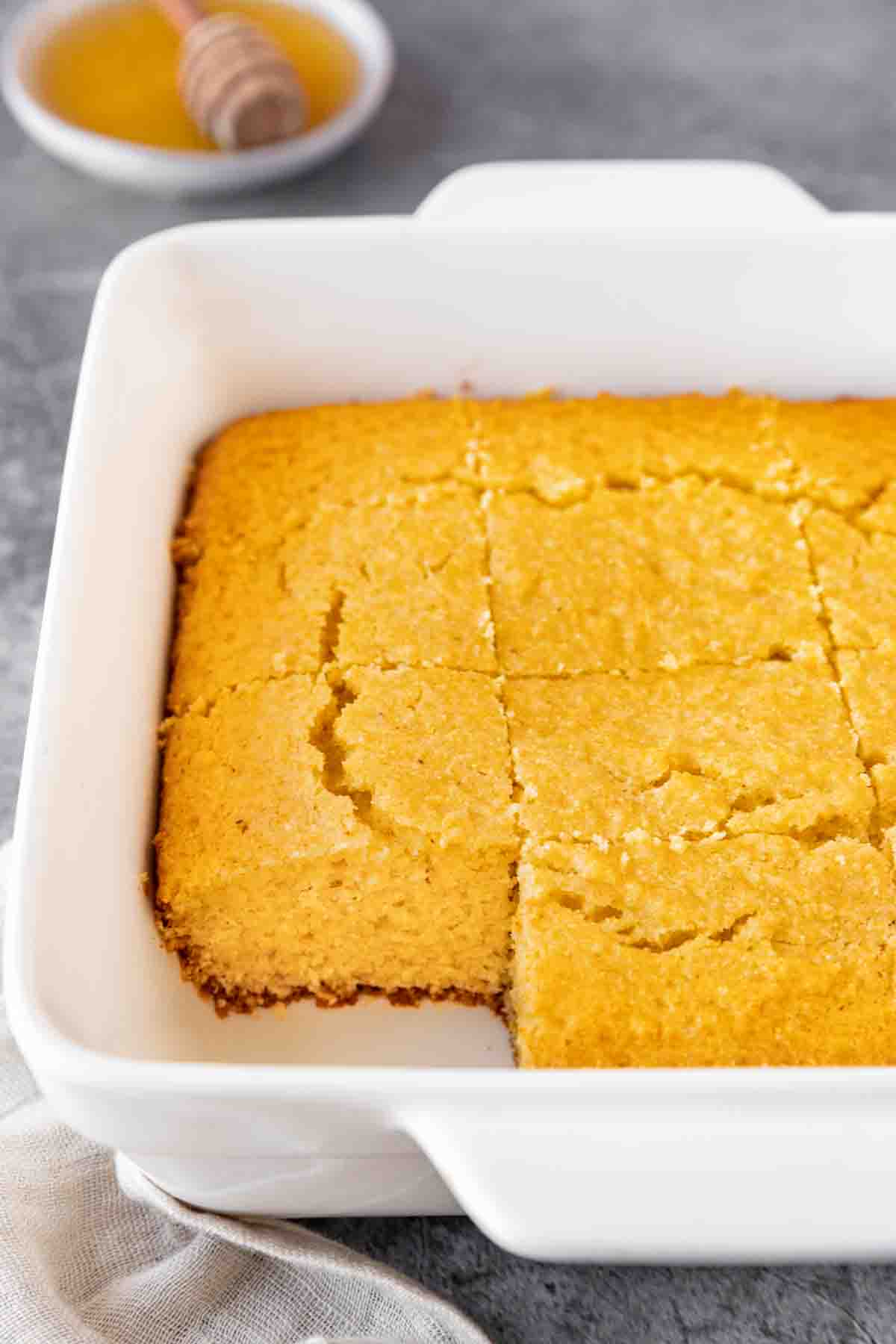 Variations
Sweetener: Instead of making Honey Cornbread, you can sweeten your cornbread batter with maple syrup or brown sugar. If you use brown sugar, swap it out for both the honey and the granulated sugar or use it with the honey.
Fruit: This might sound a little wild, but this sweet Honey Cornbread actually tastes amazing with some sweet, yet tart fruit added. Try peaches or blueberries in the summer or fresh cranberries in the fall for a delicious fruity bread.
Gluten Free: To make this cornbread friendly to a gluten-free diet, you'll just have to replace the all-purpose flour. Try using almond flour, oat flour, or arrowroot flour for gluten-free replacements. This is especially good if you're serving a big group and aren't sure what everyone's dietary restrictions are.
Hot Honey: For a hot honey flavor, add the honey, 2 teaspoons of hot sauce, and a pinch of cayenne pepper to a saucepan and bring to a simmer, stirring occasionally. Let cool and add to the cornbread batter.
Corn: Add some delicious texture to your cornbread with whole corn kernels. You can use either thawed frozen corn kernels or canned sweet corn kernels, just make sure to drain them well.
Cheese: For a Sweet and Cheesy Cornbread, add some shredded cheddar cheese or another cheese with a stronger flavor. The salty, cheddar cheese flavor will balance the sweetness and some melty, gooey goodness.
Cast Iron Skillet Cornbread
To make a tantalizing sweet, buttery Skillet Cornbread, you are going to swap ½ cup butter (not melted) for the ½ cup canola oil.
Preheat the oven as usual.
Heat a large cast iron skillet over medium heat with the ½ cup butter.
Once the butter has melted, swirl it around the pan to fully grease. Turn off the burner.
Let the butter cool a few minutes before pouring it into a bowl to make the batter.
Return the pan to the hot burner to keep warm.
Finish making the batter.
If the pan is cold, heat up over medium heat, but otherwise pour the batter into the hot pan.
Bake cornbread as usual.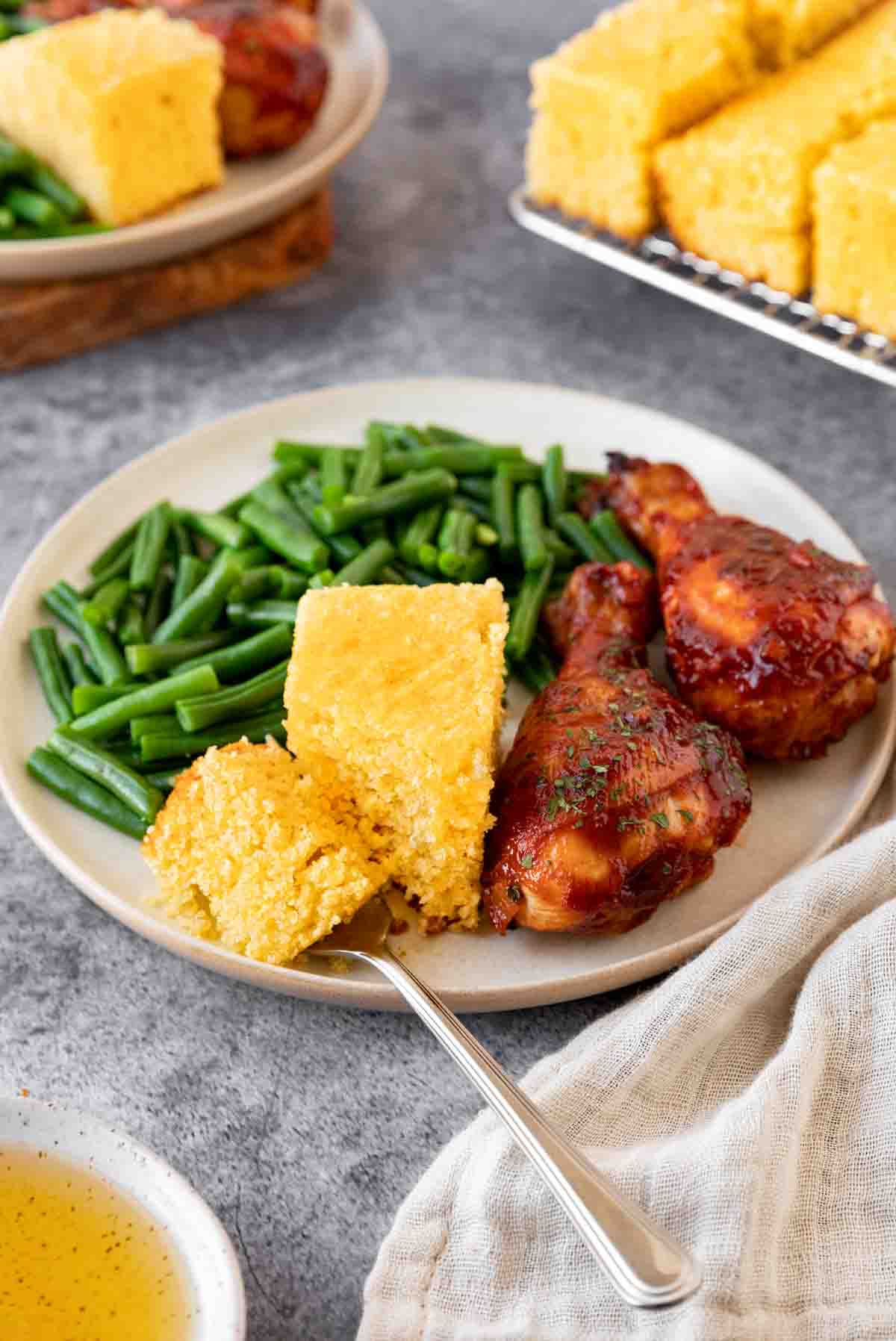 More Delicious Cornbread Recipes
How to Store
Store: Honey Cornbread can stay good at room temperature for up to 2 days or for up to 1 week in the fridge. Cover the baking pan tightly with plastic wrap or transfer leftovers to an airtight container to keep the cornbread moist.
Reheat: Place the cornbread pieces you want to heat up on a baking sheet and warm up in a preheated oven at 300 degrees. If you have dry cornbread, add water in a small heat safe dish, and place on the baking sheet next to the pieces. Tent everything with foil to trap the steam and make your cornbread moist again.
Freeze: You can freeze your leftover cornbread for up to 3 months. Allow the warm cornbread pieces to cool before placing in a freezer safe container with parchment paper between the layers. Thaw at room temperature or reheat covered in a baking dish from frozen.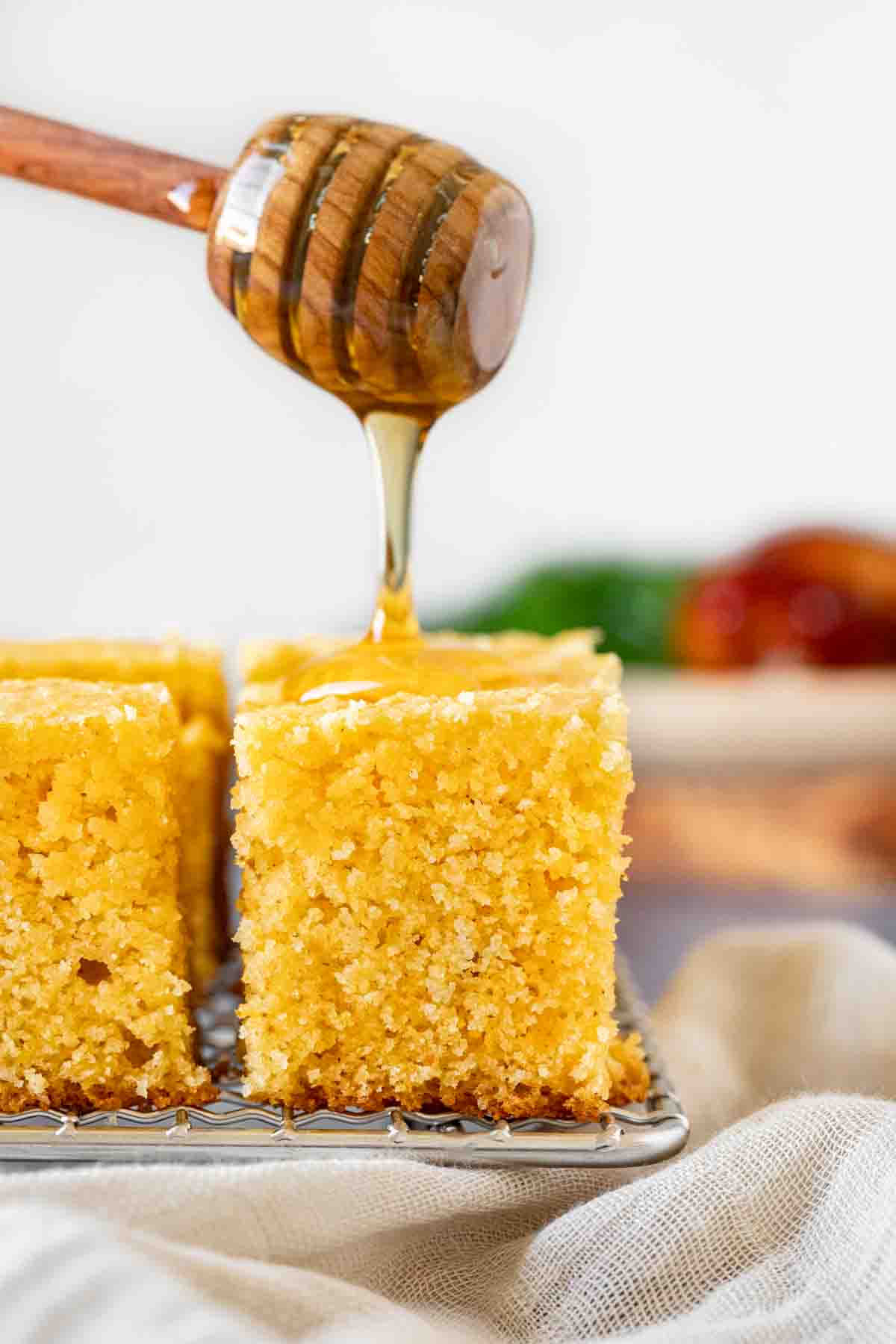 Ingredients
1

cup

heavy cream

1/4

cup

canola oil

1/4

cup

honey

2

large

eggs

1

cup

flour

1

cup

yellow cornmeal

1/4

cup

sugar

3

teaspoons

baking powder

1/2

teaspoon

salt
Instructions
Preheat oven to 400 degrees and spray a 9×9 inch baking dish with baking spray.

In a large bowl whisk together heavy cream, vegetable oil, honey, and eggs until smooth.

Add the flour, cornmeal, sugar, baking powder, and salt.

Whisk until just combined.

Pour into a baking dish and bake for

25-30 minutes

until a toothpick comes out clean.

Let cool

10 minutes

before slicing.
Nutrition
Calories:
249
kcal
|
Carbohydrates:
29
g
|
Protein:
4
g
|
Fat:
14
g
|
Saturated Fat:
5
g
|
Cholesterol:
58
mg
|
Sodium:
118
mg
|
Potassium:
185
mg
|
Fiber:
2
g
|
Sugar:
10
g
|
Vitamin A:
337
IU
|
Vitamin C:
1
mg
|
Calcium:
62
mg
|
Iron:
1
mg