Oven Baked Chicken and Rice is a family friendly and healthy easy one pot meal made in the oven with just a few ingredients in just an hour.
Baked Chicken is an easy dinner option for us, we have so many on the site including our super popular Baked Chicken Brown Rice Vegetable Casserole which is just like this dish except with brown rice and added vegetables!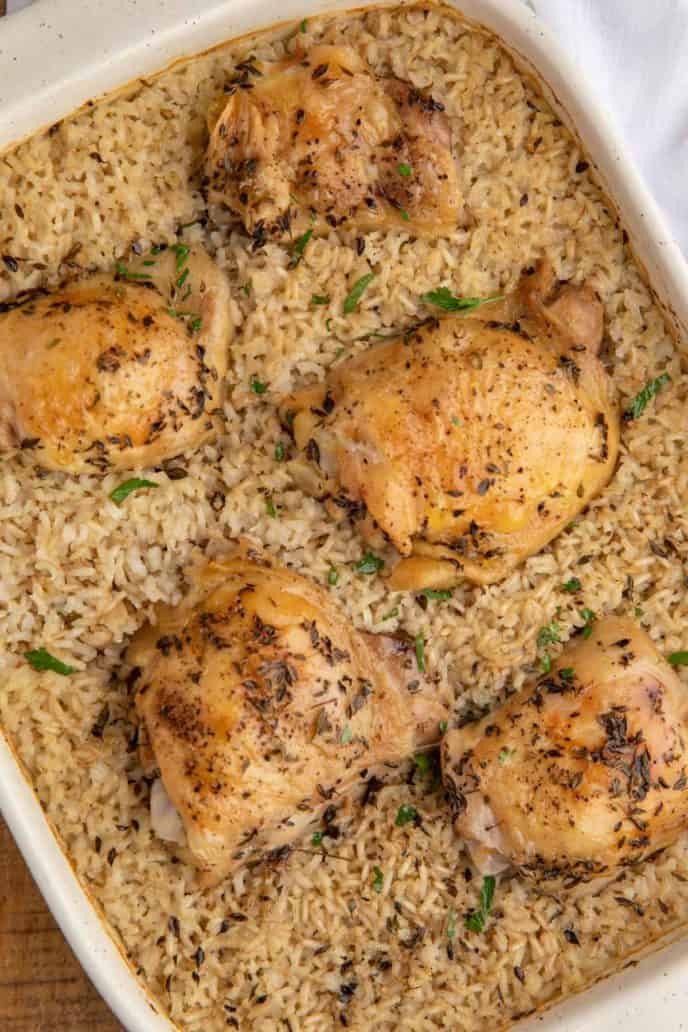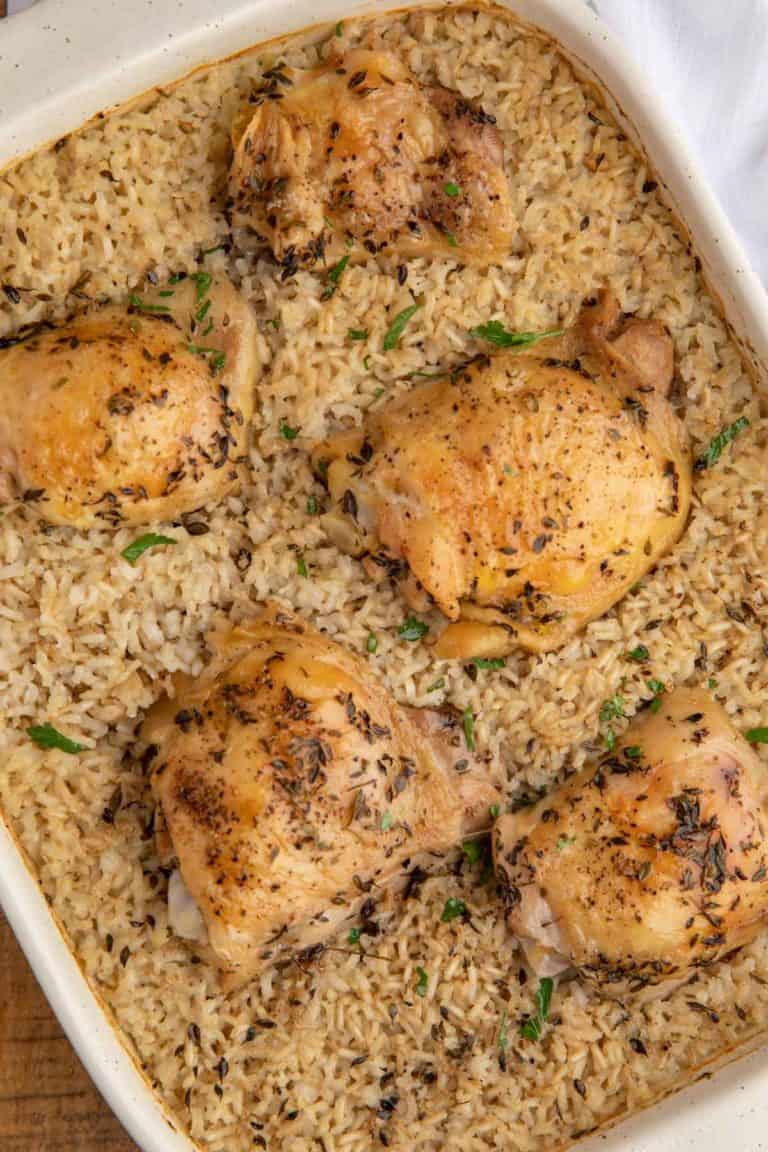 OVEN BAKED CHICKEN AND RICE
Baked Chicken and Rice may not sound like the most exciting recipe in your arsenal but this may be one you come back to time and time again (we do).
This recipe takes just a few ingredients and bakes them together to make the perfect dinner in one baking dish (bonus points if you add vegetables like carrots and celery in large chunks), this is a dinner in one shot.
There's only one important trick to making this recipe. It has to be followed or your dinner will be about an hour late because the cooking time will be significantly increased. You have to add boiling hot chicken broth to the rice.
If you add room temperature broth it will take your oven a long time to heat that broth up. In addition to that everything else will cook along with it and make it much mushier than it should be.
Please use boiling hot chicken broth (or boiling hot water).
How to Make Oven Baked Chicken and Rice:
Boil your chicken broth (Chicken Stock or Water is fine).
Add your chicken thighs skin side up.
Season with salt, pepper, oregano and basil.
Bake covered for 30 minutes.
Bake uncovered for 25-30 minutes.
You can use chicken breasts in this rice casserole too, they may not be as moist as the chicken thighs, but if you do, keep the bone in and skin on. I would keep the cook time the same, as your rice needs to cook through and the chicken breasts will be thicker than your chicken thighs.
Can you use boneless chicken?
Yes, you can use boneless chicken in the recipe but if you do, use chicken thighs only. If you use boneless chicken I'd also recommend keeping the skin on if possible (I know most boneless chicken is sold skinless as well). If you only have boneless, skinless chicken thighs  then just know the chicken will be done cooking before the rice so it won't be as moist as it would be if you used the bone-in variety.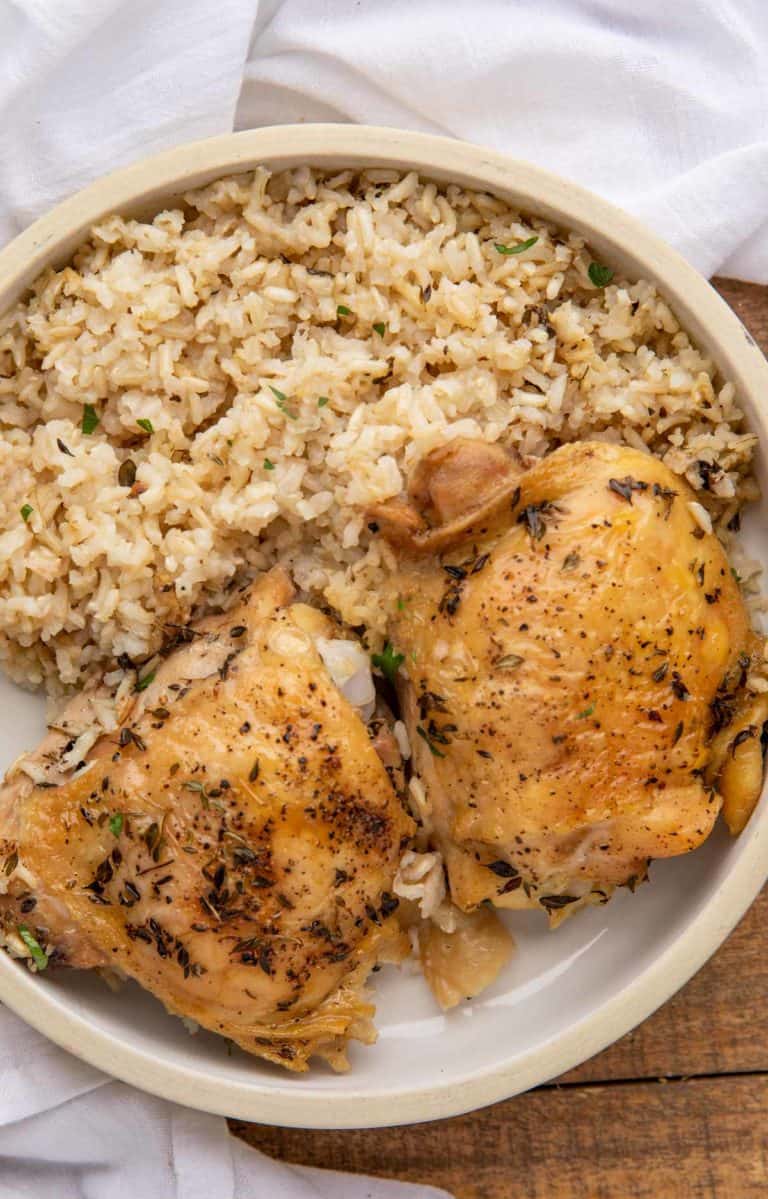 Create a free account to

Save Recipes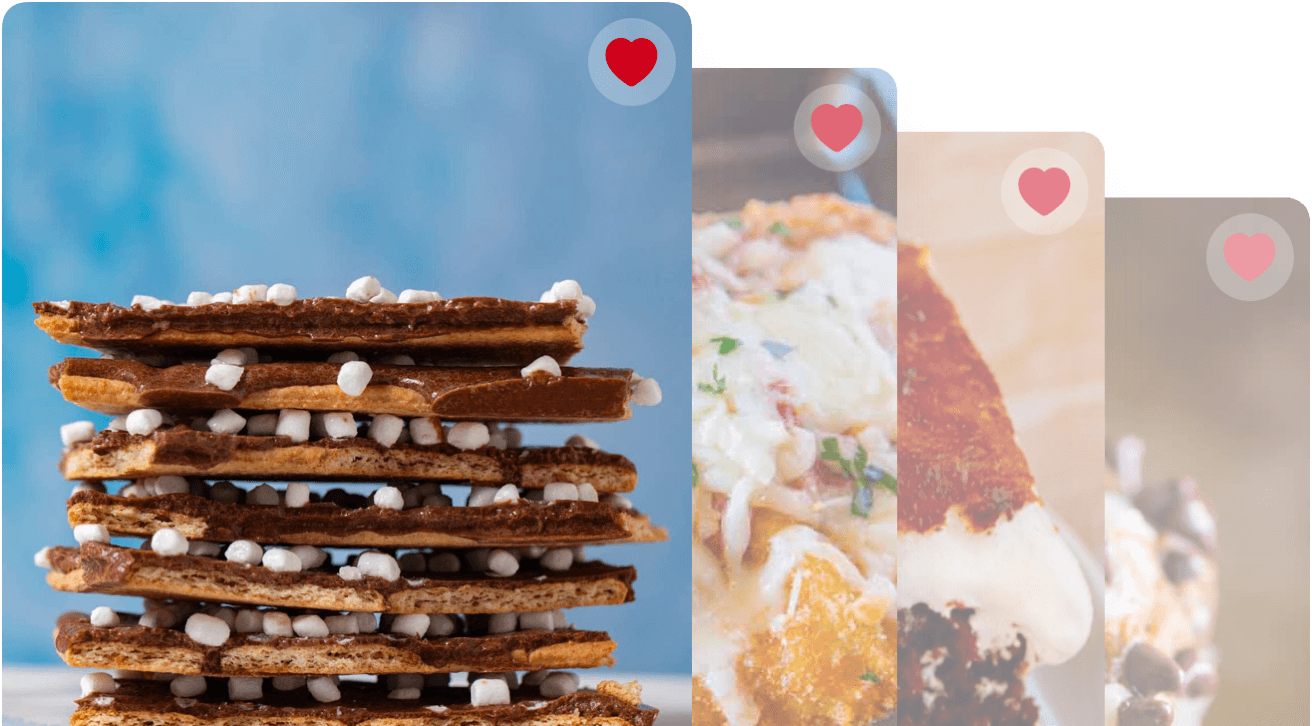 Can you use cooked rice?
No, the cook time for this recipe is calculated using standard long grain rice. This is uncooked rice. If you use cooked rice, instant rice or brown rice your timing will be off and this easy dinner will not taste as delicious as I am promising you it will.
If you want to bake these separately, you can of course bake chicken thighs alone (375 degrees for 30-35 minutes) and add Perfect Brown Rice (Baked Brown Rice) on the side. You can also add Easy Quinoa or Steamed Rice on the side too.
Can I add condensed soup?
You can certainly add a can of condensed soup to make this into a casserole recipe. If you do, the most popular option would be to add 2 cans of cream of mushroom soup (see Homemade Cream of Mushroom Soup Recipe), or 2 cans of cream of chicken soup (see Homemade Cream of Chicken Soup Recipe). I wouldn't adjust the liquids, I'd just cook for 5-10 minutes longer when uncovered.
More easy dinner recipes: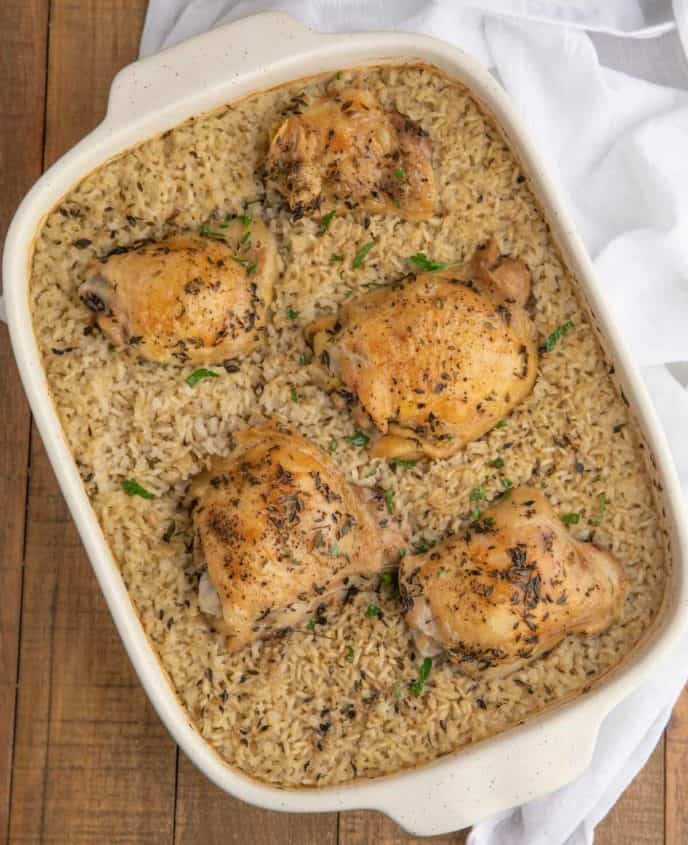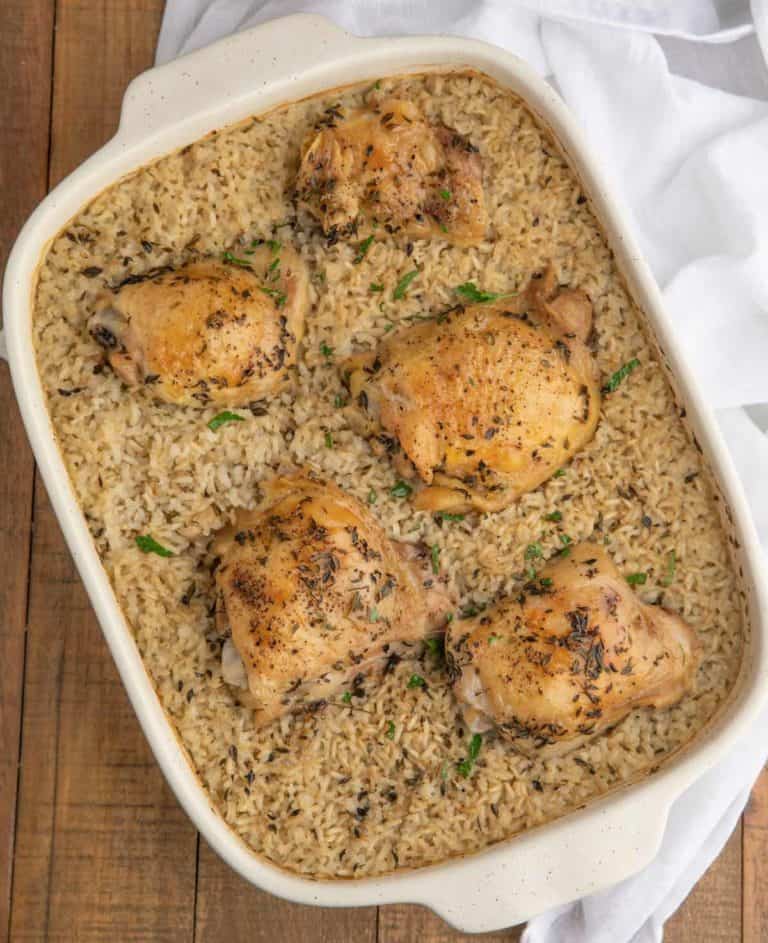 Ingredients
4

cups

chicken broth

5

chicken thighs

skin and bone on

4

cloves

garlic

minced

2

cups

long grain white rice

1

teaspoon

kosher salt

1/2

teaspoon

coarse ground black pepper

1

teaspoon

dried oregano

1/2

teaspoon

dried basil
Instructions
Preheat your oven to 350 degrees and add the chicken broth to a large pot and bring to a boil.

In a deep 9x13 baking dish add the chicken skin side up to the pan then add the rice around it.

Season with the garlic, salt, pepper, oregano and basil and pour over the chicken broth.

Cover with foil and bake for

30 minutes

, then uncover and bake for an additional

25-30 minutes

until golden brown and cooked through.
Nutrition
Calories:
419
kcal
|
Carbohydrates:
61
g
|
Protein:
28
g
|
Fat:
6
g
|
Saturated Fat:
1
g
|
Cholesterol:
107
mg
|
Sodium:
1258
mg
|
Potassium:
522
mg
|
Fiber:
1
g
|
Sugar:
1
g
|
Vitamin A:
25
IU
|
Vitamin C:
13.9
mg
|
Calcium:
55
mg
|
Iron:
2.1
mg