How to Cook Quinoa the perfect, easy way that will never fail you, be bitter or over cook. A classic, healthy gluten-free side dish ready in 20 minutes.
You can't go wrong learning all the classic healthy side options, aside from quinoa I highly recommend keeping my Baked Brown Rice in your back pocket, it's a go-to for us.
Quinoa Recipe
Quinoa is a superfood, healthy, gluten-free, I could wax poetic about this ingredient to you all day kind of food I avoided for YEARS. Yes, years. I'd only ever eaten it when it was cooked wrong (read: it wasn't fluffy quinoa, more like crunchy, uncooked quinoa that tasted bitter because someone failed to rinse quinoa, quinoa). Don't quinoa that way folks, you'll miss out on years of delicious healthy side options.
It isn't even actually a grain. It's related to spinach and beets, it is the seed of the plant! This is why it is gluten free and a whole grain that is worthy of your plate.
Once I made it myself, tasted it, and seasoned it properly with a delicious quinoa salad at home I was hooked. Now we eat more quinoa than rice in our home. Why?
Why Eat Quinoa?
Quinoa (pronounce it keen-WAH) is incredibly healthy for you. It is a complete protein which means it contains all 9 of the essential amino acids. It is naturally gluten free, and when cooked properly it can be a stand in for many different ingredients from grains to wheat to oats to starchy sides.
When I refer to it as a complete protein, I want to highlight 1955 article that describes the absolute nutritional powerhouse that quinoa is:
While no single food can supply all the essential life sustaining nutrients, quinoa comes as close as any other in the plant or animal kingdom.
You can also keep a good variety of quinoa in your diet as there are over 120 different types of quinoa but the three most widely eaten types of quinoa you'd find in the grocery stores include red quinoa, white quinoa, and black quinoa.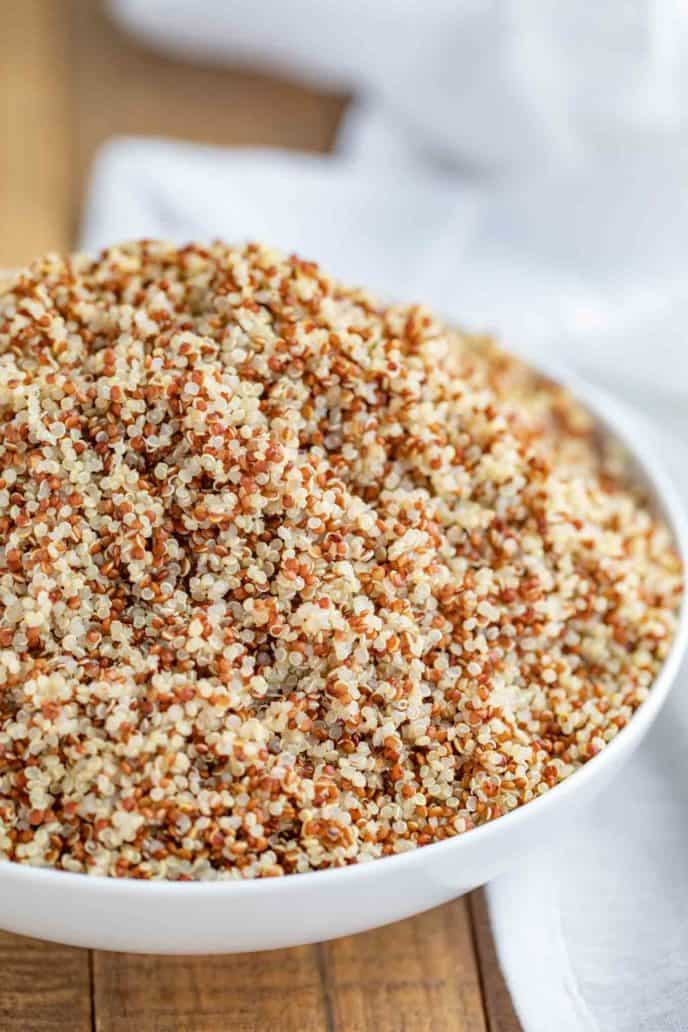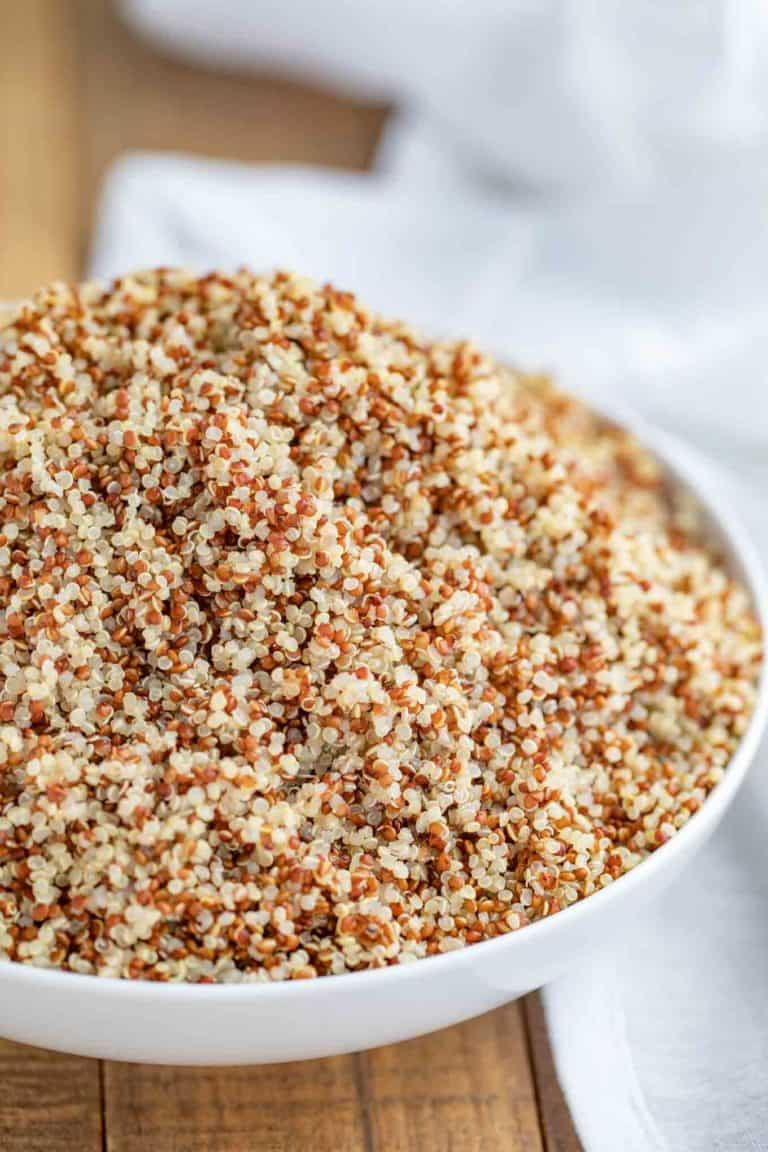 Create a free account to Save Recipes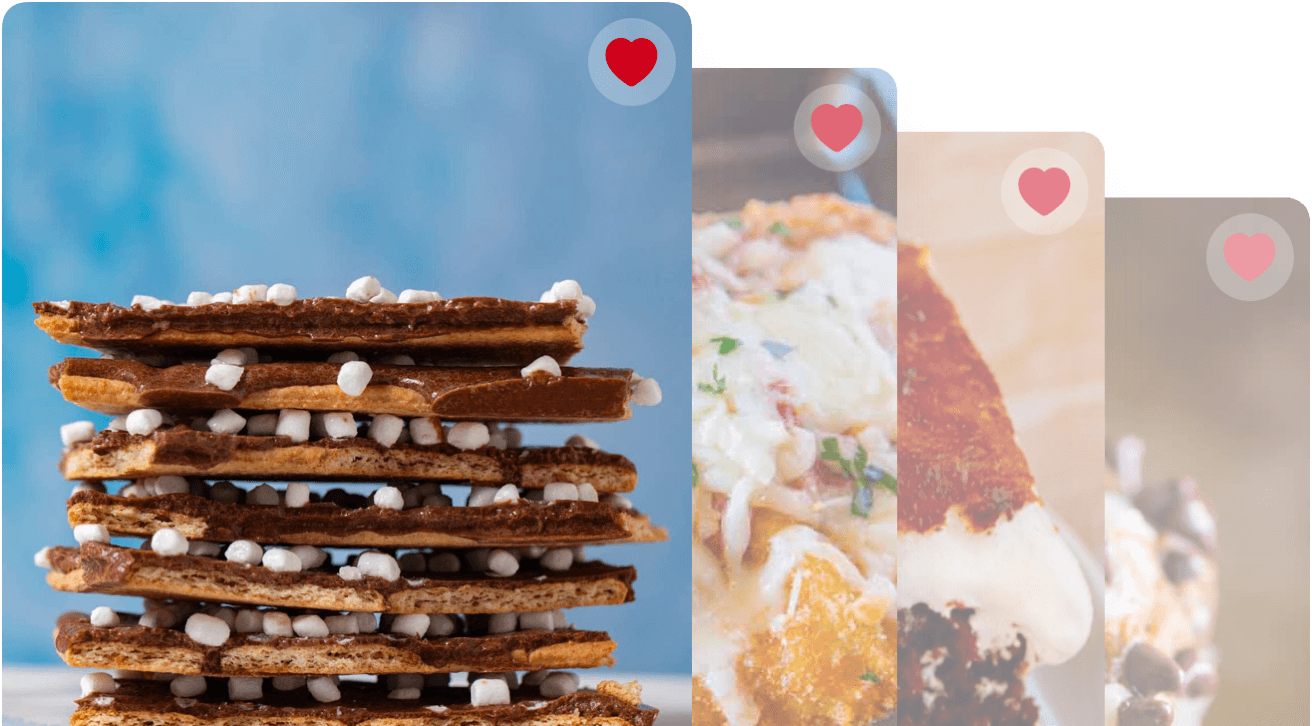 How to Cook Quinoa
Rinse well – under running water for 20 seconds, this removes a bitter sheath/coating the quinoa has.
Add to saucepan – 1 part quinoa, 2 parts water.
Cook covered – 15 minutes cooking time on simmer/low heat after bringing to boil on high heat.
Let sit – you have to let it sit for 5 minutes after cooking, if you don't it will be undercooked.
Why do you Rinse Quinoa?
Rinsing quinoa is important because it removes a bitter coating that is on quinoa that is a natural protective barrier that quinoa has to prevent birds from eating it. If you fail to wash this coating, it will be very bitter when cooked.
To rinse you don't need to use hot water, cold water with a fine mesh strainer or fine mesh sieve will do the trick.
Cook perfect quinoa without worrying that you're doing it wrong because it is an easy ratio 1 part quinoa, 2 parts water ratio. 15 minutes cook time, 5 minutes rest. Whether you use one cup of dry quinoa or two you can keep the ratio handy.
How to Season Quinoa:
You can adjust the recipe to your tastes quite easily. Make the recipe using chicken stock instead of water, add garlic, add ginger, add kosher salt and black pepper. This recipe is meant to teach you how to cook quinoa, but quinoa is a blank slate for you to flavor it as you'd like.
One of my favorite quinoa recipes includes adding olive oil, garlic, black beans, corn, cilantro and lime to cooked quinoa to make a healthy quinoa bowl topped with Grilled Chicken. It's an easy dairy free meal, or you can top it with an easy crema that you can find on my Crispy Fish Tacos recipe.
Just be sure to not add excess water to your pot, when you add too much water and it becomes mushy the texture can become off-putting.
If you want, you can even make your quinoa in a rice cooker, many rice cookers have easy quinoa settings now too. I haven't tried quinoa yet in my pressure cooker or slow cooker so if you have good recipes for it I'd love to hear below in the comments and I'll test them out too and post them on the blog if they work well.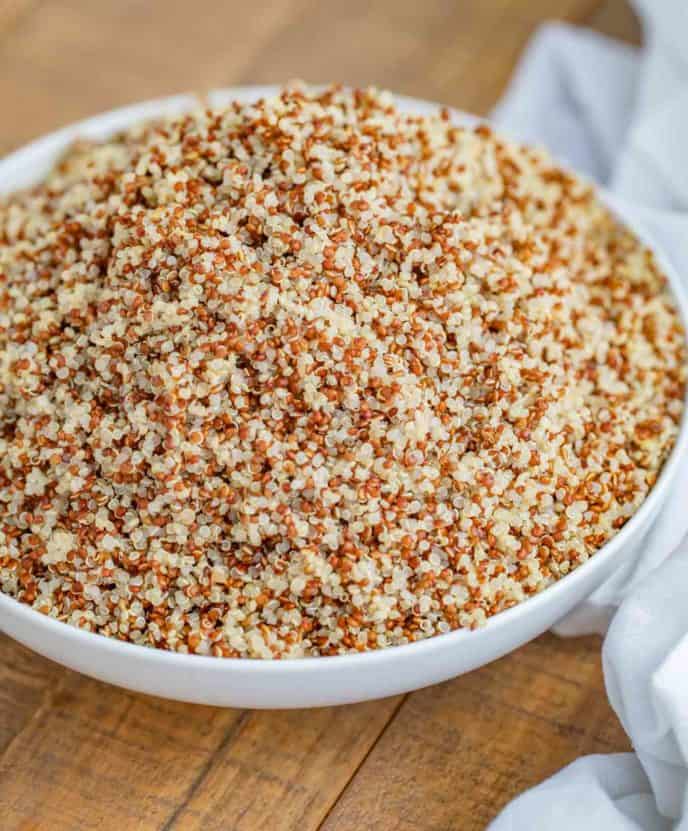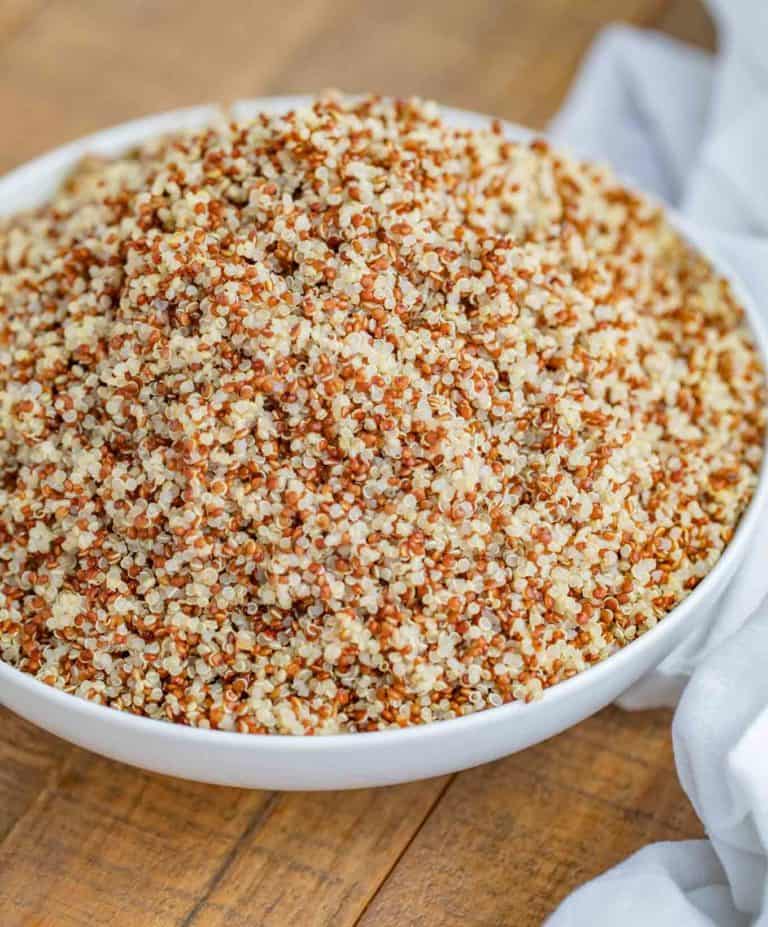 Instructions
Rinse the quinoa well under water for 20 seconds then add the quinoa and water to a saucepan (that has a lid) and bring to a boil.

Lower the heat to a simmer, cover and cook for 15 minutes.

Turn off the heat, let sit for five minutes (covered) then fluff before serving.
Nutrition
Calories:
156
kcal
|
Carbohydrates:
27
g
|
Protein:
6
g
|
Fat:
2
g
|
Sodium:
8
mg
|
Potassium:
239
mg
|
Fiber:
2
g
|
Calcium:
24
mg
|
Iron:
1.9
mg