Baked Bacon Ranch Chicken is a wonderfully flavorful weeknight dinner with juicy chicken coated in ranch mix and wrapped in crispy bacon.
This amazing Baked Bacon Ranch Chicken is a simple and delicious way to add some extra flavor and texture to a regular Baked Chicken Recipe. It's an amazing Weeknight Meal that is sure to be a family favorite. So are Brown Sugar Garlic Oven Baked Pork Chops and the yummy Swiss Steak Noodles.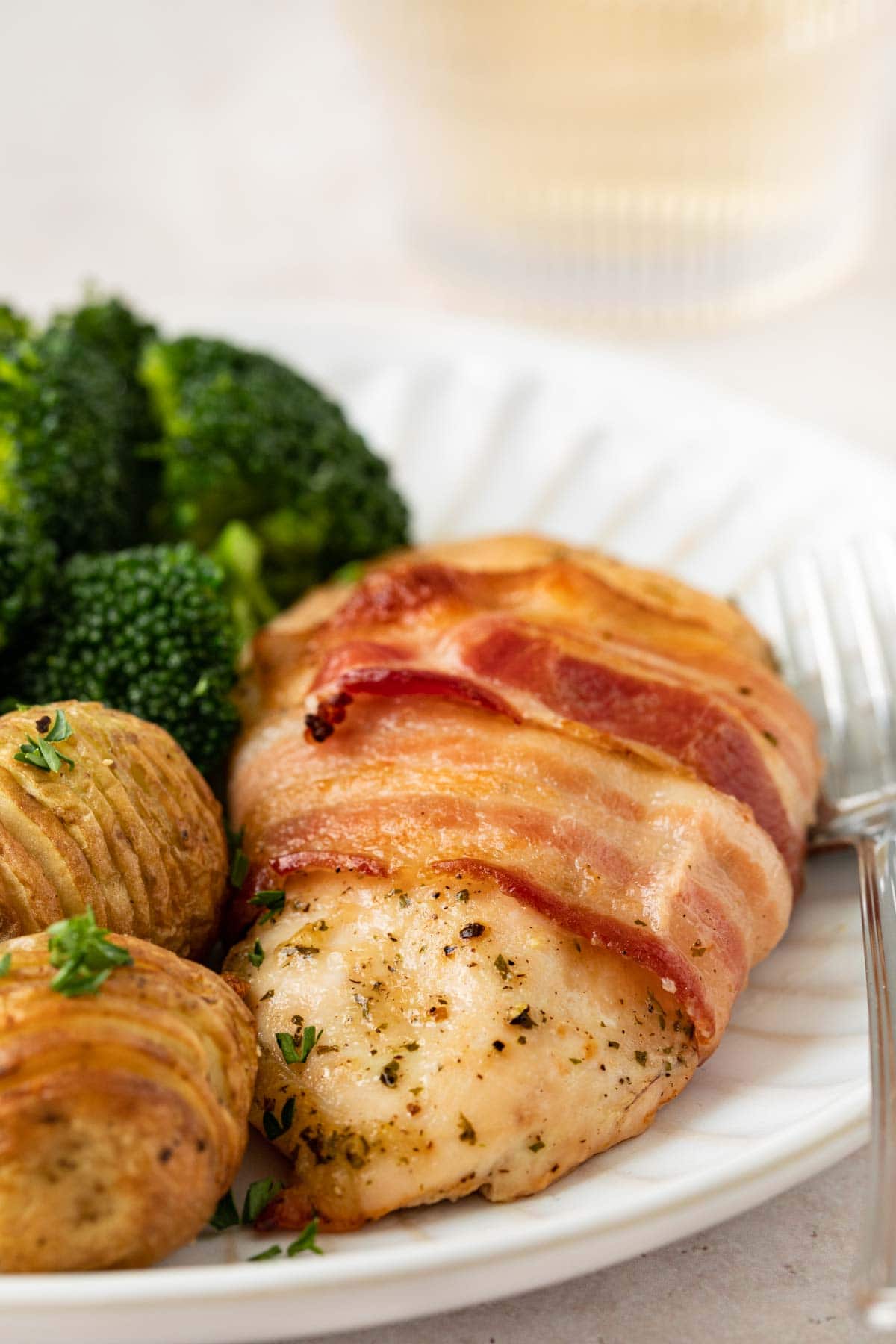 This Baked Bacon Ranch Chicken recipe is sure to impress anyone who tries it, but it's also super easy to make. The simple recipe is prepared with a Ranch Seasoning Mix to coat the chicken, and each piece of chicken is wrapped in bacon. Then it's all put in the oven. After the cooking time, the chicken will be baked through and juicy while the bacon is wonderfully crisp around the outside.
The combination of bacon and ranch are two flavors that go together perfectly. By using the salad dressing mix, you can easily get that tangy flavor throughout your entire chicken dish. Then the bacon adds a salty and sweet flavor to the Baked Bacon Ranch Chicken that's absolutely irresistible. It's the ultimate crowd-pleasing dinner dish!
For a complete meal, serve Baked Bacon Ranch Chicken with your favorite dinner side dishes. The chicken dish would taste amazing with some comforting sides like Mashed Potatoes and Fluffy Dinner Rolls. Then just finish the whole meal off with some vegetables like Roasted Brussels Sprouts or Sautéed Green Beans.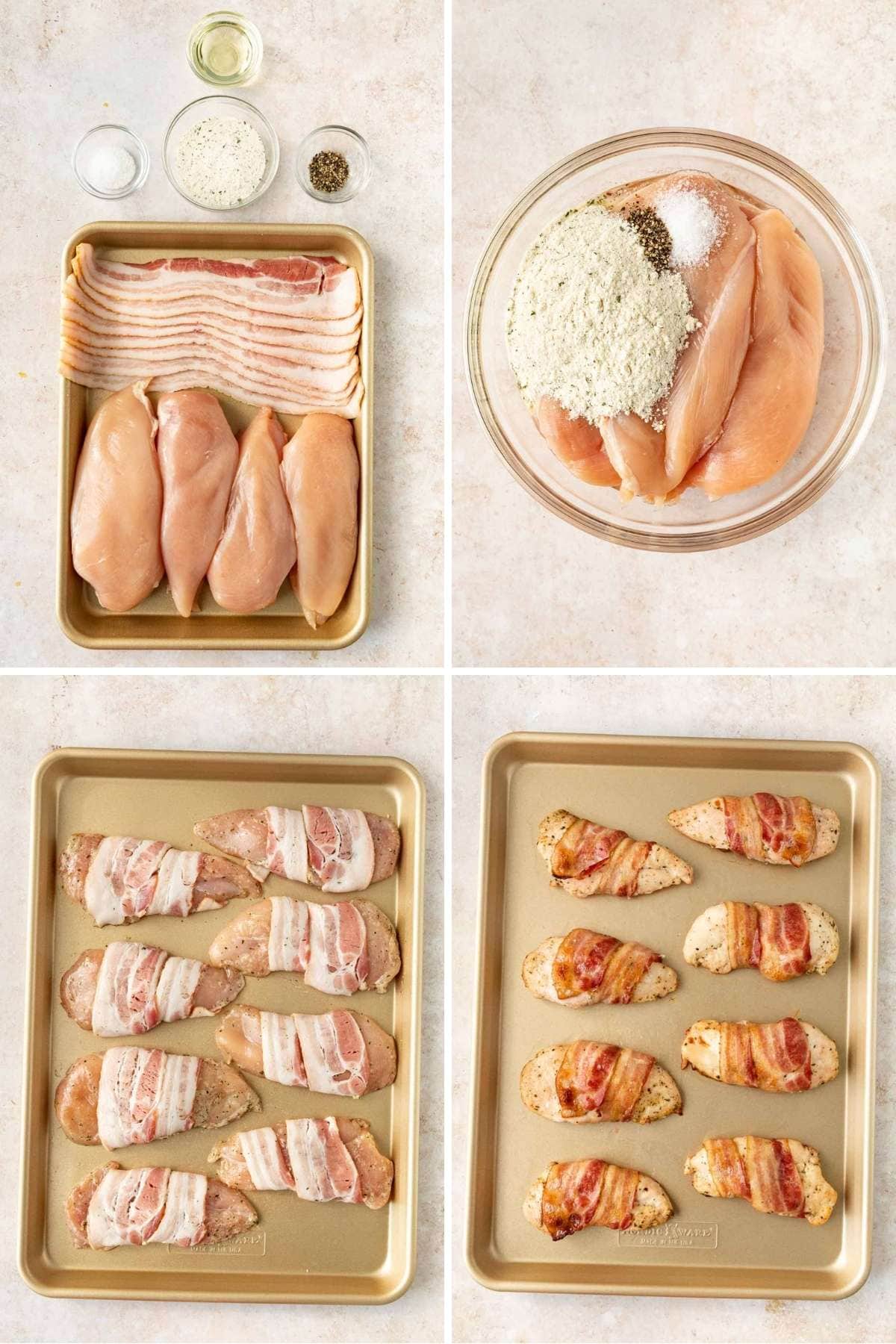 How to Make Baked Bacon Ranch Chicken
Making this dish is so easy! And the final product is very delicious! It's a simple matter of assembling the ingredients, coating with savory spices, and baking until perfect. Check it out!
Prep time: All you have to do to prep this recipe is get out your ingredients and preheat the oven to 375 degrees. If the chicken breasts are frozen make sure you give them enough time to thaw before starting the cooking process.
Season chicken: Add the chicken, oil, salt, pepper, and ranch seasoning to a large bowl. Mix until the chicken pieces are all coated in the ranch mixture. Then wrap each piece in a bacon strip, and place them onto your baking dish.
Bake Time: Pop the dish in the oven for a 25 to 30 minute cooking time. You should be able to see the cooked bacon on the outside, but you might want to double-check the chicken has baked through using a meat thermometer. If the internal temperature has reached 165 degrees the Baked Bacon Ranch Chicken is safe to eat. Enjoy with yummy sides!
Frequently Asked Questions
Can I use chicken tenders instead of chicken breasts? 
Absolutely! The cooking time may vary based on the thickness of the chicken and whether you use bone-in or boneless thighs. At 20 minutes, check the internal temperature of the chicken using a kitchen thermometer. It's ready when cooked to 165 degrees F. 
Can I use liquid Ranch instead of powdered Ranch? 
It's not recommended. The secret to getting the best flavor is in using the dry rub. Bonus points if you can make your own Ranch Seasoning Mix.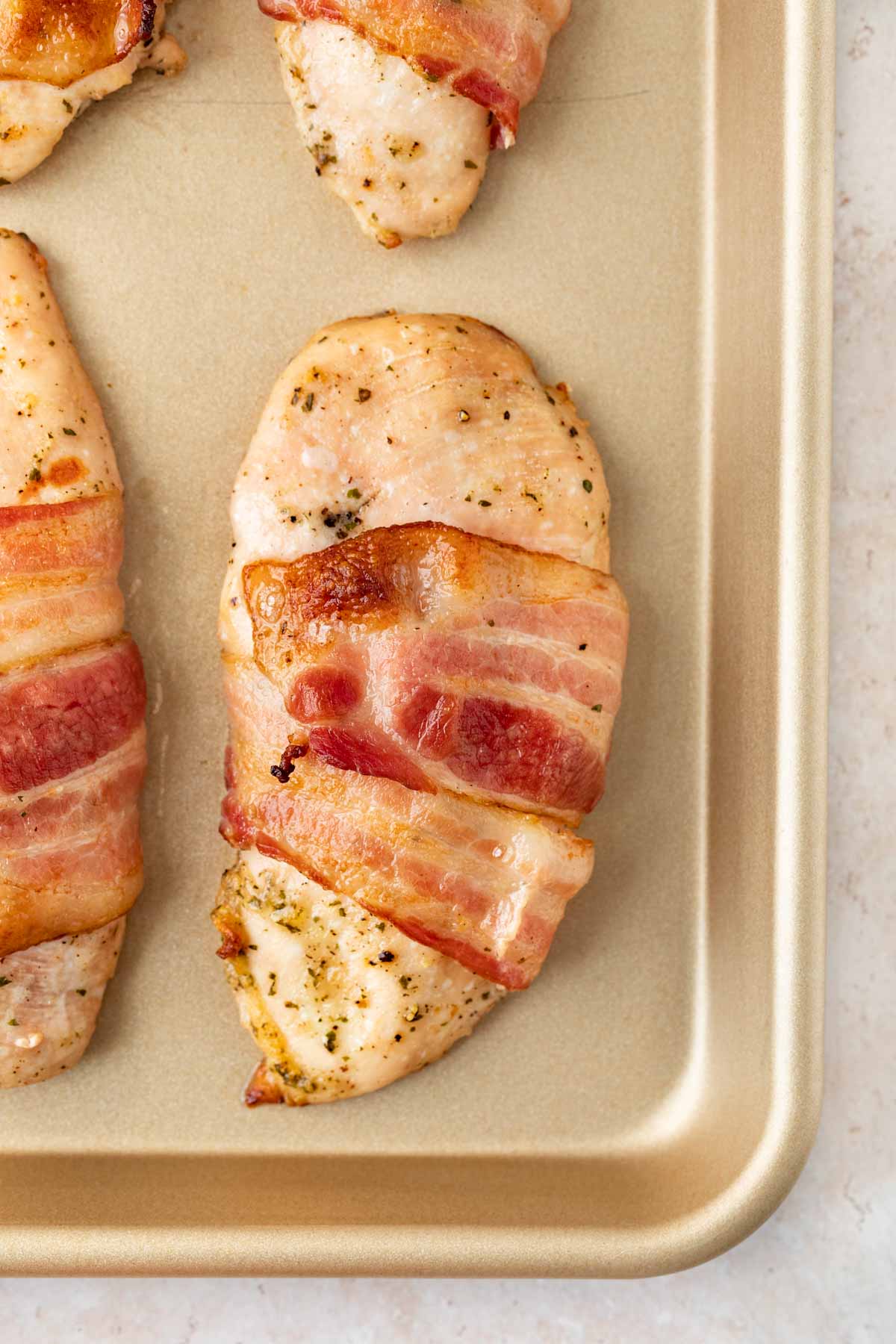 Create a free account to

Save Recipes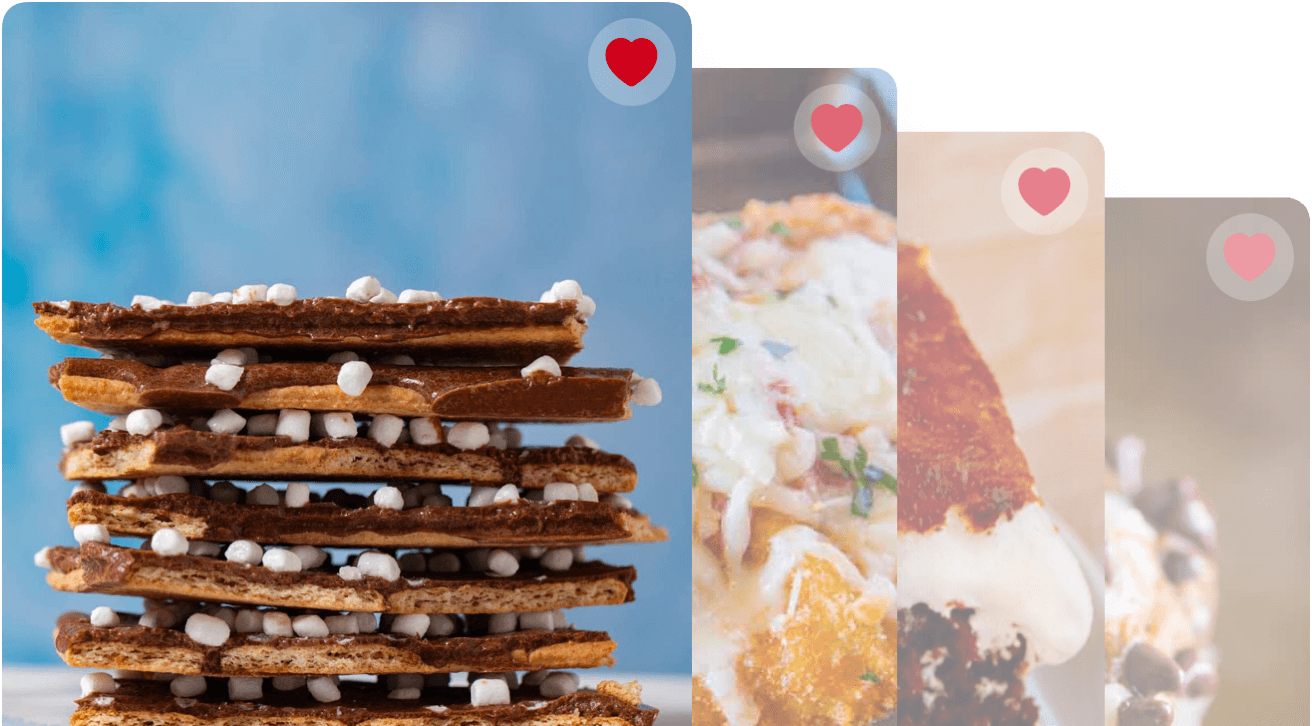 Key Ingredients in Baked Bacon Ranch Chicken
Chicken: We are using chicken breasts in this recipe. 
Bacon: For this recipe, you'll need 8 uncooked slices of bacon. Simply wrap the bacon around the outside of each piece of chicken. During the oven time, it cooks through and crisps up for an amazing outside layer to the Baked Bacon Ranch Chicken that everyone will love. 
Ranch Seasoning: Instead of dipping the chicken in Creamy Ranch Sauce, we've coated the chicken breasts in a dry ranch seasoning mix. The chicken coating is an easy way to get all the flavor you want baked directly into the recipe. Of course, if you really, really love ranch dressing, you can always use it as a dip too!
Vegetable Oil: The vegetable oil mixes with the dressing mix, salt, and pepper, and helps the dry ingredients to stick to the outside of the chicken breasts. Without it, the seasoning would easily fall off the chicken. 
Alternative Cooking Methods for Baked Bacon Ranch Chicken
Air Fryer Baked Bacon Ranch Chicken: The air fryer is a great way to cook your chicken! Assemble the thawed bacon and chicken according to the recipe. Place it into the air fryer. Cook on medium or 350 degrees F for 10-12 minutes. Flip the chicken at 6 minutes. It is ready when the internal temperature reaches 165 degrees F.
Grilled Baked Bacon Ranch Chicken: Nothing beats the smokey flavors of fire grilled chicken! Heat the grill up. Place a strip of tin foil onto the grill to catch the dripping bacon grease which will avoid a fire. Place the chicken on the tin foil and grill for 10-12 minutes, flipping the chicken over at 5 minutes. It is ready when the internal temperature reaches 165 degrees F. 
Variations on Baked Bacon Ranch Chicken
Cheesy Baked Bacon Ranch Chicken: If there's one thing that's even better than bacon and ranch, it's bacon, ranch, and cheese. Try topping the Baked Bacon Ranch Chicken recipe off with shredded cheese, like cheddar cheese, provolone cheese, Swiss cheese, or mozzarella cheese. If you're a cheese lover, then this version is sure to hit the spot.
Seasonings: Along with the ranch seasonings, you can add some extra flavors to the Baked Bacon Ranch Chicken coating with other seasonings. Fresh parsley, garlic powder, onion powder, red pepper flakes, or even a dash of cayenne pepper would taste amazing. 
Lunch Meal: By taking the cooked chicken, you can bundle it up into a tortilla along with fresh veggies and your favorite sauce for a delicious wrap. Or, you can slice it thin and put it on a brioche bun with onion and lettuce for a delectable chicken sandwich!  
HOW TO STORE
Serve: Don't leave this Baked Bacon Ranch Chicken recipe at room temperature for more than 2 hours.
Store: If you have any leftover Baked Bacon Ranch Chicken, you can put it in an airtight container or cover it in plastic wrap to store in the fridge for 3-5 days.
Freeze: You can also seal the chicken in a freezer-safe container and keep it in the freezer for up to 4 months.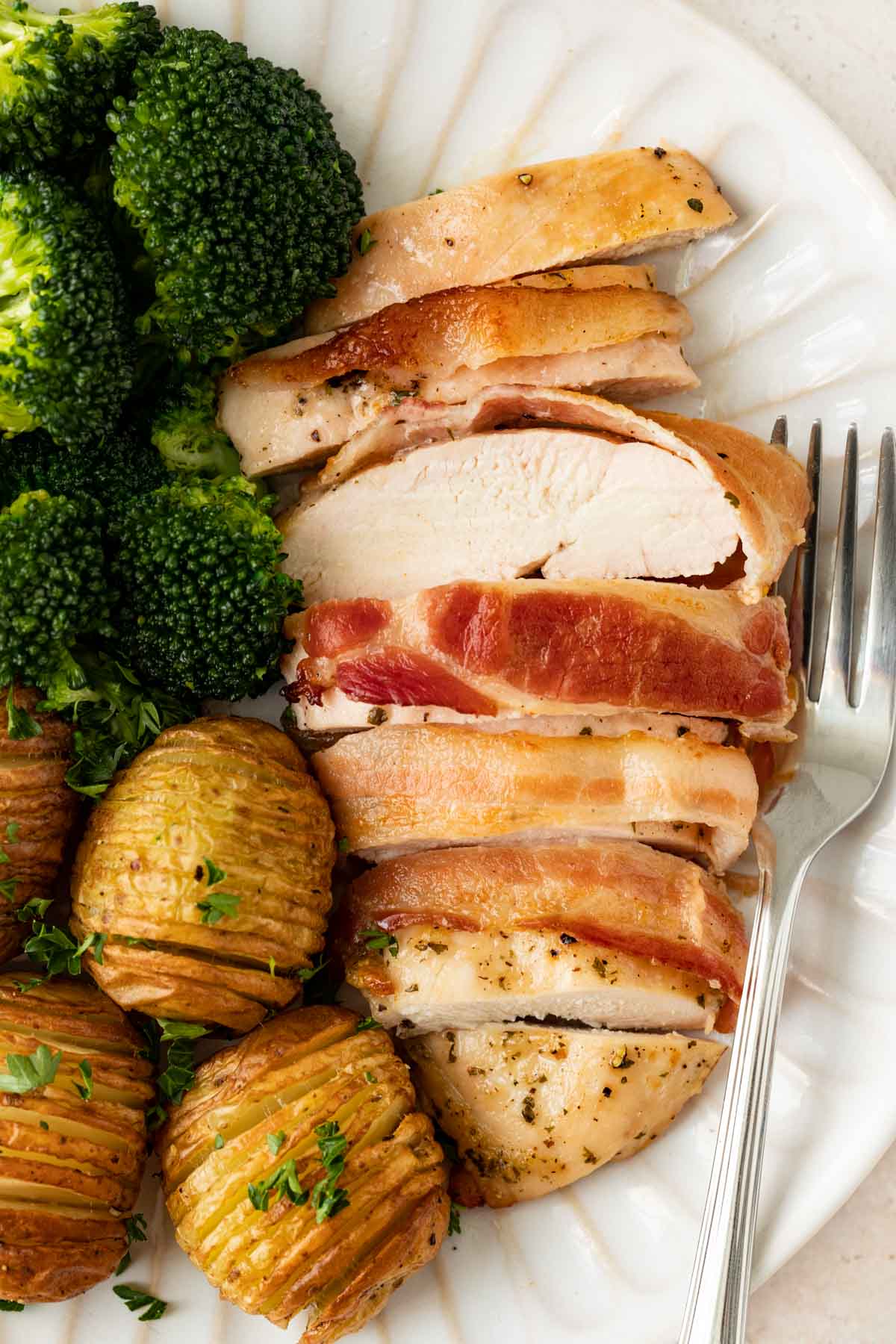 Ingredients
4

chicken breasts

, halved

2

tablespoons

vegetable oil

1/2

teaspoon

kosher salt

1/4

teaspoon

coarse ground black pepper

1

packet

ranch dressing mix

8

strips

bacon
Instructions
Preheat the oven to 375 degrees.

Add the chicken, oil, salt, pepper, and ranch dressing mix to a large bowl and mix well.

Wrap each piece of chicken with a strip of bacon and place onto a baking sheet.

Bake for

25-30 minutes

or until the bacon is crisp and the chicken is cooked through.
Nutrition
Calories:
173
kcal
|
Carbohydrates:
2
g
|
Protein:
24
g
|
Fat:
7
g
|
Saturated Fat:
1
g
|
Polyunsaturated Fat:
2
g
|
Monounsaturated Fat:
2
g
|
Trans Fat:
1
g
|
Cholesterol:
73
mg
|
Sodium:
562
mg
|
Potassium:
423
mg
|
Fiber:
1
g
|
Vitamin A:
34
IU
|
Vitamin C:
1
mg
|
Calcium:
6
mg
|
Iron:
1
mg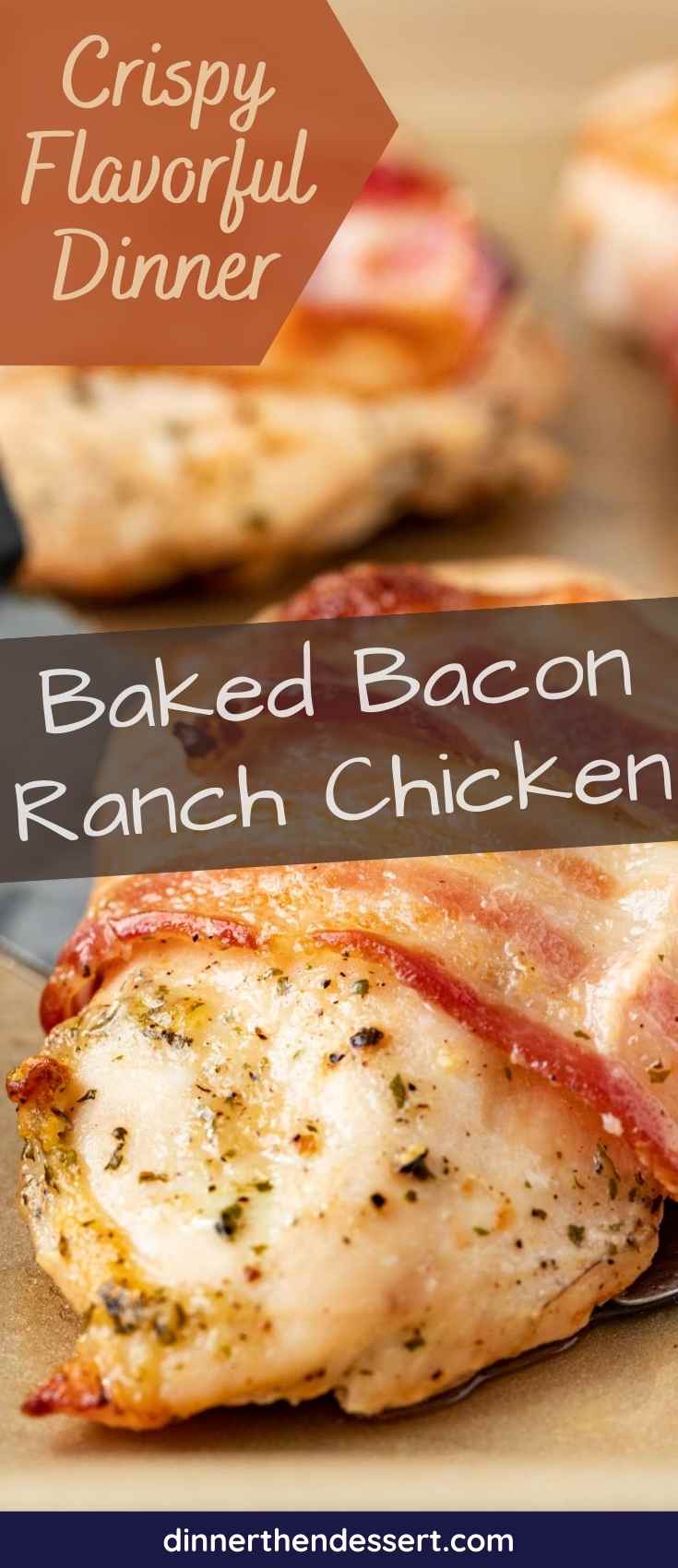 Photos used in a previous version of this post: