Baked Fire Popper Chicken is made with chicken breasts baked in a glorious honey-brown sugar hot sauce until they're sticky, sweet, spicy perfection!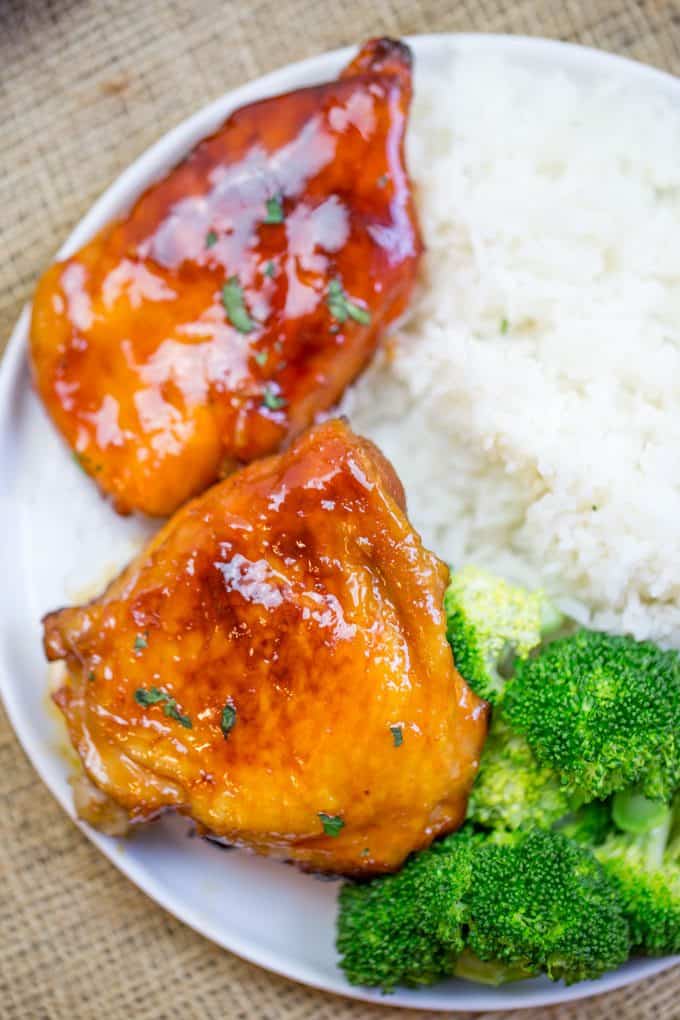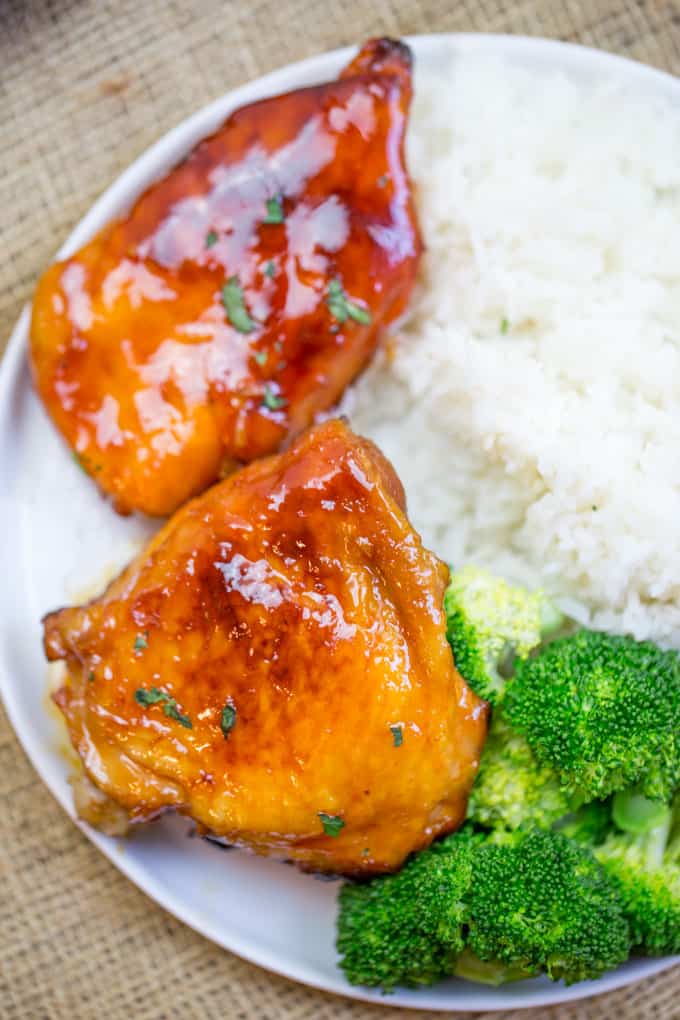 Baked Fire Popper Chicken is the easier, healthier, faster and garlickier (I'm going to pretend that is an actual word) cousin to the amazing Chicken Fire Poppers I posted in July. That recipe has been so incredibly popular and so many of you asked me the best way to recreate it without the extra frying and breading that this recipe was a no-brainer.
Baked Fire Popper Chicken is also another example of a fast, more modern interpretation of the ultimate comfort food that the Chicken Fire Poppers are. A healthier twist on a rib sticking recipe, the chicken is baked with fresh minced garlic and the quick two step prep make this an easy weeknight dinner.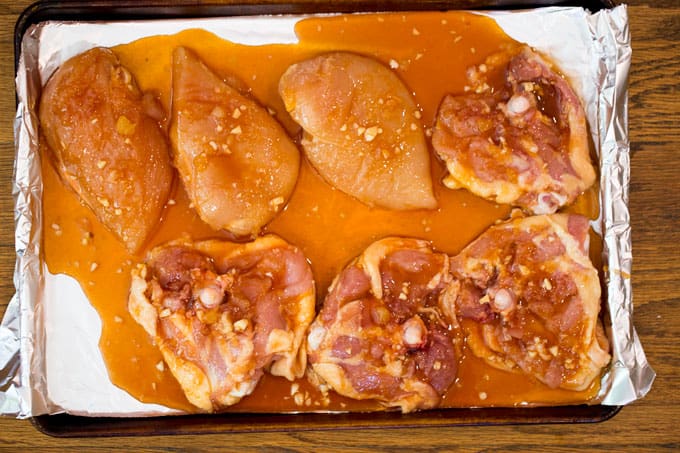 One of my favorite commercials growing up were actually the Foster Farms ones because it had these puppet chickens who were trying to pass themselves off as high quality but they weren't so they had 101 different comical ways they'd try and sneak into the Foster Farms plant.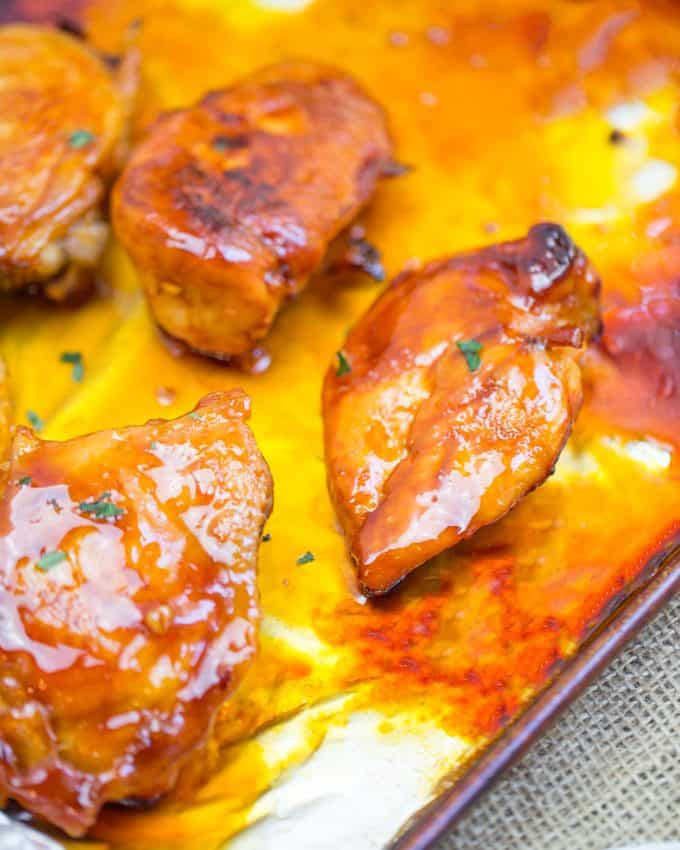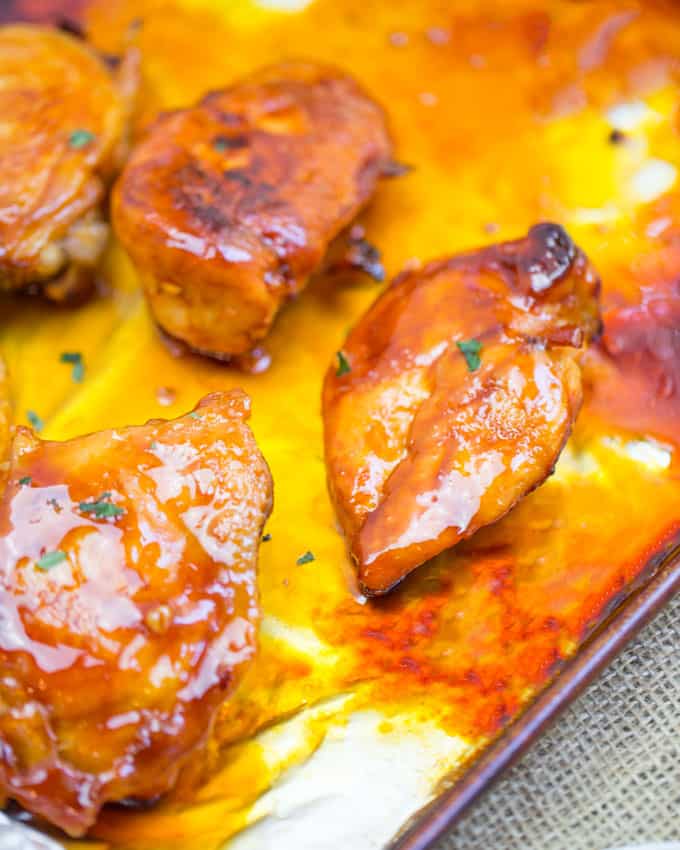 If you've looked at any chicken recipes on the blog before (sponsored or not) you've seen Foster Farms chicken. Aside from the nostalgia factor I am a huge supporter of locally grown ingredients and their chicken is produced locally to me in California and is shipped to stores within 48 hours.
When you're working with higher quality ingredients it is easier to get dinner on the table. The prep for this meal is really only about five minutes long and it cooks on in one pan that you line with foil to make your life infinitely easier on the clean-up side. Dinner is only 30 minutes away if you start your rice, prepare the chicken and steam the broccoli in the last few minutes the rice and chicken are cooking.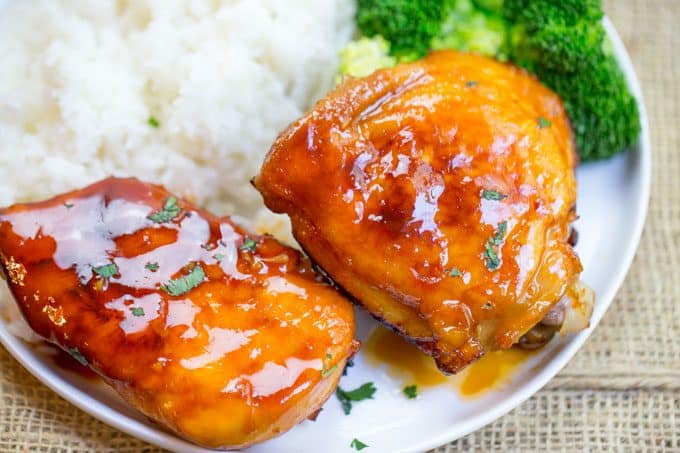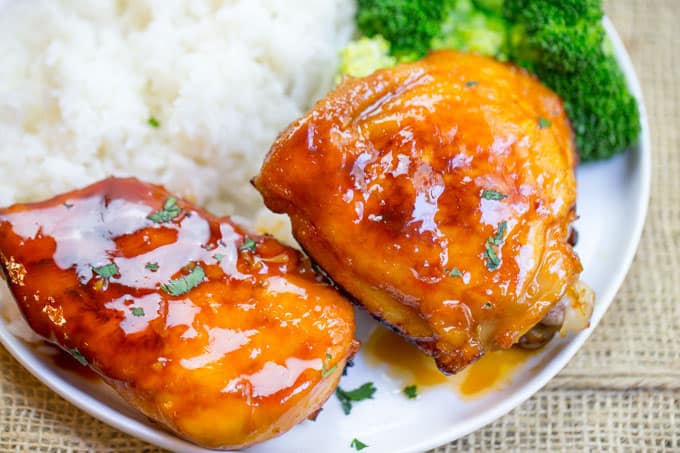 Tools used in this recipe:
9×13 Baking Pan – I used a baking sheet for this recipe and the next time I make it I will use this pan. The sheet was a bit too large, this pan will keep the sauce closer to the chicken for a thicker glaze.
Pig Tail Flipper – I use this *almost* more than I use tongs in the kitchen. Flipping is so quick and doesn't smash foods. This tool makes it easy to move the chicken to your pan and to flip the thighs at the end of cooking without losing any of your glaze.
Hot Sauce – Source it locally in your grocery store if possible to save on the price, but this is the hot sauce you want!
Honey – Any real honey will work, just make sure what you are buying is actually pure honey. The amount of fake honey being sold out there is astronomical and it is just colored corn syrup. This bottle is great, I get it straight from Costco, but for the price and for the fact I know it is authentic honey, I keep it as my standby. Also, it has a nice mild flavor which is what you want for this recipe. Avoid floral honeys that would have a flavor battle with your hot sauce.


Ingredients
1

pound

Foster Farms Simply Raised Chicken Breasts

, skinless

1

pound

Foster Farms Simply Raised Chicken Thighs

, skin on

4

cloves

garlic

, minced

1/2

teaspoon

onion powder

1/4

cup

sugar

1/4

cup

brown sugar

1/4

cup

honey

1/4

cup

hot sauce
Instructions
Preheat the oven to 350 degrees.

In a large bowl, combine the garlic, onion powder, sugar, brown sugar, honey and hot sauce and mix.

Add the chicken into the bowl and make sure it is well covered.

Place the chicken breasts onto your baking pan and the thighs, skin side down.

Pour any excess sauce over the chicken.

Bake for

25-30 minutes

on the bottom rack of your oven.

You can let it cool on the pan, but flip the thighs skin side up before the glaze hardens to the foil and you lose skin trying to flip it.
Nutrition
Calories:
291
kcal
|
Carbohydrates:
30
g
|
Protein:
32
g
|
Fat:
4
g
|
Saturated Fat:
1
g
|
Cholesterol:
101
mg
|
Sodium:
414
mg
|
Potassium:
495
mg
|
Fiber:
1
g
|
Sugar:
29
g
|
Vitamin A:
80
IU
|
Vitamin C:
10.7
mg
|
Calcium:
24
mg
|
Iron:
1.2
mg