Chicken Fire Poppers are bites of crunchy, sticky, sweet, spicy perfection!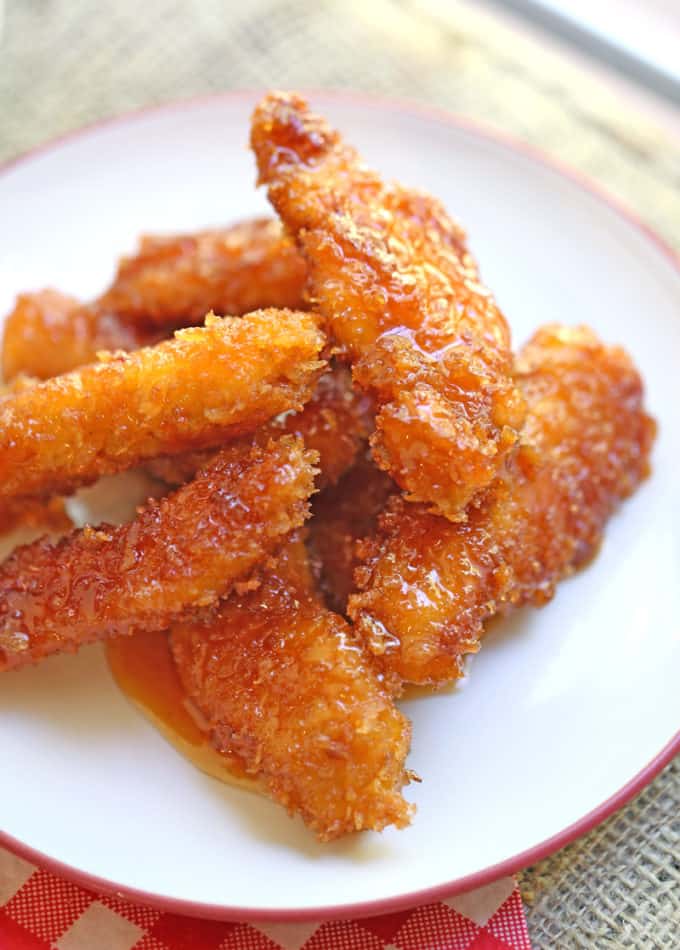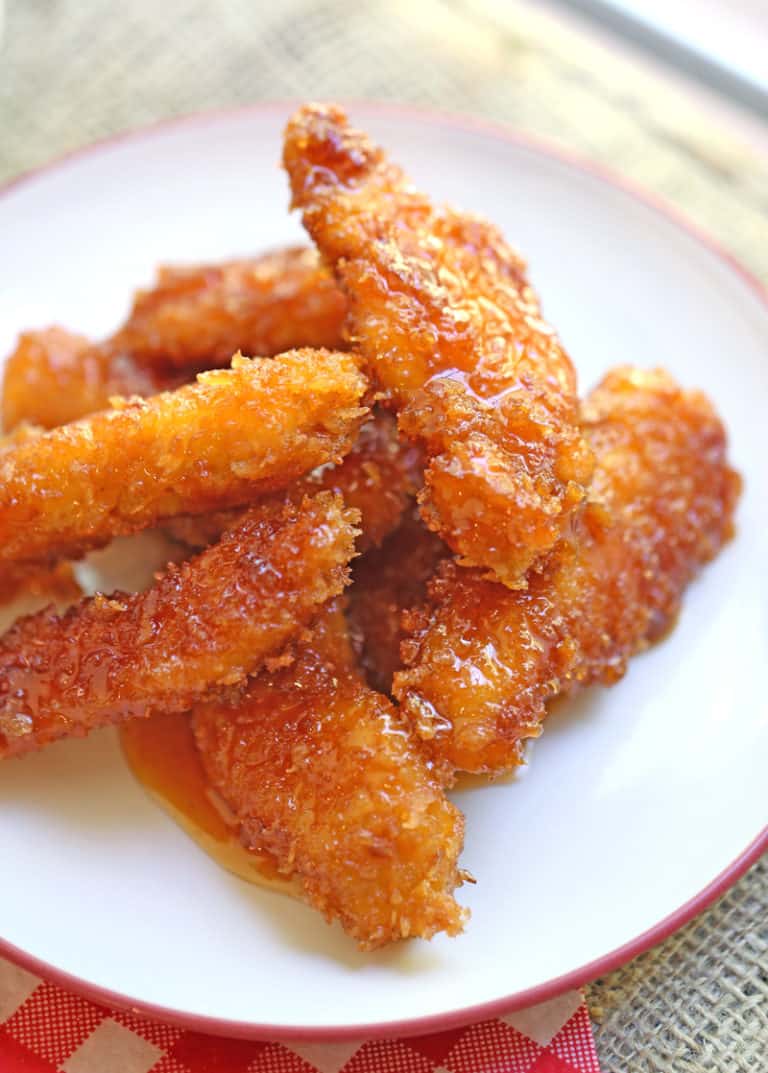 Chicken Fire Poppers sound like a funny recipe name, perhaps you're guessing there is jalapeno and cream cheese inside? When I first came across the recipe on Friday I looked at it and thought, "wow that looks dangerous and delicious!" Then I set off to my favorite two places to research this recipe, Google and Pinterest.
Pinterest interestingly enough came up with NOTHING. This Chicken Fire Poppers recipe was simply not a even on the radar of Pinterest even with all of its pinterest-y characteristics… sweet, crispy, sticky, spicy, chicken bites. You would've expected it to be a hit!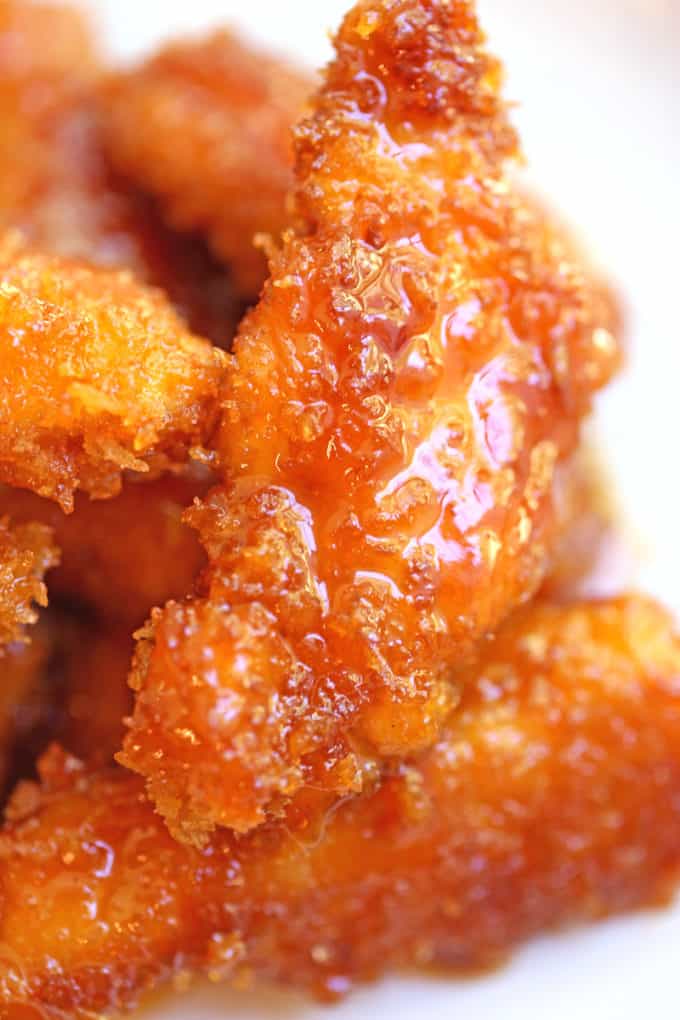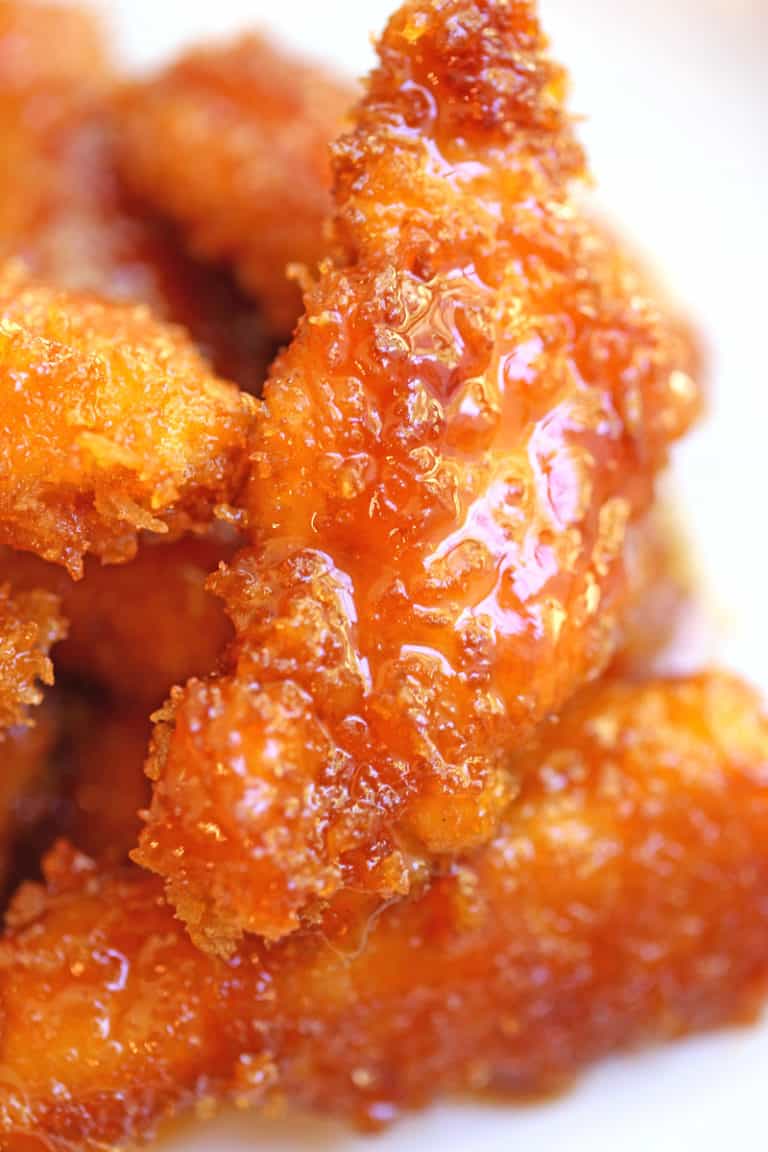 Google on the other hand only brought up 2-3 pages with reference to the cookbook these Chicken Fire Poppers came from. So I knew, I had to make this recipe and put it on Pinterest. When it came out of the oven looking as amazing as it did I texted a picture to my friend who had shared the recipe with me and said "Holy crap, this is the best thing ever!"
Here is the one disclaimer I have to make about this recipe. When you take your first bite you're going to think this is the greatest recipe in the world. I mean look at this….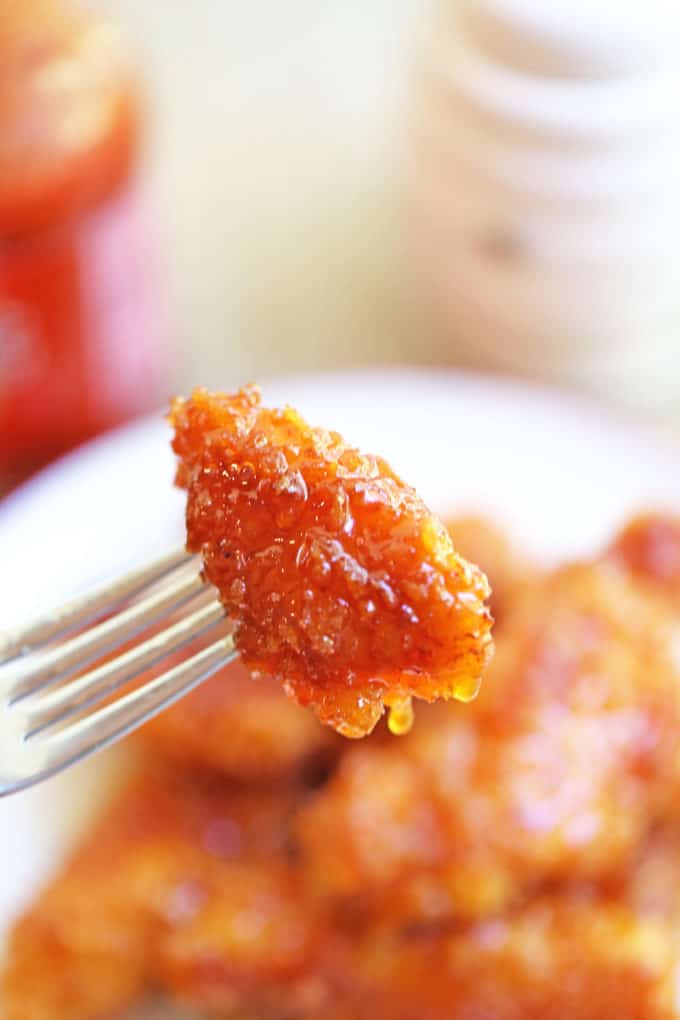 And by your third bite you're going to be doing a little fat kid happy dance because….well…this…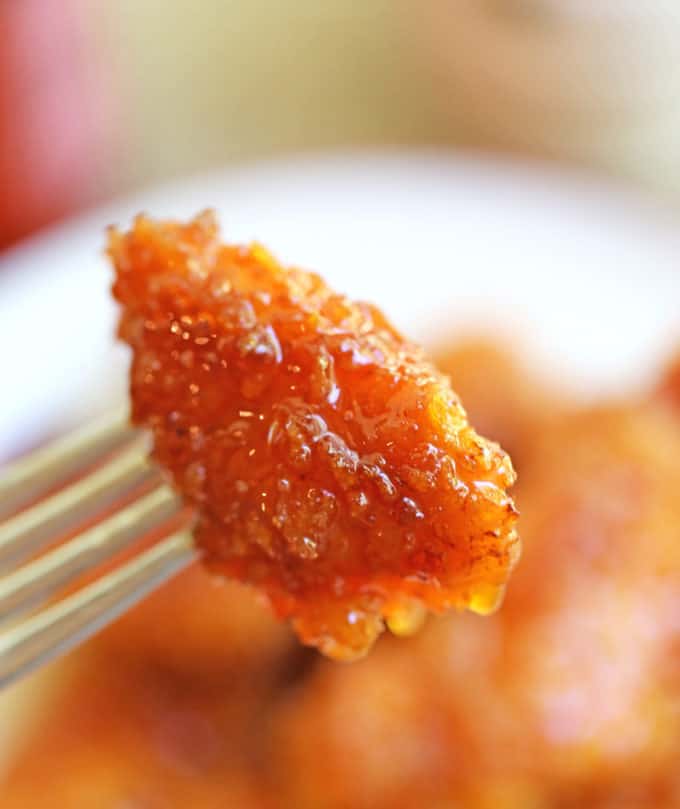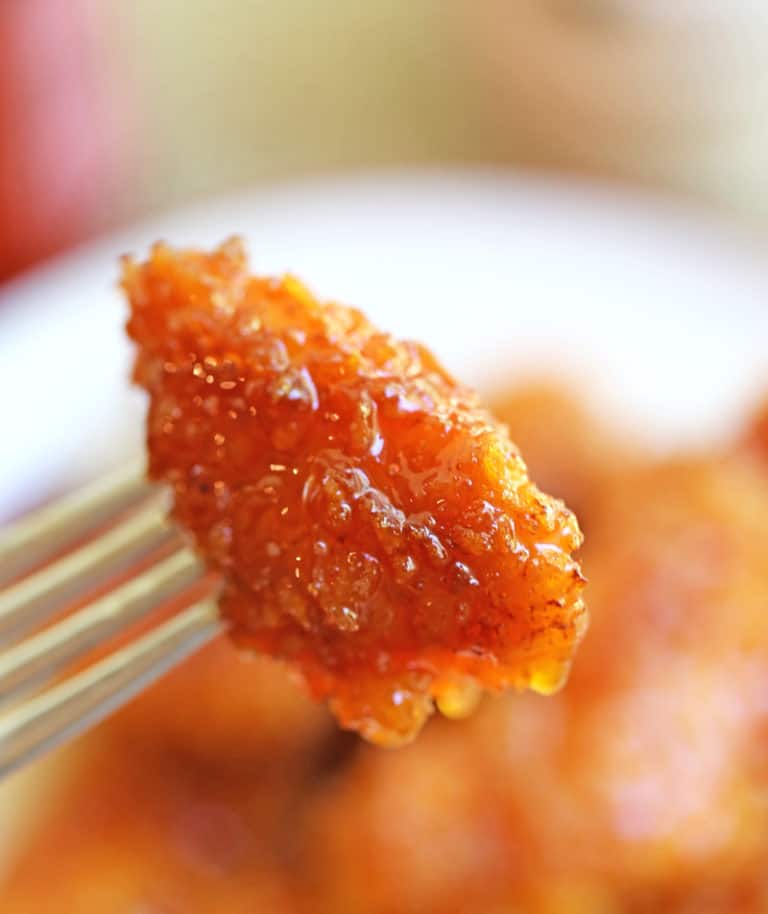 But if you get bold and try to eat a lot of it, say I don't know, a big plateful? You may be feeling the effects of it later. You see the sauce the chicken is coated in is a glorious mixture of sugar, brown sugar, honey and hot sauce. Tastes amazing but in mass quantities it will make you feel like there is a brick in your stomach.
So take this as your official warning. This chicken is dangerously, amazingly good…in smaller quantities. Eat the whole batch at your own risk. My husband would probably eat a dinner sized portion of it given the opportunity but I'm listing it as an appetizer because, well, I love you all.
Tools used in this Chicken Fire Popper recipe:
Lodge Cast Iron Skillet – I use this pan for SO much it lives on my stovetop (hey, it isn't laziness…the pan is HEAVY!).
Pig Tail Flipper – I use this *almost* more than I use tongs in the kitchen. Flipping is so quick and doesn't smash foods.
Panko Breadcrumbs
Breading Station – I use this because the pans are wide with a flat bottom. If you have small rectangular plates use those, I wouldn't use curved bowls for breading stations as it could knock some breading off.
Frank's Hot Sauce – Source it locally in your grocery store if possible to save on the price, but this is the hot sauce you want!
Kirkland Signature Honey – Any real honey will work, just make sure what you are buying is actually pure honey. The amount of fake honey being sold out there is astronomical and it is just colored corn syrup. This bottle is great, I get it straight from Costco, but for the price and for the fact I know it is authentic honey, I keep it as my standby. Also, it has a nice mild flavor which is what you want for this recipe. Avoid floral honeys that would have a flavor battle with your hot sauce.


Ingredients
2

eggs

1/2

teaspoon

garlic powder

1/2

teaspoon

onion powder

1

pound

chicken tenders

, cut into 1-2 inch pieces

1 1/2

cups

panko bread crumbs

Canola Oil for frying

1/2

cup

sugar

1/2

cup

brown sugar

1/2

cup

honey

1/3

cup

Frank's hot sauce
Instructions
Preheat the oven to 350 degrees.

In a small bowl, beat the eggs with the garlic powder and onion powder.

In a second bowl add the panko crumbs.

Dip the chicken in the egg mixture, then coat with the panko crumbs.

In a large skillet or your cast iron skillet, heat about a half inch of canola oil over medium-high heat.

Fry the chicken on both sides until golden and crispy, about

2-3 minutes

each side.

Don't worry about if the center is done, just get it crispy and browned, then put the pieces into a 9x13 baking pan.

In a bowl, combine the sugar, brown sugar, honey and hot sauce and mix to combine.

Pour the sauce over the fried chicken and carefully stir to make sure it is coated.

Bake the chicken, covered, for

15 minutes

Remove the chicken from the pan, and with a spatula to scrape out the sticky sauce, pour the sauce over the plate of chicken.
Nutrition
Calories:
387
kcal
|
Carbohydrates:
69
g
|
Protein:
20
g
|
Fat:
4
g
|
Saturated Fat:
1
g
|
Cholesterol:
102
mg
|
Sodium:
633
mg
|
Potassium:
368
mg
|
Sugar:
58
g
|
Vitamin A:
100
IU
|
Vitamin C:
1.1
mg
|
Calcium:
56
mg
|
Iron:
1.5
mg