Crispy Korean Fried Chicken in a spicy, sweet glaze that is so crispy and sticky you'll coat everything from wings to baked chicken breasts.
This delicious Asian Food recipe is is a popular alternative to other fried and saucy favorites like Honey Orange Firecracker Shrimp, the delicious General Tso's Chicken, and of course P.F. Chang's Orange Peel Chicken.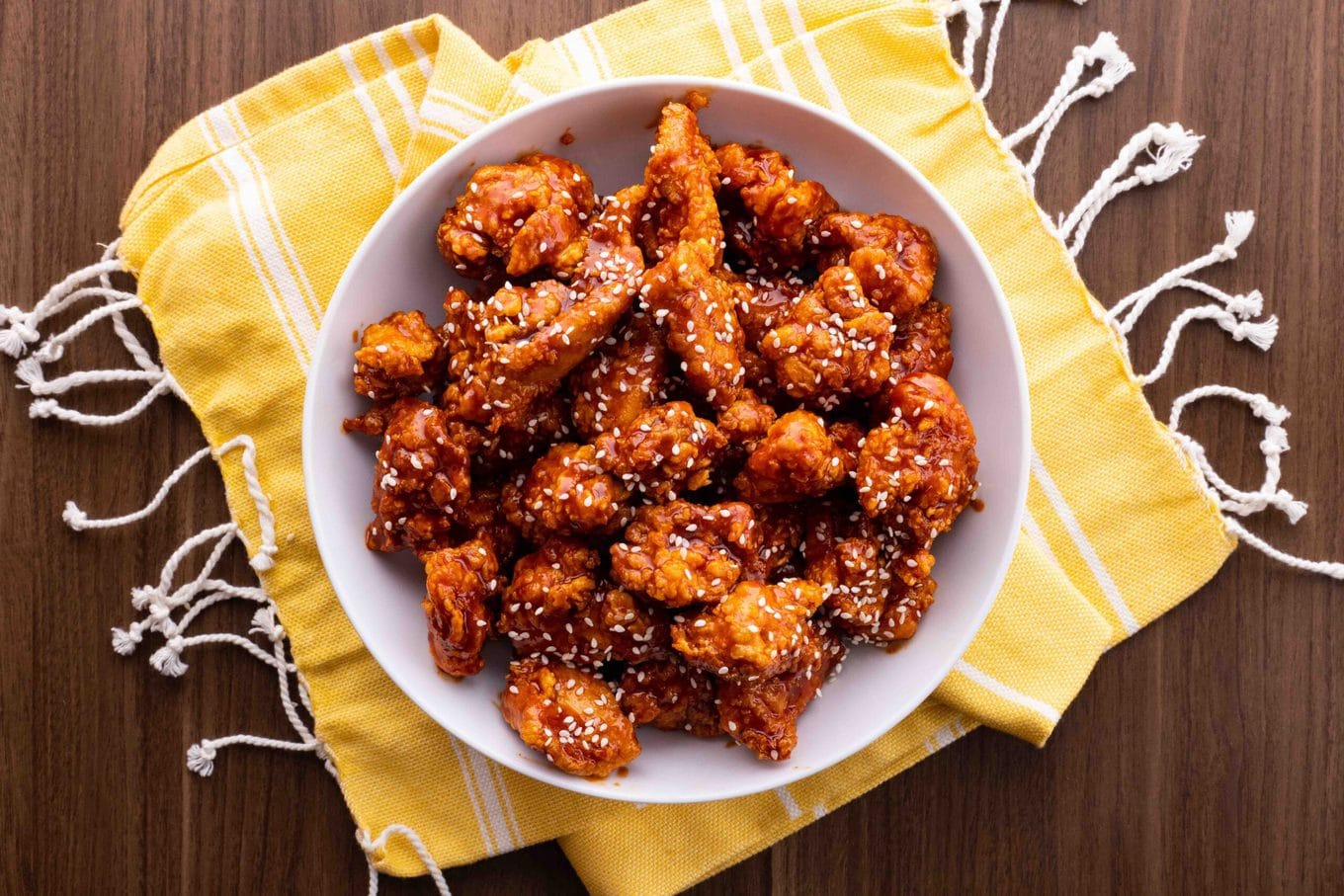 Korean Fried Chicken is a deliciously crispy chicken with a super sticky and savory bite you'll love. Plus it takes just 20 minutes to make!
Korean Fried Chicken is a super easy dish to make, even with unique layers of flavor and texture. The spicy Gochujang red pepper paste immediately adds a ton of flavor that is balanced by the sweet and acidic notes of the brown sugar and rice wine vinegar.
It may sound like a lot of flavors going on, but honestly it is just a few ingredients and once you try this blend of flavors, you'll be topping it on all the different cuts of chicken you can find!
You can also try a few different breading options. Some recipes use baking powder to create a super crispy exterior (but requires a bit of drying time), or you can use a tempura batter. Then there is of course the rice batter used in the Spicy Cashew Chicken. Serve Korean Fried Chicken over Steamed Rice with a side of 5 Minute Crunchy Asian Lime-Peanut Slaw for a quick, better-than-takeout Asian meal right at home.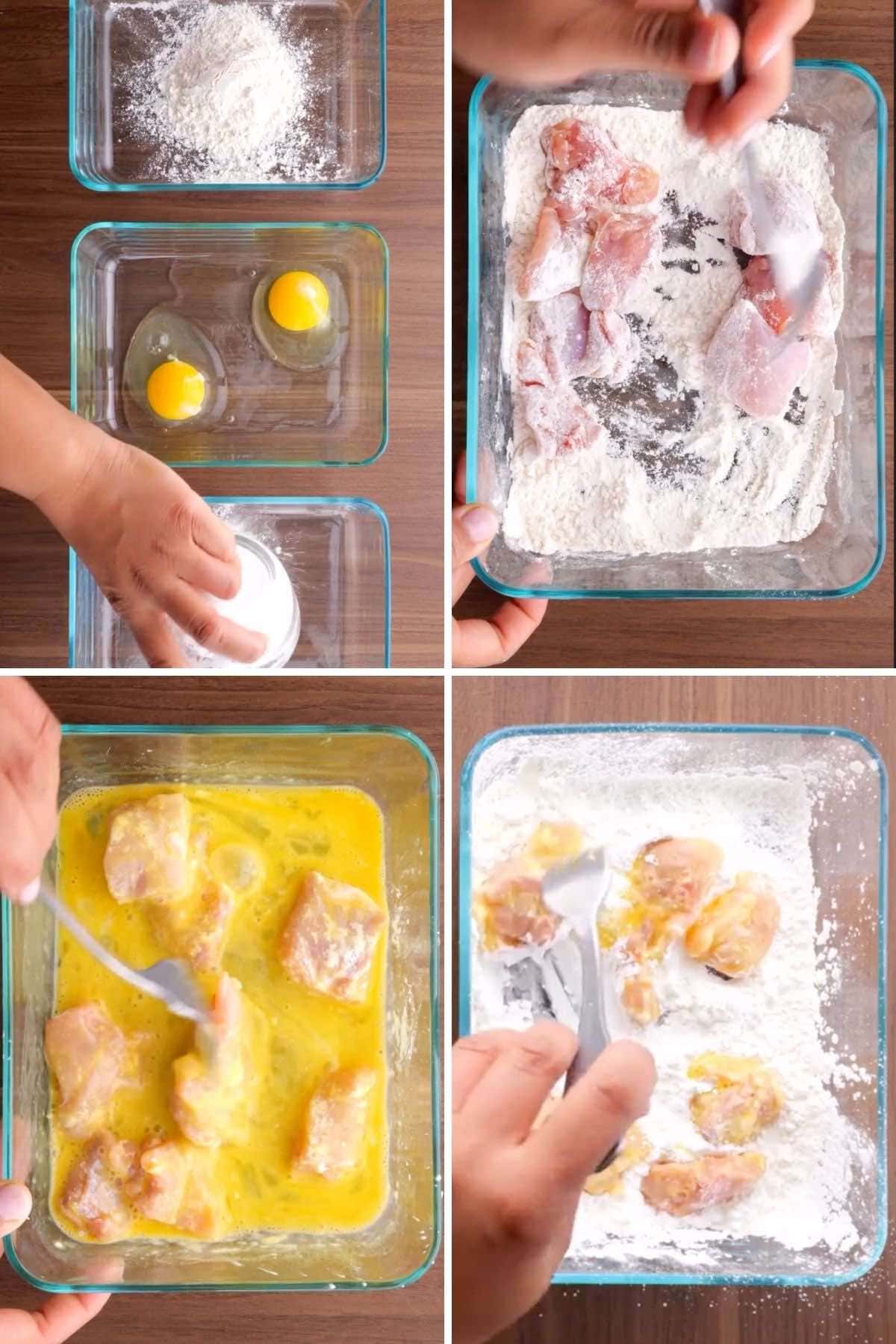 How to Make Korean Fried Chicken
The cooking process for this sweet and savory chicken is super easy. We'll be mixing the sauce together first. Then we'll be deep frying the chicken, and coating it once done for delicious golden brown chicken wings with a sweet and semi-spicy sauce. Coarse ground black pepper is completely optional, but recommended.
Step One: Make the marinade in a mixing bowl.
Step Two: Fry the chicken in the cooking oil until it has a crunchy crust. Cook the chicken in batches if needed. Make sure the oil temperature hits 375ºF. Drain on a wire rack.
Step Three: Toss in the bowl with the sauce, top with freshly chopped green onions and serve hot and ready!
Frequently Asked Questions
What other proteins can I use for Korean Fried Chicken?
This gochujang sauce recipe and frying method will also work great with shrimp, diced pork loin, or pressed tofu cubes.
Can I add vegetables to Korean Fried Chicken?
Chopped bell peppers, onions, mushrooms, snow peas, and/or a few cloves garlic would be a delicious addition to Korean fried chicken. Sauté the vegetables in a separate pan with a light spray of oil, and add to the sauce at the same time as the drained fried chicken.
What other flavors can I use for Korean Fried Chicken sauce?
The gochujang in the sauce is what makes this chicken taste authentically Korean, so don't substitute that ingredient. You can, however, add some more Asian flavors by adding garlic, ginger, or sesame oil to the sauce. You may want to quickly cook the garlic or ginger in a lightly oiled pan for 30 seconds before adding it to the rest of the sauce ingredients to mellow out the strong flavors.
How can I make the chicken more crispy?
For extra crispy chicken, you can double fry the chicken. Double frying helps to crisp it up very nicely. After frying, use a slotted spoon to transfer it from the deep fryer to a wire rack. Refry all the chicken again for a second time. 
What if I can't find Gochujang? 
Chili paste is mainly intended to add a spicy kick, so you can use Indonesian Sambal Oelek instead if that are more readily available. If you're looking for something less spicy, you can try sweet chili sauce. You can also make your own with ⅓ cup Sriracha, a half teaspoon of rice vinegar, a teaspoon of freshly grated ginger, and a teaspoon of freshly grated garlic. 

Create a free account to

Save Recipes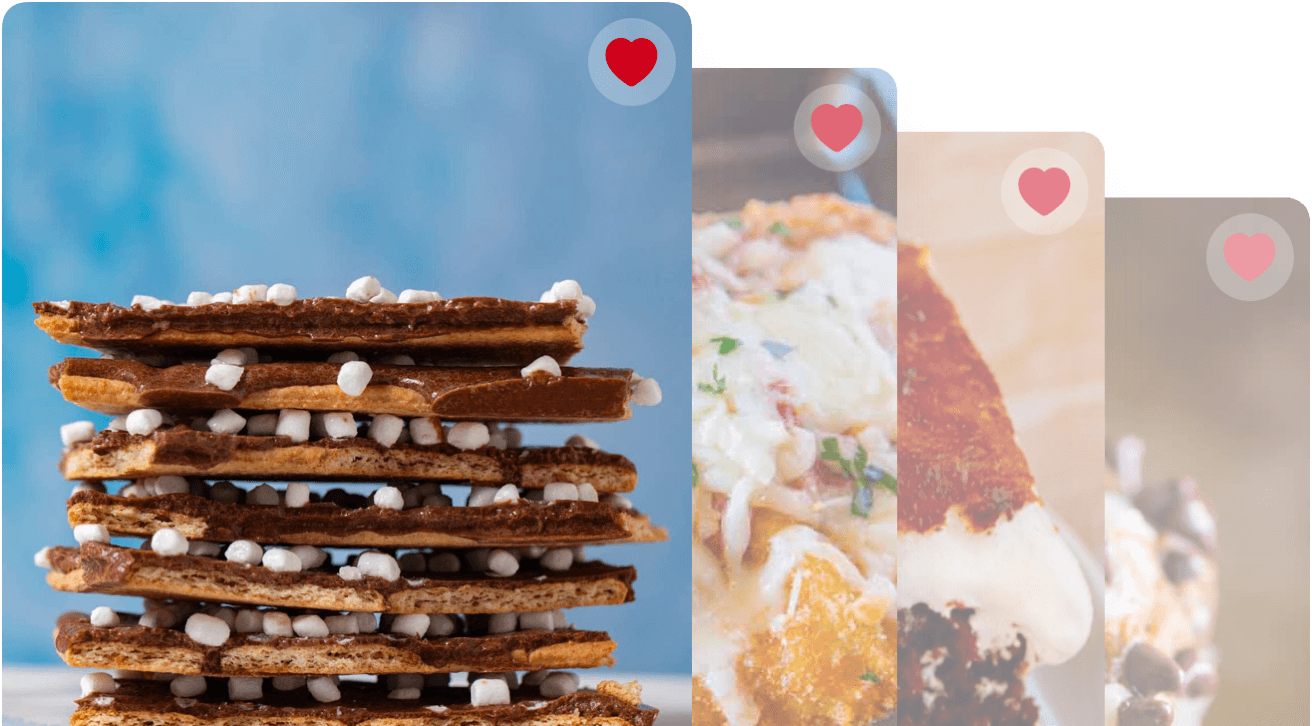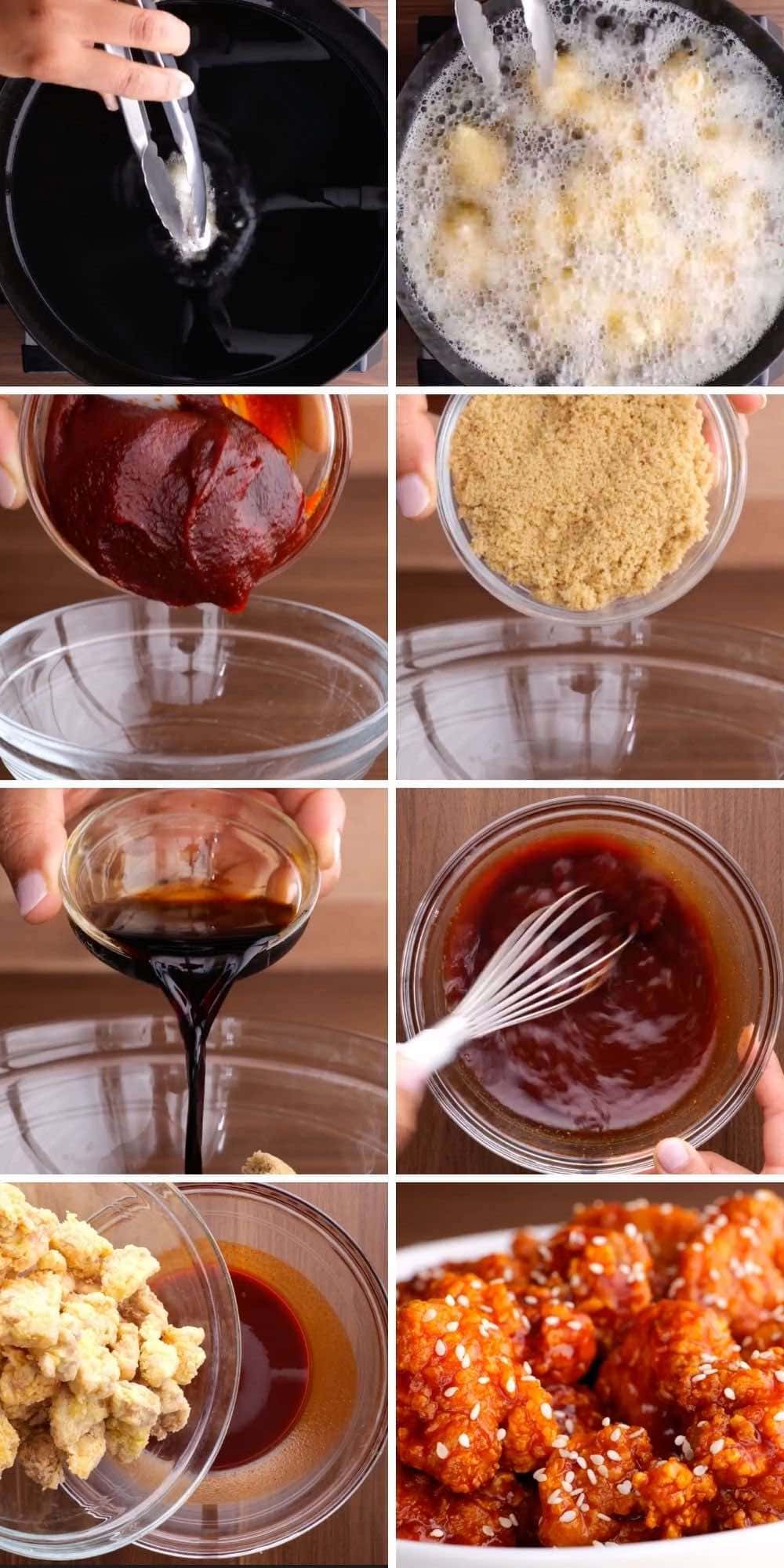 Key Ingredients in Korean Fried Chicken
Any Asian food store will have all these ingredients. And most large grocery stores will have them in the international section.
Korean Gochujang: This is the primary flavor in Korean Fried Chicken, so don't swap it for any other ingredient. You can also find it in your local Asian grocery stores. There is a more Americanized brand as well from Annie Chun's too if you can't find the more authentic version.
Soy Sauce: Nothing much to say here except Kikkoman has the best flavor overall and it's always best to use reduced sodium.
Rice Vinegar: Readily available in almost all grocers these days, this is a great vinegar to keep on hand. It does have a hint of sweetness to it, so don't replace with any other vinegar except perhaps a red wine vinegar if you absolutely need to.
Chicken: We're using skinless and boneless chicken thighs. You can use also use 2 pounds chicken wings, or 2 pounds chicken breasts.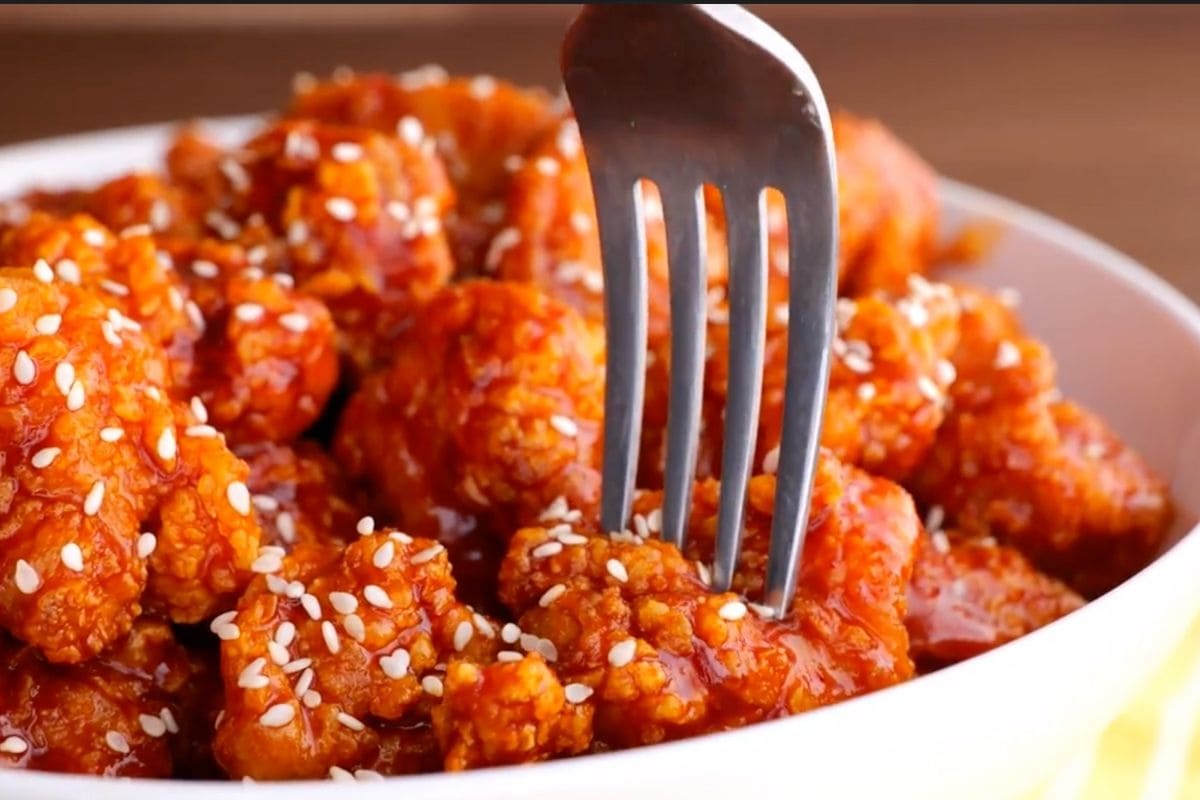 Alternative Cooking Methods
If you'd prefer not to deep fry your chicken, you can try one of the alternatives here. Just keep in mind and make sure the chicken cooks to an internal temperature of 165ºF.
Air Fryer: Line the air fryer with tin foil. Dry the chicken with paper towel and make sure it is at room temperature. Lightly oil the chicken, but not too much. Depending on the thickness of your chicken, air fry at 375ºF for 6 minutes, turn the chicken over halfway through.
Bake: Similar to air frying, dry the room temperature chicken and coat with a bit of oil. Bake on an oven tray at 400ºF for about 15 minutes, turning the chicken over at the 7 minute mark.
More Korean Inspired Recipes
How to Store Korean Fried Chicken
Serve: Don't leave cooked chicken at room temperature longer than 2 hours before refrigerating.
Store: Sealed in an airtight container, Korean Fried Chicken will last in the refrigerator up to 3 days.
Freeze: After cooling completely, lay Korean Fried Chicken pieces in a single layer on a parchment lined baking sheet and freeze 1 hour. Then transfer to a freezer safe plastic bag for 2-3 months. Reheat from frozen in a 400 degree oven for 16-20 minutes.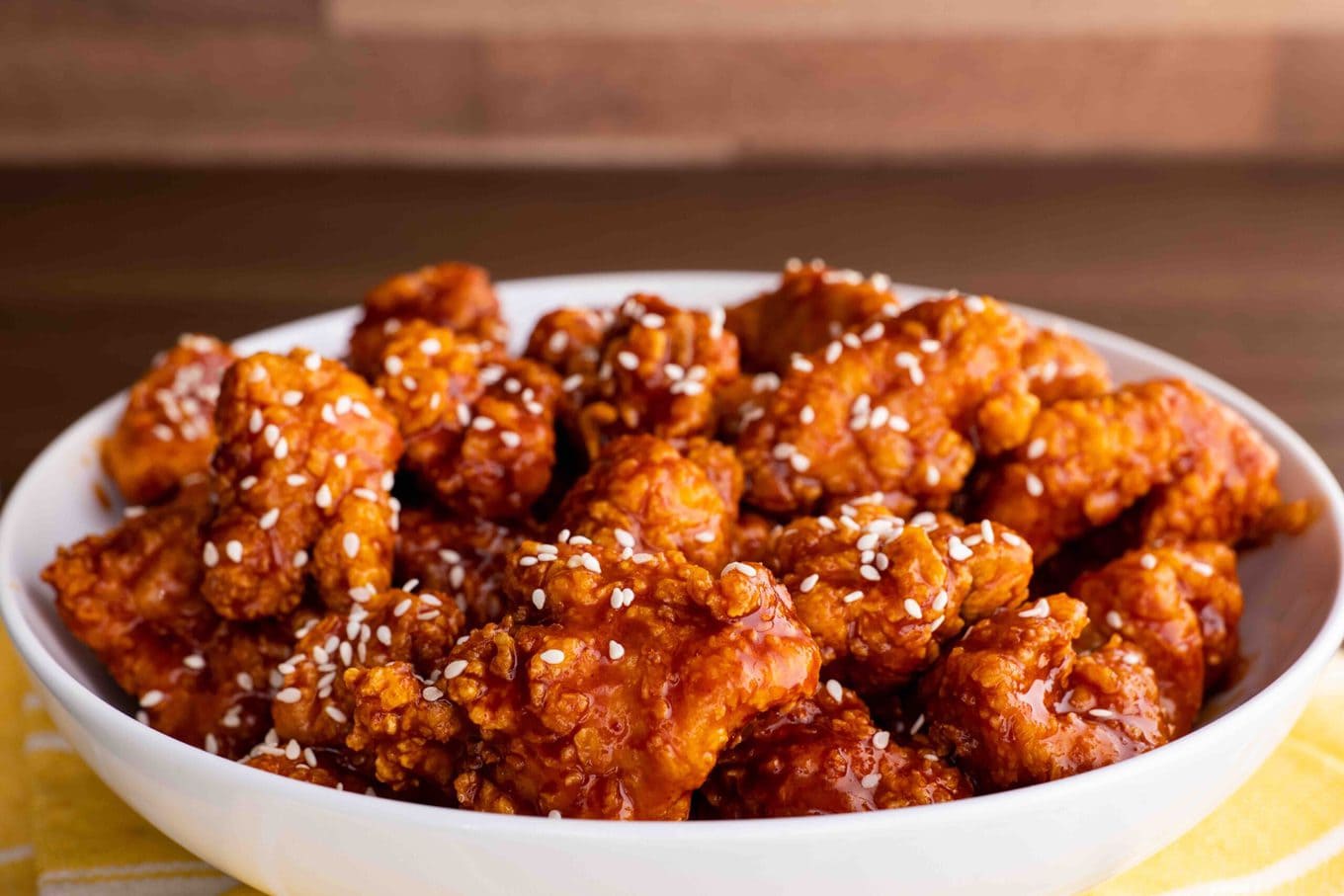 Ingredients
2

pounds

boneless skinless chicken thighs

, cut into 1 inch pieces

1/4

cup

flour

2

large

eggs

1/2

cup

cornstarch

vegetable oil

, for frying

1

teaspoon

sesame seeds

, for garnish
Sauce
1/3

cup

Korean Gochujang red pepper paste

3

tablespoons

rice vinegar

1/4

cup

brown sugar

2

tablespoons

soy sauce
Instructions
Toss the chicken in the flour, then dredge into the egg and finally coat in the cornstarch.

In a large glass bowl add the Gochujang, vinegar, brown sugar and soy sauce and whisk until well combined.

Heat up a heavy bottomed pan with 3 inches of oil to 375 degrees.

Fry the chicken for

3-4 minutes

or until browned and crispy.

Drain the fried chicken and add to the bowl with the sauce.

Toss to combine, garnish with sesame seeds and serve immediately.
Nutrition
Calories:
321
kcal
|
Carbohydrates:
23
g
|
Protein:
36
g
|
Fat:
7
g
|
Saturated Fat:
2
g
|
Cholesterol:
149
mg
|
Sodium:
433
mg
|
Potassium:
610
mg
|
Sugar:
9
g
|
Vitamin A:
80
IU
|
Calcium:
27
mg
|
Iron:
1.6
mg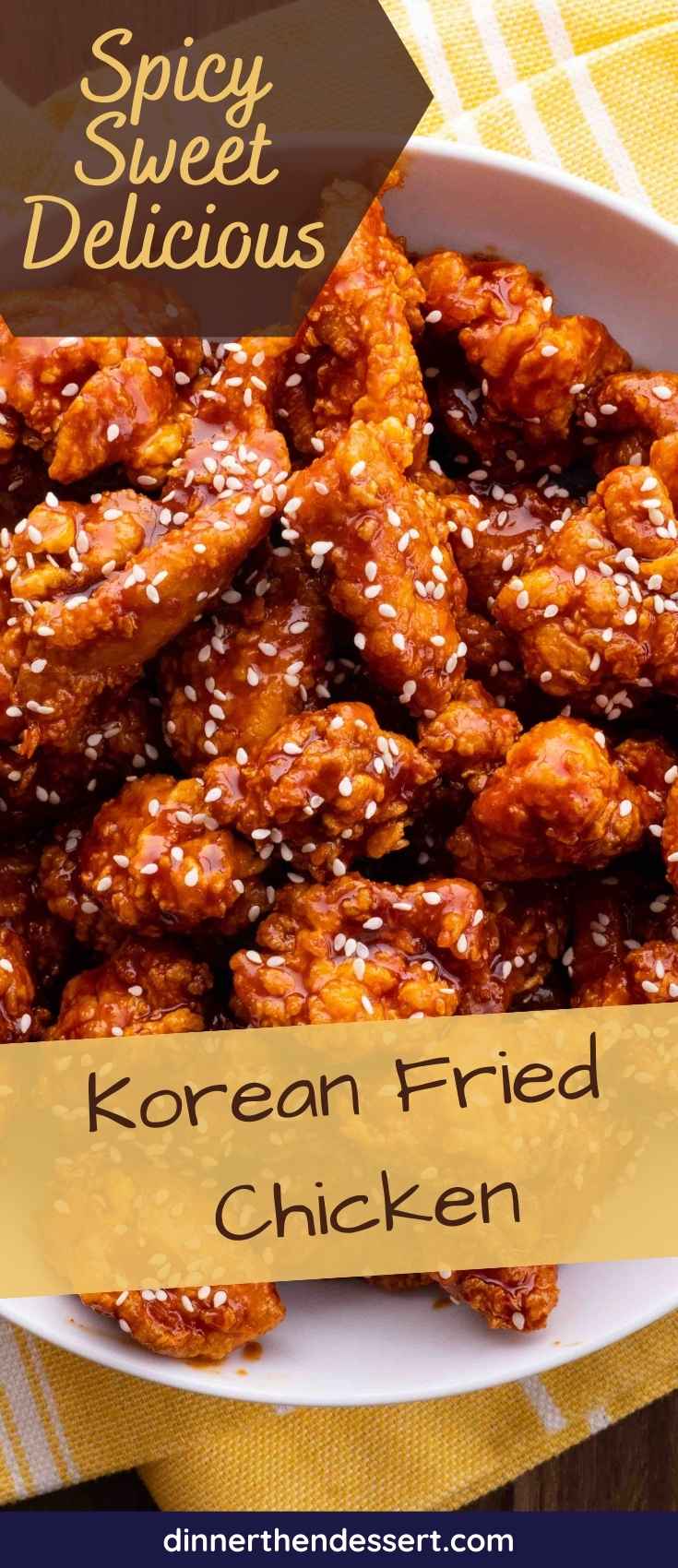 Photos used in a previous version of this post.