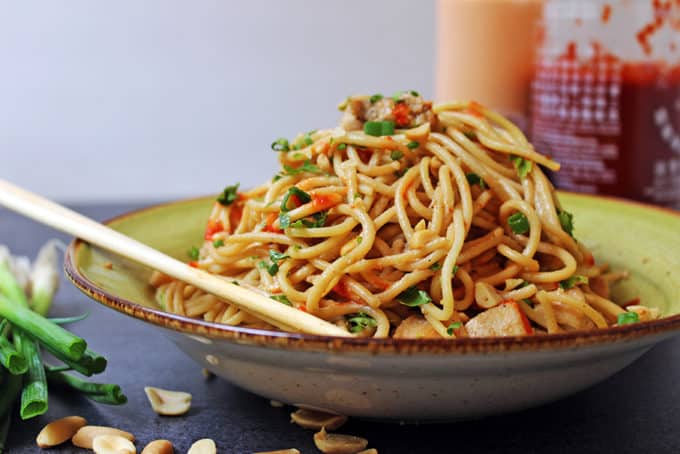 A few years ago I was browsing Pinterest for ramen noodle ideas. I had this crazy craving for the chicken cup o' noodles I used to eat as a kid but I didn't want to use the noodle packet of questionable origin, especially since I was pregnant! You would be surprised how creative people get with ramen, it was enough to somehow eat up 2 hours of my life going through hundreds and hundreds of pins. I wanted the texture of the noodles, but wanted a flavor that tasted like ingredients instead of chemicals. It also had to be something I currently had in my pantry since the last thing I wanted to do while it was snowing outside was go to the grocery store for fresh ginger or asian pear. I had the noodles because I had experimented with frying them for a salad topping (not a fan of that recipe). Unfortunately it came in a 6 pack, so 5 packs were just eating up cupboard space (which was in VERY short supply living in a condo in Northwest DC). About 100 recipes in, I came across 3 or 4 in a row that mentioned the combination of peanut butter and sriracha. I was intrigued! Then I found this! Martha Stewart, of all people! I mean c'mon, can you imagine Martha sitting down with a bowl of ramen noodles from a packet? Even with the upgrade?
I wanted to give her recipe a shot, but I wasn't thrilled about using the packet, so I set out to adjust. I played with the amounts of peanut butter and soy sauce, but it all came down to that packet. Then one day when I was going to make it I set my pot of water to boil and lo and behold there was a bottle of Better than Bouillon sitting next to it on the counter. So instead of the packet I put a nice big spoonful in. If you aren't familiar with them, it is basically stock/broth that has been reduced down to a paste. Literally all the water is gone. So one jar replaces probably 15 boxes of broth (Want to reiterate here, I am not sponsored by Better than Bouillon, I am just a fan. I will always let you know if you are reading about products that I am sponsored by). Added bonus? They sell them at Costco for less than anywhere else, in its organic version.
Jackpot! The concentrated chicken flavor completely makes up for that packet. Then the soy and peanut butter make it creamy and full of umami. Finally the sriracha gives it a kick. PERFECTION! And did I mention perfection in 5 ingredient? Yup. Winner.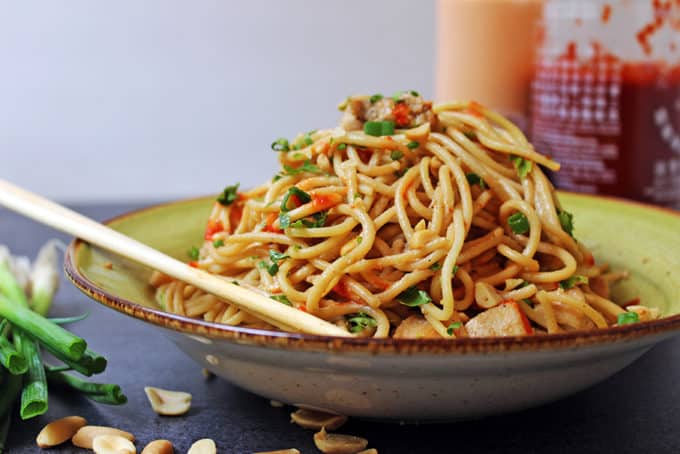 Since then I have done even more in the way of alternatives. I've ditched the ramen noodles in favor of thin spaghetti. It was a healthier choice overall. I go to the Asian grocer for fresh chow mein noodles from time to time, but the best thing about this recipe is how easy it is as a pantry recipe. None of these ingredients have a short shelf life so you can always have this recipe in your back pocket. I usually get fancy and throw some peanuts and sliced green onions on top. If I have cooked chicken in the fridge I chop it up and toss it in with all the sauce ingredients. This is the best part of a pantry dish, it is whatever you have! Have some left over shrimp? steak from last night? roast pork (oh man, now I want this with roast pork and it is only 7:00 am as I write this)? Throw it in! Baked tofu? Roasted veggies? It is pretty hard to steer wrong with this base recipe.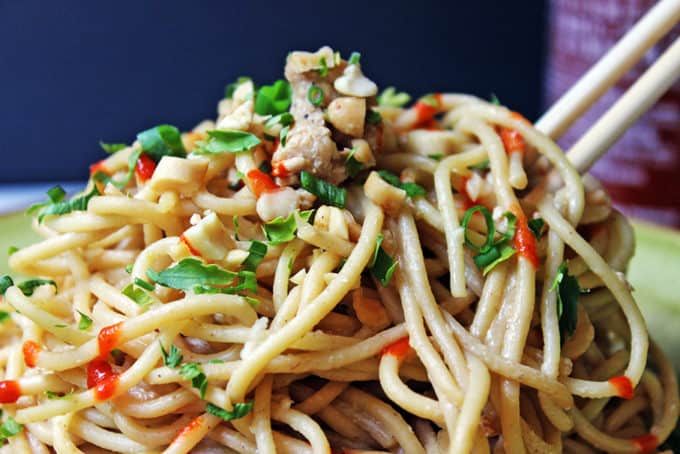 I think the recipe tastes even better because the instructions are only three steps!


Ingredients
1

pound

thin spaghetti

6

cups

chicken stock

, or 6 cups water and 2 heaping tablespoons of Chicken Better Than Bouillon

3

tablespoon

lite soy sauce

3

tablespoon

peanut butter

Sriracha sauce

(to taste, I usually use just less than a tablespoon for a pound of pasta)

Crushed peanuts

(optional)

sliced green onions

(optional)

cooked chicken

(optional)
Instructions
Cook the noodles on high with stock for

5-7 minutes

.

Drain off 90% of the water

Add soy sauce, peanut butter and sriracha. Mix well.

Add peanuts and green onions if you want to get fancy!
Nutrition
Calories:
629
kcal
|
Carbohydrates:
100
g
|
Protein:
28
g
|
Fat:
12
g
|
Saturated Fat:
3
g
|
Cholesterol:
11
mg
|
Sodium:
1331
mg
|
Potassium:
737
mg
|
Fiber:
4
g
|
Sugar:
10
g
|
Vitamin C:
1
mg
|
Calcium:
42
mg
|
Iron:
3
mg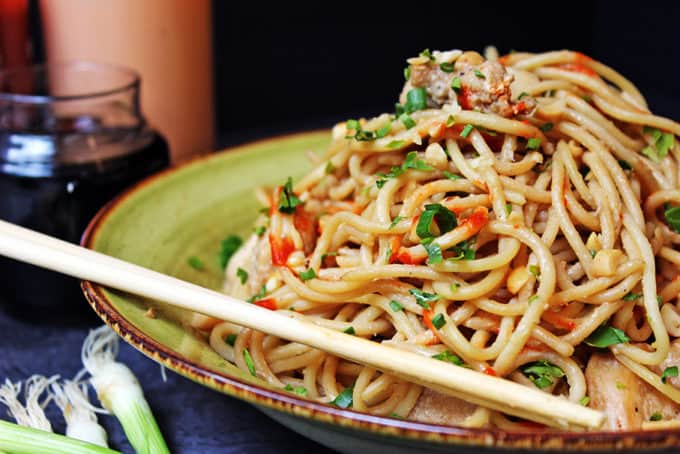 Psssst… want to hear a little secret? This recipe is one of 10 in my upcoming FREE e-book called 5-10-30. 5 Cuisines, 10 Full Meals and 30 Total Ingredients that is a bonus for email subscribers only! It will include shopping lists that set you up for two weeks of weeknight dinners with no ingredient waste and tips for cooking and alternate ingredient options. If you haven't subscribed for updates you may want to now so you can be one of the first to get it when it comes out!