Asian Sweet Chili Chicken is so crispy, sticky, sweet, slightly spicy and completely addicting you won't even miss your favorite Asian takeout.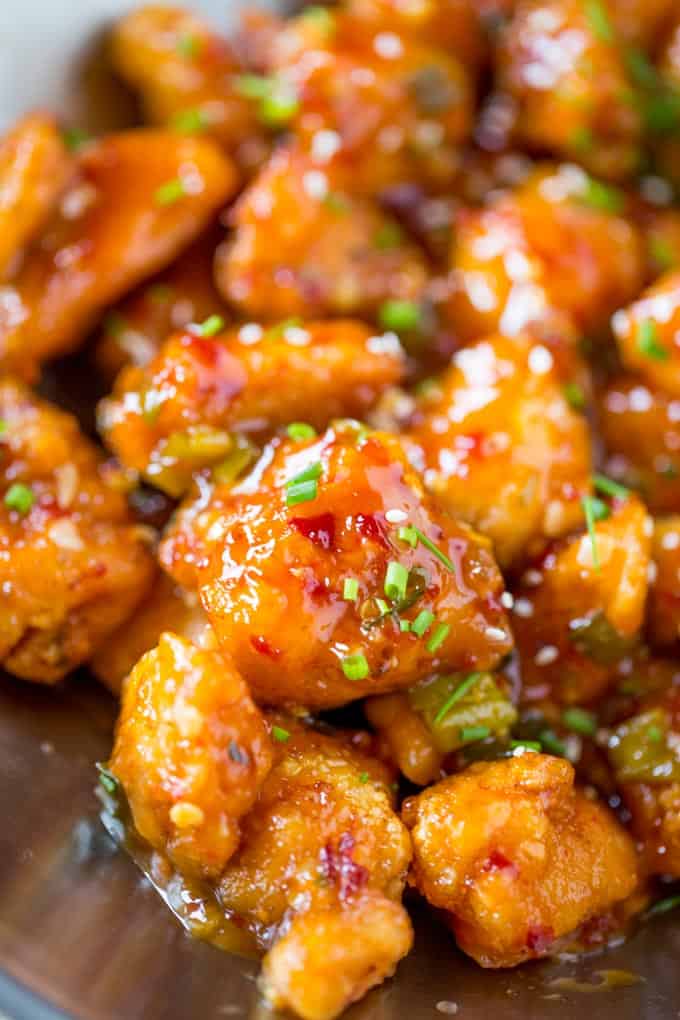 Asian Sweet Chili Chicken combines two of my favorite things about Asian cooking, tempura batter and sweet chili sauce. We love this Sweet Chili Sauce so much we keep 4 bottles of it on hand to make sure we don't run out (our local store doesn't carry it so I order it on Amazon or stock up when we head home for visits.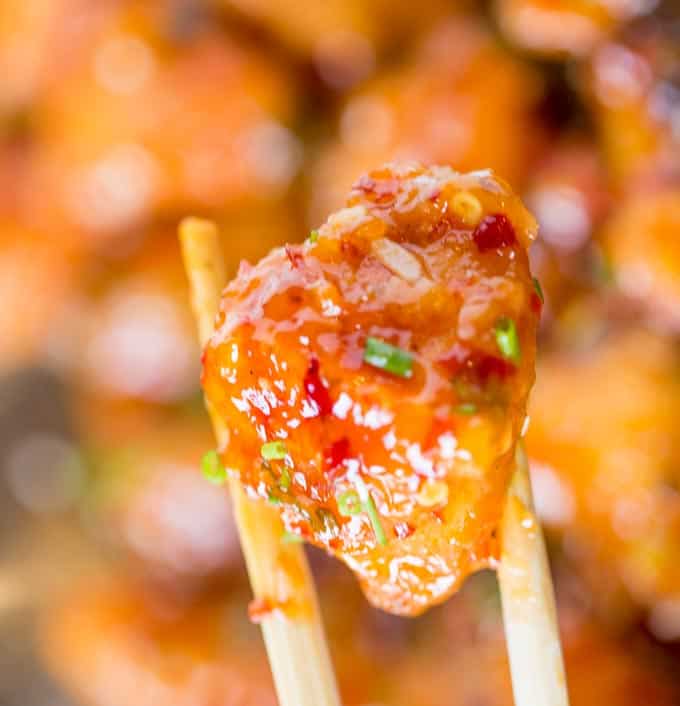 The batter of the chicken is your classic tempura batter which ensures it is a light crispy batter you won't feel weighted down by. It is a mix of cornstarch and flour that you add ice water to (drain the ice out first). This means you'll want to work fast because the colder that batter is the crispier it is going to be.
Another tip for making this dish as crispy and light as possible is cooking in a wok. I reference it a lot when it comes to Asian cooking because the high heat, quick cooking is the best way to get crispy small bites of proteins, like this Mongolian Beef I posted last week that resulted in tender bites of beef even with as thinly as they were sliced.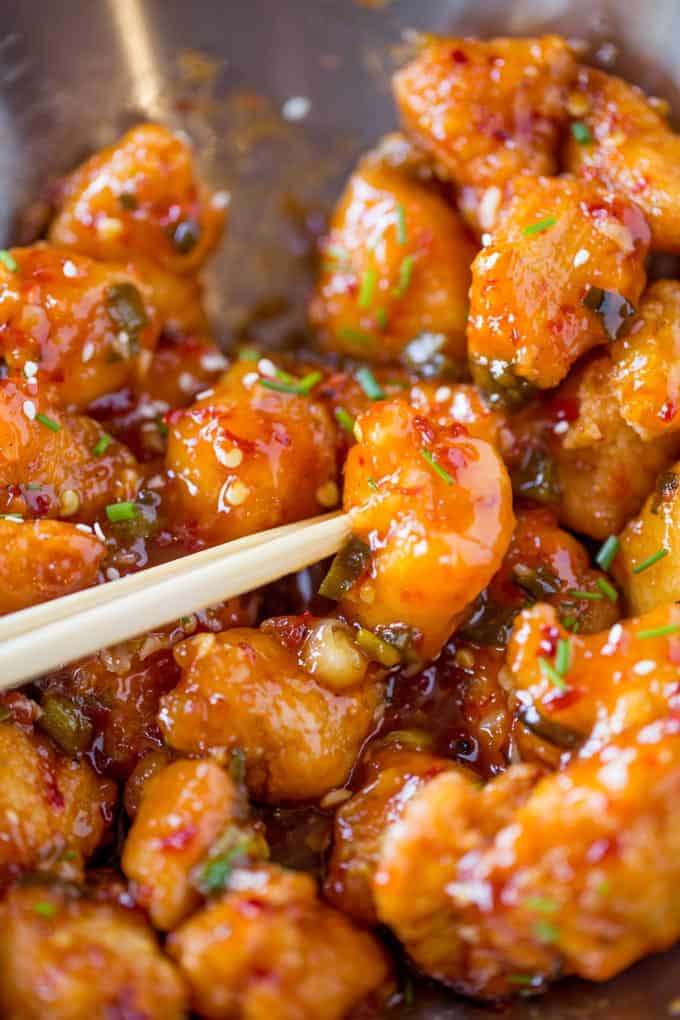 Sometimes I also swap out ice water for ice cold club soda. I know what you're thinking, who has club soda around the house? Well,  you probably don't if you live near me because I think I single handedly keep the stores within 5 miles of me out of stock I love it so much. Carbonation without the added stuff of sodas.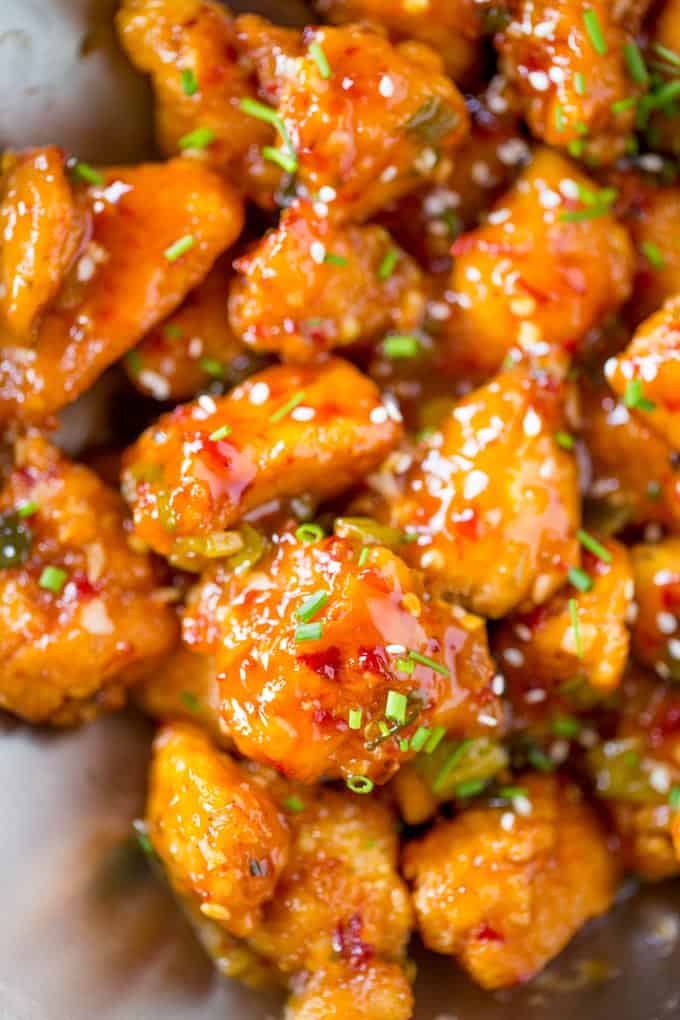 This Asian Sweet Chili Chicken is a breeze to make because the sauce is just a few ingredients and the batter takes just a few minutes to combine and even less time to fry. All of that to say you could be sitting down to this dish in the amount of time it takes you to steam the white sticky rice you're making on the side.
Mom alert: serve something green on the side! Broccoli, bok choy, green beans, edamame, something green so you don't feel guilt biting into this delicious bite of food!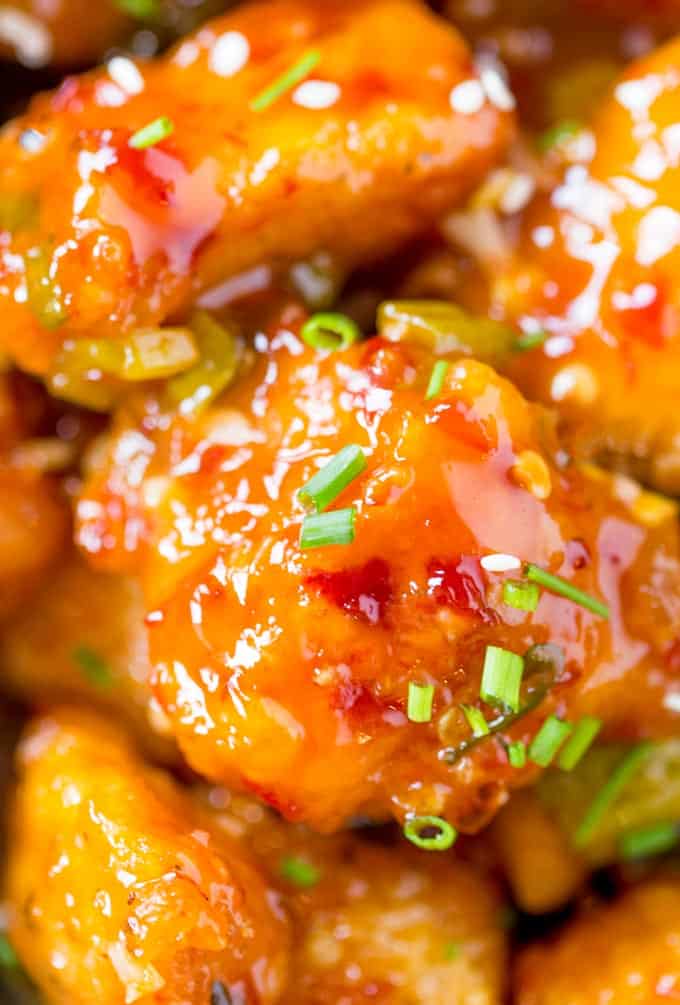 So break out the wok, the chili sauce, that half a lime you have sitting around and get to making this delicious Asian Sweet Chili Chicken!
Looking for more Asian Food?
Tools Used in the Making of this Asian Sweet Chili Chicken:
Sweet Chili Sauce: Adds that sweet, glaze to the dish that you'll have trouble replicating without quite a lot of work, this is at the heart of the dish. If you're in a pinch use the Trader Joe's brand, add a bit more than written of the crushed red peppers since the Trader Joe's variety is not spicy at all.
Wok: Great for high heat, quick cooking. This wok is a great addition to your kitchen if you love cooking Chinese food or stir fries in general.
Large Frying Pan: I use this Cuisinart for most of my non cast iron cooking unless I am going with a stainless steel option, then I choose my All Clad.


Ingredients
Tempura Battered Chicken:
2

egg whites

1

cup

all-purpose flour

sifted

1/2

cup

cornstarch

1

teaspoon

baking powder

1

cup

water

ice cold

2

tablespoons

canola oil

1

pound

chicken thighs

boneless-skinless and cut into 1 inch pieces
Sauce:
canola oil for frying

1

tablespoon

oil

3

cloves

garlic

minced

3

green onions

sliced thinly, tip to tail not including the root

1/2

cup

Thai sweet chili sauce

1/2

teaspoon

crushed red pepper
Instructions
Mix together the batter ingredients in a large bowl.

Heat a frying pan up with oil deep enough to fry your chicken pieces without them touching the bottom of the pan, a couple inches should be enough space.

Using a slotted spoon drain the batter as much as possible and slide the chicken into the pan.

Break apart the chicken after the crust starts to form and cook until the chicken is golden brown (

4-5 minutes

)

Work in batches to prevent the oil from dropping too far in temperature.

Remove the last batch of chicken from the pan and discard almost all the oil, leaving just a couple of tablespoons in the pan.

Add the garlic and green onions to the pan and cook it on medium heat for

20-30 seconds.

Add the chicken back in along with the sweet chili sauce and crushed red pepper.

Toss to combine and serve immediately.

Garnish with sesame seeds or green onions if desired.
Nutrition
Calories:
484
kcal
|
Carbohydrates:
56
g
|
Protein:
27
g
|
Fat:
16
g
|
Saturated Fat:
2
g
|
Cholesterol:
108
mg
|
Sodium:
457
mg
|
Potassium:
471
mg
|
Fiber:
2
g
|
Sugar:
16
g
|
Vitamin A:
190
IU
|
Vitamin C:
2.4
mg
|
Calcium:
69
mg
|
Iron:
2.6
mg