Easy Spicy Ramen recipe with a rich homemade spicy broth and instant noodles. A quick and delicious bowl of ramen soup in about 15 minutes!
Quick and easy recipes like Chow Mein, Ramen Noodle Salad, and this fiery Japanese Soup turn packs of ramen noodles into a flavorful, delicious Dinner in no time at all.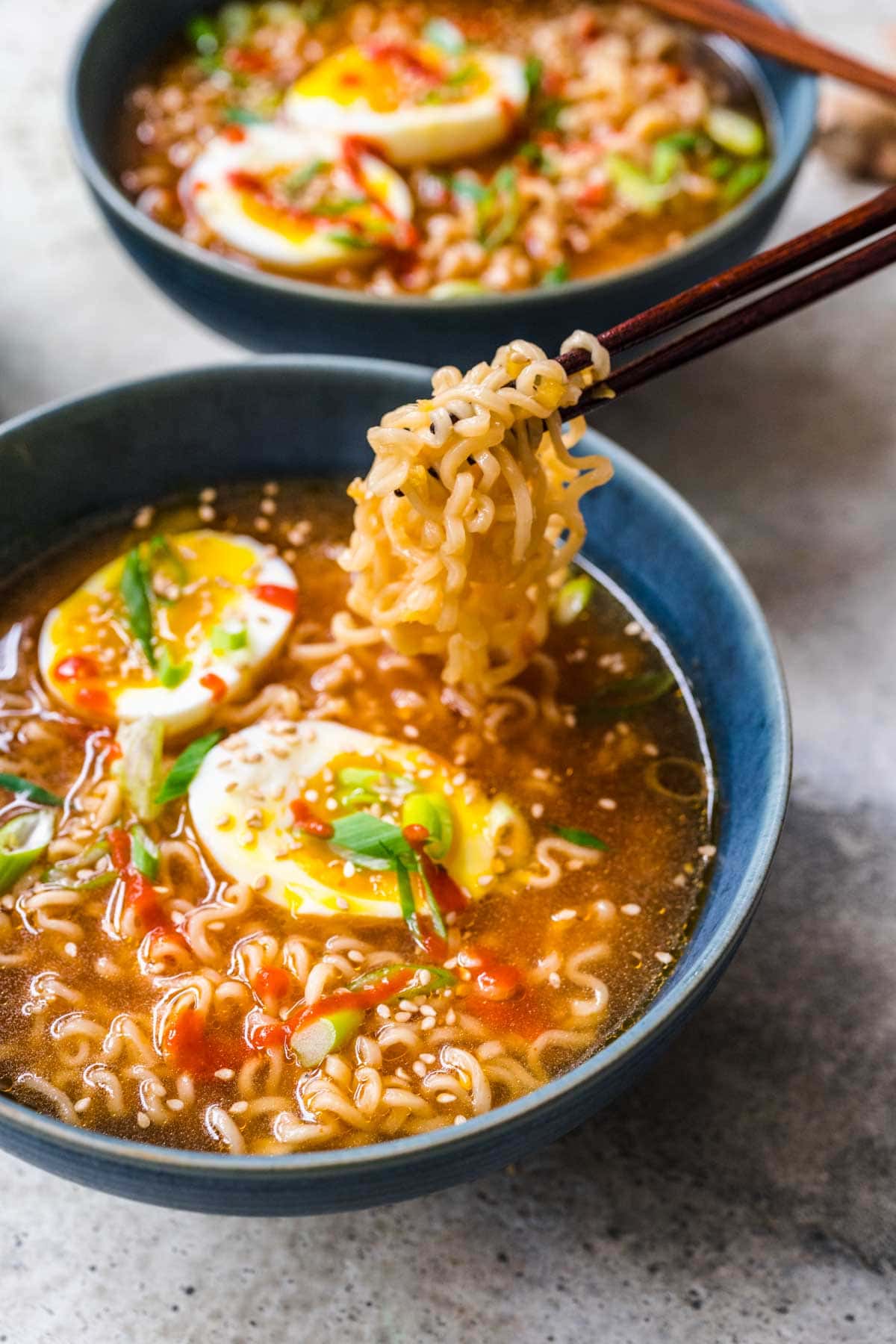 With its flavorful broth, slurp-worthy noodles, and delectable toppings, Japanese Ramen is a dish that warms both the body and the soul. While enjoying these bowls of comfort at your favorite restaurant is an option, there's nothing quite like crafting your own ramen at home. Not only do you get to control all the flavors, there's plenty of your favorite toppings without the extra charge!
This easy Spicy Ramen recipe transforms a couple packs of instant ramen noodles, chicken broth, Asian seasoning sauces, and other basic ingredients into a ramen shop worthy dish. If you like making Asian Food at home, you probably already have everything you need. Even if you don't, everything you need can easily be found at your regular grocery store. The best part is that this amazing Spicy Ramen is ready in about 10 minutes. You may never make instant ramen any other way again!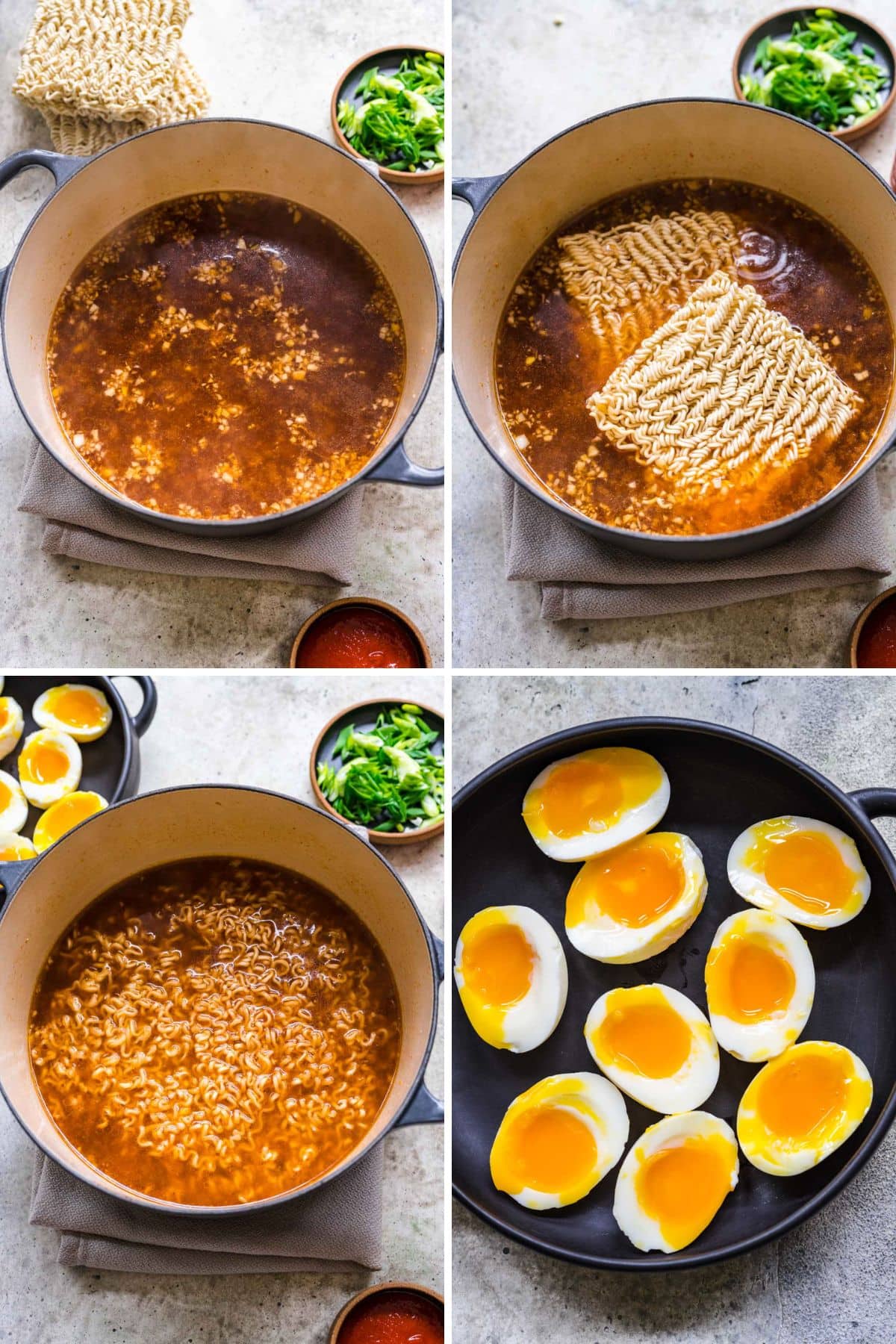 Don't let the term "spicy" intimidate you—this recipe isn't going to have you sweating or begging for water. Since the sriracha is balanced by a rich broth and creamy egg, it is on the same spice level as Buffalo Sauce. Basically it has enough heat to satisfy your spicy cravings but also plenty of room to crank up the heat if you need more fiery flavor!
This tasty Spicy Ramen is made with chicken broth for extra flavor, but that's the only meat it has in it, so it's a pretty light noodle dish. It makes a great appetizer for a homemade sushi night with California Rolls and Dragon Rolls. Pair it with Chicken Katsu, either on the side or slice the chicken and serve it on top, for a hearty and delicious Japanese dinner.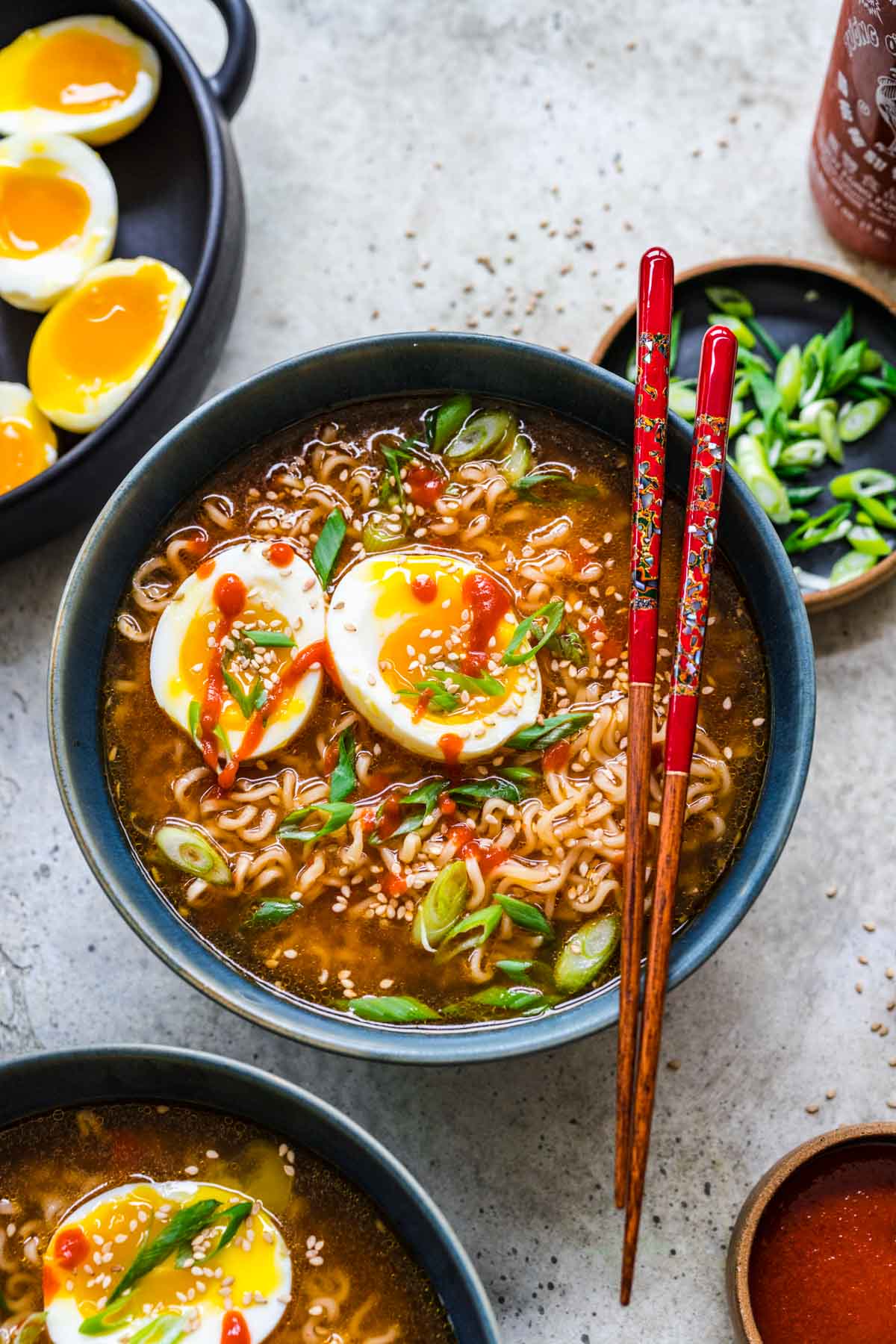 What is Spicy Ramen?
Spicy ramen is a fiery twist on the classic Japanese noodle soup. It's got a bold and aromatic broth that packs a spicy kick, and of course lots of tender ramen noodles. There are different types of ramen broth, from Tonkotsu to Miso to Shoyu and they can all technically be Spicy Ramen. This particular recipe is a Shoyu Ramen because it has a light broth made with soy sauce and hoisin sauce as the primary flavoring, besides of course the spiciness.
How to Make Spicy Ramen
Broth: In a large pot, add the chicken broth, hoisin sauce, soy sauce, sriracha, sesame oil, ginger and garlic. For a little deeper flavor, you saute the garlic and ginger in the pot with the oil first, then add the other ingredients.
Noodles: Stir the broth mixture and bring it to a simmer over medium heat. Once it's a rapid simmer, add the dry noodles and boil for 4-5 minutes until the noodles are cooked.
Serve: Divide the noodles and hot broth into 4 bowls. Cut the eggs in half and top each bowl of soup with one egg half. Garnish with sesame seeds and green onions. Add more Sriracha and any other toppings and serve hot.
More Delicious Japanese Recipes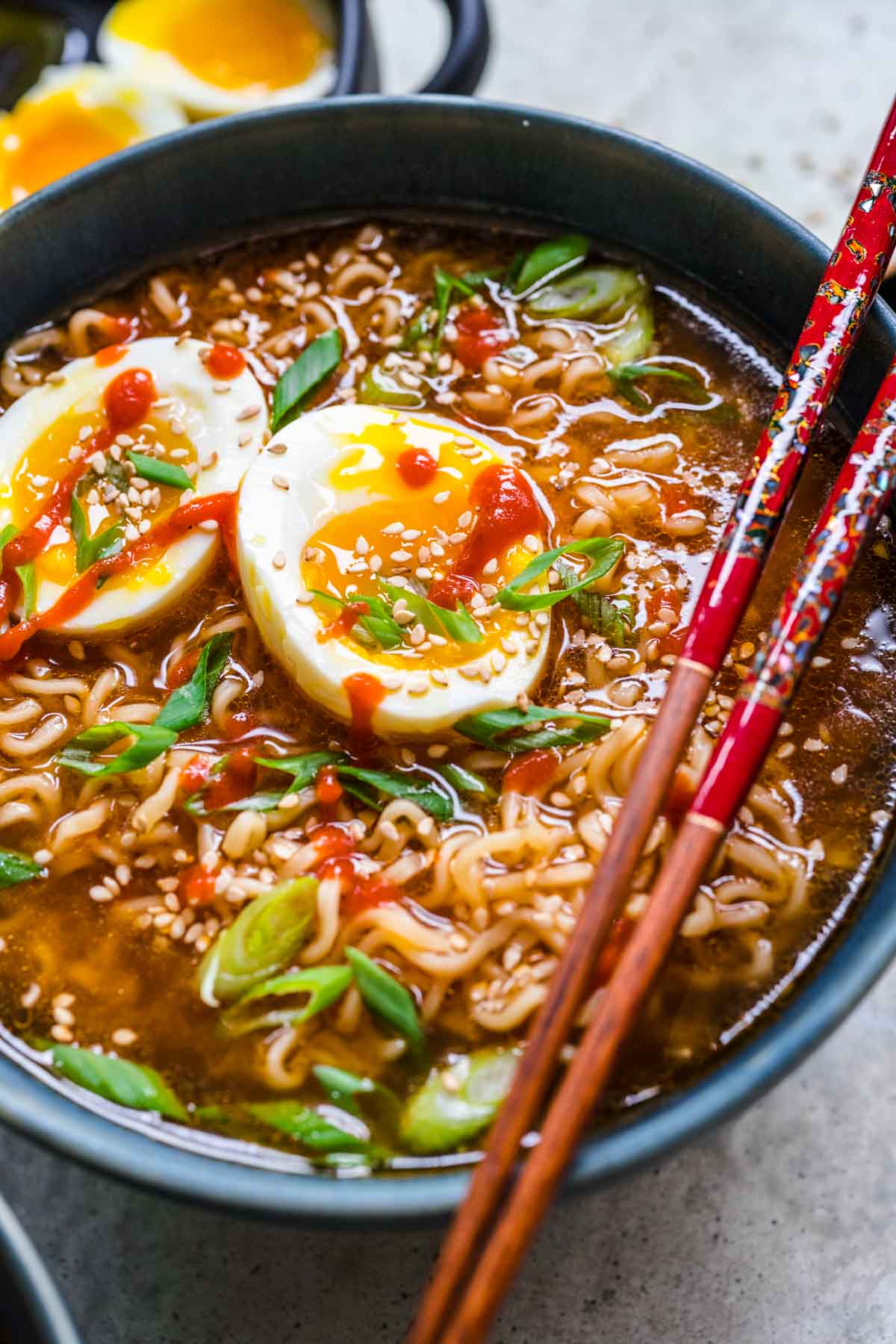 FAQs for Spicy Ramen
How spicy is this Spicy Ramen?
While this Spicy Ramen definitely has a kick, it's not the fiery five-alarm kind of spicy. It's more of a medium-hot heat, with a chili flavor. There is definitely room to increase the heat if you really love hot food!
Do I need to use sesame oil?
Sesame oil adds a distinct nutty aroma and a little bit packs a big amount of rich, savory flavor. However, if you don't have any on hand, you can swap it with olive oil or other mildly flavored oil. If you are using it, keep in mind it is very strong so taste before you increase the amount.
How do I make soft boiled eggs?
To make soft-boiled eggs, bring a large pan of water to a gentle simmer then carefully add the eggs. Gently simmer, do not boil, eggs for 6-7 minutes then immediately transfer to an ice bath to halt the cooking.

Create a free account to Save Recipes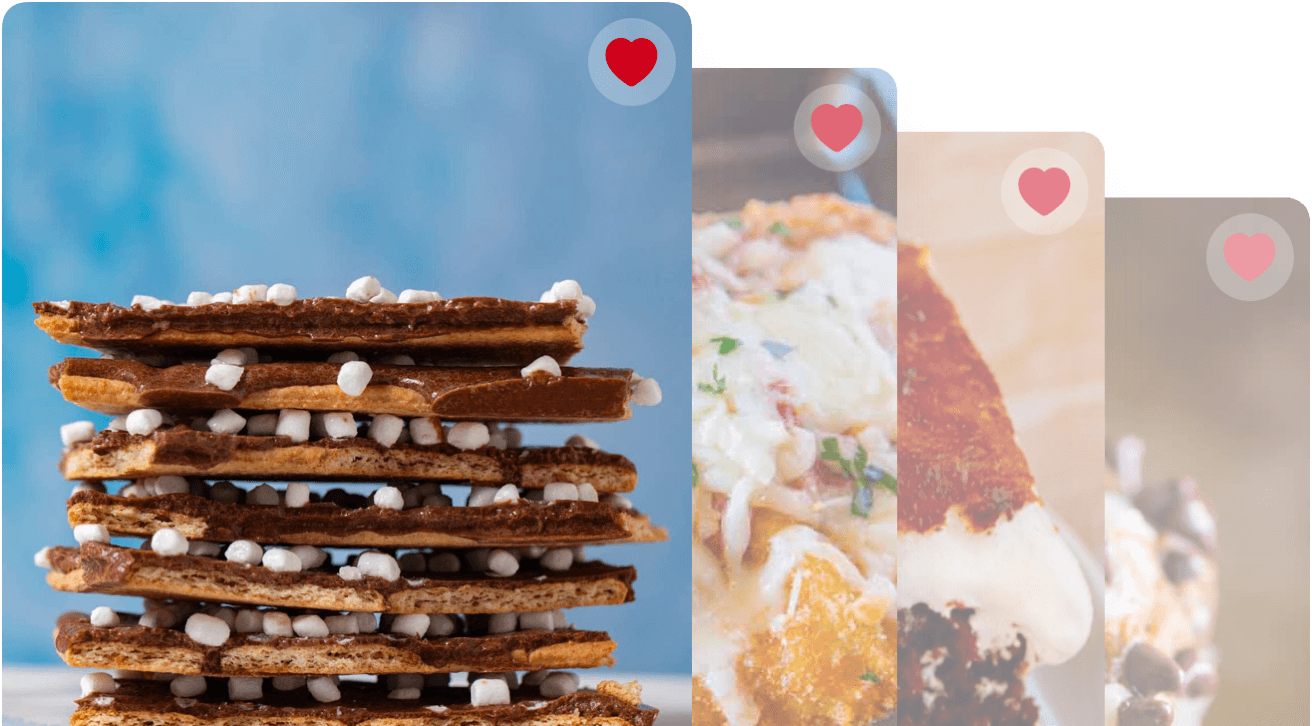 Key Ingredients
Broth: A good quality chicken broth, or chicken stock, gives your soup a deep savory flavor with a lot less work than making broth from scratch. Stock concentrates like Better than Bouillon let you add an extra spoonful or two to make your broth even more flavorful!
Sriracha: A fiery and tangy chili sauce, Sriracha gives this ramen it's signature spiciness. It's made from chili peppers, garlic, vinegar, sugar, and salt so it not only adds heat but layers of flavor. If you are having trouble finding it, use another chili garlic sauce or try sambal oelek, both found in the Asian section at most stores.
Noodles: The super cheap packs of instant noodles are perfect for making ramen recipes because they have the seasonings in a separate packet. Since you are discarding the season packets, it doesn't matter what flavor you pick.
Seasonings: Hoisin sauce is almost like an Asian BBQ sauce and adds a sweet and tangy umami flavor, and soy sauce adds even more umami plus some saltiness. The sesame oil has a strong nutty flavor, just don't overdo it because this stuff can easily overpower a dish.
Aromatics: Ginger lends a subtle warmth and freshness, while garlic contributes its pungent spiciness, for a flavorful, irresistibly aromatic broth.
Eggs: Soft-boiled eggs make the broth extra rich and add a velvety creaminess. They are protein-rich too so you can easily enjoy this ramen for a light lunch or dinner.
Toppings: Delicate sesame seeds provide a satisfying crunch that contrasts with the tender noodles and velvety broth. The sliced green onions add a burst of garden freshness. Feel free to add all your favorite ramen toppings to this delicious spicy soup!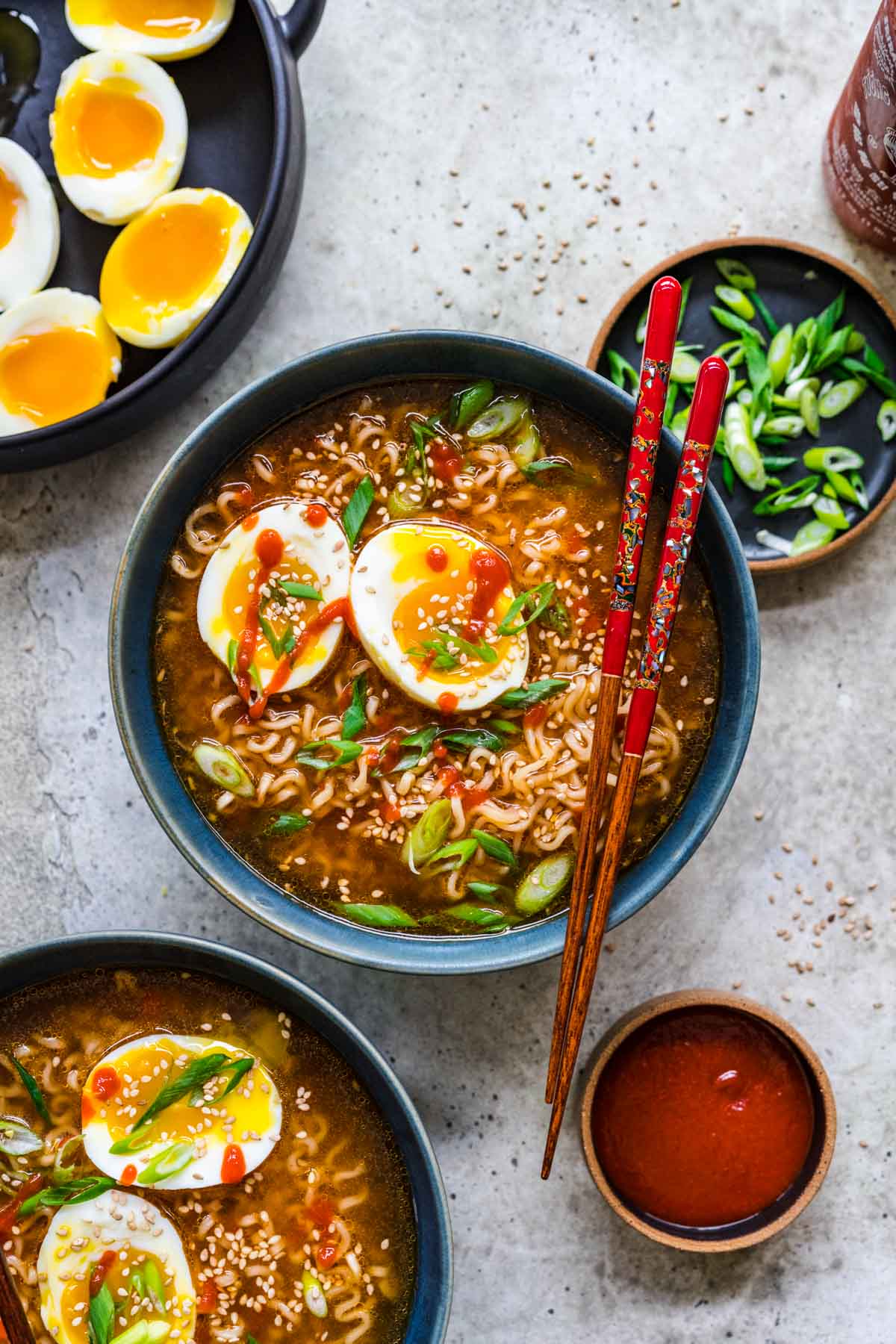 Can Spicy Ramen be made ahead of time?
The broth for Spicy Ramen can be prepared ahead of time but you don't want to cook the noodles or add any toppings before you are ready to serve it. Prepare the broth as usual then let it cool completely before storing in the fridge for up to 3 days. It can also be frozen for up to 3 months. When ready to eat it, reheat the broth, cook the noodles, and assemble the bowl with your preferred toppings.
Variations
Seasonings: This Spicy Ramen Noodle recipe is simple, but feel free to experiment with the seasoning blend with ingredients like white miso paste, fish sauce, lemongrass, furikake, rice vinegar, or mirin.
Chicken: This would be a great recipe to use leftover chicken like Rotisserie Chicken, just add it before you add the noodles to heat the chicken up.
Vegetarian: For a protein-packed vegetarian option, swap the chicken broth for vegetable stock and add tofu, edamame and peanuts.
Vegetables: Pack this Spicy Ramen noodle dish with veggies like mushrooms, shredded carrots, sliced radish, or corn. Greens like cabbage, bok choy, spinach, or seaweed sheets would taste delicious too!
Spicy: If you want an even spicier ramen, or layers of spicy flavor, try adding ingredients like kimchi, gochujang, hot chili oil, or even your favorite hot sauce. Try sliced fresh jalapenos or other chili peppers on top too.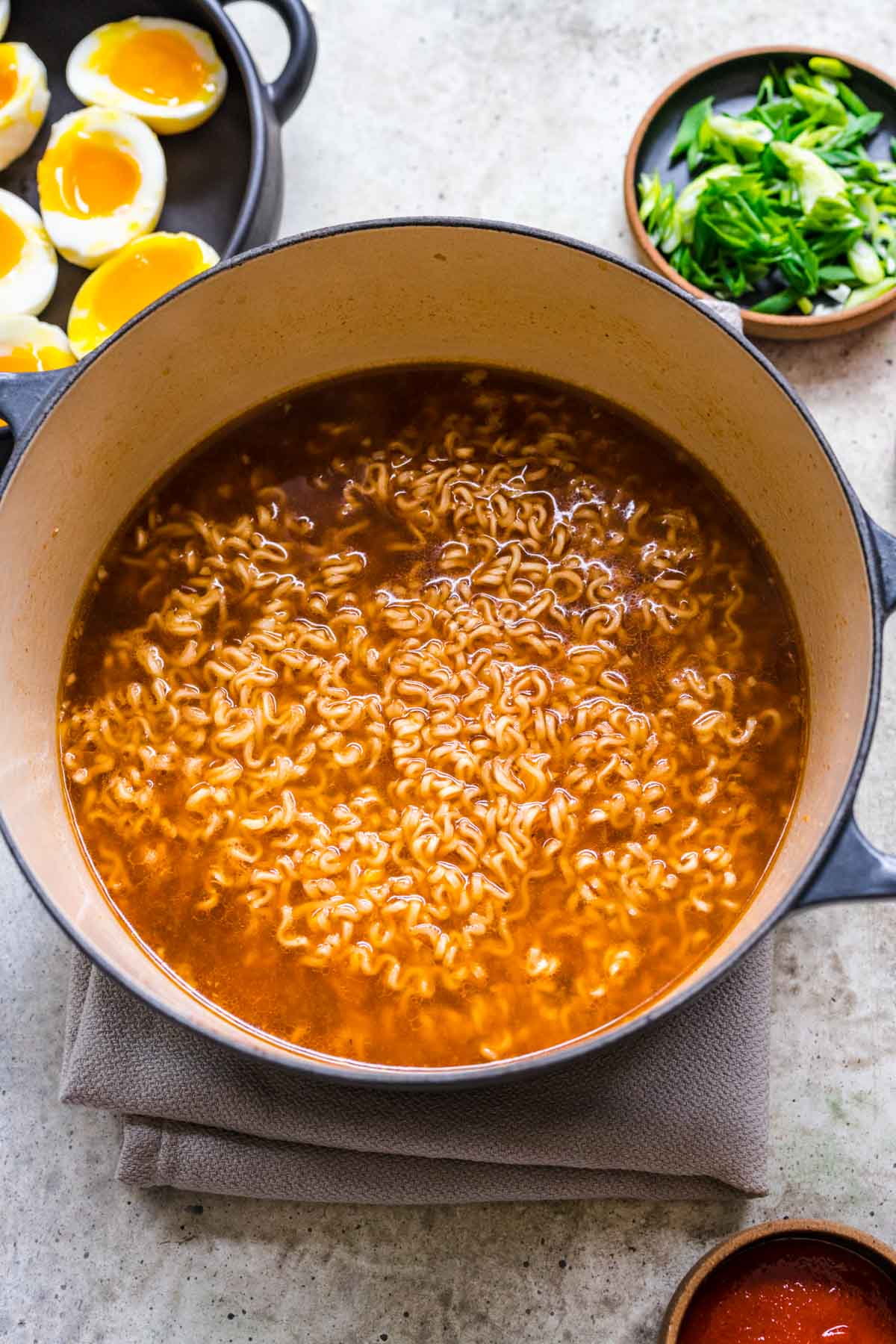 How to Store
Store: Store your leftover broth separately from the noodles so they don't get mushy. The Spicy Ramen broth will stay fresh for up to 5 days while the noodles will last about 2-3 days.
Reheat: Bring the refrigerated ramen noodles to room temperature while you reheat the broth slowly over low-medium heat until simmering. Add the hot broth to a bowl with the noodles to heat them up and serve with fresh toppings.
Freeze: You can freeze the Spicy Ramen broth without the noodles for up to 3 months. Cool it completely before storing in a freezer safe container. Let it thaw overnight in the fridge and make fresh noodles when you are reheating it.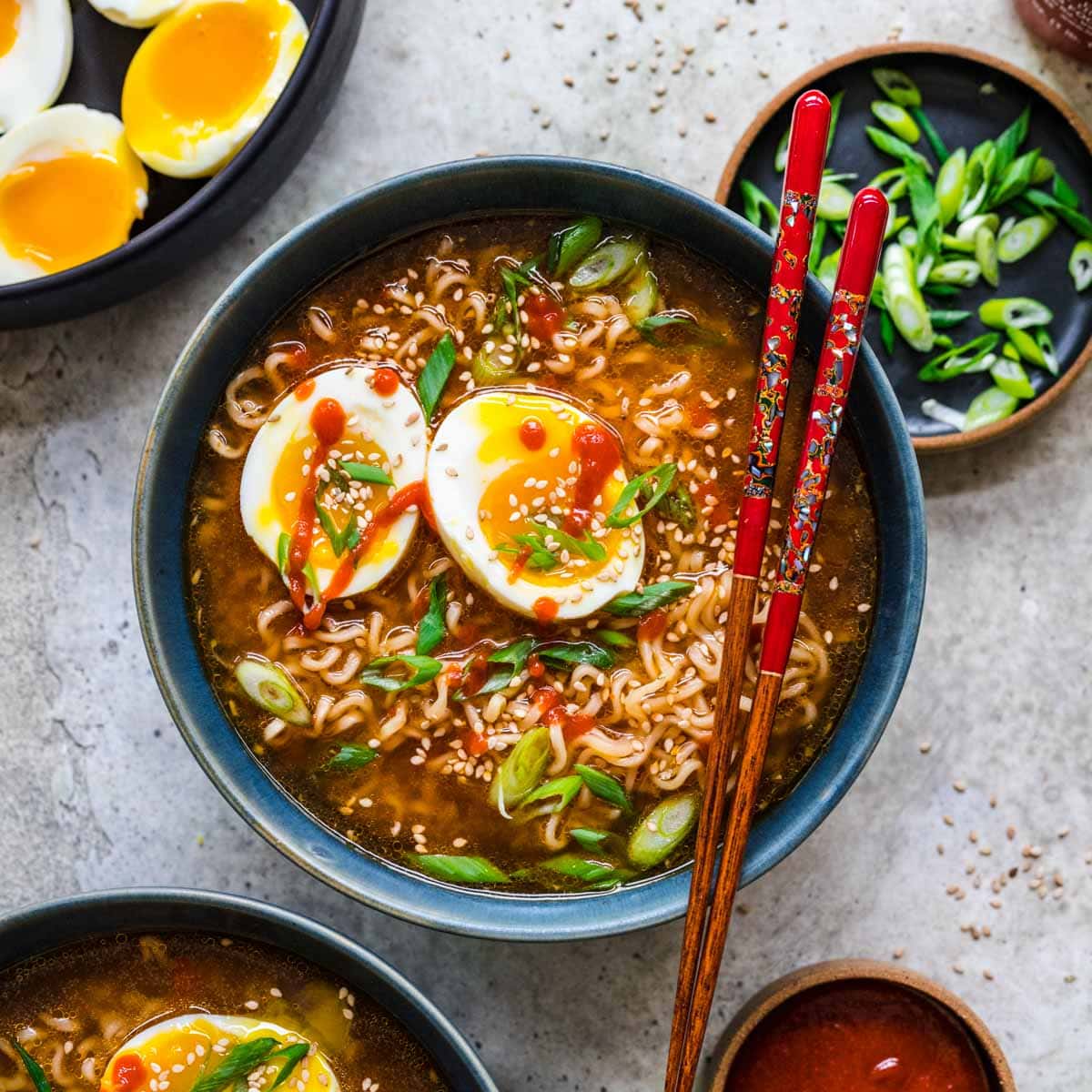 Ingredients
4

cups

chicken broth

2

tablespoons

hoisin sauce

2

tablespoons

low sodium soy sauce

1

tablespoon

Sriracha

1

tablespoon

sesame oil

1

tablespoon

ginger

, finely minced

3

cloves

garlic

, finely minced

2

packages

ramen

2

large

eggs

, soft boiled

1

tablespoons

sesame seeds

1/4

cup

green onions

, thinly sliced
Instructions
Add the chicken broth, hoisin sauce, soy sauce, sriracha, sesame oil, ginger and garlic to a large pot on medium heat.

Add in the ramen noodles (discard the packets)

Serve in a bowl.

Cut the soft boiled eggs in half and place cut side up in the soup.

Top with sesame seeds, green onions and a bit more Sriracha if desired.
Nutrition
Calories:
307
kcal
|
Carbohydrates:
34
g
|
Protein:
11
g
|
Fat:
14
g
|
Saturated Fat:
5
g
|
Polyunsaturated Fat:
3
g
|
Monounsaturated Fat:
6
g
|
Trans Fat:
0.01
g
|
Cholesterol:
98
mg
|
Sodium:
2278
mg
|
Potassium:
238
mg
|
Fiber:
2
g
|
Sugar:
4
g
|
Vitamin A:
213
IU
|
Vitamin C:
5
mg
|
Calcium:
69
mg
|
Iron:
3
mg