Japanese Curry is delicious comfort food from Japan anyone can make! Chicken thighs and veggies simmered in an easy curry sauce!
Chicken Katsu is one of the best and easiest Japanese dishes you can make. This Japanese-style curry is another Asian Recipe that you won't believe how easy it is to make at home, just like Asian Peanut Noodles and Asian Sweet Chili Chicken. So much yum!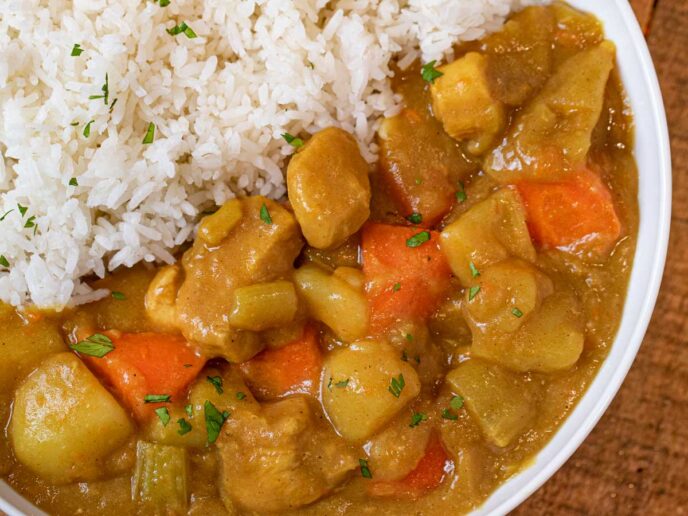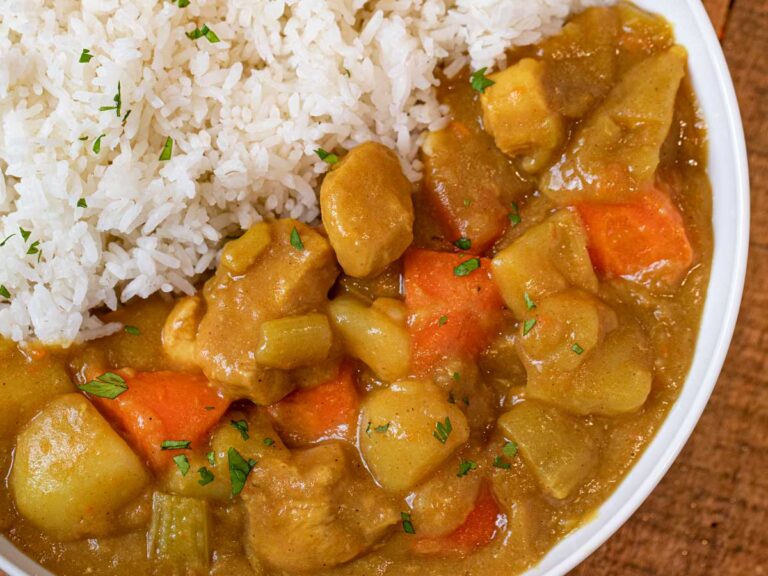 Japanese Curry is a takeout dish that can be hard to find depending on where you live, so if you've never heard of it or tried it, you aren't alone! One of the best things about making takeout at home is that you can try delicious global cuisine no matter where you live. No expensive travel required to get authentic dishes you and your family will fall in love with.
Most of the time when you see Japanese Chicken Curry on a takeout menu, it is made with Chicken Katsu or Pork Katsu, known as tonkatsu, with the curry sauce on the side. While we all love deep-fried katsu which is Panko breaded chicken, this dish made with chicken thighs is much healthier so you can make it all the time with a lot less work and calories.
If this is your first time trying Japanese Curry, it is a much milder, sweeter and thicker curry than you may be used to. Unlike Indian curry or Thai curry, the curry sauce is more stew-like, similar to gravy and less like a broth. Japanese-style curry roux uses garam masala but does not have spicy curry powders or chiles like other cuisines.
Like most curry recipes, Japanese Curry is traditionally served with simple rice side like Steamed Rice or Brown Rice. You could also serve it with a lightly seasoned noodle like Garlic Noodles or easy veggies like Roasted Broccoli. Japanese Curry is also delicious on its own, with Dinner Rolls to soak up every drop of the curry sauce!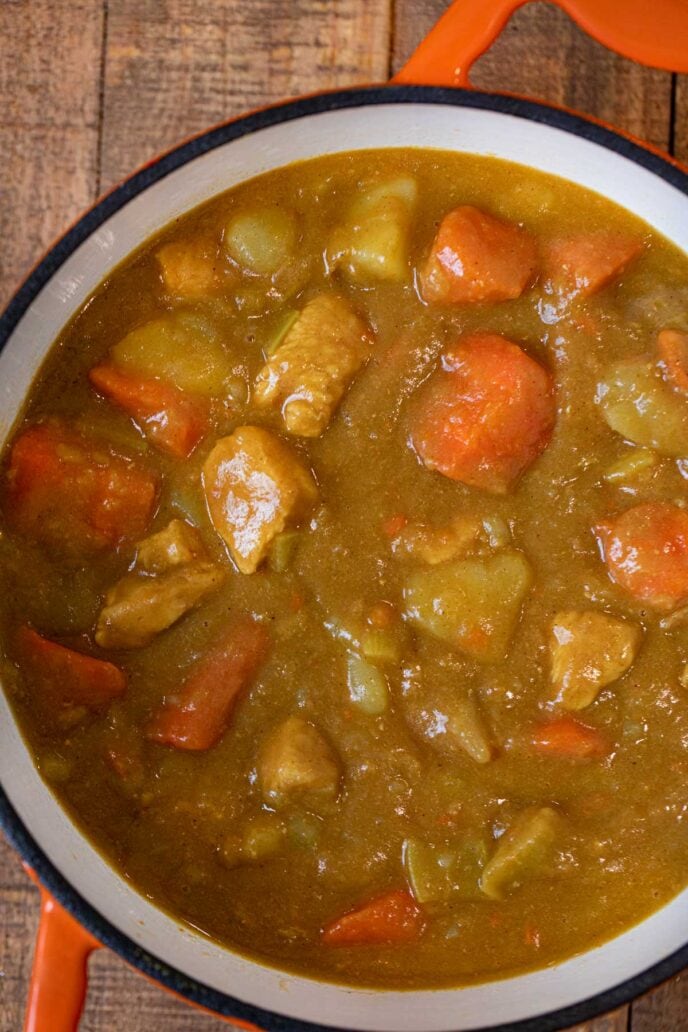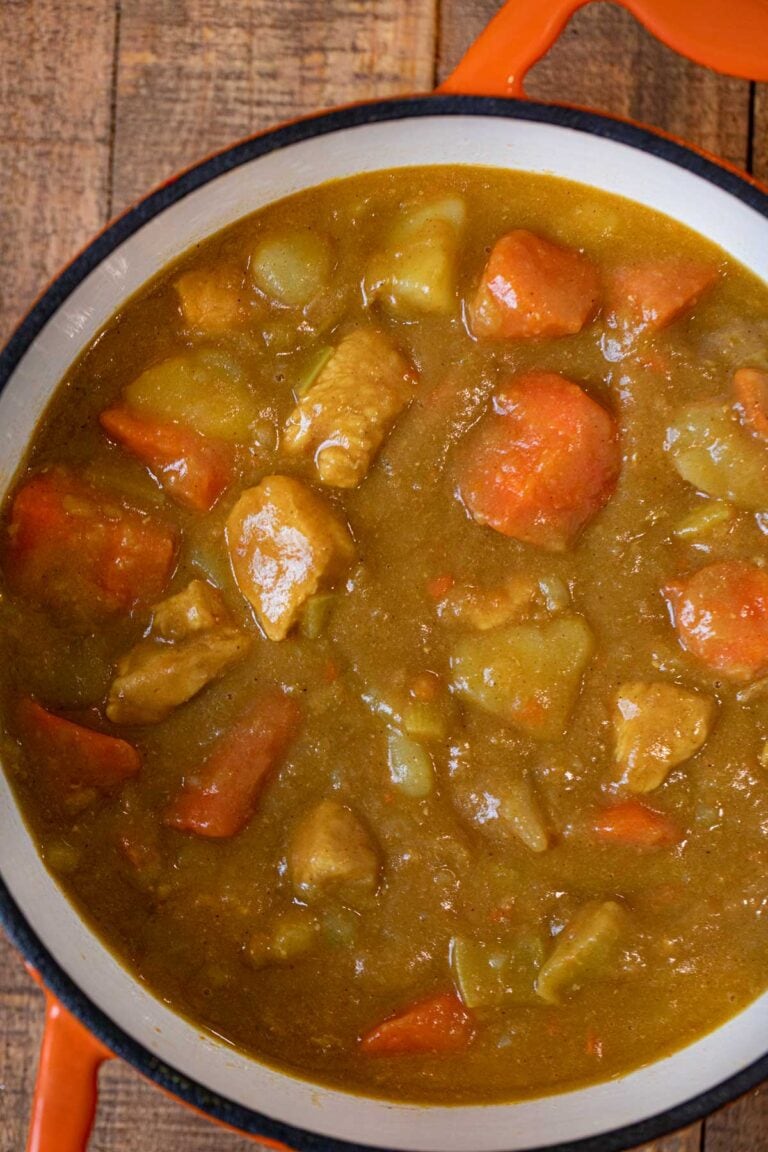 How to Make Japanese Chicken Curry
Making Japanese curry is so easy! The process is very simple. You just have to follow these steps to make a delicious and savory curry sauce from scratch!
Step One – Prep: Cut all the vegetables and chicken and gather all the spices. Portion it out so it's ready to go!
Step Two – Cook: You'll fry onions on medium-high heat, then the chicken until ready. Then add the simmer sauce.
Step Three – Simmer: The simmering process helps cook the thick vegetables which are added at this time. After everything has been cooked, the curry base is then added towards the end to the simmering pot. From there, you'll stir until it's thick enough to serve!
Frequently Asked Questions
What is the difference between Japanese curry and other Asian curries? 
Basically, the Japanese version of curry is thicker like gravy, sweeter, and less spicy than the others. It ism more complex and often made with orange peel spice and garlic and ginger powders, whereas the other Asian variations prefer to exclusively use whole garlic cloves and fresh ginger, rather than powdered in many of their dishes.
What does Japanese curry taste like? 
Japanese curry is a significantly milder version of curry than its Asian counterparts. Its higher sweetness sets it apart making additions, like apples, possible in their curry blends; something not done in other Asian curries.

Due to the addition of specific darker spices like allspice, cloves, nutmeg, cinnamon, cardamom powder, and black pepper, these spices give Japanese curry flavor a complexity that is usually kept reserved separately for the garam masala spice blend in other Indian curries. Japanese curry powder incorporates these dark-colored spices with the regular yellow turmeric based curry powder creating the new and delicious blend we enjoy today!
What is a Japanese Curry Roux?
Curry roux is a pre-made concentrated curry demi-glace, dried out so that it is shelf stable. Think of it like a Japanese-style gravy, with lots of flavor and makes cooking so much easier! There are few top brands, but Su0026B Golden Curry is probably the most widely available at supermarkets. You'll find it in the Asian foods section of the grocery store.

You can always make your own curry roux homemade but the ready-made roux is just as delicious, saves you about 30 minutes, and is actually what most home cooks in Japan use! In Japan it is common to use a store bought curry roux and just add seasonings and secret ingredients (like apple and honey) to make it their own.
How did Japanese curry evolve?
The history of Japanese curry goes something like this. Originally, when the British went to India, they loved the curry spices used in Indian cuisine and brought it back to their home country. From there, they visited Japan when the nation opened up to international trade. The British introduced the curry to the Japanese who found it to be a bit spicy, even though they loved the flavor. They adapted it according to their customs and perfected an incredible flavor to their standards. Today, we get to enjoy the fruit of their amazing adaption in this Japanese Chicken Curry recipe! 

Create a free account to

Save Recipes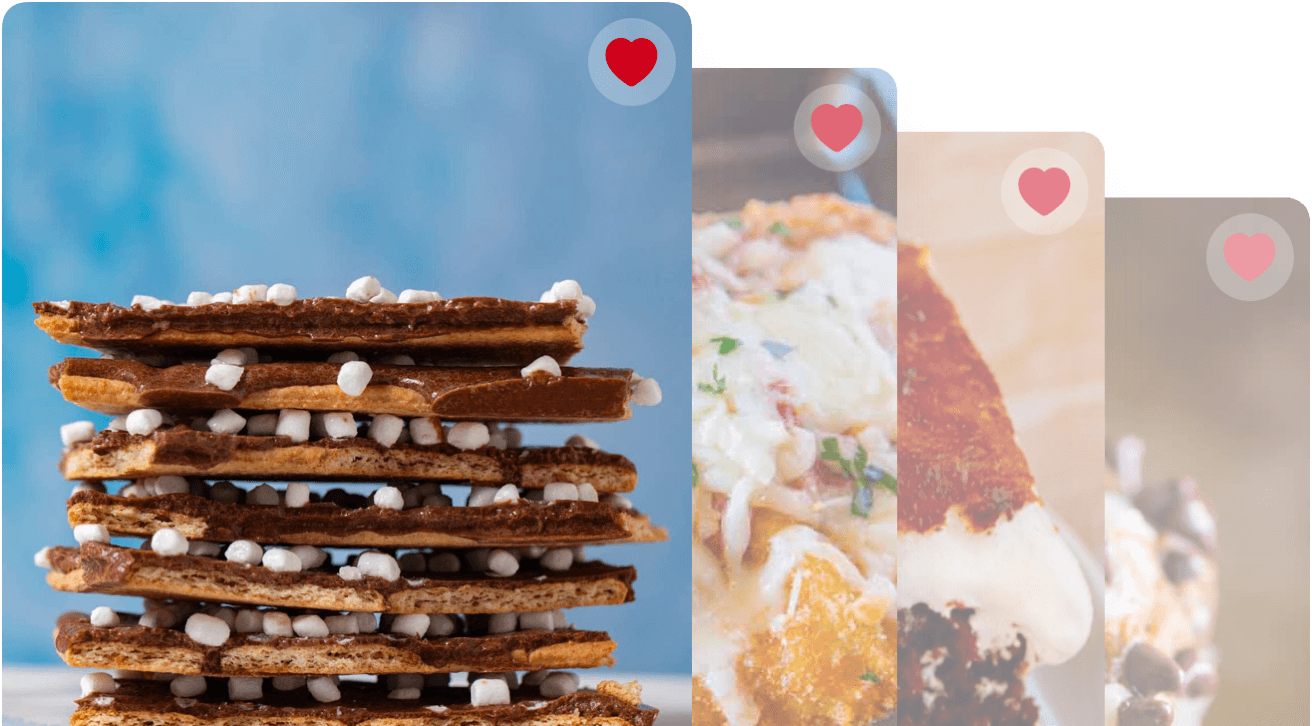 Key Ingredients in Japanese Chicken Curry
There's a lot of spices that go into this curry. But it's okay, you don't need to have them all in your pantry. A quick trip to your local grocery store will supply you with the basic ingredients needed for this amazingly delicious curry.
Curry Base: This recipe uses one packet of S&B Golden Curry Sauce Mix and bit of kosher salt to give it a good flavor.
Meat: When chicken meat is used, pair it with chicken stock. If using pork, you can still use the chicken broth without compromising on flavor. Beef meat should be paired with beef stock
Vegetables: The classic vegetables are potatoes, onions, and carrots. These are chopped into larger pieces for ease.
Apple: You can use any red apple for this secret ingredient. Fuji and Gala apples are very common to use and bring a wonderful flavor and sweetness to your curry.
Variations on Japanese Chicken Curry
Although this recipe needs to be made in sections and isn't really compatible with a pressure cooker, you can still make it an easy and fun meal for the whole family!
Chicken: Use bite-sized boneless chicken breast, beef, pork, or even fried tofu in this curry sauce. If making a beef curry, be sure to sear the beef for the most flavor. Add fried tofu in the end with curry roux.
Veggies: Almost every veggie tastes delicious in Japanese Curry! Swap white potatoes with Russet potato or sweet potatoes, or add veggies like mushrooms, corn, peas, bell peppers, celery, and broccoli.
Sauces: Japanese cooks add sauces like tonkatsu sauce, soy sauce, ketchup, Worcestershire sauce, oyster sauce, and fish sauce to their curry to make it their own.
Curry Roux: Curry Roux comes in three heat levels, mild, medium and hot so you can make this as spicy or mild as you like. No matter the brand, they all use the same color code for spiciness: red is mild curry, green is medium, and blue is hot.
Toppings: Garnish Japanese Curry with traditional toppings like pickled daikon, pickled ginger, sesame seeds, soft boiled egg, bean sprouts, or Fukujinzuke. Fukujizuke is a pickled relish that is very popular for Japanese Curry and you can find it at Asian markets.
More Asian Takeout Recipes
HOW TO STORE JAPANESE CURRY
Serve: Japanese Chicken Curry is best served hot and can be kept at room temperature for up to 2 hours before it needs to be stored.
Store: Once cool, place Japanese Chicken Curry in an airtight container and refrigerate for up to 3 days. Reheat on the stovetop, adding more chicken broth if sauce is too thick.
Freeze: Cool Japanese Chicken Curry completely before freezing in a sealed container for up to 3 months. Thaw overnight before reheating on the stovetop.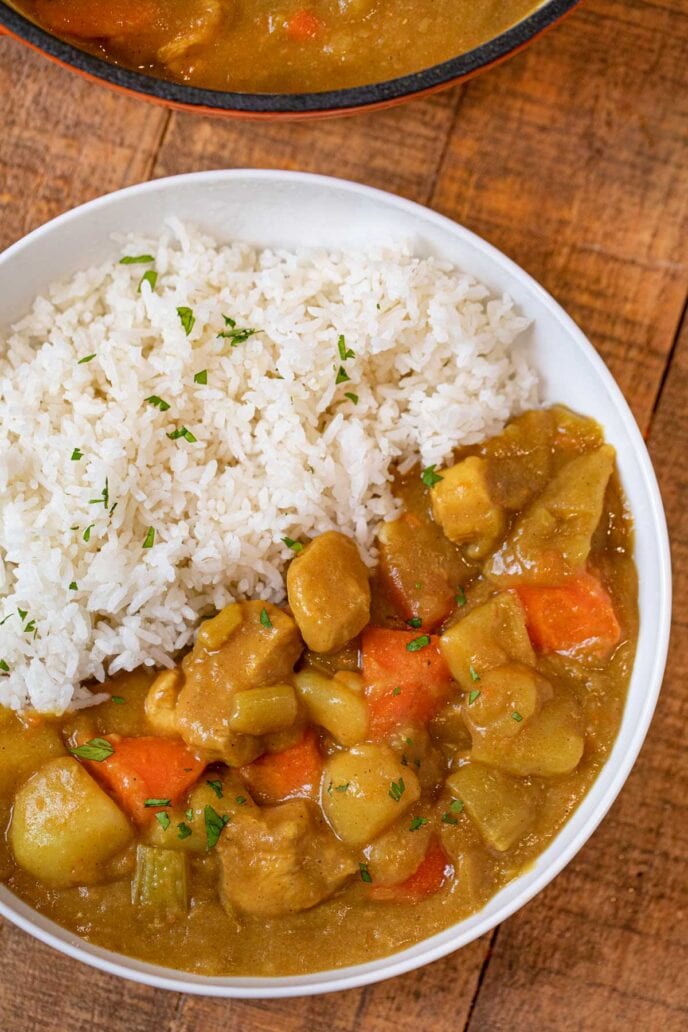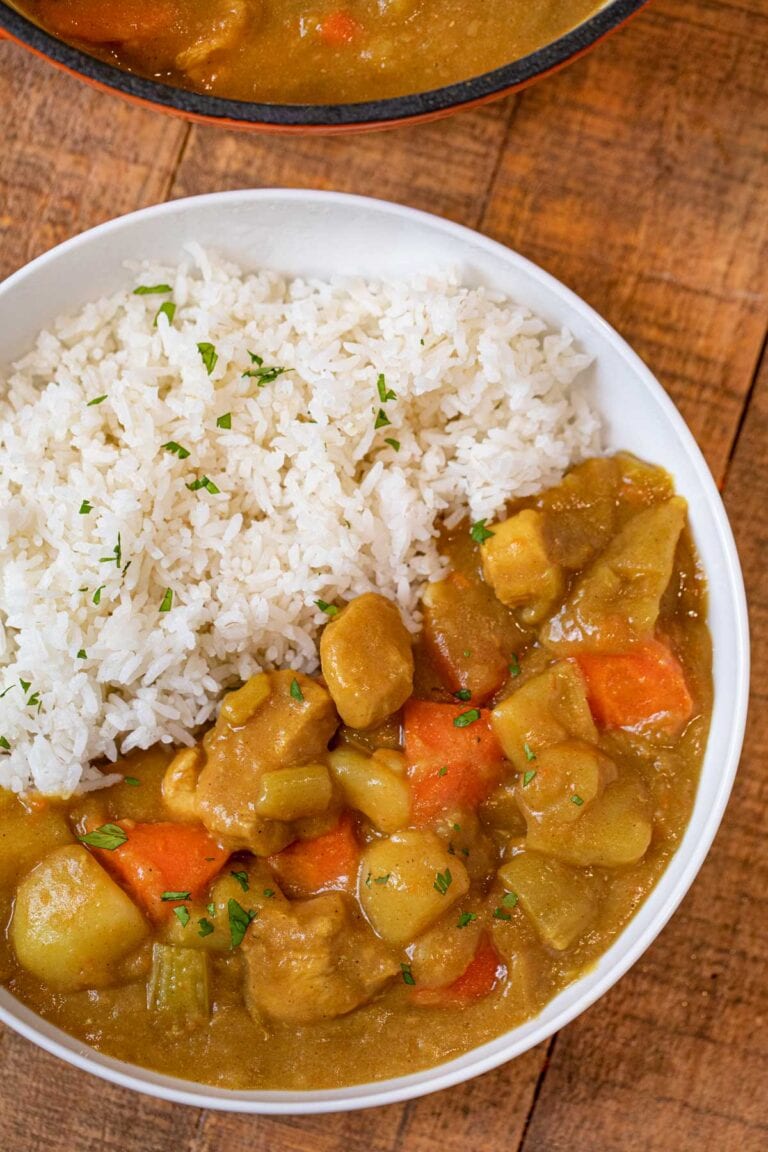 Ingredients
1 1/2

tablespoons

vegetable oil

2

yellow onions

, cut into thick wedges

2

cloves

garlic

, minced

1

pound

boneless skinless chicken thighs

, cut into bite sized pieces

2

carrots

, cut into thick wedges

4

cups

chicken broth

1

apple

, peeled and grated

1

tablespoon

honey

2

teaspoons

Kosher salt

1/2

teaspoon

coarse ground black pepper

2

potatoes

, cut into 1 ½ inch chunks, soaked for 15 minutes

1

packet

S&B Golden Curry Sauce Mix

, Medium Hot, 8.4 ounces
Instructions
Heat the oil in a large pot over medium heat and sauté the onions until they become translucent.

Add the garlic, cook until fragrant, about

30 seconds

.

Add the chicken and cook until the chicken is opaque.

Stir in the carrots and chicken broth.

Bring the broth to boil and skim the scrum and fat from the surface of the broth.

Add grated apple, honey, salt, and pepper. Simmer uncovered for

20 minutes

, stirring occasionally.

Add the potatoes and cook for

15 minutes

, or until the potatoes are tender, and turn off the heat.

Add the curry, 1-2 blocks at a time, in a ladle and slowly let it dissolve with spoon until completely incorporated. Stir.

Simmer uncovered on low heat, stirring occasionally, until the curry becomes thick.

Serve the curry with white rice on the side.
Nutrition
Calories:
269
kcal
|
Carbohydrates:
20
g
|
Protein:
24
g
|
Fat:
11
g
|
Saturated Fat:
6
g
|
Cholesterol:
108
mg
|
Sodium:
2148
mg
|
Potassium:
692
mg
|
Fiber:
3
g
|
Sugar:
13
g
|
Vitamin A:
5186
IU
|
Vitamin C:
25
mg
|
Calcium:
52
mg
|
Iron:
2
mg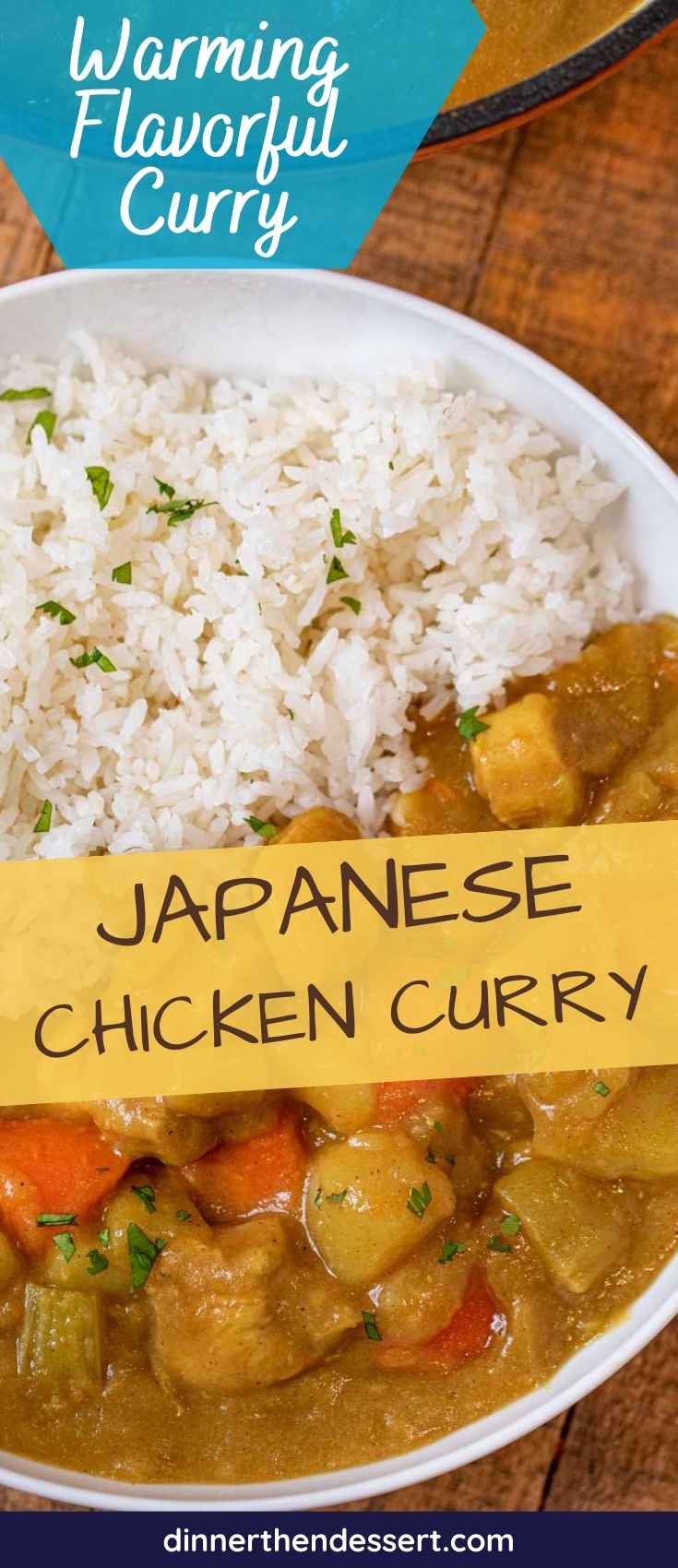 Photos used in a previous version of this post: