P.F. Chang's Garlic Noodles are a quick and easy Chinese noodle dish copycat dish you can make without the heavy flavors of a chow mein and as the perfect base for your favorite stir fry meals.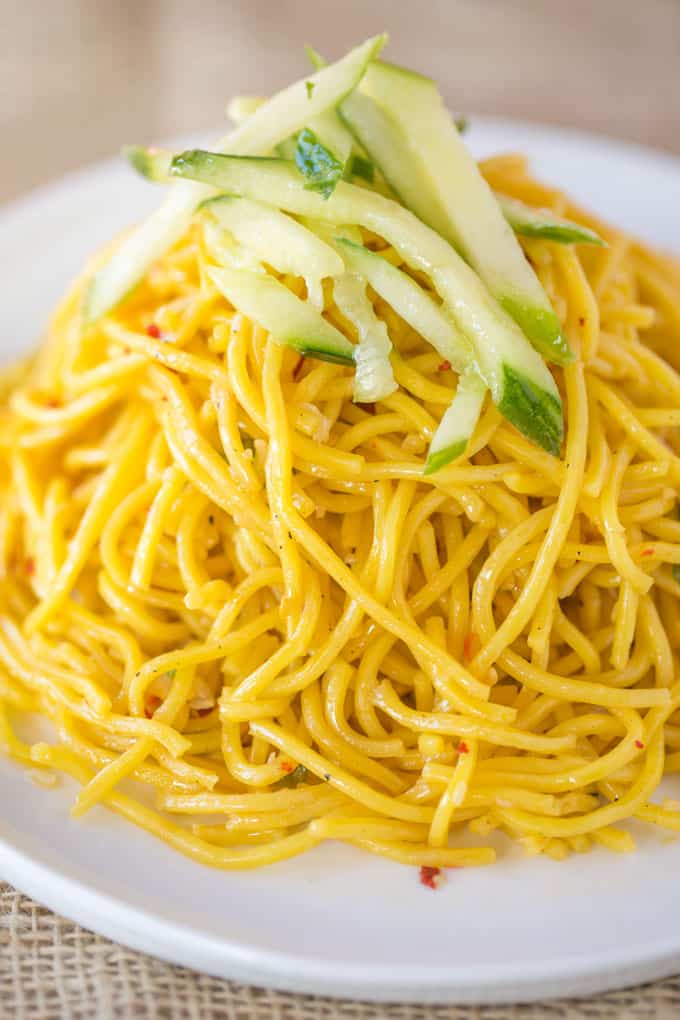 P.F. Chang's Garlic Noodles are the base of some of their more popular dishes like Dan Dan noodles and are a really popular side dish that offers a milder flavor alternative to your classic Chow Mein noodles.

P.F. Chang's recipes have been a lot of fun to decode. Last year I spent the better part of the year going through and re-making the entire Panda Express menu. When we want to eat Chinese food at a sit down restaurant we only go to two restaurants.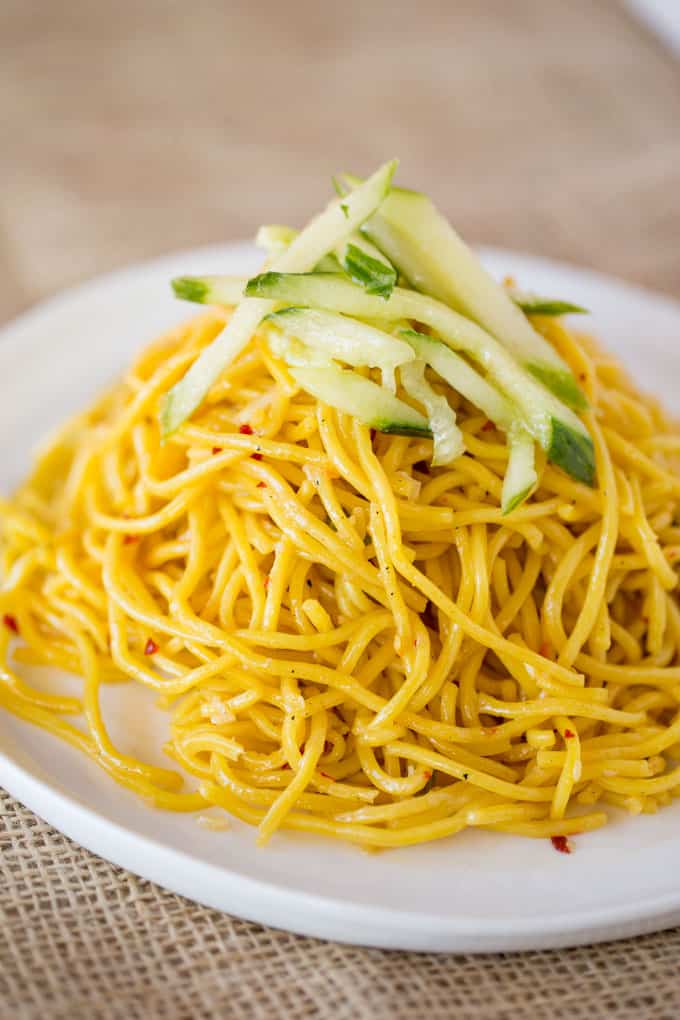 The first is Panda Inn when we are in Los Angeles which is the original dine in restaurant Panda Express came from and the second is P.F. Changs.
If you're looking for more P.F. Chang's recipes there are a few on the site already (and more coming):
The recipe for the P.F. Chang's Garlic Noodles is not a complicated one but there are some unique ingredients in the dish that you are going to want to use instead of looking for substitutions.
If you go to an Asian grocery store you can find them readily available and for not a lot of money and you'll enjoy making authentic dishes for months with them.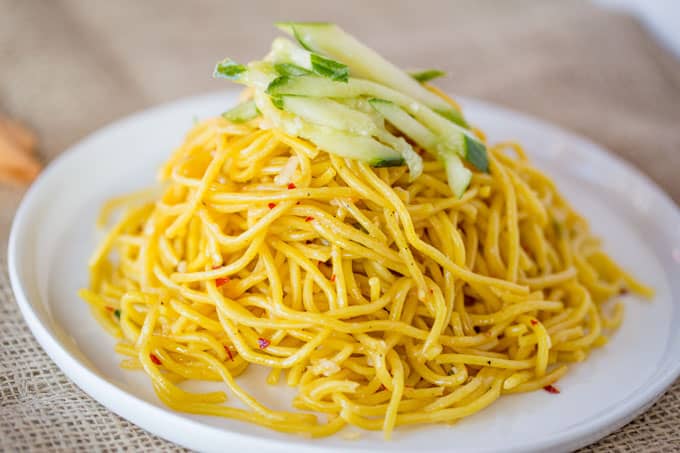 Tools used in the making of this P.F. Chang's Garlic Noodles:
Oyster Sauce: This is a unique flavor and ingredient. If you avoid seafood and want another option I recommend Vegetarian Oyster Sauce (made from mushrooms) but I don't recommend you swap this out for something else altogether. I know sometimes people recommend Hoisin Sauce as a replacement, it would not give you the authentic flavor here if you do that though.
Shaohsing Wine: This is different than Mirin or any sweet cooking wine, and has a unique flavor another cooking wine wouldn't really duplicate well. It is also much less expensive in the grocery stores, so look for the info here and if you have a local grocer where you can get it, buy it there.S
Chinese Noodles: These noodles are authentic to Chinese noodles like chow mein and have a higher egg content. If you can't find them, you can use a thin spaghetti or buy those Yakisoba noodles from near the cup o' soup selections and discard the seasoning packets.
Sesame Oil: Sesame oil is incredibly strong in flavor and scent as is to be used sparingly. It adds a ton of flavor and shouldn't be left out of the dish if at all possible because the flavors are so fragrant.


Ingredients
1

pound

fresh Chinese noodles

1

tablespoon

canola oil

1

tablespoon

garlic

, minced

2

teaspoons

sugar

2

teaspoons

white vinegar

3/4

cup

chicken broth

1

teaspoon

red chile flakes

1

teaspoon

sugar

2

teaspoons

shaohsing wine

2

teaspoons

oyster sauce

1/2

teaspoon

salt

1

teaspoon

cornstarch

1/2

teaspoon

sesame oil

1

japanese cucumber

julienned on an angle

chopped cilantro

optional
Instructions
Cook the noodles a minute shy of the directions on the bag, drain and keep on a plate while you make the sauce.

In a large skillet heat the canola oil on medium high and cook the garlic until fragrant but not browning, about

20-30 seconds

.

Add in the sugar and vinegar and stir to combine.

Toss the noodles in the pan with the canola oil mixture and and remove again while you make the sauce. (You're going to make the stir fry sauce before adding the noodles back in).

Add in the chicken broth, chile flakes, sugar, shaohsing wine, oyster sauce, salt, cornstarch and sesame oil.

Turn the heat on the pan up to high heat.

Stir to combine the sauce ingredients and let it thicken in the pan for

20-30 seconds.

Add in the noodles and stir fry the noodles until the sauce is completely absorbed.

To julienne the cucumbers cut them (unpeeled) into ¼ inch slices on an angle, then slice them into matchsticks about a ¼ inch thick.

Toss with cilantro and serve.
Nutrition
Calories:
497
kcal
|
Carbohydrates:
86
g
|
Protein:
16
g
|
Fat:
9
g
|
Saturated Fat:
1
g
|
Cholesterol:
95
mg
|
Sodium:
566
mg
|
Potassium:
342
mg
|
Fiber:
3
g
|
Sugar:
5
g
|
Vitamin A:
235
IU
|
Vitamin C:
4.1
mg
|
Calcium:
46
mg
|
Iron:
2.3
mg