P.F. Chang's Orange Peel Chicken (Copycat)
This post may contain affiliate links. Read my disclosure policy here.
P.F. Chang's Orange Peel Chicken is crispy, spicy and sweet, with notes of orange flavor and even healthier than the restaurant version!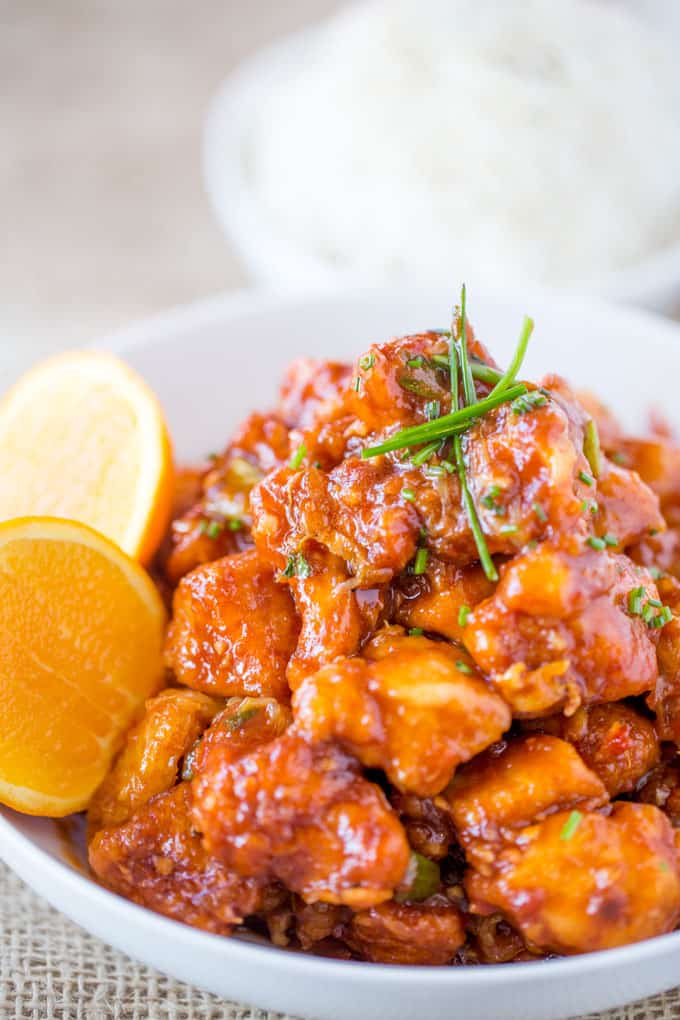 P.F. Chang's Orange Peel Chicken is one of the dishes we always order at P.F. Chang's because like most people orange flavored stir fried Chinese American food is pretty much always going to be a winner! In close second would be Orange Peel Beef because well… yeah.
This was one of my first posts on the blog back in 2015. It was a recipe I couldn't wait to post and since then I've gotten better at taking photos. So there is a fun new set of photos for the recipe. Same delicious flavors though!
This dish is the first I ever tried there, and as I am sure you know about me (or will learn soon enough) when I love a dish, it becomes my go-to. At PF Chang's it is this Orange Peel Chicken, at The Cheesecake Factory it is the Spicy Cashew Chicken (with no cashews).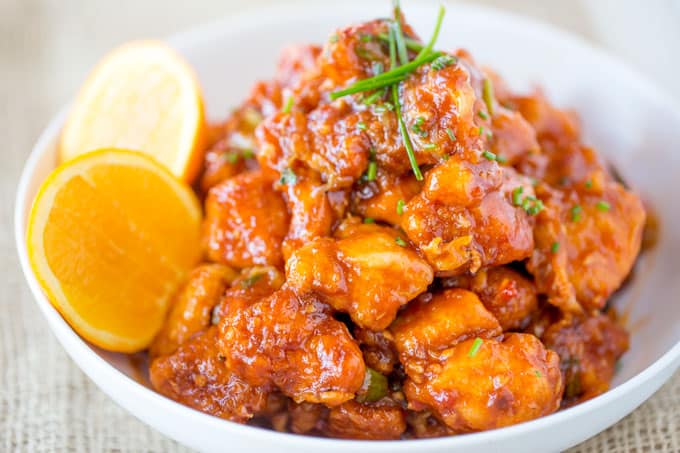 I am a loyal fan, only deviating from my favorites to taste a bite of my husband's dish. He is, luckily for me, the opposite of me when we go out to eat and loves to try new things. So I end up with the best of both worlds.
Now if only I could convince him not to eat from my plate as I am eating from his…
The one change I made to this recipe is that I skipped the breading and deep frying process and used cornstarch in place of flour to keep the chicken as crispy as possible.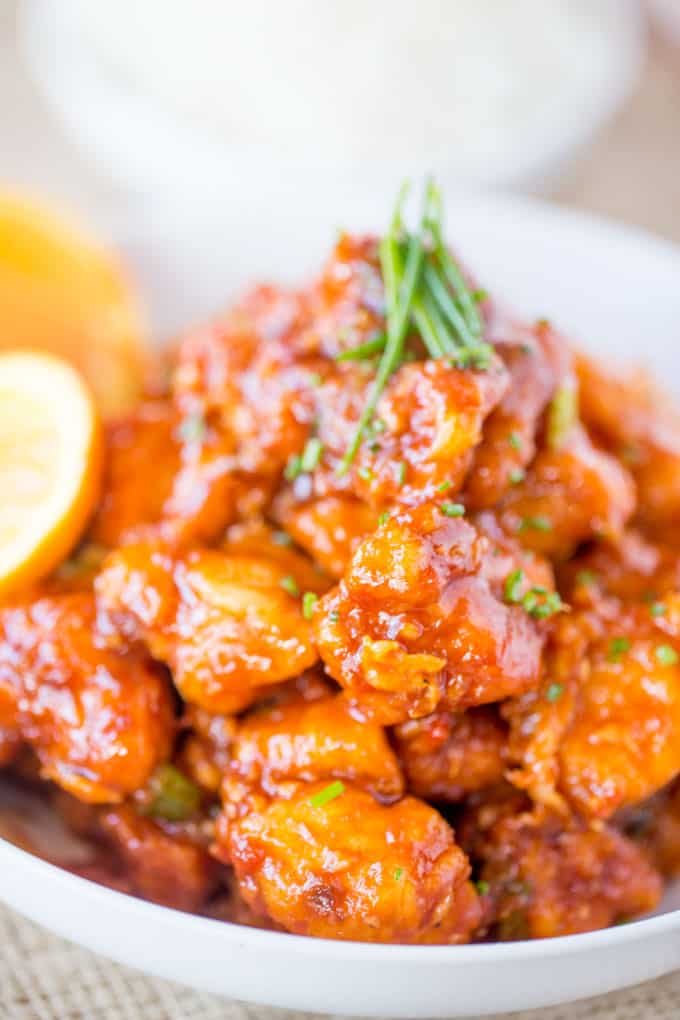 MY OTHER RECIPES
You can definitely add that back in if you would like, but with just a coat of cornstarch (or flour if you prefer), you will still have a completely delicious dish. I made it both ways at home for the same meal so we could compare, this version won by unanimous decision.
We normally serve this P.F. Chang's Orange Peel Chicken with Perfect Brown Rice, Every Time and Roasted Garlic and Ginger Carrots.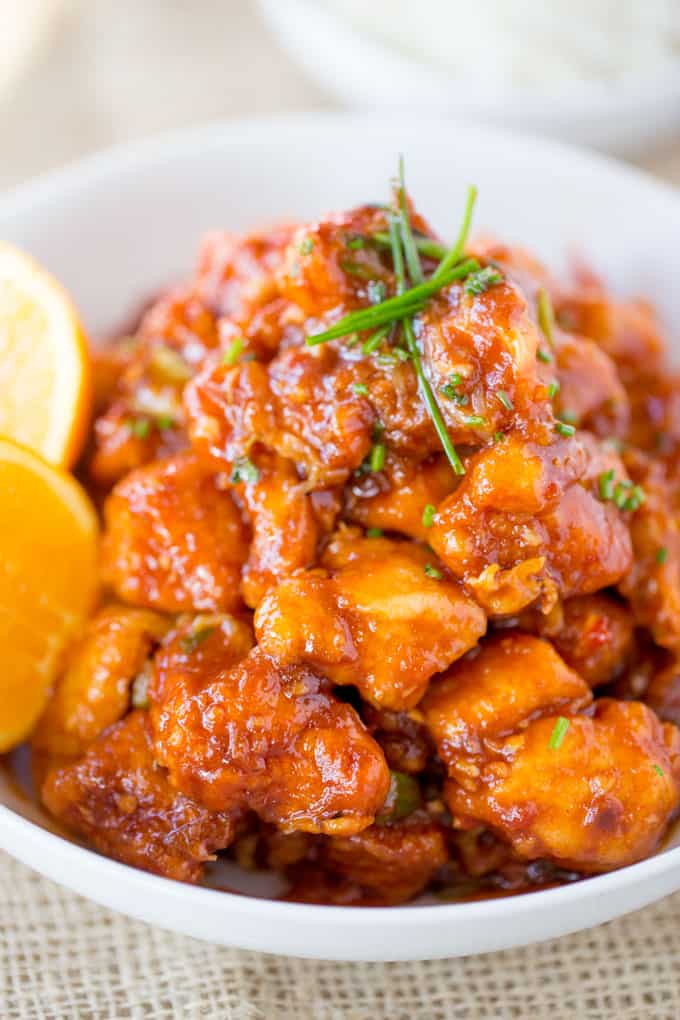 If you'd like to try out another P.F. Chang's favorite you should also head over to Peas and Peonies and check out Catalina's Mongolian Beef copycat recipe!
P.S. Did you know I've recreated every Panda Express recipe on the menu? Head over and check out all the copycat recipes now!
Tools Used in the making of P.F. Chang's Orange Peel Chicken:
Wok: The best way to cook quickly and over high heat for Asian dishes, this wok is the perfect stir fry pan.
Sriracha: Quite possibly the king of all pre-made hot sauces as far as I'm concerned. Adds heat without overwhelming you and can be used in almost every cuisine. Try mixing with mayo to make a perfect spicy mayo!
Citrus Zester: This zests your citrus perfectly without getting any of the pith in the recipe.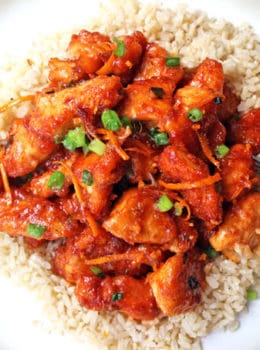 P.F. Chang's Orange Peel Chicken (Copycat)
Spicy and sweet, with notes of orange flavor, this Orange Peel Chicken is a healthier version of the PF Chang's favorite!
Prep Time 15 minutes
Cook Time 15 minutes
Total Time 30 minutes
Ingredients
2 lb . chicken breast , cut into 1-inch pieces
1/4 cup cornstarch
1 tablespoon vegetable oil
4 tablespoons minced garlic
4 green onions , sliced
1 cup tomato sauce
1/2 cup water
1/4 cup granulated sugar
2 tablespoons brown sugar
1 tablespoon Sriracha sauce
1 tablespoon soy sauce
2 tablespoons canola oil
peel from 1 orange , half zested and half julienned
Perfect Brown Rice , Every Time
Instructions
Cut the chicken into 1 inch chunks. Put in a bowl and coat with cornstarch.

Add two tablespoons of oil to your wok.

Heat oil on medium high and add the chicken.

Cook until browned on both sides.

Remove chicken from pan. If you have about a tablespoon of oil in the pan go ahead and use it without wiping your pan clean. If not, add a tablespoon of oil, minced garlic and green onions and let cook for about 1 minute, but don't let your garlic burn.

Add tomato sauce, water, sugar, Sriracha and soy sauce.

Bring to a boil and then simmer for about 5 minutes or until the sauce thickens.

Remove from heat and set aside.

Add the chicken back into the pan with the sauce.

Top with the orange zest and orange strips and mix until all coated, letting it cook for another 20-30 seconds for the chicken to heat back up.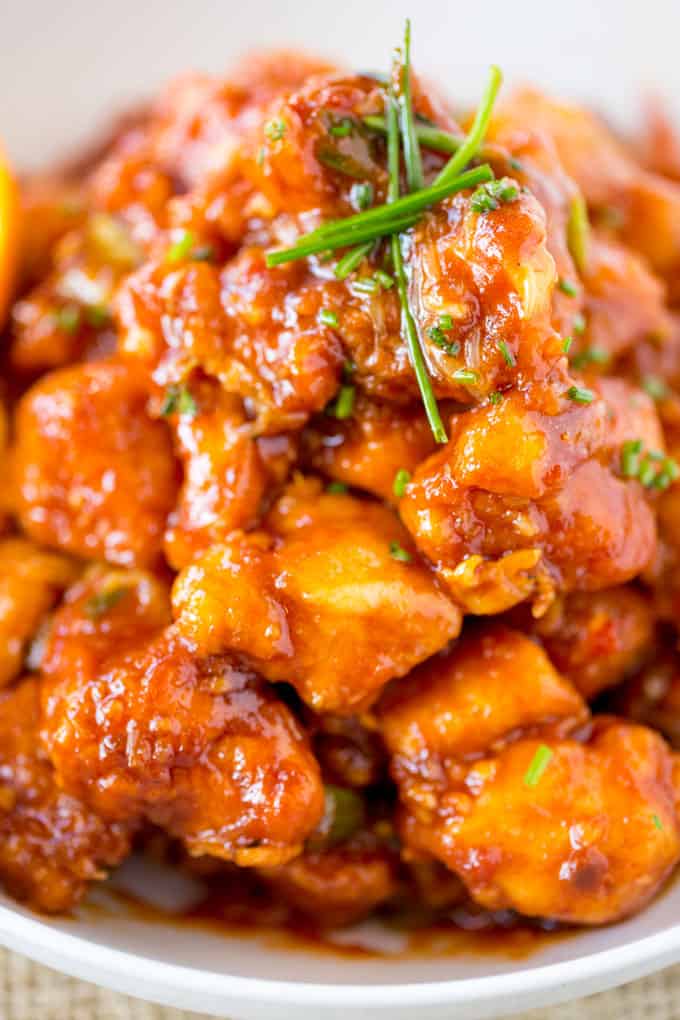 Dinner, then Dessert, Inc. owns the copyright on all images and text and does not allow for its original recipes and pictures to be reproduced anywhere other than at this site unless authorization is given. If you enjoyed the recipe and would like to publish it on your own site, please re-write it in your own words, and link back to my site and recipe page. Read my disclosure and copyright policy. This post may contain affiliate links.