Honey Orange Firecracker Shrimp is sweet, spicy, sticky, and crispy. It is so easy to make you'll throw your Chinese food takeout menus away!
Dive into the vast ocean of flavors with our handpicked Chinese Food Recipes. From the crispy edges of fried dishes to the soft, melt-in-the-mouth delicacies, there's something for everyone. Don't miss out on the Egg Roll in a Bowl, the Chinese Honey Chicken, and the savory goodness of Slow Cooker Sweet and Sour Pork.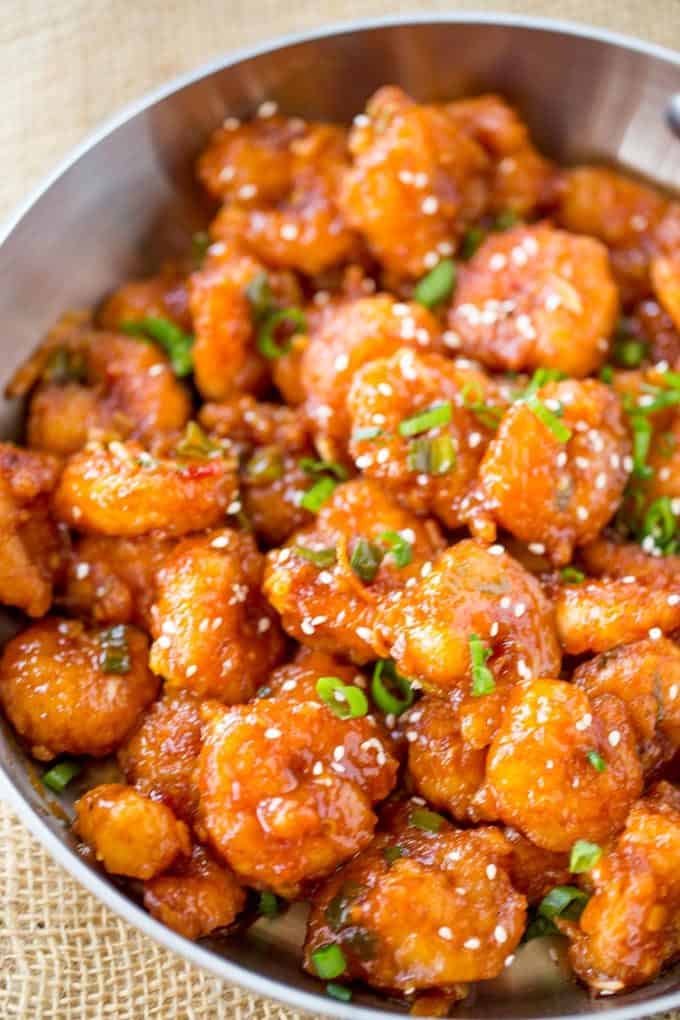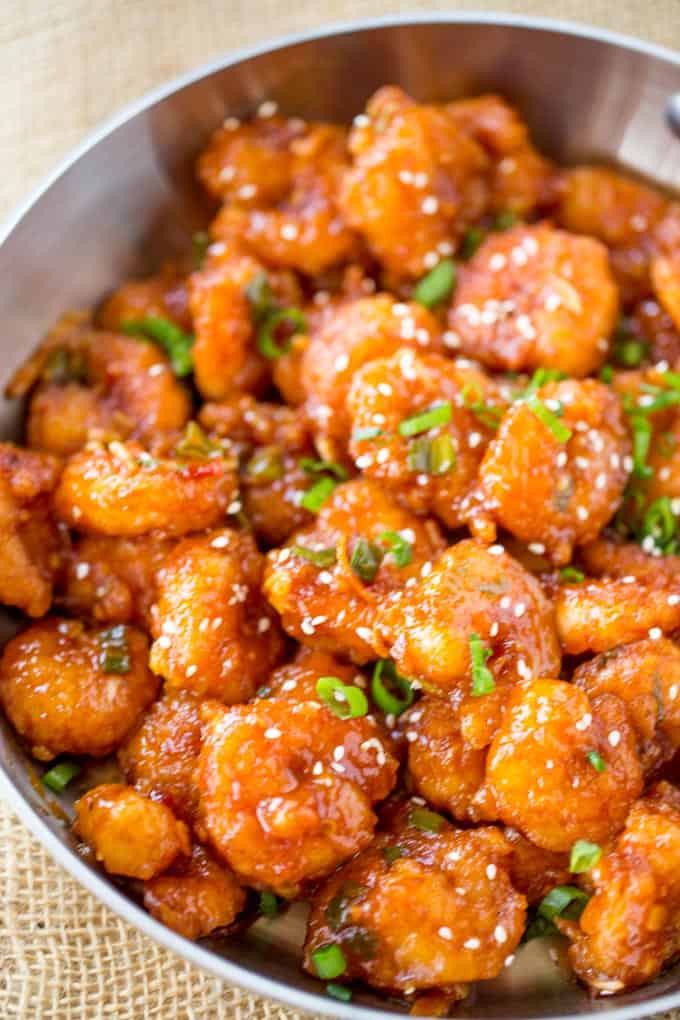 If you're looking for a dish that encapsulates the richness of the sea with the zest of citrus, the Honey Orange Firecracker Shrimp is your best bet. Unlike the regular shrimp dishes that bank solely on the seafood's inherent flavors, this dish adds layers of tang and sweetness, thanks to the orange and honey.
In the beloved animation Mulan, there's an unforgettable comedic moment that would resonate with any food lover. As one character shouts "Order! Order!" in an attempt to bring some semblance of order to a group of rag-tag would-be soldiers in training, the scene amusingly devolves into them placing food orders instead. Among the shout-outs, one can distinctly hear a request for "sweet and pungent shrimp." With its harmonious blend of sweet honey and zesty orange, punctuated by hints of spice, Honey Orange Firecracker Shrimp could very well be the cinematic sweet and pungent shrimp that was called for!
In any case, and often overshadowed by its popular counterpart, the Sweet and Sour Chicken, this recipe is a testament to experimentation done right. The burst of flavors, the crispy honey-coated shrimp, combined with the subtle kick from red pepper flakes, offers a gastronomic experience that is second to none. This dish traces its inspiration from traditional Asian cuisines, where citrus often plays a pivotal role in cutting through the richness of fried dishes. Perfect for weekend dinners or a lavish spread at a party, the recipe offers the warmth of homemade goodness with the sophistication of a gourmet dish. And if you've enjoyed this, do explore our Easy Honey Walnut Shrimp Recipe for another incredible experience.
More Yummy Shrimp Recipes
How to Make Honey Orange Firecracker Shrimp
The beauty of this dish lies in its simplicity and the harmonious melding of flavors. You don't need a professional kitchen to whip this up. All you require are some fresh ingredients and your culinary passion. Now, let's get down to business…
Step One: Begin by preparing the sauce. Combine garlic, soy sauce, honey, orange zest, orange juice, and red pepper flakes in a plastic bowl.
Step Two: Next, rinse the shrimp in cold water, pat dry, and then coat shrimp well in cornstarch. Feel free to discard the excess cornstarch at the end.
Step Three: Then, heat oil in a clean skillet, and fry in batches until shrimp are golden and crispy. Let them drain on a raised cooling rack. Don't place the shrimp on paper towels or they will lose their crispiness.
Step Four: Once all shrimp are fried, reintroduce the honey sauce to the pan with the shrimp. Drop the temperature to medium heat, mixing until the sauce thickens and coats the hot shrimp. Garnish and serve!
Frequently Asked Questions
Why use cornstarch?
Cornstarch helps in achieving that crispy exterior when frying the shrimp. Everyone loves crispy shrimp!
How can I make the shrimp with a thicker coating?
If you want a thicker coating you should dip the shrimp in flour, then egg, and finally coat in cornstarch.
Can I use frozen shrimp?
Yes, but ensure they're thoroughly thawed and pat dry to avoid excess moisture during frying. You don't want wet shrimp when frying. 
What's the role of orange zest and juice?
Both provide a citrusy tang, with the zest giving a concentrated orange flavor and the juice adding a refreshing lightness.
Is this recipe spicy?
The crushed red pepper flakes add a mild kick, but it can be adjusted as per preference.

Create a free account to

Save Recipes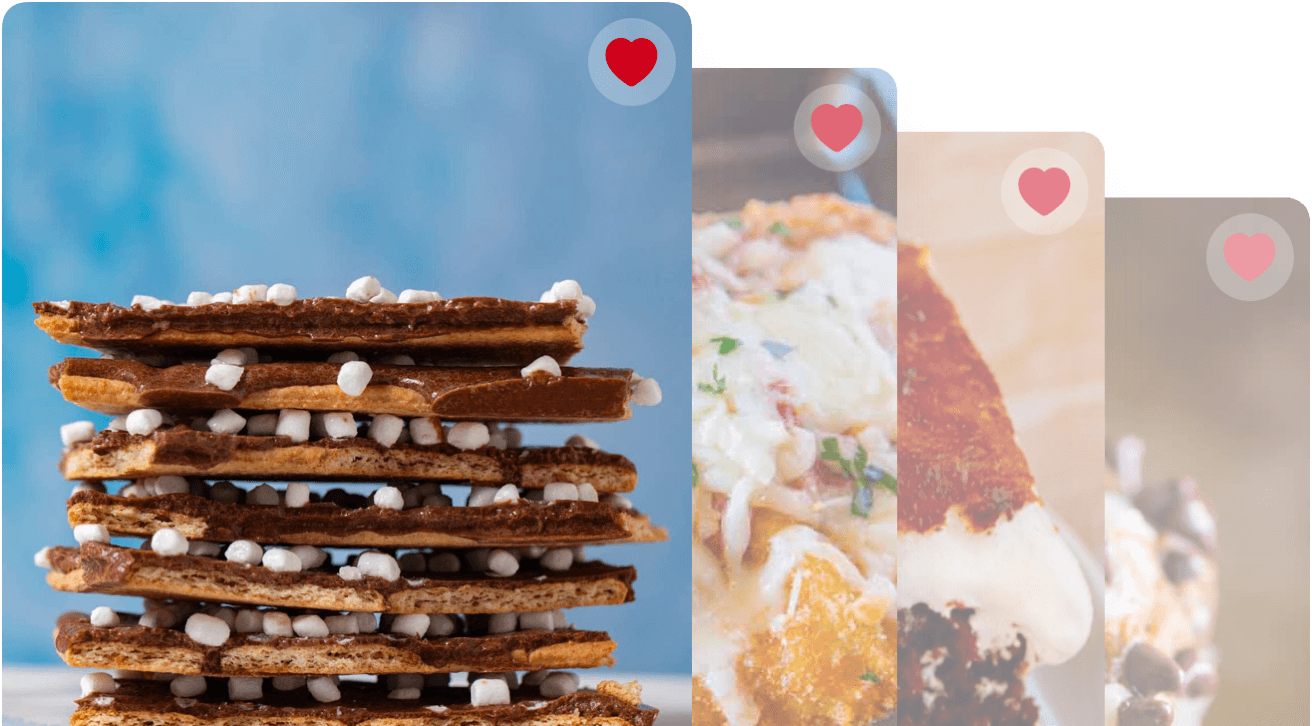 Key Ingredients in Honey Orange Firecracker Shrimp
Making this dish is a cakewalk, especially when you understand the ingredients' roles. They're mostly pantry staples, but let's delve deeper. Everything can be easily found in your closest grocery store. Note: A Citrus Zester is a must! This zests the rind and removes the peel without the pith in perfect strips too, we this tool!
Shrimp: The star of the dish. Ensure they are fresh for the best results. You could opt for prawns for a meatier bite. We prefer jumbo shrimp when available. As a note when looking for shrimp: orange shrimp has been cooked. Raw shrimp is grey.
Orange Juice and Zest: They add a tangy sweetness. Freshly squeezed juice and finely zested peel elevate the dish.
Honey: Honey adds a sweetness that makes the dish irresistibly good. You can use your favorite kind of honey or whatever is available. Bonus points if you are able to buy local raw honey from your local farmers market.
Garlic: We are using fresh garlic. But if you only have garlic powder, only use a half teaspoon as it is more potent than fresh garlic.
Salt and Pepper: You might notice we don't add any salt or pepper to the dish. You can have some kosher salt and black pepper at the table when serving, just in case.
Alternative Cooking Methods for Honey Orange Firecracker Shrimp 
Both these methods not only reduce the oil content but also retain the essential flavors and textures, ensuring you still get to enjoy a delightful Honey Orange Firecracker Shrimp dish.
Baked Method: If you're aiming for a slightly healthier version without compromising the crunch, baking the shrimp is an excellent option.
Preparation: Follow the recipe up to coating the shrimp in cornstarch. Preheat your oven to 400°F (200°C).
Baking Sheet Prep: Line a baking sheet with parchment paper or a silicone baking mat. Place a wire rack on top of the baking sheet. This ensures even cooking and prevents the shrimp from becoming soggy.
Arrange and Bake: Lay the cornstarch-coated shrimp in a single layer on the wire rack. Spray lightly with cooking spray to help them brown. Bake in the preheated oven for about 10-12 minutes, flipping halfway through, until they are golden and crispy.
Sauce: In a separate pan, heat the sauce until thickened. Toss the baked shrimp in the sauce, ensuring they're well-coated. Garnish and serve as per the original recipe.
Air Fryer Method: Air frying is another healthier alternative that still gives you that desired crispiness.
Preparation: Follow the original recipe up to the point of coating the shrimp in cornstarch. Preheat your air fryer to 390°F (200°C).
Air Fryer Prep: Lightly spray the air fryer basket with a non-stick cooking spray. This will prevent the shrimp from sticking.
Air Fry: Place the shrimp in a single layer in the basket, ensuring they don't overlap. Depending on the size of your air fryer, you may need to cook in batches. Air fry for about 8-10 minutes, flipping the shrimp halfway through, until golden brown and crispy.
Sauce: In a separate pan, heat the sauce until it thickens. Once the shrimp are air-fried to perfection, toss them in the sauce to coat evenly. Finish with the garnishes as described in the original recipe.
Can Honey Orange Firecracker Shrimp Be Made Ahead of Time?
Absolutely! Prepare the sauce and marinate the shrimp in it overnight. The next day, just fry, toss and serve. It can be refrigerated post-cooking but is best enjoyed fresh.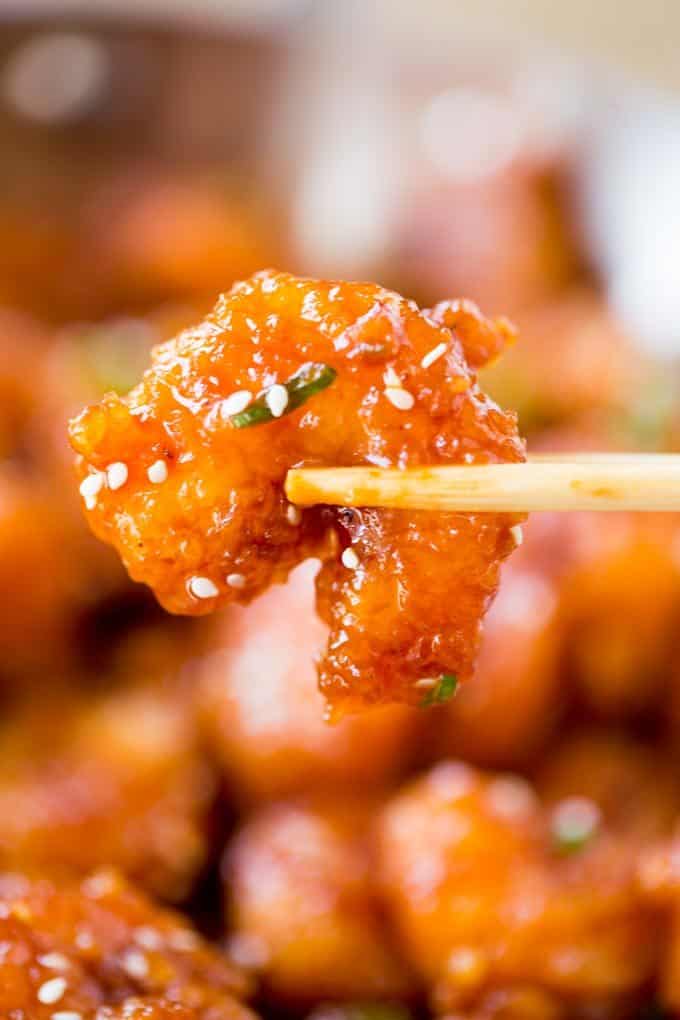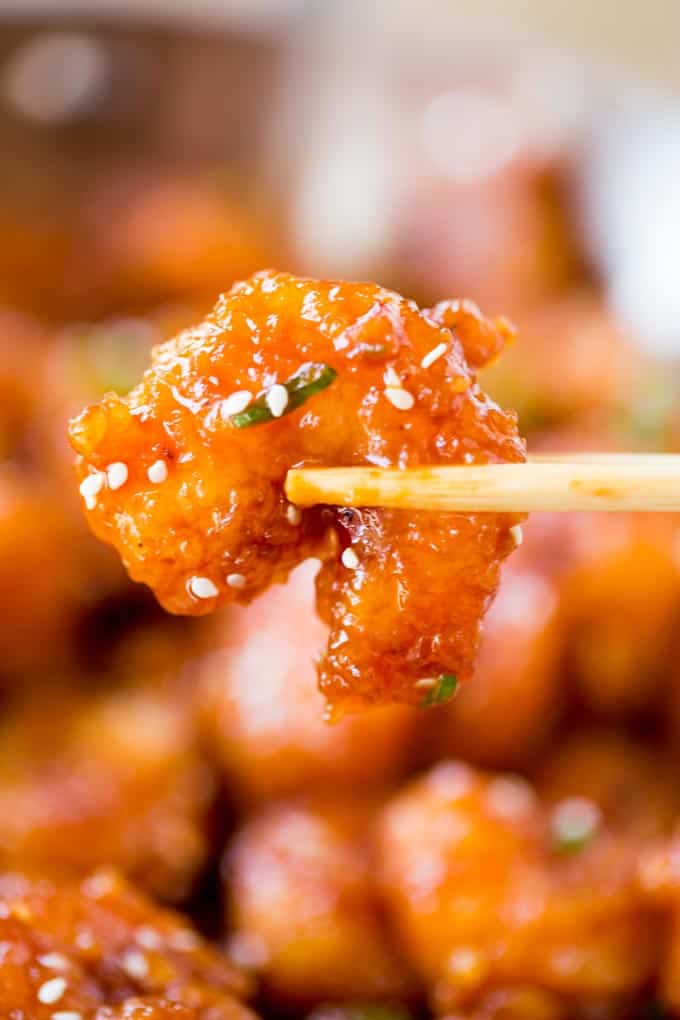 Substitutions in Honey Orange Firecracker Shrimp
Soy Sauce: Tamari or coconut aminos work for a gluten-free version.
Vegetable Oil: Canola oil or peanut oil are suitable alternatives for frying due to their high smoke points.
Red Pepper Flakes: If you want a milder flavor, you can reduce the quantity or omit them. For a spicier kick, consider adding chopped fresh red chilies. Add Sriracha instead of crushed red pepper, the creamy sauce will blend more thoroughly than the chili flakes.
Cornstarch: Arrowroot powder is a good gluten-free alternative, giving a similar crispy texture when frying.
Chicken: You can absolutely use chicken or pork in place of this shrimp.
Variations on Honey Orange Firecracker Shrimp
Crafting homemade meals like the Honey Orange Firecracker Shrimp not only lets you customize flavors as per your preference but also ensures fresh and quality ingredients. This recipe is proof that gourmet-style dishes can be recreated in the comfort of your kitchen. Dive in and enjoy the symphony of flavors!
Tropical Punch: Add a splash of pineapple juice and some finely chopped pineapples to the sauce for a tropical flavor.
Mandarin Style: Replace the regular orange zest and juice with mandarin oranges for a sweeter, tangier flavor.
Lemon Twist: Replace orange juice and zest with lemon juice and zest for a zestier flavor.
Sweet and Spicy: Add a touch of sriracha or hot sauce to the honey-orange mix.
Carrots: Add some steamed carrots to the pan, they would go great with the sauce.
More Takeout Shrimp Dinners
How to Store Honey Orange Firecracker Shrimp
Serve: After cooking, the Honey Orange Firecracker Shrimp should not be left out for more than two hours. Keep covered when not serving.
Store: Place any leftovers in an airtight container with a tight-fitting lid and refrigerate. They will retain their flavor and texture for up to two days. However, for optimal crispiness, it's recommended to consume immediately after cooking.
Freeze: While you can freeze the uncooked marinated shrimp, it's not recommended to freeze the cooked dish as it may lose its crispiness upon thawing and reheating. If you do choose to freeze the uncooked shrimp, ensure it's in a freezer-safe bag or container. When ready to cook, thaw in the refrigerator overnight and then follow the frying instructions.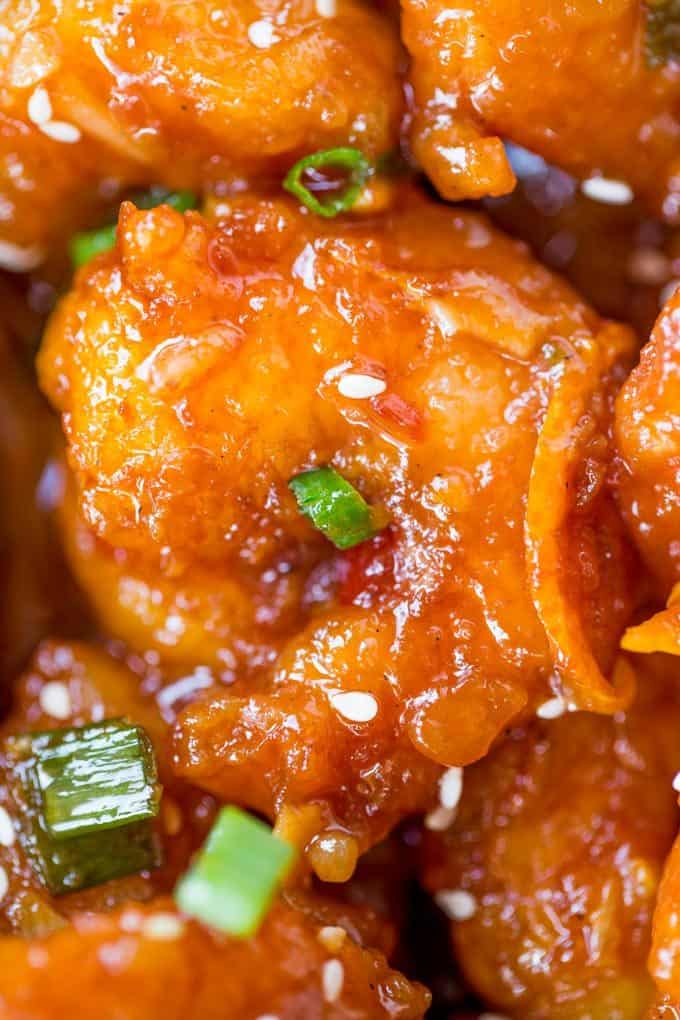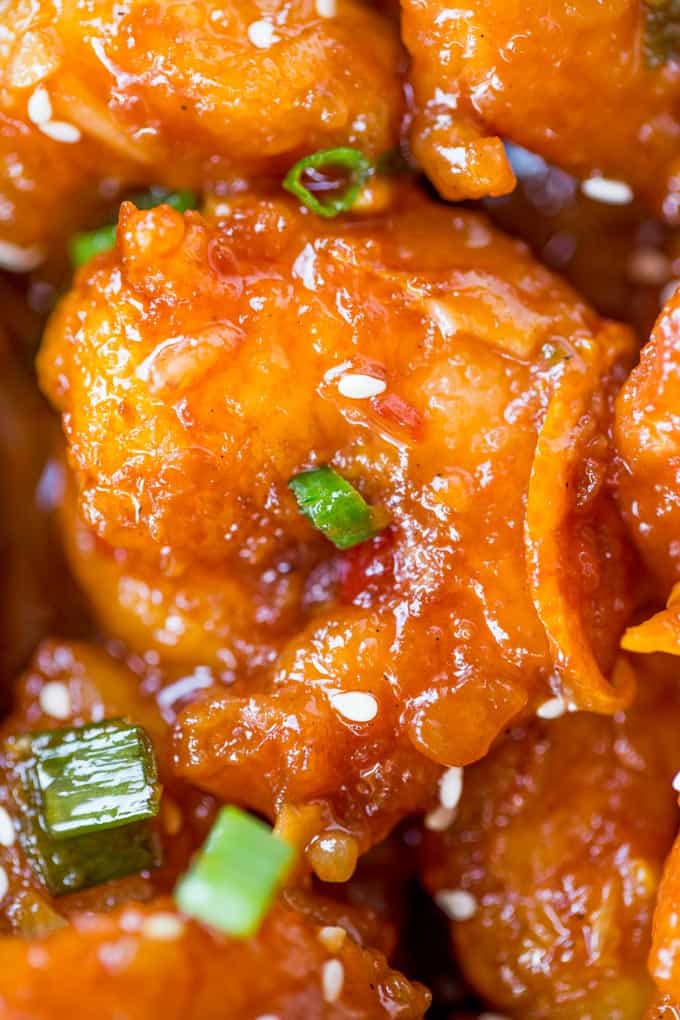 Ingredients
2

cloves

garlic

, minced

1 1/2

teaspoons

 soy sauce

1/2

cup

honey

1

orange zest

, zested into thin strips

2

tablespoons

orange juice

1/2

teaspoon

crushed red pepper flakes

2

pounds

shrimp

,18-20 count peeled and deveined

1

cup

cornstarch

1/2

cup

vegetable oil

1

tablespoon

green onions

, for garnish

1

teaspoon

sesame seeds

, for garnish
Instructions
Add the garlic, soy sauce, honey, orange zest, orange juice and crushed red pepper flakes to a small bowl and whisk until combined. Set sauce aside.

Add the shrimp to the cornstarch and coat well.

Heat your oil in a large frying pan over medium high heat.

In batches, cook the shrimp for

2-3 minutes

on each side until brown and crisp.

Drain onto a plate (don't use paper towels or it'll steam on the paper towels).

When you've finished frying the shrimp drain the oil.

Add the sauce back to the pan and add the shrimp on top.

Toss to combine and cook for

15-20 seconds

or until the sauce has thickened (this will not take long, all the cornstarch on the shrimp will thicken it quickly).

Serve immediately, garnish with green onions and sesame seeds.
Nutrition
Calories:
491
kcal
|
Carbohydrates:
44
g
|
Protein:
31
g
|
Fat:
21
g
|
Saturated Fat:
2
g
|
Cholesterol:
381
mg
|
Sodium:
1265
mg
|
Potassium:
147
mg
|
Fiber:
1
g
|
Sugar:
24
g
|
Vitamin A:
70
IU
|
Vitamin C:
12.2
mg
|
Calcium:
226
mg
|
Iron:
3.5
mg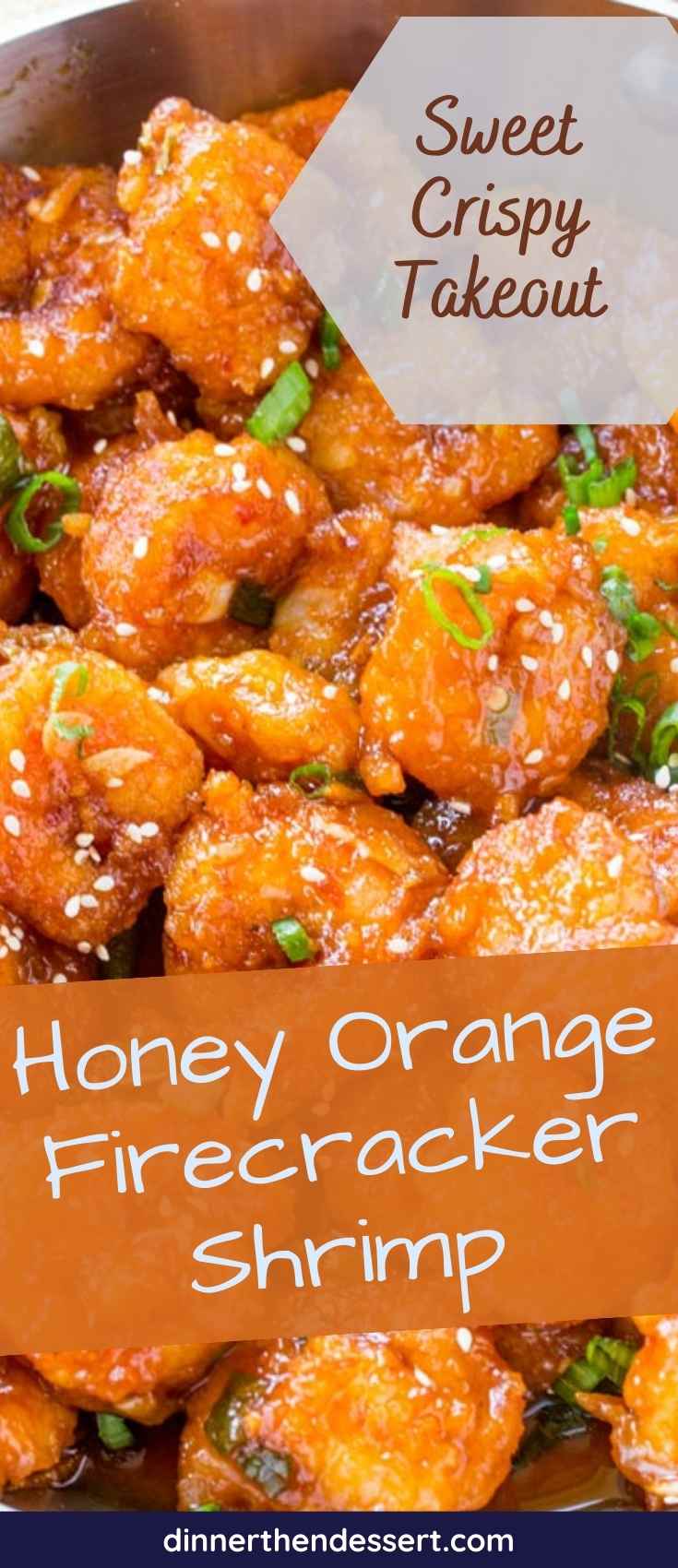 Photos used in a previous version of this post.