Shrimp Cocktail, flavorful poached shrimp served with homemade cocktail sauce, is a classic American appetizer ready in less than 20 minutes!
Preparing for easy holiday Appetizers? You'll love this recipe along with Buffalo Chicken Dip, Ultimate Spinach Artichoke Dip and Easy Sausage Stuffed Mushrooms. It's the simple things that pack big flavor!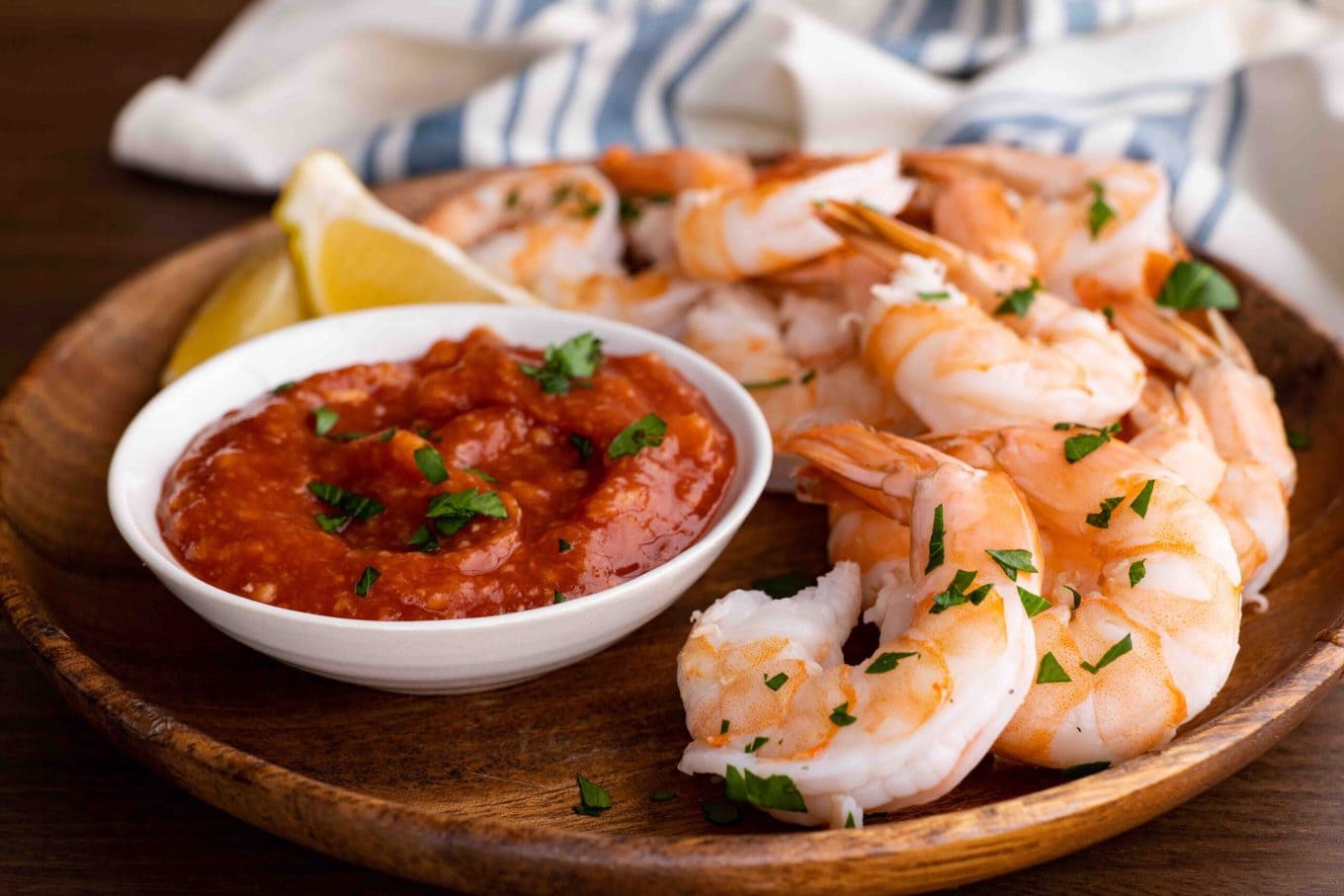 Heading into the holiday season, the recipes at home take a very holiday turn! Lots of snacks, side dishes, party appetizers, and main courses are made for all your big holiday parties. One such recipe you definitely should NOT buy pre-made? Shrimp Cocktail. Pre-made shrimp cocktail is non-seasoned steamed shrimp thats basically rubbery from extended refrigeration. When you make it fresh, you can taste the difference, and your guests can too!
This dish is a distinguished American classic that has made its way all around the world. A fine selection of crustaceans, most commonly shrimp, is cooked, cooled, and served with a special seafood sauce often called cocktail sauce. Cocktail Sauce is a delicious and zingy blend of five simple ingredients: ketchup, horseradish, Worcestershire sauce, lemon juice, and finally hot sauce (like Tabasco) for just a touch of spicy heat!
What's the right way to make shrimp cocktail? A seasoned water for the perfect boil and a quick shock in an ice bath before serving. While this is not an inexpensive option for feeding a crowd, with a bit of planning you can have an impressive shrimp appetizer for your guests without breaking the bank. Remember, many people love a side of hot sauce with their shrimp!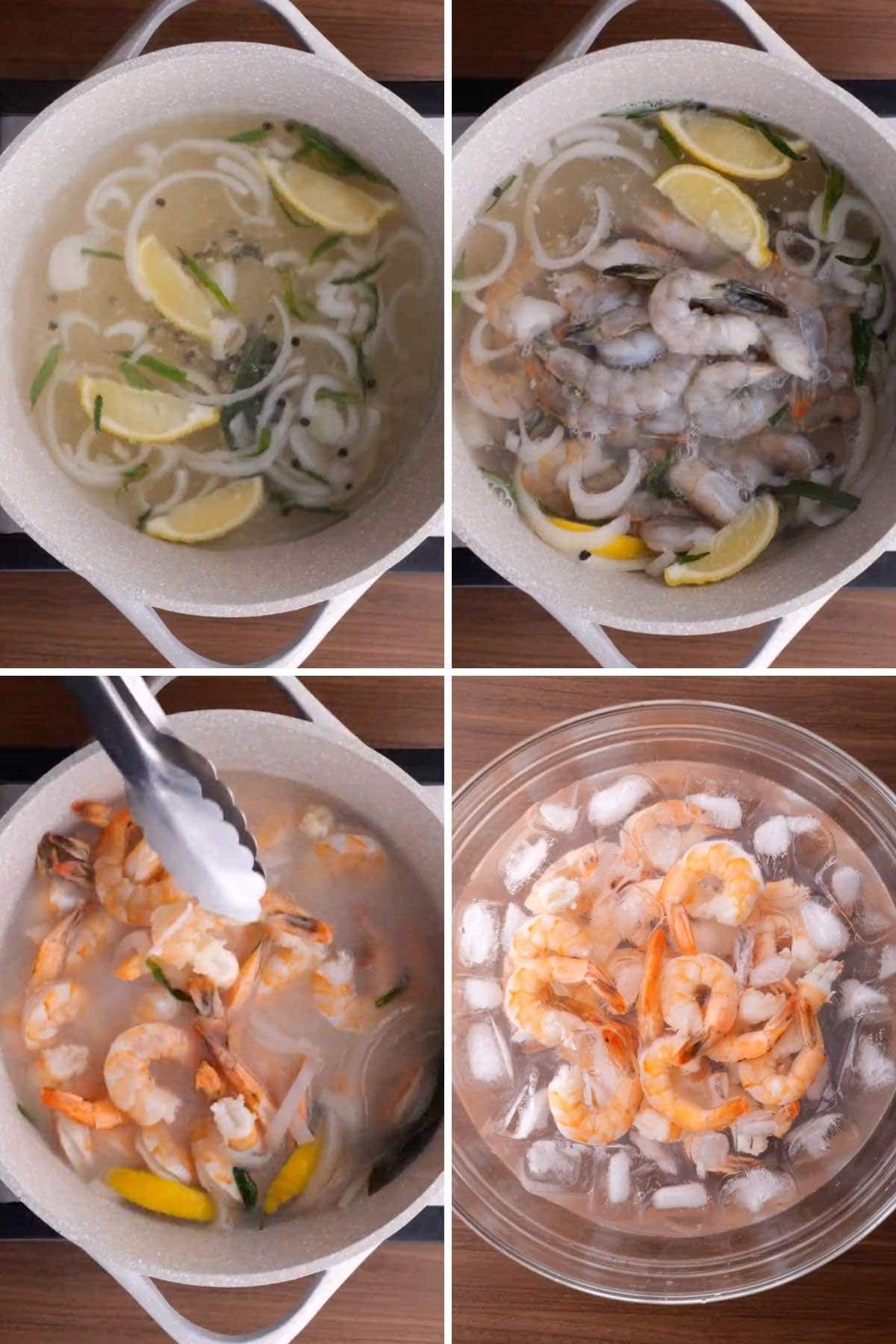 How to Buy Shrimp
You should only buy plump shrimp per pound when it dips in price. This happens at least once every couple of months but when it does, go ahead and buy in bulk. Pro tip: Go to the the seafood counter in your local grocery store. Order your shrimp in two-pound quantities. They'll ask you if you just want the unopened bag of shrimp. YES, they're opening up two-pound frozen bags of shrimp to give you what you need. Keep it simple and buy the whole bag!
You can buy several of those 2 pound bags and keep them in your deep freezer if you have one. Places like Sprouts Market often have the best shrimp pricing. If you shop around holidays like New Year's and Valentine's Day, many other grocers will also have great deals.
You could end up with 30 pieces of frozen deveined but non-peeled shrimp per two pound bag. With 4 pounds you can feed 20-25 guests. And, with a homemade Cocktail Sauce (made with your favorite hot pepper sauce) for dipping, you'll have guests swarming the table.
How to Make Shrimp Cocktail
The process for making a tender Shrimp Cocktail recipe is really easy. There are two parts: Cooking the shrimp, and mixing the shrimp Cocktail Sauce. Then, let them cool down in the fridge before serving.
Step One – Prep and mix the ingredients for the classic Cocktail Sauce first. This needs to be refrigerated for an hour before serving.
Step Two – Prep and combine the ingredients for cooking the shrimp. Bring the pot to a boil.
Step Three – Add the shrimp to the pot. Frozen shrimp needs to thaw before cooking. If it's not already done, peel and de-vein the room temperature shrimp. Raw shrimp is grayish. Cooked shrimp is pinkish. Don't overcook, the second the shrimp turns pink scoop it out and into cold water.
Step Four – Once the shrimp has cooked, place them in a medium bowl of ice water to quickly cool them, the serve the juicy shrimp with the cooled Cocktail Sauce and enjoy!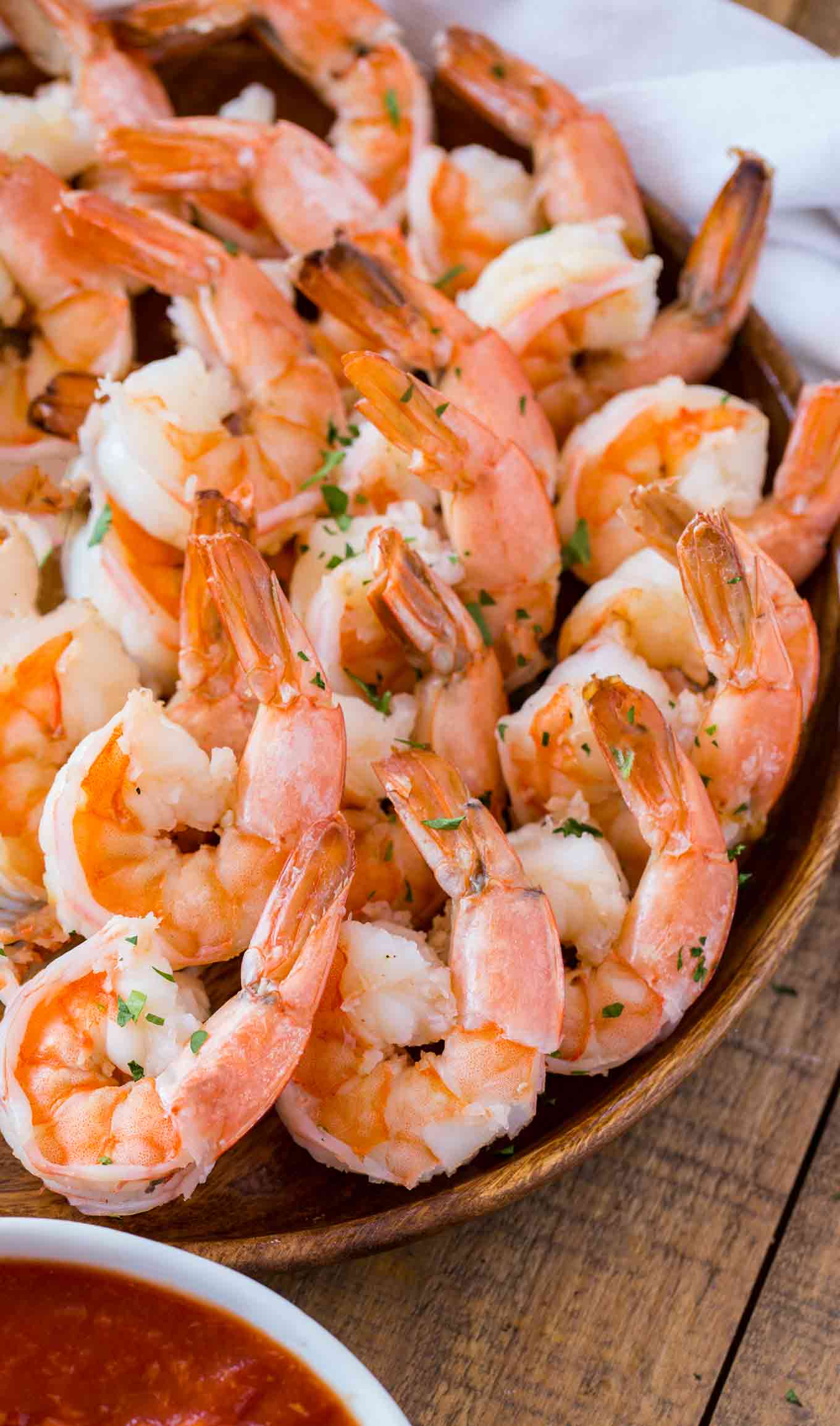 Frequently Asked Questions
How do you make Shrimp cocktail?
You start with a pot of aggressively seasoned water with lemon, onion and herbs. This is really your only chance of introducing flavor into the shrimp. If you fail to use seasoned water you don't have Shrimp Cocktail you just have steamed shrimp and while by sight they don't look any different, the flavors are much different from one another.
How do you peel and devein shrimp?
To peel raw shrimp, tear away at the shell above the first segment of the shell (the tail segment). Take a paring knife and make a shallow cut along the spine of the shrimp (the back of it). Using the paring knife or a fork, gently remove the black strip of intestines. To remove tails just squeeze the shrimp out from the bottom of the tail segment.
Is this Shrimp Cocktail Recipe Raw?
No, Shrimp Cocktail is boiled (sometimes steamed) before being immediately chilled before serving. Remember if shrimp is pink it isn't raw. When raw it looks grey or grayish blue in color.
Is Shrimp Cocktail Healthy?
Shrimp Cocktail is in fact healthy! Yes, shrimp are low in fat and calories and since you're not adding any fats or salt to this recipe, you can enjoy this to your heart's content at your favorite holiday party! If you want a little more saltiness, be sure to use Kosher salt.

Create a free account to Save Recipes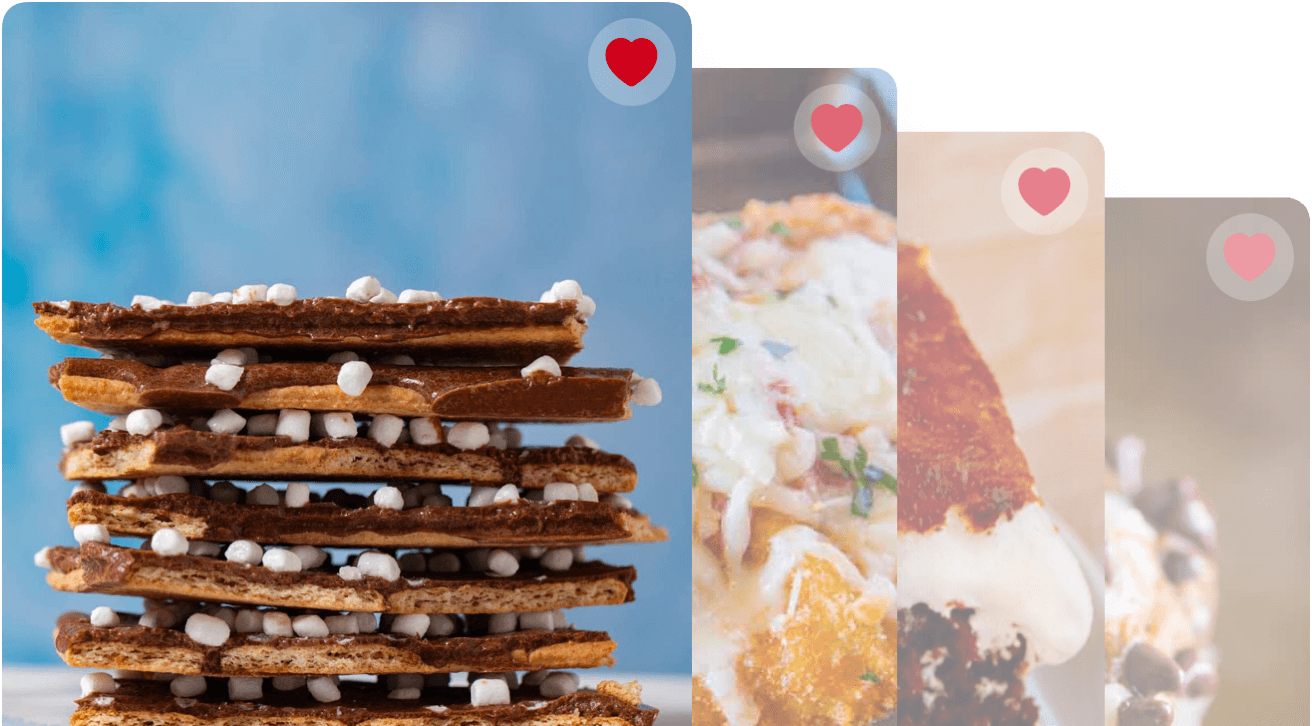 Key Ingredients for Shrimp Cocktail
Shrimp – Source GOOD frozen shrimp for Shrimp Cocktail. Anything that smells funky is past its prime. Remember, fresh seafood is near odorless. Farm raised shrimp is cheaper. Wild caught shrimp is sustainable and has better flavor. Don't buy pre-cooked, there is no saving the flavors of that shrimp.
Black Pepper – Use whole black pepper corns, not pre-crushed pepper, in the boil. The earthy spice is essential in flavoring the shrimp.
Tarragon – This perennial herb can be found in vegetable section of your closest grocery store. Oftentimes they will package tarragon in little plastic containers to help keep it fresh since it is not a super popular herb. But it is critical to our recipe here.
Lemons – You can use Meyer lemons or the common Lisbon lemon which is the type typically found at the store. Fresh lemon juice (or lime juice) pairs really nicely with this perfect Shrimp Cocktail.
Cocktail Sauce – Sure, you can use store bought versions. But you can really impress your guests with a homemade version. Bonus points if your sauce uses a prepared horseradish you made yourself!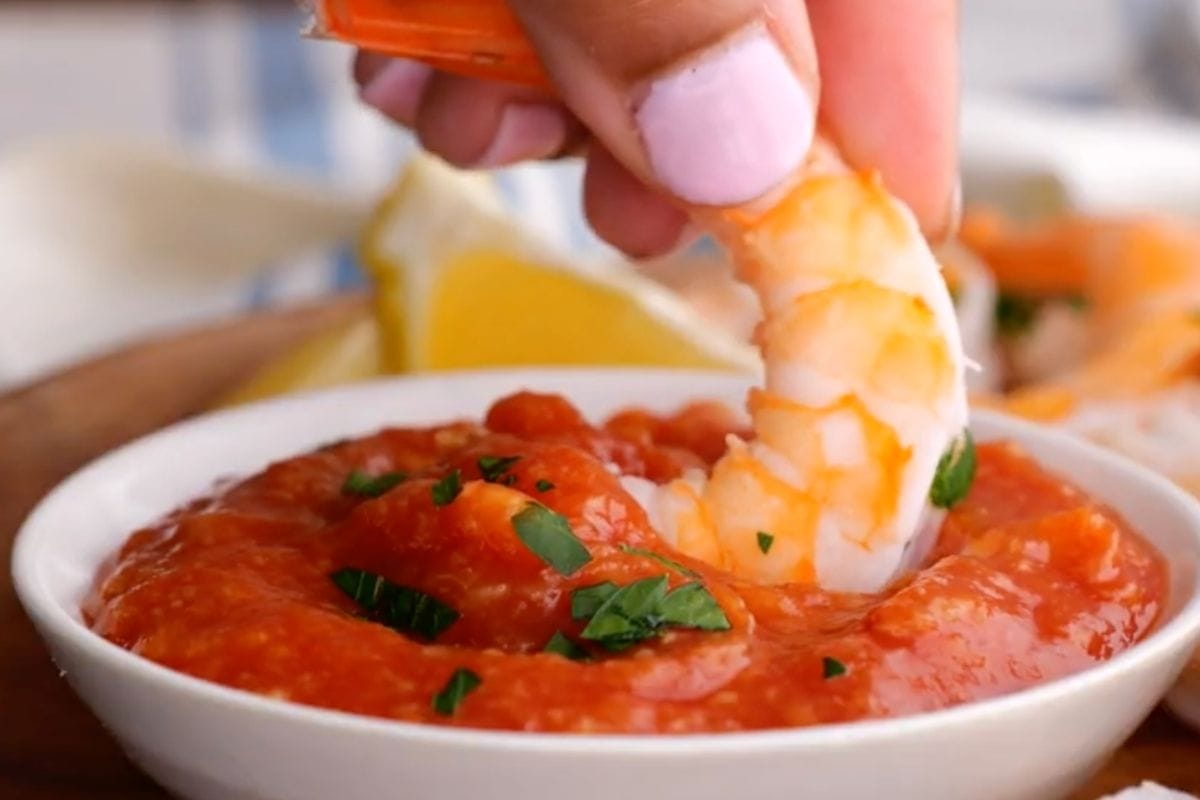 How to Serve Shrimp Cocktail
This is your chance to design a masterpiece! There are several tips for serving your Shrimp Cocktail to your guests.
Design – Arrange the shrimp in a fun symmetrical pattern on the serving plate. Or, you can hang them from the rim of a tall glass filled with sauce.
Zest – Add lemon zest to the plated shrimp for a colorful and flavorful pop!.
Party Setting – For easy eating in a party setting, leave the tails on so they can be held easier.
Fancy Dinner – For easy eating in a plated presentation, remove the tails so a fork and knife can be used if desired.
Sides – Serve with a side of hot sauce, kosher salt, and lemon juice for the guests to use if they prefer.
Drinks – White wine is a good choice to serve with this succulent Shrimp Cocktail recipe.
How to Store Shrimp Cocktail
Serve: Don't leave Shrimp Cocktail at room temperature longer than 1 hour. To keep fresh throughout a party, place a serving dish of shrimp on top of a larger bowl or tray filled with ice.
Store: Cooked Shrimp Cocktail and sauce will last up to 3 days in the refrigerator, in an airtight container.
Freeze: Wrapped tightly, cooked shrimp can be frozen up to 6 months in an airtight container. Defrost in the refrigerator (not the microwave) before serving with a fresh batch of cocktail sauce.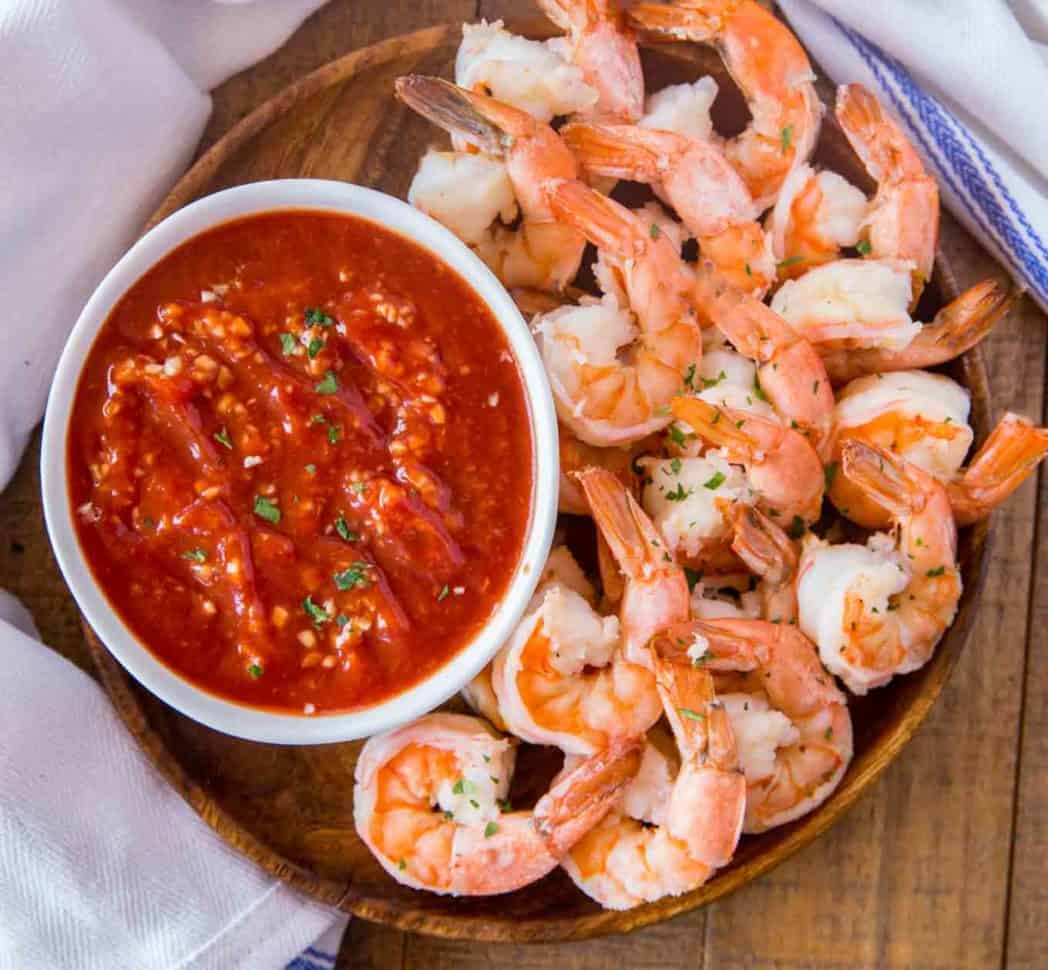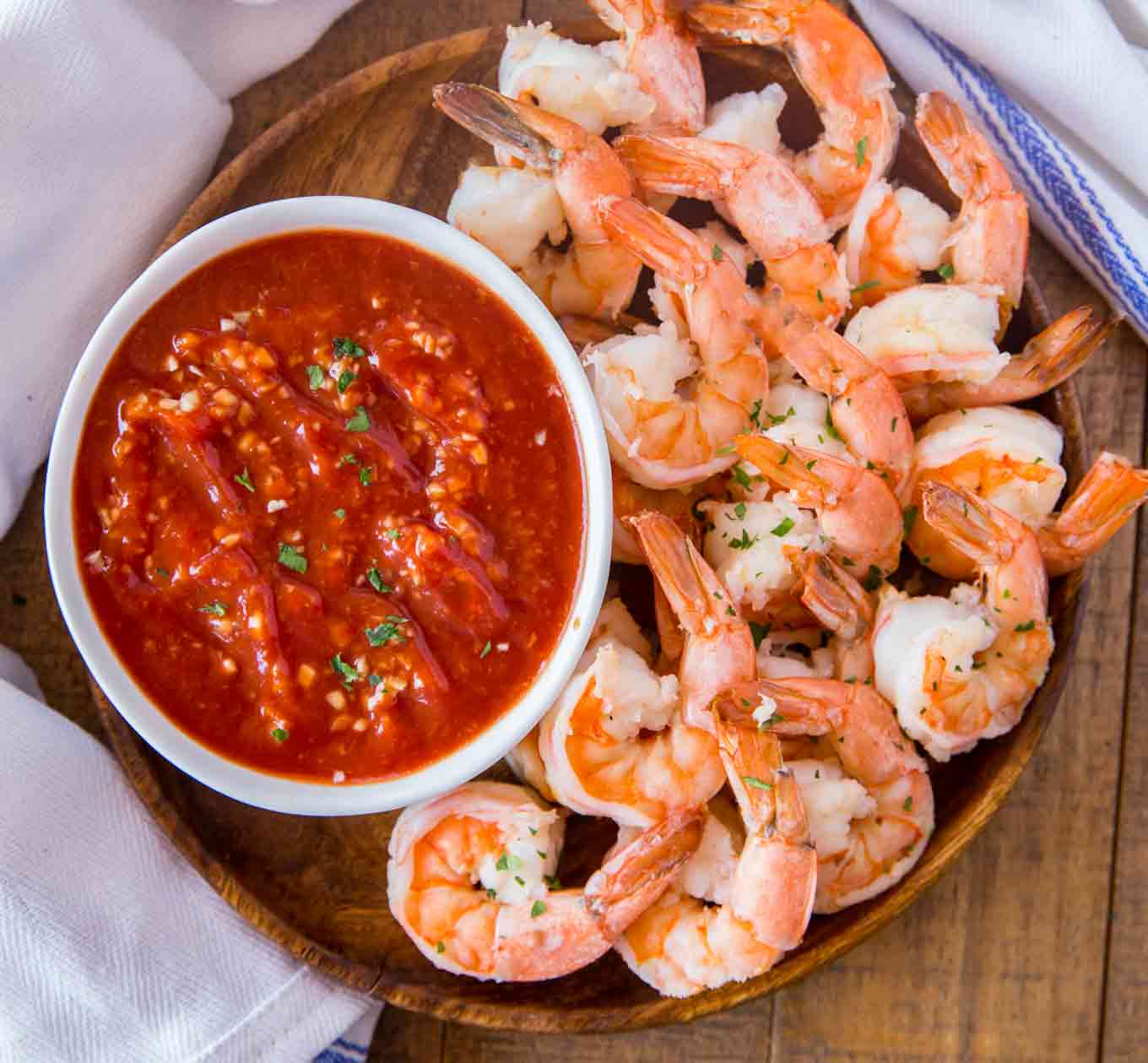 Ingredients
1

lemon

, cut into 8 wedges

8

cups

cold water

1/4

yellow onion

, sliced

2

cloves

garlic

, peeled and bruised

2

teaspoons

fresh tarragon

1

teaspoon

whole black peppercorns

1

bay leaf

2

pounds

shrimp

, peeled and deveined

1

cup

cocktail sauce

, homemade recipe
Instructions
Add half the lemon pieces, water, onion, garlic, tarragon, black peppercorns and bayleaf to a large pot and bring it to a boil.

Prepare a large bowl of ice water.

Add the shrimp and cook for

2 minutes

(until the shrimp is bright pink).

Remove shrimp to the ice water for

5 minutes

before serving with cocktail sauce and remaining lemon wedges.
Nutrition
Calories:
122
kcal
|
Carbohydrates:
2
g
|
Protein:
23
g
|
Fat:
1
g
|
Cholesterol:
285
mg
|
Sodium:
882
mg
|
Potassium:
136
mg
|
Vitamin A:
20
IU
|
Vitamin C:
12.5
mg
|
Calcium:
177
mg
|
Iron:
2.7
mg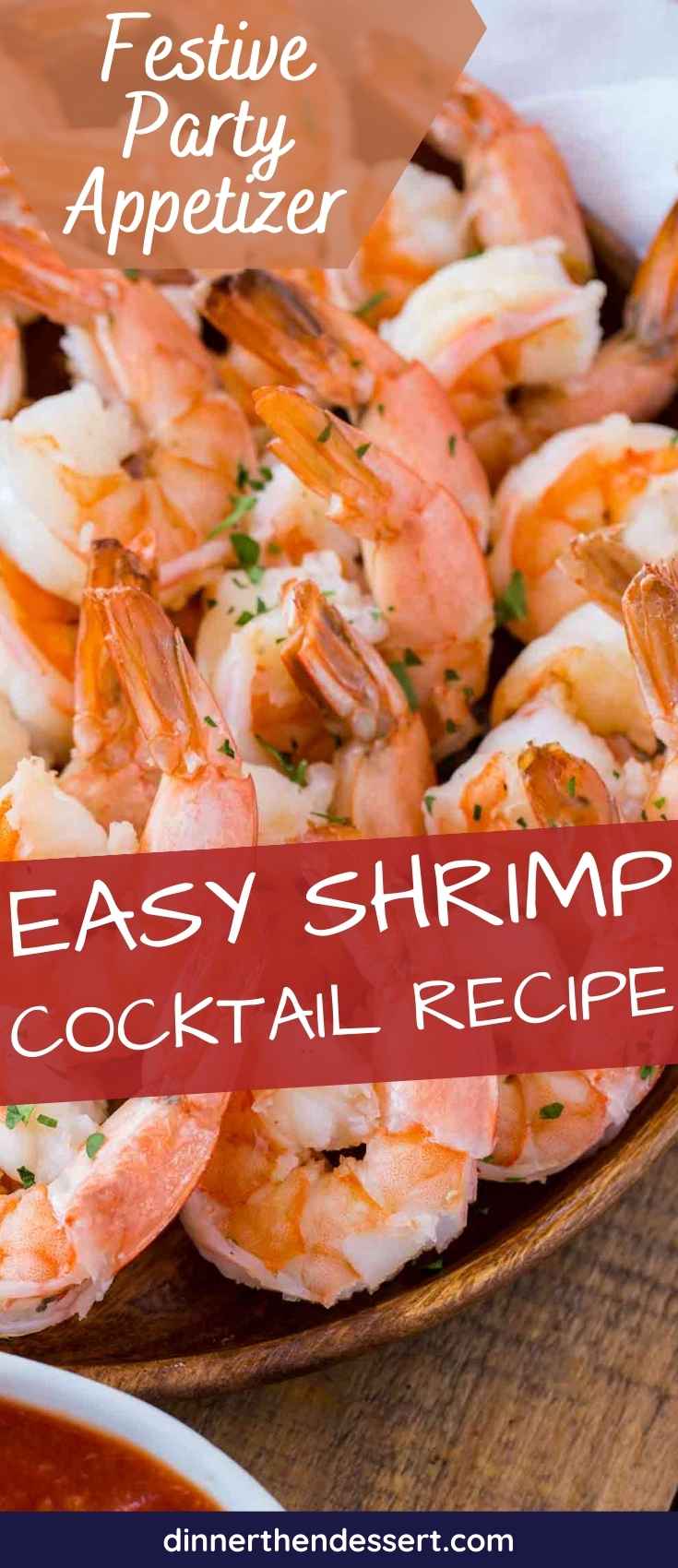 Photos used in a previous version of this post.