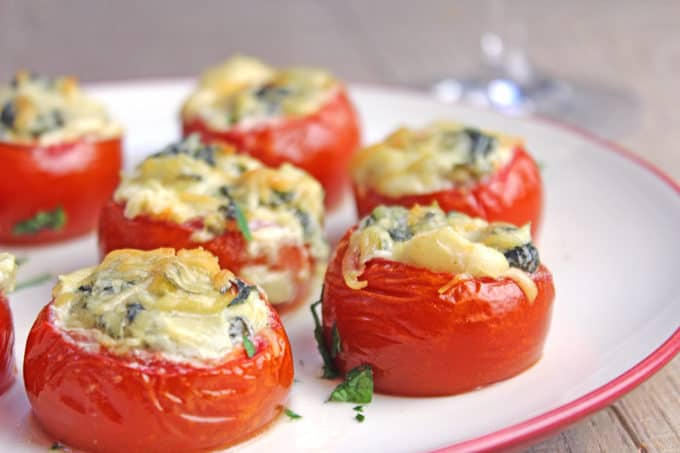 Forget the oysters, these Tomato Rockefeller bites will be the hit of your dinner party as part of a plated appetizer or even as a passed option at a cocktail party.

I know from time to time I mention my professional career as a personal/private chef but I tend to stay away from client stories. Working with clients has been an absolute joy and while I've got some hilarious stories I tend to only mention ones that don't include clients. Like the time I somehow got locked out of my favorite client's house while a Spinach Lasagna was in the oven and had no key to get back in. Hijinx ensued and the lasagna still ended up being enjoyed by all.
This recipe however is an ode to one of my chef colleagues who brought a similar dish (she made it in canned Roma tomato halves and it was amazing!) to a fun holiday party my chef mentor (I miss you Monica!) hosted at her home each year. I must have eaten half the tray they were so delicious!
This version uses a smaller, fresh tomato. In my local Sprouts they were listed as Campari tomatoes, but as you can see in the photos the size you are looking for is a good fit in a mini muffin tin. These are small enough to be an appetizer at a cocktail party but can also double in a plated appetizer, even served with oysters ;). The flavors of spinach, cream, butter and parmesan meld together and with the breadcrumbs you will find these to be one of your most popular bites at your holiday party.
Add 2 tablespoons of butter, garlic, salt, pepper and spinach to a skillet on medium high and cook until the spinach is just wilted, 3-5 minutes (if you have a noticeable amount of liquid here drain most of it off). Add the heavy cream and remaining two tablespoons of butter. In a bowl add the mixture from the pan with the rest of the ingredients (not including the tomatoes).
Cut the tops off of each tomato and with a spoon scoop out the insides and fill with the spinach mixture and top with cheese.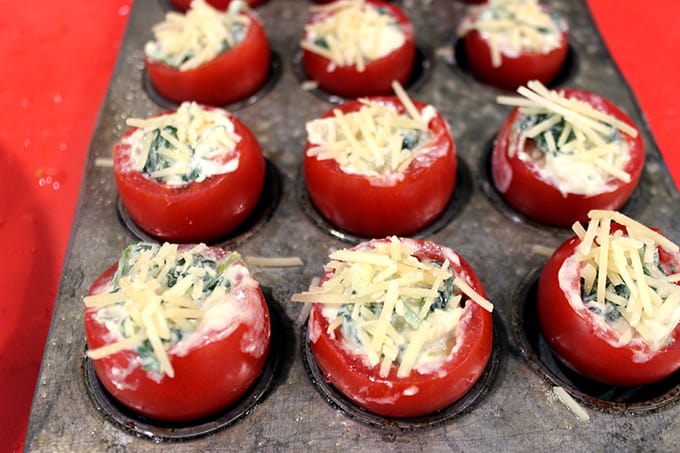 Bake, uncovered, in a mini muffin tin at 375 degrees for 15-20 minutes, until the tops are browned.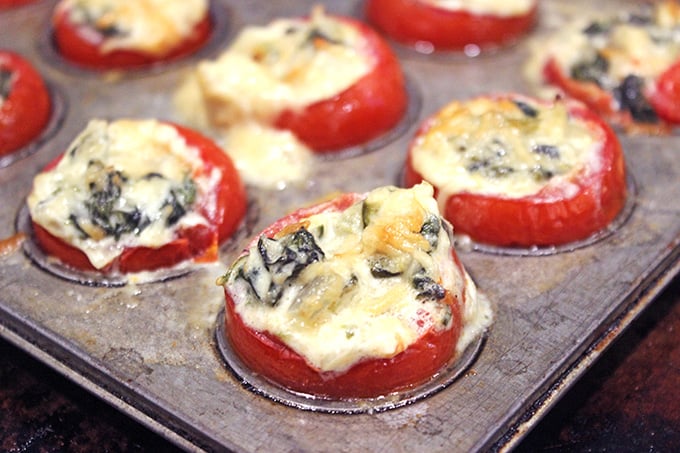 Ingredients
4

tablespoon

butter

, divided

2

garlic cloves

, minced

salt and pepper

, to taste (I did ¼ teaspoon of each)

10

ounces

fresh spinach

1/4

cup

heavy cream

2

eggs

, lightly beaten

1

cup

bread crumbs

1/2

cup

green onions

, chopped

1/2

teaspoon

dried basil

1/2

teaspoon

dried oregano

1/4

teaspoon

Worcestershire sauce

1/2

cup

shredded Parmesan cheese

(with a bit extra for sprinkling on top)

36

small tomatoes

(I use Campari, you want about ping pong ball size)
Instructions
Add 2 tablespoons of butter, garlic, salt, pepper and spinach to a skillet on medium high and cook until the spinach is just wilted,

3-5 minutes

(if you have a noticeable amount of liquid here drain most of it off).

Add the heavy cream and remaining two tablespoons of butter.

In a bowl add the mixture from the pan with the rest of the ingredients (not including the tomatoes).

Cut the tops off of each tomato and with a spoon scoop out the insides.

Fill with the spinach mixture

Bake, uncovered, in a mini muffin tin at 375 degrees for

15-20 minutes

, until the tops are browned
Nutrition
Calories:
44
kcal
|
Carbohydrates:
3
g
|
Protein:
2
g
|
Fat:
3
g
|
Saturated Fat:
2
g
|
Cholesterol:
16
mg
|
Sodium:
67
mg
|
Potassium:
97
mg
|
Fiber:
1
g
|
Sugar:
1
g
|
Vitamin A:
925
IU
|
Vitamin C:
6.4
mg
|
Calcium:
35
mg
|
Iron:
0.6
mg