Easy Sausage Stuffed Mushrooms made with pork sausage, parmesan cheese, garlic and breadcrumbs are a restaurant favorite made at home in 15 minutes. A perfect Italian appetizer with no fuss.
Keep your guests wondering if you ordered take-out or used to work at their favorite Italian restaurant with these Sausage Stuffed Mushrooms. We have even more Italian inspired Appetizer Recipes like Sausage Balls and Sausage Rolls to impress your guests.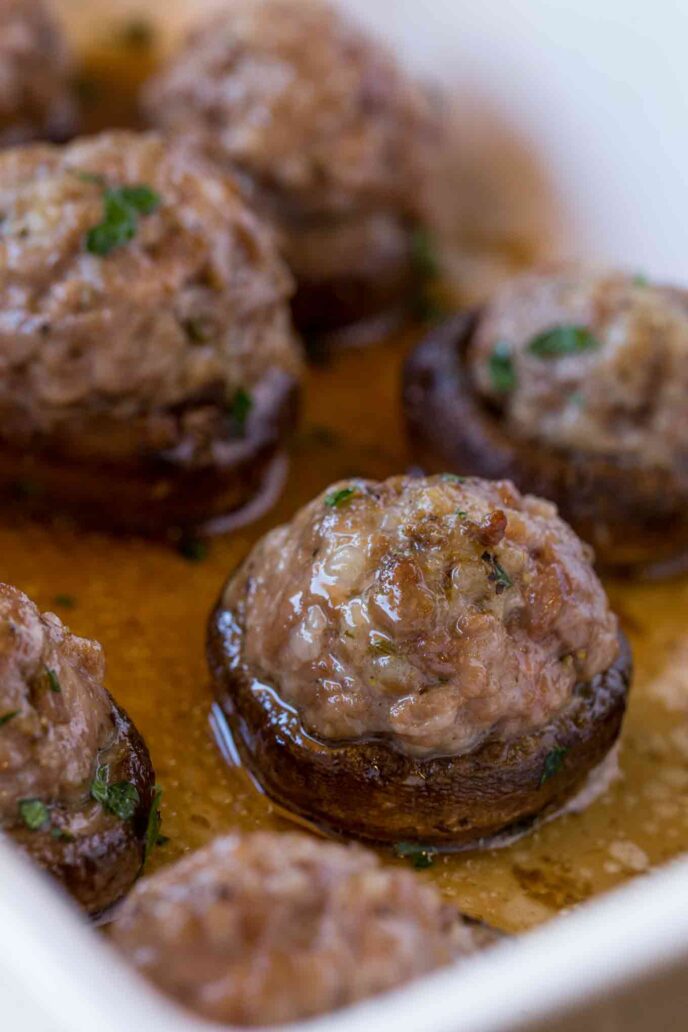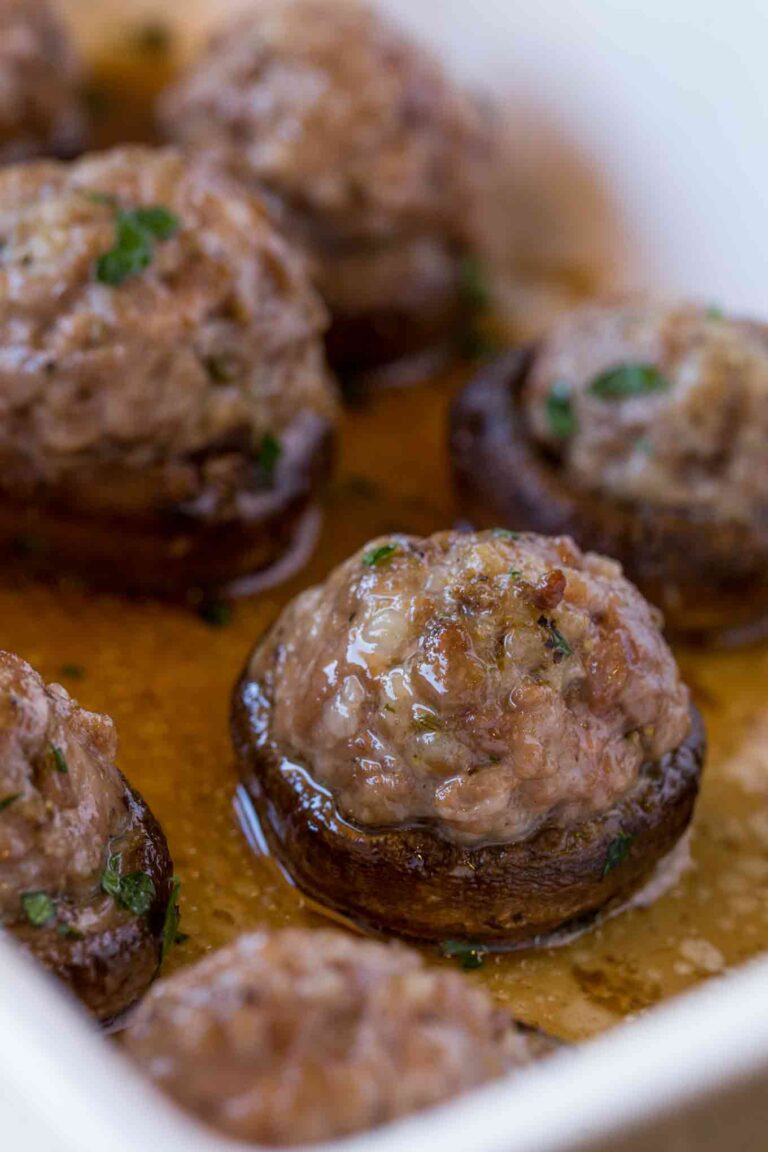 EASY SAUSAGE STUFFED MUSHROOMS
Stuffed Mushrooms are one of the most classic and popular holiday appetizers throughout the years. Yes, you can stuff your mushrooms with cream cheese and breadcrumbs too, but using sausage is the ultimate holiday indulgence. These make a great party appetizer since they are quick to make, bite-sized, and fit on a toothpick. They can easily go from casual snack to fancy hors d'oeuvres by plating them and garnishing with finely diced green onions or parsley.
The stuffing in these mushrooms is mix of delicious Italian sausage, mozzarella cheese, garlic, breadcrumbs and more. If you want them to have a bit of heat to them you can even use spicy Italian sausage.
These bite-sized savory delights are addicting, and when you dip them in Marinara Sauce, you get a mouthful of Italian flavor.
Make Them Ahead
You can make your mushrooms ahead of time, storing them for up to 2 days fully assembled but not baked. When you are ready to serve, bake for 12-15 minutes or until warmed through.
The thing that is great about Stuffed Mushrooms is how versatile they are. We have some variations listed below but the sky is the limit when it comes to stuffing mushroom caps.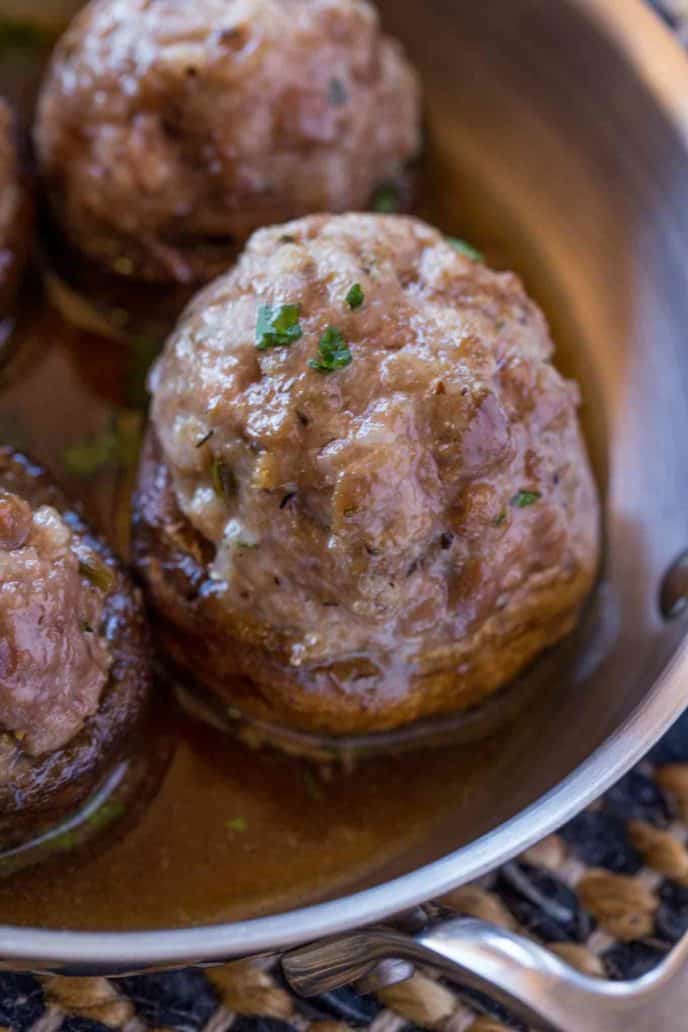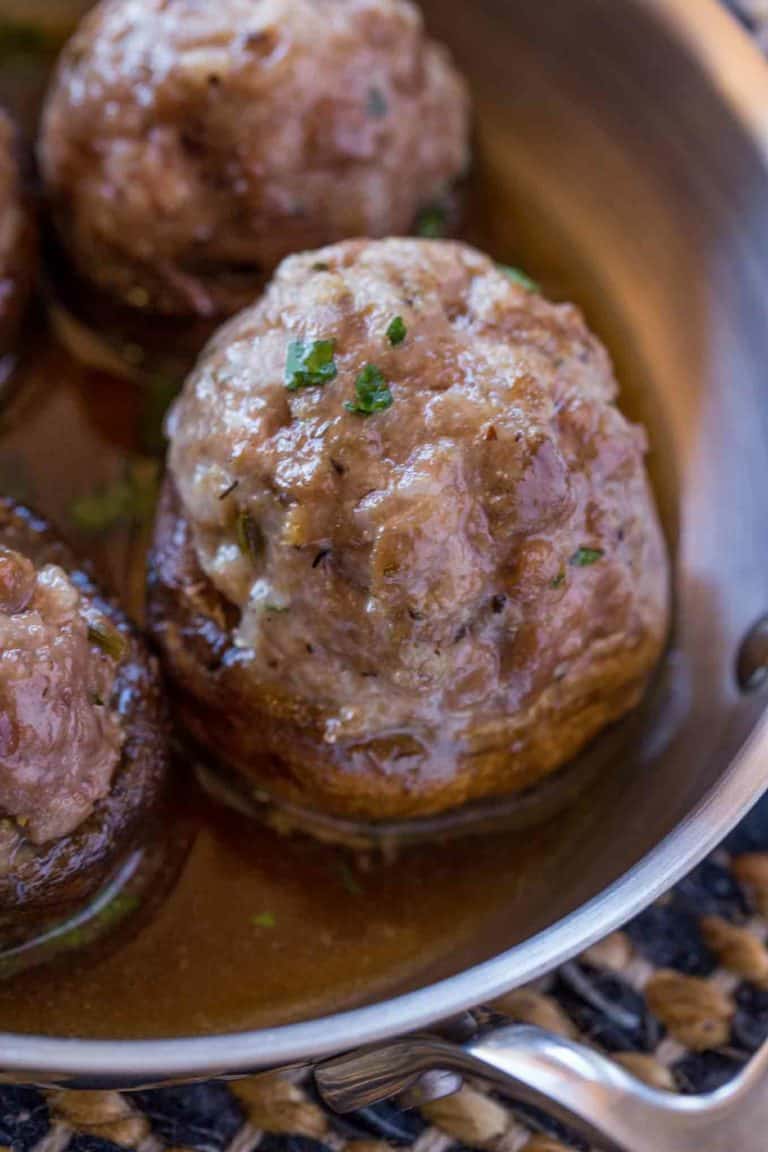 Tips for Stuffed Mushrooms:
There are a lot of recipes out there for cream cheese sausage stuffed mushrooms in place of using mozzarella. I prefer to use mozzarella because it holds it's shape better, has better flavor, and is more authentically Italian.

If you use cream cheese, cook at a higher temperature to avoid the cream cheese from melting out.

I

f you'd like to make these sausage stuffed mushrooms with portobello mushrooms I'd recommend adding a bit more filler (like chopped bell peppers) as the sausage filling can be overwhelming.

You don't even have to use Italian Sausage or seasonings if you prefer a more classic variety. We've used classic breakfast sausage, onions, breadcrumbs, a bit of sage and shredded cheddar cheese for a quick and easy "breakfast" style stuffed mushroom in the past.
How to Prepare Mushrooms:
Make sure to clean your mushroom caps before filling.
To clean mushrooms: Wipe each mushroom with a damp cloth or paper towel. You can also lightly rinse your mushrooms, just don't soak them or keep them under water too long.
To cut mushrooms: Take a knife and gently remove the stems. Next, using your fingers or a spoon, remove the insides of the mushroom carefully so you don't break the sides.
Leftover mushroom parts: Keep the stems and the gills (the inside part of the mushroom cap). You can add them to your sausage mixture or save them for another recipe like homemade veggie broth.
MORE TASTY APPETIZER RECIPES
HOW TO MAKE EASY SAUSAGE STUFFED MUSHROOMS
Preheat oven to 350 degrees.
Remove the stems and scrape out the inside of the mushrooms using a spoon to make room for the filling.
In a large cast iron skillet, add the scrapings from the mushrooms (not the stems), sausage, and onion to the skilled.
Cook until lightly browned.
Remove the oil as best you can from the pan.
Add in the cheese, bread crumbs, garlic, and parsley. Stir to combine.
Scoop mixture into each mushroom, making it into a rounded top.
Bake for 12-15 minutes.
Garnish with additional parsley, if desired.

Create a free account to

Save Recipes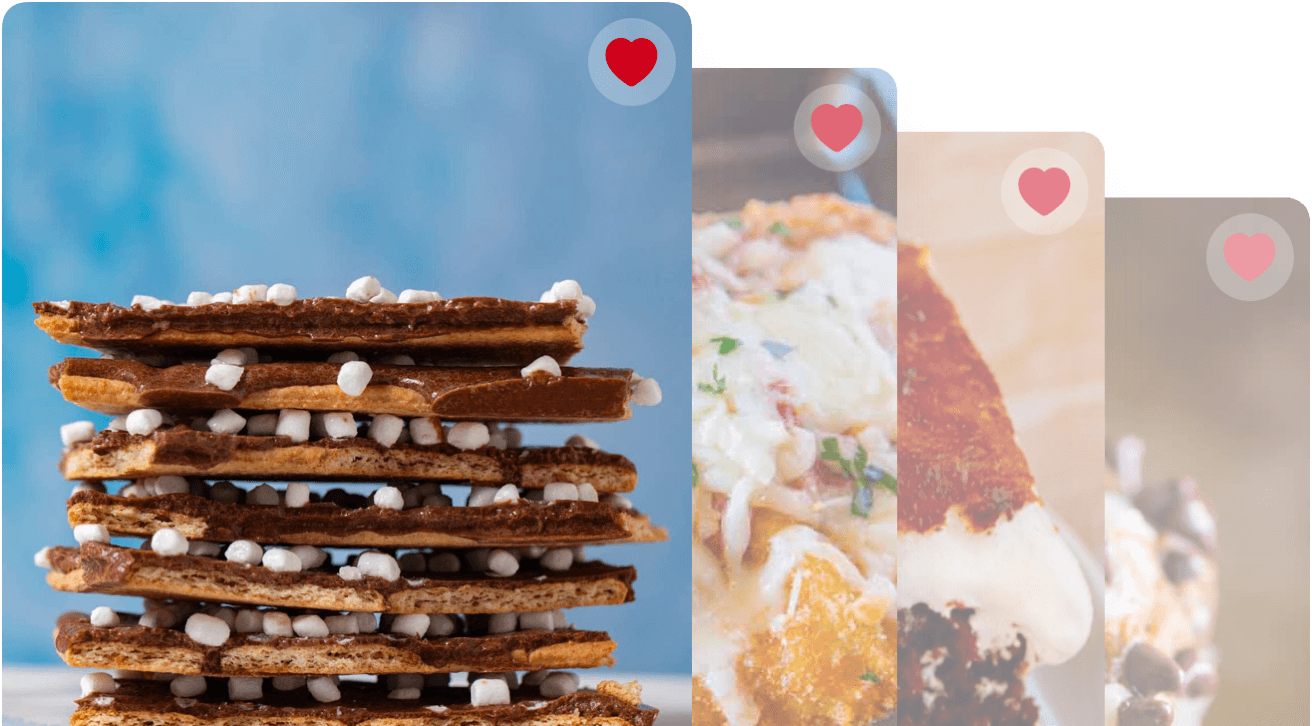 VARIATIONS ON SAUSAGE STUFFED MUSHROOMS
Meat: You can use ground

turkey or chicken sausage in place of Italian sausage to lighten up this dish or if you just don't care for pork. Substitute veggie crumbles to make Vegetarian stuffed mushrooms.

Veggies

: Mince some veggies like red peppers or carrots and sauté with your stuffing mixture. Garnish with scallions or parsley.

Cheese: Switch up the cheese in this stuffed mushrooms recipe with mascarpone, cream cheese, or a sharp cheddar. Sprinkle the tops with Parmesan cheese.
Mushrooms: I used crimini mushrooms in this recipe, however you can use Baby Bella mushrooms, portobello mushrooms or button mushrooms.
Low-Carb: Make these sausage stuffed mushrooms low carb by ditching the bread crumbs and adding in the stems minced really finely. Cook down the mixture of the mushrooms and mix it with some Parmesan and a bit more of the mozzarella to hold the sausage together.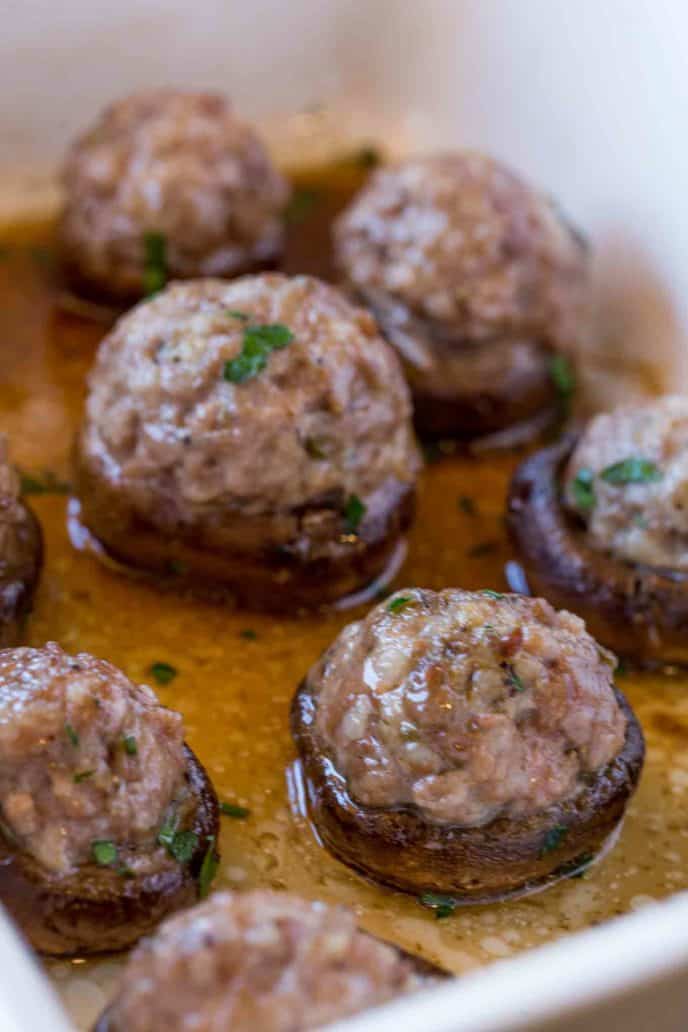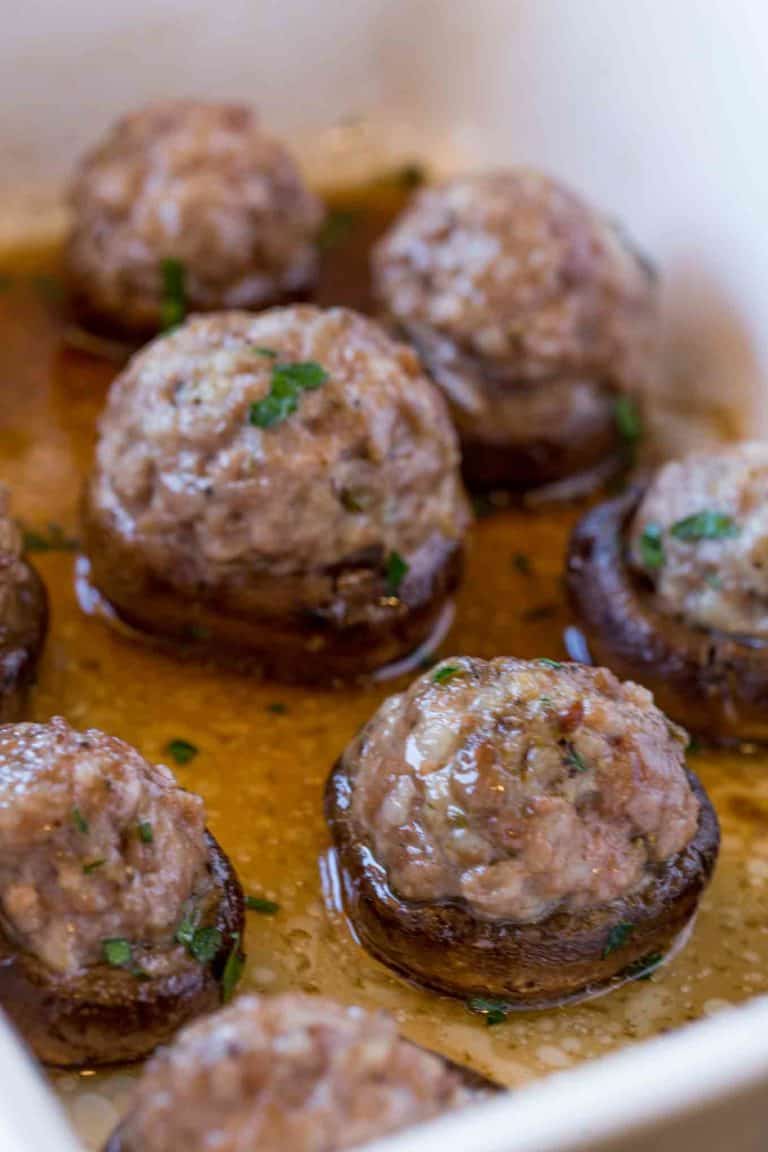 FREQUENTLY ASKED QUESTIONS ABOUT SAUSAGE STUFFED MUSHROOMS
Can you bake the mushrooms with raw sausage?

Yes, you can. I'd leave out the onion but include the other ingredients and cook for 18-20 minutes. The sausage will have the consistency more along the lines of a meatball, but it would cut out the prep of cooking the sausage first.

What to serve with sausage stuffed mushrooms?

These appetizers are a classic hit, try serving them with Pigs in a Blanket or Cocktail Meatballs.

Can you freeze these Sausage Stuffed Mushrooms?

No, we don't recommend freezing if it's fully cooked. If you want to cut down on preparation time before a party, make the filling and refrigerate or freeze that. The mushrooms should be handled fresh just before baking.
MORE CLASSIC APPETIZER RECIPES
With this mushrooms recipe, you won't have to wait for a night out at your favorite Italian restaurant or go to a holiday party to indulge on a restaurant favorite. They are easy to make and can be ready in less than 20 minutes.
HOW TO STORE SAUSAGE STUFFED MUSHROOMS
Serve: Serve this dish for up to 2 hours at room temperature before storing or discarding.
Store: You can store these mushrooms for up to 3 days in the fridge. Place in a single layer on a plate and cover tightly. Reheat in the oven.
Freeze: I don't recommend freezing your stuffed mushrooms, they will not be the same once defrosted


Ingredients
24

large

crimini mushrooms

, stems removed

1

pound

Italian sausage

, removed from casing

1

yellow onion

, diced

1

cup

shredded Mozzarella cheese

1/4

cup

Italian bread crumbs

1

clove

garlic

, minced

1

tablespoon

fresh parsley

, minced
Instructions
Preheat oven to 350 degrees and spray a 9×13 baking dish with vegetable oil spray.

Remove the stems and scoop out inside of the mushrooms using a small spoon (this helps to make room for the filling).

In a large skillet add the scooped filling of the mushrooms (discard the stems), sausage and onion to the skillet.

Cook until lightly browned, stirring occasionally for

6-8 minutes

.

Stir in the cheese, bread crumbs garlic and parsley.

Scoop mixture into each mushroom, making it into a rounded top.
Nutrition
Serving:
1
g
|
Calories:
90
kcal
|
Carbohydrates:
2
g
|
Protein:
4
g
|
Fat:
7
g
|
Saturated Fat:
2
g
|
Cholesterol:
18
mg
|
Sodium:
185
mg
|
Potassium:
150
mg
|
Vitamin A:
50
IU
|
Vitamin C:
1
mg
|
Calcium:
34
mg
|
Iron:
0.4
mg