Bacon, Beer and Cheese Sloppy Joes are the perfect gameday food for a crowd with a Guinness sauce and sharp cheddar cheese filling.
We're fully on board the sloppy joe train and so far your reader favorites are BBQ Sausage Sloppy Joes and Bacon Brown Sugar Sloppy Joes. Keep the reviews coming!
 Bacon, Beer and Cheese Sloppy Joes
Another Monday, another Sloppy Joe Recipe! If you want to see all the previous sloppy joes we've shared on the blog you can find them all here. We've been having such a good time with them (and I think I'm singlehandedly keeping my local baker busy baking brioche buns for me).
We were at Trader Joe's a few months ago and saw they'd paired up their pub cheese with bacon in the cheese/meat aisle. I was holding a pound of ground beef in my hands when I saw it. This dish was such a natural fit I had a full on lightbulb moment. One quick text later inquiring if we had beer, I was ready to make these sloppy joes.
Like This
Like this recipe? Then Like us on Facebook!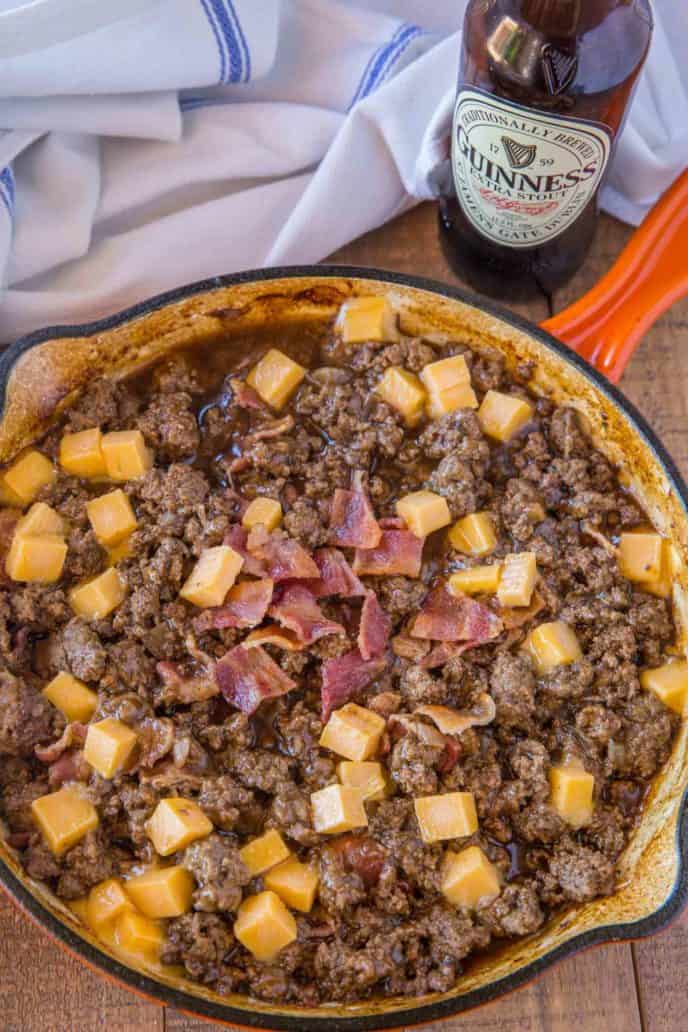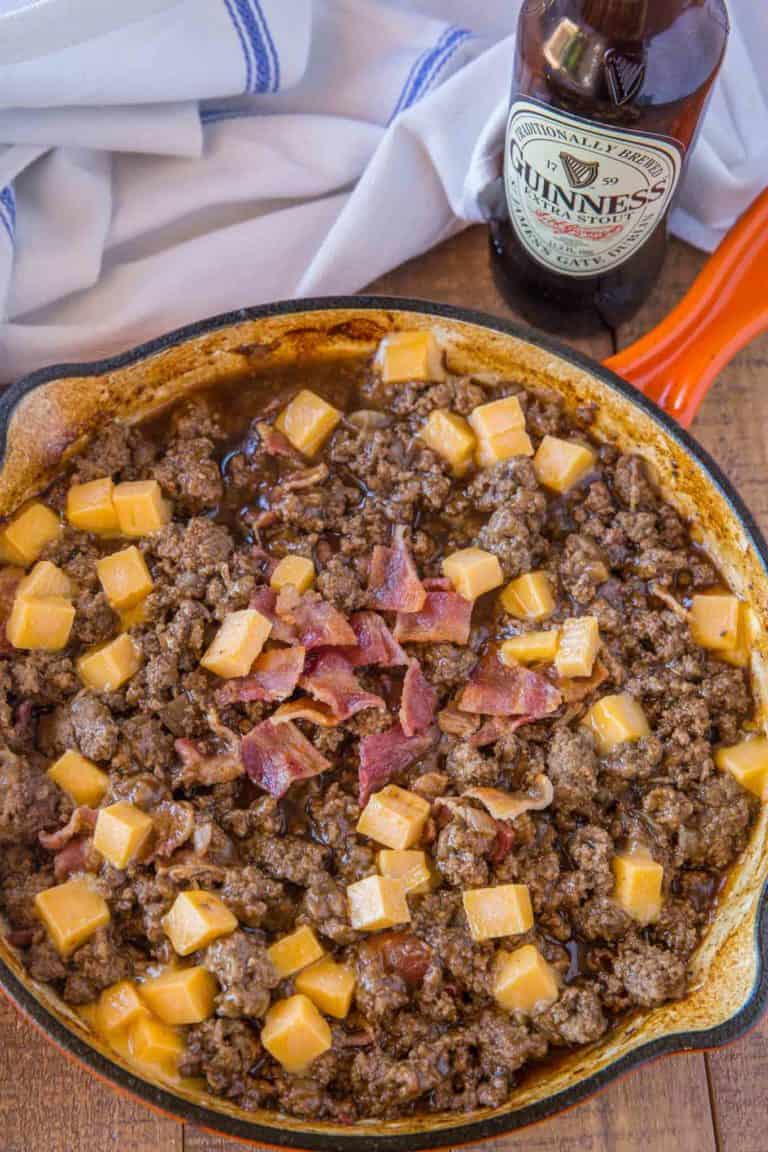 In most of my sloppy joes recipes I try to hide vegetables in the recipe so I feel like a better parent (my working mom guilt is real). But these are geared to a more adult crowd so I skipped the veggies.
If you would like to add vegetables into the recipe I'd recommend:
green bell pepper, chopped finely
mushrooms, chopped finely
celery, chopped finely
carrot, chopped finely
canned diced tomatoes, water drained
Basically any vegetable that won't add any additional sweetness that you can soften and brown in the bacon fat. I have used this recipe with mushrooms before and even carrots, both times were delicious.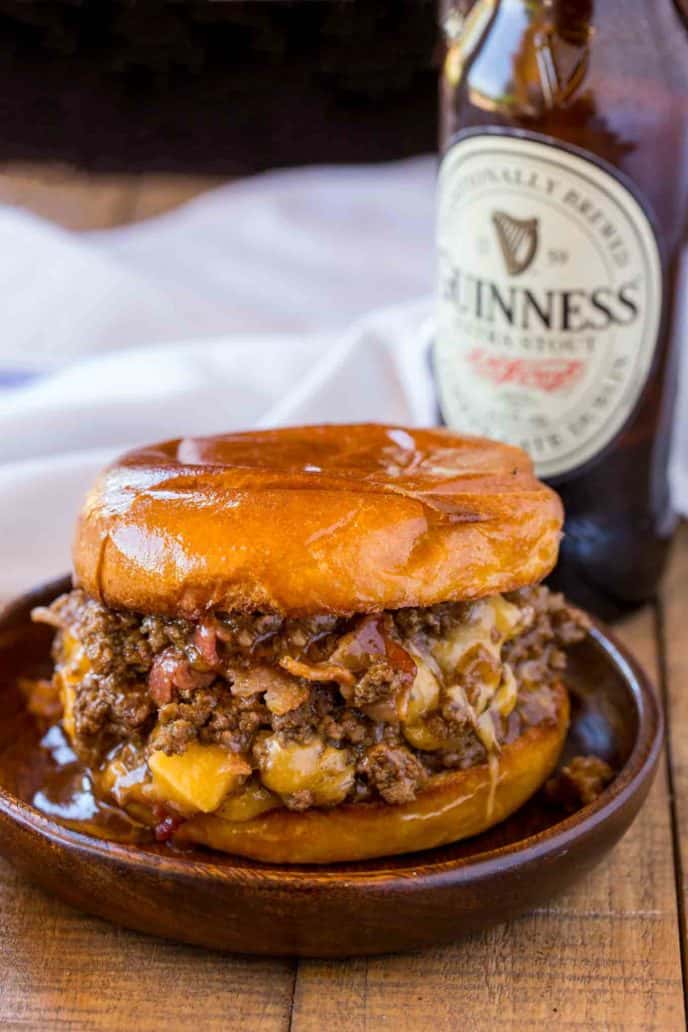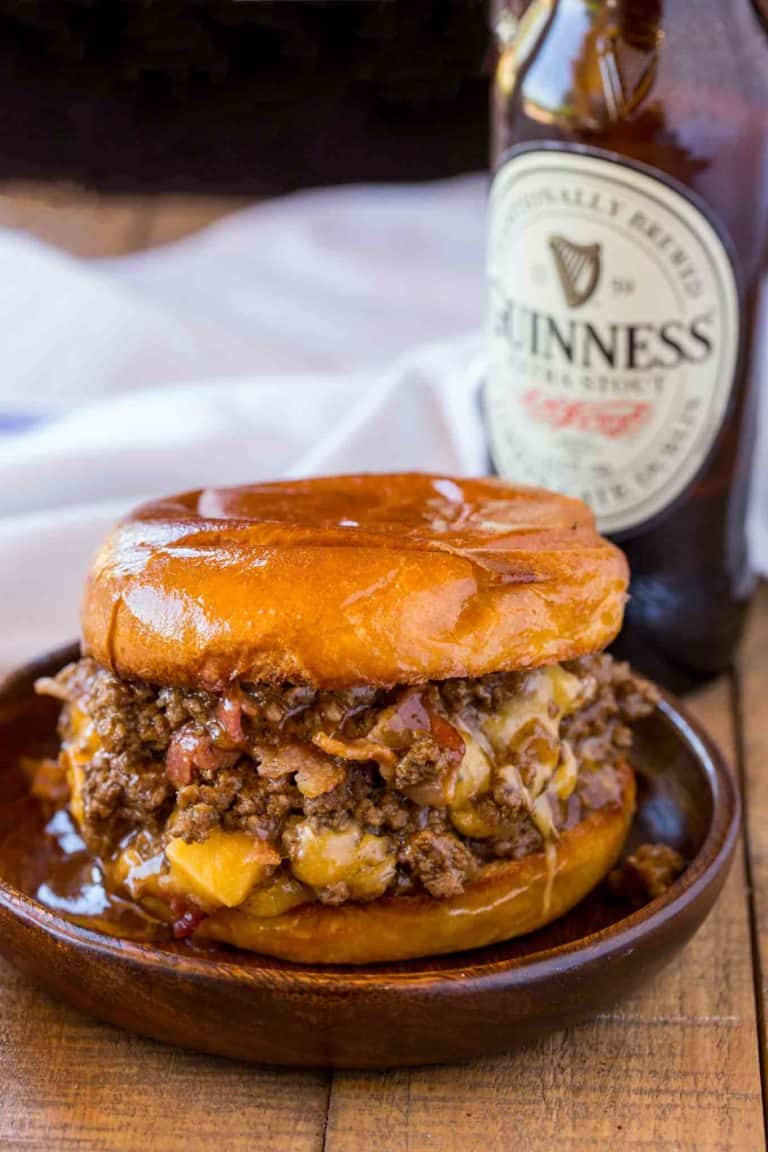 Create a free account to Save Recipes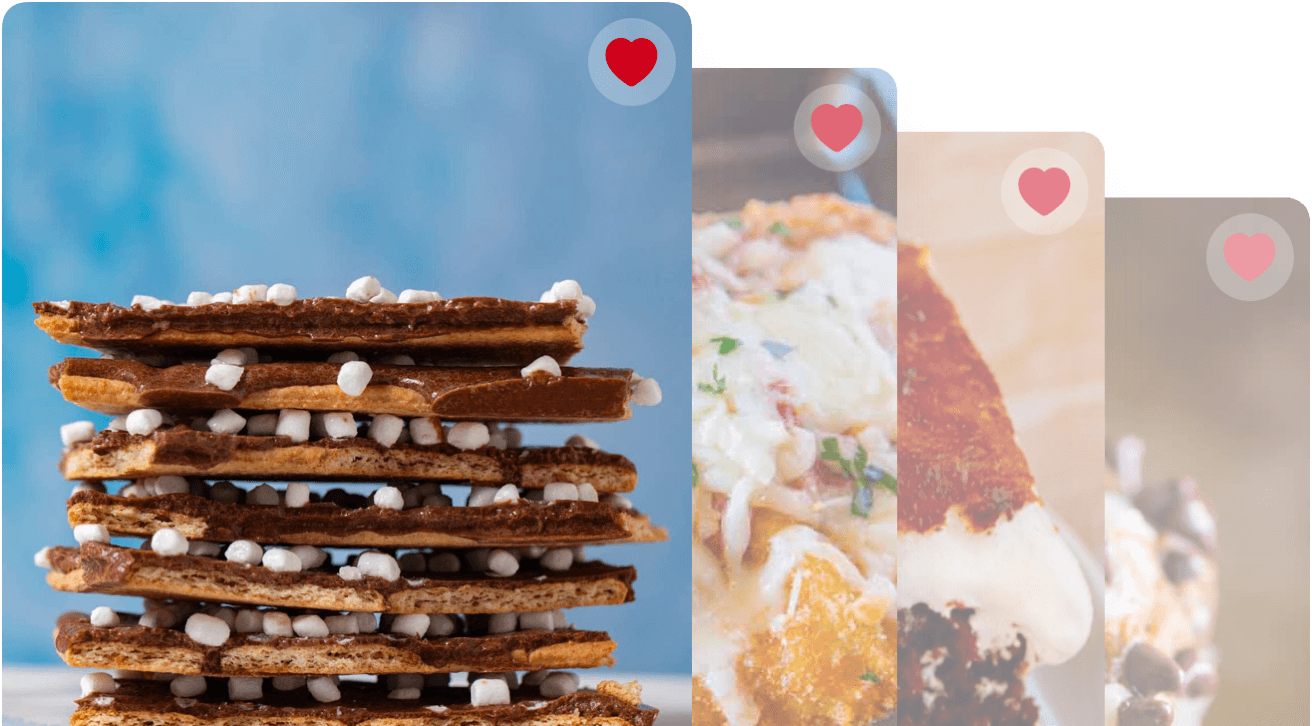 What goes good with sloppy joes for a side dish?
We love serving sloppy joes with Crispy Sweet Potato Fries, Beer Battered Onion Rings, Loaded Garlic French Fries or your favorite roasted vegetables.
tips for making these Beer, Bacon and CHeese Sloppy Joes:
Make sure your ingredients are ready ahead of time, don't let the pan scorch.
Make sure you drain excess fat from the beef, I use 85/15 to minimize excess fat.
Stop cooking when its just slightly too wet still, it will thicken as it sits for a couple minutes.
If you don't like beer, use 1 ½ cups beef broth. If you love beer, ditch the broth and use double the beer.
If you want to meal prep just leave the sauce extra saucy before shutting off the heat. You may need a bit of water when reheating.
We love adding cheese to the mixture before serving. Just don't add the cheese too early, add just early enough to allow it to melt slightly.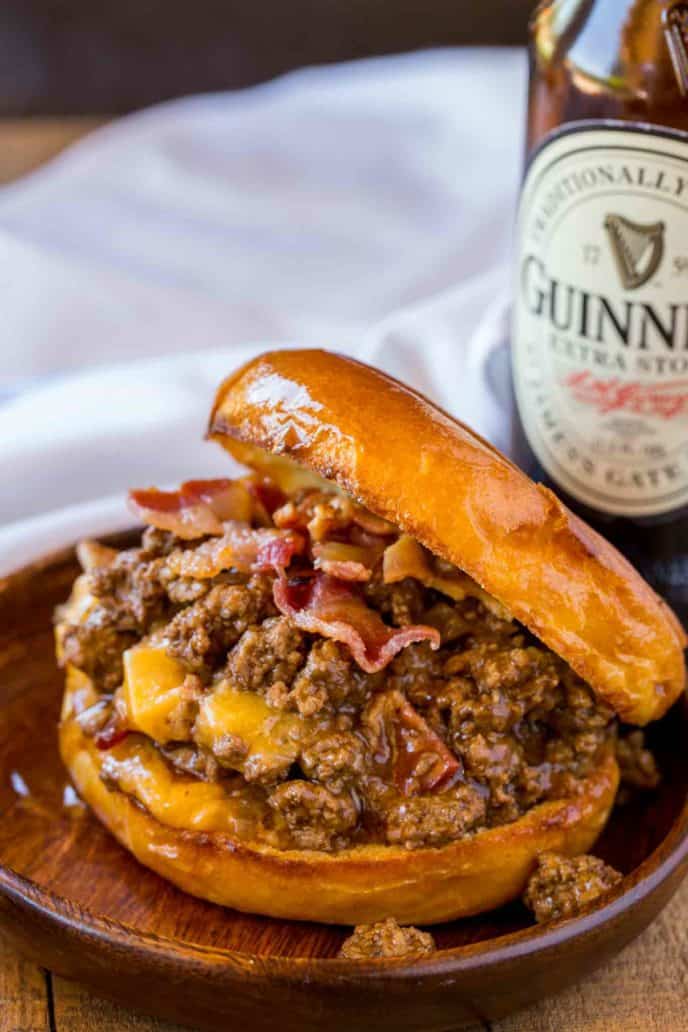 Are you going to join us and enjoy this recipe on Wednesday? Remember if you make this dish this Wednesday, we'll be having the same dinner.
I'd love to know how it turns out for you so if you do make the recipe pretty please come back and leave a comment letting me know how you enjoyed them.
We put a ton of effort into recipe testing 35 Sloppy Joes for this weekly series! The reason we did (aside from the fact we LOVE them) is because you all have gone nuts for ALL 4 of the original sloppy joes on the site!


Ingredients
1 1/2

pounds

ground beef

8

slices

bacon

chopped

1/2

yellow onion

chopped

1/2

cup

ketchup

1/4

cup

tomato paste

1

tablespoon

Worcestershire sauce

1

tablespoon

dijon mustard

1

cup

beer

I used Guinness

1/2

cup

beef broth

2

cups

sharp cheddar

cubed

6

brioche buns
Instructions
In a large skillet cook the bacon on medium high heat for

2-3 minutes

or until crispy but still bendable.

Remove the bacon from the pan and drain all but two tablespoons of the fat.

Add the onions and cook for

4-5 minutes

, or until softened.

Add in the beef, lower the heat to medium and cook well, breaking it apart but leaving some chunks about the size of a raspberry or small grape (don't crush the heck out of it, the larger crumbles will help give the sandwich stability).

Cook until well browned (

5-6 minutes

), then add in the ketchup, tomato paste, Worchestershire sauce, dijon mustard, beer and beef broth.

Stir well, continue cooking until the sauce starts to evaporate and the mixture becomes "sloppy" (about

5-6 minutes

).

The consistency you are looking for is reduced enough that spoonfuls can be placed on top of each other with the bottom spoonful not spreading more than a half inch or so.

Add in the chunks of cheddar and cooked bacon crumbles a minute before serving and stir just slightly to melt them into little puddles.

Toast the buns then spoon over the mixture and top with additional bacon (if desired).
Nutrition
Calories:
979
kcal
|
Carbohydrates:
49
g
|
Protein:
43
g
|
Fat:
66
g
|
Saturated Fat:
31
g
|
Cholesterol:
283
mg
|
Sodium:
1288
mg
|
Potassium:
632
mg
|
Sugar:
6
g
|
Vitamin A:
1375
IU
|
Vitamin C:
4.3
mg
|
Calcium:
352
mg
|
Iron:
4.1
mg