Crispy Roasted Cabbage Steaks make a great side dish for any meal (not just your favorite Corned Beef) in just 20 minutes.
When it comes to veggie Side Dishes, cabbage is often overlooked in favor of other favorites like Candied Sweet Potatoes, Milk Boiled Corn, and Roasted Garlic Tomatoes. This cabbage dish is good enough to stand with those classic favorites.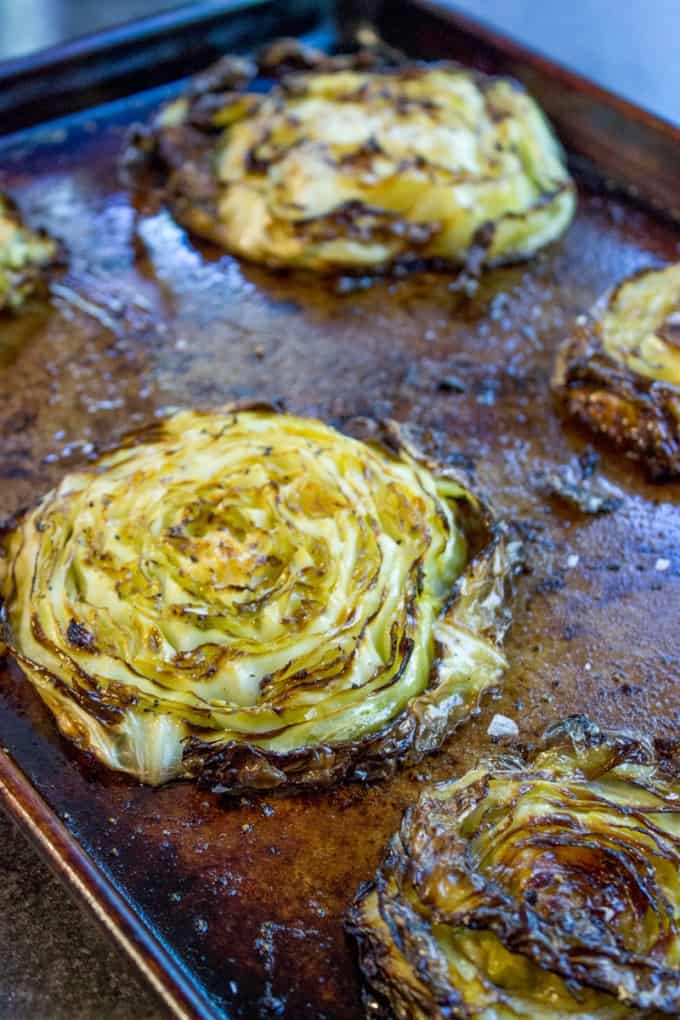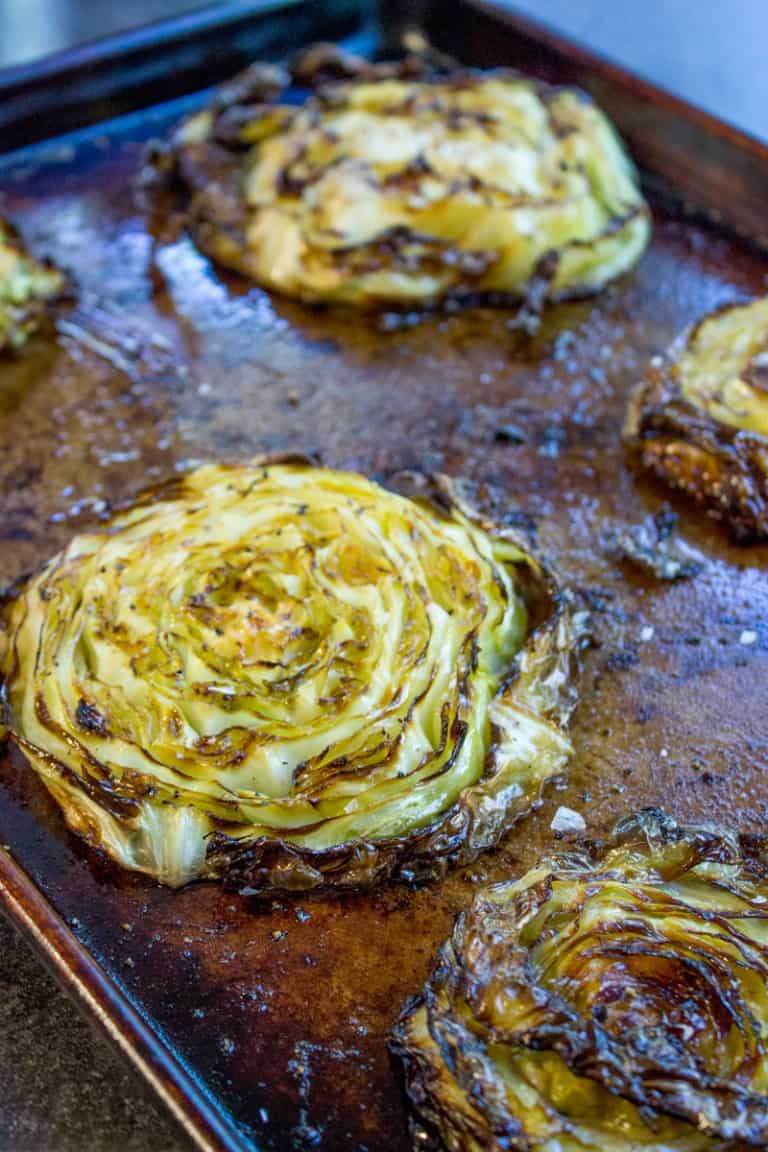 Move over boiled cabbage! Crispy Roasted Cabbage Steaks may actually rival Crispy Slow Cooker Corned Beef for your favorite part of the meal. Everything you love about roasted Brussels Sprouts are made even easier here with cabbage. No need to trim a whole bag of Brussels Sprouts when you just need to make a few cuts to a head of cabbage. Plus the presentation value of the cabbage steaks is great.
For plating you can either serve it as an intact steak, cut in half in a half circle (use a good spatula to lift intact) or using a fork to twirl it into a pasta-like pile of delicious-ness.
Cabbage gets such a bad rap as far as vegetables go. Not a lot of people see it on menus and say "oooh let's order a side of cabbage with our short ribs" but if you were to try this side dish… you'll be a convert. In fact, the first couple of times you make it you can even get away with taking one for the team and eating all those extra browned outside pieces… here's a secret… They are the best part! They're super crispy and delicious, and if you have a few extra minutes, let more of them crisp up.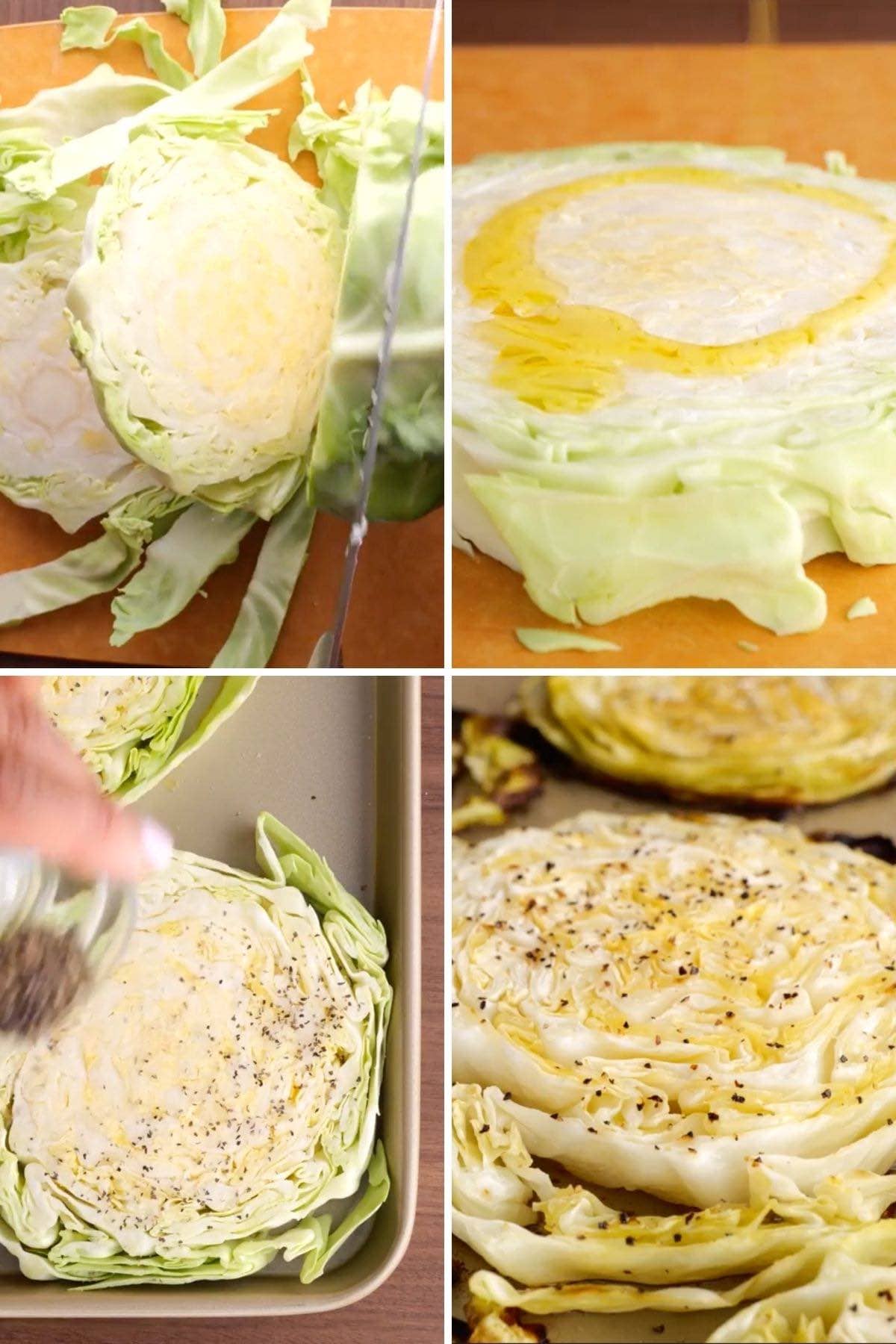 Create a free account to Save Recipes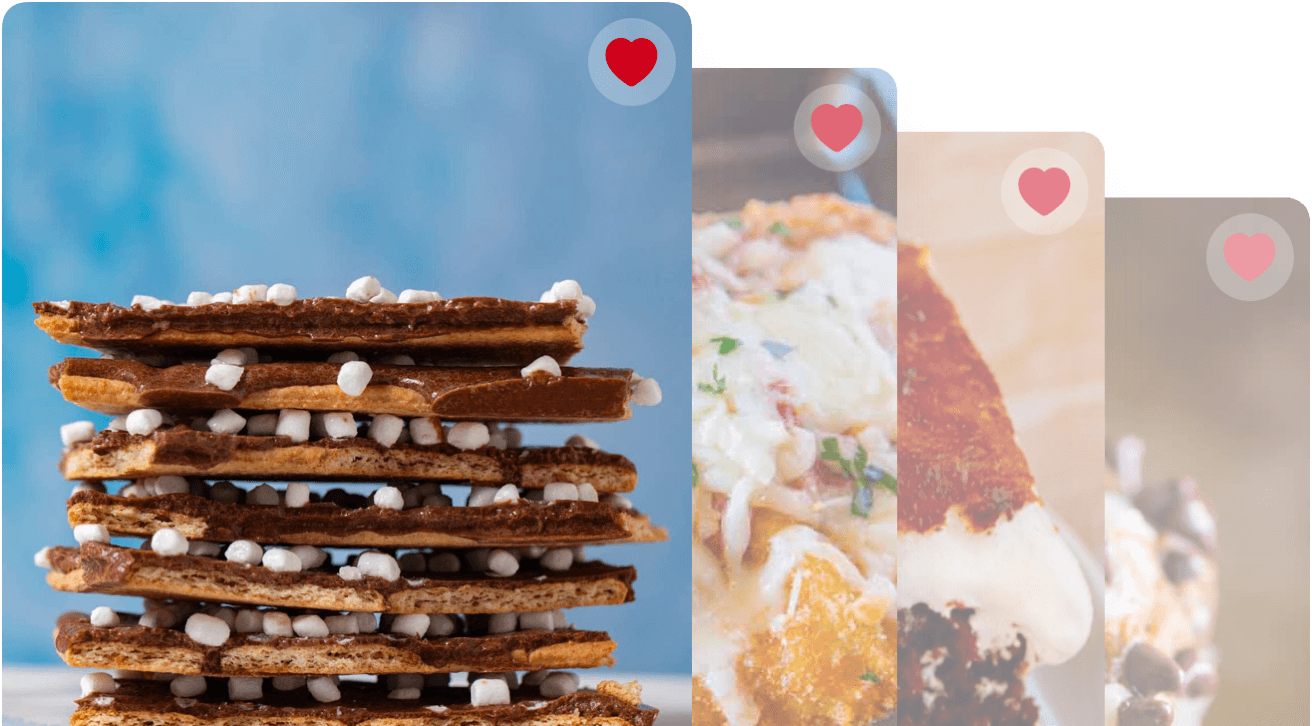 Great Meals to Enjoy with Crispy Roasted Cabbage Steaks
Pretty much anywhere you would otherwise enjoy Brussels Sprouts, you can feel confident in making this substitute. You might be surprised that this cabbage is great added to pasta dishes. It works great in place of napa cabbage in Asian noodle dishes too. The flavors are great, the texture is still soft in the middle and, in steak form, the cabbage stays in long noodle form so it is perfect for pasta.
How to Store Crispy Roasted Cabbage Steaks
Serve: Roasted Cabbage Steaks can be served at room temperature up to 2 hours.
Store: Carefully layered in an airtight container, the Cabbage Steaks will last up to 3 days in the refrigerator. Reheat in a single layer on a baking dish to crisp back up before serving.
Freeze: Seal in an airtight freezer bag, with parchment between layers, up to 6 months. Reheat at 400 degrees in a single layer on a baking dish directly from frozen.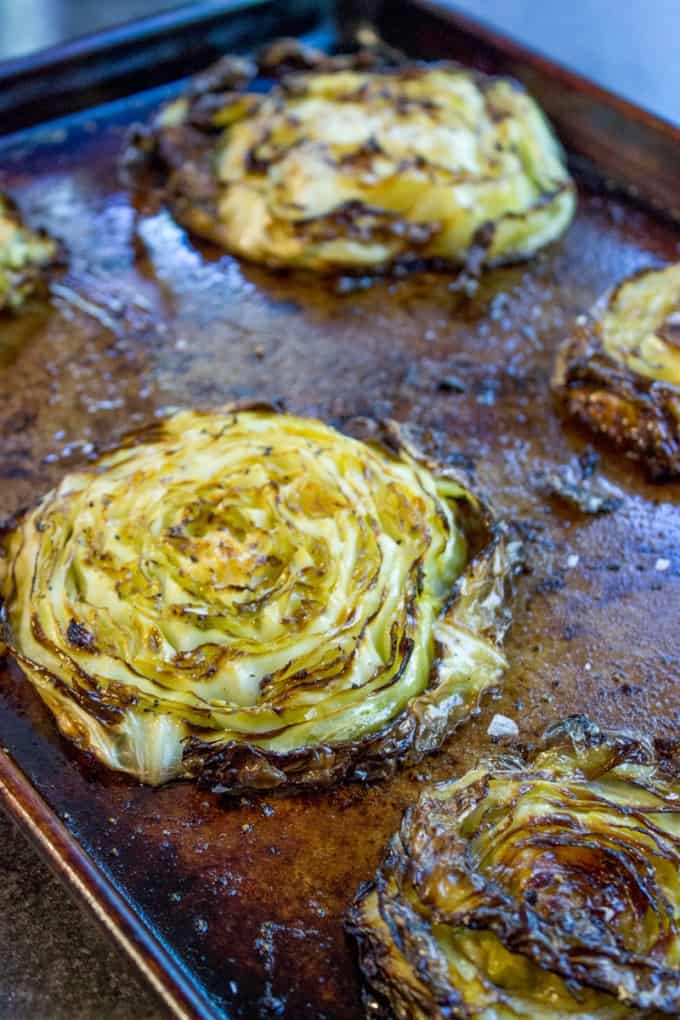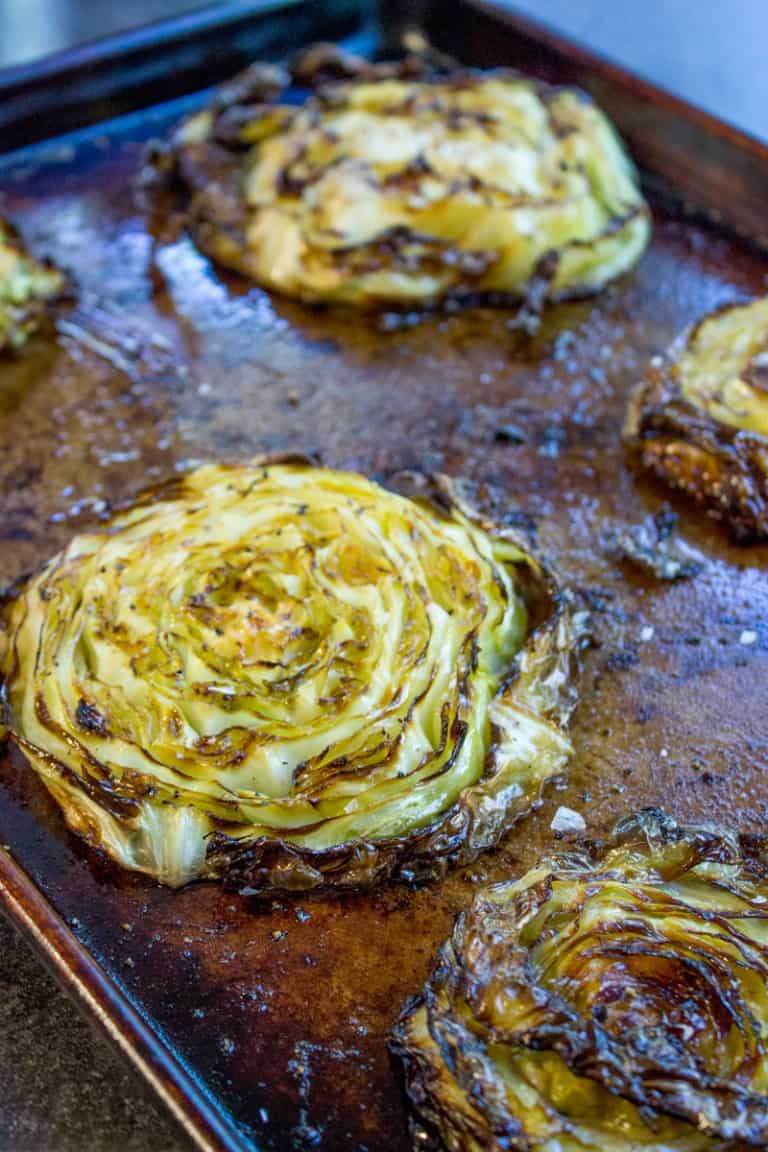 Ingredients
1

head

cabbage

, dark loose leaves removed

1

teaspoon

Kosher salt

1/2

teaspoon

coarse ground black pepper

2

tablespoons

canola oil
Instructions
Preheat your oven to 400 degrees.

Slice the cabbage into ½ inch thick steaks.

Brush with oil on both sides and place onto cookie sheet.

Season with Kosher salt and black pepper.

Roast for

17-20 minutes

or until caramelized.

(Psst, save the super crispy dark edges for yourself, they're the best part!!)
Nutrition
Calories:
80
kcal
|
Carbohydrates:
9
g
|
Protein:
2
g
|
Fat:
5
g
|
Saturated Fat:
1
g
|
Polyunsaturated Fat:
1
g
|
Monounsaturated Fat:
3
g
|
Trans Fat:
1
g
|
Sodium:
415
mg
|
Potassium:
260
mg
|
Fiber:
4
g
|
Sugar:
5
g
|
Vitamin A:
149
IU
|
Vitamin C:
55
mg
|
Calcium:
62
mg
|
Iron:
1
mg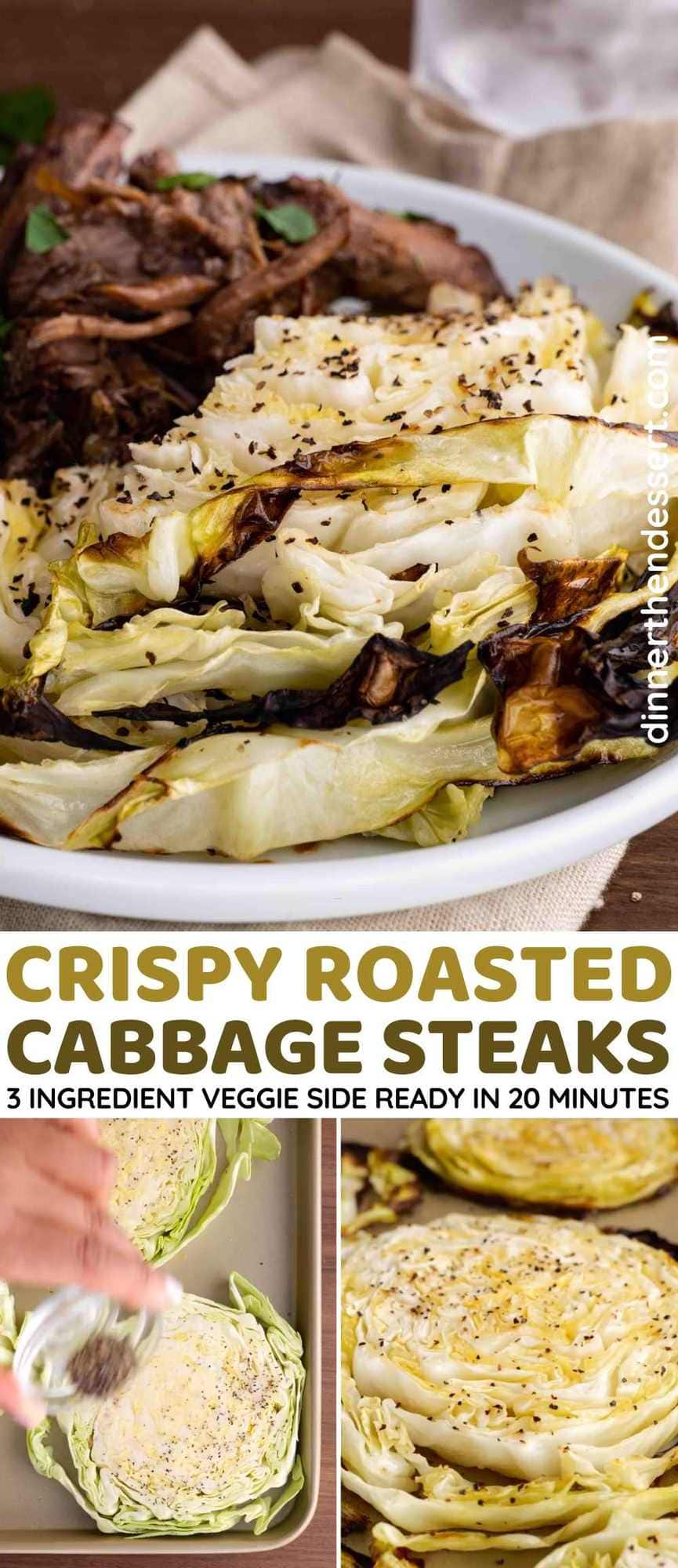 Photos used in a previous version of this post.