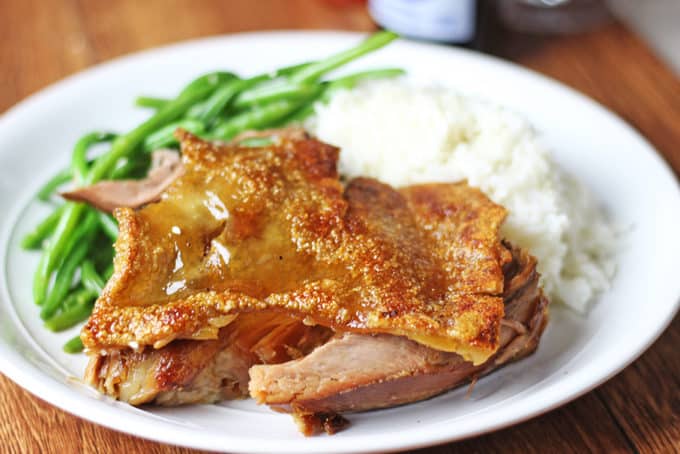 A foolproof EASY slow cooker and oven method for a shatteringly crisp Pork picnic shoulder that is pull apart tender on the inside with a thin crisp cracklin' skin layer. This recipe came about as a result of a friend asking a question about the Hawaiian Luau Slow Cooker Pork when she saw my Instagram post. She asked whether or not the skin got crispy at the end of the cooking process. I let her know you actually end up scraping the fat off and discarding it and that got me thinking about making a version with a crispy skin. One of our favorite (never made it at home but I have dreams of making it) pork dishes is porchetta. To make a crispy skinned pork at home seemed elusive. Not anymore! Take a quick look at this shatteringly crisp pork skin!
So I sat there thinking about the best and easiest way to make this dish. In a delicious moment of serendipity I saw this ad.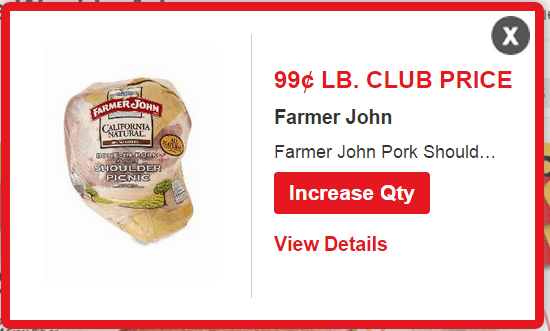 Uhm, yes please! AND NOW! I hopped in the car, and drove straight to the store at 9 o'clock at night just to buy it.
Then the worst thing happened. The photos I took of most of the cooking process were corrupted. I almost cried when it happened, and then I promptly ordered a new SD card on Amazon to make myself feel better. I have instructions for you, which are pretty easy to follow, and some final photos.
The instructions are really pretty simple. Start like you do in the Hawaiian Luau Slow Cooker Pork. Season the pork liberally with salt and put in a slow cooker skin side up. Put on low for 18 hours. Using a measuring cup or ladle,  scoop out the excess liquid and reserve. Now if you aren't too hungry, I would let the pork cool for 10-15 minutes just to help it stay together more. Using a couple of large spatulas, gently lift the pork into a foil pan. Do your best to not break it apart while moving it.
This is the part I wish I could show you in photos. Don't worry I will be making this again in the next few months and when I do I will update this post! We just have a LOT of pork in the fridge right now, I can't make a third one in less than a week!
Once the pork is in the pan, you are going to peel the skin back and scoop out the unrendered fat. Using a small spoon just scrape from the underside of the skin until a thin layer of skin is left. Season the meat under the skin with more kosher salt. Fold the skin back over the pork and discard all the fat. Spoon off the fat off the reserved liquid and pour it into the foil pan.
Turn on your broiler on high. Put the pork in on the top shelf and watch it like a hawk. Mine went in literally five seconds longer than I wanted which is why I have a few dark spots. It was a split second decision between pull the pork out or grab my infant away from chewing on a power cord that was dangerously close by. Sorry pork, but not sorry.
You'll see the skin start puffing up and browning. Take it out when you get to a nice golden brown color, you can even wait until you see the first hint of a dark spot.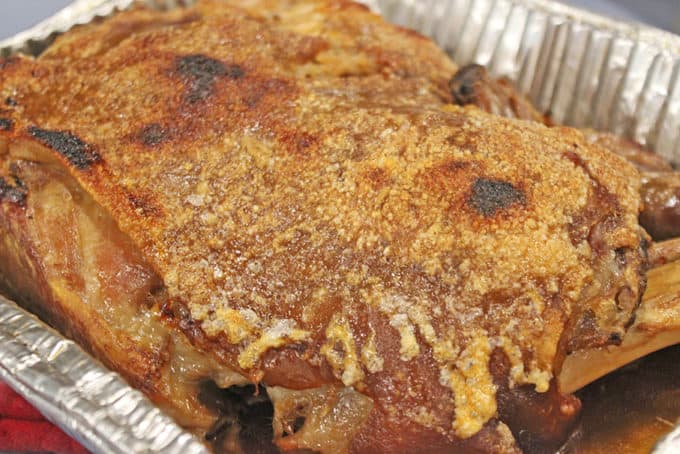 Want to see what the pork looks like under the skin? Ok!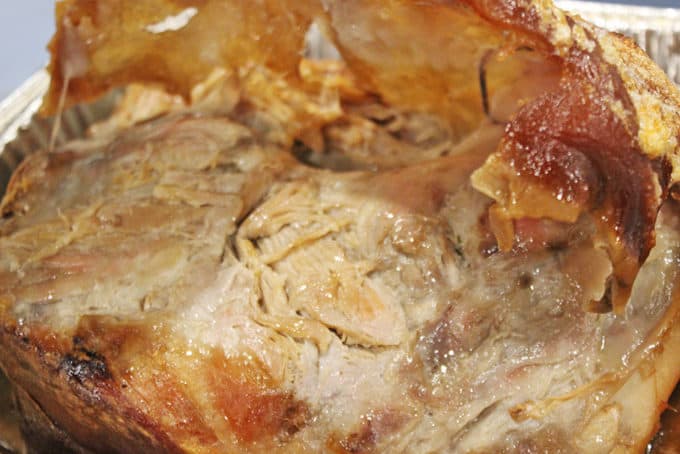 Want to see how thin the skin actually is? Ok!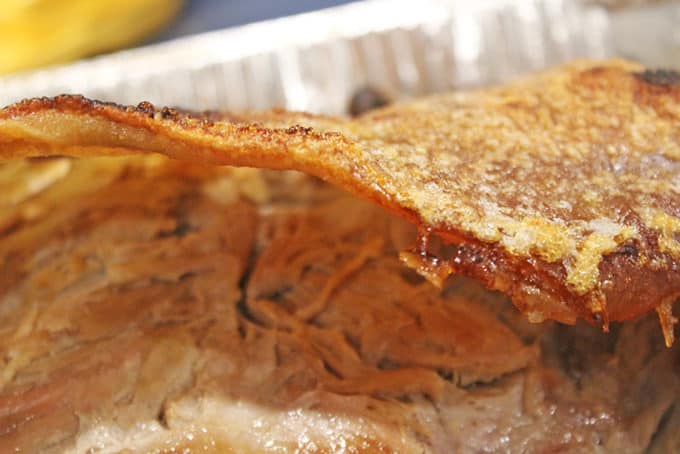 It is basically thin enough to be almost see through and lifts up as a sheet it is so crisp!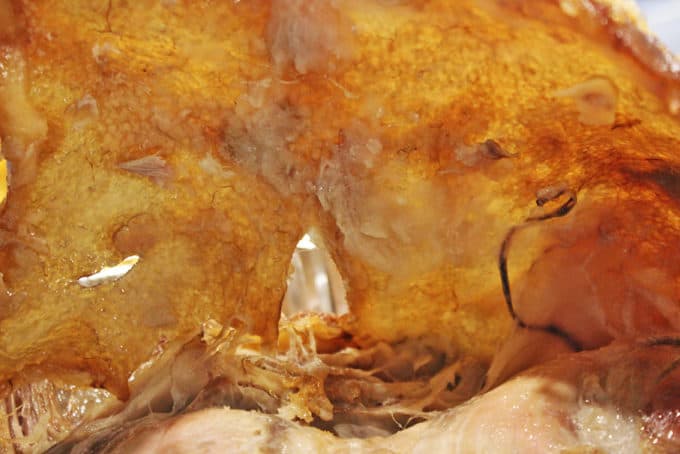 Now take a portion of pork and a section of the skin and serve with some delicious Easy Light Coconut Rice and some simple green veggies and enjoy! Even better, serve it with your favorite sauce, like a delicious Argentinian Chimichurri and it will be a porchetta-esque meal! Oh man, now I need to make porchetta.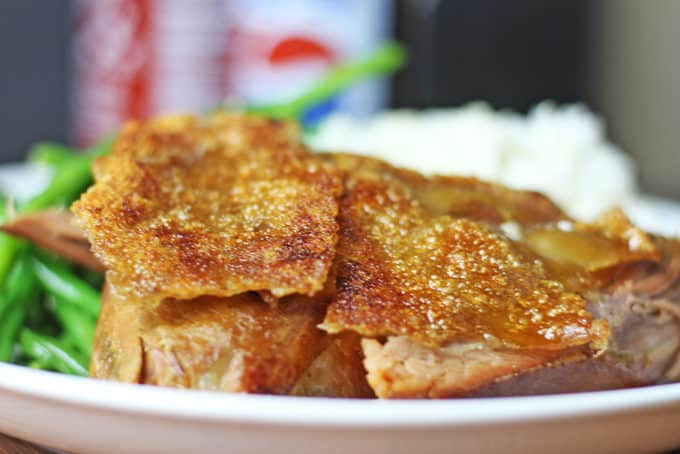 Tools Used in the making of these Slow Cooker Brown Sugar Garlic Chicken Thighs:
Slow Cooker: Love this slow cooker and how programmable it is, it has been a workhorse for me… until…
My New Slow Cooker: For larger roasts I also brown the meat in the insert and not lose a bunch of the flavor by transferring the meat and leaving the browned bits behind. If you're thinking of a new slow cooker, consider it if your budget is open.


Ingredients
10

pound

Pork Picnic Shoulder

(You are looking for skin and bone here, it will look like an arm joint)

2

tablespoons

Kosher Salt
Instructions
Season the pork liberally with salt.

Put in a slow cooker skin side up.

Scoop out the excess liquid and reserve.

Put the pork into a foil pan.

Do your best to not break it apart while moving it.

Once the pork is in the pan, you are going to peel the skin back and scoop out the unrendered fat.

Using a small spoon just scrape from the underside of the skin until a thin layer of skin is left.

Season the meat with more kosher salt.

Fold the skin back over the pork and discard all the fat.

Spoon off the fat off the reserved liquid and pour it into the foil pan.

Turn on your broiler on high.

Put the pork in on the top shelf and watch it like a hawk.

Mine went in literally five seconds longer than I wanted which is why I have a few dark spots.

You'll see the skin start puffing up and browning.

Take it out when you get to a nice golden brown color, you can even wait until you see the first hint of a dark spot.

Serve with your favorite sauce, but I recommend

Chimichurri
Nutrition
Calories:
204
kcal
|
Protein:
27
g
|
Fat:
9
g
|
Saturated Fat:
3
g
|
Cholesterol:
92
mg
|
Sodium:
802
mg
|
Potassium:
471
mg
|
Vitamin A:
10
IU
|
Vitamin C:
1.1
mg
|
Calcium:
19
mg
|
Iron:
1.7
mg