Garlic Butter Roasted Carrots with a touch of canola oil, cracked black pepper and Kosher salt makes the perfect side dish for a weeknight meal or a holiday crowd.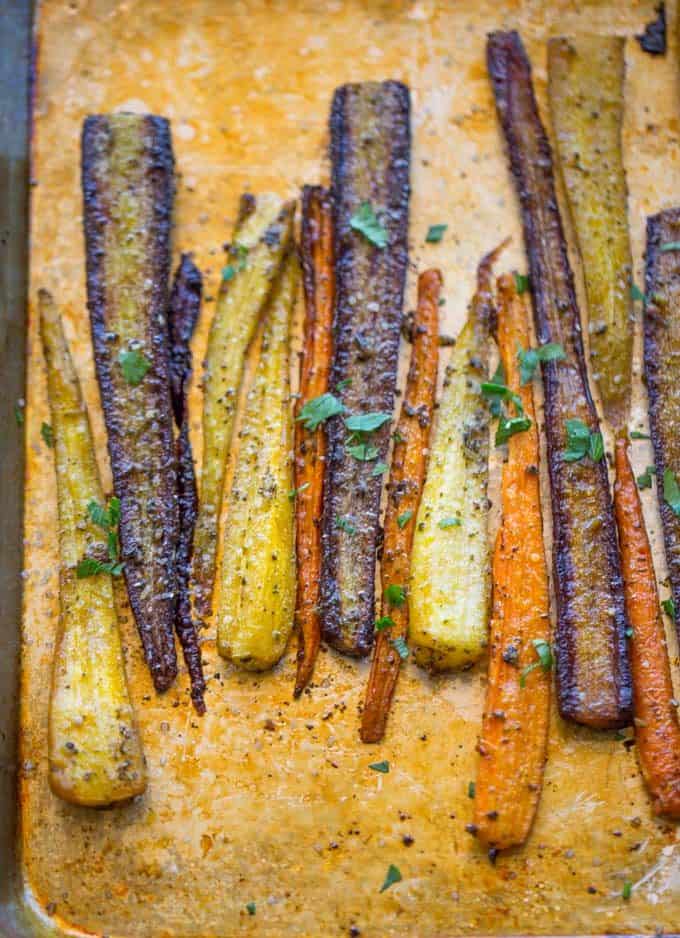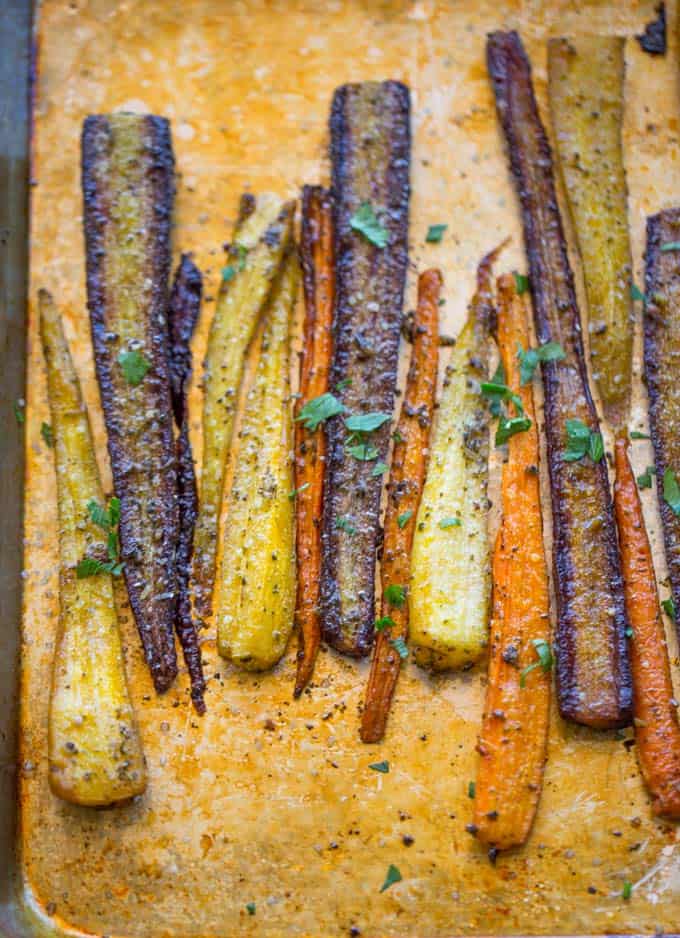 Garlic Butter Roasted Carrots have been a fun side dish I've used with clients for years. As a chef you look for easy, impressive, beautiful stress-free dishes that will keep your clients happy and full while letting you spend the time on the other pieces of the meal.
These Garlic Butter Roasted Carrots are perfect, especially in their rainbow form, because they are as simple as any roasted vegetables, but pumped up with the flavor of butter, garlic and fresh cracked black pepper. The butter adds a ton of flavor and with the addition of the canola oil you can rest easy knowing it won't burn in the oven.
When seasoning these Garlic Butter Roasted Carrots make sure you're paying attention to your ingredients. When you have a recipe with just a few ingredients they tend to each stand out a bit more.
This means using a good Kosher salt (or sea salt or fleur de sel) and a fresh cracked black pepper will create a much more flavorful dish than if you were to grab your nearest salt and pepper shaker.
Want to add some different flavors to the mix?
Add in your favorite fresh herbs – rosemary, oregano, thyme, etc.
Spice it up a little with cayenne pepper.
Bring in a fun twist with a bit of minced ginger as well.
Toss with honey or maple syrup at the end of roasting.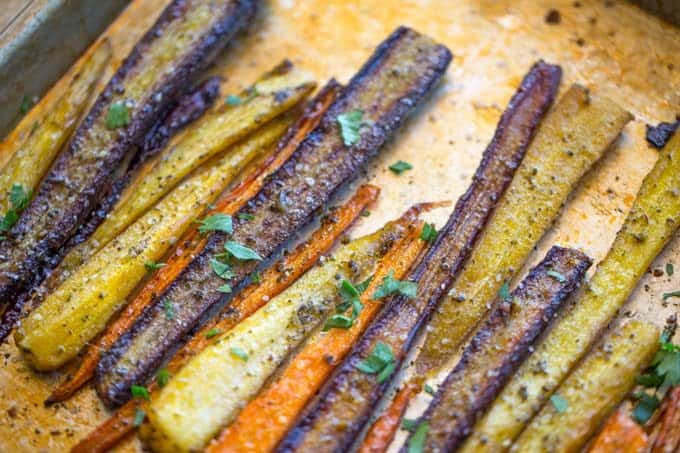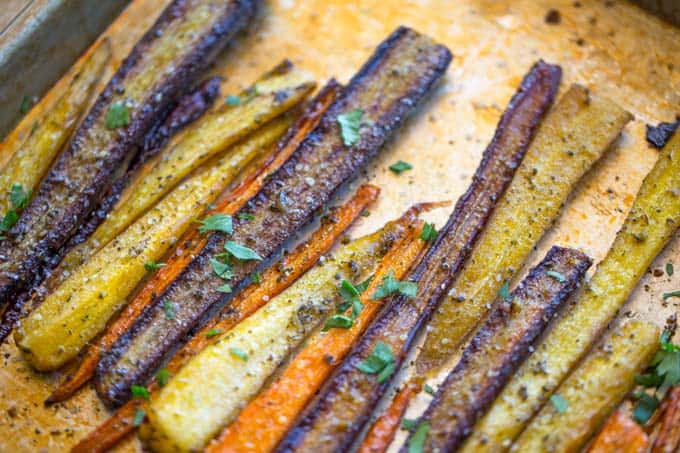 Tools used in the making of these Garlic Butter Roasted Carrots:
Kosher Salt: This salt is a no brainer. For just a couple of dollars the flavor of this salt is fantastic as a replacement for most meals. I wouldn't swap it in for baking situations, but there is almost no circumstances in which I won't use this instead of table salt for cooking.
Fleur de Sel: When I bought my first box of this I actually had to order it from the UK Amazon site. The crystals are beautiful diamond shapes and the flavors are perfect for an impressive finish or for chocolate.
Sea Salt: A nice large bottle of sea salt with a low price tag, you can keep this bottle for a long time and always have access to a nice finishing salt.
Recipe
Save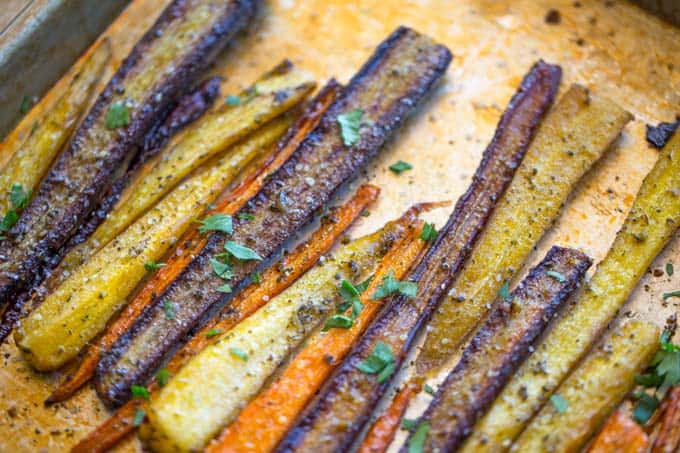 Garlic Butter Roasted Carrots
Yield:

6

servings

Prep Time:

10

minutes

Cook Time:

30

minutes

Total Time:

40

minutes

Course: Side
Cuisine: American
Author: Sabrina Snyder
Garlic Butter Roasted Carrots with a touch of canola oil, cracked black pepper and Kosher salt makes the perfect side dish for a weeknight meal or a holiday crowd.
Ingredients
3

pounds

rainbow carrots

(any color carrots is fine)

2

tablespoons

butter

, melted

2

tablespoons

canola oil

3

cloves

garlic

, minced

Kosher salt and cracked black pepper

, to taste

parsley (chopped) for garnish
Instructions
Note: click on times in the instructions to start a kitchen timer while cooking.
Pre-heat the oven to 375 degrees.

Slice thick carrots in half lengthwise, keep smaller carrots whole.

Toss with butter, canola oil, garlic, salt and pepper (I used ½ teaspoon of salt and ¼ teaspoon pepper)

Spread onto baking sheet and cook for 30-35 minutes.

Garnish with parsley if desired.
Nutrition Information
Yield: 6 servings, Amount per serving: 170 calories, Calories: 170g, Carbohydrates: 22g, Protein: 2g, Fat: 9g, Saturated Fat: 3g, Cholesterol: 10mg, Sodium: 190mg, Potassium: 732mg, Fiber: 6g, Sugar: 11g, Vitamin A: 38005g, Vitamin C: 13.9g, Calcium: 78g, Iron: 0.7g
All images and text © for Dinner, then Dessert.
Keyword:
Garlic Butter Roasted Carrots
Save