Corned Beef Hash is a CLASSIC breakfast made with savory and salty corned beef, diced potatoes, and onions, ready in under 15 minutes!
We love easy, savory Breakfast Dishes to make on the weekend, like the yummy Breakfast Casserole, comforting Biscuits and Gravy, and the best French Toast ever!

This traditional Corned Beef Hash recipe is the perfect breakfast recipe to use up leftover corned beef from Crispy Slow Cooker Corned Beef dinner and takes a total time of 10-15 minutes to prepare. All you need is a large skillet, corned beef, onions, potatoes, and seasoning. We love making this corned beef hash recipe on the weekends for the family, especially the day after St. Patrick's Day.
Because this is such a simple recipe, you'll be able to make it time and time again! The flavors are robust and buttery which makes this a breakfast that will be enjoyed by the whole family whenever you make it. And don't be shy, you can eat it for lunch and dinner too!
Since the corned beef is already cooked, you just have to sauté it in the skillet long enough to heat up with the potatoes. The same goes for if you're using leftover cooked potatoes like Garlic Butter Roasted Potatoes, you don't want them to overcook so add them just long enough to get crispy in the skillet.
How to Make Corned Beef Hash
Making homemade Corned Beef Hash is the easiest! You'll just be heating up the beef and potatoes and mixing them together in a perfectly delicious union of flavors! It is recommended to use a cast iron skillet because the cast iron conducts heat better and will give you better results. If you're not comfortable with relying on butter in the skillet, you can use a nonstick skillet. Check it out! 
Step One: Fry the onions and potatoes in a few tablespoons of butter for a couple of minutes. Chop the potatoes evenly, this will help to ensure they all finish cooking around the same time.
Step Two: Once hot, add in the shredded corned beef with a little water to steam the meat. 
Step Three: Serve with scrambled eggs! Season with salt as needed and top your hash with fresh parsley, chopped chives, or green onions. Enjoy!
Frequently Asked Questions
Is Corned Beef Hash good for meal prepping? 
Yes! This is hat goes with corn beef hash?perfect for meal prepping because you can make a big batch of this hash and freeze it in portion-sized plastic bags. Reheat in a large skillet until warmed through.
How do you make Corned Beef Hash crispy?
The secret to making incredibly crispy corned beef hash is to resist the urge to stir the hash when it's in the pan, and make sure the pan is cooking on medium-high heat.

The only time you want to move your corned beef hash is when you're ready to flip it over and crisp up the other side.
 
Why is there no corn in Corned Beef Hash? 
Great question! The corny term used in the recipe title is actually from the size of the salt pellet that beef used to be cured and preserved with. These large corns of salt lent their name to this popular dish! Now that it's mentioned, a side of actual buttery corn would actually go great with this dish, especially at dinner! Have you tried our luxurious Corn Succotash yet? 
What goes with Corned Beef Hash?
This classic recipe goes great with other comforting recipes, such as our buttery garlic Sautéed Mushrooms, the crunchy and creamy Easy Coleslaw, and even the fresh and yummy Roasted Green Beans. These sides, while not the typical breakfast recipes normally used, can be served at any time of the day!
What is the origin of Corned Beef Hash?
People have been enjoying Corned Beef Hash for breakfast since as far back as the 18th century amongst the Irish immigrants in the United States, and even earlier in Europe in parts of the British Isles. It became really popular during WWII when food was being rationed, as it was an easy and delicious way to repurpose leftovers.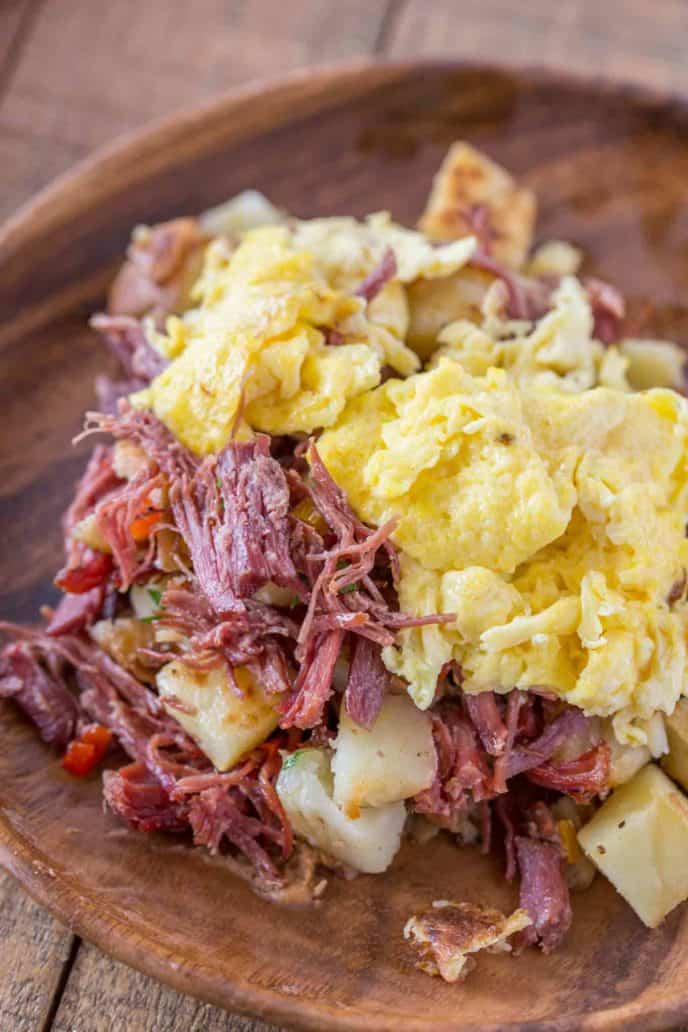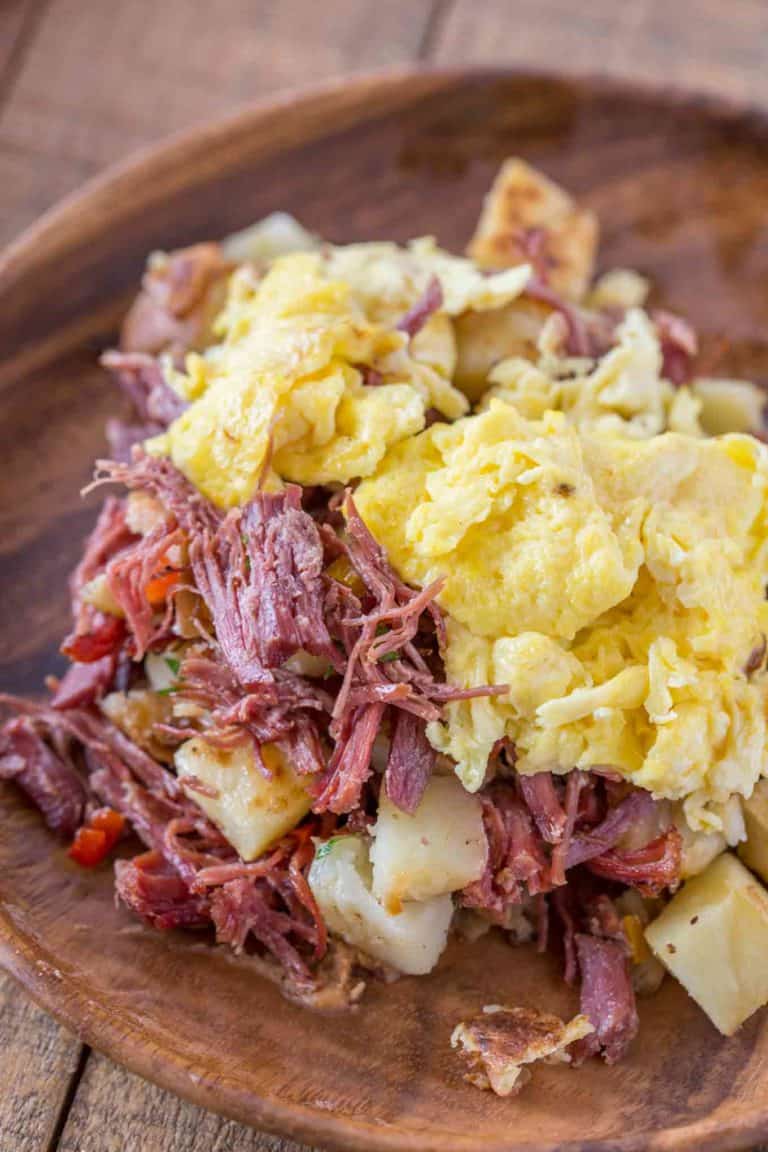 Create a free account to Save Recipes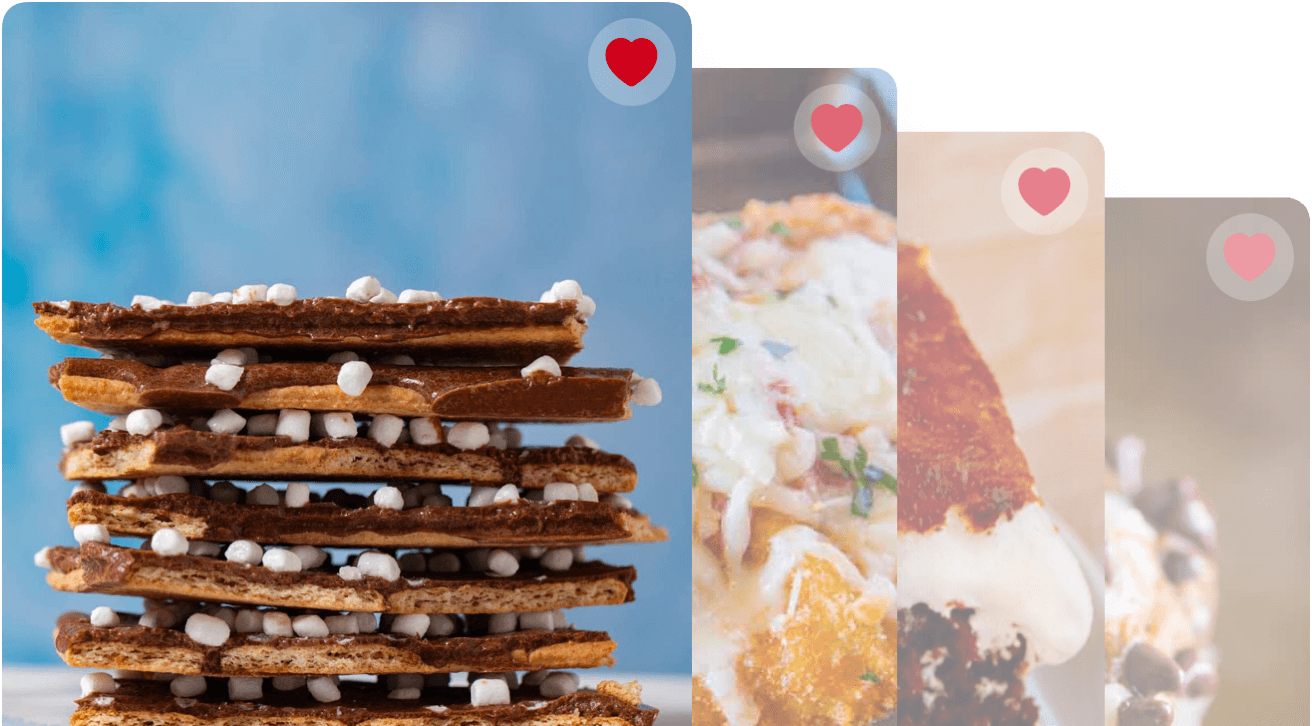 Key Ingredients in Corned Beef Hash
Simple and delicious ingredients make this easy dish a favorite. Everything can be found at your local grocery store with ease. Check it out!
Beef: We're using leftovers from our Corned Beef brisket. There are canned versions of corned beef which are great to ease preparation and are often utilized for meals during deep woods camping trips!
Onion: Regular white onions or red onions will do nicely here.
Potatoes: We're using Russet potatoes, but you can use Yukon Gold or red potatoes as well. Home Fried Potatoes are amazing with this.
Eggs: These are optional but highly recommended for a full and hearty breakfast meal fit for kings and queens!
What to Serve with Corned Beef Hash
There are a lot of side dishes that you can make to accompany your breakfast. From sweet to savory dishes, there's a lot you can choose from. Check out these easy and incredible side breakfast dishes to serve.
Diced Hash Browns: Simple and super-filling potatoes that everyone loves!
Scrambled Eggs: Also known as over-easy eggs, you can make these on the stovetop or you can make Oven Scrambled Eggs!
Classic Pantry Pancakes: Delicious, hearty, and easy to make, these hot cakes will take your breakfast to the next level!
Easy Cinnamon Roll Coffee Cake: Not all that shimmers is gold, except maybe these mouthwatering rolls. We wouldn't be surprised if they even stole the show!
Poached Eggs: See the bottom of the recipe card in Eggs Benedict for the easy process. You can also just serve a couple of over-easy eggs on top if you like the runny yolk.
Variations on Corned Beef Hash
Seasoning: Add a splash of Worcestershire sauce for flavor
Spicy Hash: Add some cayenne pepper or red pepper flakes for heat.
Veggies: Add chopped bell pepper, mushrooms, or sweet potatoes to this Corned Beef Hash recipe for more variety.
Beef: You can also make this dish with regular beef brisket instead of corned beef with good results. You can use any beef you have leftover from the night before, and adjust the salt to taste. Keep in mind that corned beef is generally a fatty cut, so the leaner beef may taste different in a corn beef hash. Roast beef from the deli counter goes great with this too.
Oven Hash: If you're making this in an oven-safe pan, once the hash is almost ready, crack a few eggs on top and move to the oven for 10-15 minutes, or until the eggs are cooked. If your skillet is not oven-safe, use a pot lid over the hash to cook the eggs.
How to Store Corned Beef Hash
Serve: Serve Corned Beef Hash fresh and hot. Store any Corned Beef leftovers within two hours.
Store: Corned Beef Hash will last in an airtight container in the refrigerator for 3-4 days.
Freeze: You can also freeze Corned Beef Hash for 2-3 months. Just keep it in an airtight container then let it thaw overnight in the refrigerator when ready and reheat until hot.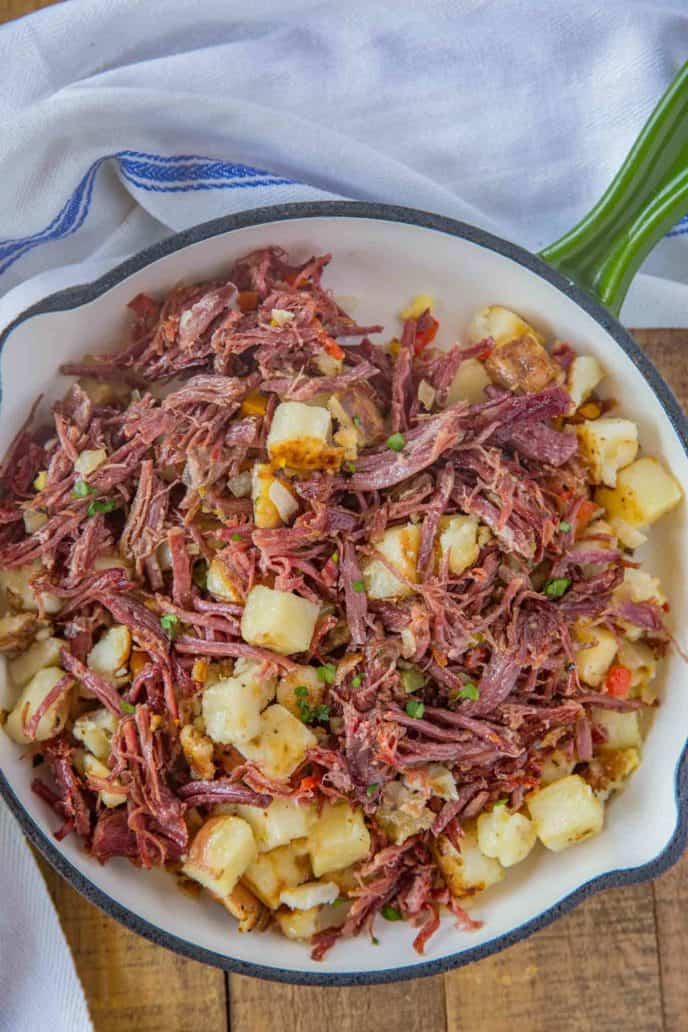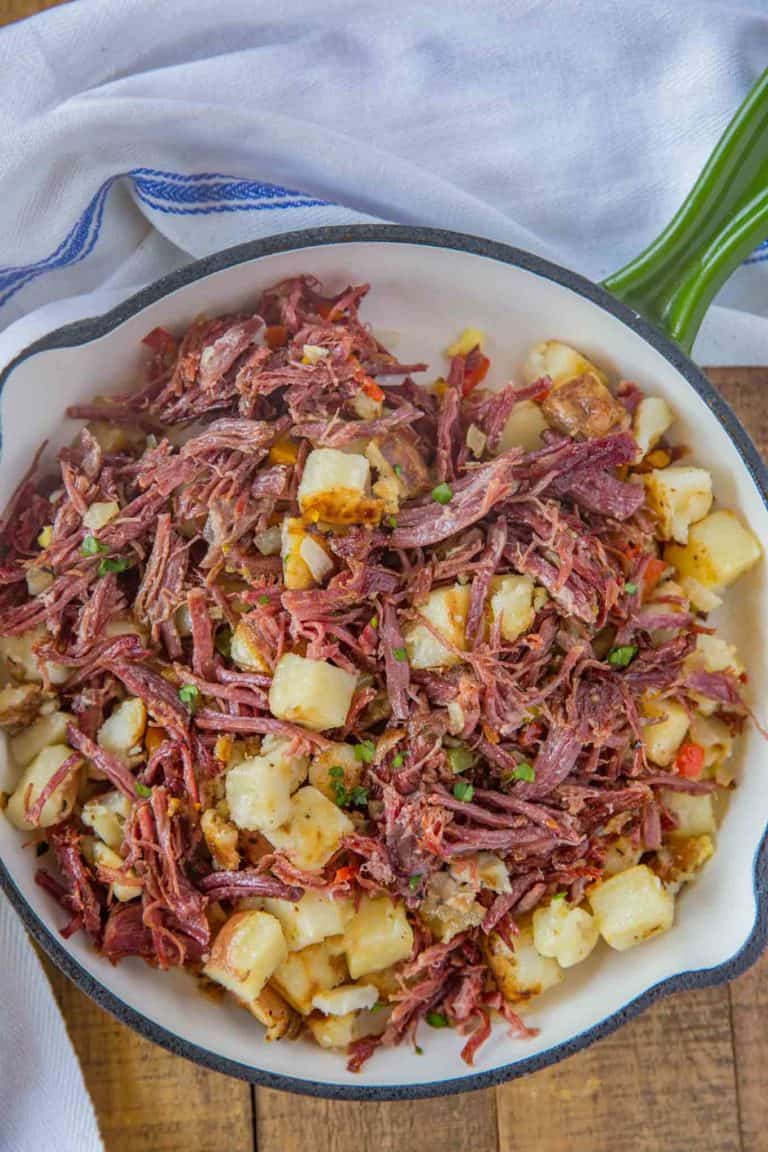 Ingredients
4

tablespoons

unsalted butter

1/2

yellow onion

, chopped

1

teaspoon

kosher salt

1/2

teaspoon

coarse ground black pepper

2

pounds

Russet potatoes

, peeled and diced (about 5 large potatoes)

2

cups

corned beef

, cooked and shredded

water

eggs

, scrambled, optional
Instructions
Add butter to a large cast iron skillet on medium heat along with the onions, potatoes, salt and pepper cooking for

5-6 minutes

until the potatoes start to brown.

Add in the corned beef and mix well along with 2 tablespoons of water and cover to steam the meat for

1-2 minutes

.

Serve with scrambled eggs.
Notes
Note: click on times in the instructions to start a kitchen timer while cooking.
Nutrition
Calories:
397
kcal
|
Carbohydrates:
42
g
|
Protein:
13
g
|
Fat:
19
g
|
Saturated Fat:
9
g
|
Cholesterol:
60
mg
|
Sodium:
1282
mg
|
Potassium:
1133
mg
|
Fiber:
3
g
|
Sugar:
1
g
|
Vitamin A:
350
IU
|
Vitamin C:
29.2
mg
|
Calcium:
40
mg
|
Iron:
2.9
mg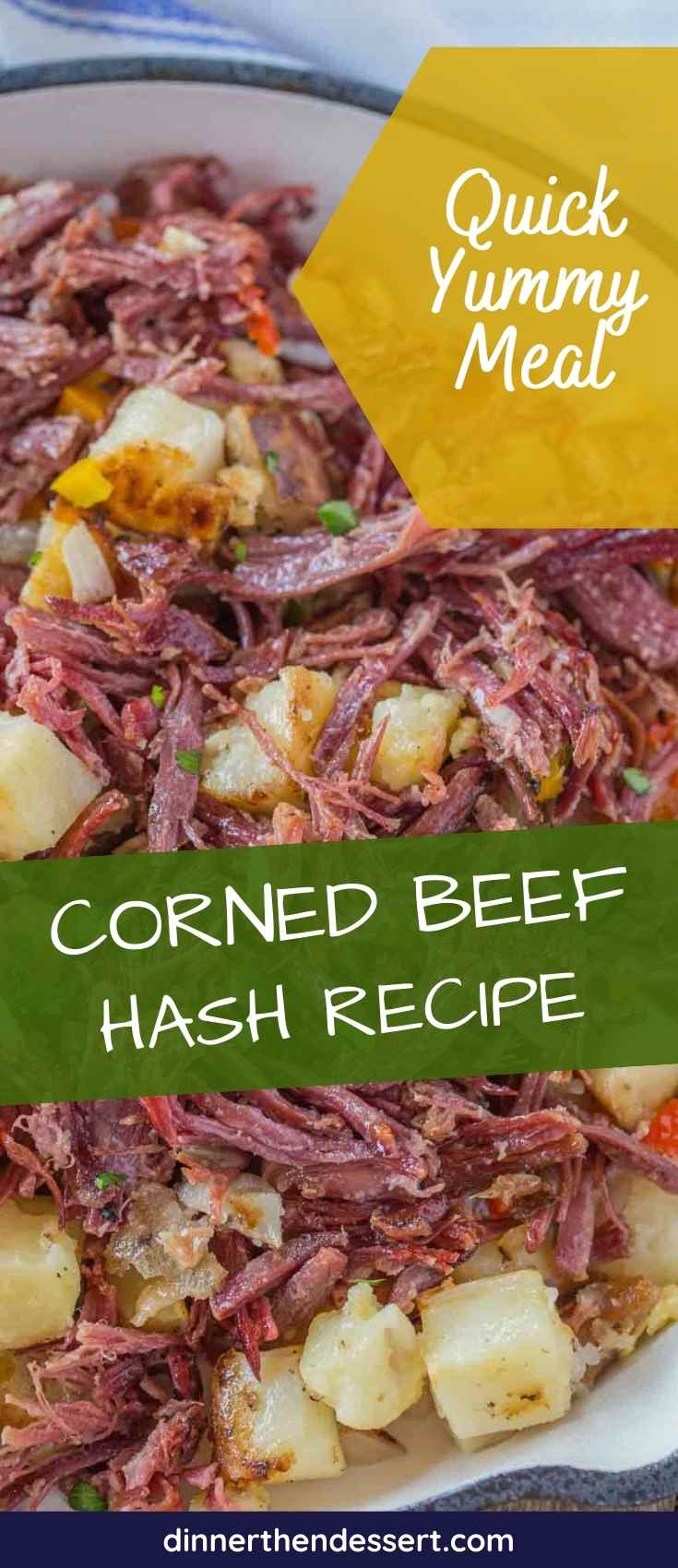 Photos used in a previous version of this post: