Instant Pot Corned Beef is easy to make and wonderfully tender and juicy with just 3 ingredients. The perfect St. Patrick's Day dinner!
If you're looking for tasty 5-Ingredients or Less Recipes, then you're going to love 5 Ingredient Crispy Chicken, Garlic & Peas in Wine Sauce as your main, Classic Buttered Carrots and Peas as your side, and Flourless Peanut Butter Cookies (4 Ingredients, GF) for dessert!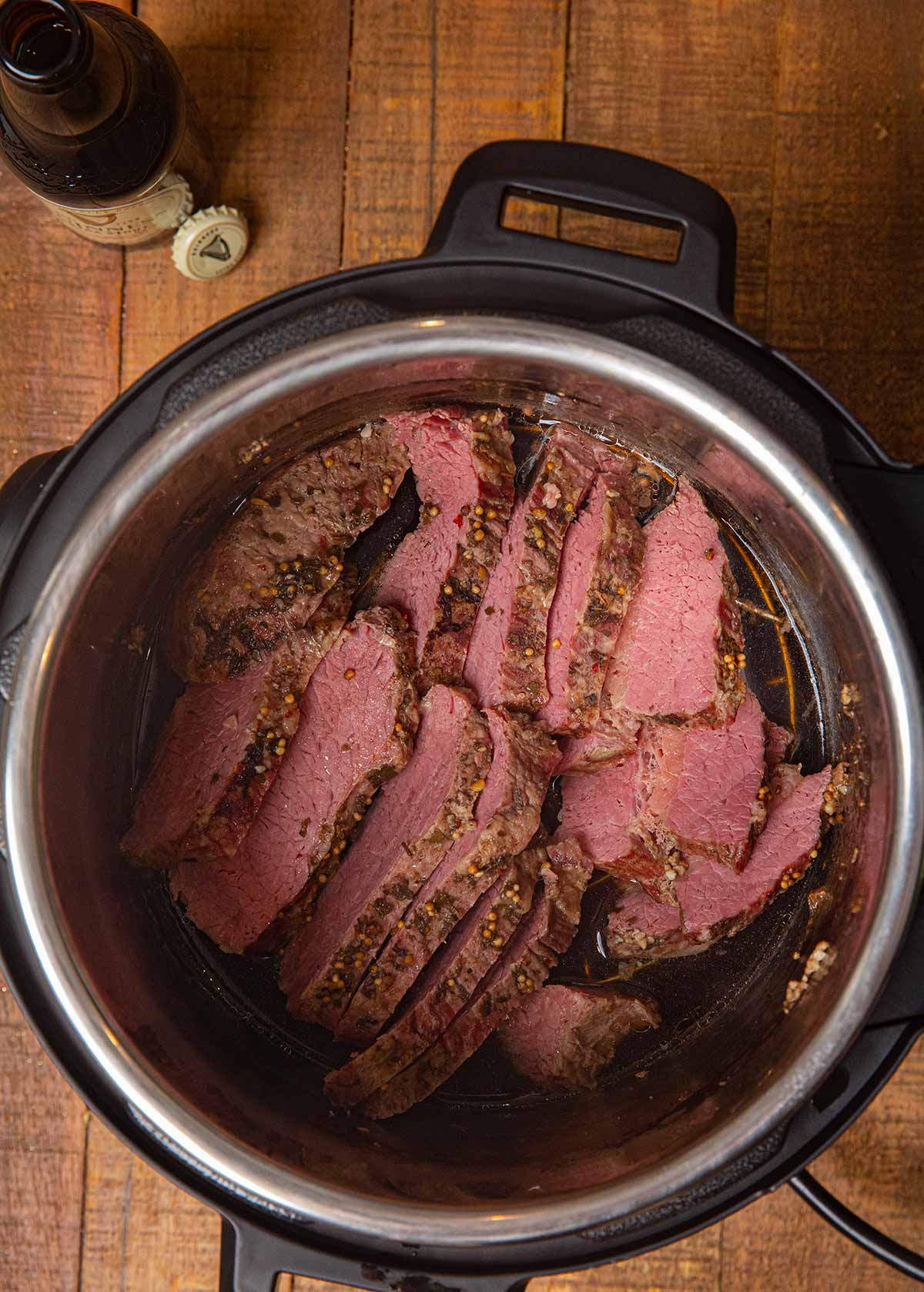 Corned Beef is a signature dish popularized by Irish immigrants to America. This easy instant pot cooking process makes it simple enough to enjoy as an easy dinner recipe. No need to save this flavorful dish just for St. Patrick's Day!
Instant Pot Corned Beef is a hassle-free way to make this classic recipe with only 10 minutes of time to prepare all the ingredients. All you have to do is season the Corned Beef, then cook it with a flavorful broth. The beef stock will soak into the Instant Pot Corned Beef during the cook time to make a fork-tender, juicy Corned Beef dinner.
To make this the perfect Irish meal for St. Patrick's Day serve it up with some green cabbage and potatoes. The delicious Roasted Cabbage Recipe and Red Potatoes will make the perfect side dishes.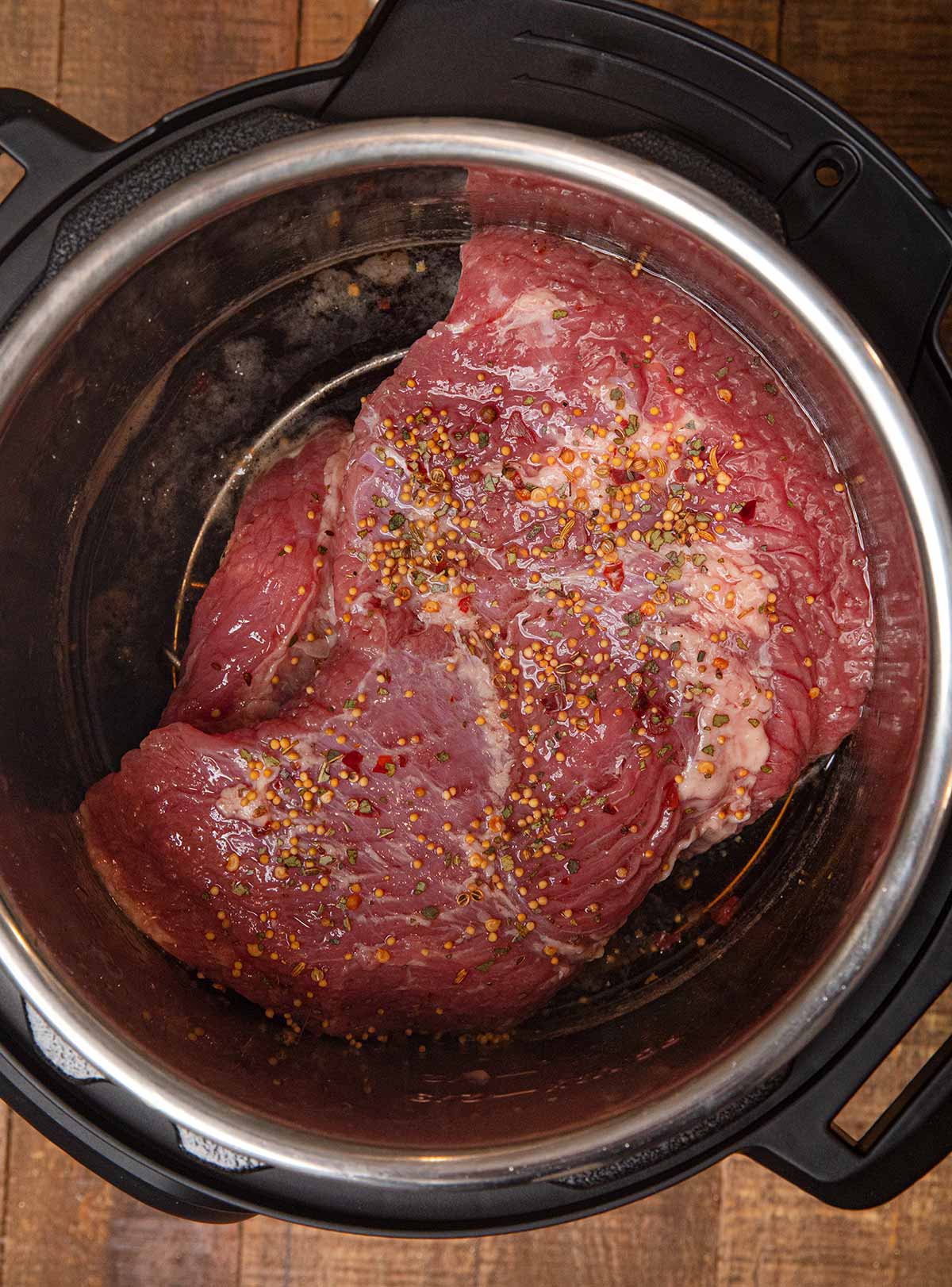 How to Make Instant Pot Corned Beef
Making Instant Pot Corned Beef is unbelievably simple. It's literally throwing all three ingredients into the pressure cooker and cooking until it is ready. Check it out!
Cooking Liquid: Start by adding a steam rack to your 6 quart instant pot. Make sure that the handles are facing up. Pour the beef broth into the base of the pressure cooker for the cooking liquid.
Cooking Corned Beef: Add the corned beef to the pressure cooking pot. Season over the top with your spice packet and minced garlic. Seal the instant pot, and press the manual setting. Set the cooking time to 60 minutes for the Pressure Cooker Corned Beef. While you cook corned beef in the pressure cooker, you can prep the side dishes and other parts of dinner.
Pressure Release: The pressure release is an important step in instant pot recipes. After the cook time, do a natural release instead of a quick pressure release. The remaining pressure in the pot will leave slowly, giving the meat some time to tenderize.
Serve: Take the beef from the instant pot and slice it against the grain for the most tender servings.
Frequently Asked Questions
Why is this beef called Corned Beef? 
The name actually has nothing to do with the vegetable we call corn. Before the artificial preservatives used today, beef was once preserved almost exclusively with large kernels, or corns, of salt (sometimes along with smoke). These corns of salt have lent their name to this dish. 
What is the best kind of beef to buy for Corned Beef?
Tough meats are great for this recipe since the pressure cooker (or slow cooker) breaks down the meat into a tender and juicy meal. The traditional cut of beef for Corned Beef is the breast meat of a cow, called brisket. Another cut called the rump cap (aka sirloin cap, aka picanha) is another good cut. Another cut called the bottom round (aka silverside) found just below the rump is great for homemade Corned Beef. 

The cooking time is the same for all the cuts and will make them easy to slice for dinner meals and sandwiches for lunch.
Is Corned Beef actually Irish?
Corned Beef is not, strictly speaking, Irish; but it is associated with the Irish.

While many cultures around the world have preserved their beef with corns of salt for many centuries, Corned Beef is probably associated with Ireland because of the Irish immigrants who had moved to the USA a century ago. The Irish have a bacon and cabbage dinner that was replaced by those immigrants here in the USA with the easily available brisket cuts making Corned Beef and cabbage a meal associated with the Irish and their customs of serving it on Saint Patrick's Day!
Can I cook Corned Beef in the slow cooker? 
You can make it easily in the instant pot or the Slow Cooker. This linked recipe gives the brisket a desirable crispy crust and can be cooked overnight.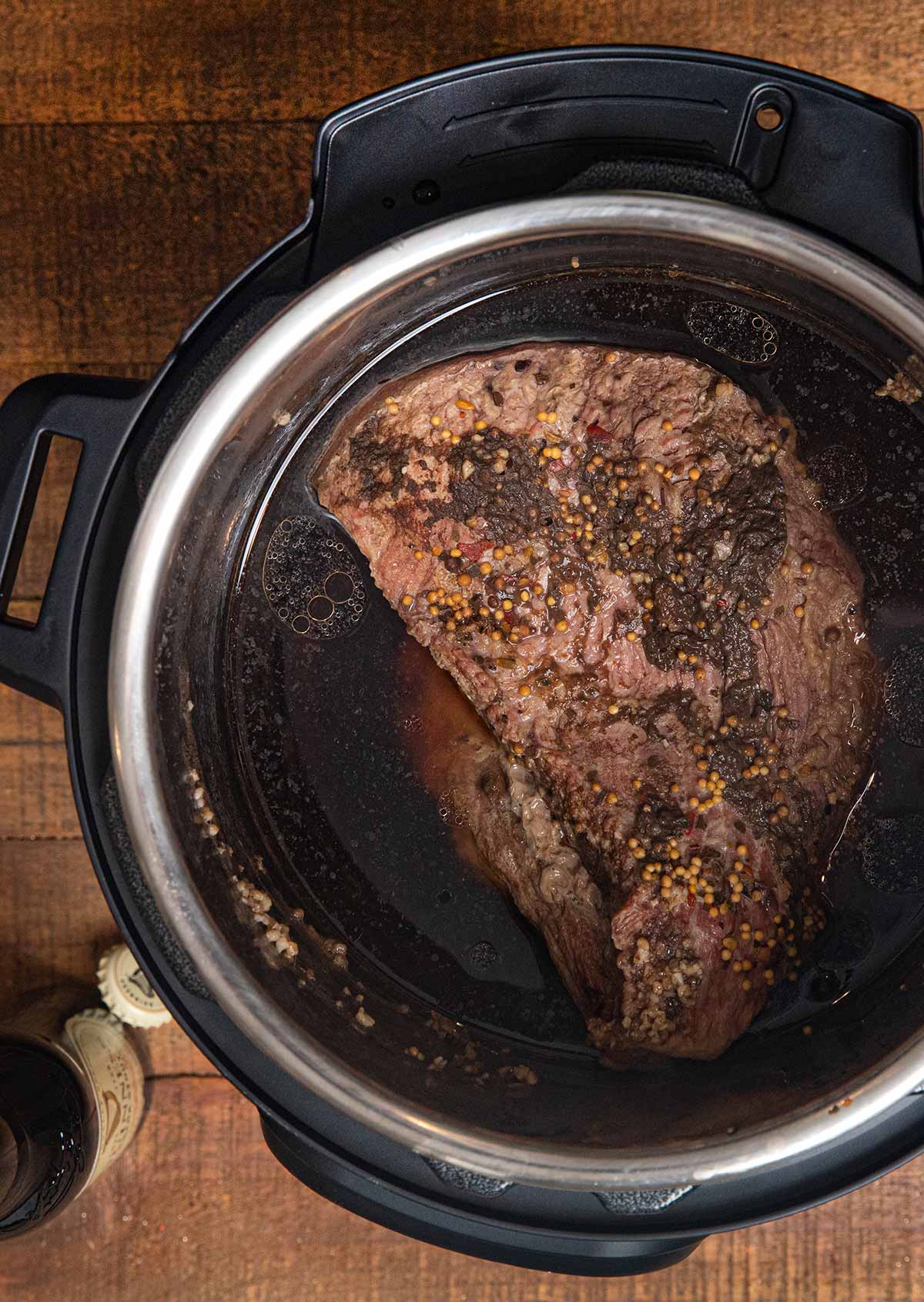 Create a free account to

Save Recipes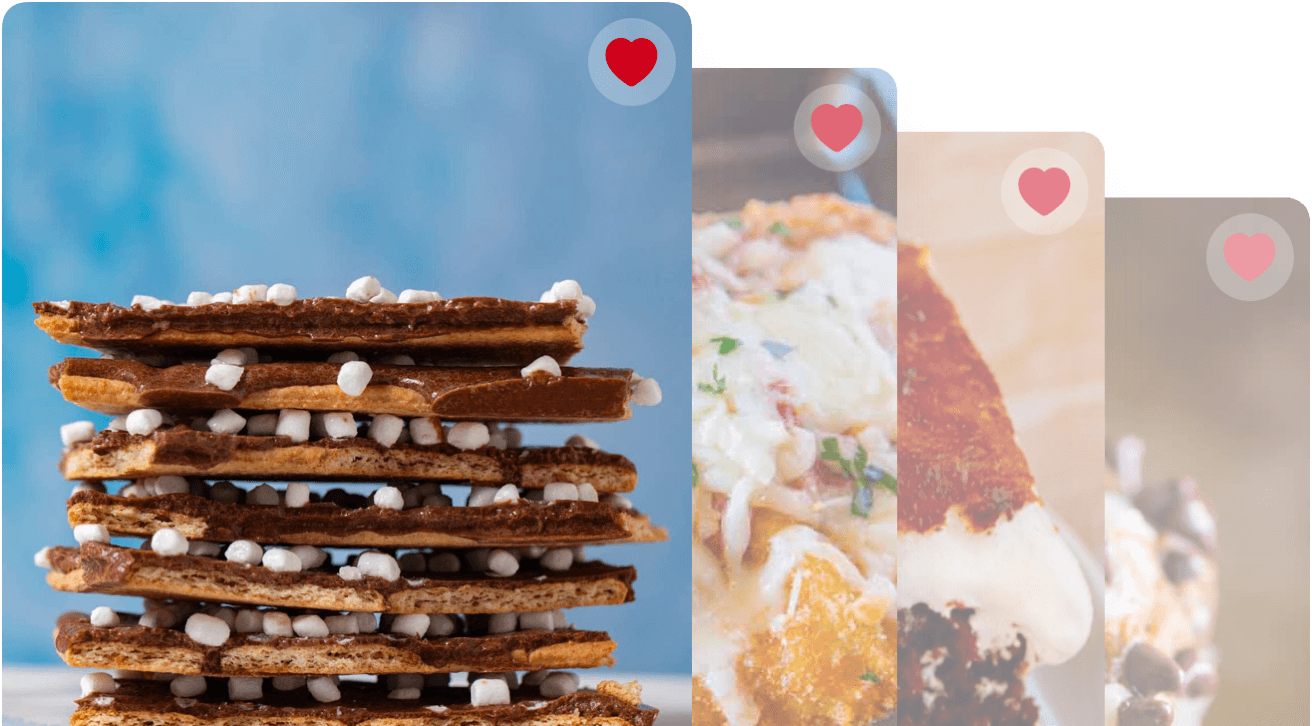 Key Ingredients for Corned Beef
Many people once thought that homemade Corned Beef was super difficult to make. Thanks to pressure cookers, this classic meal can now be made at home in about an hour with ingredients found at pretty much all grocery stores. Check it out!
Beef: We're using brisket for this recipe. Find the freshest slab of meat you can. If you can find a specific Corned Beef brisket at the store, you can add the included spice packet to the brine for cooking. 
Seasonings: Garlic brings the base flavor for this recipe, as well as the seasonings found in the beef broth. If you have already made beef broth in a recent stew or something, feel free to use that. Otherwise you can use premade beef broth from the store, or the beef bullion paste that you turn into broth. 
Variations on Instant Pot Corned Beef
Seasoning: You can add to the spice mixture by adding some ingredients along with the seasoning packet. Try adding fresh parsley, red pepper flakes, mustard seeds, or bay leaves.
Mustard: You can also add some mustard over the top of the Corned Beef, before cooking. Whole grain mustard, dijon mustard, or spicy mustard would all taste wonderful.
Vegetables: Try adding some vegetables to the Instant Pot Corned Beef recipe. Chop up a medium onion to put in for flavor. Yellow onion or red onions would both taste good. You could also add a sliced head cabbage or baby carrots. Toss them in and continue pressure cooking vegetables along with the brisket.
Cooking liquid: For a more deep flavor, try adding some dark beer to the recipe. Use a classic Irish beer like a Guinness or any other dark ale. You could also use apple cider vinegar, apple juice, or ginger ale to add some flavor to the beef stock. 
Reuben Sandwich: Corned Beef meat is the key ingredient to a Reuben Sandwich. While you can always get deli corned beef from the grocery store, it's so much better using freshly cooked corned beef. So, if you have any leftovers be sure to make a delicious Reuben for lunch the next day. Serve it over rye bread with Swiss cheese, thousand island dressing, and sauerkraut.
How to Store Corned Beef
Serve: Don't leave Instant Pot Corned Beef at room temperature for more than 2 hours. Keep it covered when not in use.
Store: You can keep any leftover Corned Beef sealed in the fridge for 3-4 days. 
Freeze: Or, freeze the Corned Beef for up to 3 months. You can let it thaw out in the fridge then reheat the meat in the oven, stovetop, or air fryer.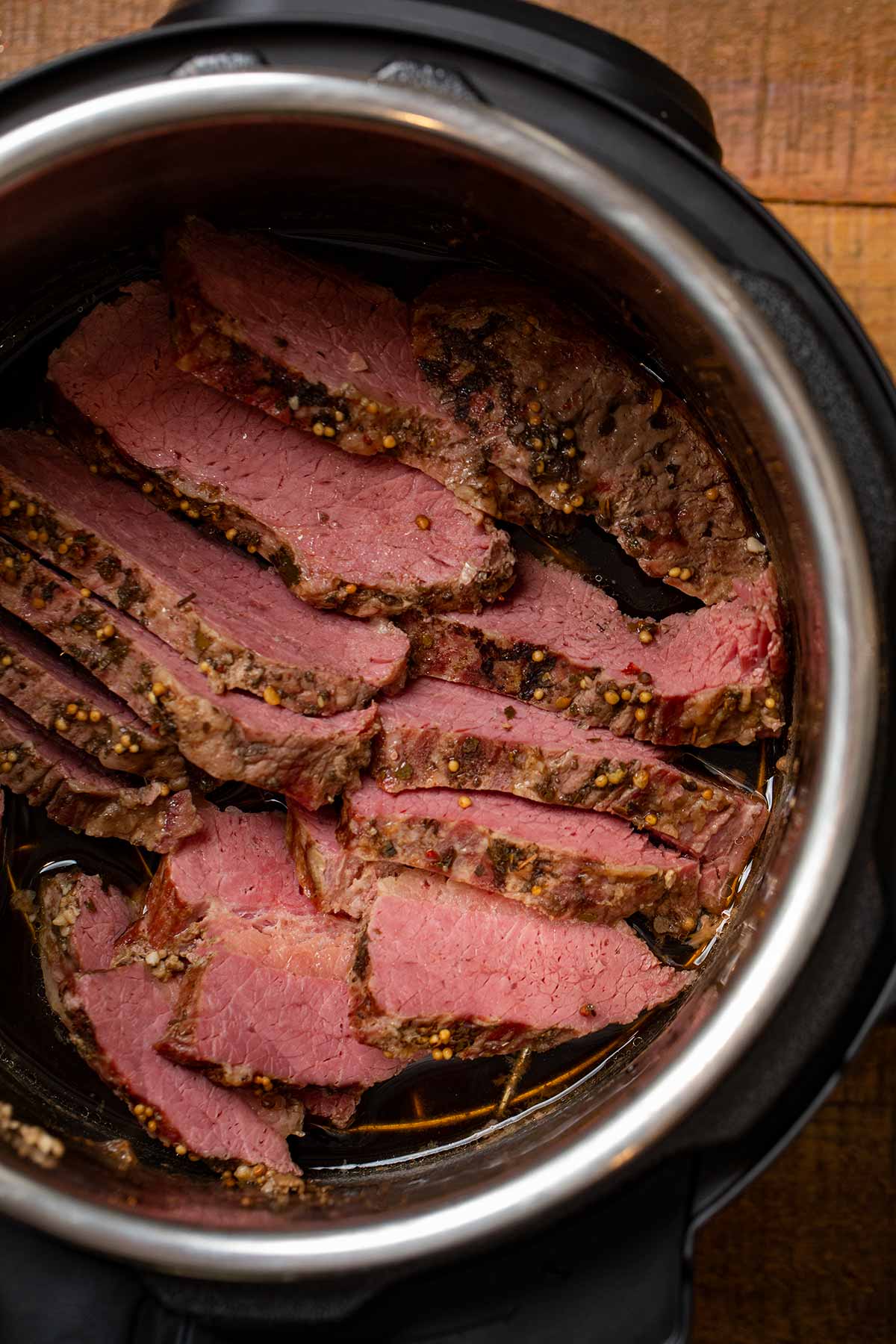 Ingredients
3

cups

beef broth

3

cloves

garlic

, minced

3

pounds

corned beef brisket

, with spice packet
Instructions
Add the steam rack to your instant pot with the handles facing up.

Pour beef broth into the pot and add the corned beef.

Season with a spice packet.

Close, lock the lid, and seal the vent.

Cook on high for

60 minutes

, then naturally release the pressure.

Remove corned beef from pot, let rest

5 minutes

then slice thinly against the grain.
Nutrition
Calories:
276
kcal
|
Carbohydrates:
1
g
|
Protein:
21
g
|
Fat:
20
g
|
Saturated Fat:
7
g
|
Cholesterol:
73
mg
|
Sodium:
1924
mg
|
Potassium:
447
mg
|
Sugar:
1
g
|
Vitamin C:
37
mg
|
Calcium:
15
mg
|
Iron:
2
mg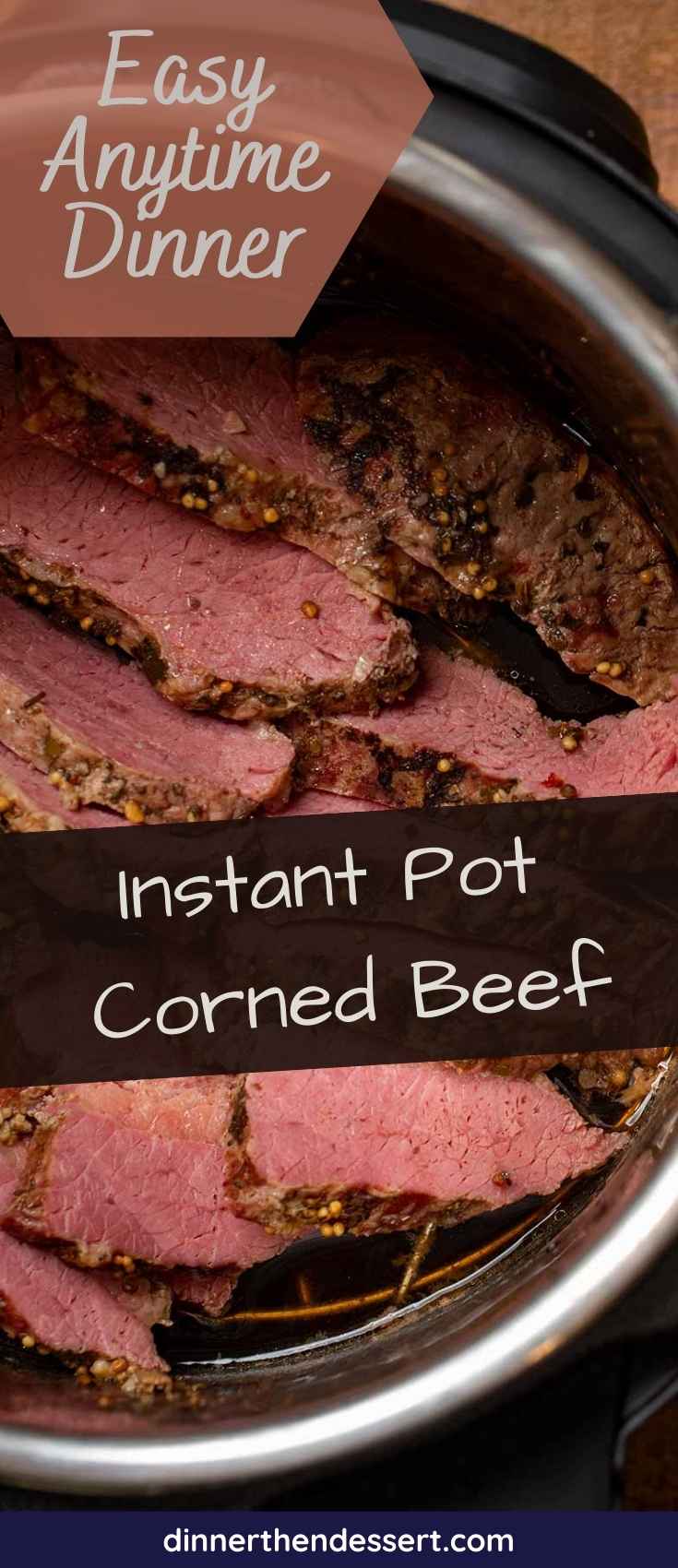 Photos used in a previous version of this post: