Braised Corned Beef is made tender and flavorful with beef broth and onions. It's an easy, hassle-free meal that's sure to be a hit on St. Patrick's Day!
When it comes to the perfect Dinner Recipe for St. Patrick's Day, you can't beat Corned Beef. The key to a fork-tender corn beef is cooking it low and slow so that it has time to absorb all the juice around it. That's why Slow Cooker Corned Beef turns out so well, but this Oven Braised Corned Beef is just as delicious and easy.
BRAISED CORNED BEEF
For the perfect St. Patrick's Day serve up your Corned Beef Dinner with Mashed Potatoes and Roasted Green Cabbage. It's the perfect way to complement this iconic Irish dish.
While Corned Beef did originate in Ireland, it wasn't always the traditional meal to celebrate St. Patrick's. That tradition actually started with Irish-American immigrants. Most likely because it was a fairly inexpensive recipe for them to make. Now, for most of us, St. Patrick's Day just wouldn't feel right without a classic Corned Beef recipe.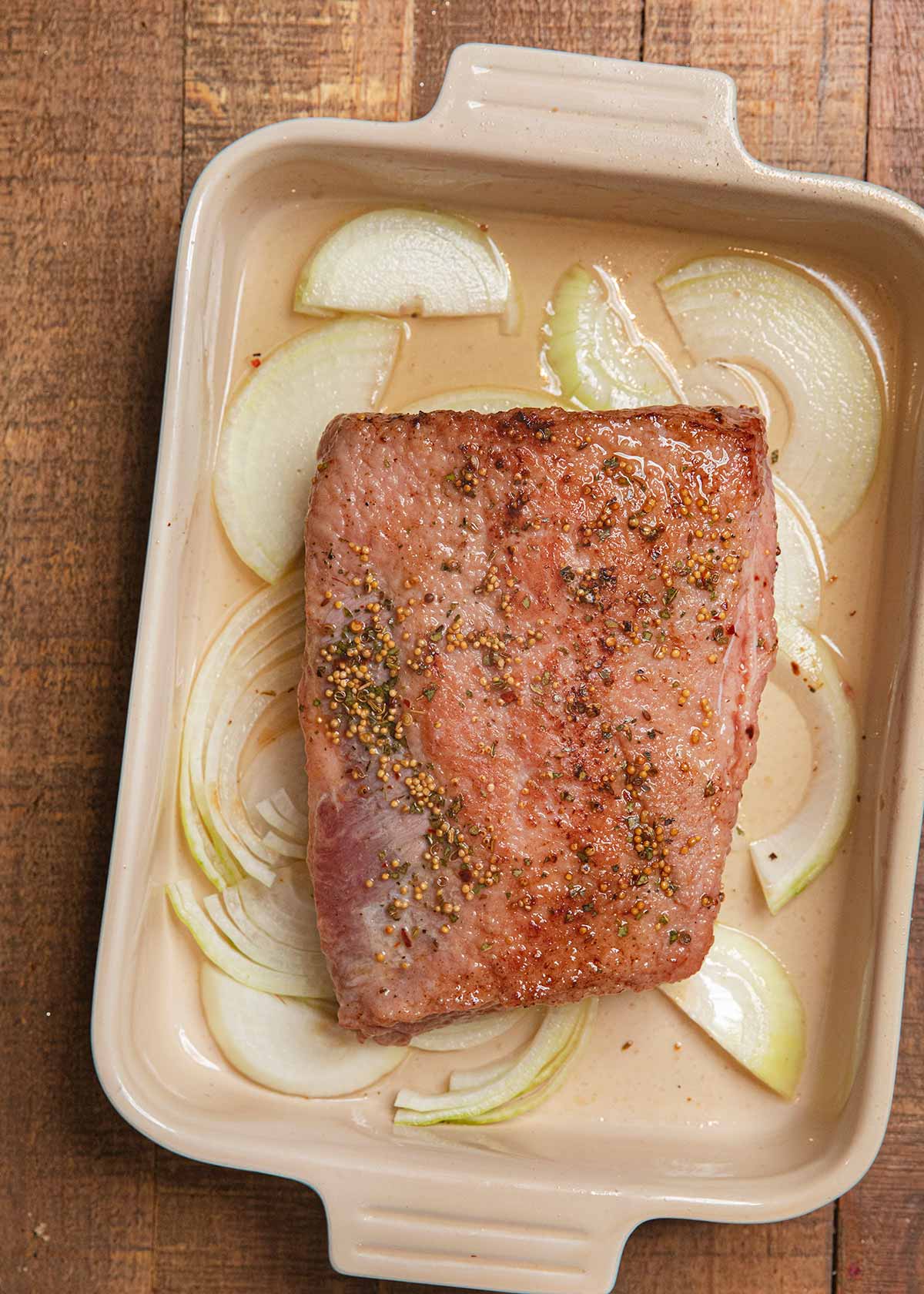 Why Braise the Beef?
Braising meat is an easy way to make it melt-in-your-mouth tender. To braise meat, you start by searing it in oil until the outside caramelizes. After searing, the beef is simmered slowly in cooking liquids like broth, wine, beer, or cider. The slow cooking time breaks down tough meat and adds flavor throughout the dish while searing ahead of time gives it a nice, crisp outer edge. It's an easy way to make even the toughest cuts of meat tender and juicy.
MORE CLASSIC IRISH DISHES
TIPS FOR MAKING BRAISED CORNED BEEF
Prep time: Start by preheating your oven to 275 degrees. The low temperature will help the meat cook slowly and absorb the flavors around it. Next, drain any excess liquid from the beef brisket. Pat the beef dry with paper towels. Take one medium yellow onion and cut it into small pieces. Set the onion slices to one side as you continue to the next step.
Sear: Add oil to a skillet or dutch oven and heat it on medium-high over the stovetop. Add the corned beef to the pan and sear it on each side for about 4-5 minutes until nicely browned.
Cooking time: Add the beef broth and onion slices to your baking dish. Place the corned beef in the braising liquid and sprinkle the seasoning packet over the top. Wrap the dish in tin foil, then put it in the preheated oven. Leave the delicious dinner to cook for 5 hours. Slice against the grain before serving.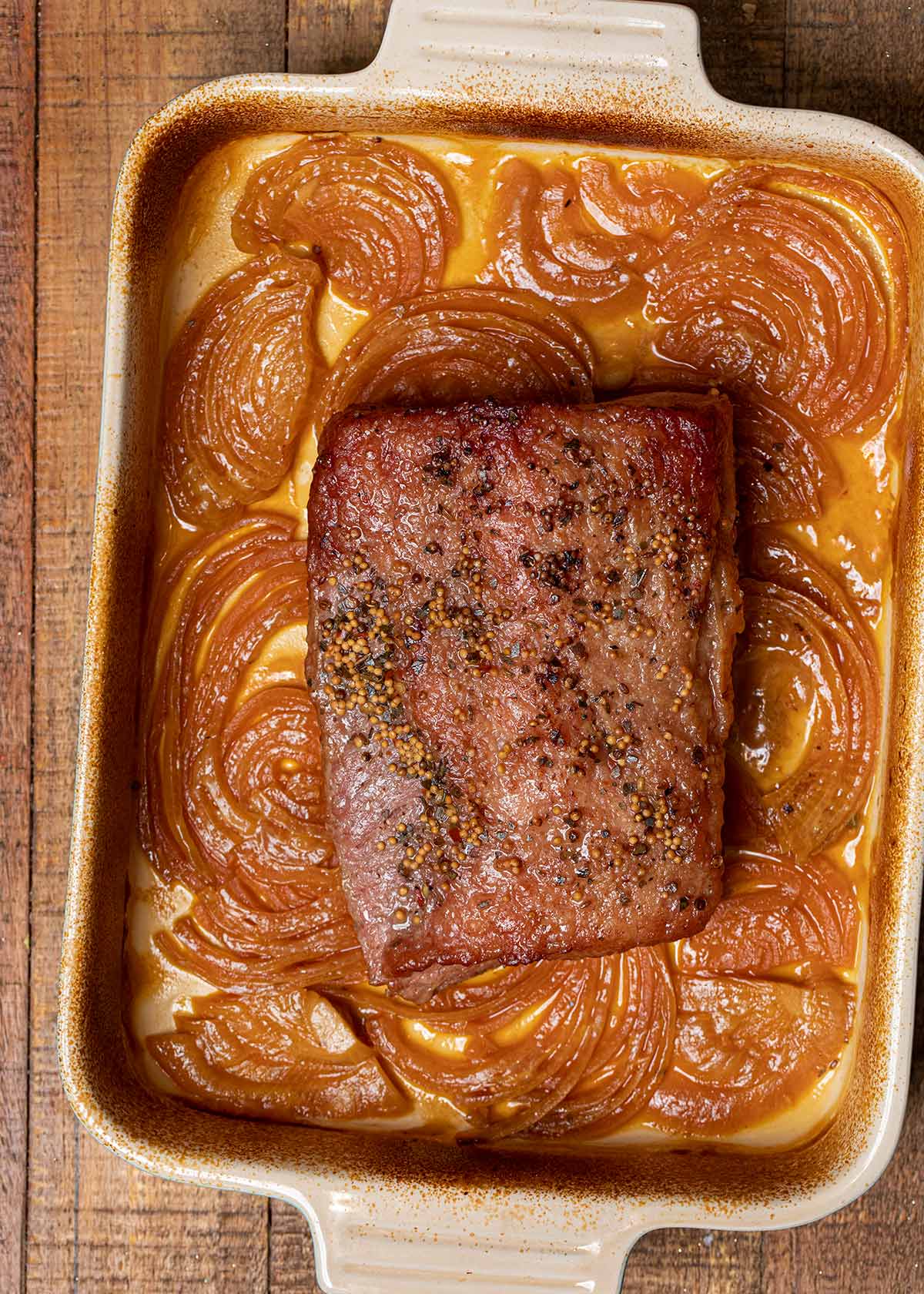 Create a free account to Save Recipes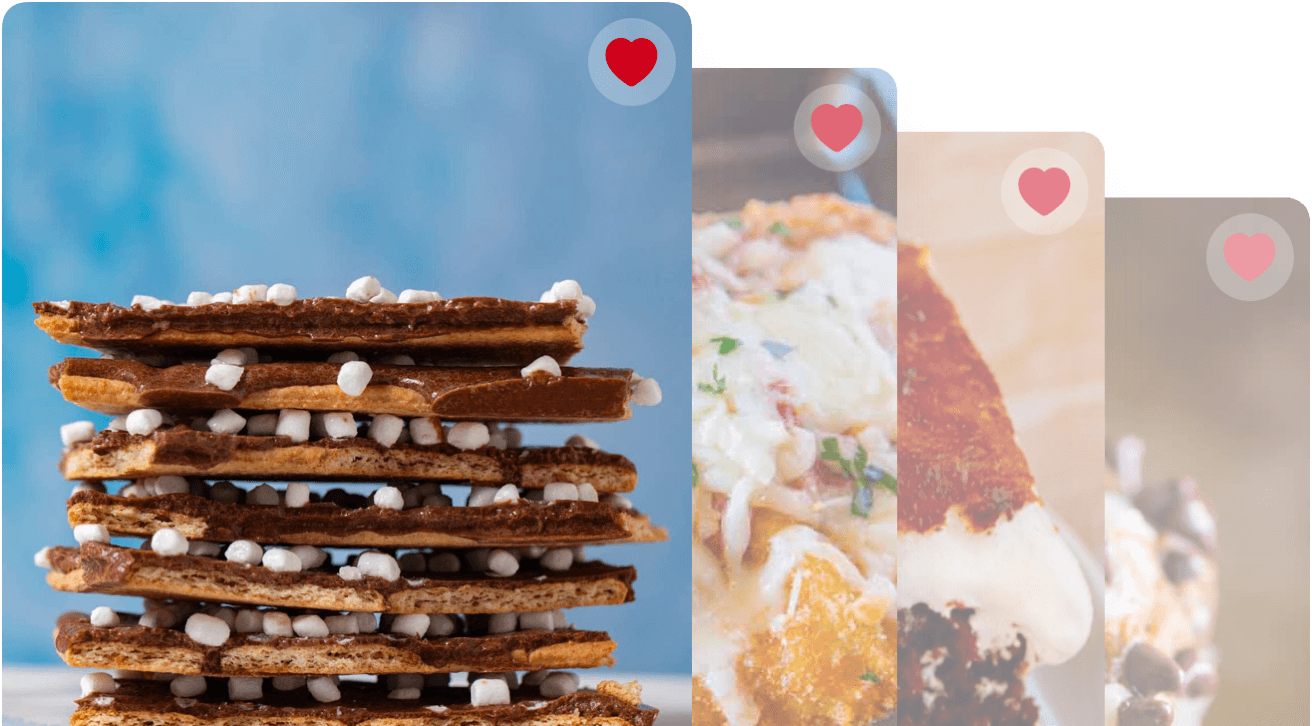 VARIATIONS ON BRAISED CORNED BEEF
Seasonings: For some extra flavor season the brisket with spices like black pepper, caraway seeds, garlic salt or minced garlic cloves, fresh parsley, red pepper flakes, or bay leaves. Add your choice of seasonings in along with the spice blend packet.
Brown sugar mustard glaze: Try making a brown sugar mustard glaze for the meat. Combine ½ cup brown sugar, ½ cup water, and ½ cup brown sugar in a saucepan while the beef is cooking. You can also add 1 ½ tablespoons of honey for extra sweetness. In the last half hour of the cooking time, take the corned beef from the oven and remove the foil. Brush the Brown sugar mustard glaze over the beef. Cover the dish and bake for the remaining half an hour.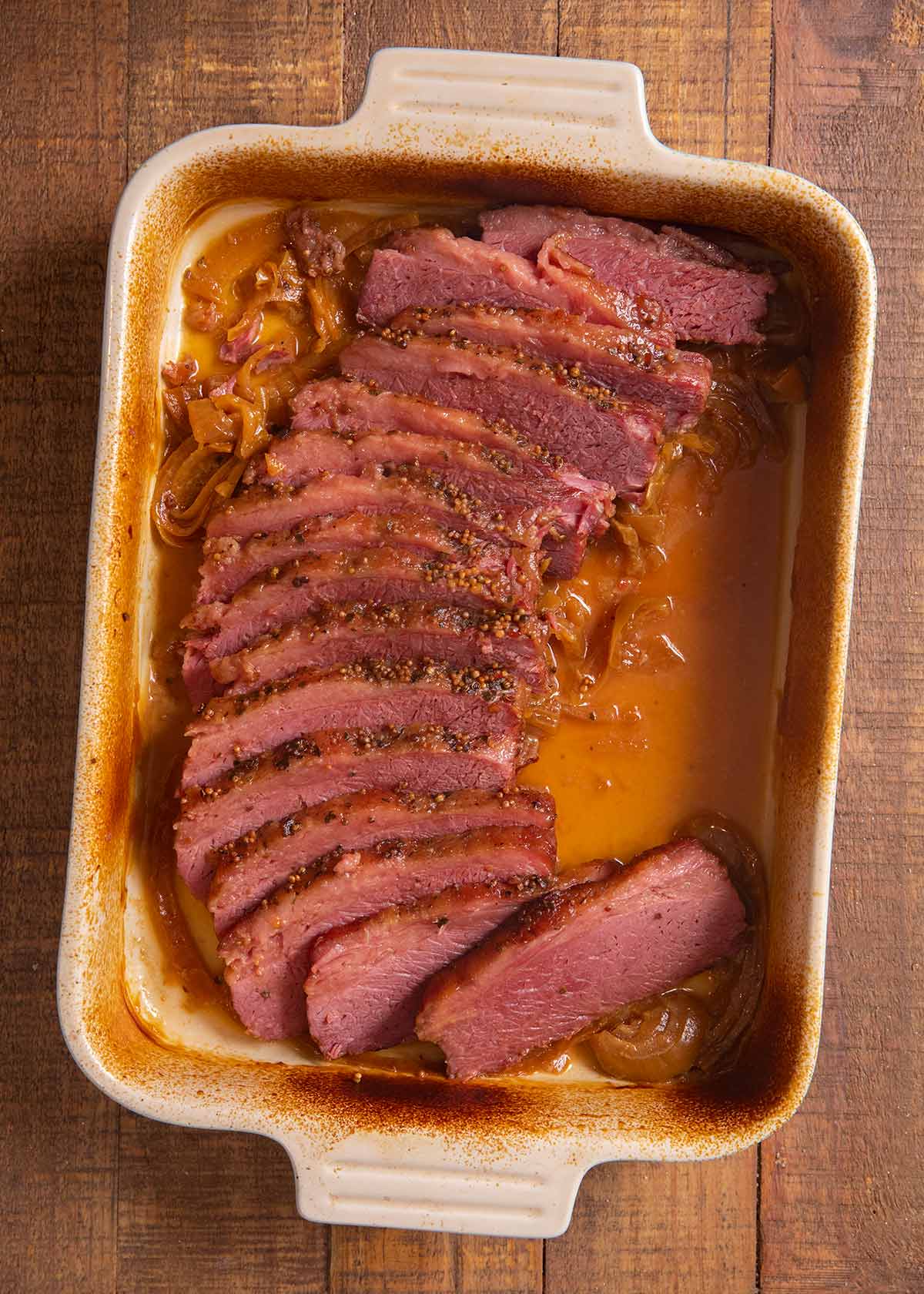 Cabbage: Slice up a head cabbage into cabbage wedges. A half-hour before the meat is done roasting, pour the cabbage wedges in and bake them along with the Corned Beef.
Oven Beer Braised Brisket: You can change up the braising liquid to make Oven Beer Braised Corned Beef. Use your favorite kind of beer in place of half of the beef broth in the recipe. A dark Irish ale, golden lager, light beer, or stout could all work for Oven Beer Braised Corned Beef.
MORE DELICIOUS BEEF DINNERS
HOW TO STORE BRAISED CORNED BEEF
Serve: You shouldn't leave cooked meat at room temperature for more than 2 hours.
Store: Let the Braised Corned Beef cool down, then seal it in an airtight container to store in the fridge for up to 4 days.
Freeze: To keep leftover corned beef longer, you can freeze it for 2-3 months.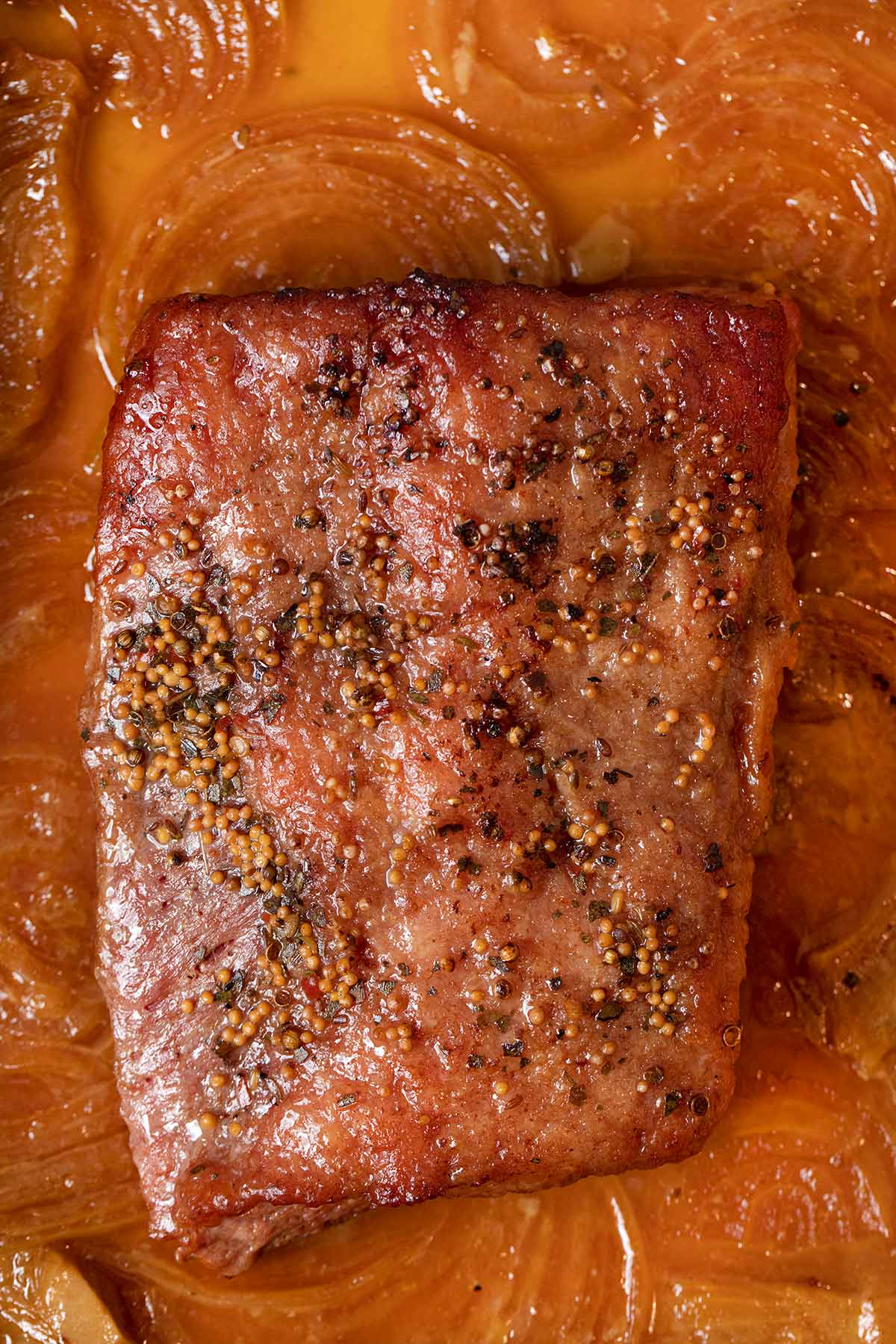 Ingredients
4-

pound

corned beef brisket

, flat

2

tablespoons

vegetable oil

1

yellow onion

, sliced

1

cup

beef broth
Instructions
Preheat oven to 275 degrees.

Drain liquid from corned beef and pat dry with paper towels.

Add oil to a large skillet or dutch oven on medium-high heat.

Sear corned beef on each side for

4-5 minutes

until browned.

Add sliced onions and beef broth to an 8x10 or 9x13 baking dish.

Place browned corned beef over the onions.

Season with a flavor packet.

Wrap tightly with foil and bake for

5 hours.
Nutrition
Calories:
325
kcal
|
Carbohydrates:
1
g
|
Protein:
23
g
|
Fat:
25
g
|
Saturated Fat:
9
g
|
Cholesterol:
82
mg
|
Sodium:
1915
mg
|
Potassium:
473
mg
|
Fiber:
1
g
|
Sugar:
1
g
|
Vitamin C:
42
mg
|
Calcium:
14
mg
|
Iron:
3
mg