Baked Rosemary Chicken is a delicious, crispy baked chicken recipe with fresh rosemary and garlic that's ready in less than 45 minutes.
If you're in a hurry and you want something savory for Dinner, there's nothing better than baked chicken. You know how much flavor you can easily pack into a chicken dinner if you've ever made our Oven Fried Chicken, Oven Baked Chicken and Rice or Baked Chicken Thighs before.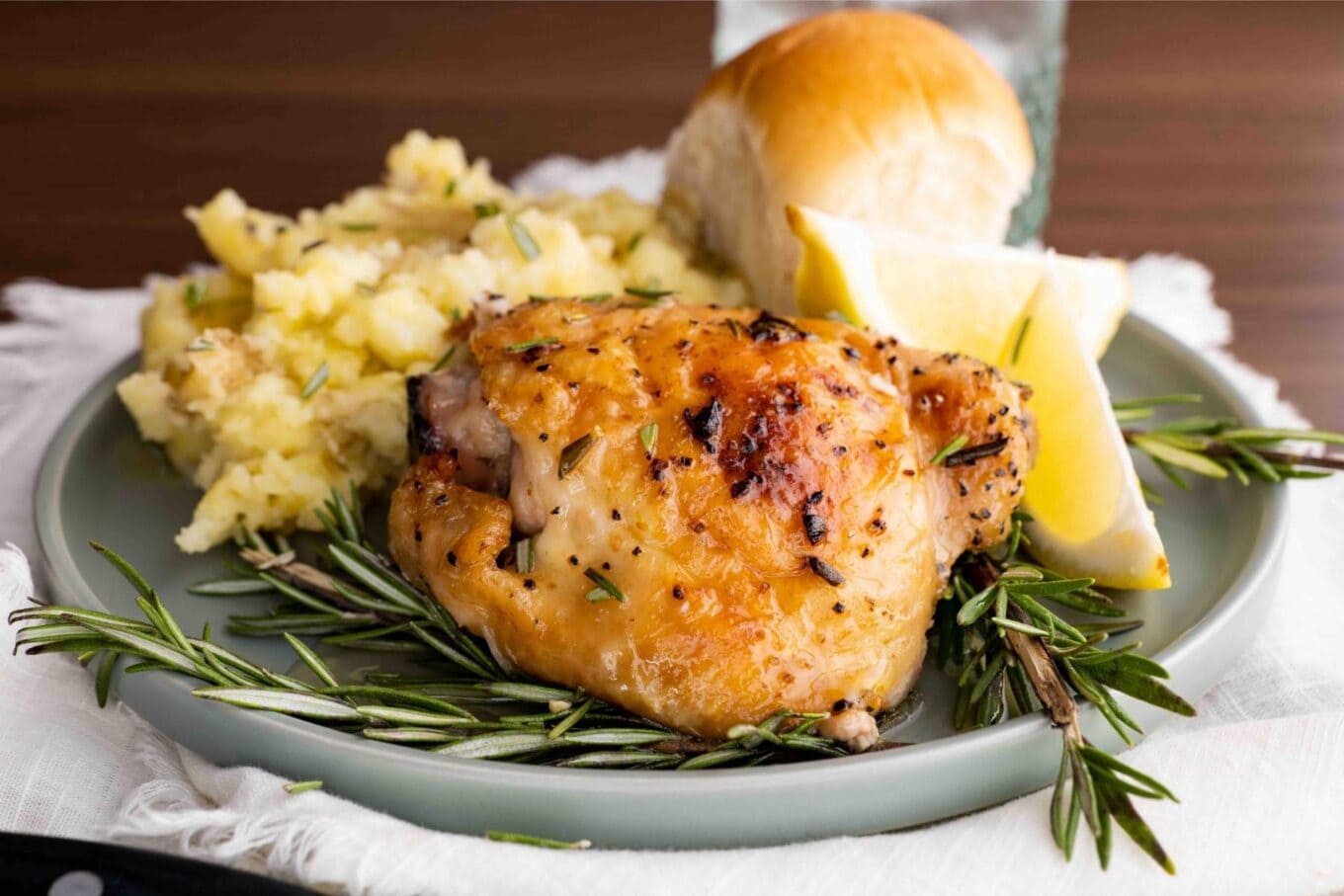 Baked rosemary chicken has a rich, complex flavor that you don't need a marinade or sauce to create, and you can pair it with any side you want for any occasion. This recipe could quickly become a new family favorite, especially if you have a full schedule.
When you're trying to get food on the table on a busy weeknight, the last thing you want is a complicated recipe with a million steps. It only takes five minutes to toss together the garlic, rosemary, salt, pepper, lemon juice, and oil with chicken thighs and you'll have this juicy, flavorful chicken with crispy skin on the table in no time. Your prep work may even be done before your oven is finished preheating.
This chicken recipe has classic flavors that pair well with almost any Side Dish. You can even make it into a classic holiday meal with Slow Cooker Stuffing, which goes really well with all kinds of poultry and seasonings. Serve with Garlic Mashed Potatoes for a delicious creamy garlicky side dish that's perfectly comforting and easy. Or whip up some Easy Dinner Rolls and Roasted Broccoli to round out the meal.
How to Make Baked Rosemary Chicken
Preheat the oven to 375 degrees.
Mix chicken thighs, fresh chopped rosemary, salt, pepper, minced garlic cloves, lemon juice, and vegetable oil all together and place chicken, skin side up in a 9×13 baking pan.
Roast for 30-35 minutes or until golden brown.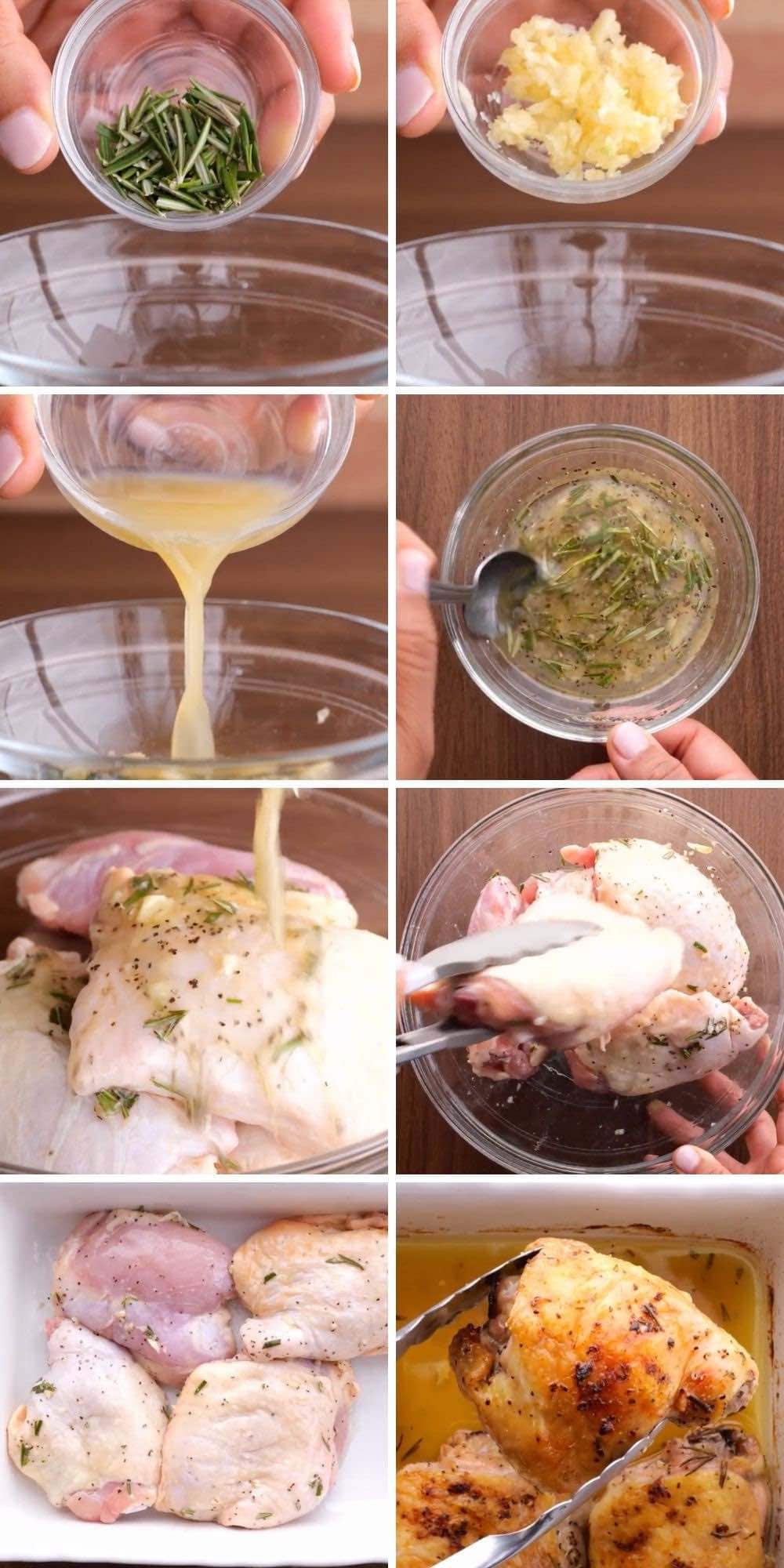 What to Serve with Rosemary Chicken
Frequently Asked Questions
Why use bone-in chicken thighs instead of boneless?
Roasting chicken pieces with bone and skin will ensure a more flavorful and juicy result. The bone keeps the chicken from drying out, and the skin becomes like a crispy layer to lock in the juices. If you prefer to make boneless skinless chicken thighs, reduce the cooking time by 5-10 minutes and check the temperature to make sure it is 165 degrees inside.
When is chicken safe to eat?
According to the USDA's website, chicken is safe to eat when the internal temperature reaches 165 degrees F (73.8 degrees C). The best way to tell is to use an internal thermometer. If you don't have a thermometer, cut into a piece to make sure the meat is no longer pink and the juices run clear.
Can I roast other meats using this method?
Yes! You can use different cuts of chicken like breasts or legs, simply adjust the cooking time accordingly. This method would also be delicious for bone-in pork chops, which should be cooked to an internal temperature of 145 degrees. Or try the same flavors with salmon filets and roast at 400 degrees for 15 minutes.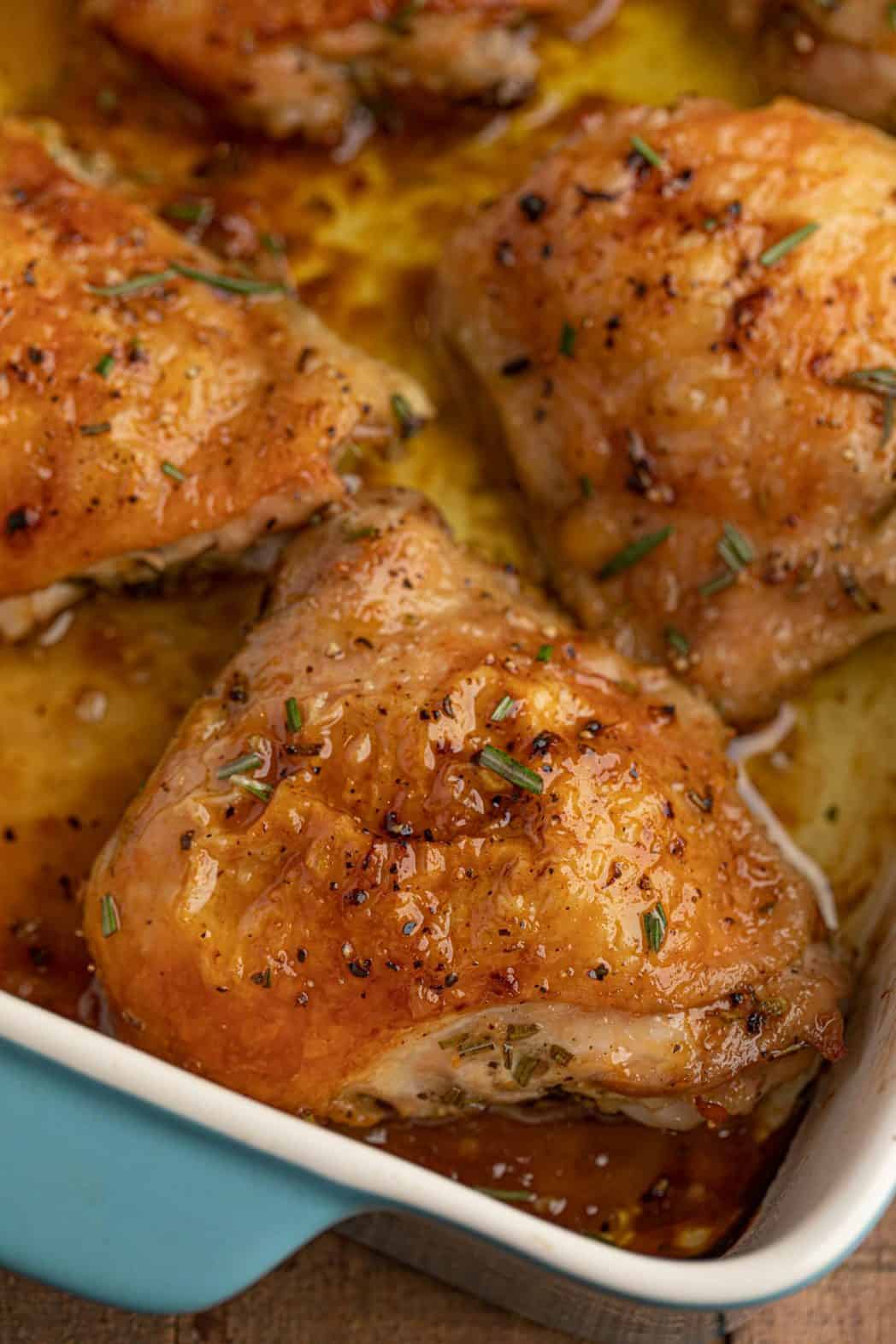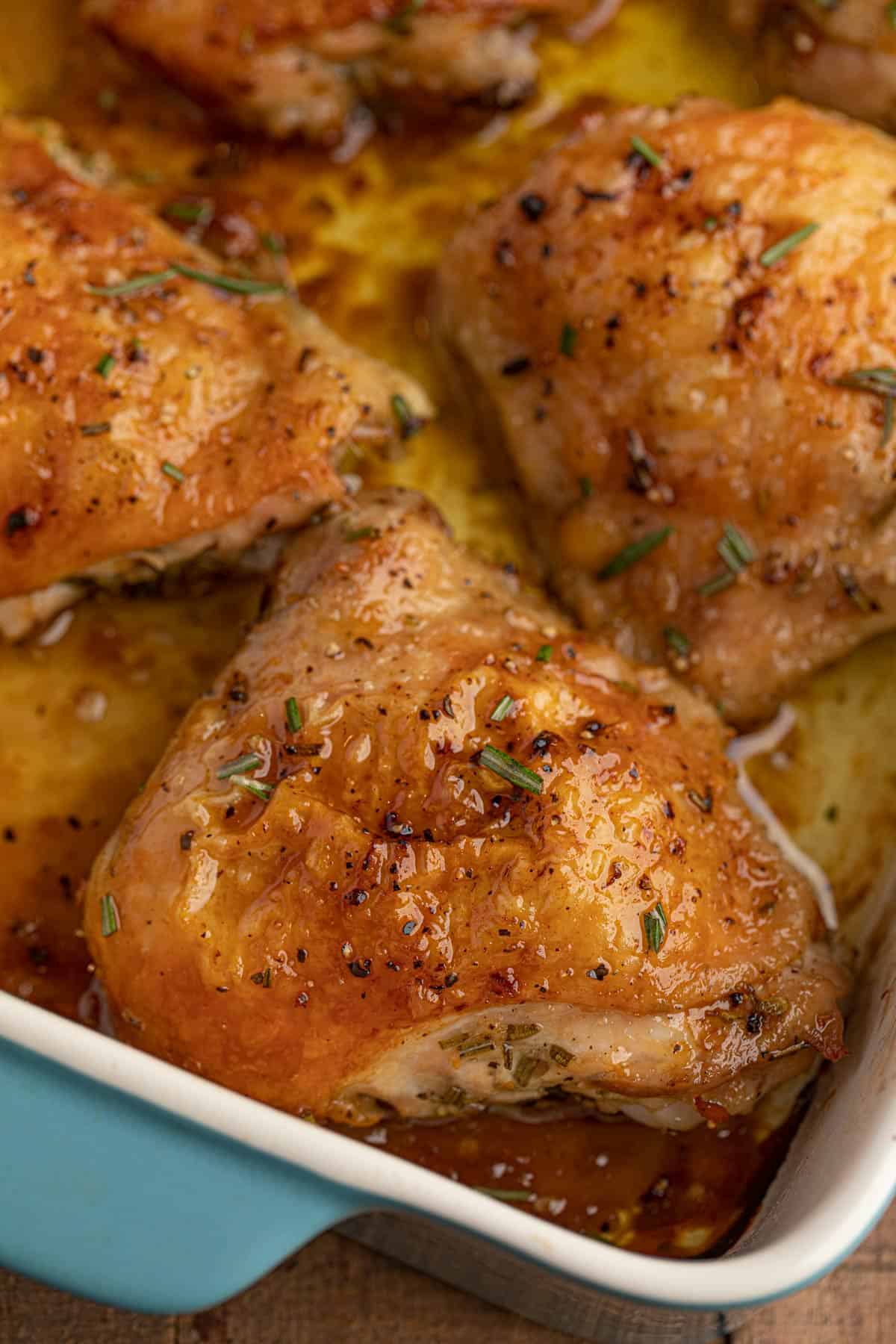 Create a free account to

Save Recipes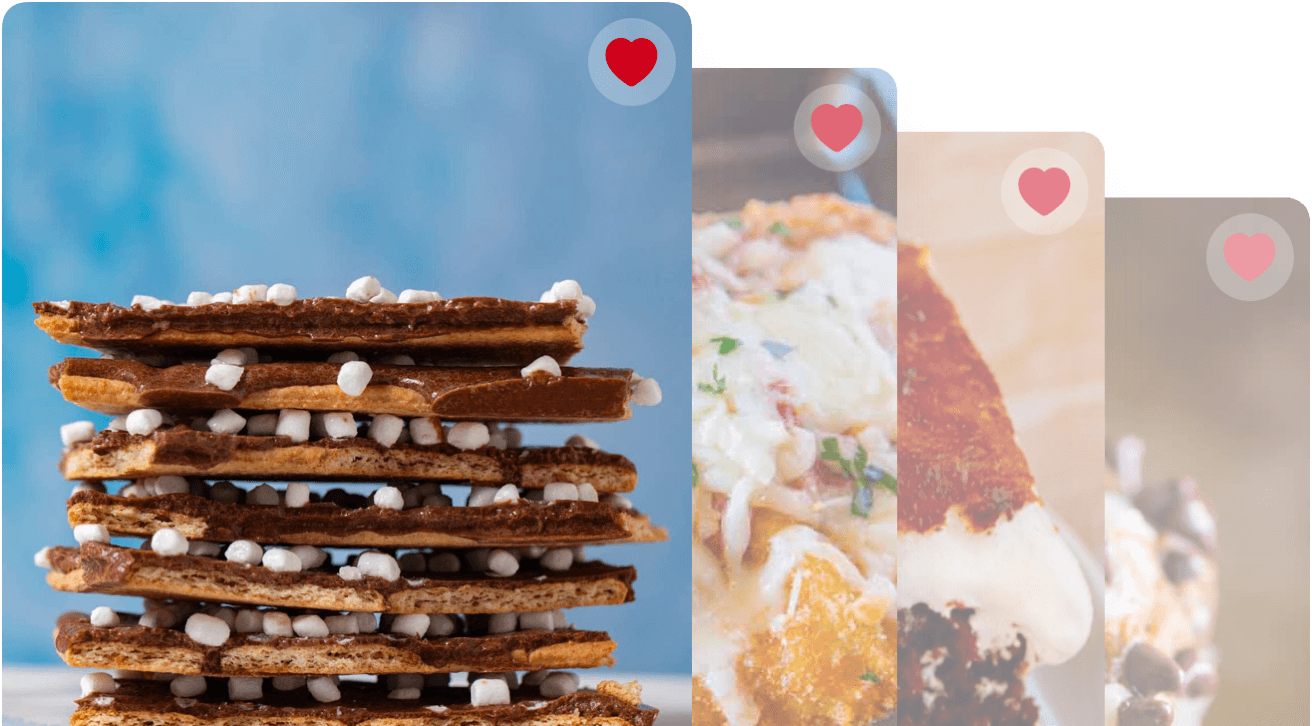 Key Ingredients in Baked Rosemary Chicken
Chicken: We use bone-in, skin on chicken thighs to produce the most flavorful baked chicken. If you prefer to use other cuts like breasts or legs, we still suggest bone-in and skin on for this roasting method.
Rosemary: Fresh rosemary provides an herby, almost piny flavor that tastes excellent with chicken. If you don't have fresh herbs, you can substitute 1 tablespoon of fresh chopped herbs for 1 teaspoon dried herbs.
Garlic: Garlic adds a ton of aromatic flavor that enhances the seasonings in this Baked Rosemary Chicken Recipe.
Lemon: Always use fresh squeezed lemon juice for cooking, rather than the bottled variety. The preservatives added to bottled juice will not tasted good in the baked chicken.
Oil: Vegetable oil is a mild tasting oil that can withstand roasting at high temperatures, and the flavor will not interfere with the food. For this recipe you could also use olive oil, sunflower oil, or grape seed oil if that's what you have on hand.
Air Fryer Rosemary Chicken
You can make crispy Rosemary Chicken even faster in your air fryer! Preheat the air fryer to 380 degrees while you prep the chicken thighs, then roast skin side down for 10 minutes. Flip and roast for an additional 10 minutes and check for doneness and desired crispiness.
Can Baked Rosemary Chicken be Made Ahead?
To make this Baked Chicken recipe even easier for a busy weeknight, you can prep the chicken in your baking dish in advance and pop it into the oven 30 minutes before you are ready to eat. Just be sure to remove the baking dish from the refrigerator 15-20 minutes prior to baking so the dish does not crack, or use a durable metal sheet pan instead. You can also fully cook the chicken up to 3 days in advance to enjoy for lunches with salads, shredded into soups or diced into a chicken salad sandwich.
Variations on Baked Rosemary Chicken
Seasoning: Add a sprinkling of paprika to the chicken to add a slightly smokey flavor that also helps the skin brown beautifully. Dust the top with red pepper flakes when you serve up the chicken to add a little crunch and spice.
Lemon: Squeeze fresh lemon juice onto the chicken right when it comes out of the oven. Lemon rosemary chicken is zesty and delicious, and you don't have to do very much to change the flavor. You can also sprinkle some of the zested lemon peel on your finished chicken for extra garnish and flavor.
Italian Seasoning: If you add a dash of Italian seasoning into your spice blend, you can make an entirely new-tasting dinner to enjoy. This works great, especially if you love the original recipe but want something a little different.
Poultry Herbs: Some grocery produce aisles have a blend of fresh herbs such as sage, marjoram, thyme and rosemary sold in bundles perfect for using on chicken. Chop a combination of these herbs for even more fresh flavor.
Southern-style: Rub your chicken with cayenne pepper, garlic salt, ground black pepper, chili powder, celery salt and ground mustard to make chicken that tastes like it came right from the American South.
Parmesan: Add 2 tablespoons grated Parmesan cheese to the spice mixture to give the Baked Rosemary Chicken a delicious cheesy coating.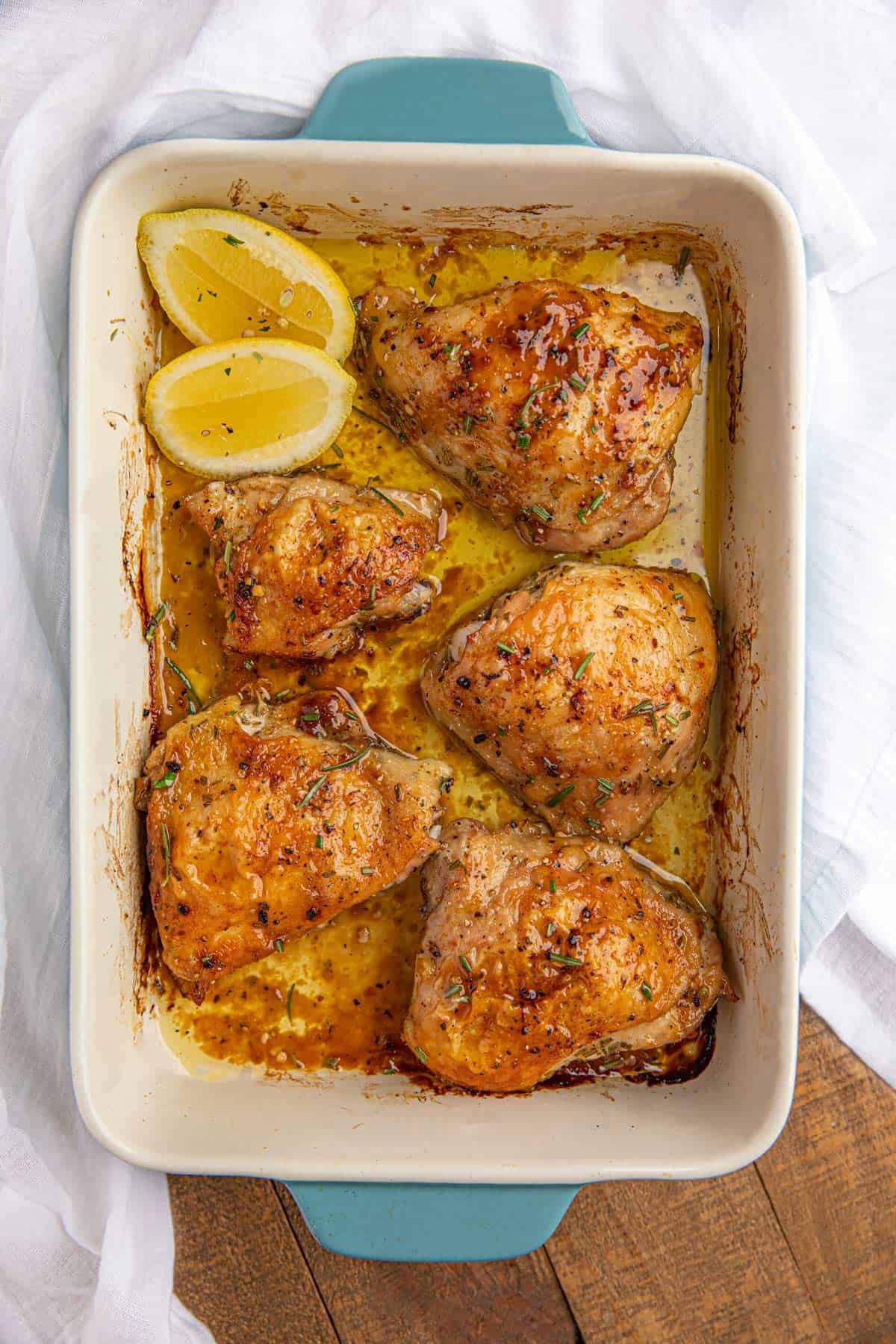 Ideas for Different Cuts of Chicken
Breasts: You can cut them into tenders or nuggets, flatten them with a meat hammer, put them in soup, bake them, roast them or fry them. There isn't a whole lot that you can't cook with chicken breasts, since they are low in fat and tender as well.
Chicken Thighs: Thighs are a bone-in, dark meat cut that have more flavor and are great for roasting. You can also remove the bone and use thighs in casserole and soup recipes if you want a bit of extra flavor.
Wings and Drumsticks: Fry them up to make your own KFC inspired dinner, or roast them in the oven with a thick glaze. These particular cuts of meat are great to eat by hand, and they tend to be pretty cheap at the supermarket.
Whole: A whole chicken is great for roasting Rotisserie Style, or for cutting up and making into a soup, stock and all.
Ground: replace ground beef with ground chicken if you're watching your cholesterol or trying to eat lighter recipes.
More Delicious and Easy Chicken Dinners
How to Store Baked Rosemary Chicken
Serve: You shouldn't leave cooked meat out for longer than 2 hours.
Store: Your leftovers will be good in the fridge for up to 3 days.
Freeze: In an airtight container, you can freeze baked chicken for up to 4 months.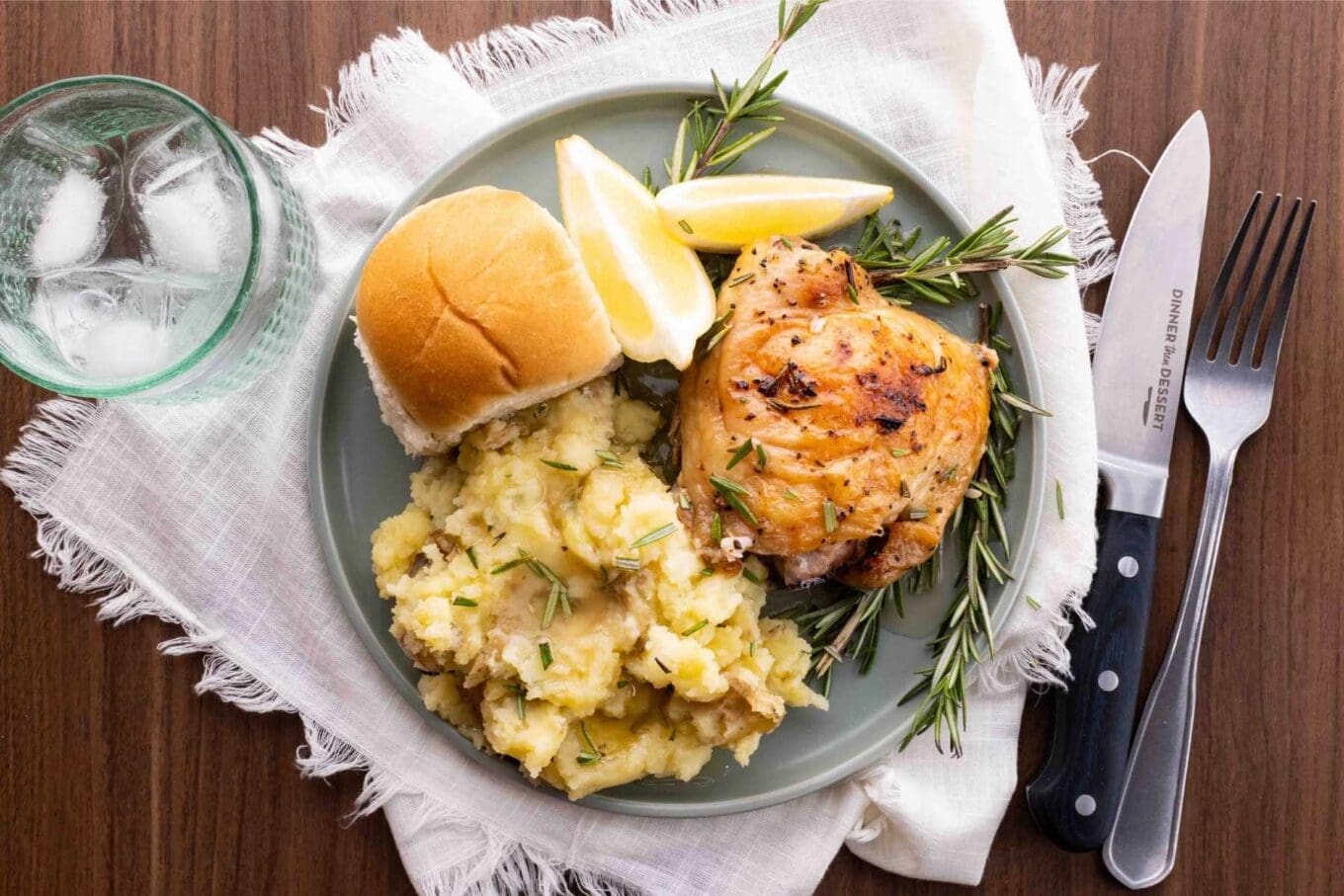 Ingredients
5

chicken thighs

, bone in and skin on

1

tablespoon

fresh rosemary

, chopped

1

teaspoon

kosher salt

1/2

teaspoon

coarse ground black pepper

3

cloves

garlic

, chopped

2

tablespoon

lemon juice

2

tablespoons

vegetable oil
Instructions
Preheat the oven to 375 degrees.

Mix all the ingredients together and place chicken, skin side up in a 9×13 baking pan.

Roast for 30-35 minutes or until golden brown.
Nutrition
Calories:
186
kcal
|
Carbohydrates:
1
g
|
Protein:
22
g
|
Fat:
10
g
|
Saturated Fat:
6
g
|
Cholesterol:
107
mg
|
Sodium:
566
mg
|
Potassium:
284
mg
|
Fiber:
1
g
|
Sugar:
1
g
|
Vitamin A:
40
IU
|
Vitamin C:
0.6
mg
|
Calcium:
13
mg
|
Iron:
0.9
mg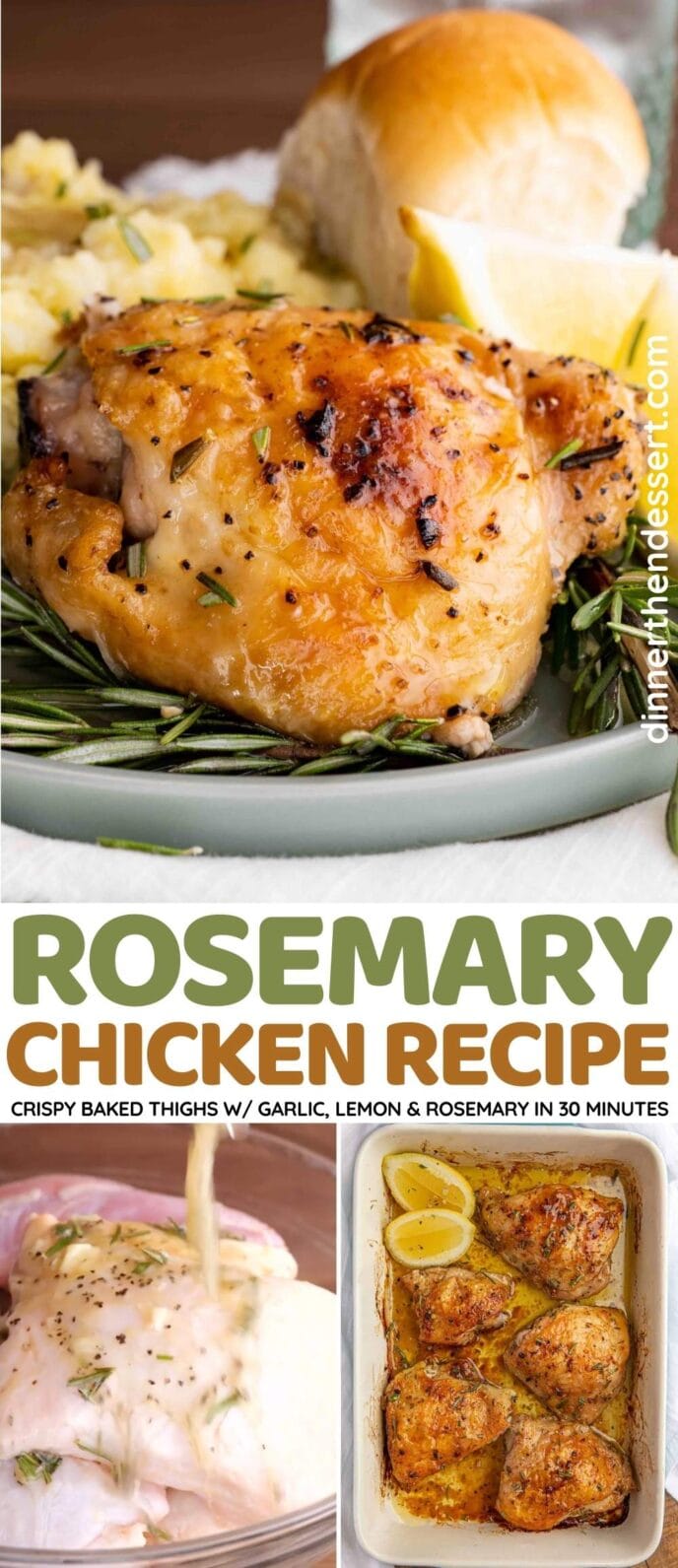 Photos used in a previous version of this post.