Chicken Parmesan is a classic Italian favorite, breaded and baked with an easy marinara sauce, Parmesan and mozzarella in just 30 minutes!
Classic Italian Recipes are an easy and satisfying weeknight option and you'll love Ultimate Meat Lasagna made with Easy Marinara Sauce, Easy Carbonara Pasta and these Amazing Stuffed Shells (they're so quick you have to try them!).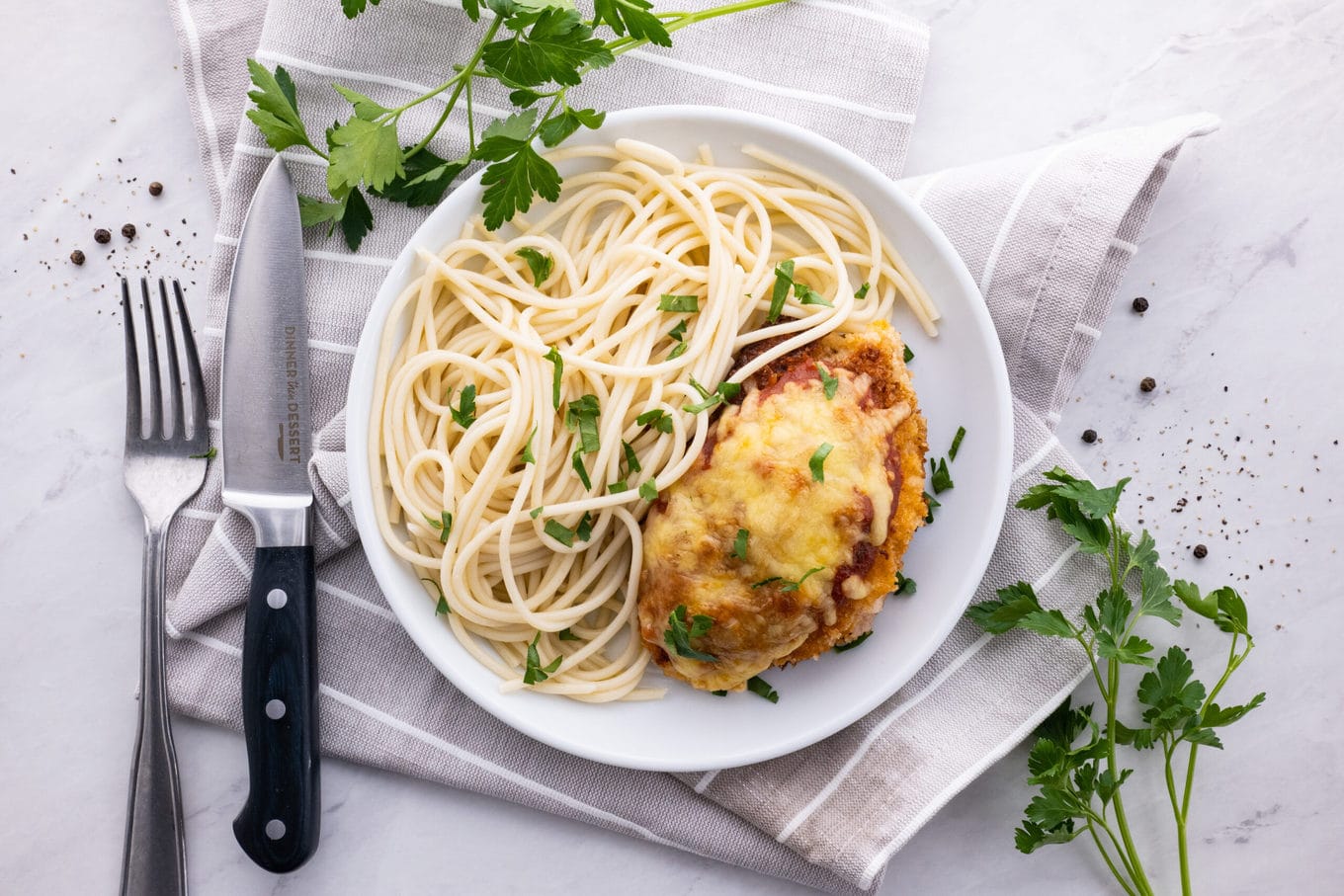 This is the best chicken EVER – crispy breaded chicken breasts topped with homemade marinara and melted mozzarella and provolone cheeses. Baked to a crispy perfection, this will easily become a family favorite!
While this dish is inspired by homemade classics from Italian kitchens, Chicken Parm as we know it was actually first made here in the USA by immigrants hailing from Italy! The idea for it came by combining the Italian dish made with baked eggplant recipe with their breaded beef recipe. And by the mid 20th century, this dish was being served all across America at homes and in restaurants. Today, depending on how fancy of an Italian restaurant you get Chicken Parmesan from, it may be called Chicken Parmesan or chicken parmigiana. They are the same dish.
While normally just garnished with parmesan cheese, this recipe takes it a step further and calls for parmesan cheese to be added to the breading for even more flavor. Serve it up with pasta, Garlic Bread and a green salad like our Copycat Olive Garden Salad for a classic Italian-American restaurant favorite!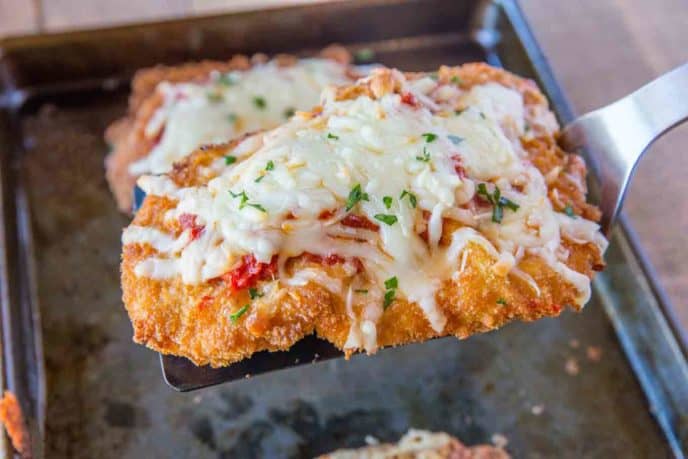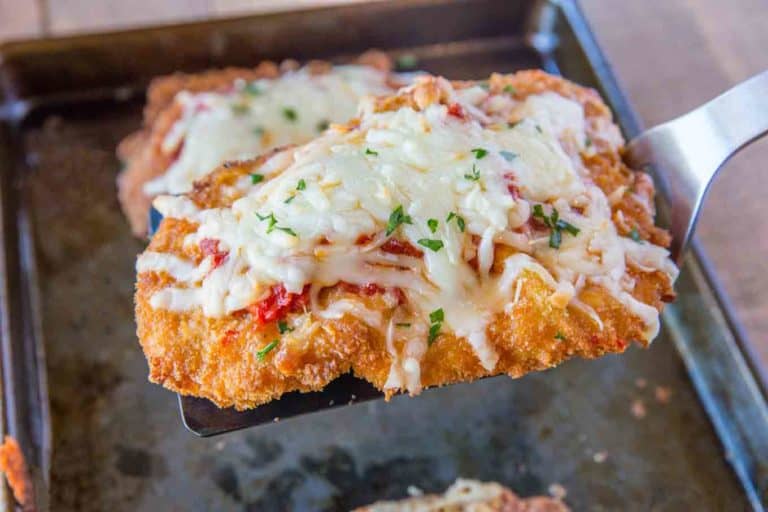 How to Make Chicken Parmesan
The most important part of the dish is the coating process. For this recipe, you'll set up a standard breading station with shallow dishes and mix the bread crumbs with grated parmesan cheese so you get extra parmesan flavor in the breading too.
Step One: Preheat oven and flatten the chicken with a meat mallet. If you don't have a meat mallet then you can use a rolling pin. Transfer chicken to the side and season chicken with salt and pepper.
Step Two: Bread the skinless chicken breasts in the bread crumbs, one piece of chicken at a time in the shallow bowls. Then sear in cast iron skillet on medium heat for a few minutes. The chicken will still be raw inside. You can add 4 or 5 cloves garlic to the frying pan to give it some extra flavor.
Step Three: Add the pieces of chicken to the baking dish sprayed with vegetable oil, top with fresh tomato sauce and freshly shredded cheese, and bake until ready. You can use a 9×13 baking dish. You can also bake fully then add cheese at the end keeping it in the oven until cheese is melted.
Frequently Asked Questions
Can you meal prep this Chicken Parmesan recipe?
This is a great recipe that will taste like your favorite restaurant, but you can even meal prep it making it all the way through the breading process then freezing the chicken breasts and baking them off at a later date.

Make sure to allow for extra baking time because frozen chicken takes a little longer to cook, and preheat the oven to 250º to allow for the breading to cook without burning.
How do you keep Chicken Parmesan from becoming soggy? 
Chicken Parmesan gets soggy from the marinara sauce. The sauce is meant for flavor but not to drown the chicken out. It also makes a spot on the chicken where the breading softens. The remaining part of the chicken not covered in sauce is able to remain crispy. In this recipe we bake the marinara sauce with the chicken which helps the juices evaporate. Some people like to serve the chicken on a layer of marinara, but that take away from the crispiness. This isn't a bad thing, just preference.

But if you're really going for the crispy breading, you can cook the chicken separately, then serve it with a heavy tablespoon of sauce on top, a sprinkle of shredded parmesan cheese, and a side dish of more sauce for those who are interested. 
 
What is Parmesan Cheese? 
Parmesan cheese is a hard cheese that is made from cow's milk, and then is aged for an entire year. Actual Parmesan cheese is this 12-month old hard cheese made in the region in north Italy from where it was first produced. If you're looking for the actual parmesan, look for one that is imported and labeled Parmigiano Reggiano. 

You can easily find an American equivalent parmesan cheese in your local grocery store that will taste incredibly similar to the Italian original. But for best taste and authentic feel, we recommend shredding your own block of parmesan cheese at home since the powdered kind in green bottles contains extra ingredients that will dilute quality and ultimately won't delight your family, or special guests. 

Create a free account to

Save Recipes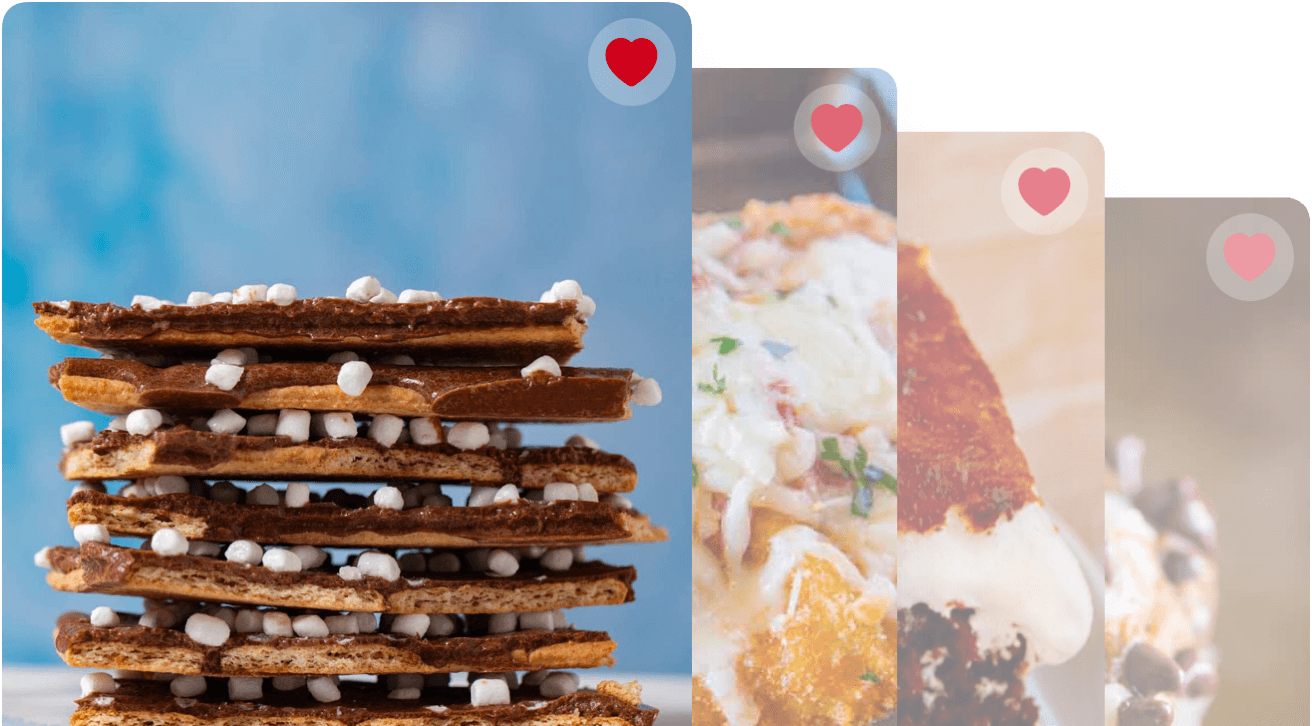 Key Ingredients for Chicken Parmesan
Chicken: Look for boneless chicken breast cutlets. You can use thawed or fresh from the butcher's table. If there is skin, try to remove the skin before breading. We'll be using vegetable oil to keep each piece of chicken from sticking. Just don't forget to season with salt!
Breadcrumbs: We are using panko breadcrumb mixture in this recipe. You can make your own seasoned breadcrumbs by adding a teaspoon of Italian herb. You'll mix them in a shallow bowl for a personalized breading mixture!
Cheese: Use freshly grated parmesan cheese and fresh mozzarella cheeses for best taste, highest quality, the the perfect cheesy goodness.
Sauce: For an easy meal you can use a pre-made marinara sauce. You can also make your own marinara sauce. Pizza sauce or spaghetti sauce are all similar enough to be able to use as well in a pinch. Give it a bit of a kick with a teaspoon of red pepper flakes.
Alternative Cooking Methods for Chicken Parmesan
Baked vs. Stovetop: This recipe is cooked partially in the skillet before being cooked the rest of the way in the oven to help the breadcrumbs get crispy and browned while the chicken cutlets stay moist. You can of course finish cooking the chicken through in the skillet then top with the sauce and cheese, cover with a lid and allow the cheese to melt quickly and serve immediately, but the time in the oven allows you time to cook pasta and it also gives the sauce a bit of time to dry out in the oven so it isn't as soggy.
Air Fryer: Heat the air fryer to 360º. Bread the chicken per this recipe. Line the air fryer with tin foil and cook the chicken on the tin foil for 12 minutes. Turn over when halfway done to allow for full cooking on both sides. Serve as you normally would topped with marinara sauce, parmesan, and maybe even a dusting of dried basil for an extra burst of flavor.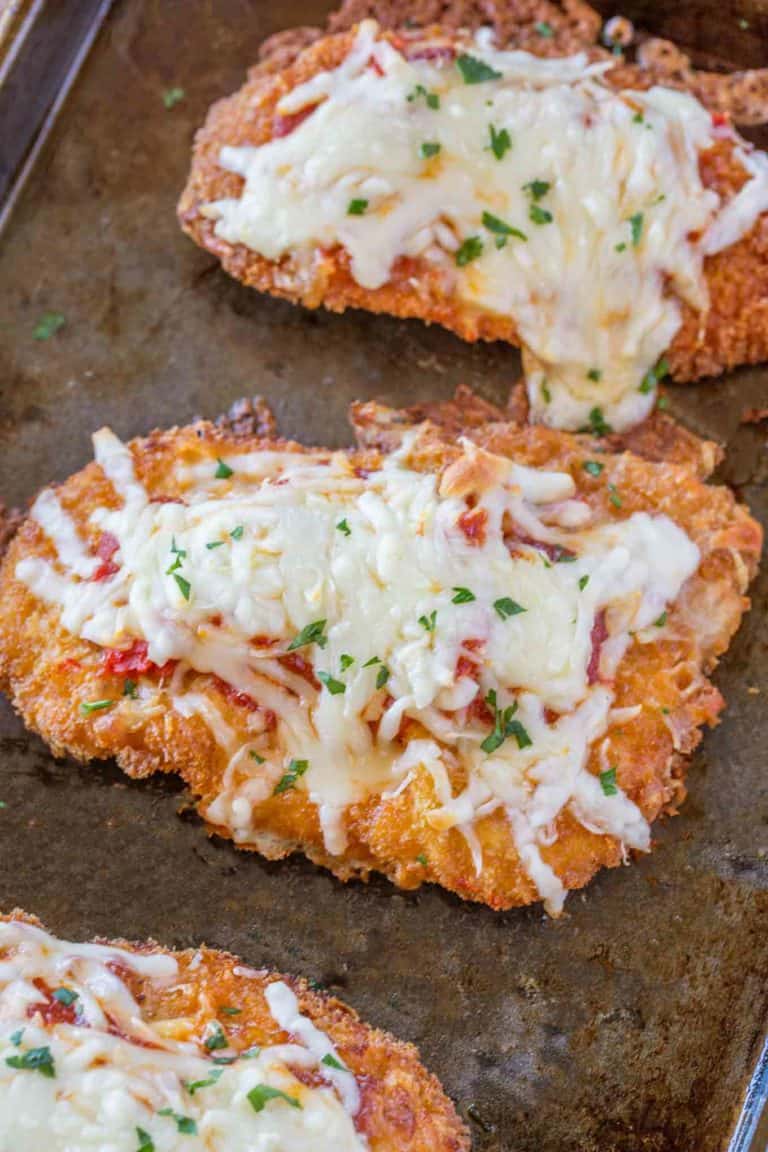 Variations on Chicken Parmesan
Kid-Friendly Version: One of the first departures kids can make from chicken nuggets is to this Chicken Parmesan. You can sell it as a chicken nugget pizza (total parent win, bribe your kids into trying something new by pretending its a mashup of two of their favorite foods). In fact you can make this Chicken Parmesan recipe topped with pepperoni or even start making the marinara with the kids as a fun project to do together.
One-Pot Casserole: If you're looking for a more outside the box Chicken Parm option there's also this favorite dark horse recipe: Noodle free Chicken Parmesan Casserole with a super unexpected crispy topping you can serve up with fettuccine or tortellini. Your guests will all love it and won't believe the topping!
Sandwich Style: Or you can make a super fun cheeseburger take on Chicken Parm and make Chicken Parmesan Sloppy Joes! They're so easy and delicious to make you'll make them all the time.
How to Serve Chicken Parmesan
Sides: You can serve chicken parmesan with spaghetti in its classic presentation, steamed vegetables, or spiraled zucchini noodles for a lighter option.
Sandwich: Chicken parmesan is also regularly served on hoagie rolls as a hot sub sandwich.
Toppings: Fresh parsley, fresh basil and freshly shaved parmesan or pecorino cheese are some go-to topping options.
More Easy Chicken Dinners
How to Store Chicken Parmesan
Serve: Serve this dish hot. Keep it covered when not being served. It will need refrigerated after 2 hours at a maximum.
Store: You can store this in the fridge for 3-4 days. Keep it in an airtight container in the refrigerator and reheat until the internal temperature reaches 165º.
Freeze: Chicken parmesan will freeze nicely in an airtight container for up to three months. Reheat at a lower temperature, 250º, to allow the inner chicken to reheat without burning the crust.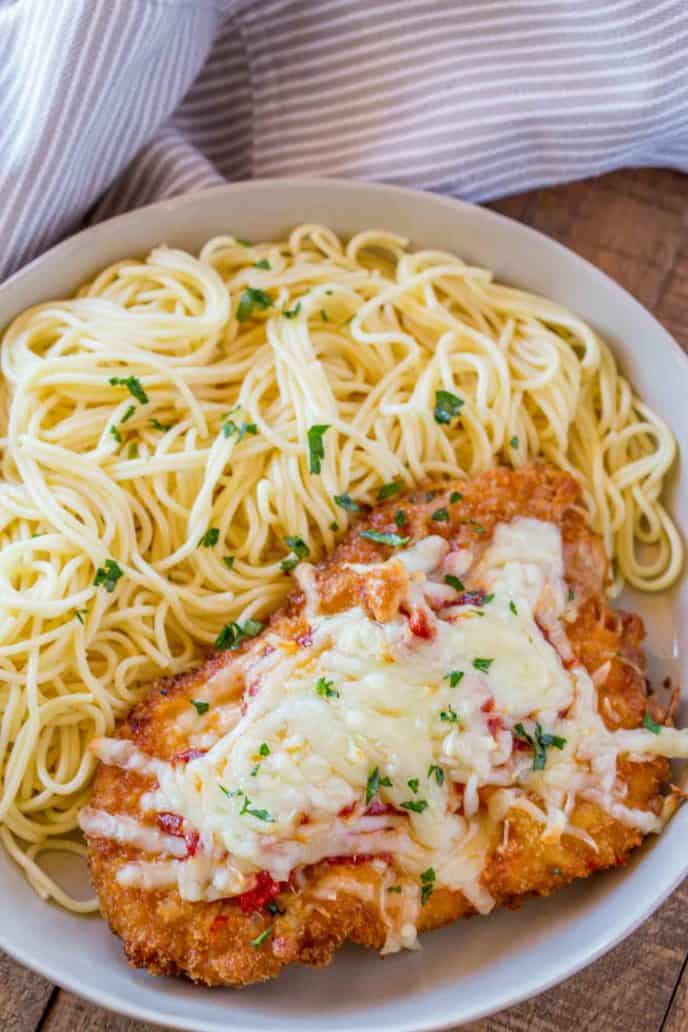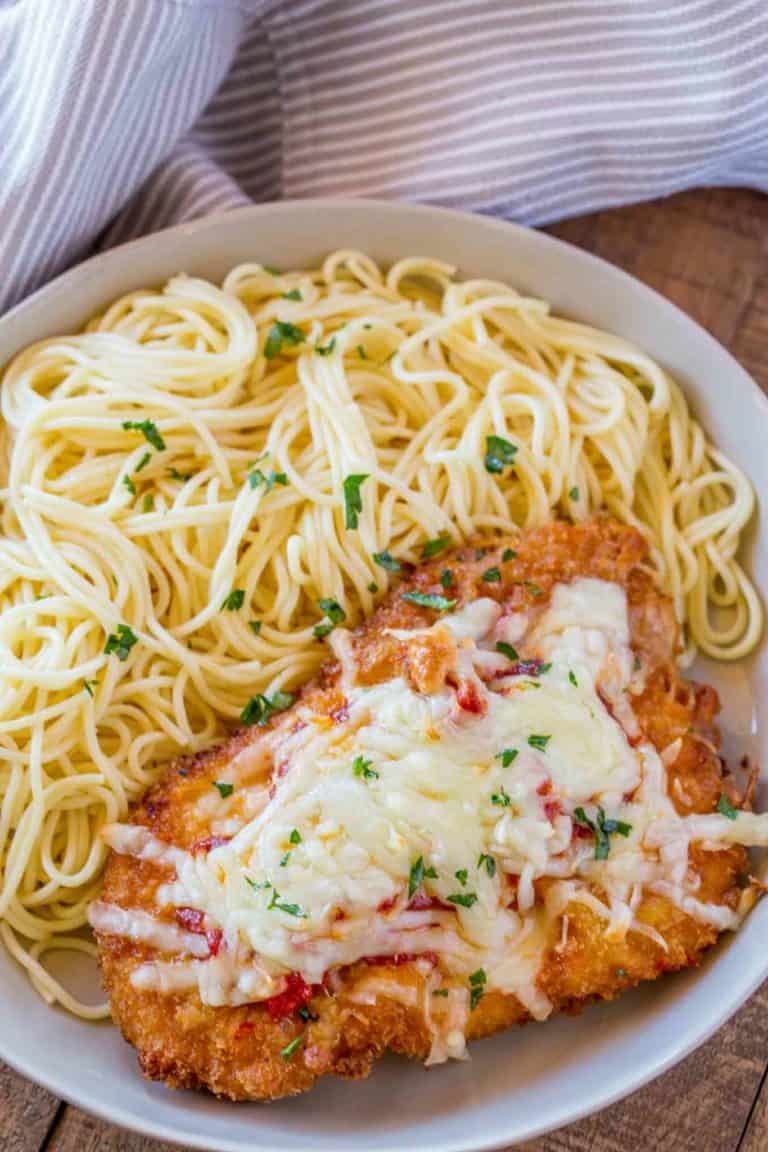 Ingredients
4

chicken breasts

, boneless and skinless

1/2

teaspoon

Kosher salt

1/4

teaspoon

coarse ground black pepper

4

tablespoons

flour

2

large

eggs

1

cup

panko bread crumbs

1/2

cup

Parmesan cheese

, grated

2

tablespoons

extra-virgin olive oil

2

tablespoons

butter

1

cup

marinara sauce

1

cup

mozzarella cheese

, shredded
Instructions
Preheat an oven to 375 degrees and spray the baking sheet with cooking spray.

Put the chicken breasts between two pieces of plastic wrap or parchment paper and using a rolling pin or flat kitchen mallet flatten it to ½ inch thickness then season them with salt and pepper.

In three shallow bowls add the flour to one, eggs to one (and beat until combined) and the panko and Parmesan cheese to the other (and mix).

Dredge the chicken in the flour, then the egg, and finally press it into the panko mixture.

Add the olive oil and butter to a cast iron skillet on medium high heat and cook the chicken for

3-4 minutes

on each side until golden brown (it'll be raw inside still).

Add the chicken to a baking sheet, add the marinara sauce on top, and finally top with the shredded mozzarella then cook for

18-20 minutes

.
Equipment
1 Baking dish

, 9 x 13 inches
Nutrition
Serving:
1
g
|
Calories:
477
kcal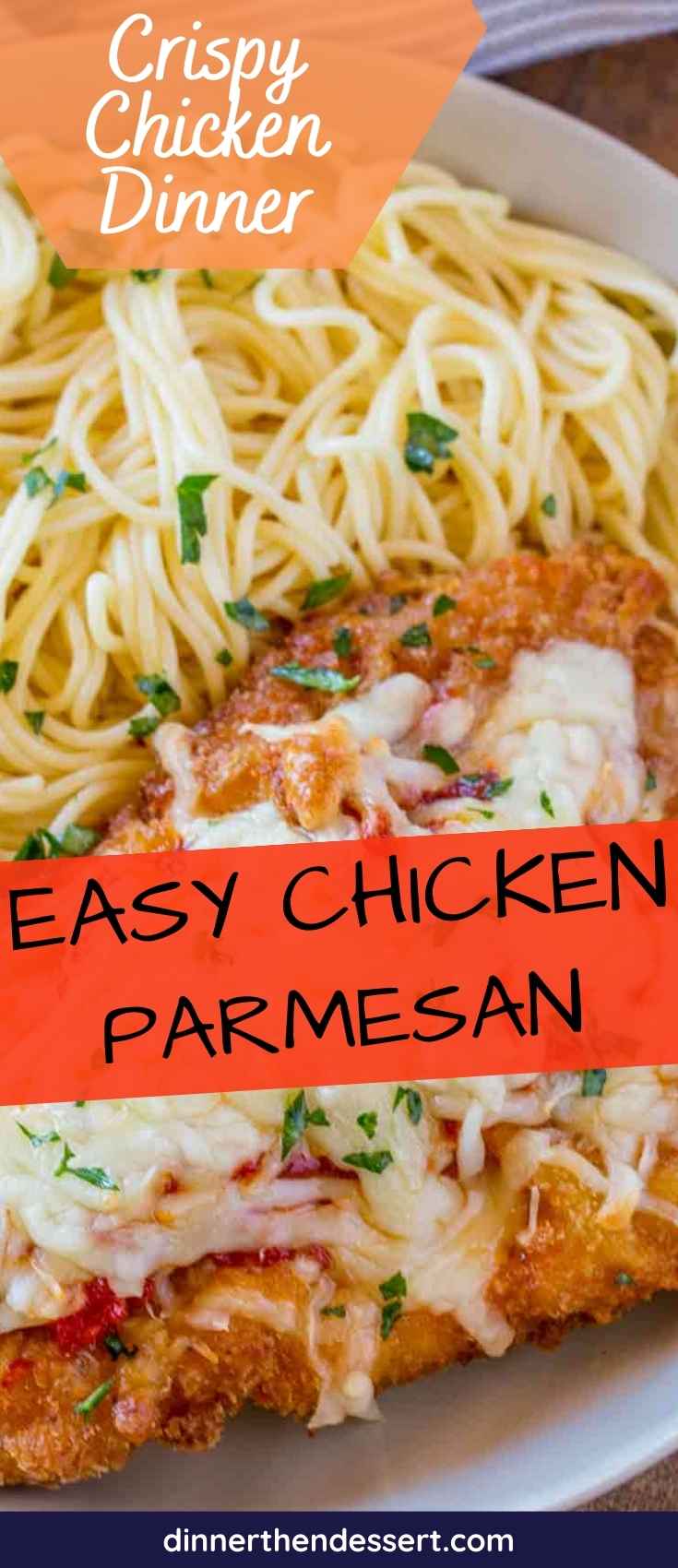 Photos used in a previous version of this post.