Easy Chicken Pad Thai with rice noodles, Scallions and peanuts in less than 30 minutes that tastes just like your favorite thai takeout restaurant.
We are all about Asian noodles including Easy Pad Thai, Pad See Ew, Chicken Lo Mein and Classic Chinese Chow Mein. I'd pretend I'm healthy and don't eat a lot of carbs but I think this site shows my noodle love runs pretty deep.
Chicken Pad Thai
Chicken Pad Thai was the first Pad Thai we ever made at home. Making the leap to noodles with fish sauce was big enough for our household, so we kept it as kid friendly as we could by swapping out the shrimp and tofu for easy (super thinly) sliced chicken breast meat.
We try to keep the chicken pad thai healthy, using chicken breast meat, and we often add in zucchini noodles and carrot noodles like in one of our favorite recipes, Healthy Thai Peanut Chicken Zucchini Noodles.
The key in this recipe, look at the photos closely is how thinly the chicken is cut. It isn't about cutting the chicken into fajita sized strips, this is about cutting them to the shape of a very thin matchbook. This makes chicken pieces that are so tender that they are so easy to chew through. The reason the chicken is so tender is because you are cutting the chicken against the grain. This means instead of chicken you're use to pulling apart in recipes like BBQ Pulled Chicken, this cuts across those muscle fibers so it's like a group of super thin pieces of chicken instead of a long piece of a single cut of meat.
It also cooks through in no time. And with a quick stir fry like this, chicken cooking in no time is super helpful.
How to cut chicken thinly:
One of the traditional takeout things about chicken stir fries is how they have chicken that looks like it was almost shaved, similar to Mongolian Beef in restaurants. The trick to this is to freeze the chicken for about one hour. Once you do you can very easily slice the chicken very thinly against the grain. Since the slices are so thin you'll find that even though it was in the freezer, it will come back to a good cooking temperature very quickly.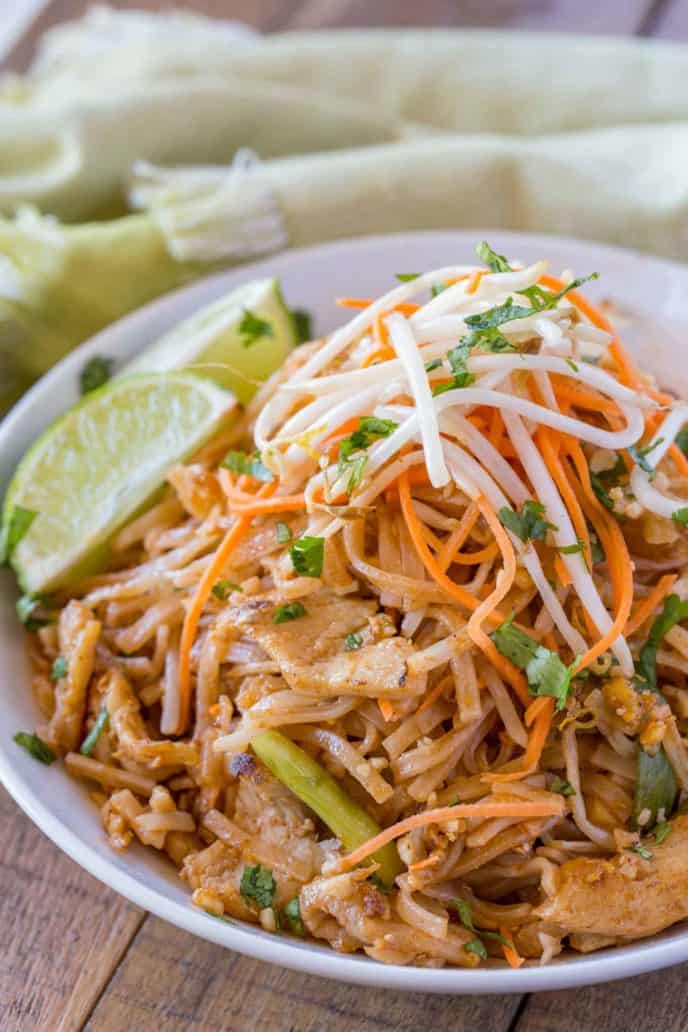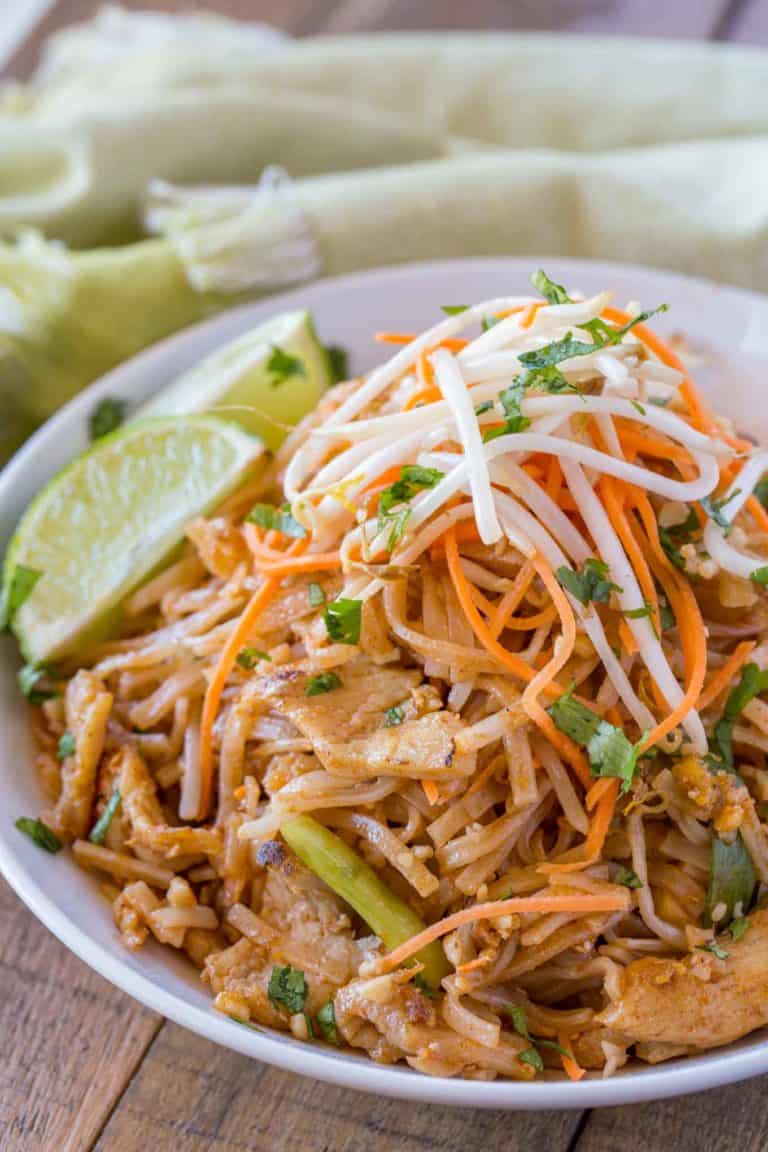 The only way this could be an even more authentic chicken pad thai recipe would be to add a couple tablespoons of tamarind paste. You're totally welcome to add it but in a blind taste test this version won over that version 5-0.
If you want to cut back on the chicken pad thai calories, you can cut back on the oil to two tablespoons instead of a ¼ cup and cut back on the sugar to two tablespoons, but the flavors won't be as rich and deep.
We have also played around with this recipe coming up with alternative versions and flavors. We often make a Chicken Pad Thai with Peanut Sauce instead of the classic version.
What do you serve with Pad Thai? We love to serve Crab Rangoon or Papaya Salad. Other great appetizers include dim sum or egg rolls.
Chicken Pad Thai with Peanut Sauce
Following all the same instructions, swap out 1 tablespoon of the fish sauce for 2 tablespoons of peanut butter and one tablespoon of soy sauce. The flavors are much more muted and kid friendly, be sure to top with lots of crushed peanuts as well.
P.F. Chang's Chicken Pad Thai is a recent recipe addition to the menu. I ran a few tests based on a corporate training video that was posted online which gives away the basic recipe and cooking methods, but with all the ketchup it was too inauthentic for my tastes. If you would like me to make a copycat of the recipe I'd be happy to give it a try, but I'm pretty confident if you all love authentic pad thai, you will love this recipe.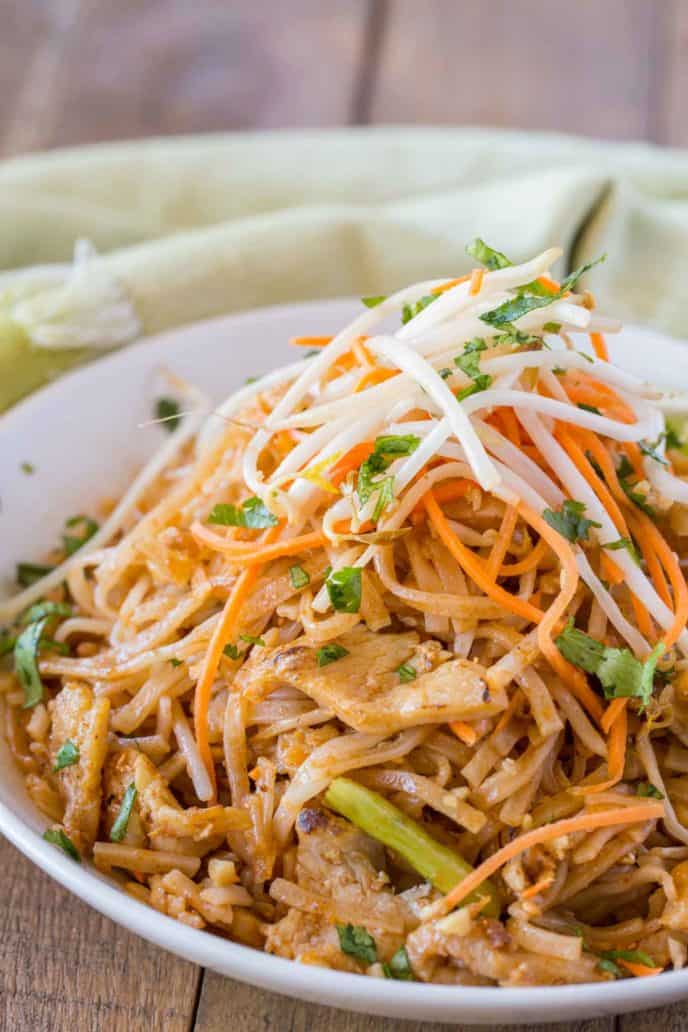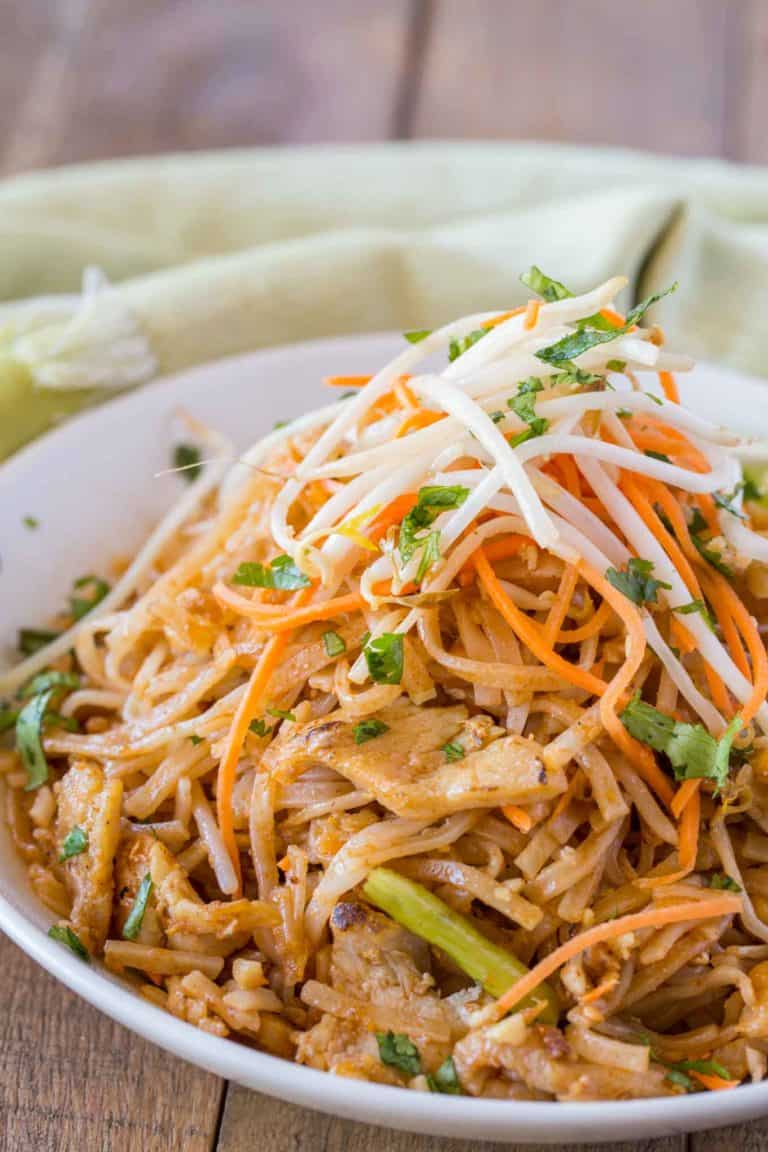 Ingredients
14

ounces

rice noodles

1/4

cup

canola oil

1

pound

chicken breasts

sliced very thinly

2

tablespoons

soy sauce

3

eggs

2

tablespoons

rice vinegar

1/4

cup

fish sauce

1/3

cup

white sugar

1/2

teaspoon

crushed red pepper

1

cup

bean sprouts

3

carrots

julienned

1/4

cup

crushed peanuts

2

green onions

chopped

1

lime

cut into wedges

cilantro

for garnish (optional)
Instructions
Add the rice noodles to boiling water for

1 minute

, then turn off the heat and let sit for

five minutes

.

When softened rinse with cold water and set aside.

Toss the sliced chicken with the soy sauce.

Add canola oil to a wok on high heat and add the chicken without crowding the pan.

Cook for

1-2 minutes

on each side, then remove the chicken from the pan (leave the oil in the pan).

Add the eggs into hot oil, and chop with a spatula into little pieces as your cooking them.

Add softened noodles, rice vinegar, fish sauce, sugar and red pepper.

Serve topped with bean sprouts, carrots, green onions and lime wedges.
Nutrition
Serving:
1
g
|
Calories:
556
kcal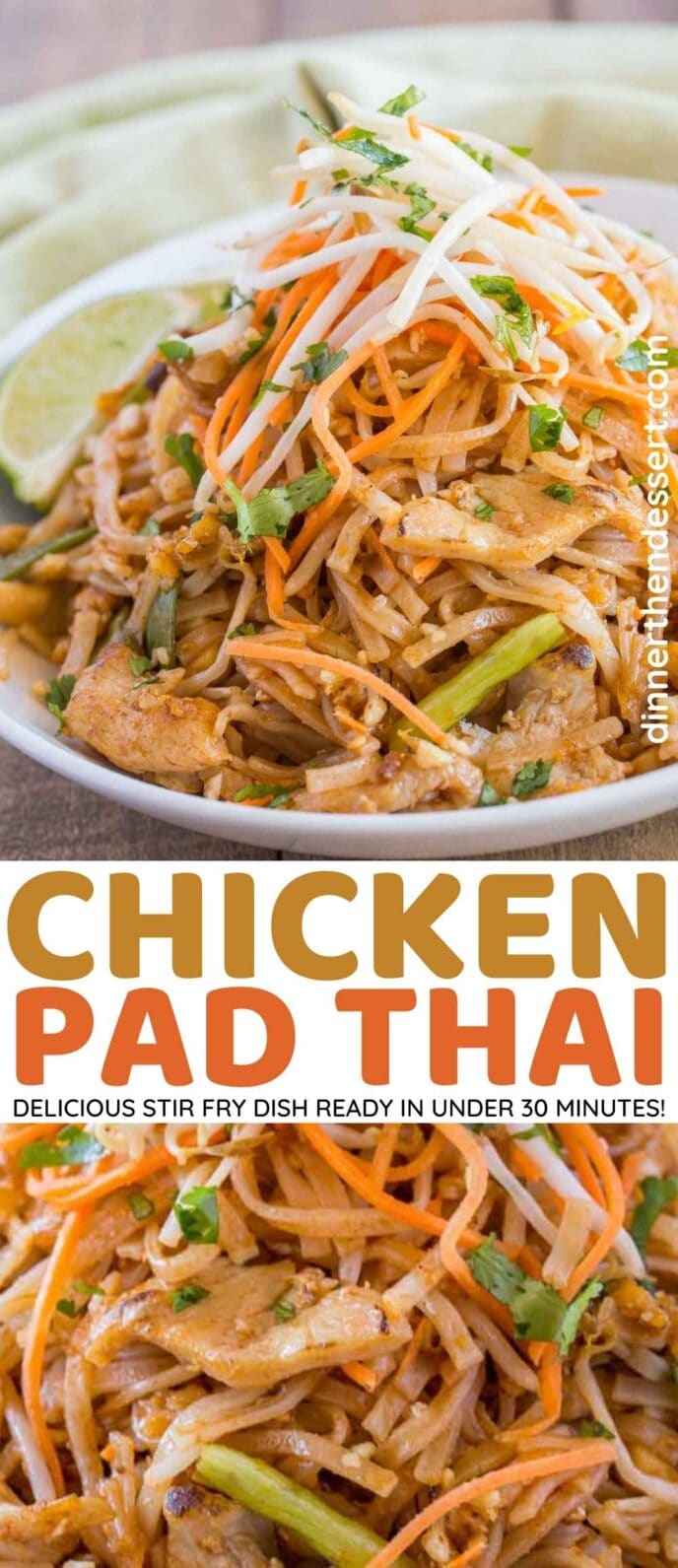 Photos used in a previous version of this post: