Chicken Pad Thai has rice noodles, scallions, peanuts, egg and crunchy veggies stir fried with a sweet, savory sauce in less than 30 minutes.
Thai Cuisine is widely known for its exciting balance of different flavors: sweet, sour, salty, and spicy. Its dishes are an elegant fusion of tastes that transport you straight to the bustling streets of Thailand. Check out the delightful variety of Thai recipes we have like the Pad See Ew, the tasty Thai Peanut Chicken Wraps, and the fiery Thai Green Curry.

Chicken Pad Thai is a staple of Thai cuisine, adored for its tangy, savory flavors and the satisfying combination of textures from the tender chicken, soft noodles, crunchy peanuts, and fresh, crisp vegetables. It's a one-pan wonder that brings the tastes of Thailand right to your home kitchen.
One of the key elements of Chicken Pad Thai is the harmony of flavors in each bite. The umami-rich fish sauce, sweet sugar, tangy lime, and the heat from the crushed red pepper create a balanced and dynamic flavor profile that makes this dish truly addictive. This delightful contrast extends to its textures as well: the soft chewiness of the noodles, the succulent chicken slices, and the crunch from the peanuts and fresh vegetables provide a varied mouthfeel that makes every forkful a joy to eat.
Chicken Pad Thai uses ingredients that are quintessentially Thai. The fish sauce, a staple in Thai food, adds a depth of flavor that is both salty and savory. The rice noodles are light and absorb the flavors of the sauce beautifully. The bean sprouts and lime provide a fresh counterbalance to the rich, flavorful sauce. You can find these ingredients at your local grocery store or at an Asian market.
Chicken Pad Thai is a quick and easy dish to prepare at home. It's perfect for those busy weeknights when you need to whip up something delicious and satisfying in a hurry. You can also adjust the heat level to your liking, making it a crowd-pleaser for all palates. If you enjoy this, you might also want to try Thai Peanut Shrimp as an exciting alternative.
How to Make Chicken Pad Thai
Whipping up Chicken Pad Thai is a breeze. With readily available ingredients and a few simple steps, you'll have a flavorful and satisfying meal in no time. Check it out!
Step One: Start by preparing the rice noodles. Follow the package instructions. Add them to boiling water for just a minute, then turn off the heat and let them sit for five minutes. Once they've softened, rinse them under cold water and set aside.
Step Two: Marinate the thinly sliced chicken with soy sauce.
Step Three: Heat vegetable oil in a wok or large frying pan over medium-high heat. Cook the chicken slices, taking care not to overcrowd the pan.
Step Four: Crack the eggs into the hot oil and quickly chop them up with a spatula as they cook.
Step Five: To the pan, add the softened noodles and sauce ingredients. Stir until the noodles are well-coated in the sauce and have absorbed its flavors.
Step Six: Add the cooked chicken pieces back into the pan and mix everything together.
Step Seven: Serve your Chicken Pad Thai topped with bean sprouts, julienned carrots, green onions, and a generous sprinkle of crushed peanuts. Don't forget to serve with lime wedges on the side for that final tangy punch.
Frequently Asked Questions
What kind of noodles should I use for Chicken Pad Thai?
Traditionally, Pad Thai is made with rice noodles, which have a distinct chewiness that absorbs the flavors of the sauce quite well. Look for thin, flat rice noodles for this recipe.
Can I use a different type of protein?
Absolutely! While this recipe uses chicken, Pad Thai is highly adaptable. You can use shrimp, tofu, or even a combination of proteins if you prefer.
How spicy is this dish?
The spice level of Chicken Pad Thai is adjustable. If you like it spicy, feel free to add more crushed red pepper. On the other hand, if you prefer a milder dish, you can reduce the amount or leave it out altogether.
What if I can't find fish sauce?
Fish sauce is a key ingredient in Thai cuisine, lending a unique umami flavor to dishes. If you can't find it, a mixture of a tablespoon of soy sauce and a tablespoon of Worcestershire sauce can serve as a substitute.
Can I add more vegetables?
Yes, you can customize your Pad Thai with your choice of vegetables. Bell pepper, snow peas, or bok choy are great additions.
What do you serve with Pad Thai?
We love to serve Crab Rangoon or Papaya Salad. Other great appetizers include dim sum or egg rolls. 
How do you cut chicken thinly?
One of the traditional takeout things about chicken stir fries is how they have chicken that looks like it was almost shaved, similar to Mongolian Beef in restaurants. The trick to this is to freeze the chicken for about one hour. Once you do you can very easily slice the chicken very thinly against the grain. Since the slices are so thin you'll find that even though it was in the freezer, it will come back to a good cooking temperature very quickly.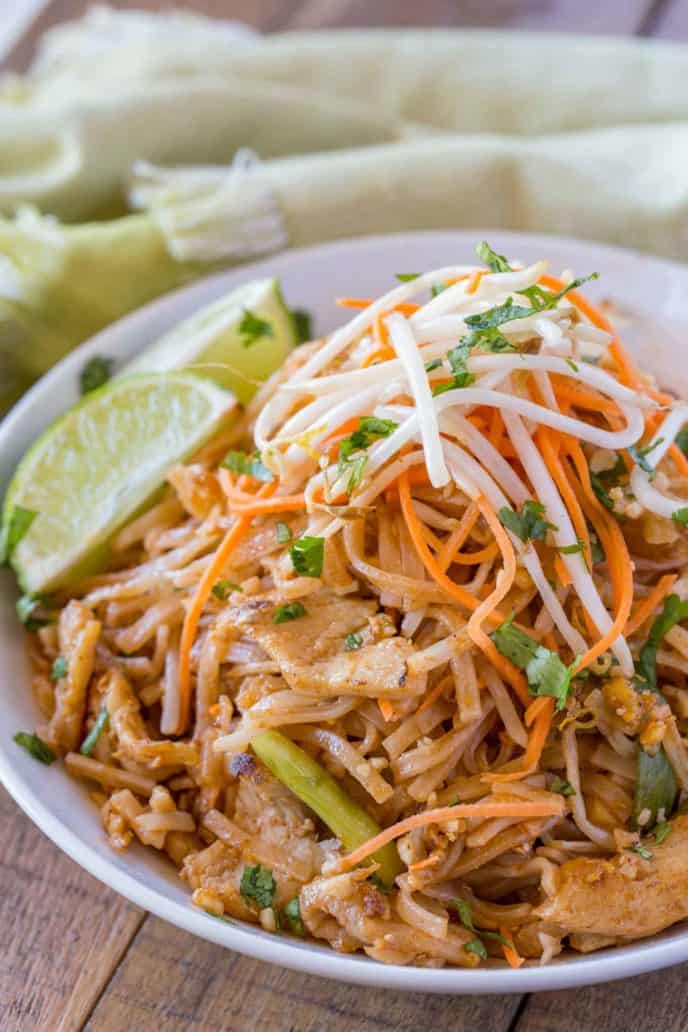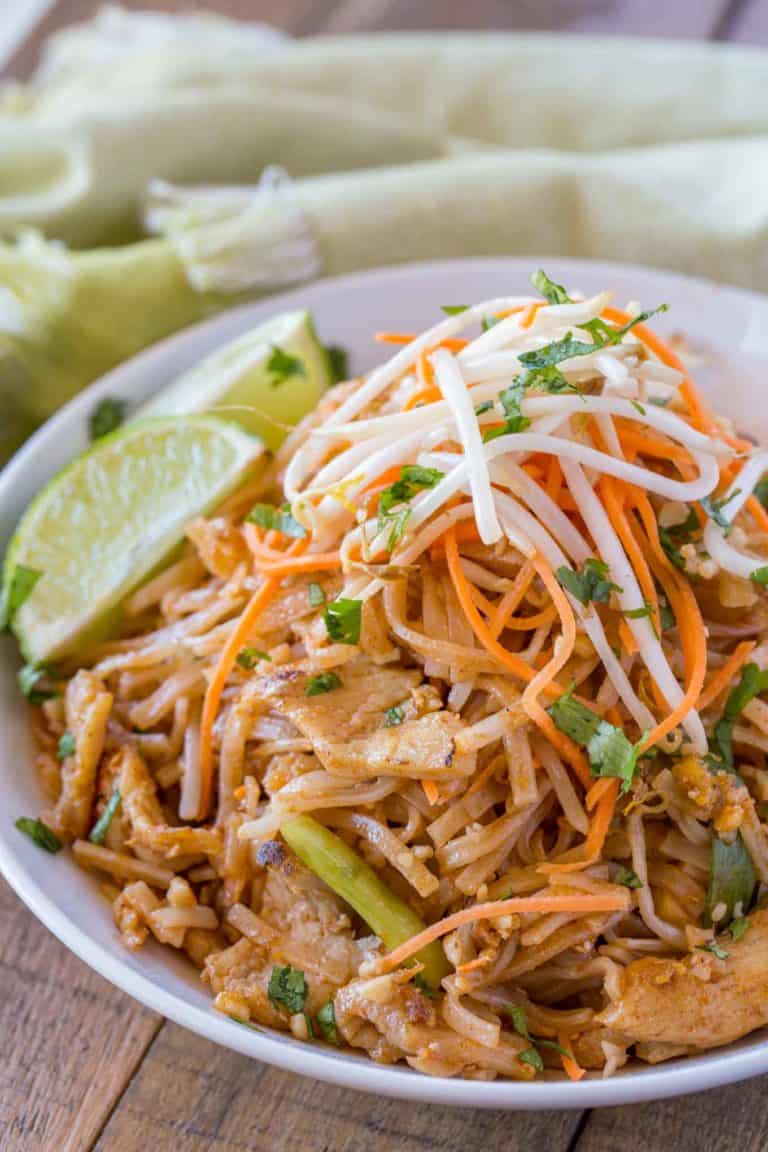 Create a free account to

Save Recipes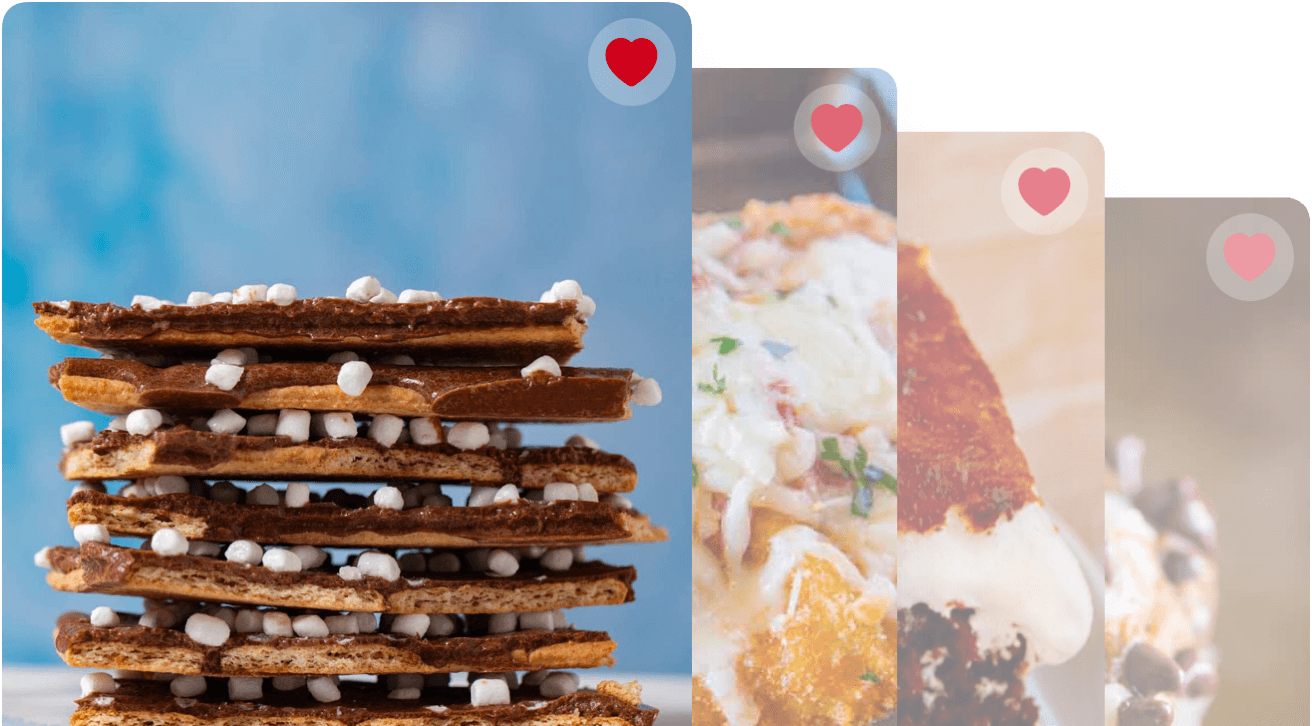 Key Ingredients in Chicken Pad Thai
Chicken Pad Thai is known for its combination of simple ingredients that result in a complex and satisfying dish. Let's delve into the key ingredients of this recipe:
Rice Noodles: These are the backbone of the dish. Thai noodles (rice noodles) have a unique texture and a neutral taste, making them perfect for absorbing the flavors of the sauce.
Chicken: Thinly sliced skinless chicken breast is used for its lean texture and mild flavor, which pairs well with the rich, tangy, and savory sauce.
Fish Sauce: This imparts an umami depth to the dish. It's a staple ingredient in Thai cuisine that offers a unique salty flavor.
Soy Sauce: Used to marinate the chicken, it adds a salty, savory element that balances the other flavors.
Crushed Red Pepper: This brings a kick of heat to the dish, adding a spicy contrast to the sweetness of the sugar and the tanginess of the lime.
Bean Sprouts, Carrots, and Green Onions: These fresh vegetables add a delightful crunch and a fresh contrast to the rich flavors of the dish.
Can Chicken Pad Thai Be Made Ahead of Time?
Chicken Pad Thai is a dish that's best enjoyed fresh, as the textures and flavors are at their prime right after cooking. However, you can certainly prepare some elements of this dish in advance.
The chicken can be sliced and marinated in soy sauce the night before. The sauce can also be prepared ahead of time. This way, when you're ready to cook, you'll have everything ready to toss into the pan.
In terms of storage, leftover Chicken Pad Thai can be refrigerated in a tightly sealed container for up to three days. When reheating, it's best to do so on the stove over medium heat to revive the flavors and textures. Before serving, you might want to freshen it up with a squeeze of lime, a sprinkle of crushed peanuts, and some fresh bean sprouts or cilantro.
Substitutions in Chicken Pad Thai
Everyone's palate is unique, and it's not uncommon to want to tweak recipes to your liking. Here are some substitutions that can cater to different dietary needs or preferences:
Chicken: If you don't eat meat, tofu is a great alternative. Its sponge-like texture absorbs the flavors of the sauce well, making it a fitting substitute.
Fish Sauce: Vegetarians or vegans can use a soy sauce and a splash of lime juice as a replacement for fish sauce.
Eggs: For a vegan option, scrambled tofu can be used in place of eggs.
Rice Noodles: If you're looking for a low-carb option, spiralized veggies like zucchini or carrots can replace the rice noodles. Here's our recipe for Healthy Thai Peanut Chicken Zucchini Noodles.
Sugar: You can use brown sugar instead of white if you prefer.
Variations on Chicken Pad Thai
Chicken Pad Thai is a versatile dish that lends itself well to variations. While the traditional recipe is wonderful on its own, you can also get creative and experiment with different flavors and textures.
Seafood Pad Thai: Replace the chicken with shrimp, squid, or mussels for a seafood version of this dish.
Vegetable Pad Thai: If you're a veggie lover, amp up the nutritional value by adding a variety of your favorite vegetables. Cook with 2 cloves garlic for even more flavor.
Spicy Pad Thai: If you like heat, add some chopped fresh chilies or extra crushed red pepper flakes.
Peanut Butter Pad Thai: For a richer, creamier sauce, stir a spoonful of peanut butter into the sauce.
Authentic Style: The only way this could be an even more authentic Chicken Pad Thai recipe would be to add a couple of tablespoons of Tamarind Paste to the sauce.
More Delcious Asian Dishes
How to Store Chicken Pad Thai
Serve: After cooking, Chicken Pad Thai can be left out at room temperature for up to two hours.
Store: Place any leftover Chicken Pad Thai in airtight containers and refrigerate. It should keep well for up to three days. When reheating, warm it on the stove over medium heat.
Freeze: While you can technically freeze cooked Chicken Pad Thai, it's not highly recommended as the rice noodles tend to lose their texture when thawed and reheated. However, in a pinch, ensure the dish is cooled completely before transferring it to a freezer-safe container. It can be frozen for up to two months. To reheat, allow it to thaw in the refrigerator overnight before warming it up on the stove.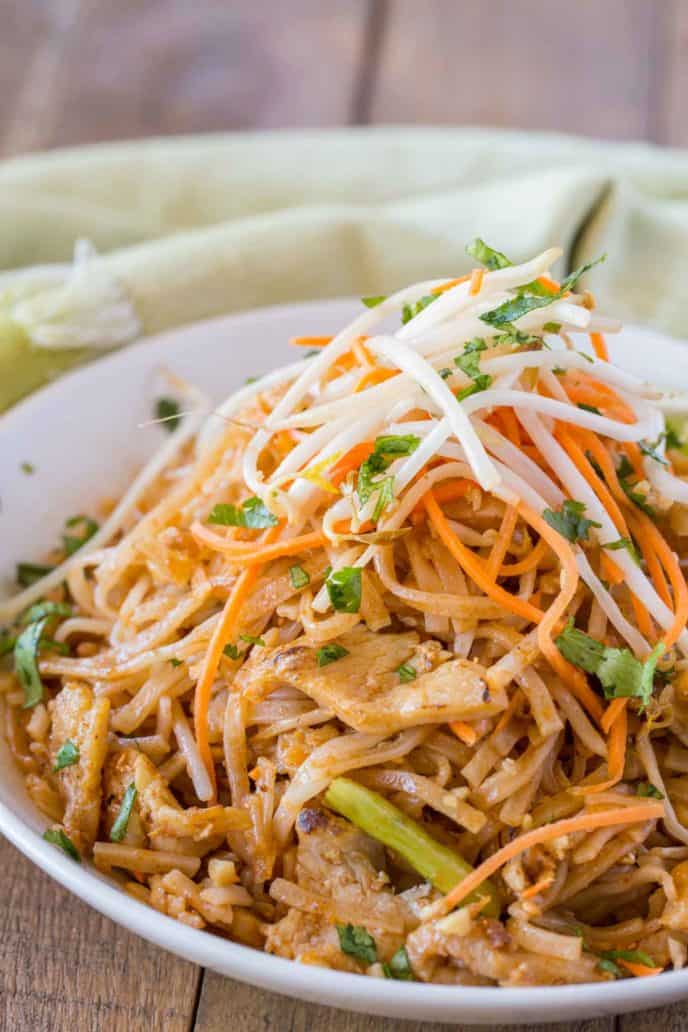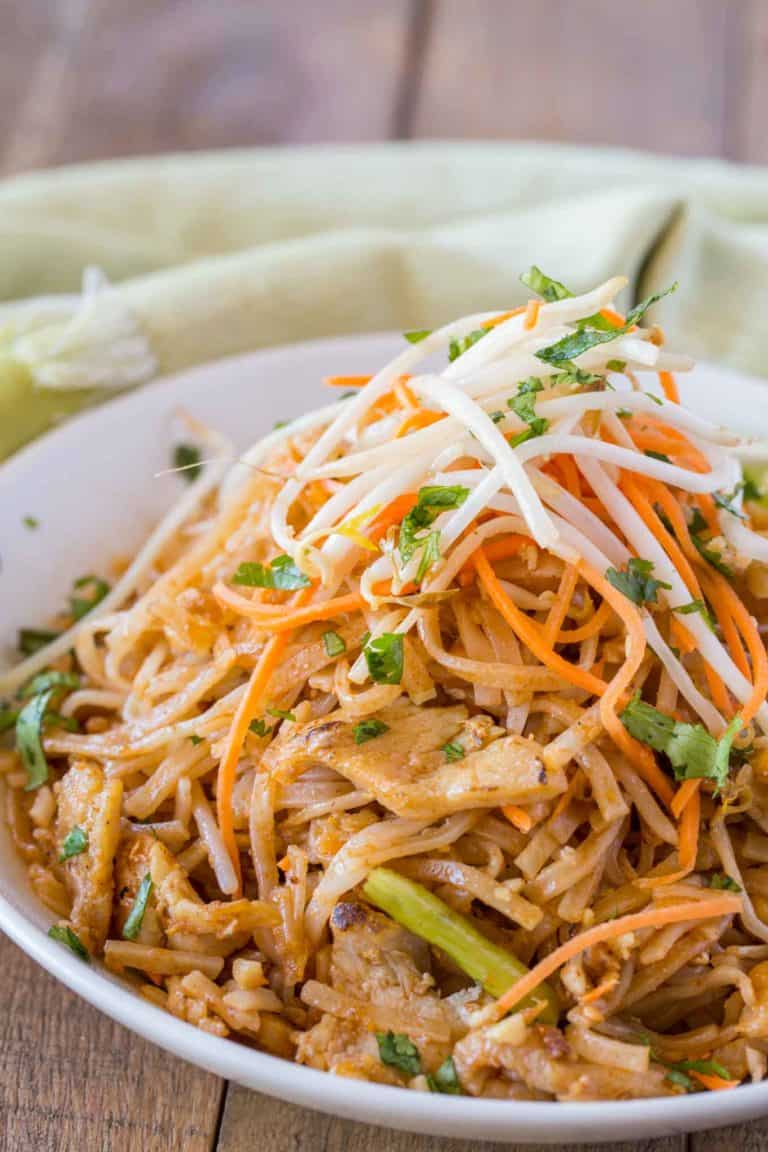 Ingredients
14

ounces

rice noodles

1/4

cup

vegetable oil

1

pound

chicken breasts

, sliced very thinly

2

tablespoons

soy sauce

3

eggs

2

tablespoons

rice vinegar

1/4

cup

fish sauce

1/3

cup

white sugar

1/2

teaspoon

crushed red pepper

1

cup

bean sprouts

3

carrots

, julienned

1/4

cup

crushed peanuts

2

green onions

, chopped

1

lime

, cut into wedges

cilantro

, for garnish (optional)
Instructions
Add the rice noodles to boiling water for

1 minute

, then turn off the heat and let sit for

five minutes

.

When softened rinse with cold water and set aside.

Toss the sliced chicken with the soy sauce.

Add canola oil to a wok on high heat and add the chicken without crowding the pan.

Cook for

1-2 minutes

on each side, then remove the chicken from the pan (leave the oil in the pan).

Add the eggs into hot oil, and chop with a spatula into little pieces as your cooking them.

Add softened noodles, rice vinegar, fish sauce, sugar and red pepper.

Serve topped with bean sprouts, carrots, green onions and lime wedges.
Nutrition
Serving:
1
g
|
Calories:
556
kcal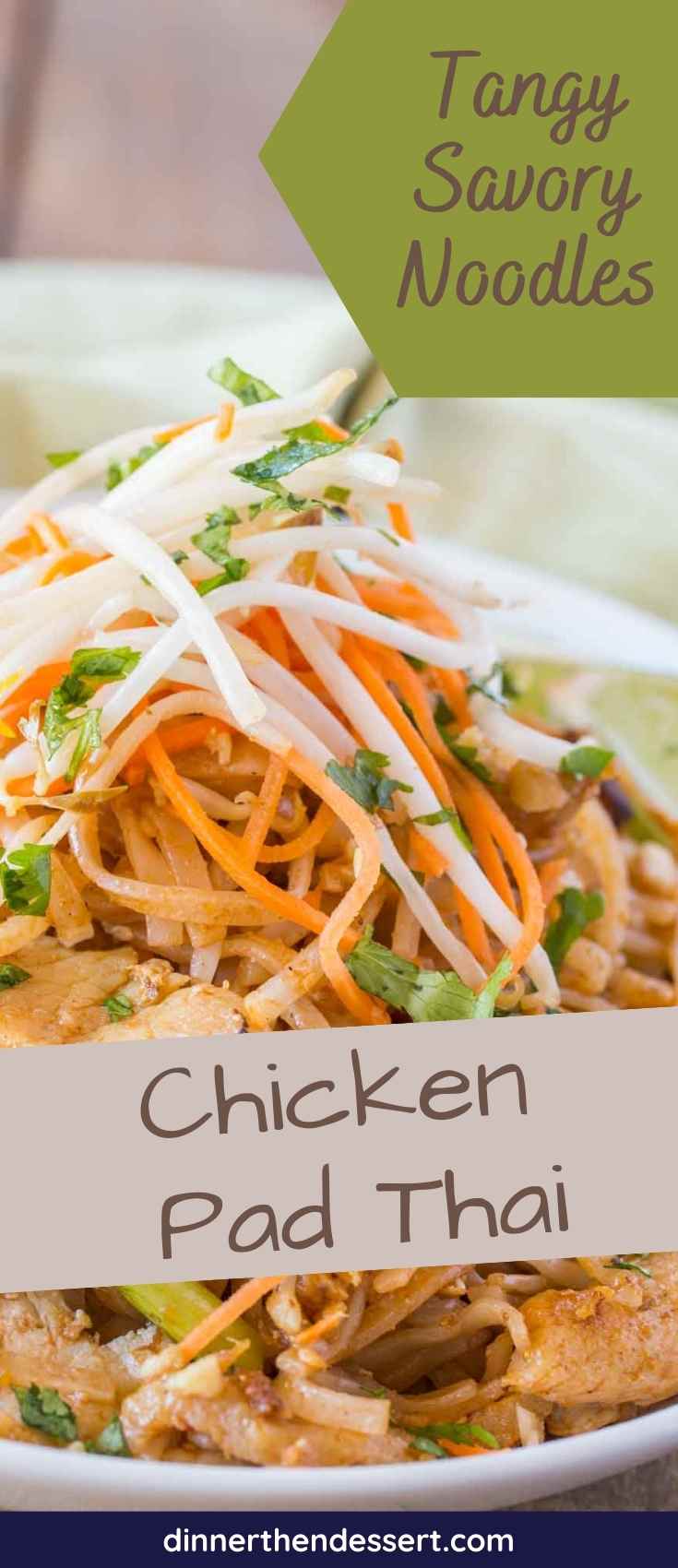 Photos used in a previous version of this post: