Easy Thai Green Curry Noodles that take just 20 minutes to make (including cooking the pasta!) and have the best coconut, ginger and garlic flavor with hidden veggies!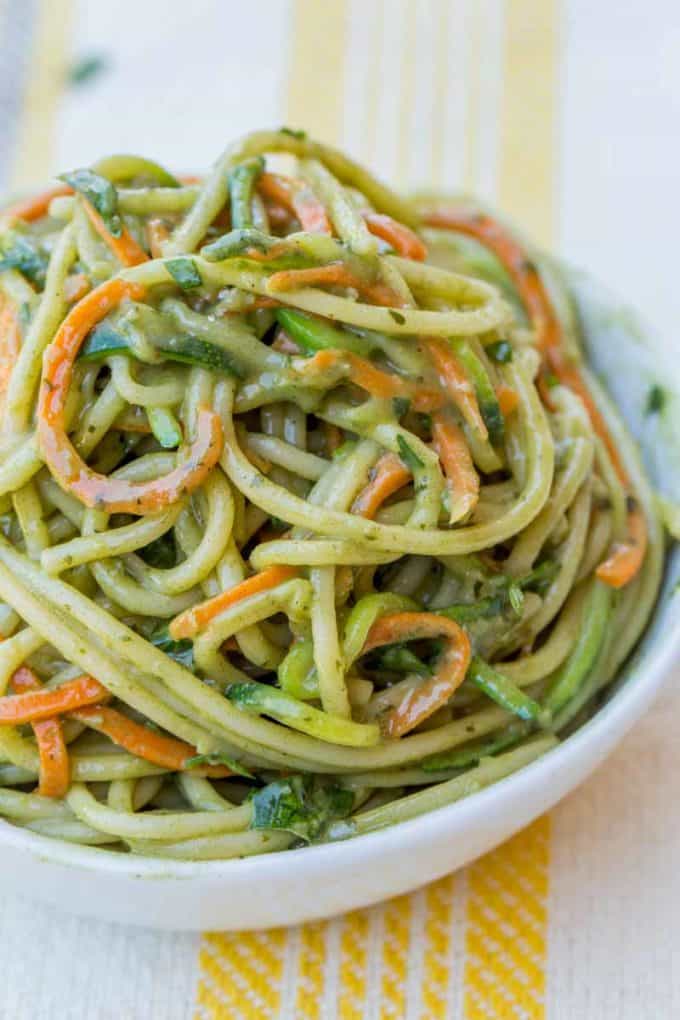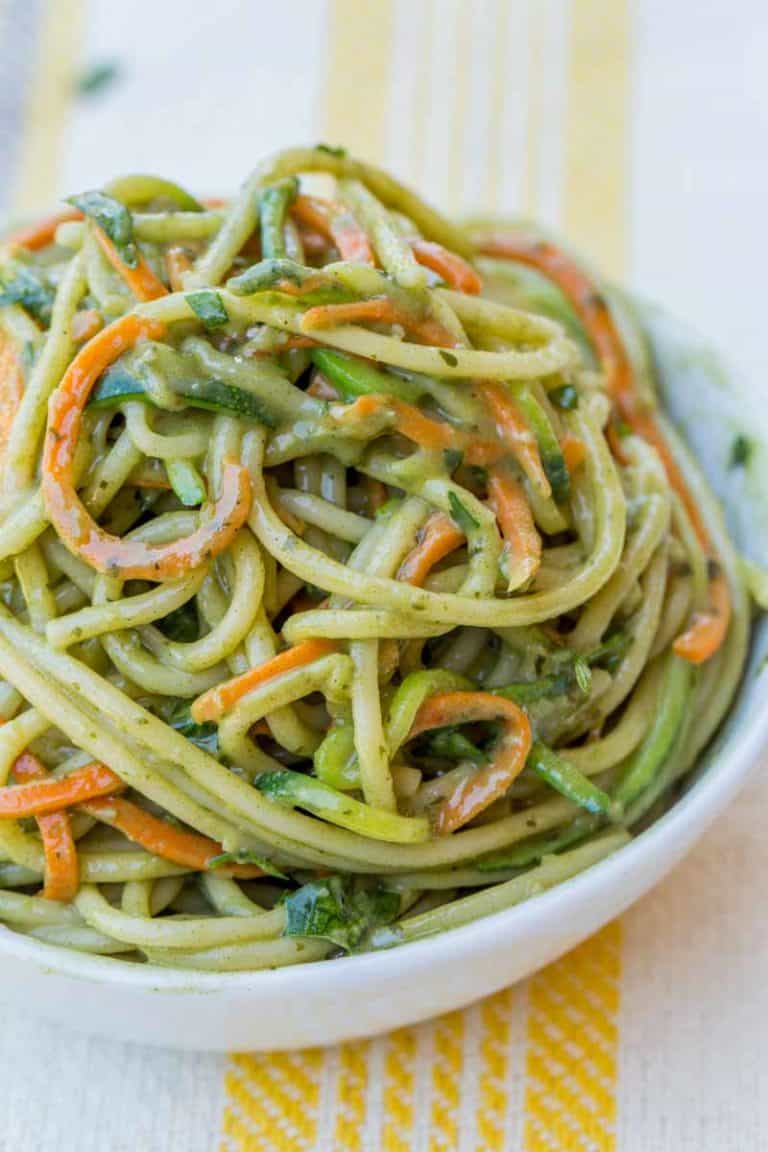 Easy Thai Green Curry Noodles was a recipe I came up with from no recipe at all. I was playing with some new spices given to me by Mountain Rose Herbs who generously sponsored this post. About a month ago I met them while in Salt Lake City at a conference I was speaking at. They reached out to me and were so incredibly sweet they let me go on a mini shopping spree for anything I wanted.
I was like a kid in a candy store. They have the most amazing selection of herbs, salts, and seasoning mixes. I got POUNDS of spices, yup… pounds. When I sent over the final order I think I actually said I had forgotten what shopping without abandon for myself was like since having kids. It felt amazing!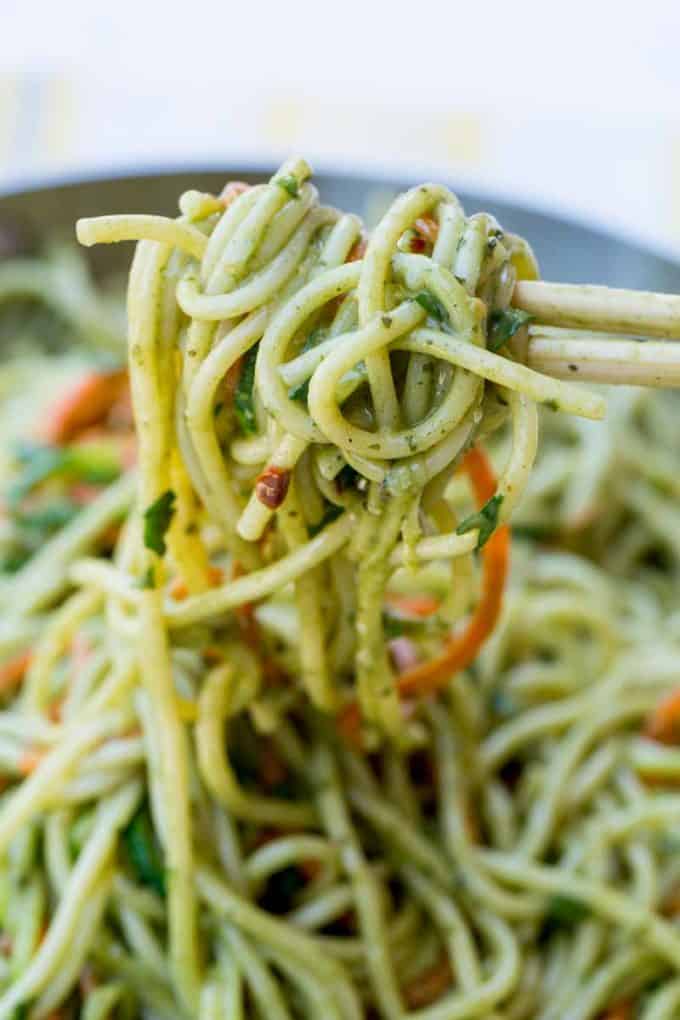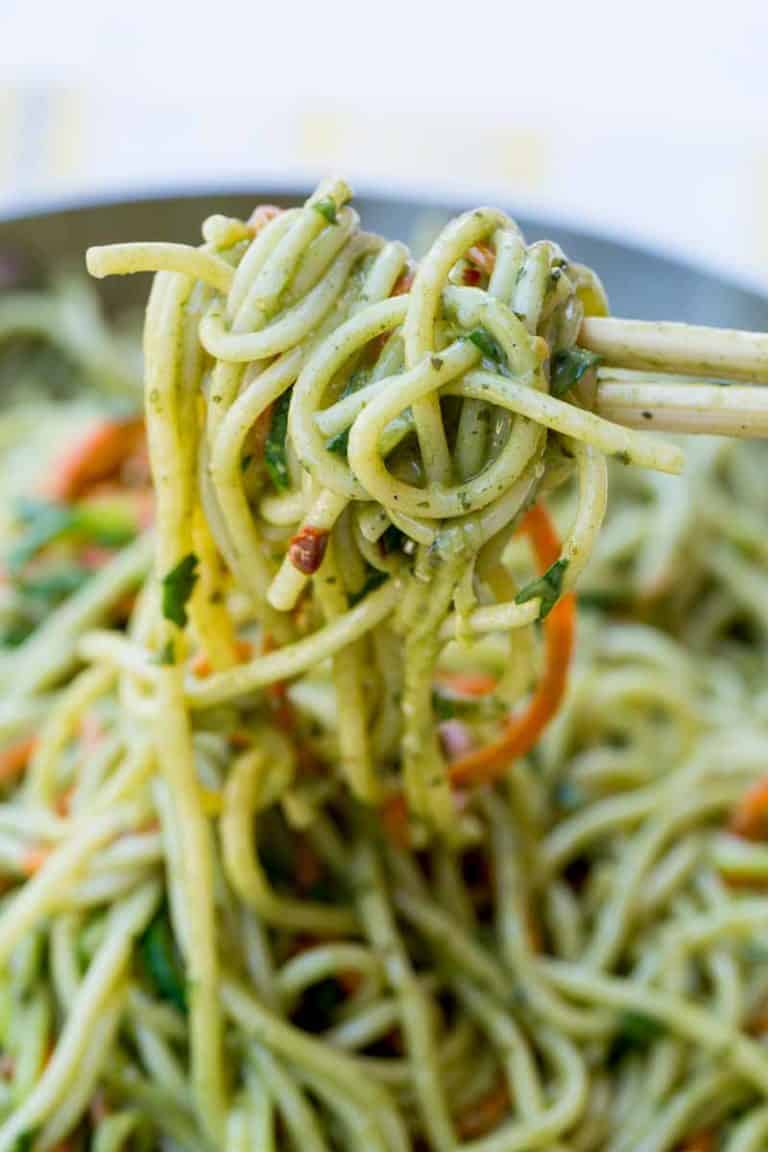 THEN, the box arrived and I actually did a happy dance.
So for the last month we've been using spices on everything, testing them out on different proteins, adding them to sauces and more.
These Easy Thai Green Curry Noodles actually use two of their products, Thai Curry Blend (yes I got a pound of this!) and Spinach Powder. 
Edited: You guys must LOVE this Spinach Powder, it is currently sold out. Since Mountain Rose Herbs quality tests everything before packaging it I wanted to link you guys to Spinach Flakes as an alternative. They are the exact same product in flake form. To convert to powder you can use a spice grinder or small food processor too!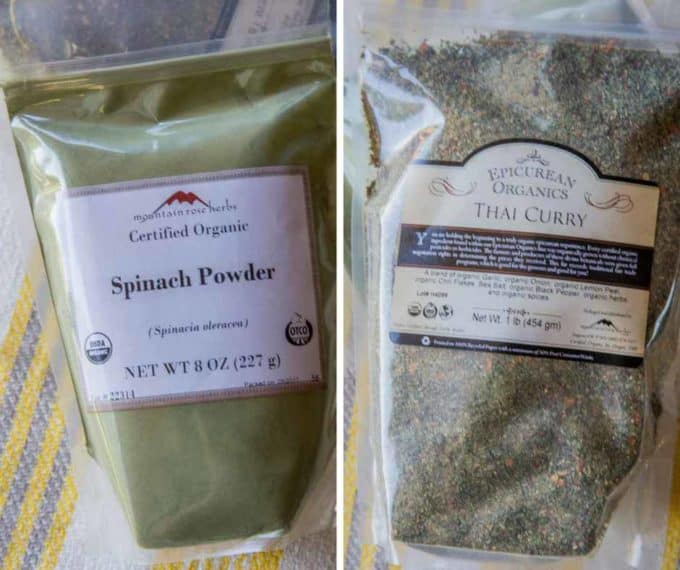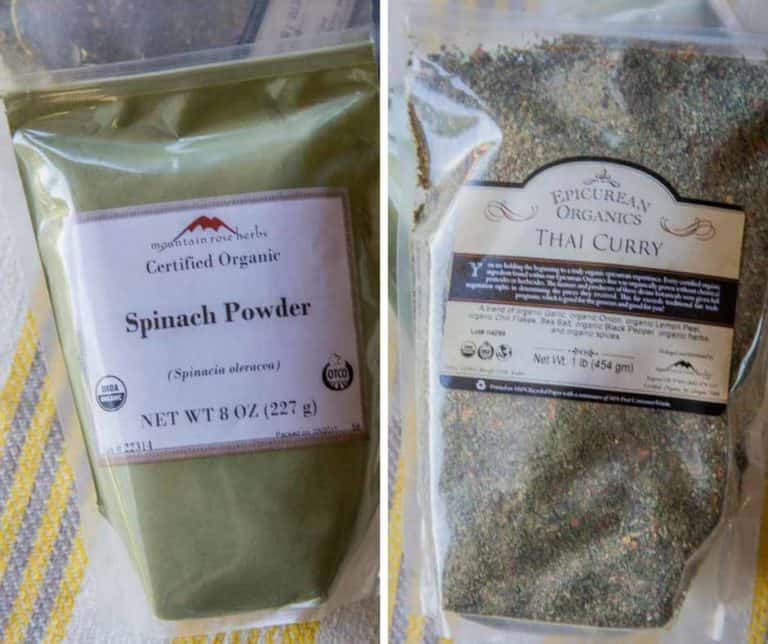 In case you're wondering why Spinach Powder? Like why even order it? IT IS AMAZING. I add it to my kids smoothies, I add it to fresh pasta (recipe coming soon, it was amazing) and more.
Any single place I have a liquid I am cooking with I've been adding some in. Even marinara sauce I used when making the kids mini pizzas? I added spinach powder to it. They never even noticed. The recipe may be for Easy Thai Green Curry Noodles, but Spinach Powder is my new secret weapon.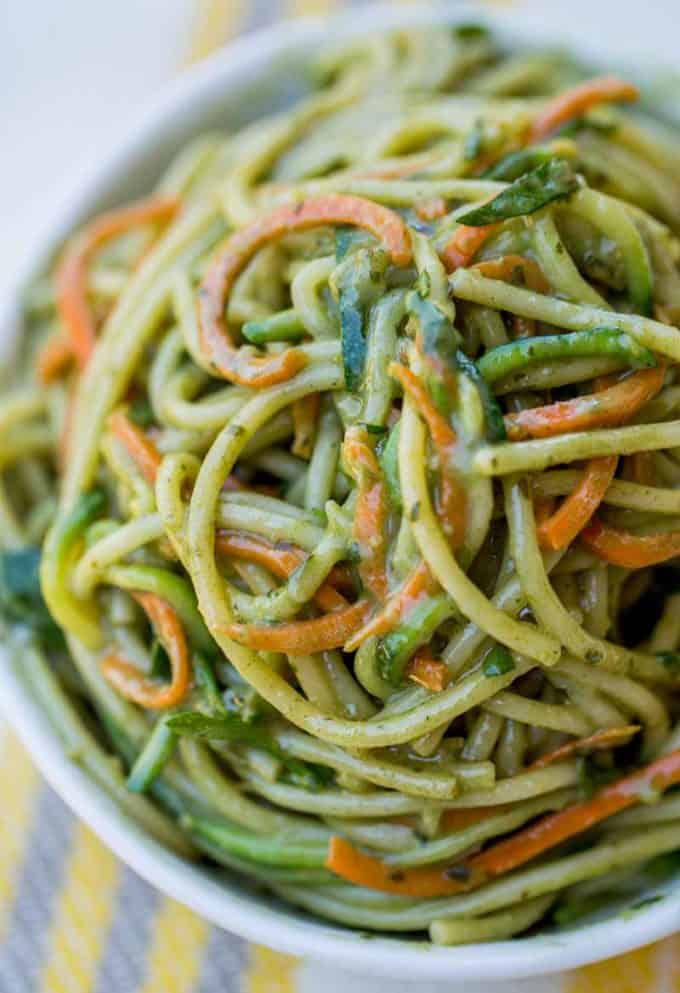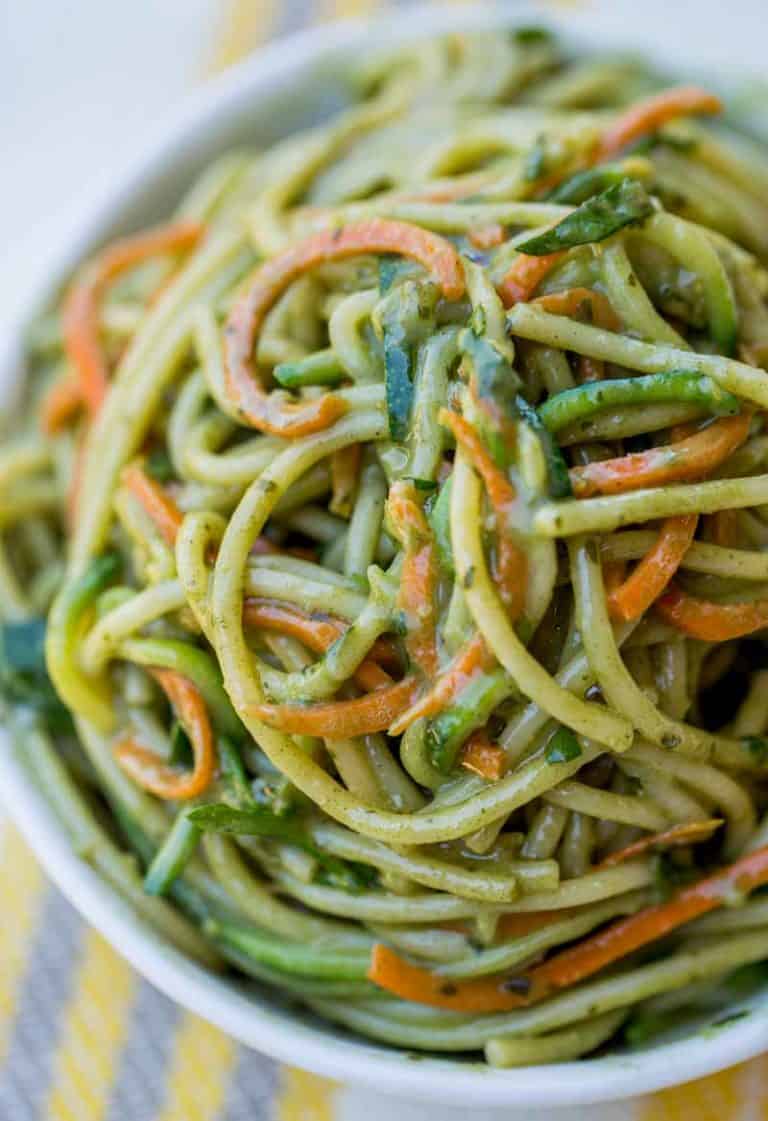 So to this recipe, it was so easy I just winged it. Some fresh ginger, a bit of oil, Kosher salt, the Thai Curry Blend and Spinach Powder in a pan and I just let it get fragrant. Add in a can of lite coconut milk and whisk together well then add in the pasta and the veggie noodles and top with a ton of cilantro (if you like cilantro – if not add fresh basil).
Everyone in the family ate the pasta, including toddlers! It was creamy, fragrant but not spicy. The flavors were fresh and floral, but the curry was mild. My youngest asked for "green noodles" for breakfast the next morning.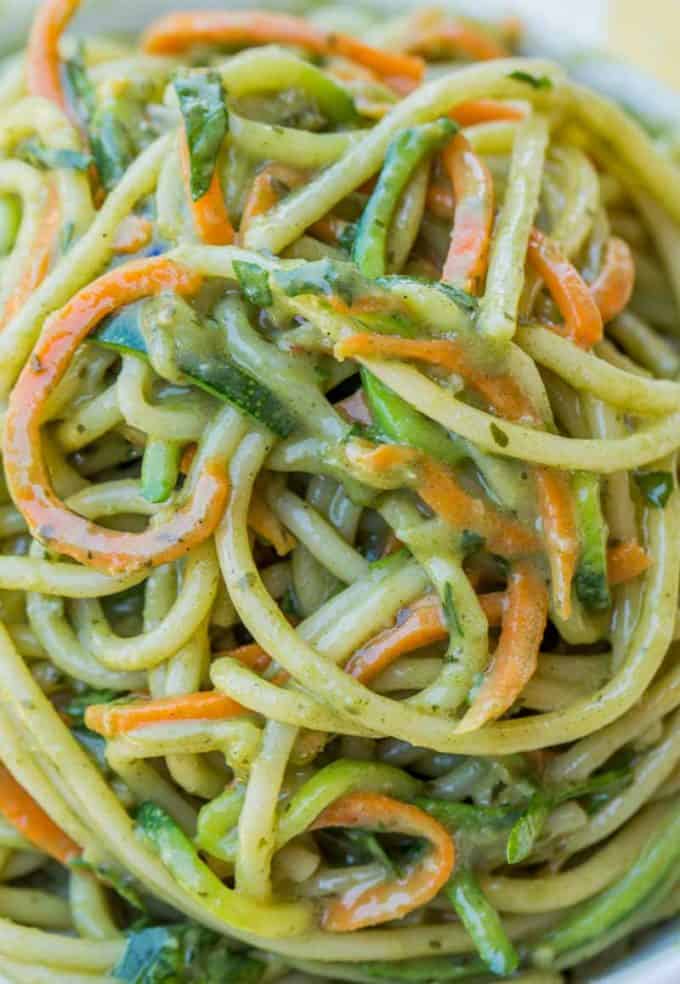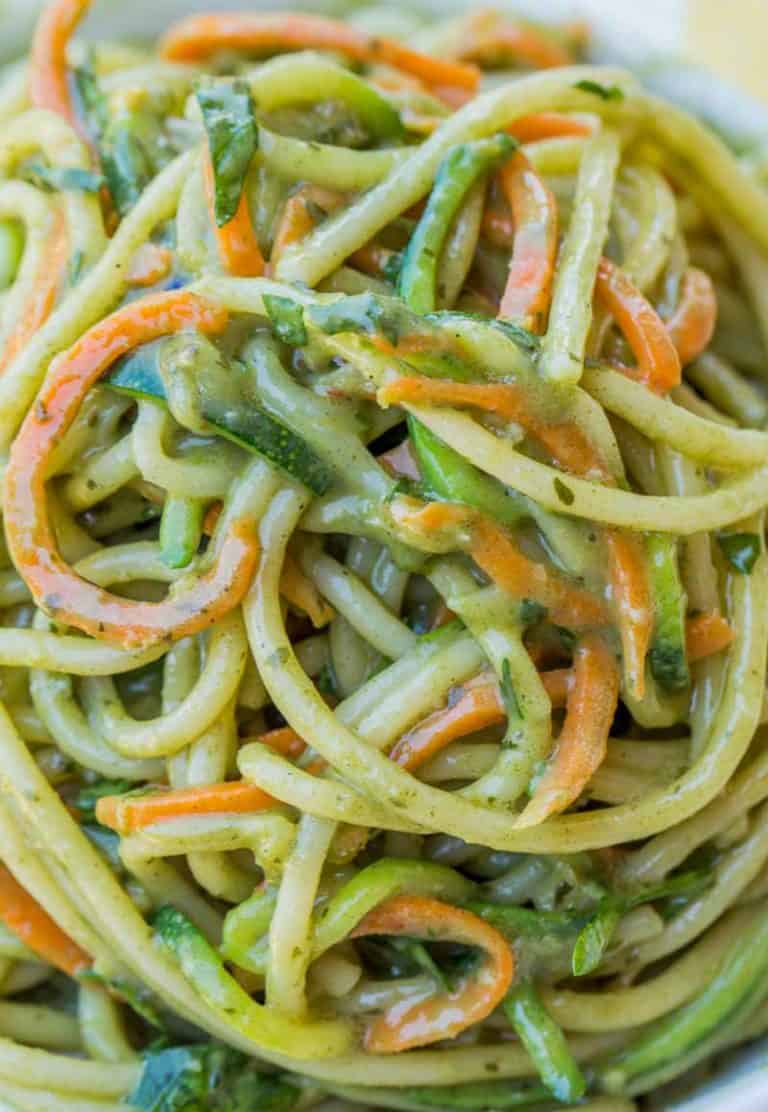 If you're going to keep the pasta for later I suggest possibly adding some vegetable stock or chicken stock as the sauce will get soaked up by the noodles (especially the zucchini noodles).
When I tell you this recipe took 20 minutes I genuinely mean including the pasta cooking while I minced the ginger and spiralized the carrot and zucchini while people were demanding dinner after a long afternoon out. Plus at just 249 calories per serving you'll be thrilled with yourself for eating so healthy. Then enjoy a second scoop of ice cream to celebrate. 😉
Looking for more Thai recipes?

Ways you can make this 
Easy Thai Green Curry Noodles your own?
You can certainly add your favorite protein to the pasta, including chicken, shrimp, ground pork or chicken.
If you want to add a vegetarian protein you can press water out of extra firm tofu, mince, then cook until crisp in some canola oil before adding it to the pasta.
More veggies! We julienne bell peppers of all colors and love adding very thinly sliced red onion too.
Want a bit of a crunch, we sometimes top the pasta with chopped cashews.
If you don't like cilantro you can and absolutely should add an equal amount of fresh basil!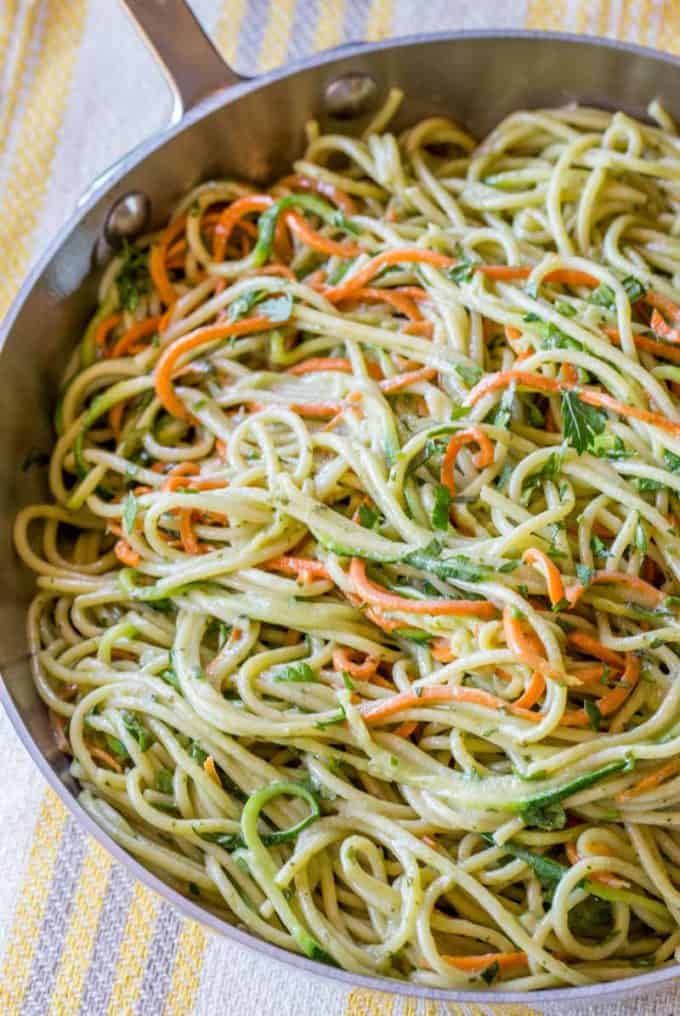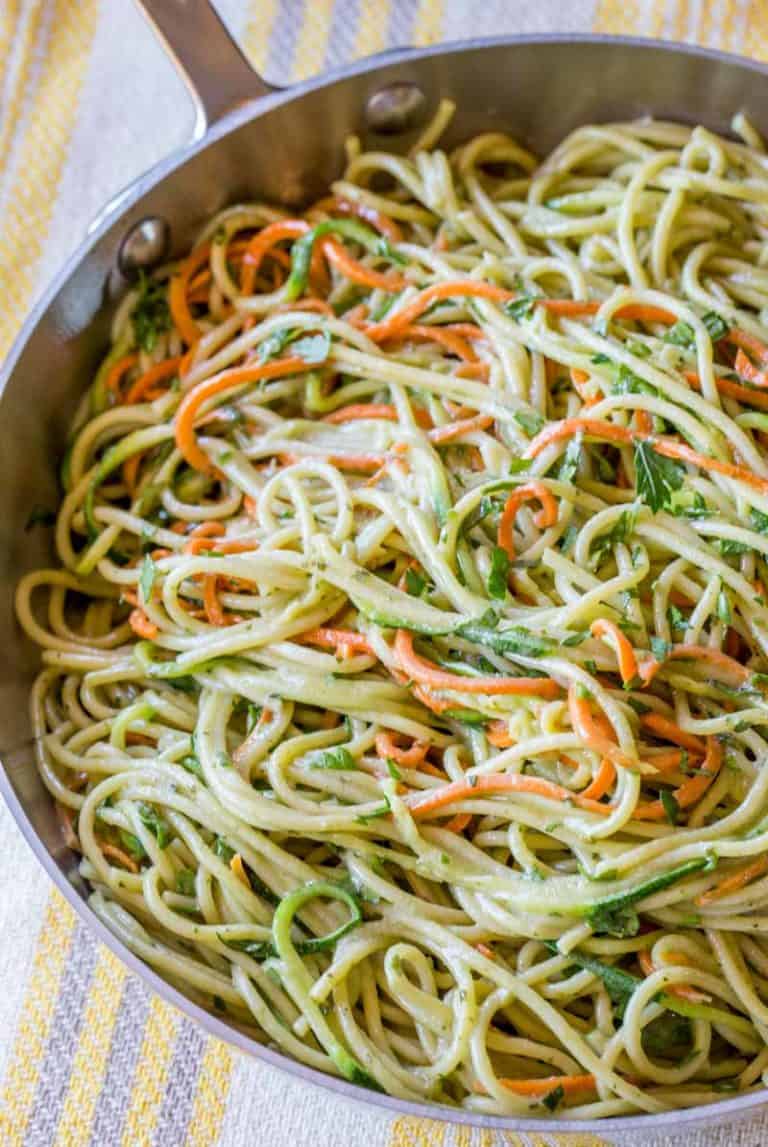 Tools Used in the making of this Easy Thai Green Curry Noodles:
Thai Curry Blend: The spice blend is awesome with garlic, onion, red pepper, citrus, and more. Plus they're fresh, hand blended and organic. <— And the price is awesome. Plus since they hand blended and fresh they're much more aromatic than your normal spices.
Spinach Powder: I LOVE this spinach powder, I use it in almost everything now and none of my kids have even noticed. Also organic.
Spiralizer: Spiralized veggies mixed in with pasta has become a tradition in our house because it adds bulk to servings with no added fat or carbs. We add zucchini every time no matter what the sauce is, and when it is an Asian recipe I usually add in the carrot too.
Lite Coconut Milk: 60% lower in fat and calories than regular coconut milk and you won't even miss the added fat at all. Pinky promise.


Ingredients
1

tablespoon

Thai Curry Blend

1

tablespoon

Spinach Powder

1

tablespoon

fresh ginger

minced

1/2

teaspoon

kosher salt

1

tablespoon

canola oil

1

can

lite coconut milk

1

pound

spaghetti

1

zucchini

1

large carrot

1/4

cup

cilantro

diced
Instructions
Cook the spaghetti 1 minute shy of what is on the box, then drain.

While the spaghetti is cooking spiralized one carrot that you've peeled and one zucchini (ends trimmed).

In a large skillet on medium high heat add the canola oil, ginger, Thai Curry Blend, Spinach Powder and Kosher salt.

Stir the spices and cook until fragrant, about 30 seconds.

Add in the coconut milk and stir together.

Add in the spiralized zucchini and carrot and cook for

2 minutes

.

Turn off the heat and add in the spaghetti and toss it all together.

Add in the cilantro, toss and serve immediately.
Nutrition
Calories:
276
kcal
|
Carbohydrates:
46
g
|
Protein:
8
g
|
Fat:
6
g
|
Saturated Fat:
4
g
|
Sodium:
196
mg
|
Potassium:
215
mg
|
Fiber:
2
g
|
Sugar:
3
g
|
Vitamin A:
1650
IU
|
Vitamin C:
5.1
mg
|
Calcium:
21
mg
|
Iron:
0.9
mg