Thai Peanut Shrimp has all the complex Thai restaurant flavors with a homemade peanut sauce with honey, garlic, ginger and lime in just 20 minutes!
Chicken Satay  and Slow Cooker Thai Peanut Chicken are two of the most popular recipes on the blog for a reason, peanut sauce is AMAZING.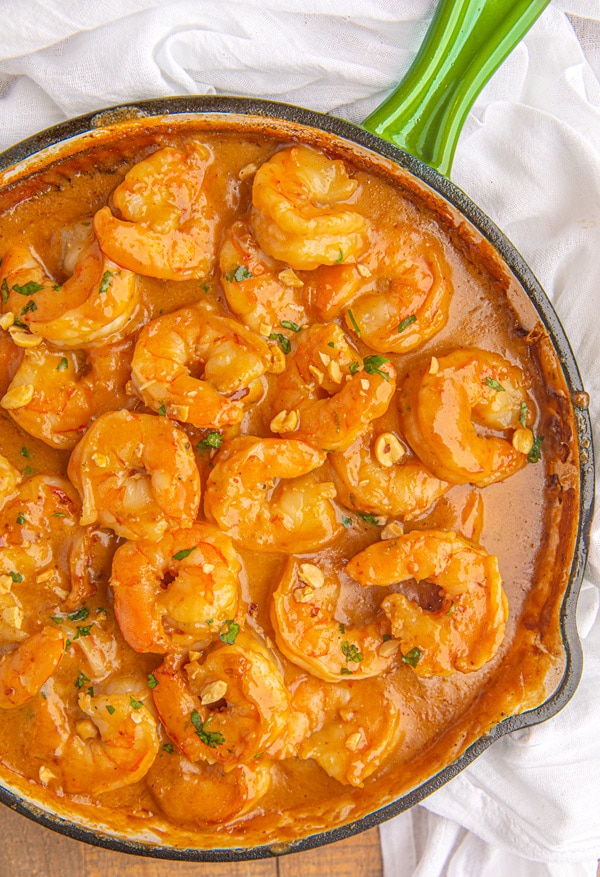 THAI PEANUT SHRIMP
A ton of flavor and a short cook time make Thai peanut shrimp a great solution for a weeknight meal, especially when you already have a lot on your plate (pun intended.) It's all made in one large skillet, which makes clean up ridiculously easy so you won't be stuck under a mountain of dishes afterwards.
This may be one of our new favorite meals because of how quick and easy it is. The sauce recipe is quick and easy to follow, even if this is your first time making Thai peanut sauce from scratch. If you're in a rush but are craving Thai food, this is a great new recipe to try out this week. You can even try making just the sauce for later recipes, since it goes great on everything from beef to salad.
HOW TO MAKE THAI PEANUT SHRIMP
Pour the vegetable oil into a large skillet and turn up the burner to medium high heat.
Add the shrimp to the large skillet and sauté them.
Take the shrimp out of the pan and set them aside for later.
Combine the sauce ingredients and let them reduce for five minutes.
Toss the shrimp back and stir them into in the peanut sauce.
Add fresh cilantro and chopped peanuts over the top as a garnish.
PLATE IT UP 
Red pepper flakes: sprinkle red pepper flakes onto the shrimp once you've plated it to give it a hint of spice and a pleasant crunch.
Rice noodles: instead of serving Thai peanut shrimp on rice, you can cook up rice noodles. The peanut sauce goes really well with the texture of the noodles.  <— This is one of my favorite dinners. EVER. I also like to do half rice noodles and half zoodles.
Greens: chop up some fresh vegetables like red bell peppers, green onions, snow peas, sweet potato or water chestnuts and sauté them with the shrimp or stir fry them separate and drizzle with peanut sauce.
Fish sauce: add just a dab of fish sauce to add rich umami flavor to your dinner. A little goes a long way, so start small and work your way up.
Crushed peanuts: pulverize shelled, peeled peanuts into crumbs and sprinkle them over your shrimp. The peanuts add a little salt and a whole lot of crunch.


Create a free account to Save Recipes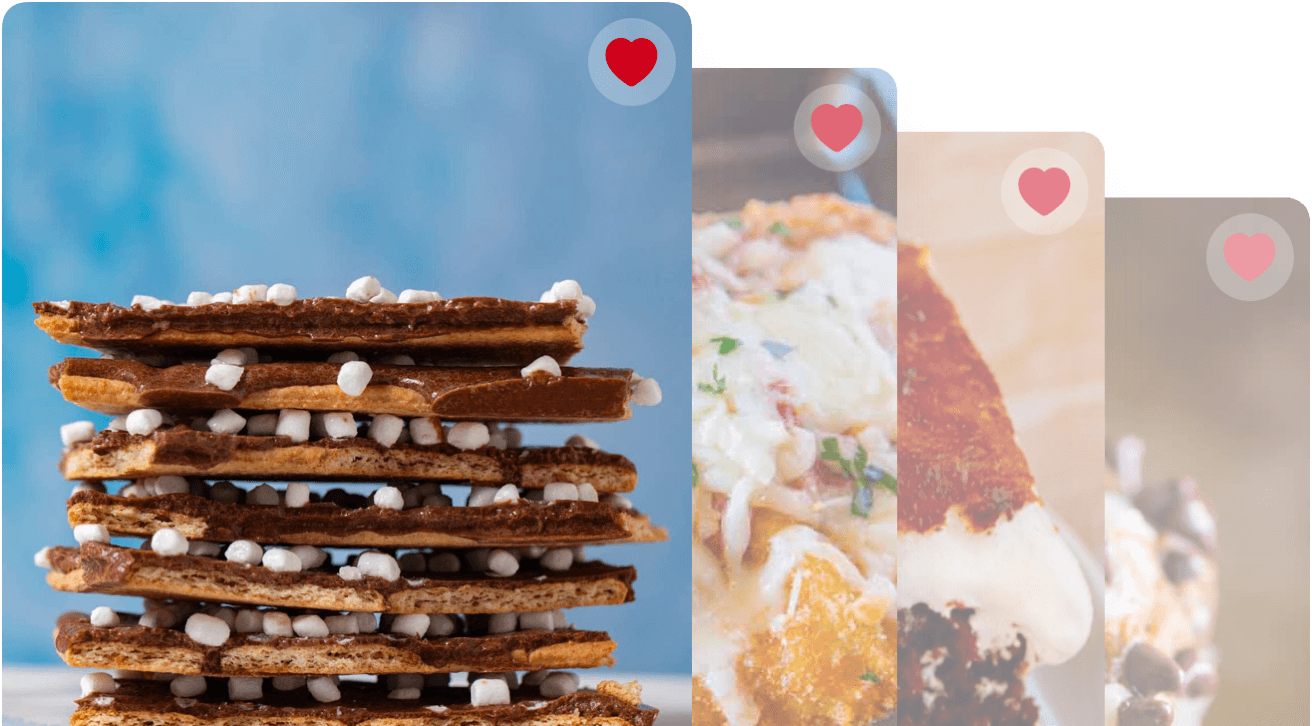 What to Serve with Thai Peanut Shrimp:
We love serving classic dim sum appetizers like Potstickers, Crab Rangoon, Egg Rolls, Spring Rolls or Coconut Shrimp with Sweet and Sour Dipping Sauce and then we serve this shrimp over Chinese Steamed Rice or Lo Mein.
For a more unique twist on pairings here are some more fun ideas:
Thai Peanut Zucchini Noodles: if you are counting carbs and don't want rice with your Thai shrimp, you can follow the directions for zucchini noodles from this recipe. Keep in mind that zucchini noodles add a lot of moisture to a meal, so you make want to strain them once they've cooked.
Cold Thai Noodle Salad: light and refreshing, Thai noodle salad is fantastic for summer meals and won't leave you too full to enjoy the main course.
Hot and Sour Soup: originally from China, hot and sour soup is an Asian comfort food that is delicious and hearty.
Shrimp Safe Cooking Temperatures:
According to the USDA's website, shrimp is safe to eat at 145 degrees F (62.8 degrees C).
Some sushi restaurants will serve raw shrimp so you may feel like serving undercooked shrimp is not an issue. They are very careful in sourcing their seafood and making sure it is incredibly fresh. I can't vouch for your local grocer, so please don't try eating undercooked shrimp or you will remember this meal for all the wrong reasons.
HOW LONG IS IT GOOD?
Serve: don't leave out for longer than 2 hours at room temperature, less if it's a hot day.
Store: if you seal your leftovers in an airtight container they will stay good for 3 days.
Freeze: properly frozen shrimp is good for 3 to 6 months. I'd suggest reheating the shrimp closer to the 3 month mark than the 6 month mark.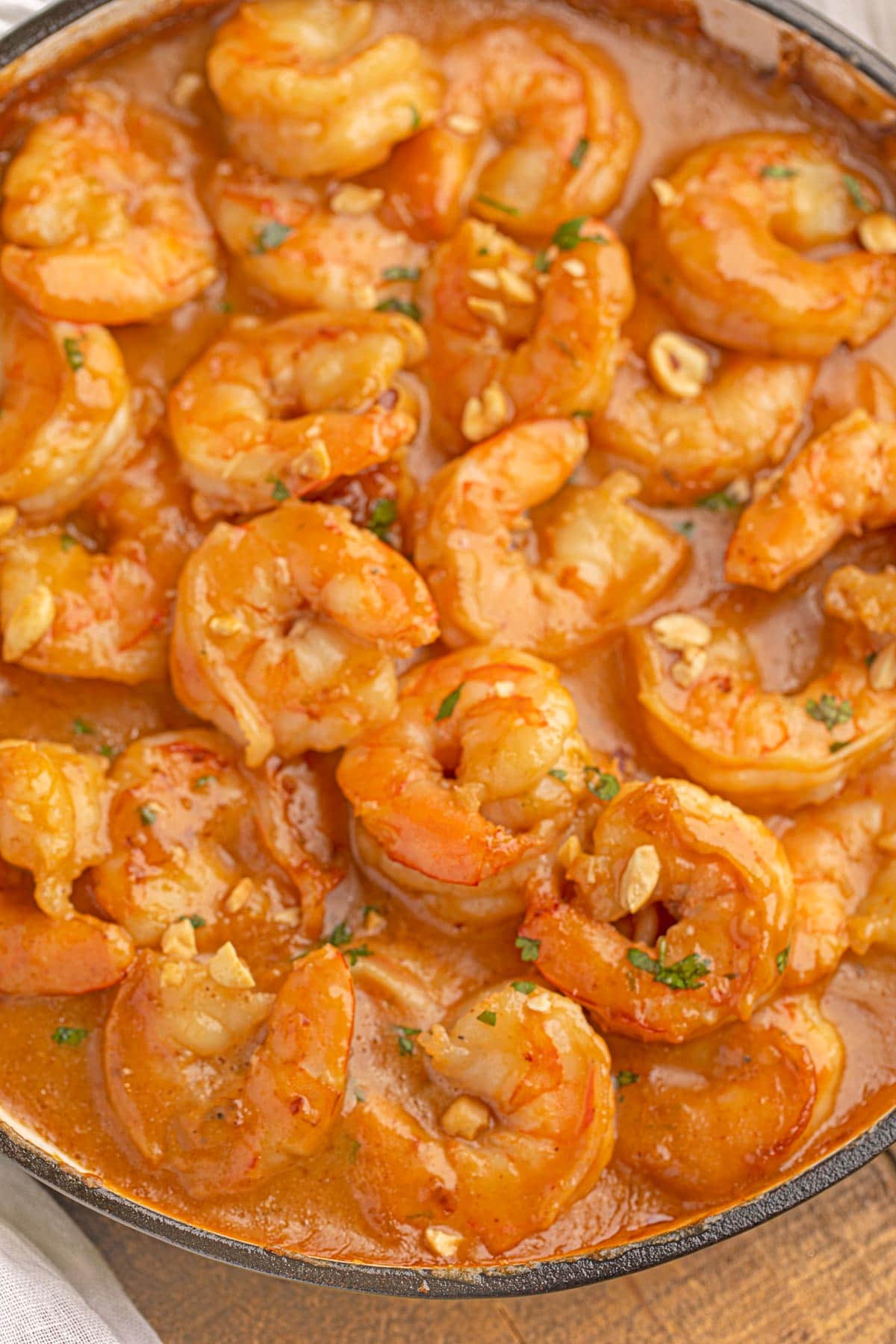 Instructions
Add the oil to a large skillet on medium high heat.

Add the shrimp to the pan cooking on each side for

1-2 minutes

.

Remove the shrimp from the pan and set aside.

Add the coconut milk, peanut butter, soy sauce, honey, rice wine vinegar, lime juice, sesame oil, garlic and ginger to the pan and let reduce for

5 minutes

.

Add the shrimp back to the pan to coat.
Nutrition
Calories:
384
kcal
|
Carbohydrates:
12
g
|
Protein:
36
g
|
Fat:
22
g
|
Saturated Fat:
13
g
|
Cholesterol:
381
mg
|
Sodium:
1424
mg
|
Potassium:
317
mg
|
Fiber:
2
g
|
Sugar:
8
g
|
Vitamin C:
8.3
mg
|
Calcium:
233
mg
|
Iron:
4.1
mg